<< #OurChallengeOurHope Homepage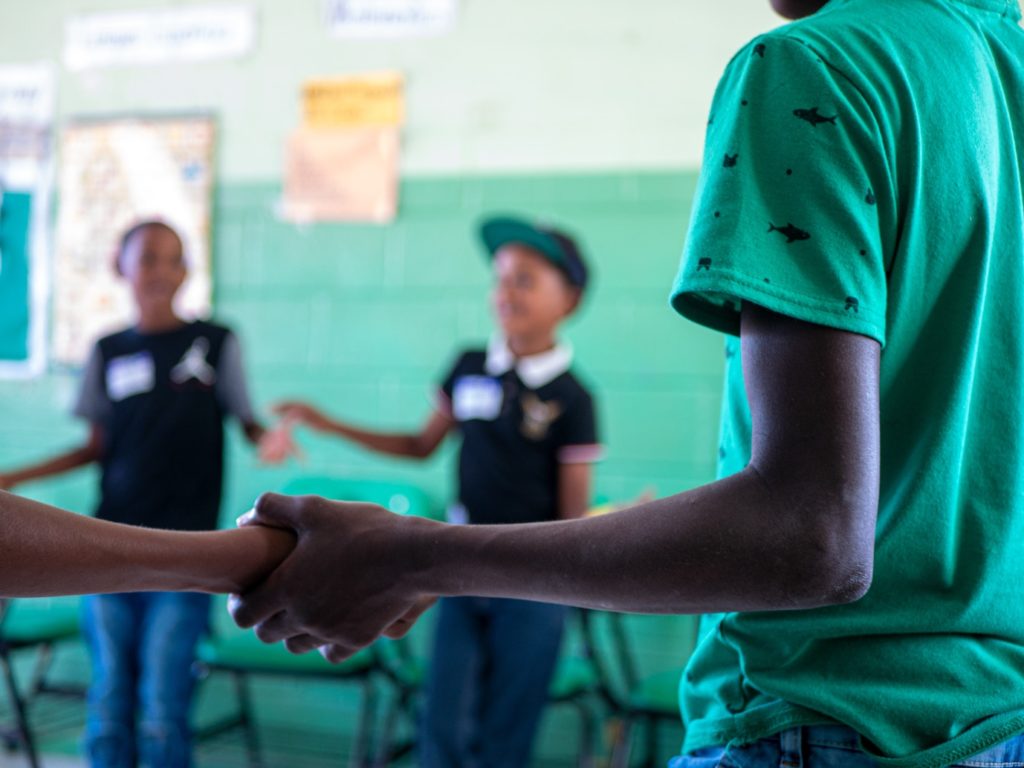 For December, in the spirit of selflessness and giving thanks, we are encouraging you to become more involved in the lives of students who are seeking a brighter future. The opportunities are endless and every action—no matter how large or small—can make a difference in a young person's life.
---
Getting Involved in the Lives of Students
Looking for ways to get involved in the lives of students? You could volunteer at your local school or with a youth support program in your community. You could read to children at your local library. You could donate clothing, toys, or food to families in need. You could donate money to a charity or youth-serving organization.
Become a Mentor with Big Brothers Big Sisters
Big Brothers Big Sisters provide historically underserved children with a compass and direction for positive futures through strong mentorship programs in communities and schools. You can become a mentor for a child in your community or check out some other great ways to volunteer including hosting events, raising money, or participating in a cultural event or educational trip.
Learn More https://www.bbbsnca.org/volunteer/
Read to a Student During Your Lunch Hour with Everybody Wins DC
If you live in Washington, DC, Everybody Wins DC is a non-profit organization dedicated to improving lives through shared reading. The organization's Power Lunch program connects students with caring volunteers to read together once a week during students' lunch hour. No curriculum, no lesson plans. Just spending quality time together, reading books they enjoy. Through this connection with a caring adult, students build essential skills that will help them succeed both in and out of the classroom. 
Learn More https://everybodywinsdc.org/
Save Young LGBTQ Lives with the Trevor Project
The Trevor Project provides life-saving support to lesbian, gay, bisexual, transgender, queer & questioning (LGBTQ) youth. They offer a wide variety of volunteer opportunities, including answering calls on their 24/7 Lifeline or responding to chat messages or texts from young people struggling with issues such as coming out, LGBTQ identity, depression, and suicide. The Trevor Project welcomes individuals of all backgrounds to get involved in their life-saving work.
Learn More https://www.thetrevorproject.org/get-involved/volunteer/
Find Volunteer Opportunities in Your Community Through All for Good
If none of the above opportunities speak to you, or if they are not available in your area, All for Good has you covered. All for Good is a digital hub for volunteerism and community engagement that allows individuals to search for events, projects and organizations in their communities from volunteer sites across the country. It includes volunteer opportunities from Idealist, AARP, United Way, the Hands on Network, and many more. The All for Good platform also helps individuals host volunteer projects, whether with an organization or on their own, find volunteers, and connect with friends through civic service.
Learn More https://www.allforgood.org/
---
Inspiring Stories of Helping Others in Need
If you need more motivation, here are some stories of people, including kids, helping others during this holiday season:
Five Adopted Children Raise Money for Foster Care Center
Five young children decided to give back to their community with a holiday fundraiser benefitting the foster care office that helped them find their adoptive family. The kids taped videos for their cause and shared them on social media and emptied their own piggy banks to raise enough money to help the Grand Forks County Foster Care Office renovate their family visitation rooms.
14-Year-Old Starts College Scholarship Program for Low-income Students
As a fourteen-year-old, Ila Prabhuram started her own nonprofit organization to help students in her community who are economically disadvantaged receive financial scholarships to attend college. Beyond financial support, Ila is an advocate for students from low-income families, especially those from her community in Georgia, and wants to spread awareness about the importance of education through workshops at local Title I elementary schools.
15-Year-Old Starts Anti-Bullying Organization
After being racially cyberbullied by three of his former middle school classmates, Devin Moore started #RaceToSpeakUp because he didn't want another kid to experience what he went through. Because of Devin's passion for this issue, Suffolk County (New York) created its first Anti-bullying Task Force that consists of high school students combating bullying. Devin also meets with lawmakers in New York in an effort to get a state anti-bullying law passed.
11-Year-Old Vallejo boy is Making Helping Others an Annual Tradition
Mesai Alonsabe, 11, is serious about his work. The Vallejo child is focused on collecting as many gifts as possible for underprivileged kids and making this year his biggest toy collection event yet.
9-Year-Old Girl Saves Up All Year to Donate 65 Thanksgiving Meals to Those in Need
Kenzie Parker, 9, pays for the meals with the money she saves throughout the year. This is the fifth year she's given back on Thanksgiving.
Having Been in Their Shoes as Homeless, Foster Child, Ceres Mom has Passion to Aid Kids
Homeless for about half her childhood and in foster care the rest, Ceres resident Zenia Zuniga said she knows the impact an act of kindness can have on a child. And when she saw Genevieve Piturro, founder of the Pajama Program, on "Oprah" in 2009, she knew she wanted to get involved.
For 'Our Kids,' a Bundle of Dignity for Youth in Foster Care
When Rob Scheer and his husband Reece's first adopted child arrived at their home, the 4-year-old's world fit into a trash bag. The image cued a flashback: Having grown up in foster care himself, Scheer once carried a similar bag moving into a new home. Troubled by the lack of dignity afforded to children in the U.S. foster system, the two men started a non-profit that provides children in the foster system with proper bags packed with essential and comforting items – shampoo, blankets, pajamas – that are sent to family services agencies across the United States.
Need More Inspiration?
Youth Services of America has a database of "Stories of Service," detailing the many ways that youth are finding their voices, taking action, and making an impact in their communities.
Learn More http://leadasap.ysa.org/stories/
If you have other heartwarming stories to share or know about other local organizations making a difference, tweet them to us @All4Ed with the #OurChallengeOurHope hashtag.