ESSA Overview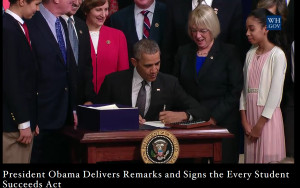 For the latest ESSA news, consult "Federal Flash," the Alliance's five-minute video series on important developments in education policy in Washington, DC.
On December 10, 2015, President Obama signed the Every Student Succeeds Act (ESSA). ESSA provides support to high schools where one-third or more of students do not graduate. It also provides support to schools with groups of traditionally underserved students who consistently demonstrate low performance.
The law requires data on student achievement and graduation rates to be reported as well as action in response to that data. However, unlike NCLB, states, districts, and schools will determine what support and interventions are implemented.
ESSA provides states and districts with a great degree of flexibility and responsibility. Developing such state-set policies that relate to "n-size," achievement and graduation goals, timelines for progress, and school improvement strategies warrants the strong involvement of diverse communities and education experts. The Alliance is committed to working in partnership with civil rights organizations and others to support states in ensuring an equity-driven implementation of this bill.
NEW
State-By-State Analysis
A new Alliance for Excellent Education analysis finds that most states are shirking their responsibilities around two of the law's most important provisions for historically underserved groups of students: twelve states do not include subgroups of students in school ratings, and sixteen states are at risk for under-identifying schools with consistently underperforming subgroups for targeted support. Is your state one of them?
Under ESSA, states have flexibility to chart their own path to educational success, but they must submit a plan to the U.S. Department of Education (ED) explaining how they will reach these goals. ED has approved plans for all fifty states, the District of Columbia, and Puerto Rico. To provide a quick reference guide of strengths—and shortcomings—for each state's plan, the Alliance created the series, "ESSA Equity Dashboards." Access state dashboards via the button below.
Opportunities Within ESSA to Transform High Schools
The Alliance has created a series of toolkits to help school and district leaders leverage opportunities available in ESSA to transform high schools. Toolkits provide instructions for implementing (1) early college high school and dual-enrollment programs; (2) Advanced Placement and International Baccalaureate programs; (3) deeper learning; (4) personalized learning; and (5) career and technical education.
The Alliance has created a series of bite-sized materials—both print and video—that provide concise but comprehensive analyses of several key areas within ESSA.
Accountability
Under ESSA, states are accountable for focusing resources on low-performing schools and traditionally underserved students who consistently demonstrate low academic performance.
Assessments
ESSA supports states in implementing high-quality assessments by providing new assessment flexibility, funding, and a new pilot program. These new policies will support teachers in using assessments to foster deeper learning among students, including the ability to master core academic content, think critically and solve complex problems, and communicate effectively.
High Schools
Under ESSA, states and districts are responsible for supporting and improving the quality of low-performing high schools.
Teachers and School Leaders
Under ESSA, states and districts are responsible for improving the quality and effectiveness of teachers, principals, and other school leaders in increasing student academic achievement.