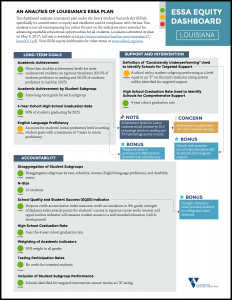 Under ESSA, states received flexibility to chart their own path to educational success, but they must submit a plan to the U.S. Department of Education explaining how they will reach these goals. To summarize the strengths—and shortcomings—for each state's plan, the Alliance created a series of one-page quick-reference guides for anyone looking to determine how well a state's plan will address the needs of its students.
These ESSA Equity Dashboards use a red-yellow-green light–system to rate state plans on several indicators, including long-term goals, accountability provisions, and school rating systems.
Read more about the ESSA Equity Dashboards in the press release or access your state's dashboard via the list below:
Note: All4Ed is updating the state ESSA equity dashboards as the U.S. Department of Education approves states' plans. For the most current information about how states include student subgroup performance in their ESSA accountability systems, refer to "Too Many States Minimize Student Subgroup Performance in ESSA Accountability Systems." Check this page frequently for updates.
Now Available