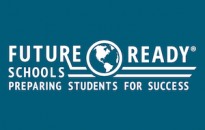 Registration Required
April 26, 2018
4:30 pm – 5:00 pm EDT
YouTube Live

Future Ready Schools® Invites You to a Participate in a Webinar
Renegade Leadership
Panelists
Brad Gustafson, EdD, Principal, Wayzata Public Schools (MN) (@GustafsonBrad)
Tom Murray, Director of Innovation for Future Ready Schools®, Alliance for Excellent Education (@thomascmurray)
Please join Future Ready Schools® (FRS) for a webinar that is part of its Leadership Hub, a one-stop-shop of professional learning opportunities for school leaders.
Brad Gustafson, EdD, is a National Distinguished Principal and best-selling author. He serves as an advisor with FRS and was recognized as an NSBA "20 to Watch" for his innovative leadership. Brad cohosts the popular education podcast UnearthED.
In this webinar, Brad and Tom will delve into innovative leadership practices to support student learning. They will share strategies to applying positive deviance in all roles that serve kids. Participants will collect examples of innovative leadership and hear about leadership behaviors that positively disrupt traditional thinking.
Panelists will raise these questions and more:
What is the number one barrier to innovation in your current role? Why?
What would schools look like if innovation was held in the same regard as high-stakes test data?
How can innovation be applied to a school's budget, beliefs, schedule, professional development, and traditions to more effectively serve learners?
Brad and Tom also will address questions submitted from online viewers.
Register and submit questions for the webinar below.
Please direct questions concerning the webinar to alliance@all4ed.org. If you are unable to watch the webinar live, an archived version will be available in the FRS Hub shortly after the event airs.
---
Future Ready Schools® (FRS) is a project of the Alliance for Excellent Education, a Washington, DC–based national policy, practice, and advocacy organization dedicated to ensuring that all students, particularly those underperforming and those traditionally underserved, graduate from high school ready for success in college, work, and citizenship. www.futureready.org │ www.all4ed.org
Follow FRS on Twitter (twitter.com/FutureReady);Facebook (facebook.com/futurereadyschools); and the FRS Leadership Hub (futureready.org/hub).
---
If you are interested in renting the Alliance's facilities for your next meeting or webinar, please visit our facilities page to learn more.