Designing Collaborative Spaces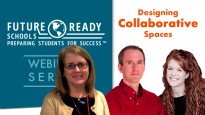 August 15, 2017
8:00 pm – 9:00 pm EDT
YouTube Live
Designing Collaborative Spaces
Presenters
Carolyn Foote, Lead High School Librarian and District Teacher Librarian, Westlake High School, Eanes Independent School District (Austin, TX)
Andy Plemmons, Pre-K–5 School Library Media Specialist, David C. Burrow Elementary School (Athens, GA)
Moderator
Shannon McClintock Miller, Future Ready Librarians Spokesperson;
International Teacher Librarian Speaker and Consultant
On August 15, 2017, Future Ready Librarians held a webinar on designing collaborative spaces in school libraries.  It addressed the question of how can school librarians support Future Ready Schools® (FRS) by identifying ways librarians can lead, teach, and support personalized student learning in library spaces. The FRL framework is based on research-based components used by FRS.
This webinar examined how librarians can design, support, and champion collaborative and flexible spaces that promote inquiry, creativity, collaboration and community. Carolyn Foote and Andy Plemmons shared how they designed library spaces with flexibility and student learning at the center. They shared stories, examples, and pushed viewers to make changes and embrace library spaces and communities as Future Ready Librarians too.
Librarians, district leaders, and all educators are invited to view this webinar to learn more about the FRL program and how Ms. Foote and Mr. Plemmons designed collaborative spaces and taken their library program to new levels.
Follow FRS on Twitter (twitter.com/FutureReady); Facebook (facebook.com/futurereadyschools); and on the FRS leadership hub (futureready.org/hub). Follow Future Ready Libraries Facebook group and #FutureReadyLibs on Twitter.
Additional Materials:
---
Please direct questions concerning the webinar to alliance@all4ed.org. If you are unable to watch the webinar live, an archived version will be available at https://all4ed.org/webinars 1–2 business days after the event airs.
---
The Alliance for Excellent Education is a Washington, DC–based national policy, practice, and advocacy organization dedicated to ensuring that all students, particularly those traditionally underserved, graduate from high school ready for success in college, work, and citizenship.
https://all4ed.org
Follow the Alliance on Twitter (www.twitter.com/all4ed);
Facebook (www.facebook.com/all4ed); and
the Alliance's "High School Soup" blog (www.all4ed.org/blog).
---
If you are interested in renting the Alliance's facilities for your next meeting or webinar, please visit our facilities page to learn more.
Shannon M. Miller:     Hi everybody. I'm just going to open up the window so we can start the webinar. We're so excited to have everybody here with us today. We just start out by getting into the presentation right away today so we can see all of this great information. So, can you guys see my slides?
Andy Plemmons:         Yes.
Carolyn Foote:            Yes, sure can.
Shannon M. Miller:     Okay, great. So, we are super happy that you're here for the Designing Collaborative Spaces webinar and this is sponsored by the Alliance for Excellent Education and from our friends from _____. And, my name is Shannon McClintock Miller, I am the Future Ready Librarians and Project Connect spokesperson along with my dear friend Mark Ray who is busy working with all his librarians today. And, you can find me on Twitter @ShannonMMiller and my e-mail's there if you have any questions and also, my blog. I blog at the Library Voice and so, a lot of things about Future Ready Librarians and Future Ready and all things library and education. So, you can go there to find out more information about me too. And like I said, please reach out if you have any questions or I can help you with anything as well along the way today and any time.
I am joined today by two very special guests and also great friends of mine. The first one is Carolyn Foote and I'm going to have her introduce herself to all of you.
Carolyn Foote:            Hi, I'm Carolyn and I hope everyone can hear me just fine. I am a district librarian and high school librarian and an _____ ISD at _____ High School in Austin and it's nice and toasty here, over 100 degrees and we're glad to be joining you from the air conditioning. If you want to tweet along during this session you can tweet me @TechnoLibrary and my e-mail is the same thing technolibrary@gmail.com. Our district is a nine school district we're one to one iPads k12 and I blogged about that some and also library design on my blog which is called Not So Distant Future and address, it's there on the screen.
Shannon M. Miller:     Thank you so much and I'm so happy that you're here with us today. And, my second guest is Andy Plemmons so, go ahead Andy and introduce yourself.
Andy Plemmons:         Well hello, my name is Andy Plemmons and I am the school library media specialist at David T Barrow Elementary in Athens, Georgia. So I serve students in pre-k through fifth grade we have about 600 student at our school, we're right next to the University of Georgia. You can tweet me during and after our webinar @PlemmonsA and I also blog a lot about what we do in our library at expectmiraculous.com.
Shannon M. Miller:     Great, thank you so much today for joining me too Andy. I'm a little jealous this week watching Andy go back to school at his elementary library since I can't wait to see what happens in the next year to follow both of you in your library adventures. If you have any questions today please post them to Twitter on, you've seen the hashtag #futurereadylibs we'll be watching that as Carolyn and Andy tell us all about their libraries and experience today. And so, we'll be watching that too so we can answer your questions. If we have time or even afterwards we'll get back to you as well using that hashtag. And, any time remember to follow the conversation that's going on constantly using that hashtag and using also just #futureready hashtag too. And, if you have questions on information you can go to the futureready.org on the librarians page and this looks really great it's just been revamped recently. So, there's lots of information there and more things being added all the time and so, I'll share that at the end too but please know that you can find that information there as well.
Now, as we said today we're going to look at the gear for designing collaborative spaces then I'm super excited because I know that these two have a lot of stories about the way that they use space and time within their libraries. And so, from here I'm gonna pass it over now to Carolyn and I will let you take the screen. And, go ahead and share, there you go. Looks great.
Carolyn Foote:            Great. So, as Shannon mentioned I'm going to kick off by talking about the Future Ready Librarian gear that a role of librarians in the school is designing collaborative spaces and promoting inquiry and community within our campuses and sometimes our districts. I actually just finished giving five sessions this morning to our campus about designing collaborative classrooms so I'm fresh off a bunch of presentations. So what do we know about students? We know a lot of things but in terms of where they are digitally, we know that even in 2015, according to the Pew internet survey over 92 percent of our students went online daily and use social media daily. And so, we're definitely in a world that our students are constantly engaged with digital resources both using on their own and collaboratively but we wanna make sure our spaces are responsive to that.
And, I thought it would be interesting to look at what ad agencies, how they classified Millennials because if you think of our high school students they're probably the closest in line to being Millennials and thinking about what happens in their world. And, Morris Creative has a whole website where they talk about how to market to Millennials. The remind us that their Amazon orderers so they're used to getting things instantly, they're very socially conscious. More so than maybe previous recent generations. They're very reliant on recommendations like Yelp for example, getting peer reviews. They like being well informed, this is the generation that is used to doing a lot of planning for college and post high school. They also love browsing products even down to the elementary. My nephew is in eighth grade and he likes to make unboxing videos and browse through products on YouTube so this is a big trait. They're multi-taskers, they're tech savvy at least with their phones and gaming. They call them refreshingly frank and they love the idea of having choices, lots of choices. So, ways to market to them include things that are interactive. So when you think about building a collaborative space how can you make sure the space itself is interactive? Multiple styles of learning, they really appreciate honest advertising and speaking more in a real authentic way and they love things that are fun and viral.
So, when you walk into your current space a good thing to do is really access what you're current space is telling your students. If we're inviting collaborative inquiry and creativity and that's what we want our space to be doing. If you look around in your current space, is it communicating that message to students? And, if not, it's time to do a good examination of what things might be obstacles to that happening. When we talk about design the purpose of design is really that it brings your intentions for the space to life. So, it's how things work from a technical level, pathways through your space, as well as how things look and how things appeal to students and your patrons. So, these are examples of different libraries and the way librarians intentions for students and collaboration show up.
So this is in our middle school library actually, Hill Country Middle School. And, our librarian got a donation of a old phone which she attached to her bulletin board here and she has a how to. So, students can come stand in front of the camera and post a selfie to their Instagram account. This is when you walk into her library so, you instantly see that her library is student friendly and student driven and tech savvy. She also has this gumball machine she got off of Craigslist somewhere and she puts tokens in it with book reviews. Which again, is a fun sort of viral thing right at the entry to her library which tells us that libraries can be entertaining and interesting. I love this display this is at Norfolk Public Library in Norfolk, Virginia. I think it's Lowver is the name of the library. And, I love what they did in terms of addressing their population so this is their gaming room. And, they made video game art into tasteful art to display on the wall so, they took characters that are common and popular with students and then they made it into and artist display for students to enjoy. But, it's a way to speak their language and tell them that you are interested in what they're interested in. This is at Madison Public Library. Their intention in this children's area is to be accessible to their children's population. So, there's a lot of different ways they signal that intention. By the stairs leading up to the search kiosk, to these little cut out hideaways in the wall, the floor to ceiling glass board wall that students can write on, places for them to hang their coats, and they even used the floor. They have little things taped onto the floor with book tape basically helping kids find shapes and colors around the library. But again, this is signaling and intention they have and their intention is to be inviting to younger students and invite curiosity and inquiry.
So, one way to get started is to examine your district's mission and your library's mission. This is part of our district's mission statement, we have an icon for what we want our graduates to look like, it's called the wheel. And, we want students to be well rounded, healthy, communicative, engaged, lifelong learners. And so, this is a jumping off point and we use this to brainstorm about our spaces in our school. If our students are supposed to look like that and have these characteristics then what do our spaces need to do in order to help students build those characteristics? And, as a librarian if you can engage with the district's mission statement and mission work then it's a way to show the administrators what a vital part of the school you are and how you're really supporting the mission of the whole district by redesigning your library space. We did the same thing for our classrooms and we looked at what we want student learning experiences to allow for so rather than starting by picking out furniture we're starting out with a mission.
What is the mission and what do we want to accomplish in the redesign space and what do we want student learning to look like in that space? And that's what you see on the left of that diagram.  And then how the furniture reflects that is on the right side of the diagram. So, here's the translation into the library. In the library student learning experiences will look like this. Transparent, collaborative so, we're trying to define what those spaces will look like for our students. And, you can see how that translates into reality. This is the sliding glass door and this is a little pocket room that students can go in and use our Mac laptop computers but also they can study in there, film in there, we've got our green screen in there now. But, we gave the architects these key words to work with about what we wanted learning to look like in our space. And here's another picture of our space this is our juice bar and help desk area for our iPads but also it's our student cafe area and we branded it juice bar for creative juices. And, you can see the outdoor spaces and the transparent glass there as well.
If we're going to rethink our spaces then there's some strategies to doing it, using the school's mission is one as a jumping off point, thinking about giving your space a name. We visited another school, High Tech High in San Diego and saw the transparent glass walls there and so the name we gave our space was transparent learning. So, this is the outside of our library leading to the hallway and we wanted it to be a space where you could see learning going on when you walked by, everywhere you walked within the library. And, by having that name everybody understood all the decisions we were making in the space to make it fit that character. And, you can use lots of models, like this is from the Robin Hood Foundation libraries. They did a number of libraries in New York City and you can see how they use zones in this library space so there's a storytelling zone over on the right, there's a zone over on the left that could be an amphitheater or individual students could use it. You could see how they use murals and this is an example of finding a model. Our elementary librarian actually used this as a model and hired a local muralist to do a series of murals in her library and create a space with clouds and murals on the wall that mimic this. So finding models is a great way to create a space that's effective.
I love this book called Language of School Design if any of you are familiar with it it's a book about whole school design but it particularly focuses on naming spaces. So, if you think about a learning space in terms of zones then you think about it differently so you take a square or a rectangular room and figure out how you can create different kinds of zones. One zone they talk about is cave spaces so a small space that can encourage students when they need to be alone or they wanna read quietly. They also talk about other spaces like watering holes, a common area where people gather, pathways, learning studios. So, thinking about how you can apply those different zones to your library when you're designing it because we're trying to provide space to allow for inquiry, that allow for group participation, individual work. And so, thinking about how can you carve out all of those zones out of a rectangular space is a interesting design challenge. So here's the example of our cave space this is five years apart. We created this space right by our entryway designed for a student to hangout and read. And you can see that five years apart students are doing the same thing is this space so it's really functioning the way we designed it with our intentions intact.
Sometimes you have to repurpose spaces. This was originally our computer lab we have laptops in there but we had to have 'em all plugged in because the power reasons so the batteries would last all day. And then I realized once we had iPads one to one that really I needed to start changing the mindset about this space. So, we petitioned our PTO for money to by flexible flip tables that had whiteboards. We bought 15 extra plugs so that we could always keep a batch of laptops plugged to the floor if we needed to and we bought a shoe rack back there at the back to hang mice in. And now it's a flexible space that gets used constantly for brainstorming, for meetings, for students working collaboratively. So, just by refocusing that space we found a better utilization for it. And here's another shot of our glass wall space which we're also now incorporating our green screen into so students can go in there and create green screen productions.
Other ways to help make your space collaborative, don't forget the power of toys. We have toys on our front desk which is the photograph you see on the left and students stop there constantly to engage with my assistant, our other librarian, who are at the front desk and play with the toys. And it becomes a conversation piece, it becomes a way for us in a big 2600 student high school to meet students. And, it invokes a sense of fun and curiosity in students and they're always interested in the next new toy we're going to get. So, it's a great way to engage with them. And, on the right is a board we had built in the district you can kind of see that says, "Do you prefer e-books, print books, or both?" and we keep a marker on the board and students can make checkmarks or they can write on the board. We use it for different things at different times. But I had this built in house and we had it built out of transparent black plexiglass to mimic some more expensive boards I saw online. But, it rolls, it's skinny so it tucks into little spaces and the reason I had them design this was I wanted to be able to interact with students even when I wasn't in the juice bar area or even when I wasn't in different parts of the library. So by reading these question prompts and their interacting with me and collaborating with me even when we're not together.
Signage is a great way you can create a different feel in your library and changing to words that students might use. But another collaborative activity is thinking about how can you incorporate student art into the library? These are all words, shape words that our art department's displaying but it gives us an opportunity to collaborate with other departments when we invite the work of student artists into the library. And then thinking about teachers as collaborative partners, this is actually our teacher area. So, the table on the left is the collaboration table it's oval, it's designed to have teachers sit at it and collaborate. The curved bookcase has our professional collection, the right hand side has computers for teachers to come in and work on if they're not able to be in their classroom. We have DVDs in there and then the books on display are books teachers might like which we keep on display right there.  So, it's a way to invite teachers in and let them know that being collaborative is part of our DNA in libraries and that we invite them to come in and be collaborative in our spaces so we designed this very intentionally. In the very back corner you can see kind of a maroon armchair, we have two armchairs back there too so if teachers just need to get away or need their own cave space we provide it for them.
I also don't wanna neglect the roll of inviting student input as you're designing spaces, we need to have student collaboration. Too often my colleague, Diana Lawfenburg, points out we do things to or for our students, not by or with them. So, I'm designing the library for my students, I'm doing this display for my students but how can we do things more by or with them? On this example on the left one of our elementary teachers posted photos of different learning environments and then had second graders write what they liked and what they didn't like about different learning spaces. So it's a way to invite in their input. Think about what's one thing that students would tell you that they want in their library space and let them collaborate with you on helping to create it. But, think about seeing if you understand what things they would want as well and figuring that out. Different ways you can do that, you can certainly do survey of students on how they learn. You don't have to particularly ask them about the library you can ask them, how do you learn, how do you spread out? Do you like to sit compactly, do you like to have bright lights, do you like lamps, do you like it cold or warm, do you like music in the background? Just ask them a lot of questions about how they learn, surfaces they learn, where else they learn and use those ideas to incorporate into the design of your space.
Edutopia has a great program called remake your class which is an example of how they remade a classroom in a school and I highly recommend it. It's three five minute videos on how to redesign a space. So, some suggestions they had in there in the remake your class video for involving students, one is a visual idea board. So we did this on a trifold you just put photos of good things students might like and it doesn't have to be, it can more abstract than this or it can be library furniture or it can be bright lights or nature, whatever. And you give students three dots and they put dots by the things that they like. It's an easy kind of drive by way to get student input when you aren't necessarily going to have a conversation with them. Think about who your partners are our environmental science students wanted to volunteer we have a little deck off the library. Long story, but it was unused space that just was a 20 foot drop off and in our renovation we convinced them to put a patio in and our students said the patio just, the furniture's dull, the plants are dead so they took it on as a project to redo it. Think about who your other strategic partners are on campus that are students like interior design classes for example and might be a strategic partner you can engage with.
Most importantly I think we have to think about spaces that our students are already in. They are in public spaces, where do they go in the summer to learn? They go to the public library, maybe they go to a coffee shop or a Starbucks or a bookstore, maybe they learn at home. But, when they walk into school it feels like an institution there's bulletin boards and we have cutouts of fall leaves and we wanna make it feel more like a space that they would normally be in in their lives. By framing artwork, by honoring their collaborative spaces and creating pockets of places where they can sit together and talk to one another by using student artwork or creative design we can create a more playful space by thinking of things like children's museums and how they incorporate spaces we can make a space that's more playful. So, everything you can do to try to make a room that doesn't smell like school as my colleague calls it is an asset to our students.
In the remake class video one of the designers, Melanie Call says, "Just challenge optimism, the designer, the resourcefulness of a hacker, and the playfulness of a maker." and I love this. I think sometimes we squelch our ideas at the beginning we're not optimistic like designers because we know we have constraints. Everyone has constraints even designers but that doesn't mean at the outset you can't say, well, what if this, what if that? You may find a way to make it happen that comes in later, the resourcefulness of a hacker, once you figure out the broad ideas. But, don't be afraid to be optimistic in brainstorming. We wanna be playful and think about how students are playful. A lot of libraries in the past were very rule oriented and we want to embrace the playfulness that our students embody and think about ways we can bring in play and color into the collaborative spaces that we're building for the whole school. And last off we wanna make sure we measure what we're doing. Too often we create these amazing spaces but we don't really have a way to articulate what improvement in actually made so think about doing before and after surveys. This is one we did with our mobile classrooms that we made over last year that you can see in the original survey students felt like the old furniture did not make the classrooms easy to collaborate. In the post survey they definitely did so even simple surveys like this can be data that you can share with your district or school board, your principal and show that there's value in improving your library and making it a more collaborative space for student inquiry and education. So, another way to measure it is something like this flip grid where you ask questions and students can respond on flip grid. There's lot of ways to gather that data but I think it's really important that we measure what we're doing and we report it out and share it with people.
And last all, share your story. Please, as you redesign your spaces if you do anything as a result of this webinar today or articles you've read or blog posts find a way to share your story. Whether it's on Pinterest or you write a blog or you write an article about it for your local library magazine please share your story so that other people can learn from your experiences. If you wanna reach out to me here's my contact info again. Like I said, I'm @technoLibrary on Twitter and this is just a brief overview of our space and some ways we tried to build in collaboration into both the design of our space and into the use of it. And, I hope these ideas were helpful and I'm going to turn things over to Andy now.
Andy Plemmons:         All right, thank you Carolyn. Wow, such inspiring ideas. So many things that I'm taking away and wish I had known when I first started designing the space that we're in. All right, let's make sure I've got my slides up. All right, does that look okay?
Carolyn Foote:            I'm still seeing –
Andy Plemmons:         Are we, do you still see me or you're seeing slides?
Carolyn Foote:            I'm seeing slides.
Andy Plemmons:         Okay, great. So, we started the design process for our library about six years ago. I was in kind of a unique position where our school was next in line for a big renovation / rebuild. And so, a lot of conversations started to happen at that time about what do libraries look like today, or what should they look like in the future and there were some pretty stressful conversations that happened during that time. Like, should a library have books in it? And so, I felt like I was at this place where I really had to do a lot of looking at how our library was functioning, how I wanted it to function and really defend, you know, how our library was serving the students of our school. I didn't want a piece of our library to be thrown out just because it seemed like it was futuristic. So, I really had a hard time finding things to read six years ago. There's a lot that has happened on design, lots of furniture that's been created in catalogs that you can order now that wasn't around at that time. But I really looked at what's happening in our space. And so, I started to, you know, notice that in this space that we had a lot of very fixed furniture that there were areas of the library that I was trying to create. So I started to notice how teachers were coming in to use the space and how I was using the space and knowing that in our library there were multiple things happening at the same time so I might have two or three teachers in the library with their class teaching small groups or whole classes themselves while I was also teaching something. So I notice those kinds of things and tried to think, what kind of configuration, what kind of furniture would support all of these things happening simultaneously without it feeling like we're right on top of each other or blocking access for students to get to areas of our library?
So, we used to have this huge space out in the middle of the library where we tried to do some of our larger events. You can see these really large wooden tables with old chairs. This probably looks familiar to many people because I think a lot of libraries that are looking at design have furniture that looks like this. This was a huge table that we had from the University of Georgia Law School that they had donated and my principal loved that piece of furniture and he did not wanna get rid of it and I tried many times to get rid of it. So, I had to make it work, I had to figure out how to use that as a functional piece of our library. We also had a computer lab in the back of our library that was, you know, everything was wired in so there was no flexibility about that space whatsoever. We had to just get as many computers in one small space as possible and try not to trip over all of the cords. We also had this really long space at the front of the library where our assistant principal's office was and it really was a hard space to have meaningful opportunities just because of what else was in the space. But, we tried as much as possible to take, you know, what seemed like a useless space and turn it into something we could use so this was at our book fair. And, there were leaks. [Laughs]. There were, in the main area I was teaching at one time there were 20 buckets in the floor catching water from the ceiling and I was trying to teach and step over buckets and so, I brought that into the equation as I was designing this new space.
So, when it came to actually sit down with the architect, you know, I tried to come to the architect team with one big word of flexibility. I wanted our space to be able to change throughout the day 'cause I knew that from what I had seen happen in the old space that whole grade levels wanted to come to the library for a guest speaker. Or, we wanted to bring in an author to speak to two or three grade levels at a time. Or we wanted spaces for small groups to work in a quiet area. So, I brought all those things knowing that I wanted a space that was really flexible and could change, and also that there wasn't a lot of wasted space in the library. Everything had a purpose, every space had a reason that it was there, to serve our library members. One of the things that I looked very carefully at was the circulation area. Our pair of professionals in our library were cut about the time that I was doing the design so there was less need for this large desk that someone sits behind. And, even when I had an assistant in the library I really didn't want that person sitting behind the desk all the time I wanted them up and helping the students. So I really struggled, this was, it seemed so simple but became one of the hardest things to convince the architects about. I wanted a very small circulation area that students could do self check-in and self-checkout so we created this little island. And this was custom built and it has an area for check-in and an area for checkout and the carts that books go onto, the re-shelving carts park right inside so they're not sitting out in the way. There's not a book drop so it's books are checked in those books go straight onto the carts and ready to be organized to wheel back out to the shelves.
I really tried to not have much fixed furniture at all so the circulation area is fixed and then this piece of furniture is the only other fixed piece of furniture in the library, everything else moves. And, I really even didn't want this one at first until I realized how open the very front of the library was and I noticed that as we first moved into the space that students would rush into the library and they would bypass a lot of stuff that was at the front of the library 'cause there was so much open space. So this fixed piece of furniture actually creates kind of like a buffer to get students to slow down as they're coming in the front of the library. It also serves for traffic flow so that you can walk on either side of it, it really helps with students coming in and out. And later you'll see a picture of our book fair and how this really incorporates two separate spaces during our book fair. But, you'll notice there's a purple counter attached to the front and this is an area that we use to put out opportunities for students. So I might pull out our osmos or I might pull out some other sort of center that students can visit as an option while they're in the library and I try to mix it up and put different things there throughout the year. This is kind of our main instructional area so I tried to have a space where we could have multiple instructional areas so I have a screen here and there's a screen in another part of the library. But, you'll notice that there aren't as many tables in this space because this is where students will mostly sit on the carpet and we can move to the tables if we need to and of course those tables can be stacked and moved out of the way. This is our second area in front of a screen and this area's used more when students need to be sitting with their devices at tables and be able to see a screen. So, we can kinda go back and forth from working at tables to seeing the screen and it faces a different direction than the other space so there really could be two lessons going on at the same time if another teacher wanted to come in and work.
So I really tried to think about how can we create this space that allows many things to happen at one time without blocking access? And, there are a lot of things that I couldn't ever really have anticipated happening because as students filled the space they really started to make it their own. And they found ways – you know, I try to provide as many kinds of furniture as possible and spaces as possible but students recreate the space every day. I walk in and chairs have been moved and cushions have been moved and hockey stools have been moved. And, you know, if you're a person who likes everything in its place you kinda have to get over that because when you create this space that students come into and they really start to take ownership of the space and they use it the way they feel like they need to things are moving all the time. And so, you'll see students circled up in the, we have these great curvy shelves and they create these little nooks where students can sit together to collaborate on their projects. But we also can use those tables like we saw earlier where teachers can easily get to students and work with them if we need to have conversations with them along the way. And here's a great picture that shows, you know, that lots of things can happen at one time. This is me doing a story time with a younger class where another, older class is working at the tables behind me and you can't see but far across the library there's maker space happening in the corner at the other tables.
I'm just gonna show you a few pictures so you can see that, you know, this piece of furniture where all these students are sitting serves as a kind of shelf but students sit on it, they kneel down at it and write on top of it. This is an entire grade level in the library at the same time. And, what I love about this is that, you know, we're able to move things however we need to to fit all of these learners in the library at one time but at no point are any shelves blocked so books are always accessible to students. Even when this large of a group is in the library. You can see what is intended to be a stool, students turn it into a writing space so they use our cushions our stools and really making it their own. We also love to use our shelves, because of their height, as a display space for student work and we host a lot of exhibits throughout the year from grade levels or from our art teacher. And this is a group of fifth graders that is displaying their art showing what home means to them and they used our 3D doodler pens for this and lots of other materials and they're talking to the kindergarteners about the work that they have. So, their art had been on display in the library but they had an actually gallery talk for classes to walk through and listen. And so the shelves became a place for display.
Our maker space happens all over our library. We have a room that we call our maker space but a maker space is not just a room to me it's a place that comes alive with creativity and it's hard to contain that to one small little room. So we kinda spread maker space throughout the library and I really look for – we had a question earlier about how you manage library and maker space at the same time. And, to me I really look for partnerships as much as possible. This is an example of a grandparent at our school who loves to do bookmaking and she came in and lead a maker space time all about how to make your own books. And I was in the library, I participated in the maker space but I also was able to walk over and teach a class while she continued to lead this group. I also, I'm right next to the university of Georgia so I reach out to them and collaborate as much as possible with them to come in. So you'll see in this picture some UGA students working with our maker space students. So I think, you know, as far as letting your maker space run, you know, a library is not a maker space by itself but a maker space is part of a library. And, I think that you really have to look at any kind of partnerships, let students take ownership of the space and be able to lead things. I've had students, even in elementary school lead a maker space because they had expertise in an area. And we do go into our maker space as well and sit down and look at some things. Like, this is a kindergarten class looking at our 3D printer and seeing how it was printing the things that they had designed. We also have a tool maker fair. And so, when that happens we of course make things during maker fair. But then, the library can transform into our maker fair so, all of our shelving in on wheels and if we need to roll the entire fiction section out of the way we can and it opens up the whole center of our library so that tables can be wheeled out for the different exhibits. And people can easily walk around and see all of the different work. So, these are students showing off things that they made in the maker space. When we have an author visit, the same kind of thing. I'm able to easily push back some shelves, move some tables in really just a matter of minutes because of how flexible all the furniture is and I can fit multiple grades at one time and still have access to all of the shelves.
We also, you know, really like to think about how to transform our space into an inviting place when we're getting ready for an event like an author visit. So, when Cassie Beasley came we really used the whole front of our library to transform into a circus so it felt like you were going into Circus Mirandus and we had a photo booth for kids to take pictures with all kinds of props. Earlier I mentioned this fixed piece of furniture at the front. So when we have our book fair I move the whole front section of the library and use this fixed piece of furniture to attach the book fair to so that as students come in the front door, they come to that purple counter and they make a choice of going into the book fair or going to the right and going into the regular library. So, those things are accessible during the entire thing. So you'll see some examples of just different kinds of events that we have and how the space transforms to meet the needs of that event. From Polar Express, to poem in your pocket, skyping, with doing our picture book smack down, Google Hangouts. And, this past year I genrefied our library which is a huge project and it was great to be able to use our space and shelving to sort of out all of the books. And, you know, I can't go into a whole long explanation of why we genrefied but it really came down to what students were asking for and helping them find something in a fast way. But, one of things I loved was that even though it was super frustrating, putting it back together was nice because I could put books onto shelves and then if it didn't fit where I wanted it to I could easily wheel that to a new section of the library. Or if I wanna highlight a certain genre I can just put that whole section out and wheel it to a certain part of the library and show it off.
Like Carolyn talked about with signage we have signs on the tops of all of our shelves that match the spine labels so the students can see the different genres that we have. I also do self check-in and self-checkout so you can see here some students using that counter space at the front. We also use our furniture to display so we'll pull out some of those green cushions and change it into a place to show off books. I love students taking ownership of the space and one of the things that I do is letting students have a portion of the library budget each year to buy books. And, I have a whole process that they go through to do this but they really analyze what the students in the school are asking for and they meet with vendors and they order the books. And when they come in they really transform the space so that they can highlight the books that they got. So, whether it's pulling tables together or putting books up in the front windows of the library or having custom made signs put out to advertise books, the students take over the space.
We also have a glass board in our library and that's a great place to have just informal conversations to get feedback from students about what's going on. But I'm always looking at ways to reimagine the space, different things to try, we just put in this Lego wall as a space for kids to collaborate and see what they can create together on our library walls as a form of art. And, I did wanna give a little shout out to Nikki Robertson 'cause she just moved into a new elementary school and I love what she did in Texas. Is, she really when she moved in she went and looked at all of the space and she kind of drew out a layout of the space and she invited people on Twitter and in the Future Ready Librarians group to really look at her space and to give her ideas, to crowdsource some possibilities for the space. So she took a lot of those ideas that she got from people and she started to reimagine this space in a way that would be useful to her students. I do think that it's important to think about your space, it is the third teacher, your space can inspire, it can motivate, nurture, and inform the practice that happens in your library. And I'm gonna turn it back over to Shannon for questions.
Carolyn Foote:            Shannon I think you're muted.
Shannon M. Miller:     I'm still muted. Sorry about that. Thank you so much and thank you guys. I learned so much and I was just saying that I took lots of notes and when Andy's student had the shirt on that said best day ever I thought all of your students think that when they went to your libraries. And so, we really appreciate you sharing those spaces with us today. I've been watching the Twitter feed just on Facebook and answering some questions and perfect also for this time of year as everybody goes back to school as well. We will only have time I think for a couple questions because we have to also have some housekeeping at the end. But, one of the questions if you could just answer it and I know, especially Carolyn went over a little bit of her mission for her school. But, just to go back to that again 'cause that's been a question of a couple people is, how can a library better advance the school's mission to create a 21st century learner? And, just in a really short little blurb, I know that will be hard but if one of you or both of you wanna answer that that would be great.
Carolyn Foote:            So, one thing we did was we took that mission statement or wheel that I showed you and we actually brainstormed all of the things that student learning would look like if we accomplished that. And then we took, just from a level practical kinda letting how we did it, we took all of those brainstorming sticky notes, you could use the Post It app to do this and then we grouped them and we tried to find commonalities between them. And then, as a group we saw certain commonalities were lining up and those were the things we tried to focus on the most. So that was a practical way in which we did it and I think it's also paying attention to what your administrators, what's important to them. I just did a leadership activity where we made a Venn diagram of what was important our administrators and our district and what was important to us and where did those things overlap in terms of Future Ready and trying to identify areas where we shared common ground is important.
Shannon M. Miller:     Yeah, great.
Andy Plemmons:         Yeah. And, one of the goals that I have in my library is giving students and teachers and families permission and opportunities to dream and tinker, create and share. So, I work very closely with all of our teachers in our building and any time I'm collaborating with them on projects I'm really carrying that goal with me thinking how can we take these standards that are sort of the box, right, that we have to do? But thinking about how can we take that and give students these opportunities in the library and in classrooms to tinker, to create, and to share beyond the walls of our school? So that really to me helps us look at the 21st century and beyond.
Carolyn Foote:            I love that you did that you actually inspired our librarians to come up with essential questions for our library. Which are: what does it mean to be curious, what does it mean to take action, how do I explore the world? So those are our three essential questions for our district libraries. But, you inspired us.
Shannon M. Miller:     That's great. You guys are both so inspiring and I know that people will be watching again to get all of your ideas and I know that I will too. So, it was really great and if you have any questions, even though we don't have time now please feel free to reach out to both of them. I'm sure that they would love to answer your questions. And, keep sharing this too, you know, with your district. I know there's been lots of comments today about how great this was and how people are gonna be watching this together with their groups so, that's cool. But, I'm gonna share my screen again just so we can hear a few things at the end to keep you going throughout the months into the next webinar as well. Okay, can you guys see my screen?
Carolyn Foote:            Yes.
Shannon M. Miller:     Okay, great. So, a few important keys to share just about us as Future Ready Librarians the information is I wanted to direct you to just the slide that shows the website. And like I said this has been updated recently but there's lots of information on here that you can get to, not just for yourself but to share with your administrators and teachers and even your students as we go back to school. And, don't forget to take part in the future ready libs hashtag. I know that I can't wait to go back and just look at the things being shared during this webinar time but also look at the future ready just the page for that too. That's the thing that I have right here in my Tweet deck that I follow _____ as well because of all the things that are being shared and as always the TL chat which is one of my favorite chats to follow on Twitter. And, I know that using those two hashtags will really get you involved in the conversation. The Future Ready Librarian Facebook page is amazing I was just looking trying to _____ I think we, earlier today we were almost to 10,000 pretty close, we're even closer now. A lot of people have joined over the last hour even and please take part in the conversation there and make connections and share things that you're doing that are future ready with everyone in this group. I think it's an amazing community and conversation as well. Also, on Instagram we're using just that hashtag #futurereadylibs too and I'm a very visual person so I love this like so many of us do and it's great. You know, especially like I said this time of year to see what is happening in our library in a lot of these pictures that they talked about today, you know, things like that that pop up they really stick in our head or give us examples and great things that inspire us to do that in our spaces too.
One thing that a lot of people talked about as well the last couple months is there's so many great things being shared that we need a place to kinda share them. And so, I have created this tablet and we'll share these slides as well afterwards so you have all of these links too but you can go to the tablet, see what's being shared, please share as well. This is a great place for us just to _____ all of the resources that we're finding and that we're creating for Future Ready Librarians. And so, you can also feel free to share this and it's yours as well so, add to it too. There's also a Pinterest board and so, if you feel like collaborating with the group that is already pinning please do so that would be great. _____ has also created these great digital stickers that say that we support future ready libraries and in this slide there's actually a link that will take you there so you can get them for your blog and your e-mail signature, you wanna print them off, whatever you wanna use them for. And, we've also created these awesome posters that say, "I am a future ready librarian." these you can get from your _____ rep and we're gonna have them available too at conferences and so, they'll be available. Especially with the big ones coming up at AASL and some others and it's been really fun to get these into the hands of everyone. You can also get them off of the Future Ready Librarians page and so there's a link in there and you can find it on that front homepage too. And like I was telling a group I was working with at Cornell last week, I would print this off and even put it in every teachers mailbox on what you can do as a future ready librarian and post this in your library this year so you can have those conversations with all of the stakeholders that you work with.
Now, coming up we have our next webinar in October on the 17th and we're going to be talking about the instructional partnerships here. And so, I'll announce pretty soon who's going to be part of that webinar and all of the webinars are all on the alliance for excellent education page. And so, the first webinar, and the second webinar, the third webinar and of course, the webinar from today are all on there that you can get to. One thing I wanted to mention as well, when you sign up for a webinar and after you watch it you'll also get in the e-mail just a certificate to say you participated in the webinars. That's always a good thing to show our administrators too. I wanted to also give a shout out to the institutes that are going on and these have been happening now since the summer and we have several more this fall that Mark, Ray, and myself and the whole group of future ready leaders are taking part in and also bringing in all of you to these areas to have conversations. Not just about future ready librarians but about all of us within the school and being future ready so you can find the link there and you can find those dates as well. So, continue to take part in the conversation that's happening remember to use the hashtags get involved in not just your school but what's going on in your state and in our country and have these conversations. And, I know that all of you are getting ready to go back to school and so have a great time with that as you kick off your year and you'll be watching what's happening in your schools too as you work with your kids and become even more future ready. So, thank you Carolyn and Andy and it was so great to have you on and hear your stories and you inspire us all so much. So, we really appreciate that.
Carolyn Foote:            Thank you.
Andy Plemmons:         Thank you, it was great to be here.
Shannon M. Miller:     Yeah. Well, see you next time everybody, thanks.
[End of Audio]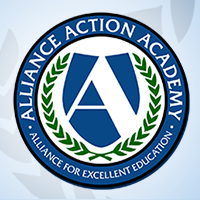 Welcome to the Alliance for Excellent Education's Action Academy, an online learning community of education advocates. We invite you to create an account, expand your knowledge on the most pressing issues in education, and communicate with others who share your interests in education reform.
Register Now
or register for Action Academy below: