Timeless Learning: How Imagination, Observation, and Zero-Based Thinking Change Schools

October 30, 2018
6:00 pm – 6:45 pm EDT
YouTube Live
Future Ready Schools® Invites You to a Webinar
Timeless Learning:
How Imagination, Observation, and Zero-Based Thinking Change Schools
Panelists
Pam Moran, Former Superintendent, Albemarle County Public Schools (VA) (@pammoran)
Ira Socol, Senior Provocateur and Learning Environment Specialist, Socol Moran Partners, LLC (@irasocol)
Moderator
Tom Murray, Director of Innovation for Future Ready Schools®, Alliance for Excellent Education (@thomascmurray)
On October 30, 2018 Future Ready Schools® (FRS) held a webinar that was part of its Leadership Hub, a one-stop-shop of professional learning opportunities for school leaders.
In this webinar, Pam Moran and Ira Socol, two authors of Timeless Learning: How Imagination, Observation, and Zero-based Thinking Change Schools, discussed how developing a culture of invention and innovation creates new pathways to activate creativity, voice, agency, and influence in all young people. Through making, engineering, creating, designing, and producing projects and products that enrich learning experiences, students can impact their classrooms, schools, communities, states, and even the world.
The authors discussed:
"Timeless learning" and why should educators learn more about the timeless design principles
How change in schools can create a culture of invention and innovation
The way they see education evolving to utilize the technologies of immersive environments as accelerators of learning
Thoughts future of timeless learning and changes still to come
---
Please direct questions concerning the webinar to ldossin@all4ed.org. If you are unable to watch the webinar live, please register to receive the video archive directly in your inbox.
---
Future Ready Schools® (FRS) is a bold effort to maximize digital learning opportunities and help school districts move quickly toward preparing students for success in college, a career, and citizenship. FRS provides districts with resources and support to ensure that local technology and digital learning plans align with instructional best practices, are implemented by highly trained teachers, and lead to personalized learning experiences for all students, particularly those from traditionally underserved communities. FRS is led by the Alliance for Excellent Education alongside a vast coalition of organizations. www.FutureReady.org
Follow FRS on Twitter (twitter.com/FutureReady); Facebook (facebook.com/futurereadyschools); and the FRS Leadership Hub (futureready.org/hub).
---
If you are interested in renting the Alliance's facilities for your next meeting or webinar, please visit our facilities page to learn more.
Tom Murray:              Director of innovation for Future Ready Schools, a project of the Alliance for Excellent Education, located in Washington, DC. Future Ready Schools is a collaboration between the Alliance and a vast coalition of over 60 other national and regional organizations.
The goal of Future Ready Schools is to maximize digital learning opportunities, and to help school districts move quickly towards student-centered learning. The effort provides districts with resources and support to ensure that local technology and digital learning plans align with instructional best practices, are implemented by highly trained teachers, and maximize personalized learning experiences for all students, particularly those from traditionally underserved communities.
The hashtag, as always, for today's webinar is #FutureReady. Thank you for making an investment and joining us today. I'm gonna be your host on this webinar. We're gonna call it "Timeless Learning," how imagination, observation, and zero-based thinking changed schools.
I am so incredibly excited to have two good friends with us today, friends of Future Ready and incredible educational leaders, Pam Moran and Ira Socol. Joining us today. And I talk a little bit about their brand new book, Timeless Learning. They are incredible leaders in the field, and I'm ecstatic to have them here today.
What an honor it is to have you both. Pam, can I give just a quick moment to have you do an introduction, and then, Ira, over to you.
Pam Moran:               Absolutely. Tom, it's great to be with you here today, and I have to tell you that when I was originally invited to join in what was at the time called a group of 24 people with some expertise around implementing high quality, digitally based, focused learning work through the Alliance for Excellent Education, that I immediately after figuring out what is this group all about, said yes.
And I have to tell you that when you get invites at the national level, you really have to think about the time that you're gonna invest in, and what you think's gonna really make a difference. And as I've watched the work of the Alliance grow, both as a superintendent, or just having finished 13 years and retiring out, that I believe that the Future Ready initiative has really changed the landscape of the way that we think about the work that we're trying to accomplish across all of the states in the United States of America.
Thank you for inviting us here today. And as my good friend, Glenn Robbins, who's a superintendent up in New Jersey, says, "Pam, I don't think you're retired at all. I think you're rewired," though maybe I'm a rewired superintendent vs. a retired one. But it's great to be with you.
Ira Socol:                    Hi, Tom. It's good to see you again. I've been involved in K-12 education for about 25 years on a whole range of things, starting as in special education on helping kids with technology, moving on through every level that I've worked in, and being a chief technology officer, and working with Pam for the last ten years.
It's been a great ride. I have a lot of different things from my background from being a New York City police officer, to studying architecture, and I think that's helped gain this sort of different view of the world, that has helped us see education in new ways, so I'm thrilled to be here with you.
Tom Murray:              What an honor it is to have both of you here today. Up until recently, we're both in Albemarle, your work was truly looked at nationally as breaking boundaries. But you've come up with this term, and using this word, "Timeless," for timeless learning, and I love the subtext that you're using, how imagination, observation, and zero-based thinking change schools.
Can you spend a few minutes talking to us about that? Give us that high-level overview of where we're gonna go with today's conversation.
Ira Socol:                    I'm happy to, Tom, and I hope the screen sharing is going, looks like it is. I just wanna take people through a little trip through where we were going with this book. As I said, Pam and I, and Chad Rateliff, the third author who can't be with us today, have worked together for a decade. We all actually met on Twitter, Chad and I first, then we met Pam, then she managed to get us all working in the same place and with the same goal.
During that time, we had conversation after conversation as we iterated our way to what we considered a big step forward in learning for our kids. Oops, I'm sorry. That's going too fast. We'll go back here.
So, we talk about imagination and just to give you a little thing. This young man who's a rising kindergartener this summer at a summer event we call Koda Dojo, he is explaining to me here his lightning detector that he built. Now, of course, it doesn't detect lightning. He found parts in the broken parts bins we had there, and he assembled something.
But one of the things we saw by letting his imagination run wild is that his vocabulary may have increased 20 percent in the half-hour before this. The next thing is observation; how do we look at kids and look at schools? This is one of our libraries, you can't quite make out the drill press in the background, but sewing machines are something we have in all our libraries, because we've observed the maker impact that happens with that, and how it engages children.
This young man is making a suit out of Doritos bags. Zero-based thinking is the thing we get the most questions about. But zero-based thinking is simply if you say to people, if you've never heard of school, you've never been to a school, you've never seen it, and you had to get kids from age 5 to 18 or 5 to 22, what would you do?
And Pam and I, and Chad are of the deep belief we do very little that we do know. What you're looking at here is a student at the newest high school at Albemarle County. It's a school without classes or classrooms. Students bring projects, and then we fit content to that.
We just talk about what is timeless learning? What are the things that define human learning? And we'll talk about all of these, the social, the community cognition, what an aspirational peer is, and really importantly, context. Again, we have a library. Not every library in the high school has Madden tournament going on, but we can.
This is the kind of classroom we're building where we get a chance to do new construction for elementary schools. And we build spaces like that, 'cause we talk about the basic ways humans learn, from play, from storytelling and story hearing, from making movement, invitation. And most of all, experimentation as they learn to define themselves.
So, we believe in children having voice, agency, and influence. These children are rearranging their elementary school library. And we are just thrilled to be here and talk about the book, and to hear all of your questions. Thanks.
Tom Murray:              Thanks for that quick overview there. Pam, I'm gonna defer to you here for a moment. Can you give context to the size of the system that you guys have just left in Albemarle, just 'cause it's easy to watch something like this from all around the country, they have hundreds and hundreds of people registered for today. No pressure when I say that, by the way.
But it might be some of the context to our own mindset, our own thinking, of "They must be a ridiculously wealthy district, they must be a tiny district." Just give context to the overall demographics, if you would, just to give context to where this work is truly occurring.
Pam Moran:               Albemarle County where I was superintendent for 13 years and actually worked for 32 hours is an interesting district, because it has 726 square miles and runs from the top of the Blue Ridge Mountains to within about 60 miles of Richmond, and the Piedmont of Virginia.
But what's really interesting about Albemarle County is that it is a microcosm of basically any built-in environment, rural environment that you have in the United States. We have small, rural schools with higher poverty. We have suburban schools that are a mix of middle class and even high end in terms of less than 9 percent free and reduced lunch.
Many of the schools that fall into that suburbia have everybody from people who are small business owners, and professionals to the University of Virginia, which we serve. And then we have an urban environment, what we call our urban ring that sits around the city of Charlottesville, which is a school division of ten square miles in its own right.
But the Albemarle part of that urban environment is about 35 square miles that actually meets Virginia's criteria for being a city. And that is where our highest poverty is concentrated, in terms of ranging from anywhere in the 50 percent plus, to around 80 percent free and reduced lunch.
It's where we serve kids that come to us from the International Refugee Center, but we also have 71 languages, plus, spoken there, and a high ELL population. And so, when I talk about Albemarle County, one of the things I've said is that over my tenure there, that as we were test betting approaches to teaching and learning that moved to a more contemporary, progressive model, that we could try out what does Maker work, what does problem project passion-based learning, what does connectivity and interactive technologies look like, what does universal design look like for learning.
Whether you're trying to test bet it in a rural area, a suburban area, or an urban area, that we were able to figure out, how is it, not that we scale up programs identically everywhere, but how do we scale the big ideas of high quality, progressive, contemporary learning that really is focused on engaging kids in high levels.
Tom Murray:              Thanks for sharing that. We're gonna dive into some specific questions, some of the things that Ira had just referenced real quickly. But Pam, I've gotta ask you this from the getgo and the start. As the superintendent over the last 13 years, as you said, the buck stopped with you, and I'm sure you got political pressure from all different sides or from the community, but you truly had this definition of we're gonna redefine learning in our schools.
How do you go about doing that with superintendents that are watching this, you had a county system, and just listening to the way that you had your rural areas, your urban areas, there's so many complicating factors with just that. This isn't just, "Hey, this is three or four schools that we did it in," you're talking a large space, many miles –
As the superintendent in that, with the buck stopping with you, you made many of those calls, of yes, we're gonna think outside the box, yes, we're gonna build treehouses here so that we can redefine learning spaces, and we could even talk about that. There's so many things that were very, very different than your traditional schooling.
But you had to sign off on that. Talk to the other superintendents that may be watching that are fearful, "But my board, what in the world will they think about that," or "My community, they didn't do it that way." Talk to the superintendents or other school leaders that are out there that understand and want to redesign learning, understand that they wanna change things the way they've done them, and now were looking at you, saying, "Here's what we did." And I'm sure they're gonna continue, your legacy will continue to leave on there.
Talk to those folks for just a few minutes.
Pam Moran:               I do believe that one of the most important things that we did was to build the capacity of educators across the system at every level, to be able to sustain the direction of really focusing on how do we have young people who really get a lot of different paths and opportunities to find success in school, but also success in life. And so, that was a starting point for us in every single decision that we made.
We always asked, "How is this going to benefit learners?" I think that a couple three areas of focus that I would bring to both building level leaders, and I've been an administrator in middle school, elementary school principal for ten years, and also have taught at the high school and middle school level. I'm one of the few people that's out there that probably has experience that really spans from pre-K all the way up through actually higher education, in terms of having worked with different populations of learners.
But here are some things that I've really learned, and one of them is that any time that we took on something that was going to be a shift, and I do have to say that we experience the very same recession that everybody else in America experienced. And one year, I had to cut $10 million out of the budget.
So, we were really faced with how do we really continue a trajectory of shifts that we believe are in the best interest of learners and learning, and at the same time, be able to support that up financially in a time when there was not money coming to us to do additional initiatives.
And so, one of the things that I would just say is that we utilized a model that I call the Yelp model. Ira reminds me routinely that there is an app for that. But for me, what the Yelp model really did, it's a fairly simple way of thinking about four stages in a process of change to be able to get innovation and invention work moving.
And I think any school division, any district in the United States, should always have four buckets of work that's going on at any given time, and some of that work is what I would call the bucket of invention work that's brand new, innovation work where you're really shaping up ideas that seem to have promise, strategic work, which obviously is when you say something that has promise, we're now ready to really deepen its foothold inside a school district, and then lastly, operational. At what point in time does work move into a bucket where it's been nurtured into life, and is running well, and it needs to still continue to have attention, but it's well beyond being at that invention or innovation or strategic stage.
I always think about where those buckets are, and how is it that we're thinking about what goes into what bucket. An easy one for me to talk about that falls into what I would call the initial invention innovation work was when we decided to be the first school division in the state of Virginia to take advantage of being able to put solar panels on the roofs of schools.
Now, that's an operational activity that's built into pretty much everybody's CIP that every now and then, you have to replace roots, or you have to deal with what's on top of your schools, in terms of either replacement or upgrades to your roofing.
And so, what we decided to do was to go after solar panels, because we really had figured out, this is something that could be a great learning experience for kids to learn about solar energy, but it also can be a real cost savings for us. And so, we were constantly thinking about whether it's something that we traditionally defined as operational, or whether it was something that was instructional.
What are the things that we're doing that we can turn into both learning experiences for kids, as well as be able to really impact the bottom line of the system? The Yelp model always for me started with when somebody comes with an idea, like solar panels, or let's take lockers out of high schools, or let's implement project-based learning.
Of me being able to take a deep breath, or even to build treehouses in a cafeteria, when I thought it was gonna be dining booths, that what you start with is how can I say yes to this idea, and even if it's something that still needs some shaping up in order to be able to realize it, that you really try to affirm people who are thinking innovatively about the work.
The next thing is that too often, we have people in our systems that you don't have a principal or a teacher with a really great idea of something they wanna do that will impact student learning. But it becomes something that's a one-off, with that school or that teacher. And so, the other thing that I would oftentimes try to work with people on is who else can get around the table that would be willing to engage with this, whether it was a school that wanted to implement Minecraft EDU, thinking about who else in the system, what other school might partner with you to take that on.
So, that idea of yes, being the first step, engage the E in Yelp as the second step of engaging teams, the third leveraging resources where we had to say when we put in place an RFP to all of the teachers in the system to think about what is a change that you'd like to affect in your school that you think would make a difference for kids and actually change the school's orientation in terms of its work?
We had to leverage resources from a number of different departments, because there was no new money to fund that RFP. And so, one of the things that we started to really think about is what are the things that we can stop doing and repurpose funding, leverage funding, in order to be able to get that work to a level where it can be implemented?
And then the last thing in the Yelp model, beyond the Y for Yes, the E for Engage, the L for Leverage, is P for Prototype, that I've seen too many times as a superintendent, some of my peers across the nation end up on the front pages of it could be Education Week, or it could be some journal, because they tried to implement at scale before they really figured out where the bumps, the barriers, the challenges, the small mistakes, and the large potholes are gonna be in a project, and to give people an opportunity to really play around with, and figure out how to overcome those things that might cause a project to stop.
I won't refer to the infamous iPad rollout in a large system in the United States in any detail, but you've seen those things fail, and when a project fails at scale, oftentimes, that means that it will stop and it will not go forward, and it could be years before superintendents, oftentimes, a new superintendent that might want to come back to it.
So, we use that Yelp model, that was one that I really believed in, and tried to really support up. I had teachers say to me, "Pam, I actually shared an idea with a principal, and I could see he was getting ready or she was getting ready to say no, and then they looked at me, and they said, 'Yeah, let's make this happen. We may have to play with it a little bit.'"
Go, to get to yes is probably one of the things that I would say upfront. And if you can go through a process where you experiment in places where you can aim small, miss small, you're more likely to be able to have a success story, roll it out in a much greater scale in terms of big ideas, than if you start large, and then have to pull back. I hope that wasn't too much.
Tom Murray:              So many incredible nuggets of wisdom that you shared there, for sure. One of the things I've respected most about your leadership and seeing it from afar at times, and up close, as well, is the amount of empowerment you do of others, and you just exemplified that in sharing the teachers having that voice, the teachers having choice, the ability for teachers to bring ideas that may be way out of the box, and not be ashamed of that, but to try that, and the ability for your principals to say, "That might sound crazy, but maybe we can try something along those lines."
And that culture of innovation is certainly what's needed. I wanna dive into an area around technology. Your book is called, Timeless Learning, but you're both really known for pushing boundaries, especially with what's possible with technologies in school, and part of the reason I wanna hit this is as we continue to look at budgets being pretty stagnant in the last 10, 12, 13 years, they got a little bit better in the last number of years, speaking nationally on the whole, Ed tech spending continues to go through the roof. It continues to accelerate.
We're buying more and more stuff, and quite often, places are sitting back, saying, "Well, nothing changed." How do we make sure, really, how does the notion of timeless learning and technology go together, how do you guys define the use of technology? Ira, let's go over to you if we could, related to this, talk to us about technology and how you guys have talked around this, and worked through it, and implemented it, and really, the vision for it.
Ira Socol:                    People who know me, Tom, know that I'm a very big proponent of what technology can do for kids in schools, and I'm a person who doesn't disclose things that we're not for basically contemporary technologies, I never would have even got a BA degree, because was reading support that computers could give me that enabled that.
The thing about technology is, technology is a tool, and one of the things I've always said to everyone in Albemarle County, and wherever I've gone is that you have to think of everything that's not natural, which are only the people in a school as technology. The lights are technology, the furniture is technology, a blackboard is technology, books are technology.
And the trick to me is to have a balanced treatment of what kids need. We work very hard to get to a level of one to one, grades 3 through 12. We did that actually with very, very little money, because we found a lot of ways to stretch dollars out. We gave kids real computers, Windows, Windows laptops, Windows 10 laptops these days.
But we kept all of our imaging and maintenance in house. Students set up all the computers every summer.
Pam Moran:               I think that at one point, Tom's friend and our former employee, Vince Shreibert said that we were saving somewhere in the neighborhood of I guess between $140,000.00 and $200,000.00 a year by having kids do internships, get paid, but also be able to pick up some skill sets that leveraged some work for them beyond just the school year for us.
Ira Socol:                    Yep, and we only bought the software we thought required, would serve students really well, and so we bought Windows and Office, because we thought that had value. We bought the Adobe Creative Suite, almost everything else on our computers is freeware, things that anyone could get, and that freeware has made our computers completely accessible, so any student can use all of these free tools that make a computer work personally.
We tried to manage our spending very carefully, so when our students or our technicians do warranty repairs, the company we bought computers from actually paid us back. When we combined all those things, we were probably generating $1 million a year in savings, which is really significant.
But the driving force to that is how does technology change the classroom and bring us to the natural learning we're hoping for? And if you use your technology well, it's an incredible collaboration tool, it's an incredible investigation tool, it's an incredible connection tool to link rural kids, or urban kids to a world they never get to see.
We can take kids on virtual field trips with very inexpensive virtual reality things. We may spend a bunch of money in our urban elementary schools to create portals that allow two-way communication with experts around the world, but those virtual field trips pay off in massive ways.
Pam Moran:               And I would even add, Ira, that just as an aside, that one of my favorite stories that I tell is about at Agnaherd Elementary, where we put in the first international portal, which is a significant difference than just looking at something on a smart screen or television environment. That we were able to witness one night, kids coming back to school that evening in this very urban environment, with their parents, and able to interact with a marine scientist who was underwater in the Great Barrier Reef, and I have to tell you, when you see community engagement where parents and kids are together in that kind of a learning environment, and these are families that themselves may not have access to that kind of opportunity for their kids, it really makes a difference in terms of what I call the equity pathway, which we think is absolutely critical.
Is that the tools that we have with the expertise of teachers who understand how to use them in powerful ways, creates a unity of opportunity for kids that is producing what I would call a flattening of the hierarchy in terms of equity that's unlike anything that we've ever been able to see.
It's not just about Albemarle. It's happening all over the country where people are using tech in powerful ways.
Ira Socol:                    The last thing I'd say is you have to think of what the whole technology package is. If every student has their own screen, what exactly are you using projectors for? And so, we went through a thing in saying, "We don't need projectors in every classroom. We surely don't need smart boards in every classroom."
But we bought interactive panels, maybe one for every three or four teachers to use together that supplement the students' laptops in dramatically different ways. One of the tricks is if you're moving to personalize individualized learning, which is the timeless, human way of doing things, you don't need to invest so heavily into mass instruction.
And I believe it works.
Tom Murray:              Great. One of the things that I really respected about your work that I've seen over time, you all share out online or just even seeing in Albemarle is really using technology intentionally, but also for active use, for very relevant, real world learning. So many times at schools and districts fall into, "We're gonna go to one to one, or we're gonna push these devices out," which is all well and good, but then we just digitize past practice, and then quite often, wonder why the impact isn't there.
And so, just kudos to you in really pushing the intentional use of technology, the active use, that creation, the design, to empower that real world learning, and we're not just digitizing worksheets here, 'cause we all know that's not worth the money in terms of that device.
And so, really, kudos for that. One of the things I also wanna ask you is I've seen it time and time again, whether it's online, in your book, or just even here, you've kinda referred to it a little bit. You speak both about the difference between learning and education, and you talk about them a bit differently.
So, talk to us about human learning, how you all see it, what you think learning should be, how do we as humans learn, and ultimately, how can schools do a better job at this?
Pam Moran:               I'm sorry, Ira. I just gotta say that before Ira frames this up in a more deep way, that one of the things that's been really important to me, and I've used this as a tag on my blog space for learning, and that is that if we don't define ourselves as educating young people for life and not just for school, what we do is we create all kinds of limiting factors in terms of them being able to take what they're learning inside a school environment, and be able to actually find how does that really relate, how is it relevant, how does it help me make sense and make meaning as I go into my home, my community, the workforce, post-secondary education?
And that if we're not thinking about that on a day by day basis, how are we educating kids to use what they're taking in, what they're engaging in, for their lives, and not just for the purpose of schooling, then I think that's one of the reasons why we have situations where kids actually may do pretty darn well on a test, but then you find out they can't use, there's no stickiness to what they've learned, and it doesn't make any sense to 'em, they've just been able to bubble it in, and move on. Ira, back to you.
Ira Socol:                    Years ago, in a very small, rural district in Michigan, a three school district, I was with a superintendent, and middle school teachers, sixth grade teachers were discussing all the problems they were having with this one group of boys getting through the sixth grade math curriculum.
And the superintendent called me that night, and he said, "I was driving home, and I saw that exact group of boys. And they were out on a farm, laying out the foundations of a building, and they were doing it perfectly, triangulating it, doing the whole work." And he said, "What I've learned is somebody's failing, but it's not these boys."
And the fact is that learning is something that happens because you have a context, and you go after it. That's the learning thing. Education is something where we try to put something into students. Certainly, teaching is that. I think the important idea is that whenever you see what student interests are, and we reference in the book, one of my high school teachers, who was really a teacher who saved my life, called it the Judo theory of education, that whatever children or adolescents came at you with as their interests, as their passions, as their issues, you use that to drive education.
And so, when we had students build treehouses in their middle school cafeteria, the math learning was off the charts, the behavior learning was off the charts, the communications learning was off the charts. And if we can't teach with those student interests, we can't let those student interests drive the learning, we're falling back on a sort of training model of teaching, which just, as Pam says, has no stickiness to it.
Kids, I always say that I hate to pick on Algebra teachers, but if the way we taught algebra worked, people wouldn't stare blankly when you asked them a question about it when they're 20.
Tom Murray:              Thank you for diving into that a little bit. As educators, I'm sure we're reflecting in the words that you're saying and helping to define that learning or the vision for learning in their district. Such key takeaways there. I do wanna take a moment to remind our viewers, the hashtag for today's webinar, as always, is Future Ready.
We've had some questions come in, we're gonna try and get to some of those in just a little bit. Let me hit another area here if I could. In Timeless Learning, you speak very – you talk a lot about the need to respect timeless or natural learning, but that seems to require that kids have the freedom to explore the world, and I know, Pam, you started to make a comment about an experience that goes along hand in hand with that, really.
In today's world, where do you see kids having this freedom, what can it look like, and what have you all done to give kids that freedom, and we just started to end there, Ira, related to kids' interests, kids' passions, and it certainly goes in line with that. So, talk to us a little about those freedoms and really what schools can do to help kids explore that.
Pam Moran:               We're stepping on each other. I'm in Richmond, and Ira's in Waynesboro, so we're not in the room together. But Ira, go ahead. I'll hop in in a minute.
Ira Socol:                    I'll just say what I say at my first thing. I try to say to parents all the time, and I say it to teachers, as well. As a CTO, I got called a lot by parents, who'd say, "Can you get my kid to stop playing games on the computer at home?" And I'd say, "Me? No." But what it comes down to is children and adolescents need a certain freedom and a certain private space, and if the only place they have freedom, which I think is too true of too many kids in this world, is online, they will be online all the time.
For elementary school kids, I say the solution to screentime is a mud puddle. Kids will choose the mud puddle every time. Pam?
Pam Moran:               I think that one of the things that's always on my mind, Tom, is that when you talk about what's really natural learning for kids. For me, learning should be something that's seamless. I've heard Ira say that no one should ever think that the motto above the schoolhouse door should be "Learning when you go through these doors, or learning starts when you go through these doors."
I think we all know that learning is something that goes on in our lives all the time. The more that we can make that seamless and make that authentic, the more likely it is that our young people will be able to really see value in the learning. And I'm always reminded of that one of the first sound studios that we put out in Albemarle County is part of our move to shift high school libraries to learning commons that we had a young man that landed there, was actually out of New York, and then had some difficulty in his life in New York, and really, we had real concerns that he was not gonna graduate from high school.
His senior year, he walked into the sound studio and said, "What's this?" The person that was in there that owned that space said, "Well, this is a place where kids can make music," and this kid said, "I love to make music." And what was interesting was to watch him transform from a kid who was barely hanging on in terms of any potential to be anything other than a high school dropout to start using music as a path and as a context for learning in other was.
Probably, the best example that I have from that year for him was when he literally took his skillfulness as a rapper and a lyricist, an incredible writer, and took the whole focus on cell DNA and turned it into this wild rap that allowed him to both get credit with the teacher, but also be able to pass a traditional test. "What do the mitochondria do?"
When I think about that, when kids get opportunities to take something that they love, and that context, teachers are able to figure out how to be able to infuse the content the kids are gonna learn into that, it really makes a difference. This kid was in front of our school board at one point, talking about how a learning space redesign really had made a difference for him with access to that sound studio.
But one of the things he said to me when I called to ask permission to share some of his story in Timeless Learning is he made the point that if he had been in a remediation or an intervention class, where his learning was something that was all about passing a test, he might never have passed the state SOLs in Virginia, also known as the Standards of Learning, not what Ira sometimes thinks that people think they stand for.
                                    But that this kid got there because of his passion and interest and love of music, and connecting that, when we can do more of that, what we start to build is an album of a kid's learning, evidence of a kid's learning, that's more than just a test score. It starts to look like, "What has this kid done? What are the competencies that are in that portfolio? What are the examples of really great work that that student's done? What are the things that the kid values that they want in their portfolio?"
And for me, that's when you have kids that are thriving, and when they graduate from high school, they actually have a plan, and that plan may change as they go through life, but they have a first step of where they're heading next, and it's something that makes sense to them, it's not just something that they're doing because a counselor or parent's told 'em to go do it.
Tom Murray:              Pam, I wanna ask you a quick follow-up, and I'm conscious of our time in the next few minutes. Just a real quick take – you mentioned learning space redesign, the use of space and time is one of the gears of the future ready framework, we're very purposefully.
You referenced it – you and Ira both referenced treehouses in the middle school earlier, and I'm sure people are like, "They did what? What about liability?" Can you give us just a minute take on why redesign classrooms, what can be done, what's possible, but let's do it just in a minute or two if you could?
Pam Moran:               Ira?
Ira Socol:                    To me, the whole trick is learning space has to support natural learning. One of the things we found is that when we move from all the same seating, all the same desks or tables, and a teacher focused environment to a place of choice, whether that was done with furniture found outside, UVA dorms in the spring, or whether it was stuff we could afford to buy, most of the problems that schools deal with students disappeared.
Suddenly, attention increased, 'cause kids were able to find their own way to focus. It wasn't a problem if the kid needs to stand up or lie down on the floor, that all works seamlessly for people. All the fights that teachers usually have with kids disappear. On top of it, kids start to learn with the guidance of their teachers, what works for them in terms of creating their environment, which is something you'll have to do in life in college, at work.
Is lying down really a good place to do math? It might be for a bunch of kids, or standing up might be better. Our middle school teachers talk about belly writers and standing writers, and say very few choose a chair when writing. Kids learn to make decisions based on the task, and they learn to convert the environment to their needs.
These are real, vital skills as they'll move forward.
Tom Murray:              Yeah, and just to jump in there, one of the things, we often will work through for Future Ready, we talk about, as well, that the learning space redesign is not about being pretty for Pinterest. It's really about how the brain learns, and things like movement, and those things. You just referred to so many different great examples from a student end, and how this is kid-focused, it's learner-focused, not teacher-focused.
Pam, I wanna go back to you for one minute, 'cause I wanna give a shout related to some of the stuff that you had done as a team, and if Ira, this is better for you, that's fine, too. Related to connectivity in your community. You gave Vince Shreibert, who's one of our Future Ready advisors for the tech leader strand a shout earlier, and I know he was also a leader here, as well.
But one of the things that you all had done, is really take a look at this notion of what's been coined the "homework gap." Personally, I don't like that's the phrase that it's been used, 'cause this is not about homework, it's about connectivity for kids and opportunities for kids.
Can you just give a one-minute overview of what Albemarle has really tried to do throughout their county and community for connectivity for kids at home? Five million of our nation's kids do not have connectivity at home, yet many of them are being sent home with certain devices and asked to do things that require connectivity.
Can you give just a real quick snapshot of what you guys are working to do there?
Pam Moran:               Absolutely, and Ira can add some depth to this, because this was an area that he really was in very focused study, in terms of making it work, in terms of implementation. But we realized a number of years ago, that there were significant areas about Albemarle County where there was no connectivity for kids, either by virtue of lack of population density in rural areas, or geographic issues, such as mountains.
And so, we started really trying to take on, how do we – whether kids are living in an urban, a suburban, or rural environment, that where they live should not limit their accessibility to being able to pursue learning after they've walked out of their schools. And so, we really have gone after multiple solutions.
One of the first things that I was asked to sign off on was being able to put some cell towers at some of our really rural areas that would expand connectivity services, not just for our families, but also for the greater community, and we worked with some service providers to be able to do that. And that's an effort that's continued.
We also really started to look at how do we build out our own wireless, broadband network so that we would be able to get connectivity to places whether it was perhaps a subdivision or an area of the county where poverty might be a roadblock or a barrier to kids being able to get connected.
And then, how do we look at it more geographically, across the entire community of 726 square miles. Ira, you wanna take that one from there?
Ira Socol:                    Quickly, what's essential is how do you build a network that gives kids access? To me, this is not about homework. I'm not a huge fan of homework. I agree with people like Al _______, who call it a second shift, and I'm not sure why we need it so much. But what I do know is that when kids go home, and they lack access to the questions and the connections of the world, they are falling behind minute by minute.
Broadband access has to be a right if we are to ever get to equitable education in the country.
Pam Moran:               And the concretes, Ira, that you might speak to is that we have a community that is essentially, it's almost a barrio, and we knew that there was a lack of connectivity in there, but it was a place where there was some density. And so, we treated that differently than we did some of the rural areas, and we were looking at that with some apartment –
Ira Socol:                    In dense, urban areas, we just put up WiFi, effectively, and we fed that through our wireless system so that kids there connect, there's no difference between a home and school, they just connect automatically.
Tom Murray:              I know you've used White Space and those kinds of things very differently, and have been leaders in that field, as well. We're down to our final few minutes here. I'm gonna throw a couple audience questions at you. We're gonna do a couple rapid fire, 30 seconds or less, what comes to mind.
So, Marie from Conrad, Montana asks, "What is authentic learning look like at the primary level?" Thirty seconds or less, who wants it?
Ira Socol:                    I'll grab it. One of the things we see is when you let kids really explore, and my example quickly will be in our third grade curriculum here in Virginia, we have simple machines. We see kids building seesaws out of stools and boards of wood in our classrooms, or we see them creating Rube Goldberg machines that turn something around and get it up to open the classroom door. We let kids get physical with their outside digging or outside playing, and make it real.
Tom Murray:              Notion of play certainly supports by Future Ready, as well. Pam, I'm guessing this one's for you. Rachel in Henry County, Virginia shares, "How do you create a sense of buy in and belief?" And that, actually, the notion of buy-in came up multiple times in questions. "Buy-in and belief that beyond the standards is possible, and necessary, among the leadership, and in a testing-driven environment?"
Pam, what would you say to that?
Pam Moran:               Hi, Rachel, I'm ______ new superintendent the other day, Rachel. I believe that the most important thing you have to be able to do is to say there is more to educating children, to having kids learn well, than just the limits that we use, and whether it's the standards in Virginia or in California, how do we really look at, for example, one of the things that I see is an incredible anchor right now is social-emotional learning, and how do we start to really focus on the connectivity across kids being able to be physically engaged in learning, being able to be socially and emotionally aware, as a part of a learning community, and being able to really move through the content that the adults believe that's important for them to learn.
But if we do, as classroom teachers or as leaders in schools or in school divisions or districts, is to simply define that as passing a test, then we are putting filters on the learning that we are going to limit the possibilities for kids that are going to set up confirmation biases about which kids can do what?
And so for me, the most important thing is that leadership at the top has to be able to support up that teacher educators taking the risks to really be able to go after active engagement, the work that's meaningful to kids, authentic to kids, coupled with the standards that are set by the state of Virginia, or the state anywhere, to be able to really say, "This is not just about kids prepping to take tests, but it is truly about kids developing deep competencies for life."
And those deep competencies tied to the content of the standards, I believe, Tom, will allow kids to be able to demonstrate high levels of performance by any measure, but it's not gonna be something that happens overnight, as we make that transition to more competency-based education, and away from content-driven education.
Tom Murray:              Great, well said. We're gonna wrap up with this in the last few minutes, because we're technically overtime, but I appreciate all you've shared. So, wrap up with this. Could you each give one piece of advice? We've got hundreds of people watching, I'm sure incredible amounts of the most senior folks in districts, the most beginner folks in districts.
Across the board, what's a piece of advice that you have, you've hit a variety of different areas today that regardless of where they are, on any sort of continuum or moving forward, what's a next step, what would you do? Ira, over to you. Give some advice related to what you've talked about.
Ira Socol:                    Take one risk. It's worth the try. My example from last year is there's not a lot in technology that challenges me, but when I had people come to me and say, "Will you buy 40,000 bees so we can have them at one of our high schools?" And I said, "40,000 bees, what could possibly go wrong with that?"
Pam Moran:               He justified it, that it was technology because of the hives.
Ira Socol:                    That's right, and I signed off on this, and it turned out to be the most incredible game changer for ninth grade earth science I've ever seen, as kids measured the weight of the hive, the temperatures with arduinos, they videoed them all the time, and they generated honey within the first year. But it changed the engagement factor. Just take one risk and see what happens.
Tom Murray:              Pam, over to you, you've offered a lot of advice. Give one final piece, regardless of where they are.
Pam Moran:               I think Tom, that one of the things that I think about is that there's certainly a divide in regards to people who are comfortable tech users, and people that are not, and the reality is that my advice is to always start with what do we want our children to be as a question, and to think about what are the pedagogical strategies, what are the areas that we as adults believe that kids really need to connect to as learners, whether it's in math or science, or social studies, and when it's interrelated, and interdependent, and interdisciplinary, it's always at its best.
But most importantly, that when kids are learning to use tools to help them accomplish that either, A, they want to accomplish, or B, we think they should accomplish, how is that we as the adults, similarly to try out using new approaches, new ways of thinking about how do we get in technology, when you're building out infrastructure in terms of wiring up communities, we talk about the last mile as being the big challenge, I think for us in education, it's the last child that's struggling to figure out how to make sense of learning that's our biggest challenge.
And if we don't think about how we as adults begin to be open to making changes ourselves in our practices, whether it's technology use or pedagogical use, that what we're doing is saying we're willing to give up on that last child, and I think that's the big test of who we are as educators, is whether we're willing to go that last step to try to say, "If this didn't work, what can I change as the adult that will help this kid increase likelihood of success in life, in school, and in their home, and community?"
I would say, take that risk, but remember that taking that risk also means being willing to make changes in ourselves first before we expect the kids to do that.
Tom Murray:              Awesome stuff. Pam and Ira, always a pleasure. To our viewers today, I'm telling you, I was proud to endorse it myself, and I will tell you, it's incredible work following their journey over the last decade has been amazing. The work there in Albemarle, I wish you both continued success.
With that, I do wanna remind our viewers that information on Future Ready can be found at FutureReady.org. We do encourage and challenge district superintendents just like Pam Moran to join over 3,300 others in signing the Future Ready pledge. We also encourage school leaders watching today to join us at one of this year's remaining Future Ready institutes.
We've only got two left. They're in Portland and they are also in Lowden County, Virginia, Pam and Ira's home state.
Pam Moran:               So, Tom, I have to put in a plug for my friend, Eric Williams, up there, and Ben Schreibert, he used to work with us. If you're a Virginian, or you're in Maryland or one of the surrounding states, get yourself to the Future Ready institute. It's two days, it's free, and it is jam-packed with wonderful experiences and opportunities to learn and take something back that you can use in your own district or division, so jump in there, and participate.
Tom Murray:              You said it better than I did, Pam. Thank you for that. I do also want to encourage our viewers to get involved with our growing strands from district leadership, tech leaders, principals, librarians, and instructional coaches. We have vastly expanded the reach of Future Ready over the past couple of years. Make sure to check those out and check out the private Facebook groups for those, as well.
Once again, I want to thank Ira and Pam, incredible leaders, as well as thank all of you, our viewers, for joining us on this webinar today. Don't forget to connect with us here at Future Ready on Twitter, @FutureReady, and on Facebook at Facebook.com/FutureReadySchools.
If you have missed any of today's conversation, it's going to be archived at AllForEd.org/webinars soon after this webinar. Also on that page, you can see a list of upcoming webinars, and find the Alliance's Google Hangouts on air on the YouTube channel, as well.
For those of you taking part in today's Action Academy badging platform, the password for this webinar, no surprise, is "Timeless." Thank you again for joining us here at Future Ready. Have a fabulous day and we will see you next time.
Pam Moran:               Thank you. Thanks, everyone, and our book is available online pretty much everywhere. Bye, Tom.
Tom Murray:              Thanks, Pam, thanks, Ira.
Ira Socol:                    Bye.
[End of Audio]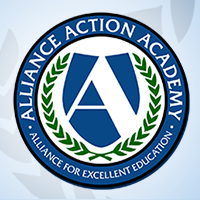 Welcome to the Alliance for Excellent Education's Action Academy, an online learning community of education advocates. We invite you to create an account, expand your knowledge on the most pressing issues in education, and communicate with others who share your interests in education reform.
Register Now
or register for Action Academy below: