Think Differently About Professional Learning Creating High-Quality Personalized Professional Learning that Works

November 19, 2019
8:00 pm – 9:00 pm EDT
Virtual Webinar
Think Differently About Professional Learning
Creating High-Quality Personalized Professional Learning that Works
Panelists:
Dr. Montra Rogers, Officer of Secondary Curriculum and Development, Houston ISD (TX), @montra_rogers
Dr. Joe Sanfelippo, Superintendent, Fall Creek School District (WI), @Joe_Sanfelippo
Moderator:
Brianna Hodges, Future Ready Instructional Coaches Advisor, Future Ready Schools, @bhodgesEDU
On November 19, 2019 Future Ready Schools® held a webinar on personalized professional learning. Future Ready Schools® is proud to add this topic to its ongoing professional learning opportunities for school leaders.
Future Ready school leaders model effective professional learning by offering choice and voice when leading teachers; they also empower teachers to lead throughout the process. Both are critical to promoting self-directed learning as well as inciting action and inspiring agency. Similarly, effective school leaders embed professional learning needs into the school schedule and each teacher's day so that on-going professional learning is part of day-to-day practice, fostering conditions necessary for educators to transfer and apply new skills and strategies scaffolded by a strong system of support.
The educational environment is most effective when it is explored and experienced, driven by personal interests and readiness. In this webinar, we examined how two districts are empowering educators to grow their pedagogical craftsmanship, hone their instructional leadership, and improve student learning outcomes through personalized professional learning.
Dr. Montra Rogers and Dr. Joe Sanfelippo teamed up to discuss the trials and triumphs of transforming stale, sit-and-get professional development into uniquely personalized and appropriate professional learning opportunities for educators, regardless of the role they hold in their districts.
Underscored with a common goal of meaningful personalized professional learning, they highlighted how to:
create a culture of continuous learning,
foster capacity and shared agency, and
design for and be mindful of scalability and sustainability, so as to increase the efficacy of implementation
---
Please direct questions concerning the webinar to ldossin@all4ed.org. If you are unable to watch the webinar live, please register to receive the video archive directly in your inbox.
---
Future Ready Schools® is a project of the Alliance for Excellent Education (All4Ed), a Washington, DC–based national policy, practice, and advocacy organization dedicated to ensuring that all students, particularly those underperforming and those traditionally underserved, graduate from high school ready for success in college, work, and citizenship.  www.FutureReady.org
Follow FRS on Twitter (twitter.com/FutureReady); Facebook (facebook.com/futurereadyschools); visit the FRS Leadership Hub (futureready.org/hub).
---
If you are interested in renting the Alliance's facilities for your next meeting or webinar, please visit our facilities page to learn more.
Brianna Hodges:        Hey, there, and welcome to today's Future Ready webinar. I am Brianna Hodges, Future Ready instructional coach advisor. You can find me on Twitter at bhodgesedu. Future Ready Schools is a project of The Alliance for Excellent Education in Washington, DC. Future Ready Schools is a collaboration between the alliance and a vast coalition of over 60 plus national and regional organizations.
The goal of Future Ready Schools is to maximize digital learning opportunities and to help school districts move quickly towards student-centered learning. The effort provides districts with resources and support to ensure that local technology and digital learning plans align with instructional best practices and are particularly focused on those from traditionally underserved communities.
The hashtag for today's webinar is future ready. Today we want to say thanks for making an investment and joining us today. Future Ready school leaders model effective professional learning by offering choice and voice when leading teachers, but they also empower teachers to lead throughout the process. Both of these are critical in promoting self-directed learning as well as inciting action and inspiring agency.
Similarly, effective school leaders embed professional learning needs into the school schedule and each teacher's day so that ongoing professional learning is part of the day-to-day practice. We foster conditions necessary to support educators to help them transfer as well as apply new schools and strategies to scaffold all of this strong system and support.
We know throughout MR educational environment that it's most effective when professional learning is both explored as well as experienced, also as well as when it is driven by personal interest and readiness. Today we're going to take an up-close look at how two school districts are empowering educators to grow their pedagogical craftsmanship while they're also honing their instructional leadership and actualizing student learning outcome.
Let's get this started. Today with our guests, we've got an outstanding panel of talented educators. To kick us off, I'd love to say hi to Dr. Joe Sanfelippo.
Dr. Joe Sanfelippo:     Hi, everybody. My name is Joe Sanfelippo. I'm the superintendent in the Fall Creek School District, home of the Fall Creek Crickets, and we are super excited to talk to you about some of the work that's been going on here with our crew and what they've been doing to personalize their own learning and what that impact has been on our students. I've brought two incredible educators with us today. I'm going to let them introduce themselves.
Dave Ross:                  Hi. My name is Dave Ross and I'm a middle school teacher at Fall Creek Crickets. Cricket land. Go crickets. I have the pleasure of working here with my friend, Toby.
Toby Jacobson:           I'm Toby Jacobson. Dave and I both teach sixth grade here in the middle school in Fall Creek.
Dr. Montra Rogers:    I'm Dr. Montra Rogers. I'm Officer of Secondary Curriculum and Development for the Houston Independent School District. I'm really excited to talk about how we grow teacher leaders who personalize learning.
Brianna Hodges:        Awesome. Thank you, guys, so much. As you can see, we've got Wisconsin and Texas kind of having a little bit of a battleground to represent. We're going to kind of walk through what this looks like. Let's talk about this, guys. Time and time again – it doesn't matter where we're at – if we're at a conference, webinar, any kind of conversation that's happening whatsoever around education, it often tends to kind of centralize on, what are we doing about professional learning? And holy cow, we should do something about this. We should really make it better.
Oftentimes, we feel like professional learning is done to us instead of with us. We know that it needs to be better but then we're really kind of taxed with what that looks like. Part of that comes along the lines of what are the things that we have to have for district initiatives, what are the things that we have for state initiatives, policies, and procedures? What are those rules that tend to come alongside with it in professional learning?
I want to kind of toss the question out to you guys. With these rules – with these state and district and federal policies and procedures that we have to adhere to around professional learning and those kind of content areas, how can we personalize that? What does that look like? What are some things that you guys are trying out?
Dr. Joe Sanfelippo:     I'll jump into it right away. That was one of the pieces that actually started the process for us was the educator effectiveness model happening in Wisconsin and what we really needed to do to make sure we were improving future effectiveness moving forward. What we did, honestly, was just take the model and say, "If we need to grow our capacity from a teacher's perspective, what would that really look like for our staff?" We just went to them and said, "What would that look like for you?"
I as the superintendent said, "People need to get better and move from point A to point B. I need you to help me to talk about what that would really look like. What would that look like for you?" These guys were part of a group of six that actually came up with that process. I'm going to let them kind of talk about what that really looked like.
Toby Jacobson:           I was going to say, the three of us, Joe and Dave and I, as Wisconsin was putting together their educator effectiveness went to some of the meetings and conferences and things like that as they were developing the program. Out of the gate, we were a little bit nervous about it because the way that the state seemed to be going at first was really in a way that would encourage teachers to just sort of establish really safe goals and not really shoot for something really ambitious or take risks or things like that.
It was sort of like a checkbox. Either you hit your goal, or you didn't hit the goal. We were kind of looking at that saying that's not what we want. We really want to encourage people to try the things that are going to be difficult that might really be impactful also and not to have this constant worry about what if it doesn't work.
That was one of the really important, I think, foundational things for us is, how can we make people comfortable taking risks in their classrooms if they think taking that risk is something that might really transform learning for their students?
Dave Ross:                  I think one of the bigger things that was a success in our district after we got past that point, take a risk, is that our school district and our superintendent and our administration let us have ownership of the process.
Just like students and how we make them have ownership – we try to get them engaged. We have a choice of what we want to do. We're able to research it. That way, we get excited about it. If we're excited about it, we're going to learn something. We're going to go out there and research what we want and bring that back to the students.
Having the choice and having the trust – the trust that the administration gives us to make the choices that are good for us and what we want to learn about is key to our success in making professional development interesting instead of kind of like you said before, just kind of be like, "Oh, it's another PD day that I have to sit around and it may not relate to me." Now it really relates to us because we're in control of it.
Brianna Hodges:        I want to ask you a follow-up question real quick before I jump over to Dr. Rogers on that. Especially having two teachers on this panel with us, oftentimes – the three of us, Joe and Montra and I have all been in those offices where we're the ones who are maybe deciding that professional learning.
Sometimes we can think that we have a good plan but maybe it doesn't work and settle as well with the teachers. To have two rock stars who got to create that on your own, I kind of want to capitalize a little bit on this and ask you a question.
One of the things that I see happen a lot that I've certainly fell victim to in my own ways of doing this is trying to promote that choice and voice and saying, "Hey, this is really important." What ends up happening is I create a conference schedule for my professional learning day, and I give the exact same content that I let you choose when you want to come to it.
I somehow decided that that was going to be choice and voice. It never works out that way and I don't think that that's what you guys are doing there when you talk about choice and voice. Can you kind of give us a little bit of insight into what are some of the things that you guys saw to do and change and how that's working there?
Dave Ross:                  It started off as a process that when we did this I think five or six years now – a little bit longer than that, maybe – we were a little bit apprehensive about going out there and deciding what we wanted and did the administration really want us to choose something. That's not the case at all.
Through the first couple of years, that was tough, but as we have gone through the process, we also have these days and times and things involved that we get to share our projects and get to share our ideas with the whole staff. What that does is really open up ourselves. I'm like, "Man I want to try that next year," or, "That looks really fun. Maybe I should collaborate with the team next year to work on goals." We get to see a whole bunch of different things that are out there. Having that time to share with our colleagues is really big to open us for different ideas that might appear to us that we hadn't thought of before.
Toby Jacobson:           I think under the more traditional forms of PD that we've experienced, and Dave and I have been long enough to have kind of seen all that, it was sort of like always somebody else telling you, "Here's what you need to do as an educator to get better and to teach better and for your students to learn more." What we've really been doing now, and it's become part of the culture at Fall Creek, is asking people the question, what would make you better? What would make things better for your kids?
Every year, there's time in the summer when we can come in and just sort of consider possibilities of things that might make that difference that we can get passionate and excited about but also that might really produce some real results with our kids. We tackle those things.
Like Dave said, one of the things that's been really beneficial – Dave and I being on the committee that helped develop the process, especially those first few years, we would really kind of assist other people in the creation of their goals too. So they could bounce their ideas off of us and there was that collaboration piece there, which I thought was great. I had some of the best kind of conversations around education with my colleagues meeting with other people and talking about their goals and things like that.
The last couple of years doing this kind of street fair at the end of the year where we all set up and talk about what we did, and we can visit each other has really been great. It's gone a long way towards creating, I think, that culture of owning their own PD because people are really into it.
Dave Ross:                  Just one more thing I want to add to that, if we felt like we were on to something that first year and things were going well but, man, we really wanted to take it to that next step. Some of us are on like the third step of goals. Toby and I have been working on project-based learning for the last few years. We just step it up a notch each year and going forward and picking ideas from other classrooms.
It's not always jumping around to different ideas or whoever the new principal is, or new superintendent might be. We can stick with what we're working on, what works well until we feel like we've mastered it and bring in other ideas that we've heard through our staff and our colleagues.
Brianna Hodges:        Joe, you got anything on that? They just took your job.
Dr. Joe Sanfelippo:     I'm so proud of these guys because they developed the whole process. I just wanted people to get better. They were right. The first couple years, the goals were really close to the vest and we had to be okay with that because everybody is different.
But once they started to connect and talk about what that really looked like and the fact that they saw themselves improving and they owned it, the other thing that happened – we can talk about it a little bit – is not only were they getting better as educators, but they were allowing students to own their learning more because they knew what it felt like.
It wasn't that they didn't want ownership of learning for kids. It's just that they didn't know what it looked like. But once they found what it looked like, now all of a sudden, they're like, "It's all over the place."
Brianna Hodges:        Dr. Rogers, you can say some stuff about this. I know that little part –
Dr. Montra Rogers:    I'm so excited and there are so many things that resonate with me as I'm listening to their journey. Our journey was a little different. Again, we were driven by our state test. I have to be quite honest with you. One day, our teacher development specialist, which are instructional coaches – they walk in, we're looking at the data. We didn't quite hit the mark where we thought we should. We examine it school by school.
My question – I was then Director of Secondary Social Studies – what did you do at that campus and can you ensure that you did everything you needed to do to drive that, to drive success on that campus? And it was crickets in the room. No one could say anything.
Then the second question was, how did your learning – you as a coach, your personalization, your learning, how did that impact where you coached that year? Again, "Well I might have gone to this conference. I might have done this PD. I might have read this book." So then we had to become more systemic around how do we grow ourselves individually and personally in order to make a greater impact on campuses. That's where we are now. That was with our coaches.
Then we developed a teacher leader corps program. We had always found ourselves in social studies short of teachers – short of staff, really guys. Honestly, we get the least amount of coaches in social studies. You know how it goes. Math and reading gets the most coaches. We said, "How can we develop a cadre of individuals who can be at the ready to come in and support?"
We saw in teacher leader course people who were comfortable with being in the classroom but perhaps wanted some time to come out and do some curriculum work, professional development work, and things of that nature. Then we had to say, "Okay, how do we track their growth? How do we help to personalize their growth?" Of course, we used digital portfolios to do such, but the goal setting was personal.
What we know is if you're intrinsically motivated, the transfer is greater. We just had to tap into that, develop a system for doing that, develop goals, help teachers and coaches develop goals for themselves, and a way to track the goals over time. We truly wanted it to be personalized so that can be the piece that drives the work.
What we've noticed over the last four years is that the personalization, especially fueled by reflective questioning, helps to drive that. I heard the gentleman say, "What can I do? How can I get better?" Those type of questions to dig deep into your individual practices have truly helped us a lot.
Brianna Hodges:        I love that. I know in Texas, we have our student learning objectives. We saw that come over into our educator efficacy standards as well. How could we – it was kind of a similar situation where we were trying to figure out how can we help our teachers wrap their brains around student learning objectives where they themselves haven't had to stretch themselves in that goal in that same way.
Marrying that similar to what you guys did with ____ of having that ownership of that goal of this professional learning that I'm really trying to accomplish and do and then I can start to see that track. That portfolio as I move forward becomes really substantial and then gives the teacher the opportunity to then have the confidence to now guide their students through that same journey as well. I definitely kind of see how those things connect together.
One of the questions that I have around this – this is great that we're having all these conversations and that we're talking about professional learning and we're seeing this ownership and this agency. What are you seeing happen in that classroom? It's one thing to see that confidence and that belief in your ability as an educator and as an educational craftsperson, but what does that look like for the students? Are you seeing some growth happen for your students where you need that to be through that professional learning opportunity?
Dr. Montra Rogers:    Oh, my goodness. I'm glad you said that. I have a perfect example from this week. One of our coaches had a concern about his ability to help coach teachers around EL strategies, English language learners or English learner strategies. That was a goal. He wanted to get better. He wanted to learn more. He set that as a goal for himself at the beginning of last year, actually.
We noticed that he found a partner on our team who had greater strength. They worked on a schedule whereby they began to coach together. What I mean by that is the young lady who was the expert, so to speak, she would coach him while he's in the moment coaching teachers. What we're beginning to see is that those teachers that this young man is coaching is now taking greater ownership for his EL learners. It's amazing because the coach said, "Hey, this is my area that I need to grow."
He saw a worthy rival, someone who could help him with that and it's amazing to see the coach coaching the coach while the coach is coaching the teacher. The impact is truly a miracle because whereas the teacher really didn't know what to do in the past, he now is taking ownership so there's this trickle-down effect and I love it because that means that it is the personalization piece and we are seeing how that transferred into the classroom with students and teachers.
Dr. Joe Sanfelippo:     I'm just going to jump in before these guys go because I know that they have some examples of kind of some of the stuff that they're doing in terms of the confidence level, honestly. The thing that we found here was that if we truly believe that we're better together then that means that we have to create an environment where people are willing to share, like Montra was saying that we'll need to have the conversation. Until people's story has value, they're not willing to share.
The idea that we need to keep in mind from our perspective was everybody's story has value in some capacity. Everybody's journey has value. When we get to this place where – I think some of these great ideas that we were having, they didn't even want to exit the walls because people were afraid of what they were going to say about them.
When we got to the point when people went from, "Don't do that because if you do that, then I'm going to have to do that," kind of mentality to, "Hey, that looks fantastic. Let's connect and talk about what that looks like," now that's the positive side of it. When a negative comes up where people are really struggling, they're more willing to talk to the person next door because they know their story is not going to get slammed.
That's the kind of environment that happens when you've got guys like these guys over here that are willing to sit back and say, "Okay, let's talk about what your growth really looks like." We said it at the beginning there, "We want you to get better. This is it." We ask the question, "Are you a better teacher this year than you were last year?" and they would say, "Yeah. Absolutely." Then we would say, "How? Tell us how?" and then there's no conversation.
Until we got to the place where we could have real conversations about what it looks like, it never changes. That's the environment that these guys created which then translated to what that looked like for kids. It's the same prospect with kids. They're not going to share if they don't feel like they're confident in their work. Dave and Toby, talk about what that really looked like for you guys.
Toby Jacobson:           Just kind of spring boarding off what Joe just said, prior to really rolling out this professional growth plan that we have here in Fall Creek, I remember thinking that first decade or so of my teaching, "I have to keep getting better and what does that look like?" I have to keep getting better at everything I do. It would end up being this scattershot approach where it's like, can I make what I'm doing today better than it was last year when I was teaching the same topic or this or that?
I think one of the really big things is having this central focus every year and basically getting permission to put a lot of eggs in that basket versus trying to do everything. Acknowledges the busy lives that we have as teachers and also the fact that you just can't do everything all at once. I think that's been huge and saying, "What would really be something of value to really put that time and effort into?"
Like Dave said earlier and like Joe alluded to also, at least in our middle school, I think we've moved a lot more, not just at the sixth grade level, but we've had our students doing a lot more project-based learning where we find ourselves putting more and more of the ball in their court on these things. Versus the first couple of years where we would do a lot more of that handholding and things, now it's like, wow, these kids, if you give them an opportunity, they can really be capable.
Of course they make mistakes and we're still there kind of alongside of them to help sort through those things when they happen, but I think we've really started to trust our students and value the contributions they can make a lot more too.
Dave Ross:                  It's gotten to a point here in Fall Creek that this is about the process. Joe talks about your A to B. Everybody's A to B is different, but this is the process. We've gotten to a point where we just want to go through this process. It's going to make us better teachers. We have a measurement component to hopefully judge how the students do.
It's also – now it's okay to fail. It's okay to try something. If it didn't work, well, it didn't work. We're not going to do it next year. Let's retool something to get to that stage that we are at to be able to take that risk because we know we're going to find out how it's going to go with students. If we're passionate about it and we find something that works and we have the measurement, great, we kept it. Now we've got one thing better. Let's try something different next year.
If we didn't, that's okay. I don't have to lie about it. I can go and talk to my colleagues and say, "This didn't work. What do you have for me to get better?" The time that we have to share that with, you have to have your staff to have the time to do that. You've got to celebrate it. You have to have the time to share. You've got to have that built throughout the year. It can't be one thing at the end of the year, but it's all going to come back to make these kids better.
When we're better, kids are better. I don't need a test to tell me that. That's what's going to happen. We feel at a good place with our process right now that it's really driving our learning which is eventually going to drive the student learning.
Toby Jacobson:           It changes the way that I talk with students too because, like Dave said, it's not this big stigma anymore that, oh my gosh, you tried something in your classroom, and it didn't work. Last year, we were trying a new project with our students. We had them creating escape rooms. [Inaudible]. I'm getting to the point where I can be really honest with my students too and say, "Hey, folks. This is the first time we've ever tried this project. We have some ideas about how this might go but we don't have all the answers. _____ come up with some things that are going to help make this better as we go, we want to hear what you've got too. I think it's really made us more partners with our students than having that unequal power dynamic.
Dr. Montra Rogers:    I love what you're saying. As you're talking, I'm thinking about having the courage to take risk, having the confidence to take risk. Even with our coaches and our teacher leaders, that they're not the holder of all knowledge. This personalization and goal setting to drive your learning, it enables you to do something. You're saying, "Hey, I don't have all the answers, but I know how to develop a plan of action – create my plan of action for learning so that I can begin to grow myself as a professional."
I think that's the same thing that you're talking about between teacher and student. This is what we're seeing between coach and teacher. I'm here to partner with you. I'm not the expert, right? I'm not here to fix you, but rather I'm here to grow and learn through this process of coaching and development.
Brianna Hodges:        I love that, and I would also say that I think that that's also what Joe, you ultimately ended up doing too whenever you encouraged your teachers to come with this. So often, it's our superintendents, it's our directors of professional learning that have to know the answers. You said, "Okay, I don't. You guys tell me what you need." Modeling that trust all the way through I think is absolutely there.
Dave Ross:                  The big thing we talk about is that trust is not built overnight either. [Crosstalk]. This is a couple year process. It's built over time.
Brianna Hodges:        I can imagine that for both of you in both of those districts of setting those goals for those first years was probably pretty scary stuff. Again like you said, sometimes they're pretty surface level. Part of that is because, what happens when you don't get it? If this is not a success – Joe could have easily come back and said, "No, we're not doing this. Your way didn't work either. We're just going back to mine."
Having that trust to know that you're going to be able to be in that professional situation and figure out the direction to really kind of take your professional learning, that's a huge opportunity. Same thing in Houston. As a coach, being that person who is trying to figure out, "How am I going to guide this? How am I going to lead this and not tell them, 'These are the five things that you're going to need to know and we're going to test you on it and make sure that you're solid and you're set to go?'"
We've got five minutes. Time flies when we're having fun you guys. So much information has come out. I can't even wrap my brain around it. I want to go one more time around the horn and just let you guys lead with what are your things that you just feel super – if any district out there in the country is trying to tackily personalized professional learning, where do they need to start? What does that look like? What does that mean to you guys? Montra, can we start with you?
Dave Ross:                  Teachers, you have to own it. Listen to your teachers. Listen to what they want to do. I am totally teaching way different in my six or seven years of doing this than I was before. I love it. Talk to your teachers. Talk to your staff and trust them. If you can do that, that's where the answers are for your district.
Toby Jacobson:           Going along with that, I've heard Joe say it many times over the years that you really want to make decisions with your best teachers in mind. If all you do is think about, "Well this might not work for this teacher or that teacher who might be kind of resistant to change," you're never going to move forward.
You really have to kind of think about looking at those people who really are the go-getters and who want to make things better. When the culture starts to change, then the others are sort of left with a decision of whether to move with the culture or kind of get left behind. I think we've kind of seen it move all of us for the most part.
Dr. Montra Rogers:    One thing I'd like to leave is that whatever process used, whatever you're doing, you need to archive and reflect consistently. If you have your goals, you need some tangibles to show how you're reaching those goals.
Then as you're thinking about your goals throughout the year, you need to be continuously reflecting about where I'm going, where am I going, what are my pitfalls, what's my plan of actions for next as I try to accomplish those goals? Some type of reflective practice model where you're archiving and reflecting is extremely important because it holds you accountable for what you're trying to do.
Dr. Joe Sanfelippo:     Just to kind of build off of that and just to finish up, one of the things that I thought was really great about this webinar was we're talking about Houston, we're talking about Fall Creek, Wisconsin with literally 850 kids. The process is identical. It's creating an opportunity where people can do this, creating the opportunity but then also the movement in terms of what we do.
When it comes down to making sure that you have an archive of what you do, when you have the ability to share that with each other, it changes the conversation. At the end of the year when we do this street fair where all our teachers teach each other about what they learned throughout the course of the year, you can't fake that in a reflection to somebody in central office. You can't fake that in a reflection to your principal.
It's sitting right there. You can talk to your colleagues about what that really looked like. If you're going to fake it, you're going to get called out on it. We even took it to another level. We livestreamed that. We livestreamed our teacher fair and 21,000 people watched the livestream of this teacher fair and all of a sudden, your audience is different. When your audience is different [crosstalk].
The last thing that we did was we survey our staff to see, is this something that makes you a better teacher? In every year that we've done this survey, we ask one question, does this process make you a better teacher? It's never gone below 94 percent yes. Never in the six years that we've done it. Never. They own it and they want to get better because they own it.
I'm just so proud that we've got two people here that are talking about what it really looks like, not just Joe sitting in an office saying, "This is what you should do." These guys did it. They built it. They built the whole thing and that's important to know because when you do that, you get to the place where you can move forward.
Brianna Hodges:        The last little bit that I think of watching all of this from all of you is that – the thing that I heard consistently was that it wasn't just immediately done. The very first thing that Dave and Toby and Montra – that all of you said was even if you get through the first year and you want to change it a little bit differently, you can have the same goal the second year or you can have that goal 2.0 or that goal 3.0 or whatever. I think what a powerful statement that we need to make in education.
So often in professional learning – I've been in those meetings where we're like, "They've got 45 minutes, surely they can understand everything that there is to know about UDL in 45 minutes." And we're like, "No, guys. That is not how mastery works. That is not how professional learning works."
Let's look at a year. Let's look at three years. Let's look at five years of really honing your learning styles and your ability to truly educate individuals. That's what you guys are doing. You're getting that culture. I love that you've used that word over and over again. I used to use the word Agency and Ownership and you're using Culture. I think that that's such a stronger term for this.
It's really not just me individually doing this. This is like, here's the group of Houston IFC. Here's the group of Fall Creek. Truly, this is what our teaching looks like – teaching and professional learning looks like. Thank you, guys, so much for so much wisdom and really showing us how it's done. You guys have been incredible. We really, really, really thank you for that.
With that, I want to remind our viewers that the information on the Future Ready effort can be found at futureready.org. We encourage and challenge district superintendents to join the over 3,400 others and sign the Future Ready pledge. We also encourage our school leaders watching today to join us at one of this years' free Future Ready institutes. The last one is December 2 and 3. Please join us in San Diego for that. For more on one of those great events, visit us at futureready.org/institute.
I also want to encourage you to get involved with our growing strand. We've got district leaders. Dr. Joe Sanfelippo is one of our strand advisors. To tech leaders to principal ______ to instructional coaches and we have vastly expanded the reach of Future Ready schools over the past few years. Please check out our private Facebook pages. Check out Twitter. Join us. Connect with us wherever you can. Let's just keep this conversation going and moving forward.
I would be remiss if I didn't thank our panelists. Thank you, guys, so much for joining us. Thanks to our viewers and for joining us here today on this Future Ready webinar. Don't forget to connect with us on Twitter at Future Ready as well as on our hashtag @futureready.org. Thank you, guys, so much. See you later.
[End of Audio]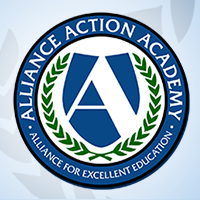 Welcome to the Alliance for Excellent Education's Action Academy, an online learning community of education advocates. We invite you to create an account, expand your knowledge on the most pressing issues in education, and communicate with others who share your interests in education reform.
Register Now
or register for Action Academy below: