Teaching & Reaching the Future Ready Student: Nurturing Connections with Social and Emotional Learning

May 23, 2019
2:00 pm – 2:30 pm EDT
YouTube Live
Future Ready Schools Invites You to Participate in a Webinar
Teaching & Reaching the Future Ready Student:
Nurturing Connections with Social and Emotional Learning
Panelists:
Sheldon L. Eakins, Director of Special Education, Shoshone-Bannock School District (ID) and CEO of Leading Equity LLC (@sheldoneakins)
Mandy Froehlich, Director of Innovation and Technology, Ripon Area Schools (WI) (@froehlichm)
Elizabeth Merce, Teacher, Virginia Beach City Public Schools (VA) (@EmercedLearning)
Robyn Harper, Policy and Research Associate, Alliance for Excellent Education
Moderator
Sarah Thomas, Future Ready Instructional Coaches Advisor, Regional Technology Coordinator, Prince George's County Public Schools (@sarahdateechur)
Brianna Hodges, Future Ready Instructional Coach Spokesperson, Director of Digital Learning, Eanes School District (TX)
"Adolescents are undergoing developmental changes in the brain that shift how they interact with peers and adults. At the same time, they are experiencing a changing and more complex social world. These changes impact their academic learning and make it critical for educators to support their development of social and emotional skills." –The Alliance for Excellent Education (All4Ed)'s Science of Adolescent Learning (SAL) initiative
In this webinar, panelists will discuss how the effects of developmental changes and shifting social environments are impacting academic learning. They will share their expertise on Social Emotional Learning (SEL) and explain how educators can help students navigate these changes by supporting the development of social and emotional skills.
Join us as we chat with our expert panelists about different facets of SEL including:
How can we provide a culturally responsive approach to SEL?
What are certain things to keep in mind when considering SEL at various grade levels?
What considerations should we keep in mind regarding educator mental health and wellbeing?
How do you engage in SEL within the curriculum framework of your district?
How do you communicate SEL with your parents and community?
Register for the webinar and submit questions for the panelists below.
---
Please direct questions concerning the webinar to ldossin@all4ed.org. If you are unable to watch the webinar live, please register to receive the video archive directly in your inbox.
---
Future Ready Schools® is a project of the Alliance for Excellent Education (All4Ed), a Washington, DC–based national policy, practice, and advocacy organization dedicated to ensuring that all students, particularly those underperforming and those traditionally underserved, graduate from high school ready for success in college, work, and citizenship.  www.FutureReady.org
Follow FRS on Twitter (twitter.com/FutureReady); Facebook (facebook.com/futurereadyschools); and the FRS Leadership Hub (futureready.org/hub).
---
If you are interested in renting the Alliance's facilities for your next meeting or webinar, please visit our facilities page to learn more.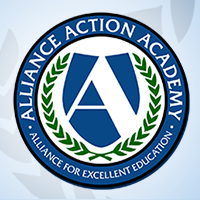 Welcome to the Alliance for Excellent Education's Action Academy, an online learning community of education advocates. We invite you to create an account, expand your knowledge on the most pressing issues in education, and communicate with others who share your interests in education reform.
Register Now
or register for Action Academy below: