Teaching & Reaching the Future Ready Student: Nurturing Connections with Social and Emotional Learning

May 23, 2019
6:00 pm – 6:30 pm EDT
YouTube Live
Teaching & Reaching the Future Ready Student:
Nurturing Connections with Social and Emotional Learning
Panelists:
Sheldon L. Eakins, Director of Special Education, Shoshone-Bannock School District (ID) and CEO of Leading Equity LLC (@sheldoneakins)
Mandy Froehlich, Director of Innovation and Technology, Ripon Area Schools (WI) (@froehlichm)
Elizabeth Merce, Teacher, Virginia Beach City Public Schools (VA) (@EmercedLearning)
Robyn Harper, Policy and Research Associate, Alliance for Excellent Education
Moderator
Sarah Thomas, Future Ready Instructional Coaches Advisor, Regional Technology Coordinator, Prince George's County Public Schools (@sarahdateechur)
Brianna Hodges, Future Ready Instructional Coach Spokesperson, Director of Digital Learning, Eanes School District (TX)
"Adolescents are undergoing developmental changes in the brain that shift how they interact with peers and adults. At the same time, they are experiencing a changing and more complex social world. These changes impact their academic learning and make it critical for educators to support their development of social and emotional skills." –The Alliance for Excellent Education (All4Ed)'s Science of Adolescent Learning (SAL) initiative
In this webinar, panelists discussed how the effects of developmental changes and shifting social environments are impacting academic learning. They shared their expertise on Social Emotional Learning (SEL) and explained how educators can help students navigate these changes by supporting the development of social and emotional skills.
Our expert panelists discussed different facets of SEL including:
How can we provide a culturally responsive approach to SEL?
What are certain things to keep in mind when considering SEL at various grade levels?
What considerations should we keep in mind regarding educator mental health and wellbeing?
How do you engage in SEL within the curriculum framework of your district?
How do you communicate SEL with your parents and community?
Supplemental Material:
---
Please direct questions concerning the webinar to ldossin@all4ed.org. If you are unable to watch the webinar live, please register to receive the video archive directly in your inbox.
---
Future Ready Schools® is a project of the Alliance for Excellent Education (All4Ed), a Washington, DC–based national policy, practice, and advocacy organization dedicated to ensuring that all students, particularly those underperforming and those traditionally underserved, graduate from high school ready for success in college, work, and citizenship.  www.FutureReady.org
Follow FRS on Twitter (twitter.com/FutureReady); Facebook (facebook.com/futurereadyschools); and the FRS Leadership Hub (futureready.org/hub).
---
If you are interested in renting the Alliance's facilities for your next meeting or webinar, please visit our facilities page to learn more.
Sarah Thomas:           Hello, and welcome to today's Future _____ webinar. I'm Sarah Thomas, Future Ready Instructional Coaches advisor as well as a regional technology coordinator in a large school district in Maryland. You can find me on Twitter: @SarahTheTeacher. Future Ready Schools, a project of the Alliance for Excellent Education in Washington DC, is a collaboration between the alliance and a vast coalition of over 60 other national and regional organizations. The goal of Future Ready Schools is to maximize digital learning opportunities and help school districts move quickly towards student-centered learning. The effort provides districts with resources and support to ensure that local technology and digital learning plans align with instructional best practices, as well as that they are implemented by highly-trained teachers and that they maximize learner-centered experiences for all students, particularly those from traditionally underserved communities.
So I'm joined today by my partner in crime and fellow Future Ready advisor Brianna Hodges.
Brianna Hodges:        Hey, hey, how's everybody doing? I am excited to be here. I am the director of digital learning at Eanes ISD in Austin, Texas, and you can find me on social media: @BHodgesEDU. The hashtag for today's webinar is #FutureReady. That's all together as one word. Thanks for making an investment and joining us today. During our time together we're gonna look at some of the research around learning development and how educators are taking those findings to reshape the learning environment to better support and influence academic outcomes. Many of us have at a minimum at least heard of the term social-emotional learning or SEL. We've got an amazing group of educators here with us today to help us understand the importance of SEL and to better teach and reach our Future Ready students.
Sarah Thomas:           Yes, absolutely. So we're gonna get started by getting to know our guests. We have with us a panel of very talented educators. So our panelists today are Dr. Sheldon L. Eakins – so he's gonna introduce himself in a moment. We also have Mandy Froehlich who will introduce herself, Elizabeth Merce who will introduce herself, and Robyn Harper, who will introduce herself. So I'm gonna let each of them quickly introduce themselves. So let's get started with Sheldon.
Sheldon Eakins:          First of all, thank you so much for having me as a guest panelist. I'm excited. My name is Dr. Sheldon Eakins. I am a special education director for a tribal school on a reservation, Indian reservation here in Idaho. I also host a podcast called "Leading Equity," and in addition to that I teach an online course called Teaching Through a Culturally Diverse Lens. So I'm excited to be here. Thank you.
Sarah Thomas:           Awesome, well, thank you so much. It's great to have you here. So we're gonna go next to Mandy.
Mandy Froehlich:       Hi, everybody. My name is Mandy Froehlich. I am currently a director of innovation and technology in Wisconsin. I'm also the author of The Fire Within, which is a book on social-emotional support for teachers, and Divergent EDU. And I do a lot of consulting and speaking, and then I also am a part of the "Teacher's Aid" podcast with Jon Harper on the Bam Radio Network. That's some of the stuff I do, and I'm so excited to be here.
Sarah Thomas:           Fantastic. Well, we are excited to have you join us. All right, next up we are gonna go with Elizabeth.
Elizabeth Merce:        Hi, I am Elizabeth Merce. I teach kindergarten in Virginia Beach City Public Schools. I've been in early education specifically for just over ten years in a bunch of different capacities, adjunct professor, consultant, et cetera. So early ed is my jam, specifically the social-emotional component of that. I do have a four-year old daughter so I am living that parent life with the same age group, so that's been a fun perspective change that brings a little bit of difference. You can follow me on Instagram, Twitter, Facebook, all the things: @EMerce______.
Sarah Thomas:           Fantastic. Well, thank you so much for being here, Elizabeth. We are excited to learn with you. And last and certainly not least we have Robyn Harper. So, Robyn, if you could please introduce yourself?
Robyn Harper:            Absolutely. It's really exciting to be here at my first Future Ready Google Hangout. However, I would have to step back and say I'm not quite an educator. I consider myself more as a translator between the science of adolescent learning and the education policy and practice space. So here at All4Ed I am the primary content development – the primary content developer for our science of adolescent learning work, and hopefully I can take a lot of expansive research and turn it into a form that's useful for this exciting group.
Sarah Thomas:           That is fantastic. Well, thank you so much for joining us, and we are so honored to have all of you with us today.
Brianna Hodges:        Knowledge about how students learn, particularly during the adolescent years, has grown during the last 30 years. Furthermore, there is an increasing interest in aligning education policies and practices with scientific research on adolescent learning and development. This is called the science of adolescent learning. Robyn, as a policy and research associate you've developed a strong focus for SAL, so can you share some background and context for us as we kind of jump into this conversation?
Robyn Harper:            Absolutely. So as I kind of alluded to before, it is a really vast field and I'm gonna try to sum it up in a way that really frames the conversation as we move forward. So usually I have a few slides beforehand talking about why adolescents – well, why educators should really prioritize increasing their student agency in their classrooms and their districts. However, knowing the group that I'm talking to I'm gonna skip past all of those slides. I know that the Future Ready audience is already bought into the idea that the learning experience of students should equip them with the knowledge and skills necessary for them to express themselves, choose their own path, and be the leaders of their own lives.
So first question is why am I talking about agency on a webinar about SEL? It's because individual agency is intertwined with social-emotional learning. In other words, without social-emotional skills learners really can't become complete agents of their own lives. In the early years, the development of a person's agency really centers on what they can do for themselves, whether that means walking from one space to the other or the ability to communicate basic ideas or wants to someone else. As people get older, they gain access to an additional realm of agency, the ability to ask someone to do someone for them. "Can you take me to the store? Can you reach this on the shelf for me?" In adolescents, in addition to those two forms of agency, the capacity for collective agency arises. In other words, as humans mature their capacity for agency is really depending on their ability to engage others in meeting their goals.
So I love the National Commissions on Social-Emotional and Academic Learning's statement, "All learning is social-emotional." And being with All4Ed and having a focus on adolescents, we really get to engage in this social-emotional back and forth between the brain and the environment in a unique way. So adolescents, on one hand their brain is developing in a way that improves their capacity to understand and engage in complex social interactions. They're becoming more sensitive to evaluations from others, particularly their peer group. They're developing the ability to reevaluate emotional responses to social situations. And they're shifting what they do based on who's in the room, whether it's peers, whether it's a trusted adult, or whether it's someone who they don't necessarily get along with.
At the same time, as all of these capacities are building in the brain the environment for adolescents are changing at the same time. They're taking on more adult roles and responsibilities. They're navigating cultural influences and societal expectations that we place on them. And they're understanding themselves and how they fit within this larger societal context.
In addition to that, they're forming new types of relationships, right? So adolescence is the period where students are developing their first romantic relationships. They might be developing professional relationships at their first jobs, and they're really deepening their friendships beyond simply "these are the people I spend time with" into more "these are the people that I trust; this is who I share important aspects of my life with."
All of these changes can be stressful on the adolescent, and we know that stress can affect the brain in learning. So the stage of brain development that adolescents are in means that they may be more vulnerable to stress. And increasingly their stress is coming from those social factors such as those new peer relationships that they're forming. Adolescents need opportunities to practice coping with stress because, as we all know, it won't go away once they reach adulthood, and practicing those healthy coping mechanisms will help them build resilience. So we don't want adolescents to have a stress-free environment; we want them to have a healthy level of stress. When we get beyond that healthy level of stress, one of those forms could be considered trauma. So trauma is this more extreme expression of stress that results in specific biological and behavioral responses which we'll likely touch on in more detail later. That is a whole field. I'm not gonna attempt to do that in one slide.
An additional layer of stress as it relates to this social-emotional environment changing, particularly for adolescents, is that they're learning about the context of the society that they live in, and this includes understanding bias and inequity in relationship to their own identities. So no matter whether we're doing so intentionally or not, adolescents are learning how they as an individual with their own identities should navigate the world. And there's stress that can come from experiencing or witnessing bias, discrimination, or inequity in addition to those other stresses that they're experiencing and really can affect not only how they learn but how they behave and interact with their academic and extracurricular work.
So all of that really quickly summarized up and put into a nice, neat box, is probably why this conversation about social-emotional learning is so important. I know I only spoke about the adolescent side, but truly throughout development this is a key area that we should be focusing on because it helps build those skills around responsible decision making, self-awareness, self-management, social awareness, and relationships that are necessary for just not only their academic learning but their success in life as a whole. So I'm very excited that we can talk together about this and what it means for the educator in the classroom.
Brianna Hodges:        Thank you so much for that, Robyn. It's amazing that there's actual research that has really shown that stress and the trauma and the biological makeup of our brains are really truly impacting whatever we're hearing, what's happening in that learning environment and I really appreciate you sharing that with us. So with that I want to remind our viewers that the hashtag for today's webinar is #FutureReady, and I want to throw a question over to Sheldon. So we've been talking about SAL and about that adolescent learning. How can we provide a culturally responsive approach to SEL? So I know you work at a school there on – at a tribal school. Can you speak into your experiences there and what you have found are some key reminders that we need to have for ourselves as educators?
Sheldon Eakins:          Yeah. I would say the first thing is – 'cause I'm not a tribal member so it was really important for me to understand culture and not to approach things from a "well, this is what I'm familiar with, this is what I'm comfortable with, I don't want to ask questions, I don't want to talk about race, I don't want to talk about what is unique to the tribes that are represented at the school that I serve." And I think as educators we have to start with the students in mind, and if we don't represent the community that we are serving, we have to be able and willing to be vulnerable and to enter the space and ask questions and learn as much as we can. Because if we're not doing those things, then how can we truly serve students and truly ensure that students can be – so that students can feel connected and feel as if they are in a safe space?
I mean, one of the things that I would add also is that – that's important is students need to feel safe in a classroom. As educators we can't discount or discredit what they're bringing, their assets that they're bringing. I mean, our students at my school, I mean, they do so many amazing things. I mean, it's not – it's such a typical thing to walk in and just walk into a cultural classroom where the kids are making a drum or they're making some sort of a flute or they're skinning a buffalo hide. I mean, these are the things that I see every day. If I don't embrace this information, if I don't observe it in a positive manner, then how can the students, when they have challenges when it comes to their emotions or just having a tough day, and they don't feel comfortable coming to me to talk to me about their challenges because, oh, well, Dr. Eakins doesn't appreciate me or he doesn't appreciate our culture? And I think it's so important that we recognize that if we're gonna be culturally responsive we have to put our thoughts that we're – you know, our areas, our biases, those things that we aren't as comfortable with talking about, and be comfortable with being uncomfortable. I mean, I hear that sometimes and I truly, truly value that, because we're not gonna always have the privilege to be in spaces where, oh, yeah, everybody in this social group that I'm in right now is a part of the social group that I'm used to and I'm familiar with, the neighborhood that I grew up with. So we have to be able to address that. We have to make sure that students feel safe.
And once they feel safe, then they're gonna start opening up to you. And as social-emotional learning facilitators in our classrooms and in our schools and buildings and as a whole, we have to be able to allow students to be vulnerable in those spaces. And part of that is recognizing culture and being comfortable with learning more if we're not part representing that particular group that we're serving in our classrooms.
Sarah Thomas:           Love that answer. I really, really love that answer, Sheldon, and I definitely want to echo what you said about how students need to feel safe in order to open up and to be vulnerable. And for us to truly reach the whole child safety is that first key piece, so thank you so much for sharing that.
So now I'm going to pass it over to Elizabeth with the next question. So you work with our little friends, so what are certain things to keep in mind when considering SEL at various grade levels?
Elizabeth Merce:        I love thinking about where our kids are kind of developmentally, right? And I love that this question actually came right after Sheldon's because he was talking about having that cultural understanding of who kids are, just who they are, where they come from, and that plays so nicely into my kinders, doesn't it, or pre-K. You know, some of our systems now have pre-Ks in place, and I think that it's really important that they're just now at that stage learning to develop who they are. That's one of those first, most basic things. And so we really have to as educators know where are they on those stages, and knowing that my kindergartners are coming in and they have a view of the world and what's right or wrong or how we speak and how we dress and how we behave and how we treat each other – all those basic social-emotional skills are all based off of what they know already. And so, you know, that's one of the first steps, is getting to know who your kiddos are, and part of that is knowing where they are developmentally.
A lot of people tend to forget that early childhood is actually birth to age eight, so that's through second grade, and developmentally they're completely different animals than say fifth graders, right? And I am not willing to teach fifth grade right now. [Laughter] I would have to do a lot of research on where they are mentally. You know, a lot of these social-emotional skills – the Kassel Center talks about things like self-awareness, social awareness, relationship skills, responsible decision-making, self-management as some of those core social-emotional components. And when you look at some of those core social-emotional components, mentally they're just not developmentally ready yet at birth through eight to hit all of those. They're gonna start getting those base levels, but just like with an infant – and this is one of my favorite analogies – when they're learning to speak, you don't just ignore talking to them because they're not physically or mentally capable yet of saying a word. You talk to them in a lot of different ways with a lot of different words, and you say the same word over and over again, and when they get that approximation, they get really close, you celebrate that win.
So the same thing holds true for the social-emotional. Knowing that my five-year old cannot fully be empathetic because they cannot fully take that mind's eye view of somebody else yet because just developmentally they're not there yet, that helps me train them and teach them and do that repetitive nature that _____ place for deep learning to take place. And then you take that – like Robyn was talking so eloquently on what our teenagers, our adolescents are really going through. And so if you don't understand all the stressors and you negate the fact that, you know, they have to change kind of what they're doing depending on who's in the room as she mentioned – that's a huge stressor, and that stress impacts the brain in different ways. And so really understanding where they are – whereas my five-year olds don't really care. You know, I have to remind them to pull their pants up when they leave the bathroom because they're just not there yet, right? So understanding developmentally where they are physically, emotionally, mentally, and being able to support those strengths and weaknesses so that we can repetitively show them those same skills. You know, they're not gonna be self-aware right away at five, but by repetitively giving them circumstances where they can be self-aware or whatever skill I'm targeting at that time, then they can get stronger and better and master some of those things.
So it's such an important thing to really understand the grade level you're teaching and the overall development of where they are, because obviously just because you're five doesn't mean you're five, right? Chronologically where your birthday is does not mean that's where you are developmentally. So kind of understanding that spectrum so you can understand a little below, a little above, and what's typical so that you can support what's typical within your classroom on either end of the spectrum.
Brianna Hodges:        I love that. I think we as educators spend so much time talking about that specific work with our content, right? Like we talk about how from a content standpoint we need to know above and below and all around and be able to understand how our standards all support each other, but we also have to remember that – the person, that is the one who is actually taking that content in and bringing that in. And, you know, I love to bring in what Dr. Eakins was saying as well, that we've got to be comfortable with being uncomfortable, and we've got to understand that our people are not gonna be – whether they're little people or whether they're tall people, where are they with that information and are they ready and how does that come in? And so I think that's a really great way to help us take, you know, how do we put ourselves from a vulnerable standpoint into the – you know, where our brain development is to then move into this question that I'm gonna ask Mandy, which is how do we help our students achieve post-traumatic growth, you know, kind of building from where all of these pieces are? You know, not everyone has experienced trauma in the same way that someone else has, and so how do we handle that? How do we move through these pieces as educators?
Mandy Froehlich:       Yeah, and I think that – you know, I think trauma is – it's really interesting, 'cause we talk about kind of where – developmentally where are all the kids, and there are so many pieces to that. Culturally what have their experiences been? And I think the trauma piece of it changes all that, right, 'cause we have, like, the kind of overarching this is what it looks like, but you start throwing trauma in there and then you start throwing the fact in that some kids are going to, you know, experience or react to trauma differently than other kids are for the same trauma, or – you know, so all of those things are – as a teacher, when we're not trained in that, that is so hard, you know?
And so post-traumatic growth I think is kind of one of those terms that's been popping up a little bit more often. And post-traumatic growth is – it's the personal growth that happens after a traumatic event, and you don't have to be a child to experience this; adults experience it, too. It's basically the change in your beliefs or the attitudes, any kind of change in behavior that – maybe the aftereffect of the struggle of working through trauma.
And in order to know how to help students best, or even our coworkers – you know, I have been a huge advocate of making sure that when we're talking about social-emotional support we're also talking about educators as well. And so this really isn't – it isn't just students. But in order to really understand post-traumatic growth you have to understand the relationship between post-traumatic growth and resilience, because sometimes people use them interchangeably and they actually have a kind of inverse relationship. So people who are resilient have developed strategies already to move past a trauma and figure out who they are, and some people say "bounce back." I have a hard time with that. I actually think resilience is more about developing an okay-ness with who you've become after a trauma, 'cause you're never going to be the same person again, and an understanding that who you've become is good or better than you were before. And that's how this relates back to post-traumatic growth as well.
But they're actually an inverse relationship. So people who are very resilient have developed these strategies to be okay and to get past the pieces of trauma, whereas the people who are not as resilient have not developed those strategies. So people who are resilient will experience less post-traumatic growth than people who are not resilient, because people who are not resilient, the trauma is going to kind of like rock them to their core. Like, they are going to have to figure everything out again. And so that figuring of things out is what causes the post-traumatic growth. And so they're not the same. They're actually kind of – yeah, kind of an inverse.
So the best way that you can really help kids with post-traumatic growth is for them tactically to have – to experience post-traumatic growth but to have less of it by helping them develop resilience, helping them be able to deal with the traumas or even the challenges or the adversities that they have along the way, so working on that resilience. And I read a fantastic book. It was called Micro-Resilience by Bonnie St. John. I highly recommend it. And it talks about very practical strategies that you can use in order to develop resilience for the little challenges throughout the day.
Also, you know, after a trauma or during a trauma, providing again the support that we've all been talking about, a safe space to talk – you know, kids and adults have to feel like they're heard. They have to feel like what they're saying is okay and accepted in order to really open up and be vulnerable. Also teaching students to be really kind of that truly authentically reflective that we're looking for, helping them understand what emotions mean and how they can move forward, and then strategies to work through those reflections to really incorporate the change, is probably some of the best ways to help them with the post-traumatic growth.
Sarah Thomas:           This was very, very useful information. It kind of blew my mind about the whole inverse relationship between the post-traumatic growth and the resilience, so that was definitely an aha moment for me, so thank you so much for sharing that, Mandy. Yeah, so this question goes to each of you. How do you engage in social-emotional learning within the curriculum framework of your district? What does that look like for you?
Elizabeth Merce:        I don't know mind going on that one. Since I teach littles every day and we have to adhere to specific curriculum, I am very lucky that I teach in a district that actually allows for SEL in that my superintendent, if you ever hear him speak, one of the first things he says is to love your kids first and to build that in. But even without that, 'cause I do hear a lot of teachers complain when I'm doing consulting work or trainings that they just can't get it in, I definitely want you to have research in your pocket. You know, really show how learning is really intertwined with things like self-regulation, which is a social-emotional skill, right, and self-reflection that Mandy just spoke about. That's all intertwined together with learning.
And then a lot of times you'll hear from the community, "Oh, that's so soft," and you know, "Oh, we shouldn't do that." I mean, I see that on Facebook. I don't know about your feed, but that's what I'm seeing in response to some of these softer skills. But really it's an economic thing as well. So let's go back over to that kind of thing to back up what you're doing in your classroom. Professor James Heckman out of the Heckman Foundation, he's a Nobel Prize-wining economics professor, and he's done a lot of work on return on investment. And social-emotional learning, early childhood, those kind of things actually have better outcomes, long-term outcomes on a variety of different ways. NPR just had a podcast with him on it recently – I guess last week it was put out – that he really spoke at length on that. So I definitely recommend checking him out on Twitter for some of that information to back up what you're doing, because a lot of times if you're doing it just because intuitively it feels good, people don't like that, right? But if you show – and Heckman also spoke about how – intertwining it within all the content areas. So when you're reading a book and you're looking at cause and effect or you're looking at making inferences and things like that, those kind of mind work and empathy-builders are built into your curriculum. They're there, so you are doing SEL.
But it's all about that intentionality. You know, if you're doing it just for the content piece, then you're gonna miss out on some of those questions or some of the ways that the children are responding that you can then take those deep dives and build into who they are as people and what skills and strengths and weaknesses they have to build upon it. And even the same for things like math, you know, that piece of vulnerability to share who you are, where you come from culturally, or as Mandy was talking about, that self-reflection, right? So building in all those components takes places when you're doing deep learning, right? So you're asking them to be reflective on their content; ask them to be reflective on a regular basis and you're building that muscle. You're building that skill with them. So really being intentional is always the best thing – I tell teachers is to, one, know your research so that you can pull it out and tell your administrator if they come in, or the parents if they question what you're doing. And two, be intentional with it. Use those little teachable moments whether they're organic or something you've planned through the literature you're reading or the problem solving and ways that you've set up the children's groups within your classroom.
Mandy Froehlich:       Yeah, I think I – what Elizabeth said was just so spot-on, because a lot of what I see in the classroom with SEL is somebody will say like, "Well, I do GoNoodle so we SEL," you know? That – even mindfulness is not enough to cover SEL. Like, there are so many more components of it: knowing how the brain functions, understanding self-regulation, you know, understanding trauma and how it rewires the brain. Like, all of those things are a huge component of SEL that we are missing in a lot of classrooms.
Another – I love putting it into the content areas. There are probably places where most teachers are doing it anyway; they just don't even understand that they're doing it, so recognizing what you already do, and again like Elizabeth said, just making it more intentional. Another easy way I think that you could get it into your teaching is to – when you need to make a decision or when you are feeling a certain thing, model your internal dialogue. "Oh, my gosh, this makes me feel this, and I think my choices are this. How am I going to decide?" You know, it sounds kind of corny and kids might laugh at you, but they are internalizing that as, "Oh, that's how you work through an issue." You know, so kind of talking those things through and how you make decisions or how you're regulating your own emotions, you know, being vulnerable with your kids appropriately and modeling that, again not only for kids but for the teachers around you as well, because the kids are watching you all the time. They are reading your emotions, they are reading your body language, and they will use those same things when they're on their own and trying to work through their own issues.
Sheldon Eakins:          I agree with everything that I just heard, and I want to bring in a – maybe a different perspective when it comes to embedding SEL within a curriculum. You know, one of the things that we do – and it's so culturally based with circles. A lot of our students, you know, being from the tribes, I mean, they do a lot of activities that involve a circle. So when we talk about implementing restorative justice and restorative practices, however you want to pronounce it or address it, it's so important because it ties right into what culturally the students are used to being in circles and being able to have a talking stick and being able to share what's going on, what kind of harm was committed. So I think if you're embedding that within your teaching practice, so if you're taking five, ten minutes a day, maybe once a week even just to sit down in a circle and have these conversations, I think it's really important and it's really beneficial.
I've seen it to be very beneficial, even just – as a special education director, and I have a few students that are on behavior plans, you know, sometimes I go in with a teacher and a student and the three of us circle up and we sit down and have these conversations on maybe something that happened recently, and being able to talk those things out. Or if a student gets sent out of a classroom, being able to, okay, take the class, you know, our classroom was just interrupted, let's circle up, what are your thoughts, and get the perspective from the students that are remaining in the class, just taking five or ten minutes to have those conversations. I think that's really important in addition to – I think I heard some really good examples as far as making sure that you're modeling it yourself, but also just taking a few minutes throughout the class period on a daily basis or on a weekly basis just to have that circle so that students can kind of talk about their emotions, talk about their feelings, and develop that culture, that community within that classroom. I think that's important.
One more thing I would add, again just kind of bringing a different perspective, if looking at it from beyond the bell. So yeah, we're in class from this time to this time, but how are students that are in extracurricular activities, how are they utilizing this social-emotional learning skills? So basketball is really big at the school that I work with, and you know, how do we teach students to regulate their emotions when it comes to the referee or a student that pushed – a player that pushed him or fouled him really hard? And being able to regulate those emotions so, you know, if we're learning those things in school and then we're also teaching them how to regulate their emotions from an extracurricular activities as well, I think those are also some added bonuses when you're incorporating SEL at your school.
Brianna Hodges:        I love what I am hearing – oh, my goodness. And I think that one of the things that's really interesting for me is that – I was a former basketball coach and so I definitely can totally relate to that, of how do we bring that team environment, how do we handle our regulation and handle getting a call that we're not prepared for, or having a bit tougher competition than we were ready for, a little more body contact, or all of those kind of things – how does that come in from that emotional standpoint? And that reminds me of, you know, SEL is – you know, going back to what Elizabeth was talking through over, you know, how do we communicate this? How does this become something that is innate into each and every one of our classrooms and into our environment and into our culture, you know, wherever that is and whatever that looks like? Because I think that we have this misconception of SEL, right? You know, like, I say it outside of – in some circles and people immediately think of breathing deeply and yoga poses and things like that. And I think that it's this, oh, yeah, I don't have time for that because I've got algebra to teach, right? We need to get that finished.
And so I love hearing you guys all talk through, you know, it's really more of that how do we handle the daily stresses that life brings to us and how that looks for each of our students, each of our learners, our teachers, ourselves as we're challenged in each of those pieces, and remembering that – you know, I'm kind of going back to Mandy's comment over post-traumatic growth. And one of the things that I would love to kick this back over to Mandy as well is we hear the word trauma, right, and trauma – for many of us we equate that with really specific, you know, horrific elements. And so we kind of push that into a category that only a specific number of people will experience that, and is that really accurate? Or are we – you know, you also spoke about challenges, and can we start to look at – you know, obviously there's a different range on there, but how can we help this become something that's more palatable for all of our learners?
Mandy Froehlich:       Yeah. Well, you know, I think that part of understanding students with trauma and even understanding that line of – again, there's so many pieces of this. Like, we have to give a lot of overarching information on trauma and challenges and adversity and what you do for it because with trauma, it's so specific to the person, and that's what makes it so hard to deal with as the teacher, because you have to know your students very, very well in order to be able to understand how it's affected them, how you can help, what their triggers are, what you can do about their triggers if there's anything. And I've heard so many stories from – you know, for example, a student whose trigger was a door – and, Elizabeth, I think we might've been in the same group when we talked about this, but a door that was rattling. So when the – because the parent would be – have been drinking, would come home, they would hear it rattling and they would know what was coming next. And so that was their trigger. They would go hide from the parent who was coming home. Well, when someone would walk into the classroom door the student would jump under a table, and I couldn't figure out why for the longest time. And, you know, understanding that sometimes when students do certain things it doesn't have as much to do with the student as it has with what they've experienced and how that experience has changed their brain.
So I think that, you know, one of the first things that we can do, that we should be doing anyway is getting to know our students very, very well. And I actually think that when you talk SEL, I think that typically the way that we have grades 6 through 12, like secondary set up, it's not set up for that. It's not set up really to know your students very, very well because you have so many students coming in and out of your classroom all day long. And so particularly, you know, like, I think K-5, it's just easier in the way that you are just physically with the students more often. So I think the first part of that is really getting to know your students, understanding what parts are personality, what parts are them just going through a tough time that's not necessarily trauma, or them actually having gone through a trauma or going through a trauma and how that's changing them and the way that they react. So I guess in, like, one question that's a huge answer, that would probably be my number one go-to answer, would be just get to know your kids.
Brianna Hodges:        Which again goes back to Dr. Eakins talking about, you know, we've got to be comfortable with being uncomfortable, right? And I think that that's – each of you have talked about in your classrooms and in our work that that's the number one thing, of putting yourself out there, being vulnerable, and getting to know somebody, not just standing in front a class and saying, "Here's my content; I hope you learn it," and then moving forward. You know, we've looked at the research. We know that from a neurological standpoint we need those connections. We need this in order to be able to process the content. We're not gonna be able to learn if we don't feel safely connected to that information, whether that information be a relationship with the teacher or whether that be relationships with peers or whether that be a relationship with the content. We've got to have that connection in order to get there.
So I'm gonna take that kind of segue to then say, you know, sometimes our – most often our first and foremost connection is at the home, right, with our parents, with our families, with those kinds of things. So how do we communicate SEL to parents, to people that are outside of information and trying to wrap their minds around this as well?
Sheldon Eakins:          I would say the first thing that we have to do is define SEL. You know, as educators we know what it means and we're familiar with it, but our parents don't always understand or know about the jargon. So I think that's one of the first things, is to be able to define it. So that might include sending home a newsletter and saying, "Hey, our school is going into an SEL model, or your students might come home talking about certain things. Don't be alarmed. This is what it means." And of course you're gonna communicate in the preferred language of your families. You may also send home surveys, do some open houses, even provide personal phone calls. But again, you need to educate the families what it is.
And then on top of that, invite them to participate in this. I mean, how much better is it for parents and teachers to work together to help build up students? I mean, it's one thing for us as educators to try to do it on our own, but having a collaborative model where, okay, these are some of the things that you can do with your child when they come home, or here are some ways that you can help them create some goals – you're approaching it from a team effort. You're in a partnership. You're not just, okay, this is what your student needs to know and not involving the parents. I mean, sometimes parents don't necessarily know what else they can do to help students, help their child, and so they kind of leave it up to the school to basically take the lead. But if you're educating parents and inviting them and trying to get more engagement, I think that's very important.
The other thing that I would add is – 'cause at our school we have someone that's kind of our SEL/family, home, and school liaison. So if you have access to being able to provide that as a resource where you have someone that's kind of in charge or leads out when it comes to the family and school partnerships, and again you're having them reach out to families and having them – I mean, I do home visits. We have students that are having some real challenges I'll go out with this liaison and we'll sit down and try to talk with the family, talk with the student. If the student has been absent or if they've missed some classes we'll go over it together and try to work with the family. So I think coming to them is important in addition to always asking the parents to come to your school. But actually coming to them as well would be some ways that we can provide more education to our families when it comes to SEL.
Brianna Hodges:        I love that. We've spent a lot of time talking about how SEL is another strategy, it's another learning strategy. And just like when we're working with our kids – I remember when my son was learning his multiplication facts, right, and he came home and he said, "Mom, I need you to sing the eights song to me! I need you to sing the eights song to me!" And I was like, "Uh, buddy, I don't know what the eights song is." You know, and I called his teacher and I said, "I'm gonna need you to teach me the eights song, because you're doing this in the classroom and it's really working with him and I want to be able to support that and speak that same language here at the house." And I think that that's the same thing – you know, what I heard you say, is you know, how can we share these strategies with our families?
You know, I have a first-grader – my daughter's in first grade and she was really – it was becoming a challenge for her this year to kind of process through and regulate many of her emotions and just being – you know, going from five to six and six to seven and all of those different changes. And our school does a lot of work around SEL, and I – you know, same conversations with the teacher of what are the types of things that you're doing in that classroom that we can do at home, because I don't know – I don't want to – who wouldn't want some help dealing with the mini-meltdown? I mean, maybe that's just my child, but you know, she can kick and scream with the best of them when she doesn't get where she's feeling head and all of that stuff. And so I looked to our teachers and our counselors to share some of that information with me, so I love that. I think that's amazing advice, to bring that all in together.
Sarah Thomas:           Totally. And I would also love to get Elizabeth's take on the same question about communicating SEL with your parents and community.
Elizabeth Merce:        And I think Dr. Eakins and I are very much on the same wavelength with some of those things, the whole idea about restorative practice. And if you look at it whether it's from the primary or early ed or all the way up through adults that are maybe incarcerated, we've found that you get the best results from looking at restorative practices. That provides long-term. Unfortunately from what I have experiences is a lot of parents and community members want that punishment, and that punishment, what we have found, shuts down the child's brain to learning and it has negative outcomes. And a lot of times – again, I teach kindergarten so the parents want to know what color they were on or what clip, and I actually started #DitchTheClips, because instead of doing that I wanted to show parents – like Brianna was talking about, Dr. Eakins was talking about, communicating what we're doing in the classroom and how that's working and finding them and meeting the parents where they are. You know, that's another part of that community and equity piece.
And so I have found that for my parents we use Seesaw to communicate, and I show videos to actually show the parents what we're doing in the classroom and what wording we're using in the classroom and how that's important and what the kinds are learning from that, instead of – 'cause I didn't go to school to become a teacher to punish, be a punisher. Like, I don't want to be a punisher; I want to be a teacher. And so that includes even when they're struggling with – whether it's self-regulation or self-awareness or conflict resolution, any of those SEL components. And so after communicating what that means to them in our lovely jargon that we love to use all the time, then following that up with actually showing them how we fix it, and even allowing them to be part of that process. You know, when you do have them come into the school, like Dr. Eakins was talking about, sit through a communing circle. Sit for a morning meeting. Sit for a restorative practice circle if they need that, if there was something that happened, so that they can kind of see how that works and what actually happens from it. It's not just that touchy-feely stuff. It's real, meaningful changes that are taking places in the child's brain to help them long term. It's not just – punishment works right there in that second or that instance, but it doesn't work long term. You know, we need something that's actually gonna create empathy and changed behavior long term. Give them a skill they can use always, you know?
So that's kind of – #DitchTheClips is where that kind of stems from, is that idea of instead of just punishing and going, "You're on red today," teaching that skill so that tomorrow they won't be on ready – maybe, but _____. So getting rid of those altogether and instead teaching that skill and involving the parents on that just like you and Dr. Eakins were kind of alluding to there and talking about.
Mandy Froehlich:       I also think that – like kind of adding onto that, being very aware of the words that we use when we talk to parents when we do bring them is very important as well, especially if you're trying to address the behaviors of a child that are super negative behaviors. You know, or if we hear – even if a child has experienced trauma but we don't really maybe completely understand what the trauma was, we tend to be a little bit blaming of the parents, or even if we're not blaming sometimes we sound like we are. And I think being aware of the vocabulary words we use, of the way that we speak to them, helping them understand that everybody just wants to help the student. Like, we are all here, all here to help this student. And, you know, it's not their fault. They don't have a deficit in their parenting. You know, like, they understand that everybody is on the team. I think that that's really powerful as well in helping them understand SEL, because let's face it. Sometimes our parents don't practice awesome self-regulation. [Laughter] Like, you know, and sometimes those students are learning from home. So if we are complaining about a behavior that they are learning from home, the only thing we're doing is closing off those parents so that they won't talk with us or work with us at all. And so just being very aware of the way that we speak to them and the words that we use when we do I think is important.
Sarah Thomas:           Absolutely. Words have so much power, so definitely keeping that in mind. So really we wanted to thank all of you today for an amazing conversation. Oh, my goodness, I know that I personally have learned so much. You all have brought all your great insights and shared those with us, so thank you, thank you, thank you so much. I want to remind our viewers that information on the Future Ready effort can be found at FutureReady.org. We encourage and challenge district superintendents to join over 3,300 others and sign the Future Ready pledge. We also encourage our school leaders watching today to join us at one of this year's free Future Ready Institutes. Yes, that's right, folk – free. You heard it. For more on one of these great events, visit FutureReady.org/Institutes. I also want to encourage our viewers to get involved with our growing strands, from district leaders to tech leaders, principals, librarians, and us, instructional coaches. We have vastly expanded the reach of Future Ready schools over the past few years. Check out our private Facebook groups and ongoing activities to stay connected with those working alongside of you throughout the nation.
We want to thank all of our panelists as well as thank all of you, our viewers, for joining us for this Future Ready webinar. Don't forget to connect with us here at Future Ready on Twitter, @FutureReady, and on Facebook at Facebook.com/FutureReadySchools. If you missed any of today's conversations, then don't worry. It's gonna be archived at www.All4Ed.org/webinars soon after this webinar. So on that page you can also see a list of upcoming webinars. You can also find the alliance's Google hangouts on our YouTube channel as well. For those of you taking part in the Action Academy badging platform, then the password for this webinar is "Classroom." I'll say it again a little louder: "Classroom." So thank you again for joining us here at Future Ready and have a fabulous day. We will see you next time.
[End of Audio]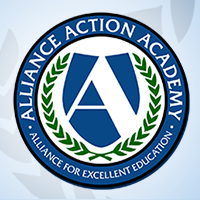 Welcome to the Alliance for Excellent Education's Action Academy, an online learning community of education advocates. We invite you to create an account, expand your knowledge on the most pressing issues in education, and communicate with others who share your interests in education reform.
Register Now
or register for Action Academy below: