Learning Transformed: 8 Keys to Designing Tomorrow's Schools, Today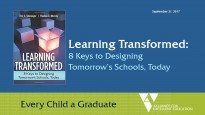 September 21, 2017
7:00 pm – 7:45 pm EDT
The Mike Sussman Studio
 The Alliance for Excellent Education and Future Ready Schools® Invite You to a Participate in a Webinar
 Learning Transformed: 8 Keys to Designing Tomorrow's Schools, Today

Panelists
Thomas C. Murray, Director of Innovation, Future Ready Schools®, Alliance for Excellent Education, Author, Learning Transformed: 8 Keys to Designing Tomorrow's Schools, Today
Eric Sheninger, Senior Fellow, International Center for Leadership in Education; Author, Learning Transformed: 8 Keys to Designing Tomorrow's Schools, Today
Bob Wise, President, Alliance for Excellent Education
On September 21, 2017, the Alliance for Excellent Education and Future Ready Schools® (FRS) held a webinar as part of Future Ready Schools'® Leadership Hub, a one-stop-shop of professional learning opportunities for school leaders.
Having no historical precedent, the current speed of technological breakthroughs has led to the coming age of workplace automation, dramatically altering the world of work that the nation's students will enter upon high school graduation. With the vast disparities of inequity that have existed for centuries, all that is known about how students learn, and the predictions regarding the world that the students will face tomorrow, utilizing a traditional, one-size-fits-all approach to teaching and learning is educational malpractice. Built upon the foundation of leadership and school culture, a redesigned learning experience fundamentally shifts the teaching and learning paradigm to one that is personal, while altering the use of authentic assessments, how technology is leveraged, the spaces where learning occurs, the way educators grow professionally, how schools collaborate with the community, and ultimately, the sustainability of the system as a whole.
In this webinar, Tom Murray and Eric Sheninger, coauthors of ASCD's Learning Transformed: 8 Keys to Designing Tomorrow's Schools, Today, dissected their eight keys—each of which serves as a puzzle piece for redesigning the learning experience—to unlock tomorrow's schools so that today's modern learners leave ready to create new industries, find new cures, and solve world problems.
Panelists also addressed questions submitted by online viewers.
---
Please direct questions concerning the webinar to alliance@all4ed.org. If you are unable to watch the webinar live, an archived version will be available in FRS Hub shortly after the event airs.
Future Ready Schools® is a project of the Alliance for Excellent Education, a Washington, DC–based national policy, practice, and advocacy organization dedicated to ensuring that all students, particularly those traditionally underserved, graduate from high school ready for success in college, work, and citizenship.
www.futureready.org
Follow Future Ready Schools on Twitter (twitter.com/FutureReady);
Facebook (facebook.com/futurereadyschools); and the Future Ready Schools' Leadership Hub (futureready.org/hub).
---
If you are interested in renting the Alliance's facilities for your next meeting or webinar, please visit our facilities page to learn more.
[Music playing]
Bob Wise:                    Good afternoon. I'm Bob Wise, President of the Alliance for Excellent Education, and welcome, and thank you for joining us for today's webinar. This is one of the most exciting webinars. I have been looking so much forward to doing this one, particularly to be with the presenters that we have today, two great leaders in education. Let me just say they have – and you'll see why I'm so excited. They have the metabolism of hummingbirds and the commitment to education of lions, and that is all born out in this book that we're gonna be discussing today, Learning Transformed. So today we're fortuned to be joined by the International Center for Leadership and Education's own Eric Sheninger and the Alliance's Thomas C. Murray, the authors of Learning Transformed: 8 Keys to Designing Tomorrows Schools, Today, and today released by ASCD in this past June. Immediately after its June release, Learning Transformed climbed the charts of multiple best-seller lists and is being used by school leaders around the country to vision, to plan, and to create meaningful, authentic learning experiences for the students in their school or district. When you get into this book, you read through the eight keys, much more to come, you'll understand why.
Let me tell you what some notables have said about this. Notable well-known Sir Ken Robinson referred to Learning Transformed as "both a compelling manifesto for the schools and children that are needed now and an inspiration blue print for how to bring them about." Former U.S. Secretary of Education Arne Duncan called the book "a research-based blueprint for school leaders to lead the needed change in today's schools." Well-known education researcher Linda Darling Hammond referred to Learning Transformed as "a handbook to implement actionable, sustainable change in schools so today's students can thrive in tomorrow's world." Truly excellent encomiums for exceptional educators.
We're excited to have the authors of Learning Transformed with us today, and we will be using the book's hashtag, #LT8Keys, to discuss today's webinar on social media. These two guys are social media mavens and masters, so #LT8Keys. Get involved now. We encourage viewers to join us there as well. I'd like to take a moment to introduce today's guests and the book's authors to our audience. Eric Sheninger serves as a Senior Fellow for International Center for Leadership and Education, or ICLE. Eric, give us a few background points you'd like emphasize today.
Eric Sheninger:           Well it's an honor to be here on behalf of ICLE. I got my start as a science teacher in New Jersey, and then I became an administrator in New Milford High School, and thanks to the foresight and determination and passion of my amazing teachers and students, we were able to transform our school, but more importantly, we were able to show evidence leading to efficacy in how we were able to implement technology with purpose and improve outcomes for students. And now in my role as International Center, we work with schools all over the country, all over the world, to help with their digital transformation efforts.
Bob Wise:                    So thank you, and also joining us today is Thomas C. Murray. Tom serves as the Director of Innovation for Future-Ready Schools, a project of the Alliance for Excellent Education located here in Washington, D.C. I count myself very lucky to be a colleague of Tom's at the Alliance. Tom, how about yourself?
Thomas C. Murray:    Bob, again, it's great to be here today, and thank you, and you know, I spent 15 years in the public schools in the Quakertown Community School District in Pennsylvania where I was a teacher. I was a principal. I went over to district office before coming here to the Alliance, and today we get to help support and run future-ready schools and work with school leaders across the country from coast to coast, so it's an honor to be here today to talk about Learning Transformed. Thanks for having us.
Bob Wise:                    And I think what's important about both of you is you're practitioners. You came through various aspects of this – teaching, central office, administration, and in policy in some regards. And at each step of the way, you've not only developed yourselves, formed opinions, but also saw what needed to be changed, and that's what I think is reflective so much in this book.
Thomas C. Murray:    Bob, the other thing I'll add to that is we're both dads, and we both have a boy and a little girl, and part of what we looked at is what do we want for their future? What do we see as the need for their future in their world ahead?
Bob Wise:                    So for more than a decade, the Alliance for Excellent Education has been at the forefront of advocating to ensure that all students, but particularly students from low-income families and student of color, that they graduate on time with the knowledge and skills necessary to succeed in first year of credit-bearing college courses. Now Tom and Eric, in Learning Transformed, you all advocate for these same students, pointing out the vast inequities that exist for both females and students of color. So in one section, "A Sense of Urgency," you highlight various data points from the National Assessment of Educational Practice, or NAEP, N-A-E-P, and the Program for International Student Assessment, or PISA, P-I-S-A, as well as you cite graduation and engagement rates. You then compound those data points with what's been coined "Industry's 4.0, The Next Industrial Revolution" to highlight the accelerating changes in the world of work. You move from pointing out severe equity issues in our K-12 educational system that are deeply rooted in  our nation's past to the future world of work and the implications of automation and robotics for the students that we serve. And just a note on why that is so even more important, besides the fact that we oughta be doing right by all of our students, is today those students that you're talking about, students of color and ethnicity and/or students that are low-income, they comprise half of our student population. They're not only the workforce of this country. In the not distant future, they are the consumers and they are the citizens, and so that's why the points that you're making here and how you bring quality education to this significant component of our population is so important. So Tom, I'm gonna start with you. Can you share a little bit about the connection between the two?
Thomas C. Murray:    Sure. Bob, we thought it was really important to take a snapshot of where we fall as a country in different ways and to step back out of schools as educators and look holistically. Eric and I will both tell you as practitioners you can't take one data point or one study or one area and make huge generalizations. We tried to find so many different areas that we could look at. One example – we looked at graduation rates, and on the positive, they've continued to increase over the last number of years, and that was a really good thing. But I'm gonna jump here to the Gallup survey of 2015. One of the really interesting things that we saw – and this is one of the aspects that we cite in the book – they asked almost a million children nationwide, "How engaged are you in schools?" and when you take a look – look at fifth grade. It's 75 percent, about three out of every four fifth grades, but yet it goes down in sixth, down in seventh, down in eighth, down in ninth, down in tenth, down in eleventh, and it ticks up senior year. We attribute that to maybe the, "Oh shoot, I have to graduate," or the – but look at that. On one end, the longer we have them, the less engaged they become. On the other hand, when you look at some of the other aspects, when they ask students things such as, "I have fun at school," and you look at the data on that, or, "In the last seven days I've learned something interesting in school," we have to disrupt that.
Specific to equity and specific to students of color, when you look at things like suspension rates and the huge disparities and things like that, chronic absenteeism and the percentages there and the trends that we see there as well, there's vast inequities related to females. When you look – and again, we're both dads of little girls, and so this is very real to us in that regard – when you look at the STEM areas and the very far differences of how do we make sure in our STEM classes it's not just white males? We really wanted to take that snapshot, but all in the context of where is the world of work going?
So when we take a look at their future, what are some of the projections? The White House did a report to Congress about a year ago, and some of the statistics that they put here related to automation and robotics is they're now projecting about an 83 percent chance that those earning less than $20.00 an hour will eventually lose their jobs to automation. That's startling. And when you start to look, what are the skills that those types of jobs have? But if you look at only a four percent chance for those 40 and above – now, those are averages, but when we look at data like that, if that's the world of work our kids are going to, how do we ultimately prepare them for that? So as we see the gaps in equity and we see the disparity from coast to coast, we have to do something about it, and that's why we coined it "A Sense of Urgency," and what does the research show moving forward that we can do, and what are the districts actually doing to transform learning in their schools?
Bob Wise:                    That's what impressed me about this book, is yes you – and we're gonna quickly get into why you do about it, but you also laid the groundwork for why you do need to work. As all of us are working across many districts across the country, what we're finding is the need to lay some groundwork so you build that community support and even educator support as well for the steps that you're advocating, and you do that very, very well. So your mission is much like the mission that we have here at the Alliance. You push for equity for all students throughout the book, from equity and access to equity and opportunity. You also move readers from research to practice, and you highlight over 20 locations around the country that are transforming learning in different ways. I appreciate this, because what you're doing is you're giving every district leader and many others, as well, the chance to see somebody that looks like them. No more of the excuse of, "Well, I've got a high population free and reduced lunch. What can I do?" "I've got somebody that looks like you, and here's an example of what they're doing."
Your eight keys are both grounded in evidence and scalable in practice. So let's dive into these keys, Tom and Eric. I'd like you to talk about some of the research and what schools are actually doing in these areas to create these learning opportunities today's students both need and deserve.
So Eric, first key. The both of you highlight in Learning Transformed is that leadership and school culture lay the foundation. So how do they set the tone for such transformation?
Eric Sheninger:           You know, we have to look at what leadership is not. Leadership is not about one person. And it begins with a mindset shift, and that is if it's important to you, you'll find a way. If not, you will make an excuse. So when we start looking at that aspect, how do we focus on solutions as opposed to excuses? Tom and I unearthed over 150 research citations that bring to life all this change that people are talking about. Well let's show how it's actually impacting learning outcomes for our kids. And when we think about leadership, it begins with one person. Don't expect others to do what you're not willing to do yourself. And when we talked about that, we kind of led off the chapter with different shading between two groups of leaders – leaders by title (LBT) and leaders by action (LBA). Leadership isn't about title, position, or power. Leadership is about action. It's the actions that our teachers take, our kids take, administrators, board members, parents. And when we start beginning to change ourselves, then we can build momentum to actually change the system.
And when we think about leadership, we refer to Simon Sinek's Golden Circle. Let's begin with the "why?" Do kids understand why they're learning, what they're learning? Do they understand why schools matters? Then let's focus on the "how?" How do we improve outcomes for our kids? How do we show evidence that all the things we're talking about are improving outcomes for our students? And then finally "what?" What supports, what research can we link to? And what tools can we use to maximize these efforts that we're putting forth for our kids?
Bob Wise:                    I'm struck by your discussion of leadership, 'cause, Tom, what I've observed in all the Future-Ready institutes and summits that you've conducted hard-charging district leaders, and they're not – their motto or their attitude seems to be, "Unless I see something that specifically prohibits me, I'm going ahead. Just because this is the tradition, just because this is the urban myth that we aren't able to do this in our district, unless you can show me something that says, 'No,' I'm moving."
Thomas C. Murray:    Yeah, Bob, one of the things that we see there – and we end every chapter with, "You are part of the solution." And one of the things – we can throw a lot of the data and some of the things that I shared and almost put our hands up is, "The sky is falling," and, "Why are we even doing what we're doing?" but we believe in today's leaders, and when we get to work with the leaders across the country that we do, we see the amazing things they are doing for kids each and every day.
Bob Wise:                    And Eric, you also were very careful to note leadership occurs at every part of the educational process – teachers, principals, central office, and so on. It's not just one person.
Eric Sheninger:           Everyone plays a role. Our teachers lead our classrooms. That is the most important leadership role we have in our schools. Building leaders support teachers, support students attaining those outcomes. But if we develop this collective mindset that we're all in this together and that every small action can lead to a bigger, more meaningful change, that's how we can sustain the effort and scale the effort, so that all kids, regardless of zip code, get a world-class education.
Bob Wise:                    So you also share a research-based acronym for leaders. Can you talk about the importance of each component?
Eric Sheninger:           Yeah. When Tom and I were writing the book and were just throwing things out there and were looking at leaders by action as opposed to leaders by title, we were amazed at how much research is out there that supports good practice when it comes to leading change. So we came up with this acronym for leaders, and first, the L stands for "learn." Learning is the fuel of leadership. The best leaders are always learning. E – "empower." The best leaders empower others to be more than they can be. They empower them to take risks. They empower them to move outside their comfort zones. They empower them to focus on the "what ifs" instead of the "yeah, buts." The best leaders "adapt," knowing that things are changing. Our world is changing. Now, more than ever, we need leaders that are more willing to adapt in order to prepare kids for their future.
Great leaders "delegate." Leadership is not about one person. How do you prepare other leaders? By giving them more responsibility, preparing them to fill your shoes. The best leaders "engage." They engage in face-to-face conversations to build relationships, but they also engage in digital spaces by meeting their stakeholders where they're at. The best leaders also "reflect." They reflect in traditional ways, but now they reflect using a variety of digital tools, whether it be blogs, Twitter, Voxer – which Tom and I use a lot. And then finally, the best leaders "serve," and when you look at servant leadership – why do we do what we do in education, Bob? We do it to serve our kids, and make no mistake about it, we don't work for boards. We don't work for superintendents. We don't work for principals. We work for kids. How best can we serve our students to prepare them for their future?
Bob Wise:                    Incredibly important, each one of them, and I appreciate the one at the end, because that does bring it into focus. We're all there, and everyone who's involved in education in some way is there – should be there for the student. And then it makes it a lot simpler to steps we have to take if that's the key focus. So the second key you highlight is that the learning experience must be redesigned and made personal. Tom, that's a big subject and a rapidly emerging one in so many ways. What does learning that's personal look like?
Thomas C. Murray:    You know, Bob, what's interesting is when we look at the last few centuries, where you walk into a classroom, desks in rows, teacher standing up front, teacher's the dissemination of information, you look at any research on the effectiveness of, "I disseminate the information. You regurgitate it," and what kids actually remember – or more important, what they can actually do with it, it shows it's completely dismal. So how do we leverage student interests, student passions, the things students want to be able to do in life? And how do we move from that teacher-centric environment to the learner-centric environment, where the learner is the heart and soul of it? So as schools, how can we continue to really take what students can do well, not just from a deficit approach, where sometimes schools work, but from leveraging their passions and their interests and those kinds of things moving forward? And so that notion of personal. And there's a little bit of discourse out there of personal learning versus personalized learning, and technology, which we'll dive into in a little bit, can also play a key role in this, and how do we make learning personal for kids?
Bob Wise:                    Some people say, "Well, we've done this way. We've had traditional education for years," and yes, Socrates in a cave with 15 students had a lot of time to spend time and to learn each one of them. But we're talking about millions of students that deserve learning opportunities, and in the absence of having a number of Socrates out there – didn't turn out so well for him – in the absence of that, then it seems to me that what you're talking about and what's in this book is critically important. One tool for such personal and authentic learning that you highlight is ICLE's Rigor Relevance Framework. So Eric, you're such a critical figure there. What can you tell us about this framework and how districts across the world can use it?
Eric Sheninger:           You know, I'm gonna modify a quote from William Horton. If we don't get instructional design right first, all technology's gonna do is speed up the rate of failure. More often than not, we put the cart before the horse. Technology is not a silver bullet, and the OECD report reminded us that. When they looked at the countries that invested the most in technology, they found a negative correlation between that and achievement, and the United States was at the top of the list. And a caution, it's not that technology can't improve learner outcomes. It's that teaching learning and leadership have to change first. So how do we build a foundation? How do we create a common language, common vision, common expectations? And that's what the Rigor Relevance Framework's all about. Tom talked about personal learning, relevance. Do kids understand why they're learning? Can they apply what they're learning across disciplines? Can they apply what they're learning to solve real-world predictable problems, real-world unpredictable problems? Can they apply their learning outside of school?
When we look at the vertical access, can they think? Knowledge taxonomy. We want kids to be able to think. We want them to be able to demonstrate mastery in a variety of ways. And that's all about moving from Quad A – low-level learning, low relevance – to Quad D. And as you'll see on this next slide, with the framework it really is about preparing kids for their world, getting them to be divergent thinkers, having them be complex problem-solvers, having the passion, the motivation, the belief that they can do and be anything. We're preparing kids, Bob, for a world that we really don't know what it's gonna look like. We have driverless cars coming. We'll have flying cars. We'll get solar roofs from Tesla. It's crazy. So how do we prepare kids to be successful, not matter what? Preparing them to think and seeing the connection.
When you look at the language here in Quad D, we can summarize it simply. We don't prepare kids for something. Prepare kids for anything. And that's what this transition, that's what the framework is guiding us to do, is when we look at getting kids to think, that relevance, application, preparing them to be anything, to do anything, technology becomes a ubiquitous component. Michael Flynn talks about new pedagogies, where technology is this ubiquitous support, where kids are mastering concepts together. They're learning together. They might not be learning in a classroom. They can learn anywhere. So it's not about separating technology from everything else that we do. It's about having it there, integrating with purpose, and unleashing the potential of our kids.
Bob Wise:                    You remind me of a superintendent I have the greatest respect for who I went to see the technology in his high school and how it is being used. He pulled me into his office beforehand and said, "You're here to see the technology. I want you to understand that's not what this is about." And he said, "We don't look at our teachers," – and this goes with something you said, Tom – "We don't look at our teachers as sages on the stage, and they're not guides on the side. They are," – and these words are seared in my mind – "They are educational designers, and they're working with their students. They're working with the parents, and they're working with technologies to help design, every day, the maximum learning path. How do we learn"- and then to the second important point you made is this is about preparing students to be masters of their own learning as they go forward. We may have them until 18 in terms of high school, K-12. What happens 18 to 80, in the extent to which they're continuing to learn and know how to learn? So this is all, I think, incredibly important.
The third key – gotta move us along. The third key – 'cause I get excited on each of your keys. I'd never get this door unlocked. The third key you highlight in Learning Transformed is that decisions must be grounded in evidence and driven by – I love this ROI – return on instruction. I see you've coined a new ROI here in the process. In the book, you share this observation. "When integrating technology, there needs to be a return on instruction that results in evidence of improved student learning outcomes." Eric, what can you tell us about this importance of this new ROI – return on instruction – and how can districts do this?
Eric Sheninger:           Well when Tom and I started talking about this book, we wanted to solve what we felt were two glaring holes. We wanted to show the vast research base that's out there to support the work, but we also wanted to focus on how schools, districts, and educators that are influenced-informed by the research are actually showing evidence when they're integrating technology it's improving learning for kids. So when we think about it, in education in general, we're great at telling people all the amazing things we're doing. We're great at telling people, "Oh, technology can do this and do that." Alright, we need to move from telling to showing. Show me how it's changing teaching, learning, and leadership. And we break down four concrete areas where we can show the evidence. Let's look at data. Let's look at quantitative qualitative data. One of our case studies, Lockport City schools, shows, unequivocally, how the district was able to improve learner outcomes, improve achievement in their one-to-one iPad classes. It was done with the University of Buffalo, but they found it was the changes to pedagogy, the changes to teaching and learning through the assistance of the iPad that led to those results.
Number two, observation and evaluation and reflection. If we don't know what's going in our classrooms, how can we improve? And that's really on administrators. How do we actually go in there and observe whether technology's being utilized effectively? How are we improving the feedback loop? Number three, artifacts. How is assessment changing? How is student work connecting to standards? How are our projects, our lessons changing? So the more that we share those aspects, where we can look critically at the work and have conversations about, "Is it reflective of the changes we want?" how does that connect, then, back to our data? And finally, portfolios. I think that if we – data is important, but as Tom and I, we wanna take the conversation and focus on other metrics of success, and that return on instruction – look at a portfolio showing growth over time. Now with Google Classroom and all these – and Seesaw and all these other web-based tools we can show growth over time, not just for kids, but we can show growth over time for teachers and administrators as well. Return on instruction isn't just the kids. It's how are the adults changing as well?
Bob Wise:                    So I've got two renowned educators in front of me. I gotta ask this question. I'm a teacher. I've got two or three children at home. I gotta prepare lesson plans. I gotta finish – do the parent-teacher conferences. I then gotta go home. I take care of my family. How do I learn about a lot of what you're talking about?
Eric Sheninger:           Besides reading the book?
Bob Wise:                    Yeah, the book starts it all. I got it.
Eric Sheninger:           I think more than not – and Tom, feel free to jump in this – is we make it harder for ourselves by separating the technology from the practice. And it's all about how do we work smarter, not harder? Technology should make our lives easier. It should. We make it harder for ourselves. So when we talk about all those aspects, it is simply how can technology support and enhance what we are already doing? But let's go back to your point. What if we're doing things that aren't really effective? We're spending all that time on lesson plans. We challenge in the book let's spend more time on developing better assessments. So I think it's how we spend our time and taking that critical lens to the work that we're doing in order to improve. So when we think about it, the ultimate goal is how do we improve learning for our kids? So let's not make it harder on ourselves. Integrating with purpose. Technology will not improve every lesson. That's another point we make in the book. Let's make sure it counts.
Thomas C. Murray:    You know, Bob, you bring up a good point, and I think it's important that teachers do find a balance, because let's face it, teachers could work 20 hours a day, and there would still be more that they could do for kids. We don't want our teachers burning out. Teachers are some of the most passionate, dedicated, incredible individuals that are out there, and so I think it's important that they do have the balance to counteract your question there a little bit. But just like we would talk about personal learning for kids, I would ask teachers how did they learn best? To standardize some sort of system for teachers also is difficult in the sense of we wanna recognize them as learners as well. And so to answer to that teacher, my first question would be, "Well, how do you learn best?" One teacher might really enjoy the social media type of connections, but another might say, "That's not a strength. I prefer this." How can they then connect with others? What we don't want is teachers to feel islands into themselves, because if they are, they're gonna burn out. They're gonna get tired. They're gonna feel all alone. We need them to be connected together to network.
Bob Wise:                    That's an important point, I think, that you make about as students learn so do teachers, and so how do you create those communities of practices, communities of learning that are responsive to teachers' needs as well? So one of the vignettes – and there are many that are very worthwhile in this book – but one of the vignettes that you highlight in this chapter is Lockport City School District in New York and a case study that was done with them. And Eric, could you talk to us some about what's going on in Lockport?
Eric Sheninger:           Yeah, I'll talk a little bit more in detail as I mentioned that before, but it was interesting. They went one-to-one, and they collaborated with the University of Buffalo to see where they were before the kids got on the device. And then they looked at achievement in grade three with the kids that had the device, and then again those same kids that the device in grade four. But they compared that to students across the rest of the school that did not have the device, across the rest of the district, across the region of New York, and across the state, and the graphs that we show in the book, I mean, it's not even close. I mean, the kids with the device immensely outperformed their peers. And what people, when they look at that data, will say, "Oh my goodness. It's because of the technology. It's because of the technology." Well, as I mentioned before, if we don't get the pedagogy right first, the technology's not going to matter much. And what the university researchers found in conjunction with the administrators at Lockport was that through all the observations, it was the fundamental changes to instruction, to assessment, to feedback, and that the students were able – with those elements in place they were able to master those concepts better through the assistance of the device. And that's what's great, because when we ground everything in what we've always done, that pedagogical foundation, the possibilities are endless with technology, 'cause it provides us more avenues to focus on the whole child, to focus, as Tom mentioned, to make learning more personal, their interests, their passions.
Bob Wise:                    So I'm gonna push some, because obviously this is something at the heart of Alliance for Excellent Education and Future-Ready and Tom's work and also the work – thank you very much for all you've done, Eric, for Future-Ready, but in Lockport I'm willing to assume they had a plan before they deployed. It wasn't purchased and then planned, but my guess is they planned and purchased.
Eric Sheninger:           When you look at districts like Lockport and all the districts that are very successful, they meticulously plan well before. There is a shared vision. There is a certain level of consensus. They're aligning it to what the research says about teaching and learning. They're aligning their policies. They're making sure their infrastructure is soundly in place. They are making sure their kids understand what the expectations are, that the parents understand the expectations, and a lot of them are doing professional development in upwards of a year in advance. And not drive-by P.D., which Tom and I'll talk about later, but sustained professional development, and that's what separates districts like Lockport that have gone one-to-one and were able show results from those that are great at still telling people what they're not doing but not showing the same level of efficacy.
Thomas C. Murray:    You know, Bob, when we look at school budgets over the past decade they've remained relatively stagnant, with the exception of ed tech spending. It's gone through the roof. And so what we're often seeing is we're buying all the stuff – Chromebooks, iPads – and they're great devices. We're putting them in carts, putting them in hallways, and then often saying, "Now what do we do with it?" Districts like Lockport are bucking that trend, and that's why we wanted to highlight them, to show this is what success looks like and this is that return on instruction that is actually has in that district.
Bob Wise:                    So I was at a Future-Ready Summit, and I heard a very distinguished presenter named Tom Murray, that I remember this quote well, which is that, "When you go to your board of education, have a plan. It's not just three percent more or five percent more. Have a plan for what you're doing and why you're asking for this and how it's gonna actually have an impact on students."
Thomas C. Murray:    Yeah, one of the areas that we hit in the book that relates to that, as well, is we have the fiscal responsibility of taxpayer money to use it well, and so if our community – 'cause we're here to serve the community. We can't get that backwards. If our community is entrusting us with the dollars that they are, we have to ensure that return on instruction. We really absolutely do.
Bob Wise:                    The fourth research-based key that you highlight is that learning spaces must become learner-centered. Tom, if we're going to truly transform learning, what is it – what role does learning space, itself, play in the process?
Thomas C. Murray:    You know, Bob, I have to think back to my first time as a fourth-grade teacher. I set up the classroom for me. I had desks in rows. I was ready to stand up front. Their worksheets were all set and ready to go. Being a big sports fan from New York I had my New York Giants corner, my New York Mets corner. I hung up all this stuff around the room that had nothing to do with learning, and I'm gonna humbly admit something like learning space design was not remotely on my radar when I taught fourth grade. I designed the classroom for me, not for the students that I serve, and so it's been-
Bob Wise:                    Let me just – was it in your teacher preparation program?
Thomas C. Murray:    Well, you know, I did it – honestly, no it wasn't. But I designed it the way it had always been done to me. It's interesting. If we jump to this slide here, I went to Google images, and I typed in "classrooms of 1917," and I saw what popped up. And I typed in "classrooms of 2017," and I saw what popped up. And you know what's the stark reality that we see? In so many times, there's very little difference – desk in rows, kids facing forward, teacher desk up front, teacher-centric environment. If we take an app and we merge two of them together, we can also see. That's eye-opening with a hundred-year difference. But here's what we also know. In some places everything is changing. The notion of learning spaces has really gained a lot in the past number of years. A lot of people are starting to talk about it, but our fear – and one of the things that we share in the book – is, see, learning-space design is not about being pretty for Pinterest. It's not about being cutesy and having all the colors match. It's about brain science. How does the brain learn best in all that we know? So how do we design for things like flexibility, for things like movement in the different areas of the research? And this is an area that we hit really hard with the research in terms of how do we – one of the areas that comes out of it is how do we plan for individuals? So when a student feels like they can own some of the space, they're more prone to learning in that environment. So how do we let kids take some ownership of the actual space? How do we plan for movement? You look at any of the research on the movement and the design when kids can get up and move around and what it does to the brain and the oxygen levels and those kinds of things, but learning-space design is not about being pretty for Pinterest. It is about how design impacts the brain and ultimately impacts learning.
Bob Wise:                    So Tom, also in the chapter, you share what's going on in Elizabeth Ford School District in western Pennsylvania. I have to say, Elizabeth Ford pops up a lot when I'm hearing about hard-charging and school districts and true exemplars. So what's going on with learning spaces there?
Thomas C. Murray:    So Elizabeth Ford was our vignette in chapter four, and a shout out to Bart Rocko and to Todd Krusen, the assistant superintendent and the superintendent there. What they did is they started and they have a very traditional library. They started in one space, and they said, "You know, let's take this library" – and a shout out to our librarians as well. They are really leaders, often, in this area. So they started in the one space, and what the noticed was the traditional library with the card catalog and just the big racks of books, it just wasn't being used a whole lot. And so what they started to do was ask kids, "How would you learn best?" They have a video out there, and one of the kids starts to say, "I walked back in, and I thought this was the new teachers' space," and it shows what they've done. They've also started to do so much around flexibility. They have this dream lab where you have all this cross-curricular, where math and science, they're working together, so they've done a lot, not just besides the space, but they're making the space a priority. They've made a mobile STEM lab that they can now drive between buildings, 'cause the budget wasn't there to do it in every building, but it's a new space and a different space, and so they're starting to think more about spaces than the 900-square-foot classroom, but where can spaces be online? Where can spaces be outside? And those types of things as well. But Elizabeth Ford deserves a shout out, and they're doing great things.
Bob Wise:                    The fifth key that you highlight in Learning Transformed is that professional learning must be relevant, engaging, ongoing, and made personal, and we touched on this earlier, but Eric, how can districts move from the traditional, top-down, one-size-fits-all approach of hours-based professional development – I get bored just talking about it – to a model of professional learning that is truly personal and supports learning transformation in the classroom?
Eric Sheninger:           Quite simply, sit-and-get, lack of application, one-size-fits-all, just it doesn't work for our kids. It doesn't work for adults. The research is clear. What the research is also clear about is sustained. How are teachers and administrators being coached over the long-term? Are we getting away from drive-by P.D.? People might love a one-hour keynote, but when you think about it, what follows that keynote? How do you walk people through? How do you coach? How do you guide them? How do you help them develop the means of evidence to show that the P.D. is actually improving outcomes for the kids? So outside of the sustained approach, which is the district's responsibility, let's look at the individual responsibility. And Tom and I talk about the importance of a personal learning network or professional learning network. How can we supplement that face-to-face learning? Why is it so important? Think about our kids. Relevance. Making it personal. Meaning. Readily-applied. And as we think about all these ten elements that we identify that are sort of what we and other educators find that value, we challenge educators. 15 minutes a dat. 15 minutes a day to learn anytime, anywhere, with anyone you want. I was asked yesterday in Iowa how did I know Tom Murray. I met Tom through my PLN. I became _____ with the alliance through my PLN. When we were going bring-your-own-device as the first school in New Jersey to do so back in 2010, we leveraged people online to get the information, resources, and ideas, to show us the evidence of how it could be done properly. And then what'd we do in turn? We showed evidence of how we were implementing it to improve outcomes, and we shared that. So when we think about that personal approach, that sustained approach, it has to be a collaborative, collective effort.
Bob Wise:                    So Tom, your first book was Leading Professional Learning: Tools to Connect and Empower Teachers, a very similar topic. In Future-Ready, you've also pushed leaders to model the desired outcomes in this area. You've got a lot to add, I think, to this.
Thomas C. Murray:    Yeah, I'm chomping at the bit over here. When we look at leaders, really pushing them on, "How do you run faculty meetings?" If I'm gonna stand and deliver for 60 minutes and then go into a teacher's classroom the next day and tell them not to stand and deliver, how am I modeling what I'm asking teachers to do? How am I growing professionally as a leader? I think it's easy to sit back and everybody has their set number of hours they have to do as a leader, maybe over at district office. I'm just kind of pointing. Everybody's gotta do this. Well what about you? How are you modeling growth? What are you doing as the leader to be transparent? And that's so important, and leaders can really model the way here. Another thing to add what Eric was saying as well is part of what we wrote about is where do we give teachers voice and choice? If everything is top-down, one-size-fits-all, sit-and-get, hours-based accountability, where do teachers have the opportunity to say, "Hey, here's something that I need." Sometimes we school that love of learning right out of a teacher in that traditional structure, and so how can we empower them? Sometimes districts will bring in people like Eric and I. We spend a lot of time with other districts, and we love doing that, but at the same time, there's sometimes things that we might have conversations about or, "Hey, can you train us on this?" where they've got the expertise teaching in their classroom every day, and how do you leverage the amazing teacher expertise in districts to also do that? But leveraging voice, leveraging choice, but at the same time it can't be a free-for-all. Maintaining that hyper-focused vision on teaching and learning and what we're looking for for kids in the classroom.
Eric Sheninger:           And I'm gonna piggyback on Tom, 'cause we make it clear. What Tom's talking about is agency. We talked about student agency – voice, choice, advocacy. In our book we talk about educator agency. It's just as important for teachers as it is administrators that they have exactly what Tom talked about. So when we look at putting all the eggs into the teacher basket, which is important, administrators need just as much support when it comes to their own learning.
Bob Wise:                    So follow up on that. So you're saying students, teachers, administrators, all with same agency.
Eric Sheninger:           Agency. Voice, choice, advocacy. When we think about it, that's how we create a culture of empowerment, a culture of possibility of opportunity, of wonder, of amazement, where everyone feels that more synced valued with the ultimate goal.
Thomas C. Murray:    You know, Bob, another way to look at that is ownership. Every teacher in America wants – around the world I should say – wants students to own their own learning. But as a teacher, how could we expect students to own the learning if we as a teacher don't own our own learning? And in the same sense, as an administrator, how could we expect our teachers to own their learning if you're not modeling it and owning it yourself? And so that's that agency and that notion of it's our job. It's our moral imperative to become better for kids as we progress moving forward.
Bob Wise:                    So what you're saying – I wanna make sure, 'cause I think this is a very important point – is that the same learning and agency we seek to achieve – we seek to develop and have students experience is exactly the same that our teachers and our administrators.
Eric Sheninger:           Yes.
Thomas C. Murray:    Yes.
Bob Wise:                    So we're all in this together.
Thomas C. Murray:    And we could share example after example of how amazing educators are doing just like that and amazing leaders are doing that every day.
Bob Wise:                    Important. The sixth key you highlight is that technology must be leveraged and used as an accelerant for student learning. Tom, you refer to how we are currently teaching what you call the "Netflix generation" of kids. What do you mean by this phrase, and how does technology empower today's modern learners?
Thomas C. Murray:    You know, when I think about our kids, when I think about my son and daughter and Eric's own children, they are growing up in a generation where they have no concept of what it's like to have to wait until next Tuesday at 7:00 to watch their favorite TV show. They get their content on demand, the moment they want it, so long that they have access – and that access piece is something that we also talk about in the book – so long as mom or dad says it's okay. And as these kids come in to this "anytime, anywhere" content, that puts us as educators really in an interesting spot. You see, if educators see themselves as just a disseminator of content, they've been outsourced by YouTube and Netflix, because the kids can get it anytime they want, anywhere they want, and that's why we know that the very, very best teachers are far more than that.
Bob, one of the things that we challenge them with often is this notion of, "What kind of devices do you have in your classroom?" and people will often start to talk about brands, and no, we're not talking about that. You see, leveraging technology is not just about using the tech. It's effectively using the tech. You see, something like a Chromebook or something like an iPad or a Mac – you could take any device – it can simply be a digital worksheet storage hub, and if that's how we're using it, we're just wasting money, but that exact same device can be a pathway to unleash student genius and connect them with the world, and that's where that power is, truly. We, at the alliance here, did a research report a number of years ago on the effective use of technology, specifically for at-risk students with Dr. Linda Darling Hammond and her team at Stanford University in taking a look at what is it that actually works? And Bob, this really hits home for me. My last year as a tech director was my final board meeting before I was coming here to the alliance, and I joke it wasn't by firing, 'cause I didn't get fired here. It was my final one. I was already coming here to Washington, D.C., and my board president said – it was the budget meeting – and said, "So Tom, if we're gonna spend this additional amount of money in technology, what is it that actually works? Is it gonna do anything?" And I'll tell you what. That's a great question from a board president. Again, coming from that taxpayer money.
So this report helps to answer that question. It's something that Eric and I summarize in the book. Number one, how interactive is the learning for kids? I'll get to a different way to say that in just a moment. The second one, it's the use of technology to explore, to design, to create. That's where that magic happens, where districts are using Webb's Depth of Knowledge, Bloom's Taxonomy. It's getting to those higher levels. And that third piece is that right blend of teachers and technology. One of the areas that Eric and I highlight in this book to also contrast that, that interactive learning, comes out of the National Ed Tech Plan – and shout out to the Office of Ed Tech for creating this. One of the pieces they define that interactive learning as – is it the active use or the passive use? You see, my little boy at four-years-old, he does a lot of consumption-based use, passive use, where he's just consuming. I'm just watching a video. I'm looking at a static web page. Active use is the flipside to that, where I'm creating, where I'm designing, where I'm coding, and that's where a lot of the STEM type of stuff comes in. And so it's vital that we're using the technology to accelerate student learning.
I think sometimes we're often celebrating the wrong things of, "I've gone totally paperless," or, "Everything's online." Those aren't bad things, but they tell me nothing about learning. You could be on a device all day long with low-level learning, you could be on a device all day long – not that we would promote that – but with high-level learning. It's the learning that matters. However, technology can absolutely be an amazing accelerant to support that personal learning for kids.
Bob Wise:                    So I wanna follow on this with both of you for just a moment, because then let's bring in the equity imperative, because what you said struck a chord. I had another superintendent say to me one time, "The technology that you're talking about, is it gonna mean technology providing true learning opportunities for one group of kids and simply more passive experiences for another group of kids?" The group of students we're talking about, those students that are traditionally underserved, those students that have been in schools that have been historically low-performing but folks wanna make a difference, how do you adapt to that?
Thomas C. Murray:    Yeah, so two facets to that I think are really important. One is we highlight what's been coined the "homework gap," where over five million of our nation's families don't have that connectivity at home. I know it's been a focus of the alliance, and we've done a lot of work there as well, but how do we handle those students that don't – how do we support, I should say, those students that don't have that access at home? That equity inaccess is tremendous, and disproportionately it's black and Hispanic families. The other aspect when we look at that – we also quote some research that takes a look at how technology is used in more low-income areas, and what they found was the technology was being used for more of that drill-and-kill type in those lower-income areas, wherein more suburban areas, where there was more wealth, teachers were using the technology for higher-level things such as create and design. And not that it's the fault of the teacher there. I think it's part of the system and the structure that we have set up, where there are those vast inequities, but even down to how technology's being used in the classroom has shown to be very different in that inequity area.
Eric Sheninger:           Yeah, and it really is a comment upon the schools. Now most schools are getting access to quality broadband with devices like Chromebooks. We can work that into budgets. But it's are we uniformly allowing every single kit to accomplish the same tasks? Are we ensuring that when they go home, that they're gonna have – and Tom's gonna address this in a few minutes – are they gonna have wireless access? You can give a kid a device, but if you don't have Wi-Fi at home and you're expecting that student to be able to do an assignment? Well guess what? You're widening that gap. So it really comes back to what we talked about before, about the planning. We talk about this key number six. We have to plan, not just our infrastructure and out building, but we gotta collaborate with the community, with other partners, to make sure that we're living up to our obligation to provide kids an equal opportunity, free appropriate public education, and that they all have that same access so they can all showcase learning in a variety of ways.
Bob Wise:                    I know you're gonna get some more into this, because I think it's a critically important topic. So the seventh key you highlight in Learning Transformed is that community collaboration and engagement must be woven into the fabric of a school's culture. So Eric, I'm gonna ask you to pick up where you left off. You're known as someone who, as a high school principal, leveraged various digital tools to share the great things happening in your school. How can school leaders collaborate with the community, and what tools encourage that?
Eric Sheninger:           You know, I'll say this. During our digital transformation we were able to show evidence of how we improved achievement, leading to efficacy, but I will tell you this right now. We were not the most innovative school. We were not the highest-achieving school. In my opinion, we were one of the best of showcasing all the amazing things that we were doing, from our teachers, our administrators, our kids. What separated us was that being able to showcase the return on instruction through our blog posts, by creating – showing not only – not telling people we were different and better but showing them how we were different and better. Bridging relationships, partnerships with the local media. I talked before about assessment, and really assessment underpins success when it comes to the digital transformation we're talking about. So what did we do? We shared our new standards-aligned rubrics that were aligned to the more rigorous exams that our kids were gonna have to take. We showcased our work of our kids, aligned to those same rigorous standards. We shared our performance tasks. We shared how our students who learn differently, who are labeled from the beginning, and they think that they're not smart or they can't do things, we showed how our maker space – and my amazing media specialist, Laura Fleming, who came in and showed those kids every kid has genius in them. It's our obligation to unlock that genius. But showing that there's multiple pathways to learn. Using tools like Twitter, Instagram, Facebook. Now there's Pinterest. There's Periscope. There's Facebook Live, pictures, videos, blogs. Those are the most important aspects.
Tom and I encourage, beg every educator to become the storyteller-in-chief. People don't have 30 seconds to be bothered now in this digitally-connected world, but they have 30 minutes to hear a great story. We can change the narrative, Bob, by showcasing how our system is anything but broken here in the United States, and that we are better meeting the needs of more kids. We're doing it in different ways. But we have to educate the community as to why we're doing it, how we're doing it, and then what tools and processes we need to be successful.
Bob Wise:                    Thank you. That's – well – that is an important aspect. People have to see success. If all we're operating out of is a deficit message, and yes there are lots of problems out there, but by golly, the bunch of hard-chargers that are making a difference and increasing numbers of them as well, both in districts and schools and classrooms and in communities. Another webinar on this subject. So, Tom, the vignette in this chapter comes out of South Carolina, where superintendent of the year, Russell Booker, is collaborating with the community to ensure equity in access. Talk a little bit, please, about what's happening in Spartanburg 7.
Thomas C. Murray:    So Russell came to one of our Future-Ready Summits a couple years ago, and he started to share this idea that his team had. They were handing kids a lot of devices, but they also, in their community, had many, many kids that didn't have access at home. And so you wanna talk about community collaboration. What Russell did is he reached out to every single business in his community. When we think about it, every business falls in the boundaries of a school district. How do we support each other? How do we leverage them? And again, as schools, we're here to support the community. So what Russell did is they reached out – Russell and his team reached out to every single business in Spartanburg 7 and said, "We wanna create a map to show our kids in our community every area where they can get free Wi-Fi, every area for access. If they don't have access at home, here is where they are welcome." You see, if I'm a family in need, how does that make me feel? What a great way to collaborate, and so if you go to 7ignites.com, you can check out the amazing work, and you'll see why we highlighted Russell and his team when you see that they collaborated with the community. It's not just one-way messaging. It's true collaboration to work together to take businesses and the school, to show those families that don't have access at home or those families that may need it besides that, that they absolutely matter. And Bob, we're seeing districts around the country do that. A shout out to Middletown in Jersey. Saw that they just launched their map recently. Or other areas that are putting different hotspots, different types of devices where they're connecting with their community to be able to show those families that impact is important with that connectivity.
Bob Wise:                    The eighth and final research-based key that you highlight is that schools that transform learning are built to last as financial, political, and pedagogical sustainability ensure a long-term success. That's a mouthful. So Tom, what is the foundation to this sustainability?
Thomas C. Murray:    You know, Bob, one of the areas that Eric and I focus throughout the book is on relationships. We cannot forget that we are here first and foremost to love and serve kids, and I think it's easy with all the mandates and all the accountability and all those kinds of things to lose sight of that. We are here for kids, first. But relationships are at the heart of all that we do. If we're working with vendors or partners, it's the relationship that makes things work really well. It's at the teacher level. It's the relationships that we have with kids, and so if we're talking about pedagogical sustainability, it's that relationship with our staff and how do we ensure that, as we have some teacher turnover, that we have the proper personal professional learning to be able to support them in that. But if we could summarize in one word the most important aspect of all we do as educators, it'd absolutely be "relationships."
Eric Sheninger:           And I'll just piggyback on that. As Tom said, it all comes down to relationships. Without trust, there's no relationship. Without relationships, no real learning occurs. And as we look about at all those previous keys, it is about building strong relationships, first and foremost with our kids, but also with our community and with each other.
Bob Wise:                    In this book, what you all have done is to provide, I think, a road map, in many ways. It's almost something that if I were a district leader I could curl up with at night and, particularly if I'm feeling lonely-
Thomas C. Murray:    You're not saying to put them to sleep, though, right?
Bob Wise:                    No, no, no. It doesn't put you to sleep, no. But what it does is it reinforces where I know I wanna go. So help me, because I believe that – and what I've seen through Future-Ready is there's a certain percentage of district leaders that for whatever reasons have the time, initiative, and _____ to be hard-chargers and to be true leaders, and you've referenced a number of them in your book. There's another group that, I think, wants to be there. Who's this book written for? Because as you all put it together, whom were you focusing on in your minds?
Eric Sheninger:           You know, when we first started – and Tom, correct me if I'm wrong – we really thought it was for more administrators. But then we changed our mindset, and it's about leaders, going back to what we started about. Leaders in our classrooms, leaders in our schools, leaders in our districts. It's the power of the collective, and it comes down to the general word "educator." All kids have genius hidden inside of them. It's the job of a caring educator to help them find and unleash it. That is what this book is about, to provide the evidence, the research to unlock the potential of our kids.
Thomas C. Murray:    We wanted to support school leaders with that evidence, so if I'm standing in front of a school board about to make a decision or about to make a large purchase, I have the evidence to back up the "why?" But then also didn't wanna just have the pie-in-the-sky mantra of, "Theoretically this is what it could be." We wanted to show what it truly looked like in practice, and so if I'm a teacher in the classroom, this is what it can look like. Whether it's an urban school district, a suburban school district, a high-poverty district, this is what it actually looks in that area, and truly move from research to practice to support all kids.
Bob Wise:                    This comes at a – book – I think at a very important time, because a lot of districts – school leaders, generally, are moving in this direction. I think there's a rapid-growing consensus on what are the student-learning outcomes that are desirable. You talk about them in this book. What are the various types of pedagogy that are important, and what are the appropriate applications of technology? So I think that as a country, as a field, it's moving, anyhow. But there's also another moment that I think that people can capitalize on this book, and that is what I call the ESSA moment – the Every Student Succeeds Act. I'm not a big fan of legislation driving things, because I think what really results is when people come to it on their own. I think people are coming to it, but in this ESSA moment, we now have – every state has now submitted a plan under the new federal Every Student Succeeds Act about how they're going to address certain key issues, what elements of accountability. Significantly now, 14,000 school districts over the next two years engage in a planning process themselves, of which they identify their lowest-performing schools and how they're gonna turn them around. And so to me, your book provides what so many in districts are going to need, and as you know with ESSA it's not just about – to be widespread involvement, called stakeholder involvement. So it's not just about the district administration, but it's about teachers. It's about civil rights organizations, business leaders, communities, parents, and so on. So it seems to me that what you have given us at this time is an important set of principles and concepts that many leaders can be taking, saying, "I wanna do this." Now here's a way to do that. I don't know whether you wrote this with ESSA in mind, but I just wondered if you had some observations about that.
Eric Sheninger:           And I would agree with everything you said. When it comes down to ESSA, taking what you said, the way I see it, the research, the evidence in the book, shows schools, leaders, educators how they can be innovative, how they can implement new ideas and get results. And I think that goes back to the missing piece of why we wrote this. We said to ourselves, "Hey, there's a lot of research out there. Sometimes that's gonna help move people to want to change." People will also wanna see, "Well how are those schools doing it? How are they implementing the research?" And when you look at all that ESSA's asking, we didn't write that in mind, but maybe we need to go back, Tom, and just say that we did. But we hope that this could be the manifesto, the playbook, the guidebook on how schools can really implement sustainable change that makes a difference.
Thomas C. Murray:    Under ESSA, with more opportunity at the state level and at the local level to make and drive some decisions, they also need to make them evidence-based. And so I wrote portions in mind with – I'm only kidding, no. I wish I could say I did. But districts need the evidence to be able to say, "Not just test scores. This is other ways that we're gonna show this, but here's some evidence-based practices that we're gonna implement, so that our students can truly succeed.
Bob Wise:                    So that may be – you won't have – 'cause the way you guys travel, you won't' have time to write the next book, but what you will have time to do is to come back and do the ESSA centrals webinar on how you can instill these elements into your ESSA plan over the next two years.
Eric Sheninger:           Well there we go.
Thomas C. Murray:    We'll get working on it.
Bob Wise:                    So it can be like a supplement, a digital supplement. So unfortunately we've run out of time. I hope everyone understands why I get so excited just listening, being in the presence of these two. They have a way of inspiring. They have a way of energizing and causing all of us, I think, to recommit to the very important work that everyone is doing at every level in education – teacher, parent, administrator, educator, policy maker, the gamut. But what these two do is to bring it all together and show you that you truly can have an impact. So I wanna thank everyone for joining us today for this webinar and for Tom and Eric for sharing their insights with our viewers. I do wanna encourage school leaders to check out this new book, Learning Transformed: Eight Keys to Designing Tomorrow's Schools, Today. And I also note that Tom and Eric have made a free study guide available to support school leaders with their transformation. All of this information is available at tinyurl.com/learningtransformed. I also wanna thank our audience for joining us and participating on social media. If you missed any of today's webinar or want to share it with your colleagues, archived video will be available tomorrow at www.allfored.org/webinars. We hope you'll join us for future webinars on these important topics. Thank you for joining us. Have a great day.
[Music playing]
[End of Audio]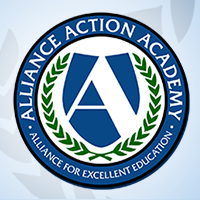 Welcome to the Alliance for Excellent Education's Action Academy, an online learning community of education advocates. We invite you to create an account, expand your knowledge on the most pressing issues in education, and communicate with others who share your interests in education reform.
Register Now
or register for Action Academy below: