How States and School District Leaders Can Assess Deeper Learning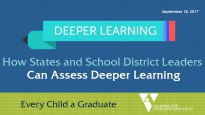 September 18, 2017
7:30 pm – 8:30 pm EDT
The Mike Sussman Studio
The Alliance for Excellent Education and the Center for Innovation and Education
Invite You to Attend a Webinar
How States and School District Leaders Can Assess Deeper Learning
Panelists

Ellen Hume-Howard, Curriculum Director, Sanborn Regional (NH) School District
Paul Leather, Deputy Commissioner, New Hampshire State Department of Education
Winsome Waite, PhD, Vice President, Policy to Practice, Alliance for Excellent Education
Gene Wilhoit, Executive Director, Center for Innovation and Education
As state education agencies consider how their accountability systems will change under the Every Student Succeeds Act (ESSA), they are making decisions about the assessments that they will use, the content that these assessments will measure, and the rigor of the assessments. All of this can ensure a system that measures students' college and career readiness.
In this webinar, Gene Wilhoit discussed an opportunity in ESSA to move the deeper learning agenda in assessment. He noted that there are direct references in the law about portfolios, projects, and extended learning on performance tasks that should be included in the design of assessments.
The webinar also examined New Hampshire's Performance Assessment of Competency Education (PACE), an accountability assessment strategy that combines reduced standardized testing with locally developed common performance assessments. These are designed to support deeper learning through competency-based education, all integrated within the students' day-to-day work. New Hampshire's approach to assessment advances deeper learning and promotes student agency.
---
The Alliance for Excellent Education is a Washington, DC–based national policy, practice, and advocacy organization dedicated to ensuring that all students, particularly those traditionally underserved, graduate from high school ready for success in college, work, and citizenship.
https://all4ed.org
Putting learners and learning at the center, the Center for Innovation and Education (CIE) strives to be a national voice to build consensus around a new, more coherent vision of education and to help state and local systems develop and act on robust theories of change. A unique part of CIE's approach is working in cooperation with state education agencies and local districts on innovation priorities, with both policy and with practice, so that lessons learned can inform state policy and be more likely to enable real transformation. www.leadingwithlearning.org
 Follow the Alliance on Twitter (www.twitter.com/all4ed); Facebook (www.facebook.com/all4ed); and the Alliance's "High School Soup" blog (www.all4ed.org/blog).
---
If you are interested in renting the Alliance's facilities for your next meeting or webinar, please visit our facilities page to learn more. 
Winsome Waite:          Welcome. My name is Winsome Waite, and I'm Senior Director of Policy and Practice here at the Alliance for Excellent Education. The Alliance is a national policy, practice and advocacy organization dedicated to ensuring that all students, particularly those who are traditionally underserved, graduate from high school ready for success in college, a career and citizenship. Thanks for watching this video, part of a series that will highlight policy implementation and practices that lead students to deeper learning outcomes under the Every Student Succeeds Act, or ESSA.
During this webinar, we will learn more about opportunities within ESSA to plan and implement assessments that support deeper learning outcomes. While there are many outcomes to assessing deeper learning, today we are featuring New Hampshire's Performance Assessment of Competency Education. PACE is an accountability assessment strategy that offers a reduced level of standardized testing with locally developed common performance assessments. These are designed to support deeper learning through competence-based education integrated within a student's day-to-day work.
Now let me introduce our guests for today. With me in the studio is Gene Wilhoit, Executive Director of the Center for Innovation in Education. A unique part of the Center's work is collaborating with state education agencies and local districts on innovation priorities with both policy and practice. Gene previously served as Executive Director of the Council of Chief State School Officers, or CCSSO, from 2006 to 2013, where he founded the Multistate Innovation Lab Network. Gene has _____ his entire – has spent his entire career serving education at the local, state and national levels.
Joining us by phone is Paul Leather. He is the Deputy Commissioner at the New Hampshire State Department of Education. His experience in education leadership, counseling and administration in New Hampshire spans three decades. Paul also serves as the leader of many of New Hampshire's career and technology development programs, including the coordination of the Workforce Investment Act for the New Hampshire Department of Education.
And also joining us by phone is Ellen Hume-Howard. She's Curriculum Director for the Sanborn Regional School District in Kingston, New Hampshire, and the Curriculum Director for the New Hampshire PACE project. For the past decade, Ellen has been a member of the research design and implementation team for the school districts nationally recognized K-12 competency-based learning system. Since 2014, Ellen has also worked with state and national experts and other PACE districts to design a competency-based assessment program using performance assessments for state accountability. Ellen has been an educator since 1984.
Before we begin today, I want to thank the William and Flora Hewlett Foundation for its support of the Alliance's work in the area of deeper learning. It's great to have our panelists here today. And now, Gene, I'll turn it over to you for your presentation.
Gene Wilhoit:              Thank you, Winsome. Every time the federal government decides that they are going to act on federal law in education, it causes lots of concern, and that is true with ESSA. People have emotions all the way from deep fear to elation. I happen to be one in the camp that it provides us some opportunities, but only if we open ourselves to both responsible positions to take advantage of what we have been given, and secondly that we step forward with some new ways and different ways of working with students.
So while we were operating under No Child Left Behind, we had basically a system where folks had become accustomed to operating in a certain way. ESSA is a, I think in everyone's opinion, a major shift. So today, the three of us – I, Paul and Ellen – are going to approach this since it's the first of the series in sort of a different way. Rather than digging deeply into the specific parts of ESSA and encouraging folks to simply comply with those regulations, we're going to make a case that it's important to step back, to look at the broader messages that are incorporated in ESSA, and to begin to give you an idea of what it might take as a learning agenda for states and local districts in the future.
So with that, I'd like to propose that this next slide, that basically there are lots of opportunities if we step away from the broad language that is in ESSA. And I'm gonna deal with the four and then lead to assessments, to the center.
First of all, this is an opportunity for us to set learning goals. The federal government has backed out of any guidance and they've made it very clear that the responsibility for setting those high learning goals for our students are within states. You have more latitude than you've had in the past. I would encourage folks, as they begin to think about what to do in this kind of environment is to be very clear within your community whether it be a school, a district, and a state, about what knowledge, skills, and I would include those learning dispositions that students must have in order to be successful in society. This is the deeper learning agenda. We must assume a broader set of outcomes beyond those typical in historic guidelines that we've had in our states. And this is the opportunity to reach out and engage communities in this conversation about what students should know and be able to do to be successful, to include higher education, parents, community groups, districts and a wide sweeping kind of conversation. I am confident that they will very quickly get to this deeper learning agenda rather than holding on to past expectations. And this'll lead – in the law, there's language. Higher order thinking skills, understandings that are beyond what we have traditionally set as learning outcomes, and this becomes the basis, then, for the state conversation.
Secondly, I see more language in ESSA about public engagement than I've ever seen in the federal law. I think they are going to rely on if these public engagement strategies are brought about, they're going to rely on those kinds of public interactions leading to a much greater guidance and direction coming from outside the agencies and outside government. And I think that's a positive. We want more engagement, but we want deeper and richer engagement. We want opportunities to engage folks in the early stages of development rather than waiting. It goes beyond informing. It is implied that this is an opportunity to build in conversations that will truly impact the teaching and learning process.
And then moving down, I think that federal government in ESSA has put their stake in the ground around equity in this area. They do not, and I hope will not tolerate the existence of low performance, or differentiated performance by groups of students. And so there are requirements in here that we put our energies in and we report and interact with the federal government around what we're going to do with low-performing schools. And my general belief is we've not been as effective here as we should be. And in many states, there's a lot of creative work that needs to be undertaken as a part of the movement forward.
And then finally, I think there is a hint in ESSA that we need to enter a new territory in this federal-state kind of relationship. It, for the first time, asks us to look at this issue of resource allocation, and by resources, I am sure they assume this is not simply financial resources, both in terms of where those resources flow from at the state and district level, but also how those resources are used once they're in the system. And I know there will be a wonderful opportunity for us to begin to look deeply at whether we are resourcing the areas of highest needs or whether the resources we're now using in the system are producing the kinds of resources or results that we need. There is opportunity here. The federal government has block granted several preexisting programs that states can begin to use as a place to begin to think creatively at the district level about how you use them.
So I'm going to end this slide with this conversation around assessments. There is real opportunity here to move the deeper learning agenda. There are direct references in the law about portfolios, about projects, about extended learning on performance tasks that should be included into your design of assessments, and very few states currently have these kinds of positive assessments. I think it means attention to the summative assessments that we have in place. They must get better and we must keep a spotlight on those. They must be improved, but my sense is there are going to be limits. We have better assessments than we had prior to the states' initiative around assessment design, but we can continually improve.
At some point, though, we've got to fold in this conversation about formative assessments and the role that summative assessments play in a scheme of things. In a moment, I'll talk more deeply about this. But how do you put together a system design, an accountability structure that is purely positive? And I think there's opportunity here for balanced systems of assessment where summatives – interim assessments and summatives can come together in meaningful patterns and hopefully we'll show you some of that today in New Hampshire. I think there are opportunities for us to look at student progress and student growth as well as student outcomes in the system. I think you ought to be thinking about multiple assessments, multiple sources of assessments, defining much more broadly than you have in the past. I think there are ways to look at more comprehensive assessment instruments. This is an opportunity to begin to think about online kinds of – and technology-based kinds of assessment design. And I think it's an opportunity for us to begin to build in this process of continuous improvement around our assessment process.
So today we're gonna dig deeper into that, but just to set a context, this next slide does, in my mind, sort of set the agenda that states ought to be looking for as they begin to infuse deeper learning into their systems. It is important that we have this idea of, at the top of this slide, caring and competent educators. And that means not simply putting more demands on them or unfair demands on them. One of, I think, the greatest issues we faced in the system thus far is to give folks great challenges and not support them deeply the way we need to. And so as we begin to think about assessment designs, are there ways that we can build in professional growth opportunities that are very different from traditional growth opportunities, that result in greater professionalism and greater commitment of teachers to the process. And again, today I hope you can see how we're trying to do that.
Secondly, I think this issue of resource accountability that is the intelligent use of investments as well as adequate and appropriate use of those resources at the local level, which gets us to this third leg of the anchor, which is this meaningful learning. Do we have the right standards? Do we have the high bar? Are we providing the crucial learning opportunities and instructional programs that students need and are we beginning to support the profession in a way that moves us toward richer and important assessments and accountability system?
And so the next slide gets us to this set of what I think are critical questions as you begin to design your assessment systems, and I think you ought to – these are all-encompassing. I think you need to have these questions in front of you as you begin to redesign your assessment systems. So the first one really has to do with this idea of how can we build assessments that support deeper learning? How can we build assessments that are truly representative of what students learn? And within these assessment system designs, how can we carve out roles for summative assessments, formative assessments and interim assessments?
Secondly, what kinds of assessments, what kinds of practices around those assessments really do empower our students to be a critical part of and to own, take responsibility for the learning process? Too often in the past, we have done assessments to students. They do not see the relevance of those assessments. They do not own those, they don't have the kind of reflective processes in place around these assessments that allow those students to grow.
Third, we have to think about assessments as a way to build educator competency. Capacity to build assessments, to use those assessments, to interpret those assessments and to have in place the kind of evidence that we need for student learning and enhancing student learning. This implies a whole set of relationships with teachers that we haven't had.
And then the final two are more broad-based, but for me, they're very important. How do we begin to use assessments to inform the systems that we have in place? I am one who believes that right now many of our policies that exist at the state level and at the district level, many of the ways in which we've designed our systems, many of the accountability structures that we have in place are inconsistent with where we wanna go with students. And it is gonna be incumbent on states to take a very serious and hard look at all those systems that are in place and begin to think about how assessments can be used to inform better direction for the future, and I do believe those assessments have direct implications if we do them right _____ changes in all parts of that system.
And then finally, this is the challenge, isn't it, of our whole system is that are these new assessments gonna help us improve equity in our system? Equity for the students, equity of institutions, equity of systems of learning that we have in place across the country. There is great potential to create disequity if we're not careful and thoughtful about the system. So as you move forward, I would hope all of you keep in mind that these five big questions ought to be in front of you every day. They ought to become the basis of research. They ought to become the basis of rethinking the system as you move forward.
Well, there are ways to do this, and I'm gonna put up on the next slide some – what is a very broad sort of system to begin to look at that, but our sense is that, at the end of this, it is important for states to hold onto very good summative assessments. But remember, summative assessments were originally designed for institutional accountability, and one of the things we have done is, one, limit because they had to be cheap, because they had to be done in timely ways and because of other constraints that existed, we have developed summative assessments that don't incorporate many of the elements of performance assessments, other kinds of ways that students can express themselves in meaningful ways and provide meaningful feedback. We can improve on that, so the goal of a state is to build that assessment system that truly reflects the broad base of understanding the students' need, and those are built into the system. But even if we – and as we do that, not even. As we do that, there are gonna be limits on summative tests.
So in our thinking, it's important to begin to think about systems that have better summative assessments for institutional accountability, but also for validation of local activity, and this is where we've not been as diligent as we should have been. And this is not where we have opened up the system for opportunities around formative assessments that truly provide and the weaknesses in the current system is that we don't – we're not providing back the rich information that teachers and students need. We're not doing it in a timely way.
I think there are always gonna be boundaries around those summatives. We'll improve it, but the real issue for us is that you need a combined system, a balanced system of assessments that include performance-based assessments along that K-12 continuum. You can insert state tests, but I'm not sure they have to be every year for every student. We need to ask serious questions about this. We need enough of those that we get a good gauge about whether that local evaluative system is doing its job or not, validating that, in effect, the system is working well.
Then we need this rich conversation about locally-designed performance assessments. They have to be valid, they have to be reliable, we have to trust that these decisions are comparable across school districts, but there are ways to do this, and that's why, in this kind of a system, we have begun to work with the State of New Hampshire only as I, as a small partner along the way, but we have, I think, a remarkable tangible example of what has gone on.
And so I think for the rest of this work here, we'll ask Paul and Ellen to give us a sense not only about how this might be carried out in a state, but also what are some of the issues that need to be addressed as one takes this into a developmental process? I would just say that this is not something that one would take lightly. New Hampshire has spent considerable years and energy and thought around this, and they've done a remarkable job of building a strong system there that can be defended. So with that, I think, Paul, I will turn it over to you to begin to talk about this New Hampshire system.
Paul Leather:              Thanks, Gene, and I'd like to just say we really wanna thank Gene for your leadership nationally and your vision for the innovation of public education.
Here in New Hampshire, PACE, or the Performance Assessment of Competency Education, is an assessment and accountability system largely designed after the 51st state model that Gene just described. If we look at the next slide, over time, we have also built it into a leadership system and also a learning system where we are looking to capitalize on the innovative methods of instruction and learning that we are seeing through our adoption of competency-based learning where students are engaged in a real world problem and project and going deeper than we have seen before in a public school classroom.
To let you know our current status with PACE as a state and federal accountability system, that we are currently into our third year of a waiver with the U.S. Department of Education and that we're planning to apply for a Section 1204 section around the innovative assessment and accountability demonstration under Every Student Succeeds Act as soon as Secretary DeVos implements it. We're already scaling our work and hope to build it across New Hampshire and hopefully inspire other states to engage in similar innovative strategies over time.
On the next slide, we can see a continuum of assessments based on applications of deeper learning more consistent with student-centered competency-based learning practices. Nationally and for many of our schools here in New Hampshire, we are currently working in the second column from the left. Still engaging in large-scale state assessments like Smarter Balance and PARCC that are computer-based and or adaptive and have some short form open-ended items and relatively simple performance tests. These are summative assessments really not tied to curriculum and instruction, and though Smarter Balance does adapt within a grade level to student proficiency, it is not meant to guide instruction in the classroom formatively or to provide guideposts of proficiency for students in its current design.
New Hampshire PACE, on the other hand, is a comprehensive balanced assessment system that includes Smarter Balance in grade span just in the picture that Gene had shown you, but also includes assessments from the fourth and fifth columns from the left, including extended performance tasks and student co-designed tasks. These forms of assessments are designed to be more authentic and advance deeper learning, and most importantly, student agency and agility and a student's practice in using learning as needed in real world projects and situations.
So the next slide is really a simple depiction of our theory of action in PACE, where we understand that in order to transform our system, it takes preparation. We need to build first educator capacity to construct complex tasks and use them in curriculum and instruction in the classroom. And then we need to make sure that students have the skills to navigate in a more project-based educational environment. We have seen in our years of PACE that with both adults and students learning at the same time, that rigor for our students' advances. Students become partners in the learning. Adults and their students find that there are very little limits in terms of what kind of learning is possible. This learning environment prepares students more directly for success on beyond high school, whether in careers or in college, as they are learning not just content knowledge, but how to apply that content and the success skills necessary to use their knowledge and skills in new situations.
On the next slide, we find our theory of action really taken to a finer grain size, one that is more measurable, where we focus on educators building new tools of their craft in terms of the use of performance assessment. This builds a sense of agency for teachers in the classroom and accountability for teachers now reverts to more of an internally-driven expectation. Simultaneously, at the school, district and state levels, teachers' self-managed accountability must be teamed with necessary supports by leadership, new and supportive policy and technical and practical guidance leading to a more effective educator team required to navigate what's really a transformational process. This is necessary as educators and students alike move to a more competency-based learning system where rigor is tied to real world projects and tasks and performance assessments are embedded in day-to-day instruction, all resulting in a new learning environment focused on student agency choice and rigorous learning and performance, reaching the college and career readiness expectation.
On the next slide is our competency assessment design model for PACE where we have multiple assessments at the local level assessing student mastery of competencies as well as Smarter Balance and PACE common assessment across the implementing districts, all of which combine into competency scores for students, expressed as comparable annual determinations. This is aggregated across the PACE schools, leading to an ability to compare PACE schools to one another in terms of student proficiency and through comparability studies done for us by the National Center for Assessment, one of our core partners in our work, to demonstrate comparability with non-PACE districts as well.
The next slide shows our blend of state, common PACE and local performance assessments by grade level. We're actually moving more to a multi-grade environment, but for state-federal accountability purposes and equity issue, we continue to show how students are assessed along a developmentally age-based continuum. We're hopeful that down the road, we can move this system more directly to a developmental educational continuum and address the equity concerns inherent to federal accountability through accounting process of percent of students reaching age-based accountability on an on-time basis.
To accomplish all of this, however, it is essential that we recognize what is on this next slide, that a system like PACE truly requires high-performing teaming on the part of adults in the learning space, review of expectation, the evolution of instructional practice and adult roles in the work all lead to moving students more to the center of the system where student agency, voice and choice become the defining factors of the learning process. This requires a greatly enhanced formative and summative assessment system and highly enhanced skills on the part of our educators, really a high degree of educator judgment which they gain through reflection and ongoing review of student work. These professional learning communities are essential in each school and also across the network of schools and involved in our overall system of PACE.
Ellen Hume-Howard now is gonna talk about this model from her perspective at the district level. Ellen.
Ellen Hume-Howard:             Thank you, Paul. I'd like to take a moment to thank Gene Wilhoit for his support of New Hampshire's model and Paul Leather for his leadership in supporting districts in New Hampshire. To begin, New Hampshire PACE is a collaborative initiative where districts take responsibility for designing an internal accountability system with the state's accountability determinations. This represents – this slide actually represents my district's definition of internal accountability. Our state set a requirement that we needed to become a competency-based learning system. This slide illustrates how our district aligned our work and connected all the priorities we believe would help create a stronger competency model. At Sanborn, we build three such diagrams, our three Cs. They were competency, collaboration, culture and climate for our own internal design.
New Hampshire PACE is truly about the active engagement of the district with the state as partners to improve student achievement. This slide represents our view of this connection. The articulation of balancing our needs with the state's flows from each stakeholder – the New Hampshire DOE, the district, school, the teacher, the student in the classroom, back to the DOE. This design illustrates that each level has a responsibility to set high standards and to work collaboratively and that they're there together, aligned with each other horizontally.
New Hampshire PACE for a district is an invitation to improve instructional practice and assessment literacy. Defining the district's engagement includes a district's commitment to being part of building a system that meets the standards for measuring competency. This means that a district will need to investigate many aspects of their system including the competencies, the standards, the quality of local assessments and the philosophy of their grading practices. A district also commits to helping to design an educational system that reflects authentic and deep learning and that supports the type of performance tasks that are used in PACE. Students should not be seeing the New Hampshire PACE task as a unique assessment for them. Students should be familiar with assessments that are challenging and that engage them as learners. The PACE task should be embedded in their learning. It should not be an event.
The New Hampshire DOE makes a commitment to the districts in PACE to provide guidance and support. They agree to have a flexible mindset in working with districts and approaches this type of mindset with – to strengthen the district rather than to judge them. New Hampshire DOE also commits to providing quality and timely professional development. One of the areas of the project that has evolved so positively has been the relationship between teachers and experts during task development.
Identifying teachers as leaders is another major component of this work. The content leads supervise the task development for the teams, they take ownership of the quality product and they work very, very hard to make sure that every single one of the teachers who are implementing this task understand the task and have all the resources and guidance they need to articulate it in the best way that they can. So the teacher content leads have been, and I would say, one of the strongest pieces to this project.
New Hampshire PACE engages districts in understanding and designing internal accountability that requires that a district think differently about the professional development provided at the local level. It is challenging to be doing so many things. A district needs to connect PACE to all that they are doing. Districts need to value the task development process by sending teachers and supporting their work, providing them with opportunities to share what they have learned with their local peers. Districts need to self-monitor to make sure that assessments implemented at the local level have the same level of demand and engagement as the PACE task. They need to be paying attention to the quality of the assessments back in their local districts.
Districts need to actively research the tools and technology and curriculum as well as the creative design of school time and schedules that will help support competency and personalize learning. All of these pieces take probably more than one year to do, but they all impact the quality of the work.
New Hampshire PACE engages teachers in making a commitment within cross-district professional learning communities to develop tasks. Teachers are asked to work with professionals from multiple districts and to think collectively together to create a quality assessment. As a PLC, they are charged with understanding each other's curriculum and programs and in finding common ground to create a quality assessment. Every teacher involved in PACE will tell you, though not easy, the dialog and practice has been worth it because the assessments are of the highest quality and represent different types of expertise. So the teachers come with a common purpose around curriculum, and interestingly enough, our teachers have found that they share a lot of curriculum and that the process has been much easier than they first imagined it would be.
Teacher leaders in New Hampshire PACE include project and local leaders. Take responsibility for the assessment design for accountability, and this means the teachers feel they are part of a bigger system. This is a system that teachers are at the forefront of, that they're part of. It's not a system that's talking down to them. Involvement in PACE has raised the level of professionalism across our district and within our district. It means that the work and the learning that happens during New Hampshire ACE trickles back into the districts and the classroom, into the work with classroom teachers and within grade level teams. Teacher leaders share the professional development throughout the district, and all of our assessments have improved.
Teachers work hard to make sure that their curriculum is engaging and flexible enough so kids of all abilities are participating in their classrooms. Teachers have learned the importance of looking at student work and in piloting tasks. This practice first taught and learned during the PACE process has now infiltrated into all the work that they do in assessment. Teachers gravitate to what works and what makes their work better. The teachers pilot a task, come back, edit, redesign it after reviewing student work. As you can imagine, that takes a lot of time for a teacher, but our teachers are committed to doing this because it just enhances the product so much. Assessments are so much stronger, and our students find success so much more readily.
The teachers work collaboratively to identify formative assessments in the PACE work, and this practice has also transferred to the local level. Teachers across the project have identified key instructional strategies they want to use with students and what key important formatives they should be checking on. What has been so strong is that bringing teachers from districts across – and having cross-district thinking has improved instructional practices throughout the course, not just with the PACE assessment.
Winsome Waite:          Thank you so much, Gene, Paul and Ellen. I think this discussion information has been so informative. It's also aspirational, and I really invite the audience of this webinar to think about the layers that have been discussed today – federal policy, changes at the state level, at the district level, down to the classroom level as Ellen just espoused. So thank you so very much.
And, Gene, I just wanna follow up with a question for you, and certainly feel free to throw it off to Paul and to Ellen. With these shifts across states and districts and trying to attain assessments for deeper learning, what do you see are some of the changes or actions that leaders really need to keep in mind and to take to be able to meet this kind of goal?
Gene Wilhoit:              That's an important question, and I often ask state leaders their intentions about moving in this direction, and I often point to New Hampshire as a place where this has happened. A quick response to that is, oh my goodness, we can't do that. So I would encourage them to – anyone thinking about this, to sort of step back and then begin to look at the pieces that need to be put in place as you move forward. And I think the first one of those is look at yourself inside the SEA. Most SEAs were not created to do this kind of work and to build these kinds of capacities. And so I think it'll take some strong leadership to step back and think about how you can organize the state education agency to be a resource and a guide and a helpful partner as these things move forward.
And I know that SEAs have been reduced in recent years and the capacity's not there as it was when I was a chief, and I know that the SEA cannot do this alone. So the second part of this is don't assume that's it's the sole responsibility of a state education agency to carry this out. Find those partners in the state and build state capacity, not SEA capacity alone.
Third, I think that it's important for us to build within our SEAs this capacity to find researchers, folks who can hold your hands, support you and guide you as you go along. We will never – we'll never be good researchers in state education agencies. We'll not be good communicators, but I think those are two talents that are gonna have to be brought into the learning process. Find universities or other research centers who could be your true partners, day-to-day basis, digging deeply into these issues, reporting back and informing and find some way to build the other partners _____.
I also believe that we're not in communications, that probably not a good idea to ask us to be the prime communicators for lots of reasons. But in my mind, there are people who can be good communicators and even, in many cases, better communicators than we are. But being able to communicate is so important. People should not be finding out about things after the fact. They should not be hearing it from simply the media. Teachers and parents are wonderful communicators. Leaders in schools are. Other partners in the business community, they've been tremendous partners with us. So finding that cadre of folks who can be your best communicators and working with 'em is important.
The other is, for me, is to think deeply about how we relate to school districts. Our primary mode of policy making has been let's figure this out and tell them what to do as opposed to I think the next model is the one you heard here is that is the districts become the laboratory of learning. They become the place where knowledge is developed, it is tried out and it is formed and the state's role in all this is to support it as best you can, but vest in those local districts the authority to become the places for innovation and send those messages that we're gonna encourage you to take these steps forward and we're gonna support you. We're not gonna punish you because you're gonna do it, but it'll take actual action.
And then finally, I think timing is important. You don't have to jump into all this at one time. You need to scale a process, and I think ESSA gives you a chance to do that, you know, with this idea of piloting in a few districts who are ready and willing to do this, learning from that and then building a network as New Hampshire has done. I don't know, Paul, you may have some other ideas about building capacity that are important that we need to think about.
Paul Leather:              Yeah, I would just like to underscore a couple things that you said, Gene. The building of partners in state with your innovative leaders and schools and districts amongst teachers, amongst superintendents and principals and also amongst colleges and universities as well as technical partners, we would not have been able to get as far as we got without the national center for assessment, which happens to be in New Hampshire, but they've been a great partner along the way as well as the Center for Collaborative Education in Boston, which provided strong professional development needs.
And then lastly, I really wanna talk about the fact that national networking among states is really key, and Gene really led this work in the creation of the Innovative Lab Network. And now with Hewlett and other foundations supporting such work across the country, there are a number of networks that will support performance, assessment and competency education, personalized learning and much of the innovative agenda that we've been talking about.
Winsome Waite:          Thank you, Paul. And I have to throw it over to Ellen too just because she talks about a cross-district PLC, which I think in terms of the layers of support and capacity building that's important. So Ellen, I just wonder if you would expound a bit on how you or your district went about creating that cross-district professional learning community and maybe some of the benefits even though you already mentioned the benefits. But kind of the how is that done?
Ellen Hume-Howard:             Yes. You know, No Child Left Behind has had its effects. It made most educators feel that they could not make a difference or help the students. It was a system that took away teacher judgment and eroded teacher confidence. What I'm seeing today is very different from that. I'm seeing a different learning environment for professionals, many more students who are successful through competency learning in the New Hampshire PACE assessments, and this has inspired teachers to want to continue to work collaboratively and in partnership with other districts. It goes to the receptiveness of teachers to when you make them feel that their professional judgment is valued. It only helps them even make more of an effort to do more work.
The cross-district collaboration was one of the easiest things I've been involved in because when you put teachers together with a common purpose to help their students and to produce a quality product, they are committed to helping each other whether they were from Sanborn, Epping, Rochester, Sohegan, Pittsfield or Concord, they all felt that they had something to contribute and that this shared work represented creative thinking.
Winsome Waite:          Thank you. Thank you so much, Ellen. And as we keep talking about this capacity building and structures and supports to do this really big work, assessing deeper learning I know that the students also play a part, and I'm throwing this question out to anyone, maybe starting with you, Gene or Paul. What have you seen in New Hampshire or even other states around the development of student agency and getting students to be part of this process and having a voice?
Gene Wilhoit:              I'm gonna use my time to tell a story. I was visiting a school in New Hampshire, and two teachers had come together to try to develop the kind of classroom environment that would help students understand the goals that they were trying to achieve, where they were going, engage in authentic kinds of tasks. So when I walked into the room, it was open, kids were in small working groups, all of them using different prompts, all of them at different levels.
And I sat down with these two little girls and I asked them what they were doing. And she said, "Well, we're just trying to tell time, of course," as if that was a stupid question I'd asked. And then they – I said, "Well, how do you tell time? How did you learn to tell time?" And they said, "Well, there are three stages that one goes through to tell time." And she said – the one little girl said, "I'm at Stage 2. My friend is at Stage 3. But the reason I'm at Stage 2 is that I had difficulty with Stage 1, but I worked with my friends and we figured that out, and then my teacher helped me, and now that I understand Stage 1, Two's moving by real quickly and my friends are helping me."
A second – these are little seven-year-old kids who knew what the goal was, knew the steps that they needed to take to get there, had self-evaluated where they were, and were achieving at those tasks on pace. And I thought wow, that's interesting. And all that was set up because those two teachers had developed strong learning goals, they knew what those learning targets were, they had developed the kinds of learning environments that were necessary for the students to do so, and those students, I don't think you have to encourage them to take this on. When given an opportunity, a student will assume a role if they see it as meaningful and important in their lives. So I know, Paul and Ellen, you have – you've put a lot of work behind this. That doesn't just happen.
Paul Leather:              Yeah, I would just add, Gene, that a real focus on the developmental skills and dispositions of students as they work on their core content learning and their skills is really essential. Another story that we can tell is actually from the Sanborn district where a number of us went to visit one of the schools there, the Memorial Elementary School, and talk to some fourth and fifth grade students. And they were telling us how they were holding themselves accountable as they're working on their English and math and all of the content areas and their focus on their learning and really how they manage their own work and their own attention to their work to the point where they had actually changed the rubric by which that was assessed, and they were telling us how they did that. So it was pretty amazing.
Gene Wilhoit:              Ellen, how did they – what's the work underneath all that? What's the conversation among the teachers?
Ellen Hume-Howard:             What I would add from a classroom perspective is that it's easy to underestimate how important the lens of competency learning has been to this process. Competency learning clears the field. It allows teachers to prioritize what they need to focus on to capitalize on selecting standards and competencies that leverage student learning. This exercise of clearing the field or identifying the power competencies gets rid of all the academic noise, and it frees up the classroom teacher to be able to identify standards, connect those and put students in the driver's seat. I would say that for many teachers, before the common core – or before competency learning, they struggled with the clutter in curriculum planning, trying to decide what they should or shouldn't do. The guidance of the common core has made a huge difference.
Gene Wilhoit:              And, Winsome, one of the things that comes through in Ellen's description is this powerful impact that these professional learning communities have on the teaching and learning process. And I think there is a wonderful avenue to bring all of this about. One, approaching teachers with respect and assuming that they can solve problems given challenges and supports. And my sense is that for states right now, getting to deeper learning is not going to happen unless we take a real serious look at the sort of system that we have in place and have inherited about how one becomes a teacher, how one is rewarded in teaching, and I think sort of beginning to change those systems in a way that they are built around these professional learning communities where rich information about student progress against goals is brought, where teachers assess their individual needs in the context of their learning community, finding ways to bring that into the day-to-day interaction of teachers and reflection, giving credit for that unequal par with some of the other ways that we've always given credit, finding outside experts who can come inside that school and work with 'em, recognizing the exemplary teachers and putting them in positions of leadership, those are the kinds of environmental changes that are gonna really bring about a shift in teacher capacity to deliver. If we continue to tell 'em what to do without support, its' foolish.
Winsome Waite:          Yeah. Well said, Gene. So I'm gonna throw a final question out. It's really for Paul. So, Paul, can you talk to us and the viewers about the impact of this work you think it's had on New Hampshire educators, but the general community. What are some of the greatest struggle today and what's next, Paul? What's next in this work for you and the leadership there in New Hampshire?
Paul Leather:              Well, three great questions. Let me just try to approach them quickly. In terms of impact, I would say giving back the assessment and accountability system to our local educators and our local communities has had a powerful impact. Ellen talked about the movement towards a more internal accountability system where educators really take pride in doing the best job they possibly can providing complex tasks and rich, deep learning for their students. And similarly, we see the impact on students and also reflected through parents as students really take charge of their learning. They're much more excited about being in school. They're not concerned about taking large-scale state assessments because that kind of assessment is now embedded in their deep, rich classroom work. And parents are excited because they see their students moving forward and they're getting good actionable information about how their students are learning.
Now, in terms of struggles, I do wanna share that we've been very fortunate that Gene actually worked with us and helped us put in place a comprehensive formative evaluation of PACE over the last year. And if you go to the Center for Innovation in Education web site on the University of Kentucky, you can find the Humro formative evaluation of PACE. And really there where the struggles are are how do we bring on new districts in a way that will work for them and how do we address the needs of both large and small districts because they have very different needs. So we are working as we speak, working in terms of developing our plan for the coming year, for really scaling – perhaps doubling our implementing schools and districts in this effort by addressing our supports at a regional level and building out the teacher leader model that Ellen spoke so eloquently about.
And I'm – now, what's the third question again? Sorry.
Winsome Waite:          And what's next, Paul? What's next for you?
Paul Leather:              Well, essentially what's next is that we are hoping that we'll be able to enter the Section 1204 innovative assessment and accountability demonstration and build this out across our state over the next five years. And we also have been in touch with a number of other states that are pretty interested in our work, and we've invited them to affiliate with New Hampshire. We find that these national networks are important because we all learn from one another. We've learned much from Colorado, for example, and Virginia and some of the districts in California just by way of example. And so I think the more we build those national networks, the more we will all learn together.
Winsome Waite:          Thank you so much, Paul. That's not just informative; it's really encouraging. Gene, just before we close out, I wanna know if you have a final thought. A minute or so for a final thought. Anything that just really bubbles to the top for you.
Gene Wilhoit:              Just a summary comment that you've heard a lot today, and it may sound daunting, but I'd just remind everybody we have no choice. We've committed to the education of our children. We've committed to reducing the inequalities that exist in our system and preparing them for life as citizens and as contributing members of society. Take it on. Be serious. Be leaders. Deeper learning is the important goal. We can't back away from these goals that we've set. The question now is just figuring out how we can translate those strong commitments that we've made into reality. There's help out there to do this and there's support. It's exciting, and the reward, as I indicated from several of my visits, is tremendous when you sit down with those students and teachers and see all of this in action. It's well worth it.
Winsome Waite:          Well worth it. Thank you so much. I just wanna thank you, Gene Wilhoit, Paul Leather and Ellen Hume-Howard for your thoughtfulness, your able assistance on this webinar on ESSA and deeper learning. Please be sure to visit All4Ed.org/deeperlearning for future videos on deeper learning. And once again, we wish to thank William and Flora Hewlett Foundation for its support of the alliance's work in the area of deeper learning. Thank you all for watching this video. I'm Winsome Waite for the Alliance for Excellent Education. Thank so much again for watching.
[End of Audio]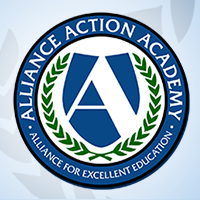 Welcome to the Alliance for Excellent Education's Action Academy, an online learning community of education advocates. We invite you to create an account, expand your knowledge on the most pressing issues in education, and communicate with others who share your interests in education reform.
Register Now
or register for Action Academy below: