Scaling Up Deeper Learning Approaches in Public Schools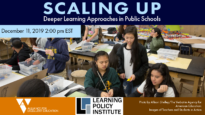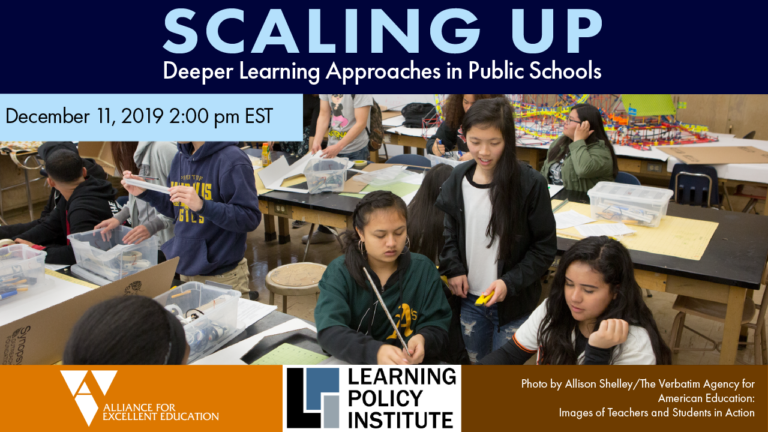 December 11, 2019
7:00 pm – 8:00 pm EDT
The Mike Sussman Studio
Scaling Up Deeper Learning Approaches in Public Schools
Panelists
Linda Darling-Hammond, President, Learning Policy Institute, and Charles E. Ducommun Professor of Education Emeritus, Stanford University
Deb Delisle, President and Chief Executive Officer, Alliance for Excellent Education
Laura Hernández, Senior Researcher and Co-Lead of the Deeper Learning Team, Learning Policy Institute
Julie Kessler, Supervisor, Innovation and Design, San Francisco Unified School District
Jim May, Chief Schools Officer, New Tech Network
Sonn Sam, Ed.D., Regional Director, Big Picture Learning
On December 11, 2019, the Alliance for Excellent Education and the Learning Policy Institute held a Webinar to discuss the scaling of Deeper Learning appraoches in public schools. Deeper learning approaches help students to develop the critical thinking, collaboration, and communication skills alongside academic skills that are necessary for success in college, career, and citizenship. These approaches have been in use for decades, but effective ways to sustain and scale up these learning approaches remains elusive. This is especially true in underserved and under-resourced schools, which serve the highest numbers of low-income students and students of color. These schools often rely on narrow curriculum focusing on basic skills and content knowledge with fewer opportunities for students to engage in meaningful learning.
This webinar featured experts from the field and researchers who discussed the challenges and opportunities educators and district leaders face in expanding deeper learning. The discussion featured new research from the Learning Policy Institute that highlights how three networks— Big Picture Learning, Internationals Network for Public Schools, and New Tech Network—have partnered with traditionally structured public school districts to create systems and processes that spread deeper learning models in ways that advance equity and result in greater success for traditionally marginalized students.
Panelists shared insights from their efforts in the field and discussed how they have leveraged policies, professional learning, and partnerships to establish and grow deeper learning in different settings. As decision makers at the school, district, and state level look for ways to immerse all students in deeper learning environments, this webinar shed light on promising approaches that can support the spread of equitable, student-centered learning in U.S. schools.
---
Please note: Registrants who cannot watch the webinar live will receive the archived video after the webinar airs.

Please direct questions concerning the webinar to jamos@all4ed.org.
---
The Alliance for Excellent Education (All4Ed) is a Washington, DC–based national policy, practice, and advocacy organization dedicated to ensuring that all students, particularly those underperforming and those historically underserved, graduate from high school ready for success in college, work, and citizenship. @all4ed
The Learning Policy Institute conducts and communicates independent, high-quality research to improve education policy and practice. Working with policymakers, researchers, educators, community groups, and others, the Institute seeks to advance evidence-based policies that support empowering and equitable learning for each and every child. Nonprofit and nonpartisan, the Institute connects policymakers and stakeholders at the local, state, and federal levels with the evidence, ideas, and actions needed to strengthen the education system from preschool through college and career readiness. @LPI_learning
---
If you are interested in renting the Alliance's facilities for your next meeting or webinar, please visit our facilities page to learn more.
                                    [Music playing]
Laura Hernandez:      Hello, and welcome to today's webinar, I am Doctor Laura Hernandez, and I'm a senior researcher at the Learning Policy Institute and a co-leader of their deeper learning team. And LPI is proud today to be partnering with the Alliance for Excellent Education, to engage in this important conversation around scaling up deeper learning approaches in public schools. And today, we will hear from leaders and experts who will share their insights on the importance of deeper learning for advancing educational equity.
Our conversation will feature findings from an LPI report which highlights how some networks have partnered with traditional public school districts to spread deeper learning in ways that produce greater success and opportunity for traditionally marginalized students. We will also be hearing from four amazing panelists who will elevate lessons from the field to help us think through the obstacles and opportunities that lay ahead to create and scale deeper learning.
And the first of those is next to me, is Deb Delisle. She is the current President and CEO of the Alliance for Excellent Education. And prior to her current position has served in a variety of roles at the local, state, and federal levels, including serving as US Assistant Secretary of Elementary and Secondary Education, a senior fellow at the International Center for Leadership in Education, and Ohio's 35th State Superintendent of Public Instruction. Deb, welcome and it's great to be here with you today.
Deb Delisle:                Thank you.
Laura Hernandez:      Also in studio, we have Doctor Sonn Sam, who is a regional director for Big Picture Learning, a national and international network of schools committed to activating the potential of students and systems through intraspace real-world learning. Sonn has been an innovative educator for over 16 years serving as a teacher, principal, and district lead, and currently provides coaching around student-centered learning practices in his role at Big Picture. Thank you for being here Sonn.
Sonn Sam:                   Excited to be here.
Laura Hernandez:      And we have – also have a few panelists joining us remotely. We have Julie Kessler, who is a supervisor in the San Francisco Unified School District's Department of Innovation and Design. Which supports cohorts of schools and equity-based challenges. She previously worked as a principle of San Francisco International High School for seven years and worked with the international's network as a teacher, coach, and leader for over 16 years. Pleasure to have Julie.
Finally, we have Jim May, who is the Chief Schools Officer at New Tech Network, a network that offers a whole-school model grounded in interdisciplinary project-based learning. And in his role, Jim supports the implementation efforts of over 175 schools in 29 states and Australia. And he does so by supporting school coaches, assessment initiatives, and leadership development. And prior to joining the network, he has served as an educator and principle in deeper learning schools, and also was an adjunct faculty member at the High-Tech High Graduate School of Education. Thank you for joining us, Jim.
Before we dive into the conversation, a few details. If you're following the conversation on Twitter, please use the  #deeperlearning to join the conversation and share your thoughts. You can also submit a question for our panel using the box below the video window. We will get to your questions later on in the webinar, but we will also address any unanswered questions on Twitter to continue the conversation following the webinar's conclusion.
And as for our panelist, I will pose questions to each of you directly throughout our conversation, but please let me know if you want to weigh in at any point. To kick us off today, we have a special guest who will help us understand what deeper learning is, and why it's an important issue in US schools. We are honored to have Doctor Linda Darling-Hammond, the President, and CEO of the Learning Policy Institute, Charles E. Tucuman Professor of Education Emeritus at Stanford University, and the current president of California's State Board of Education who will start our conversation with her thoughts.
L.Darling-Hammond: I'm Linda Darling-Hammond, from the Learning Policy Institute. What do we mean by deeper learning and why is scaling up deeper learning such a big mystery? Well, deeper learning is a phrase that refers to the kind of learning that allows people to learn to think critically, engage in problem-solving, communication, collaboration. To learn in ways that they can transfer that learning to other settings outside of school because they deeply understand the content and its application.
And it's not new, it's an old form of learning, you can go back to Jean-Jacques Rousseau, you can think about John Dewey, and his work at the turn of the century, the progressive education association in the 1930s, the many alternative schools of the 1960s, and entire networks of schools today that are engaged in this kind of practice. However, it's been very challenging to spread this kind of learning to all kinds of schools and districts. Quite often it's been reserved for affluent students in suburban schools for students in gifted and talented programs or advanced courses where they're enabled to learn how to think while other kids are engaged in a more rote form of learning.
And the challenge around spreading deeper learning is that the pedagogies associated with this practice of inquiry-based learning, students involved in learning to be self-directed, and managing some parts of their learning, making it experiential and applied, are challenging pedagogies. Once historian Lawrence Cremin wrote that,
Progressive education failed to spread over the many iterations in our history because it requires infinitely skilled teachers. And there was not an adequate supply of infinitely skilled teachers to spread these kinds of practices to the entire system.
But today, we are really looking at a 21st-century economy and society in which students will have to learn how to manage their own learning because learning is – knowledge is growing at a very rapid rate. It's impossible to learn all the facts that may be relevant. We're going to have to engage students in working with knowledge that hasn't been discovered yet using technologies that haven't been invented yet, solving major problems that we haven't managed to solve in all kinds of schools, in all kinds of communities.
So how can we scale up this form of learning? We discovered a set of networks that have grown from one school to multiple schools to schools in many, many districts, states, and even countries, that have managed to scale-up, if you will, this kind of deeper learning by creating systems by which they work with districts and with schools and communities to figure out how to instantiate a design in the school that will support this form of learning. To provide the kind of curriculum resources and professional learning for teachers and school leaders and system leaders. To create the kinds of ongoing professional learning and engagement with other practitioners that sustain the work. And to engage in continuous improvement, to improve it over and over again.
These networks have done this work in all kinds of schools with all kinds of students who traditionally have been marginalized from this sort of good stuff, if you will, in the curriculum system. And they have managed to do this in ways that have produced greater equity and outcomes for students who have had opportunities to learn in these ways. So this webinar is going to let you in on the secret of how we can scale-up deeper learning. Learning from the lessons of these three networks.
Laura Hernandez:      Thank you, Linda, for that framing for our discussion today and elevating why it's important to advance deeper learning as a powerful policy for equity and opportunity. Linda began her comments by referring to some of the technical and equity challenges that have stunted deeper learning efforts. And I'd like to turn to our panelists now to get their assessment of the challenges that lay ahead on the road to building schools and systems that support deeper learning. So, Deb, I'd love to start with you, given the many hats you've worn in the field of education, what do you see as the key challenges for spreading deeper learning in our school system?
Deb Delisle:                So first of all, I think that if we want to change outcomes for kids, we have to change the behaviors of adults. And that's really paramount to even getting into deeper learning. And one of the things that I've found through all of my experience is that sometimes I believe my skies are everyone else's skies, that's how I like to define it, and it's simply not that way. So getting into deeper learning or other kinds of transformation philosophies, one of the things that we have to remember is we've got to shift that philosophy first and have people understand the rationale, why we would expect to do things differently, both as teachers and as leaders within a school structure.
I think we really have to think very strategically about the use of time as well as the kinds of resources we have available to support deeper learning, including money and humans, the staffing that we have. I think there's also a real need to recognize the importance of and commitment to professional learning and be sure that folks truly understand what underlies the principles of deeper learning and how might I have to change my practices. But paramount to all of that, and I'm sure you can get into this as well, is we have to believe that every kid, every kid, can actually do this type of work and actually engage in deeper learning, and provide the supports necessary for kids to be successful.
Laura Hernandez:      Thank you for that, Deb. Many of the points of which we will talk about today so very important to start there. Julie, I'd like to turn to you. With your work around innovation in school design, what challenges have you had to grapple with at the district and school level in your experience?
Julie Kessler:              Yeah, I agree very much with Deb, I think when we think about public schools and the shifts there, public schools were not necessarily designed for this, right? Public schools were designed in an industrial model and _____ is no different than that. Our systems weren't necessarily designed for equity or for deeper learning. We operate within this larger educational context that still prioritizes traditional assessments, which drive traditional learning, which has traditionally led to traditional outcomes.
And we have an opportunity to disrupt that across our systems through deeper learning. But if that work is going to happen beyond pockets of schools that's going to require a whole system re-shift. It requires site-specific context that needs assessment systems and practices to shift the system, at the same time that we're supporting the capacity of leaders and teachers to shift classroom level practice, right? That system work and that classroom and school level work has to happen in tandem. Which is tricky, as we think about, right, creating deeper learning experiences for our young people, we need to facilitate those experiences with the adults.
And we know that our teachers and our principles are operating in already time-stretched conditions, right? And as we practice holding those shifts it's at the school level and at the system level, that's when we're asking our young people to do that and are asking our educators to do that. They've got a school full of other work stuff they're doing at the same time that they're trying to build _____?
Laura Hernandez:      Thank you, Julie. All great points. Jim and Sonn, as members of deeper learning networks who partner with local school districts to do this work, what additional obstacles do you want to share to inform our conversation today? Sonn, you want to start, go ahead.
Sonn Sam:                   Sure, first I just want to co-sign my colleagues Deb and Julie, everything that they said. Coming from the coaching perspective the Big Picture learning as we coach our schools and support our schools, all of those challenges are daily. And our primary role is to navigate schools and advocate leaders and navigate with our teachers and how to navigate the system pretty much. Because the system doesn't cultivate innovation it pretty much cultivates order.
And we have to disrupt a little bit, as Julie said, so speaking from the Big Picture perspective when it comes to deeper learning, the pillar of our design is that internship program. So really bringing our young people out of the school setting and into the real world doing and engaging in meaningful, robust work that means something to them and has impact in their life and their community. And one of the biggest challenges for that is really once you start talking about taking young people outside of school, the alarms go off. For a multitude of reasons, seat time, academic requirements, credits, so naturally, the knee-jerk reaction to a lot of the innovation for deeper learning, that's the first sort of knee-jerk response.
But it really is just a mindset, and there are proven methodologies and strategies to really strike at the heart of that. And that's sort of the body of the work, but that's a real challenge, helping folks sort of see the perceived challenges of a system and sort of navigate around that. So a lot of our support is really working with our teams and navigating that process.
Laura Hernandez:      Thank you.
Sonn Sam:                   Yeah.
Laura Hernandez:      Jim, would you like to add any final thoughts?
Jim May:                     Sure, I similarly just want to echo everything that Deb and Julie started off with. I'd probably just add one point trying to connect Deb's ending thought about the importance of our belief in all kids can engage in complex thinking and problem-solving. And the emphasis on professional learning systems. Which is there is I think an analog at the adult level when we engage in work around building the capacity in teachers and leaders to bring forth deeper learning experiences for kids. That there is real skepticism about the ability of all adults to learn and to engage in complex pedagogies.
And so I think it's important to name and address that and that belief has really concrete consequences, it pushes us towards certain modes of training and commanding control type systems. And not just complex thinking and problems solving are designed our student learning experiences that deeper learning requires. So I think that belief point is just as important when we start talking about the beliefs of _____ in adults to get better, to improve.
Laura Hernandez:      Thanks, Jim. In given what we heard from Doctor Darling-Hammond and our panelists here today, the depth of the challenge is significant with regard to sustaining and creating deeper learning environments. And because of the level of challenge, but also the importance of deeper learning for equity, the Learning Policy Institute recently conducted a research project investigating if there were examples of organizations that had overcome these obstacles that we heard from our panelists and Linda today and particularly done so in ways that produce opportunities, greater opportunities for historically marginalized students.
We recently published our findings in the report, Deeper Learning Networks, Taking Student-Centered Learning and Equity to Scale. And in our investigation, we found that some networks had seemingly managed the feat of overcoming these challenges that we just discussed. And in turn, we thought to conduct research to answer one essential question. What systems and structures do networks or these organizations, use to recreate their equitable deeper learning approaches? And while there are several networks that have successfully spread deeper learning models, we bounded our sample to three organizations. And we selected these organizations based on the fact that they were exclusively or primarily partnering with traditional public schools across the country to implement deeper learning. But we also wanted to learn from organizations that were programmatically and geographically diverse in the work that we were doing.
And we landed on three organizations, Big Picture Learning, the International Network for Public Schools, and New Tech Network. And I'll try to do justice to their complex models very quickly, but we can – some of our panelists can discuss those complex models momentarily. But Big Picture Learning, as Sonn was describing, grounded it's approach in personalized learning through which students explore their curiosity through work-based and interest-based learning experiences to develop content and interdisciplinary knowledge.
The International's network supports the academic development of recently arrived English learners through its rigorous and integrated instructional approach, which includes project-based learning. And provides numerous opportunities for verbal expression, vocabulary development, and explicit literacy instruction.
And New Tech Network's goals immerse their students in project-based learning and challenge learners to investigate real-world complex questions that are relevant and interest-driven. And so while all these networks are distinct in the work that they do around deeper learning, they all foster and sustain learning environments that align with the principles that Doctor Darling-Hammond discussed regarding the types of classrooms and schools that foster deeper learning. And it's important to note that collectively, the three networks support a combined 271 schools and over 90,000 students in the US. And through their unique models have generated powerful outcomes for their students.
And a final note on our research approach, to understand the systems that the networks use to sustain deeper learning models all over the country, we conducted an in-depth case study of each network as well as compared findings across all three. And our data drew upon interviews with network leaders, educators, and other key stakeholders, we also conducted site visits at network schools and observed professional development, as well as analyzed organizational documents to understand network history, vision, and implementation.
And in analyzing our data to understand how the networks have spread and maintained deeper learning models a key finding that emerged related to school design. Or the idea that whole schools had to be structured or restructured to support this type of learning. Each of the networks identified necessary structures that had to be in place for their models to thrive. And while, again, these look different in each of the networks, what we found was they typically included rethinking the use of time to support student learning. So in creating master schedules that allowed for out of school learning or longer blocks of time for students to engage in project-based learning, but this also include restructuring teachers work to allow for practices such as looping, or advisories. And also reconsidered how students demonstrate proficiency, including the use of performance assessments.
And what this clear understanding of the conditions that they needed to implement their models, the networks, in turn, worked with local districts and community members to secure policies that would allow their models to take hold. So, Sonn, I want to turn to you first given your work at Big Picture Learning, which was featured in our research. I would love to ask you to describe how Big Picture works with practitioners to design in established schools in support of deeper learning?
Sonn Sam:                   Awesome, multiple entry points for schools, but a lot of times folks come to us very interested about our design. So they did a little bit of research, know a little bit about us and that's how we sort of start conversations. Usually, our first step is we engage in a school success study. Again, what's at stake here are the education and lives of young people so we want to make sure that we're in the best position to be successful. And so not only are districts getting a sense of we are, but we are getting a sense also of the school and it's capability for implementing the design. Even if it doesn't work out, we also give recommendations that schools can really just move to the next step towards student-centered learning. But typically that's how we begin our engagement.
And if from the school success study if things are in the right direction, then we engage in a planning year. That's the most ideal situation, now most times that's not – that is a luxury. But I'm speaking about ideals, but usually, with a year to plan and prep, we engage and start the work so that the if necessary. Recruiting the leader is the first one. Then recruiting the staff, and really that year is two-fold, it is a design thinking process where the staff and the leader can really come together and define their vision for the school and what exactly it looks like. And then it's the recruitment of our students for its inaugural year. And then really the bulk of it is just training the staff to get ready.
As we think about this a little bit more to usually our thought process is a three to five-year process wherein the beginning stages, it's very, very high touch. So a lot more of resources and collaboration on the front-end with gradual release. Because again, we know that from a sustainability standpoint we want to build capacity on-site and that's our goal. Our goal is never to have these massive contracts, that's just not sustainable, nor our design in general. And really, that's the body of the work in supporting our schools, evolve and become a thriving student-centered learning, deeper learning school.
Laura Hernandez:      Thank you for that. Jim, as a leader in the New Tech Network, I want to ask you the same question. How does New Tech work with local stakeholders and educators to design and establish schools that align with your deeper learning model?
Jim May:                     We have four design pillars or design elements that our model's really built around. And those sort of anchor our collaborative work with local schools and districts. Those elements are – they start with an articulation of outcomes that matter. So we've worked to articulate a series of five learning outcomes that we think are kind of our articulation of what deeper learning outcomes look like in our model, knowledge and thinking, written communication, oral communication, collaboration, and agency. And so we have an articulation and a set of rubrics across those five learning outcomes and then all the rest of our model are about designing to help students build their capacity across those outcomes. So that's a really important thought for us, it begins by thinking about those outcomes.
Then we talk about teaching that engages, primarily that's centered around project-based learning. Although we do support problem-based learning as well. But the connective tissue there obviously, our inquiry-based approaches and a lot of our work is building the capacity of teachers to design and facilitate project-based learning experiences. Then we would talk about culture that empowers and specifically about the idea of safe, inclusive, and emotionally supportive culture for all the students in that school and that school community. And at our best, that's true for the adults as well, the dynamics of the adult culture actually really mirror the dynamics that we're after for the student culture.
And then lastly, we talk about technology that enables. So we've also developed a learning management system designed to help teachers sort of organize their work and design project-based experiences for students. Embedded in there is an integrated multi-outcome grade book that aligns with those outcomes you heard me mention a moment ago. And so that helps us create a systematic sort of procurement hold for teachers that makes sure those outcomes can be the anchor of the design and facilitation of learning experiences and the driver of the assessment of learning as well.
Laura Hernandez:      Thanks, Jim. And Julie, I know you work directly to create deeper learning schools in your work with the International's Network and now grapple with similar questions as a district leader. What insights from your own experiences would you add about the importance of restructuring schools and implementing or finding policies to support deeper learning?
Julie Kessler:              Yeah, I would echo a lot about the way that International partners with schools sounds very similar, right? It's the idea of listening to the school community and taking school context into consideration. The International schools are part of a network but each one of them is completely different and unique and has their own flavor and character and needs and challenges. But what I was struck by is in Jim's comments about the idea of outcomes. I think there's something common here about this idea of the what and the how.
The International's network has five core principles which are the how of the work, right? It's head originating, collaboration, that's the belief that our young people have to be in the most heterogeneous language group possible, and collaborate authentically within those groups. It's experiential learning, segment our young people need to be the ones who are doing the learning and the thinking and the speaking and not the adults in the room. It's language and content integration, believing that our students don't have time to learn English and then do High School, those things have to happen at the same time.
Localized autonomy and responsibility, for our young people, for our teachers, for our teams of teachers in the schools. These are places that we want to put the decision making and the power in the hands closest to – the people closest to the problem. And finally, one learning model for us all, which we believe that the young people – that if we have a pedagogy about what we believe is the best way to support our young people to learn, we have to believe that that's the way that our adults need to be learning as well.
So those keys together are how, but I also hear this idea of a powerful what. As in what ways are we asking that there is something beyond mastery of standards that we are working towards to the type of humans that we want to create. And I think each school has their own particular, I'm also seeing more and more districts having a graduate profile to help determine their what, right? These are all tools of deeper learning that we are doing in service of something, and I think supporting schools and supporting districts to be clear on what that something is, right? What is this that we are hoping to develop in these humans? To be clear on the what and the why is just as important in many ways as the pedagogy of how.
Laura Hernandez:      Thank you, Julie, for that, and I want to redirect our conversation to another finding. But in many ways, you already started touching upon that, which is the notion of partnership to deeper learning. In looking at how the three networks were really trying to establish and sustain their schools over time, the idea of partnership was a key piece of the puzzle. And so what we found is that even though the networks do have these criteria and conditions that they want to – that they need established in order for their models to thrive, the relationships with districts and local community was always collaborative. Which allowed them to recreate their models in high quality and context-sensitive ways.
So like you just heard from a few of our panelists, the networks worked with districts and local stakeholders from the onset to design and establish their sites. But that work continued, so we also saw them continuing to – their outreach to districts and local community to grow and support investment in deeper learning. But they also worked with local organizations to support professional development and importantly to create opportunities for students to engage in authentic and personalized educational experiences.
So, Jim, I would like to pose another question to you, since the New Tech Network has a very well-articulated approach to working with local districts and communities. Can you tell us a bit about what that partnership process looks like and why it's important for deeper learning?
Jim May:                     Yeah, so we are abundantly clear that we do not operate schools. These are not our schools; these schools are of the communities that we partner with. So it's a really important stance for us. And I think it's really important to deeper learning because of the comments that Julie has made earlier around sort of this sort of Russian doll idea. That if we want to help a community and ask deeper learning in one of their schools then we have to engage them in the deep-thinking work to design and bring that school to life. And we can't show up with a sort of fully packaged model where they've outsources sort of all that thought works to us and won't work because of the differences in local context. But it also won't work because they're not engaged in the thought work and the design work themselves.
In terms of our process, we have a process that I think is somewhat similar to International's and Big Picture in terms of a pretty lengthy collaborative design process before a school ever launches. For us, that can be anywhere from six to 18 months depending on the community and how we met. During that time we're working to understand deeply sort of the particular motivations of that community. As Julie talked about we're often helping them articulate an ideal graduate that they're working to develop in their community. And that's often really attached to issues like their local economy, or historic or cultural challenges in that community. So the contours of each community are really different and that really informs what that graduate looks like and it informs how the principles of our models become enacted.
And then it's ongoing partnership with time as those context change. So for example, yesterday I was visiting a school in Cincinnati, Ohio that's had a really sharp shift in their demographics over time and they now have 32 languages represented in their school community. So they're working to address actually many of the things that are at the heart of what International does as well, but they've been a long-standing member of our network. And so we continue to partner with them, engage in design thinking processes with them. Specifically, this school's working through a liberatory design process, again, trying to bring – adapt to those principles, to the shifts in their community that they've seen over the last couple years. So it is both a really deep partnership inception as well as all throughout the school and district evolution development over time.
Laura Hernandez:      Thank you for that. And Sonn, I know you mentioned the school success study already and referred to partnerships, but I would love to hear if you have anything to add around partnerships and the importance of that for deeper learning? Especially in the Big Picture context?
Sonn Sam:                   For sure, well we wouldn't be able to implement our design without partnerships. Since our sort of access point or gateway to deeper learning is through our internship program which is all about community partnerships. So from the entry point on up, starting up with  a brand-new school and developing an internship program, we really engage district folks, onsite staff, and also, believe it or not, parents. Because literally building an internship program from the ground up, we need that social network from the beginning. So it's literally word of mouth, it's parents at their jobs, parents knowing folks.
So we do an assessment first of our young people to explore what industries they 're interested in and that's sort of our baseline data that we use to share with our stakeholders. That means district folks, onsite staff, and our parents, and if they know someone that knows someone that knows someone, we gather that and on a massive spreadsheet that now has become our digital tool which is called Emblaze. It's our internship management program, that's the beginnings of developing our partnerships with all stakeholders. In the process, we work with onsite staff members to really cultivate that relationship with the mentors. So that the young people are really digging into what deeper learning is and that's the development of that interdisciplinary project. And that's that ongoing process of what the young people will be doing and what they'll be learning at their internship site.
And then really it's the post, so the post is where we come together as a community and we engage with everyone and we come to do two things. We come to celebrate young people and we come to push them further. And this is a culminating event that we call exhibitions, and it's the time where – it's a day of celebration and a day of – a rude awakening if you will for some. But that is par for the course in the learning process for young people because they're held accountable to a high, high level when you have your parents there, your siblings there, aunt, uncles, you have your mentor there, you have your peers from school there, you have district folks there, all there to hear about what your doing. But also to really push you to the next level of rigor and what deeper learning really is.
So all the way from the onset of developing an internship program to the process in between as we're cultivating projects, all the way to when students demonstrate competencies. Partnerships with all these stakeholders are intertwined and absolutely necessary in order for Big Picture to implement our design.
Laura Hernandez:      Thank you, those powerful examples really ground the role of partnership. Deb, given your work at the district and state level, I'm curious if you've seen cross-institution or cross-sector collaboration really support deeper learning or how you think it could support deeper learning _____?
Deb Delisle:                So yeah, I've absolutely seen those kinds of partnerships emerge. And I really want to point out something that I think that Jim and Julie and Sonn didn't really identify, but I hear it in your explanations and in that whole piece is both sides, I'll say both sides, partnership and then the school entity, I think have to approach this type of work with a great amount of humility and candor. I mean I think sometimes partnerships get derailed when people say, "Well, I'm going to come in and tell you what to do in that school." And then you get this defensive mechanism that steps back. So especially through our sig programs et cetera at the federal level and then what I've done that the state level, what I've seen is this incredible nurturing relationship that develops. It's highly respectful and people don't come into it saying like, "We have all the answers, we're going to show you what to do."
And so I think as Jim, Julie, and Sonn have mentioned that context matters a lot. So what I've seen work really, really well is when there's this mutual understanding of why. I think Julie referenced the what before, but people have to understand why are we making this change, why are we investing so much of our time and energy and sometimes our tears in transforming things and how do we stick with it together? So when it relates to the candor part, I really think it's important for both groups to be able to come to this mutually beneficial partnership and say, this is what we are not good at, can you help us, or do you know somebody who can help us to do that. And I've seen this, I have been able to visit these types of deeper learning programs. I just – it's almost this magical synergy you see when the partnerships really work. I mean it sends chills like I walk out and I'm like, "I want to be a student in that school." And as soon as I know that I just feel so great about it and you can't always define it but you feel it when you walk into that building.
So I go back to both sides understanding the why, having this just incredible synergy and believing in kids all the time. And also this work is not easy, and I know you have all mentioned that. So it's also lifting one another up and saying it's okay, we'll get through this together. And if the schedule, the bell schedule can't change, or there's something with a teacher's negotiated agreement or there's the – something doesn't occur right with the leadership, it's just like how – instead of seeing that as just as a brick wall, how do we get around that together but joining forces and saying we're gonna do this because every kid deserves what we get.
And I every time I go into a school I always think about is this school good enough for my own kid? And if the answer to that question is no, then I just get so dismayed because then it's – we're saying it's okay for other people's kids. So I give great credit to the other folks who are in this conversation because, again, the work is not easy, but the belief in kids and understanding the why behind it just fuels those great partnerships.
Laura Hernandez:      Absolutely. I'm gonna take us to the final part of our conversation which will – it's another key finding that we've touched upon quite a bit already in our conversation today. Which is around professional development for deeper learning. We found that leaders and educators in our study all pointed to the importance of having multifaceted and reinforcing systems of professional learning to support them in engaging in this work. A point that was particularly underscored by the fact that many pointed to the fact that they weren't educated in deeper learning approaches themselves, nor were they prepared to do so through preparation programs.
And so while each of the networks had distinct features in their professional development structures we found that they provided multiple forms for practitioner learning. Including network-wide or regional gathering or those hosted through virtual platforms. But the networks also emphasized the importance of peer to peer learning to support onboarding and professional exchange over time. So this included intranetwork visits to different sites, also working with coaches who were providing targeted and job imbedded support to educators and leaders.
Notably, the networks also maintained on-line repositories that practitioners could access at any point to find resources to support student learning or project planning. And a final notable feature across all three networks was around the format that professional learning took, and I heard Julie mention this earlier. But each of the networks structured their capacity building activities in ways that mirrored the deeper learning approaches that they were implementing in their schools to a large extent. So this really helped teachers and leaders to see and experience those practices from both the perspective of a teacher but as well as the student. To really build that empathy and understanding of the rigor and cognitive challenge that the students were going to be under.
Sonn, in your role as the regional director and the many hats you've also worn with Big Picture, I was hoping you could highlight some of the key professional learning structures in your networks for teachers or leaders? And also what you think makes them particularly powerful?
Sonn Sam:                   So there's three tiers. The first one is the on-site coaching throughout the year. We have positions as the regional coach where I go in and I support the schools onsite. I'll talk a little bit more about that, we also have school design coaches, then we have our annual conferences which is the big bang international student-centered conference, typically in the middle of the summer, right before school starts. And also our leadership conference, which we're headed to next week. And we have our on-line platforms as you've mentioned before it's something called learning Big Picture. Which has a sequence of courses that rends people right through our design of advisory and internships as well as Emblaze.
But I'll speak to the biggest bang for our buck if you will, where I've seen the most gains. And that's when I'm able to work side by side with our schools and it's one of our coaching approaches that Elliot talks about a lot when I 'm thinking about coaching. He uses one word, this word called with. So coaching with your schools as opposed to coaching to, and there's no more powerful approach than with. Meaning, so if I'm trying to help new advisors learn how to support mentors in cultivating rigorous deeper learning projects, I go out with them. They shadow me, I lead an internship project planning meeting and we reflect afterwards.
So the similar coaching cycles that a traditional teacher and like coach would go through as far as the pre-planning, the during, modeling, the reflection afterwards, the planning, that cycle is very, very powerful for our design as well. And I've seen – that's typically the biggest bang for our buck, where most folks really develop capacity to continue to implement the design. And then really the biggest piece for me is really developing capacity on site. Particularly with the leadership in the school. Again, saying – connecting to something similar I said earlier from a sustainability standpoint, we really, really try to build capacity on-site. So the folks can carry the torch and continue to do the work with or without us. I mean ideally, with us because we really – this is a partnership and we really enjoy working with the schools that are engaged in deeper learning. But yeah, that's typically the process that we go through around the professional development standpoint.
Laura Hernandez:      Thank you for that. And Julie, from the district perspective how has professional development supported the growth of deeper learning in San Francisco Unified?
Julie Kessler:              I want to reiterate how important it is that the adult learning mirrors the student experience, right? If we are not modeling the skills and behaviors that we want our young people to demonstrate, and if we're not approaching our adult learning using the same pedagogical approaches we want our teachers to be using, right? Then we're not going to be able to build deeper learning systems. Because reference most of our educators were not taught using deeper learning philosophies. They received a different way of being educated and it's up to us to provide those different opportunities in the same way we'd want to see our young people.
And here at SFUDS, one of the largest scale initiatives that we're working on now is our middle grades redesign project called Initiate Wonder. Which is shifting the work of all of our middle schools in structure, in schedule, and in pedagogy, over the course of several years, right? This is this idea of what does it mean to take a look at a sector of our student experience and say we want to dramatically shift the system. We've also been working on operationalizing our graduate profile to help us reframe our collective north star, right? We need to get clear of the system about what we are about for these young people. Because if it is the way that public education has always served them, and if our goal is good SBAC scores and that everybody's graduating in four years, we are not doing it for our kids and our families and that is not the promise that we have to them.
So we've been doing some of the internal reflecting on adult work of what is it what we want to be about for our young people and our families? We have to do an annual process called the innovation awards, where school teams use a human-centered design process to redesign aspects of their school structure to better meet equity-based challenges that they have identified. So these are some of the pieces that we've been working on, I would also add that we have a new principal support structure which I think there's a lot of thinking some referenced in there that there's instructional coaching and then there's school coaching. And this piece about how are we supporting our principals and assistant principals to be leaders of schools for deeper learning. Whether that is an explicit stated focus of their school or not, how are we training and onboarding all of our new leaders to see themselves as leaders for deeper learning?
Laura Hernandez:      Thank you for that important point, Julie, in emphasizing that the professional development structure's we saw across our networks are definitely both supporting educators and leaders very deliberately at several entry points along the process. So I appreciate the examples you're sharing about how that's being taken up in San Francisco Unified.
Deb, from the state and systems-level in terms of professional development systems, what opportunities or initiatives have you seen that have really helped improve professional development for deeper learning?
Deb Delisle:                Yeah, I'll just expand upon a couple because I think, Sonn, you mentioned it so eloquently and that is this whole focus on peer coaching and I'm relying on adults in the system who already have a lot of the answers. Because so often in professional learning we think about the swoop-in model, we're gonna send in this consultant, they're gonna tell you want to do, then they leave and there's no further connection, right? And when you're struggling with a learning activity, for example, what do you do? As opposed to building a reliance on one another, it's a mutual accountability system.
So I believe whole-heartedly on that, in addition to that, I think you referenced also this whole notion of changing dialogue to a reflective questioning. I just think in this age of education we get to the point where it's easier for me to come in and tell you, Sonn, what to do as opposed to, "Tell me a little bit more about why you approached Sonn that way, right? Or tell me a little bit more about your interaction with Laura, how do you think that helped her or perhaps stopped her from learning kind of thing." So it's getting into this whole new talk, if you will, around reflection and peace and I've seen a lot of folks do one.
But I'm just gonna highlight one which doesn't cost money and it's something very simple. And it was a high school I visited once and they were engaging in a total transformation at their high school level. And they really needed to find the time but they had a very strong bargaining agreement and nothing could be changed very much, right? So the principal worked with the teachers groups and said, look, what if I ask kids to come in earlier, I mean excuse me, to have kids come in later, one hour on Monday. Which solved the problem of kids being late to school on Monday all the time. Getting back in the throes of work, that solved that problem and asking educators to come in one hour before, they would normally do it. So he gained two hours there every Monday.
And then he had his – every adult in the building come together and say how do we work every single Monday in that two-hour time block? And actually, the adults in that building, and I'm talking not just teachers in classrooms, but the security systems, the resource help, they had help from central office, et cetera, facilitate conversations. Sometimes they met, let's say the first Monday of every month was just focused on content -pecific areas and the second was working with student work. So very specifically, and then he said to them, on Friday, then you can leave when the kids leave. So it was a win-win for everybody, it solved two problems at once. The students coming in late in addition to gaining time. So those are the kinds of things you just have to be creative about.
And I love the fact that these networks exist because if I'm having that difficulty, I may be able to call San Francisco and say what are you doing about this because I can't figure this out myself. And they seem simplistic at times, but everything doesn't cost money. It's just a creative solution to do it. But again, focusing on the adults in the system and making sure that they're learning as well as their students are learning is critical.
Laura Hernandez:      That's a really beautiful example, Deb, of the cross between partnership and how that can be in service of developing a more robust professional learning experience. So those two really coming together to amplify or make this possible, so.
Deb Delisle:                Right, yeah.
Laura Hernandez:      Well thank you all for the responses and up this point, at this moment though, I'd like to turn to some of the questions that have come from our webinar attendees. As a reminder, we'll be taking a few questions now but also be continuing the conversation on Twitter for those questions we don't get to.
So first, we have a question from Andrew in Massachusetts, Andrew raised an important point around the legacy of no child left behind and how it has narrowed curriculum and learning experiences particularly amongst students of color and students from low-income families to which he rightfully suggested has kind of cemented the idea that high test scores equal school quality, or reinforce the use of traditional "pedagogies." So he asks, "Should the transformation of accountabilities systems that emphasize narrow forms of testing be a priority for deeper learning advocates? And if so, how can we migrate accountabilities systems to drive effective teaching and learning?" Small question, the _____.
Deb Delisle:                Yes.
Laura Hernandez:      Maybe you can give a great example?
Sonn Sam:                   Yeah, a hundred times, yes. Which is why our network is working adamantly right now on developing new measure that matter. So in addition to these measures because we want our young people, enumerate and literate. Like no one's arguing with that, but when that becomes the sole measure, I think that's where we lose what's really important with our young people, in working with our young people. So everything like – that's why competency-based learning is so critical in the conversation of deeper learning. That's why we have alternative assessments and I'm just coming off reading the article anyways of the piece. I know that just came out recently. And where America and where we rank and I know people up in arms around that and just talking about the scope.
My personal belief on it when it comes to deeper learning, I think we're measuring the wrong stuff. We're in a new day and age where there's different critical skills that young people need. And so we have to develop, so similar to what Andrew was asking, I think it's a hundred percent we need to dig into new measures that matter.
Deb Delisle:                I think we also have to be transparent about it. So so often I've seen one challenge and I'm not sure if any of the networks haven't seen this as well, but when people switch to a different kind, particularly competency-based. Inevitably, families will come in and say, well what is that, is an A or a B or a C, right? And how can I get that letter grade up? And also, how do we work with higher ed to understand that this is not just about a GPA but is growing good people and I think it was Julie, or somebody else mentioned so often people coming about and creating these profiles of a graduate.
I know when I do a lot of work with school districts and talk about what is your mission say, and do you live it? I've have never seen one mission statement in a school say our kids are gonna be great test-takers. So they don't necessarily live that mission every day, but they do – they actually go against it when they're creating these great bubble filler-inners kind of thing, They're gonna get through the whole textbook in one quarter or one part of the year, right?
So I do think we have to try to inform our communities about the why behind it and why do we care about growing empathy with people and why do we care about kids showing up at time for an internship. All of that matters in the end and that's what businesses are really pushing us for. They're not necessarily pushing for the content so much as what I always call as life skills.
Laura Hernandez:      Sure, absolutely.
Julie Kessler:              We are teaching what we are assessing. Having to rethink the ways in which we are assessing our young people and even if those measures don't yet exist, right? If we are thinking about what are the skills that we want to be asking our young people to demonstrate it is tricky when it's like well, we don't actually know how we would measure that, right? Well, the answer to that isn't okay, then we shouldn't focus on it. The answer is we need to develop more robust assessment systems, system-wide, statewide, nationwide, to help encapsulate better what are the ways in which we want our young people to be demonstrating these.
I heard people talk about internship exhibitions, I heard performance assessment, I heard outcome's based. All of these are ways in which schools are starting to step into saying – even it's not easily quantifiable, even if they can't put it on their transcript, even if higher ed isn't asking for it yet, it is still something that we value that we want to capture that we want to allow young people to demonstrate.
Laura Hernandez:      So we also received a few questions related to professional development. So we have Maggie from Connecticut who wondered about creating deeper learning environments where professional development systems were ineffective. So we touched a little bit about – on this in our earlier discussion, but what do folks think about growing deeper learning in districts or other places against antiquated or ineffective PB structures? Is that possible, or how would one even go about starting to do that?
Sonn Sam:                   Maybe we give this one to Jim?
Laura Hernandez:      Jim or Julie?
Deb Delisle:                Yeah, Jim especially.
Sonn Sam:                   Yeah.
Jim May:                     The first thing I would say and again, I think this has come up repeatedly in everyone's comments about the importance of adult learning mirroring the types of deeper learning strategies and processes that we're trying to create for students as well. So the first thing I would say is I think we have to draw a really hard-line and distinction between training and development. And I don't think we do that very frequently in the district professional development or school development systems that I get to see when I spend time in our network of schools.
Training, I think about as often we show up and with we say, "On Tuesday, I'm gonna teach you how to do it and on Wednesday I'm gonna show up in your classroom and see if you're doing it the exact same way I told you to on Tuesday." And that's just not going to get us to building capacity as teachers to design the types of experiences that we want for our students, that lead to these outcomes. So most of the time when I get to spend time, whether it's at the district or the school level observing professional development, it's training.
And so I think we really have to draw a hard distinction with training and development. And really think about development as increasing the capacity of teachers and the adults in the system to manage and possibly make sense out of the complex act of teaching and learning. And of course, to design deeper learning and facilitate deeper learning experiences for their students. I think it's a subtle distinction but they're pretty far apart when you dig in.
Laura Hernandez:      On that point, I wanted to ask, and Jim of course, please chime in with his but open to other folks as well. It's around the role of culture, so another question we had from Roman in California who asked about leadership in organizational culture and what shifts actually have to be undertaken in those areas to be able to support deeper learning over time. So we've touched briefly on culture today, but I'd be curious to hear folks speak a little bit more about what you think needs to be in place for that to really thrive.
Deb Delisle:                I think there needs to be a huge focus on culture prior to starting in deeper learning at all. I wouldn't just expect that transformation, hey, we're gonna do deeper learning like starting next school year. So this whole shift around what is my role as an educator and I'll let others respond to that more deeply, but one thing I would say has to happen is we have to rethink the roles according to a certain hierarchy if you will. I'm the superintendent, you're the teacher, I'm the principal, you are the assistant, right?
So I think we have to forgo those hierarchical roles built on titles and really view ourselves as partners in this work together and tap into that we want all the same things, the end results, and outcomes for our kids. And we're partners in this and get rid of those hierarchical titles accordingly and step back and figure out okay, it's okay for me to exercise a distributive leadership model, for example. Or to allow educators in the classrooms working with students every day or out in the field, to make those kinds of decisions.
Sonn Sam:                   I would agree and also disagree.
Deb Delisle:                Okay.
Sonn Sam:                   And the reason, the only reason why I say this is because the distributive leadership piece I wholeheartedly agree with. And again it depends on the culture and actual capacity of the staff, we actually, in my coaching anyways and I won't get too particular, but they're just not there yet. Meaning like really and embracing that role of distributive leadership, they need on-site a glue that can help drive the engine if you will. And so a part of it, in my coaching with this particular school, is really helping the leader understand what – how important their role is, why.
What usually happens when you try to innovate in a system that doesn't cultivate or support innovation is all this internal frictions are gonna happen.
Deb Delisle:                I agree with that.
Sonn Sam:                   Whether it is grading, whether it is scheduling, whether it is my planning time, whether it is all these things are happening at the same time. A visionary leader needs to withstand all of that and hold the team together and still say, this is why the Deb, you mentioned that eloquently several times now and I wholeheartedly believe that, is anchoring folks in why we're doing what we're doing because that implementation of innovation takes time.
Deb Delisle:                It does, it does, yeah.
Sonn Sam:                   It really, really takes time and that first year that is so turbulent that without someone to hold the torch to keep the team steady, I've just seen it a lot of energy just gets consumed.
Deb Delisle:                No, I really appreciate you're saying that because I think I was going to the end result, like this is what I would want a school to look like. Knowing that it takes many years to get there. Because it's really a mind-shift, right? And even when people – I have seen this, when people believe they're doing the right thing, sometimes you have to have to step back and that candor and humility and say, like what other way? Did you notice those three kids are sleeping in the back of the room when they're so active with the other 27, right? Or knowing – and what is Jose doing out in the community when he's doing this internship and is he really showing up on time.
So I totally agree with you in that, and I also think for a leader, you have to be courageous enough to almost, and I don't want to make this so overwhelming that no one wants to be a leader in a transformative state, but it's almost like you want to be so optimistic despite the fact the weight of the world is on your shoulders to make that transformation successful. So you have to walk in there every single day and it's hard to be a leader. Because you don't want your staff to get caught up in oh my gosh she doesn't think we have enough money, we don't know if we're gonna get renewed again. It's hard to do that, but you have to remain like – put the grin on and keep ongoing. And I'm sure there are days like, I hope the teacher leaves or I hope the principal is not there – because it's hard to do it every day. But it's being that biggest cheerleader you could be.
Sonn Sam:                   Yes, 100.
Julie Kessler:              I want to add to this about, I hear this idea of transformations for deeper learning is also a transformative process, and in that work and in that class that's, right, the role of humility and of being a listener and creating a collective why. But it's also, right, that urgency, we have so much urgency around it and this is dire and this is real and kids are dying and we need to do it now and we're graduating kids into a world that they are not ready for. The urgency is real.
And yet also urgency can be a real enemy of equity, and so in what ways are we taking time to think about the process itself and to be listeners and to include the voices. The voices of the young people, the voices of the families, right? To think of the process of transformation towards deeper learning as also a transformative process that deserves our energy and time and attention as well.
Laura Hernandez:      Thanks for that, Julie. And thank you for all the comments and the questions that were submitted. I'd like to end our conversation today with a future -scussion, we've talked about some of the challenges as well as some of the opportunities of systems and structures that we can use to spread deeper learning.
So in light of that, I was wondering if I could hear each of you speak about what should deeper learning advocates moving forward be striving for? If there was, I know there's several since we've even mentioned several today but if there were key policies and levers that we would need to build equitable access to deeper learning over time, what would you put forth for us to ponder on that? Jim, why don't we start with you?
Jim May:                     Sure, so I think one has already been mentioned that I would point to pretty quickly which is that those of us who are deeper learning advocates do have to take seriously, articulating a set of measures that help the communities we work with, the policy community like understand what it is we're after and how we see the students are making progress on these other outcomes.
So comments that both Sonn and Deb made around that I would echo completely that we do really have to take that seriously and think about how we make visible what it looks like for students and how families and communities can see when students are developing in relation to deeper learning outcomes as opposed to a narrowly defined traditional academic outcome. So that's one I do think is hugely important for us to as deeper learning advocates.
The other piece that sort of comes up quickly for me would be through talent pipelines and systems across the states. And thinking about future and leader development I think there's a coming out of conversations that we were just having in response to the question about leadership practices and organizational change, there are really concrete implications of teaching and the skills you need are really different in a deeper learning environment. And that's also true for leaders and when there's not a talent pipeline or pool it's easy for schools and systems to get stuck in the early stages of implementing deeper learning. As sort of predictable patterns of staff turnover happen.
So I think we do really have to dig in around talent development and pipeline at local and state levels. So that there are a steady supply of teachers and leaders that have this as part of their imagination about what schools can look like and have the skills to bring it to life in their different communities.
Laura Hernandez:      Sonn, do you want to chime in?
Sonn Sam:                   Yeah, I'd love to add, and I'll speak predominately the majority of the body of my work has been in the urban setting, and I think there needs to be a stronger partnership between schools and parents. Particularly our parents coming from an immigrant family, our parents, there is no greater urgency for our parents than for a desire for our – their children to be in a better position than them. Like their entire commitment and work in their life is to see their children be better than them. I can't even tell you how many times my parents said that to me and it took me a while for me to really understand that.
But in our poorer communities, our migrant communities, that doesn't necessarily articulate to "deeper learning" because it's a different just language. But it's essentially the same thing but it gets lost in translation when we work with the system. And so I think there needs to be more dialogue between our parents and our schools to really identify like what deeper learning is. And then to really have at it and advocate for it and really fight for it within their schools on a practical level to a policy level within their communities. I just think the discourse that I've seen so far, a lot the language there's lost in translation of the parents understanding what deeper learning is in our communities and really – essentially they want the same thing. But it's just the language is just – it gets lost in the language so I would really love to see that collaboration be more intentional around understanding what deeper learning is.
Laura Hernandez:      Absolutely. Julie, what are your thoughts?
Julie Kessler:              I think most of the policy implications that come up for me are also connected to assessments. If we know that our traditional assessments are not capturing skills that we're working to develop through deeper learning, there needs to be some different work done there. And I think fundamentally that comes down to me to a connection between higher ed's, right? If at both systems we're continued to feel pressure to provide, right? If we know that an admissions officer _____ that tends to look at a kid, right? They're not gonna click on that student's exhibition or capstone project. But what are some of the ways in which through badges or micro-credentials or through different partnerships with higher ed can we create a greater appetite down the line for the types of student experiences that we want to be prioritizing in our systems but are currently seen as an add-on, or an extra, or something that's gravy.
Deb Delisle:                As a springboard off of that, I would also say that we truly need to rethink teacher and leader preparation programs. They tend to be, this is a broad brush-stroke, but they tend to be very sterile, they are teaching teachers and principals to teach and lead in ways that were good for 10, 20, 30 years and I don't think we provide enough of opportunities for on-site training. Almost to go into schools that are engaging in deeper learning so people see a different way of approaching instruction or approaching their role as well.
And I'm just a real firm believer that everything that we offer to our kids tell them what it is that we value, so we want to transform that the same is true for adults what we offer to them tells us what it is that we value. So I can't emphasize enough this whole need to do whatever we can to change policies and practices around professional learning, for example, in supporting our adults. But then also always questioning ourselves as that new policy, that new procedure, like what does that mean for this particular student on this particular day? Because I think it's assumed we do that and too often we don't do it. Kind of outright, right? We do it maybe intuitively but you don't stop and think by having a closed campus or an open campus that has certain ramifications for kids both positive and negative. And then how do we teach our kids, if you will, or facilitate those transitions once they get into the community particularly in programs that require them to do or offer them opportunities for internships and mentorships.
Laura Hernandez:      Thank you so much. Before we close today, I'd like to thank all of the panelists for their insights and their time and sharing all that rich knowledge with us. And also want to thank all of you for listening and learning along with us today. If you missed any of today's webinar, or you want to share it with your colleagues you can access it as an archived webinar on the webinar section at allfored.org/webinars.
And if you'd like to learn more about scaling up deeper learning or the three networks that we discussed today, please visit LPI's website to access our cross-case and individual reports. We also like to remind you that we're answering additional questions on Twitter with the #deeperlearning, so feel free to follow and engage with us in that forum. Thank you all and have a wonderful day.
[Music playing]
[End of Audio]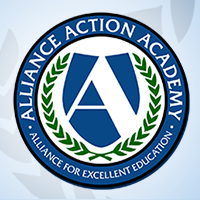 Welcome to the Alliance for Excellent Education's Action Academy, an online learning community of education advocates. We invite you to create an account, expand your knowledge on the most pressing issues in education, and communicate with others who share your interests in education reform.
Register Now
or register for Action Academy below: