Students Without Status: Understanding and Protecting the Rights of Undocumented Immigrant Students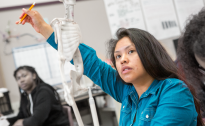 October 18, 2017
5:30 pm – 6:30 pm EDT
The Mike Sussman Studio
Students Without Status:
Understanding and Protecting the Rights of Undocumented Immigrant Students
Panelists
Jamie Fasteau, Principal, EducationCounsel
Carlos A. Guevara, Senior Policy Advisor, Office of Research, Advocacy, and Legislation, UnidosUS
Phillip Lovell, Vice President of Policy Development and Government Relations, Alliance for Excellent Education
Eduardo Mendez, Principal, Guadalupe Centers High School (MO)
On October 18, 2017 the Alliance for Excellent education held a webinar to discuss The Deferred Action for Childhood Arrivals (DACA) program which provides work permits and protection from deportation to eligible young unauthorized immigrants. Since its inception in 2012, approximately 800,000 young people have benefited from the program. With the Trump administration's announcement that the DACA program would be phased out, these young people's future and the future of the more than 700,000 undocumented students enrolled in K–12 schools across the country are now in jeopardy.  

Supreme Court precedent and federal civil rights laws require states to provide equal access to public education to all children, including those who are undocumented. To ensure that undocumented youth receive an equitable education that prepares them for college and a career, it is imperative that school administrators, educators, and other personnel understand the unique needs of these students and receive high-quality training and support on how to best serve them.

Phillip Lovell, vice president of policy development and government relations at the Alliance; Jamie Fasteau, principal at Education Counsel; Carlos A. Guevara, senior policy advisor at UnidosUS; and Eduardo Mendez, principal of Guadalupe Centers High School (MO) discussed DACA, the rights of undocumented students, and best practices for creating a culturally inclusive school environment. Panelists also addressed questions from online viewers.
Please direct questions concerning the webinar to alliance@all4ed.org. If you are unable to watch the webinar live, an archived version will be available at https://all4ed.org/webinars approximately 1–2 business days after the event airs.
Supplemental Materials
---
If you are interested in renting the Alliance's facilities for your next meeting or webinar, please visit our facilities page to learn more.
---
Photo Courtesy of Allison Shelley/The Verbatim Agency for American Education: Images of Teachers and Students in Action.
Phillip Lovell:              Good afternoon. I'm Phillip Lovell, vice president of policy development and government relations here at the Alliance for Excellent Education. The Alliance is a national policy, practice, and advocacy organization dedicated to ensuring that all students, particularly those who've been historically underserved graduate from high school ready for success in college, career, and citizenship.
Today we're going to discuss issues impacting undocumented students and their families, specifically; this webinar is designed to provide information on the rights of all students to equal access to public education regardless of their immigration status.
We'll discuss the Deferred Acton for Childhood Arrivals or DACA program and the impact of the Trump administration's decision to end this program. We'll also discuss the Dream Act and the importance of comprehension immigration reform.
Finally, and perhaps most importantly, we'll be discussing the best practices for creating a culturally inclusive school environment for students and their families particularly those who are undocumented or impacted by the ending of the DACA program.
But before we get to that, just a few housekeeping items, please follow today's webinar on Twitter using the hashtag DACA. To ask a question of our panelists you can use the box below. And this webinar will be archived at www.allfored.org/webinars. Finally, to be clear, we'll be discussing complex legal issues and the information provided by our panelists today is intended to apply to a broad audience. We won't be able to provide legal advice or opinions related to cases involving specific students or families.
Now, let me introduce our guests for today. To my right, is Carlos Guevara. Carlos is a well-respected attorney and immigration law expert having served in senior positions in the nonprofit and public sectors. Currently, he serves as senior policy advisor at UnidosUS formally the National Council of La Raza where he leads the organizations immigration policy and legislative advocacy work.
Before joining, UnidosUS Carlos served in the Obama administration where he worked on immigration reform from 2014-2017 and he was involved in the development and implementation of key administration immigration priorities.
Also joining us is Jamie Fasteau. Jamie Fasteau is the principal at Education Council. Jamie has an impressive resume having served in numerous leadership positions in congress and in philanthropy. She previously served as director of policy for education at the Emerson Collective. She was director of education policy for Congressman George Miller, the senior democrat on the House Committee on Education in the Workforce. She was the legislative assistant for Senator Patty Murray and she was also here at the Alliance for Excellent Education.
Thanks very much for joining us. Carlos, thank you very much for joining us. And then remotely, we are inviting Eduardo Mendez to join us. Thank you for joining, Mr. Mendez. Mr. Mendez is principal of Guadalupe Centers High School in Kansas City, Missouri a position that he's held for the past 12 years.
Mr. Mendez has served in various capacities at the Guadalupe Centers Alta Vista High School since August of 1999. He spent the first four years as a Social Studies teacher and then during the next three years he was an at risk coordinator working closely with parents of students who are on the verge of dropping out. Again, thank you very much for joining us remotely from Kansas City.
We're going to get things rolling with a few questions to Carlos to help set the stage for this webinar for the discussion. So we're talking about DACA. For those who are maybe just vaguely familiar with the program can you tell us about what DACA is and what it does?
Carlos Guevara:         Sure, Phillip. And then, thank you very much for the opportunity to be here and to join our audience today.
In brief, DACA or the Deferred Action for Childhood Arrivals Policy was a policy instituted under the Obama administration in 2012 and it allowed certain eligible youth individuals that arrived to the United States as minors to remain in the country legally.
And the policy which was mentioned earlier announced in 2012 was implemented two months later and it allowed those to essentially receive a relief from possible deportation and the opportunity to work in this country legally for a renewable period of two years at a time.
At a very high level there were several eligibility requirements for DACA but for our purpose here today some of the ones that come to mind here are the upper and lower caps, if you will, you had to enter the United States before the age of 16 and not have been older than 31 t the indicated time. You had to be showing that you were actually in school or would be attending school in the future, and importantly, folks had to submit to criminal background checks and insure that they were not public safety threats to the United States.
So that's in a nutshell what we're talking about here and if I may fill just a quick note about deferred action, it's a concept that sometimes gets lost and it's something important to bring up. Deferred action basically means it's a tool in the tool chest that any prosecutor whether at the state or local or federal level has in terms of organizing how they're going to move forward with particular cases.
And basically, what DACA did in the exercise of this discretion is to say we have a subset of individuals here that be definition are not threats to our community and that are obtaining and they're achieving at great levels. They're going to school and as a result, we're not going to focus on these guys. So it should be seen as a proper exercise of that discretion.
Phillip Lovell:              Gotcha. So it's actually authority that already existed and this is a formal policy to apply it to these finite, to this finite group of really of young people between the ages of 15 and 31.
Carlos Guevara:         That's absolutely right, Phillip. And it's something that prosecuting agencies at the local level, at the state level, and yes, even at the federal level use on a daily basis. So I think it's important to contextualize where the DACA authority came from.
Phillip Lovell:              Great. So tell us about who are the DACA recipients?
Carlos Guevara:         So it's an important question and I think something that our audience should appreciate, we should consider is that DACA was instituted or implemented in 2012, five years ago. To be eligible for DACA in the first instance you had to have shown that you were continuously present in the United States for five years.
So by definition at a very minimum, the current population of DACE recipients has been here for at least 10 years. In many instances, it's much longer than that. So our friends over at the Center for American Progress did a comprehensive survey of the DACA population recently and found that about a third of the DACA recipients actually arrived in the United States before the age of six. Two thirds of them came before the age of 10.
So we see and the point being that, this is a population that's been her for a very, very long time. Today the DACA recipients about two-third of them are likely to be an average of 25 years old. They're still youngsters but getting older and life is moving on for them.
And because life is moving on, they're more likely to be woven into our communities, have families. About 76 percent of DACA recipients either have a US citizen spouse, sibling, or child in the United States. Twenty-six percent of them have a US citizen child in the United States. Longtime residents, have been here for a while, life goes on. These are American families in many ways.
Phillip Lovell:              A fourth of them have a child who was born here and that's pretty incredible.
Carlos Guevara:         Correct. And perhaps, if I may, of interest to your audience here today when we look at the education profile of folks, again, relying on this survey from our friends, 65 percent of these respondents are in school right now. And a number of them are pursuing undergraduate degrees. Seventeen percent of them actually going on to do higher education.
And for those that aren't pursuing higher education the labor force participation of the DACA pool is incredibly high. A high number of them, 76 percent of them are in the workforce participating at high levels in the workforce. So that's who we're talking about when we're talking about DACA recipients.
Phillip Lovell:              Talking about by and large people who may not even remember the country that they originally came from.
So we know that the Trump administration has announced that its phasing out the DACA program and in fact, it's no longer accepting applications either new applications or renewals. The deadline for that was a few days ago was October 5. So we're past that deadline so now, what happens?
Carlos Guevara:         Yes, we are past the deadline and for folks who haven't been following this as closely, the administration in September 5 that they would be rescinding the policy, gave folks within certain parameters that were able to renew their application, or excuse me, whose work authorization expired between now and March to apply. They gave them a one-month arbitrary, frankly, deadline to apply.
We, as a community, are so very saddened by the decision. There was nothing that was compelling or is ____ legal requirement. Not some sort of timeline that they had to abide to. This is a manmade disaster and many of us are looking at –
Phillip Lovell:              Yeah, we're facing enough actual national disasters so a manmade one on top of it.
Carlos Guevara:         And I completely agree with that. And a lot of our organizations UnidosUS being one of them are very focused on making sure that folks who are eligible to apply did so within that window. And we're helping with scholarships to provide the nearly $500.00 fee.
Phillip Lovell:              Because it's not free.
Carlos Guevara:         It's not free. And $500.00 I'm thinking back to when I was 20-years old that was a lot of money to come up with for a while. And what we've seen since that October 5 deadline is that about 85 percent of folks who were eligible to renew, Phillip, actually did renew. And that represents, just for your audience, about 132,000 of the 154,000 or so folks that were estimated to be in that cohort.
So on the one hand, we're encouraged that such a large group did renew we're also concerned about the 15 percent. You know at the time where we have large Hispanic population is Houston and in South Florida that we're dealing with Harvey and Irma trying to recover, we're concerned that some of those folks may have not been able to get their stuff together in time.
And frankly, we're also concerned about folks making the ____ saying why am I going to trust this government again to come forward. We made this big leap of faith in 2012 why am I coming forward now again to provide my information.
So at this time the sad reality is that for those folk that 25,000 or the 15 percent that I mentioned they'll start losing their protections between now and March 6. That's a sizable population, those are folks who work authorize will begin to lose those protections and jobs and so forth.
Phillip Lovell:              And so, say more about March 6 another manmade creation.
Carlos Guevara:         Yes. So March 6 another arbitrary deadline, correct, that was instituted that's the date that a lot of organizations are really  concerned about and if congress doesn't act we'll see on the magnitude, our friends over at Ford US estimate about each business day 1,400 DACA recipients losing protections, each day until folks eventually wind down from the program. You know, those are those families we mentioned earlier the 25 percent that have US citizen children, the 76 that live with a US citizen spouse or sibling or a child that would have profound impacts on their livelihoods, on their families, and just general well-being.
So we're really concerned about this deadline and are really hopeful that congress gets this done and finds a solution for us.
Phillip Lovell:              And we'll get a bit to that but before we do, so the group of young people who are eligible for DACA in the first place was well defined and actually fairly modest. So what happens to students who are not DACA eligible and how does this apply to them?
Carlos Guevara:         So I think if I understand the question right there was a cohort and your audience perhaps knows this really well as educators that when DACA was first instituted were not immediately eligible. It's estimated that a group of about 500,000 in 2012 what's known as aged into DACA. So they were too young the immigration authorities required folks to be at least 15-years old to apply.
So in the last five years, we've talked about five years have passed, in the last five years that number has gone down as people are eligible now to apply. But somewhere in the ballpark about 125,000 folks never were able to apply for DACA in the first place and unfortunately, Phillip, they won't be able to because the policy has now been rescinded.
Phillip Lovell:              And it's really because of just deadlines that have been created by people.
Carlos Guevara:         Absolutely. There was no legal reasoning. There's no deadline based on fact that required the administration to act its pure politics.
Phillip Lovell:              Got it. So before joining UnidosUS you were counselor to the Secretary of Homeland Security. So you've been in the trenches dealing with these issues for some time. The Immigration and Custom's Enforcement Agency otherwise known as ICE is the component of the Department of Homeland Security of DHS. Can you tell us about the actions that ICE is allowed to perform on school grounds and what they're not supposed to be doing and what kinds of information would schools be expected to provide to ICE and what would they not be expected to provide to ICE?
Carlos Guevara:         Yes, you're right, I did work in the last administration from 2014-2017 at the Department of Homeland Security in the political appointee. I'm no longer there and lot has changed.
Phillip Lovell:              Tell us about that.
Carlos Guevara:         The reason why I mention that is I think and it should come to no surprise to your audience and us here as we're chatting we are living in a more complicated and enforcement environment and it's important that we understand that it's not just schools that potentially be signaled out it's a greater impact to the community. Which many organizations like ours are very vigilant in making sure that we're pushing back as much as we can.
The school context there are two things that I would mention. First, a policy that was instituted by the Department of Homeland Security that binds ICE, Immigration, and Customs Enforcement from 2011 the Sensitive Locations Policy remains in effect. And it's a policy that as a general matter has said that enforcement at sensitive locations like schools should be avoided as a general matter.
In the special circumstances in which ICE has a basis to do so supervisor level approval is required before they move forward. This is ICE policy that's still in place. So your audience should be aware that that's stills in place and should be directing how ICE officials conduct their operations on the ground.
The other piece that I would mention is that while that's policy there are certain legal safeguards that school should be aware of that in fact, direct how what information may be shared. And frankly, also, what parameters within the constitutional protections that we all have regardless of our citizenship under the fourth and Fifth Amendment how far law enforcement can go. And those are in place and shall remain in place.
What I'll mention though is I think schools are uniquely situated to provide an environment where students feel safe and it think part of that is to articulate what is within the parameters of enforcement. And a lot of organizations some of us around the table here are working to elevate those issues.
Phillip Lovell:              Great. Thank you. And later on in the program, we'll talk about the balance between the legal rights and then also just reality on the ground and how we can address those.
So I want to turn our friend, Jamie Fasteau for a moment. So according to Pew Research Center, undocumented students make up about 1.3 percent of the K-12 population about 725,000 students. Now these are students who are sitting in our classrooms right now as we speak and the Supreme Court precedent around insuring that all students regardless of their immigration status that they have the right to go to public schools. Can you talk to us about this precedent?
Jamie Fasteau:            Absolutely. And I also want to thank to Alliance for hosting us on this really critical and timely issue.
So Carlos had started to allude to some of the legal requirements for schools and undocumented students and the Supreme Court found, which is the most important aspect of the legal rights of undocumented kids in schools. That in Plyler v. Doe that a student's immigration status or their parents immigration status could not be a reason to deny them equal access to public schools.
Importantly that case was found under the Equal Protection Clause and the court found that immigration status or non-citizenship did not undermine the equality provisions of the constitution. What that means though in practicality for some of the issues in and around whether or not law enforcement can come on campuses, what information schools can share is that schools don't need know students immigration status.
That is not something that they need to be asking families nor should they be to uphold these equity provisions. And therefore, there is no information to be passing on to law enforcement about immigration status of their students.       
Phillip Lovell:              Interesting. So in addition to Plyler are there other civil rights laws that also protect these students that educators in schools should be aware of?
Jamie Fasteau:            Absolutely. So Title XI of the Civil Rights Act prohibits discrimination based race, national origin, and color for anyone who's receiving federal funds. And in the case of education, that is states and school districts.
That also means no action can be taken to impede the rights of those students. So a lot of schools are taking, are embracing that aspect of not impeding this equal access by keeping kids safe in schools. And for this population right now this means keeping them free of feeling that their campuses are a place with ICE could come for them or their families and that nothing about their immigration status can impede their day-to-day life in education.
Also, I want to underscore there is guidance that still exists at the Department of Education along with the Sensitive Locations guidance at DHS that outlines how schools should be interacting with these families and what they can and can't be asking of them.
Phillip Lovell:              Great. So congress recently passed the Every Student Succeeds Act replacing the No Child Left Behind Act are there specific provisions of that law that should be supporting these young people?
Jamie Fasteau:            So yes, there are a couple specific provisions but I would say broadly given that under the constitution these populations cannot be treated any differently than citizen students or documented students all aspects of law apply to these students. Whether it's based on their disability status and rights, access to language services, homeless services, all of these aspects of law apply equally to these populations.
There is a provision in Title III, which is the program that supports English learners that provides the opportunity for districts to use funds to support students and families from newly immigrant populations in districts where they've had massive increases or large increase. And they certainly don't have to do it but it is something that states can use.
The other issue I would just want to highlight here to make sure the audience is aware of. What we discussed is a set of constitutionally protected rights. There is nothing that this administration can actually do to undermine those rights. They could make it harder for schools that's for sure but there is nothing about the removal of DACA that undermines student's rights to attend school free of discrimination.
Phillip Lovell:              Thank you very much. I think that's a very critical point that regardless of what the crazy that's going on right now in Washington and on this issue students have the right to go to school regardless of where they're coming from.
So where the rubber hits the road is in schools, in our classroom and Mr. Mendez we're very pleased to have you here and we'd like to draw you into this conversation. So first, can you tell us a little bit about the Guadalupe Centers High Schools and the students that you serve? So you've been there, you've been principal for 12 years you were there for several years before that tell us about your school and about the students that you're educating.
Eduardo Mendez:       Sure. Thank you for having me on this webinar. I'd like to share my perspective as a school administrator. The Guadalupe Center Inc. is a social service agency that's been around Kansas City for over 100 years serving the Latino community here in Kansas City, Missouri. Our school is a part of the Guadalupe Centers, which is also an affiliate of UnidosUS and has been for over 30 plus years.
But our school was originally started as a way to address the dropout rate among Latino students, which during the 1980s was estimated to be about 65 percent. So the high school was stated in 1989 and since then we have added a middle school, elementary school, and a pre-K program currently serving over 1,100 students.
At the high school, in particular, we serve 396 students and 94 percent of our students are Latino, three percent African American, two percent Caucasian, and one percent other. Our free and reduced lunch rate is 91 percent and we have an ELL population of over 70 percent. We are a public charter school and we are authorized by the University of Central Missouri.
Phillip Lovell:              Excellent. Are you seeing changes in student attendance or in parental participation in school as a result of some of the policies that we're talking about or some of the rhetoric that's taking place right now?
Eduardo Mendez:       We haven't seen so much changes in attendance but what we have seen is a change in our enrollment particularly for our newcomer ELL students who are recent arrivals. For example, last year we enrolled 14 newcomers, new English language learners mostly from Central American countries, Guatemala, Honduras, El Salvador really those who are fleeing some of the violence in their home countries.
This year we only saw three newcomer ELL students enrolled and it's directly related to the things that they're hearing, the rhetoric in Washington, what they're seeing on the news. But also because of tighter immigration policies and procedures being implemented around the country.
Phillip Lovell:              Got it. So when students are immigrating to this country we know that often they probably have experienced a decent amount of trauma along the way. Can you talk to us about the trauma that you see in schools and what you're doing to address it?
Eduardo Mendez:       Absolutely. Well, unfortunately, we do see many of our students who have experienced some of the trauma particularly those fleeing from the violence in their home countries just have a really hard time staying focused. They experience difficulty concentrating, anger; we see irritability, mood swings, anxiety, fear. Some of them feel guilt and shame and what we see is that oftentimes they would withdraw from their peers.
We also see for some of our older students, juniors, and seniors when they start applying to college and they realize that there's some laws that have been passed specifically in Missouri that prevent them from going to college they really get really numb and lose that excitement.
And so we offer a variety of counseling services both at our school and through the Guadalupe Centers that focus specifically on trauma informed care.
Phillip Lovell:              Excellent. I wanted to turn back to some of our previous conversation and see how this applies to you and your school. Now on the one hand, as Jamie and Carlos were saying students have the legal right to attend school regardless of the immigration status and in fact, there's policy on the books that is supposed to prevent ICE from operating unless they have a warrant and senior authority to do so enforcement activities on school grounds and other sensitive locations.
And then there's realities and there's perception. So how do you balance creating a supportive environment at school with recognizing that we don't want children and their families to be in harm's way?
Eduardo Mendez:       So one of the things that happened at the end of last year at a local elementary school in a suburban district near Kansas City was there was an actual ICE agent that arrived at the school and questioned a young boy. In response to that, several urban school districts including Kansas City, Kansas, Kansas City, Missouri and our own school district passed a resolution by the board of directors called the Safe and Welcoming School Resolution. And basically, this resolution was a statement made known to people that prohibits ICE agents from coming to the school, pulling a student out of class without a warrant.
So there's planned training for our staff members on how to handle situations like this but the thing is also what you talk about is what are the supports? That's one way to show parents that we support them but what are the practical things that we have done to make sure that families and students feel safe and that we support them? And we've done a variety of things in that end. Just most recently, after the decision to end DACA we worked with our social service agent Guadalupe Centers coordinated some DACA clinics where students and families could come and get information and also help with the application of renewals.
We held several know your rights evening sessions for parents just to provide more accurate information and facts about what their rights are. And that's a way that we support our parents and students. Here at the school level, we do a thing called community circles and both after the election and with the decision of the ending of DACA, obviously, we knew that our students would be emotional and so we do community circles where teachers really facilitate sessions where students can express their emotions, their anxieties, their fears, their questions. And it's just a way to support each other through that way.
And so those are all ways that we help to support students and families to let them know we are here for you and we're going to do everything we can do support you.
Phillip Lovell:              And is there specific professional development that you give to your teachers and staff about how to address these issues for these young people?
Eduardo Mendez:        Yes, in fact, one of the first thing we do when we bring people on board is to give them that history of immigration, the Plyler v. Doe other things that they need to be aware of in working with our students and our families. So also, we make them aware of the issues surrounding our communities specifically around immigration laws and DACA and what is happening. So we so that as our part of our onboarding process with new staff.
In addition to that, we provide ongoing PD for our teachers updating them on current legislation, executive orders; we provide fact sheets so they can be informed. And again, this helps them when they go to facilitate these classroom circles with our students.
Just about a month ago we had a district wide PD for all of the teachers in the elementary, middle, and high share the latest information and also, the information about the DACA clinics that were being hosted to help students and families with the applications.
Phillip Lovell:              Great. So let's talk about what happens next. So these students and their families remain in limbo and their future is actually really in the hands of congress. And in the words of one senator, Senator Lindsay Graham, a Republican cosponsor of the Dream Act, he said, quote, "The only thing that stands between you and certainty is congress, that can't be reassuring."
So Carlos, I want to point a question to you. So as we said, by phasing out DACA the president has left it to congress to pass a fix and there's this deadline in March by when this has to be fixed before DACA students, DACA young people will lose their status. Can you talk to us about the Dream Act, the legislative proposal envisioned to address this and what its prospects are for passage?
Carlos Guevara:         Well, Phillip, you're right the president did say that he was leaving it to congress. I think and I don't mean to belabor this point, I think a lot of community groups are still very concerned about the fact that such a decision, frankly, I called it earlier a manmade disaster was made in the first place without a timeline, without any specific legal basis to do so.
So while he has pivoted to congress I think it's important to lose sight that this didn't have to happen. Not lose sight that is that this did not have to happen. But here we are and we have to pivot to congress and we have been pivoting to congress. And organizations like mine and a lot of our partners led by frankly, the Dreamers themselves have come forward and been very public about the need to pass a clean Dream Act.
Which among other things means that eligible folks who came to the United States before they age of 18 who submit to criminal background checks and show that they are pursuing education, ultimately higher education, going to serve in our military, are going to work can have a pathway towards citizenship.
And that's been our very clear position. At this time, I think it's what we have been insisting on and will continue to insist on. You know at this time I truly believe that we have a window to do the frankly, morally economically, and politically correct thing and it's all our jobs to connect with our members of congress to make sure that they're hearing our voices. And when we see things like a white house staffer's wish list of all the nasty enforcement stuff that they would want in exchange, we need to keep in mind that this is a distraction. These are poison pills and time used tactics that are intended to derail us from our purpose, our collective purpose.
And it's not just the folks that you would suspect that are supportive of the Dream Act, you know, in fact 75 percent based on recent polling, 75 percent of Republican voters including many Trump voters themselves are supportive of finding a legislative fix that, by the way, contains a pathway for citizenship for these youth.
So look, I have faith in our institutions, in the American people, as I mentioned, who re behind this that we can get to a good legislative outcome. It's just on all of us to make sure that the momentum is there and that we continue to have our voice heard.
Phillip Lovell:              And you mentioned something that maybe we can get just a little bit in the weeds on. You said that the goal is a clean Dream Act. Can you talk a bit about what you mean by a clean Dream Act?
Carlos Guevara:         That's right. We have been focusing on, Phillip, in our advocacy is pretty much a bill that recognizes that we're not hold our kids hostage to anything such a border wall, ramped up interior enforcement. I mentioned earlier, right, that these are folks that are living in American families, right, they have parents that perhaps are undocumented, they have spouses that are American citizen, you know these families are complex and in many ways are kind of emblematic of America today.
So when we talk about a clean Dream Act what we really mean is we don't' want our kids held hostage for the passage of really nasty interior enforcement stuff. There might be a time where we can have the conversation about the modernizing, really modernizing our comprehensive, our immigration system in a comprehensive way but right now we need to focus on finding a legislative solution for these children and then we can focus on some of the other complications.
Phillip Lovell:              We've created this problem or rather this problem has been created for these young people so now we need to come up with a fix for it without holding them hostage for anything else. But let's be clear, Jamie, I want to bring back into this, even if congress does not act regardless of what's happening young people who are undocumented have the right to go to school.
Jamie Fasteau:            That's absolutely correct and that's based on the constitution, it's based in Supreme Court decision, and it's based in federal civil rights laws. This is longstanding provisions and frankly, underscores how entwined these families already in our communities and are part of these systems. Interestingly, under Plyler, part of the reason the court found that immigration status should not affect equal access to education is because education plays such a critical role in participating our society. And that was an underpinning of the decision.
So again, regardless of the decisions to run DACA or if the Dream Act passes or doesn't pass these students still have the right to attend school free of discrimination.
Phillip Lovell:              Excellent. And Mr. Mendez, a question for you, so as we've said that the Dream Act is a critical piece of the puzzle but in the grand scheme of things it actually is just apiece and that while congress may feel compelled to create a path to citizenship for these young people many of their parents could remain undocumented. What sorts of issues does this cause for your students? So even if they are technically legally allowed to be in this country but their parents may not be how does that tension paly out I the classroom or in your schools?
Eduardo Mendez:       Yeah, we do see instances where we have sort of mixed status families where maybe the younger siblings were born here in the US but the older siblings were not and we see that quite often. And you know what we do to try to work with our students; I named a few things that we do for our older students, typically the junior and seniors when they're applying for college.
One of the first things we try to do to make them feel comfortable to continue their dream is to figure out ways for them to get financial means to attend college and that means looking at scholarships specifically that target undocumented students. And actually, a current staff member and a former staff member together started a Pell project which is intended to give a scholarship in the amount of what the Pell Grant is specifically for undocumented students.
Our goal and the parents as we work with them is if there is a situation where they are facing deportation and they're more likely to, obviously, take their whole family. But that we have worked families, where there are other members of the family who do have legal residency and have decided to leave their kids, in essence splitting the family, which is not ideal. But we have seen families make those tough decisions and we do what we can through our agency, our parent organization, and our counselors here to help parents when they're facing those tough decisions.
But we do everything we can still to keep that dream alive for our students with the goal that there will be legislation passed and that they will be able to fulfill their dreams and go on to a career.
Phillip Lovell:              Thank you much. So before we go into some questions that have been given to us by the audience and I do want just have the reminder that if you have questions that you'd like to submit to our panelist you can submit those in the box below the screen.
Carlos, two final questions for you. So are there legislative proposals pending now that could create a legal path to citizenship for adults?
Carlos Guevara:         The short answer is no, at least not anything that I see meaningfully moving in any time soon. And frankly, right now we need to focus on this what's at hand and finding a solution for these Dreamers, so the answer is no.
Phillip Lovell:              Got it. Now on that point, if our audience would like to get engaged in supporting the Dream Act what's the best way for them to go about doing so?
Carlos Guevara:         I want to tell a bit of a story here back from my days at DHS.
Phillip Lovell:              The Department of Homeland Security.
Carlos Guevara:         The Department of Homeland Security, correct. There's a lot of advocacy around a group of students that were feeling violence in Central America and folks that were going through their immigration process. I'll tell you what, the voices that I felt kind of eventually broke through in many ways were the voices of educators, of teachers that had these students that were impacted in their schools.
So I would just urge the audience here today or if they know folks that are more inclined to reach out to do so and do so at the in district level. You know, anonymous doesn't vote so the more that we can reach out to our members of congress and have the educators voice, the teacher who has the DACA recipient in their classroom or maybe the DACA recipient who's a teacher and who is educating and who has a classroom full of 20 kids that will no longer have a teacher.
If we have those voices heard at the in district level with their members I think that would be incredibly powerful and my recommendation for our audience here today that's wants to get move involved is to do that outreach. And in so doing, I think not just tell the personal story but also convey the sense of urgency that we need to get something done now. And when we see, you know, again, a wish list or we see things that look like poison pills to us we know what they are, they're delay tactics. They're ways to kind of push this issue aside. I think that the teachers can have a very important voice in saying this is who we are but also we need to get this done now.
Phillip Lovell:              Great. So some questions from the audience. Kate from Massachusetts asks what protections are there for students with disabilities who are undocumented? Jamie?
Jamie Fasteau:            So there are few laws that protect students with disabilities and provide them their rights which extend to services under the law. The Individual with Disabilities Education Act, which was passed in the early '70s is the overall governing legislation that imbues most right to services.
Additionally, there is Americans with Disabilities Act. Given how Plyer was decided and that, citizenship or non-citizenship should not alter how you access education all of those laws that apply to documented or citizen students also apply to undocumented students.
Phillip Lovell:              Great. So Mr. Mendez, here's a question for you this came from several members of the audience and you alluded a little bit to this issue a few moments ago. The question is can you share with us some of the strategies that you used to enroll students who are undocumented or who are from families with the mixed status and to make them feel comfortable continuing to come school. And again, by mixed status, we need families where one or two of the members of the family may be undocumented and the other members of the family may actually be citizens.
Eduardo Mendez:       Sure. As part of the enrollment procedure we do not ask that question, you know we're prohibited from asking the legal status of students when they enroll. As I mentioned earlier when we find out typically is when they're juniors or seniors and they're applying for financial aid and they realize they are unable to because of their status.
Now we do have great relationships with our parents and they do tell us on their own when we find that there is mixed status and that is in large part because of what we have done to support families and because we've been around for over 100 years. And so we don't specifically have strategies for the enrollment process but what we do have strategies for is what do we do once we find out and how do we help them?
And in this case and particularly I mentioned how do we get the financial means for them to be able to continue their studies after high school? And we look for scholarships and we started scholarships and we've done other things. One other thing is we have a parent liaison who's a native of Peru, she's a former attorney, she works directly with our families and is able to refer them to other agencies or organizations that can help them with a variety of issues.
We also offer parent education classes called [Spanish] which is facilitated by our parent liaison who really serves the purpose of helping families navigate the American system of education and also what they can do to help their child prepare for college.
But the key is really building relationships with parents and then implementing programs like [Spanish] or other things where we can offer services for our families.
Phillip Lovell:              Thank you. This probably goes without saying but it's hard enough to do well in school just regularly. The fact, you know, Mr. Mendez, that you've had to create these systems of support in light of and in response to as Carlos as you've described it, this manmade disaster is just such, is just so unnecessary. Yeah, it's just terrible
In any event, moving on, so a question for you Carlos, so this, again, came from a number of viewers so President Trump recently laid out some demands for an ____ to protect the Dreamers. Can you describe what some of those demands are and your take on how this is impacting the negotiations around actually passing legislation?
Carlos Guevara:         So you're right, there's since the time that we've had the decision to end DACA and frankly, I fear the more that time passes we'll have more of these, there's been kind of a wish list, if you will, of items that not just staffers at the White House or members of congress have but are generally gaining traction as well in the media that really are focusing on two sets of areas. One is on this idea of border security and then the other is this general bucket of interior immigration enforcement.
So there have been a set of issues on the borer that focuses on you folks might be familiar with the border wall and so forth and on the interior things that would essentially provide opportunities for immigration enforcement to round up and remove more people.
The bottom line is we find these proposals to be completely unacceptable. I think that first, we to a point I made earlier, we should not be holding our youth hostage to get these nasty provisions in place they're trying to sneak them in.
Second, let's see them for what they are. They are delay tactics that have been time honored, if you will, in congress, have been used time and time again and we need to hold our members of congress accountable and demand that we move forward.
And then, finally, I would submit that if we were going to have the conversation about more broadly modernizing our immigration system that we should do that in the proper time and context. This is not it. And those proposals are better left for that more comprehensive conversation and we're not there yet.
Phillip Lovell:              Got it. We've received a number of questions about advice for undocumented students with regard to higher education. So the question is are undocumented students eligible to receive federal financial aid for college and what advice for counselors would you have who are working with students on the FASFA?
Jamie Fasteau:            So Mr. Mendez referred to some of these challenges for this population and no, undocumented students are not eligible for federal financial aid. There are a number of states, however, who have passed Dream Acts, and have their own sets of state versions of Pell Grants and other aid in which those students would be eligible but that's a state-by-state issue.
                                    Students who did receive DACA do have appropriate documentation to be applying for financial aid under the FAFSA. Lots of states use the FAFSA for their own state aid but it would be for those purposes. So for that population they at least now have the appropriate documentation to be able to do so.
There are other scholarships that exist now and are growing for those populations. I think for school counselors and those who are working with students and applying to college you just have to be extra mindful of where those states are, what those opportunities are to get them to and through college.
Phillip Lovell:              So a question from Sarah from Washington and this is, I think Jamie for you and for Mr. Mendez. So she says I live in an area that's having conversations about protecting undocumented youth and in a district that's examining its policies but there's some struggles at the building level. What thoughts does the panel have for practitioners as they're thinking about the policy development at the building level? What do you see as blind spots and what should we be cognizant of
Mr. Mendez, would you like to go first?
Eduardo Mendez:       Sure. I mentioned earlier that there was a resolution passed in some local urban districts including ourselves and he one in particular that our board of directors passed was called the Safe and Welcoming Schools resolution. I would be more than happy to share that with whomever would like. But basically, this resolution just outlines the provisions that if US Immigration and Custom Enforcement agents were to come to the school how would we respond.
And so I think the blind spots come when staff aren't aware of how to respond and they don't have the information or know what to do in handling those situations. So one of the key things that we are working on is to make sure our staff members know, our teachers and everyone else how we handle that and ensure that we avoid those blind spots from occurring.
Jamie Fasteau:            Yeah, I would agree with Mr. Mendez on the shared knowledge of the rights and responsibilities of schools in protecting these student populations is critical. You don't want those gaps in knowledge when we're dealing with these very uncertain times for these families.
I would also urge folks to look at the Department of Ed guidance on Plyer and Title XI so that there is deep understanding of the rights of these students and the responsibilities for schools to educate these populations without discrimination. You know, these, again, regardless of what happens with DACA these are constitutionally protected and long-standing rights.
The NEA and AFT have put out a lot of guidance for teachers on the rights of students and other supports that practitioners at the building level could certainly lean into. States also bear responsibility for civil rights enforcements with their districts and so they could lean on their SEA to underscore the rights of those kids.
Phillip Lovell:              So Kathy in Arizona asks although you do not need to know a student's status families often have a difficult time navigating districts forms that elute information possessed by documented residents. Are there tips for families on how they can navigate forms that request information they may or may not possess?
Mr. Mendez, any thoughts?
Eduardo Mendez:       Yeah, I would definitely, you know, most applications will ask or most schools will ask for a copy of a birth certificate and that could be an indication to school officials if students are born in other countries and have certificates from other countries. But again, I go back to there cannot be a question regarding specific status and if parents are seeing that to be able to ask questions, to ask for help or just ask somebody at the enrollment center to be able to clarify any of those questions.
Phillip Lovell:              Great. So Carlos, a couple of questions have come in about Ice. So how hard is it for ICE to get a warrant to pull students out of class?
Carlos Guevara:         This is a very interesting question that's kind of in some ways at the intersection of practice and the law. In other words, the law is changing a lot in this space. The first thing to remember about immigration enforcement is that it is civil and it's in the civil space, it's in the civil context. So traditionally what that means is that ICE doesn't require or ICE doesn't usually operate in the same rules as local law enforcement that usually were required to go and get a warrant based on probably cause and decided by an impartial magistrate, right.
So ICE has their own constructs based on and their own mandates based on what this immigration law says of when a person is inadmissible or deportable as the case may be. A lot of litigation in this space right now about what is sufficient for them to be able to go after an individual. And whether it is required for them to have something that more closely approximates a warrant in the, if you will, traditional sense in the criminal justices sense that is signed by a judge.
And what we need to remember is that ICE, you know, this is all done through an executive branch so an administrative process and there is no at this time kind of process by which they can go to a judge to get such a warrant.
So there's a lot of litigation it's an evolving issue. There's a lot of challenges around what is sufficient and meets the legal mustard to satisfy the constitutional safeguards that we have under the fourth amendment. But in short, I think they look at their priorities based on this civil immigration code and make determinations based on whether a person is inadmissible or deportable. These are kind of legal terms based on our ____ but I think this is what they're basing their decisions on.
Jamie Fasteau:            As Mr. Mendez though pointed out there are ways for school to be planning for these situations so that there is a shared understanding about how do I appropriately deal with them given a school setting and the rights and responsibilities, again, that principals have for the safety and protection of their kids on a day to day basis regardless of their status.
And having police, come into your school to pull a student out is causing trauma for the entire population. So there are districts who are creating MOUs with local law enforcement about these sorts of situations so that the warrant wouldn't be executed on school grounds. There are districts that are coming up with their own policies to tell their buildings to say you need to send anyone with a warrant back to the central office and we deal with it outside of your school hours.
Phillip Lovell:              So we are just about out of time for today's webinar. Before we close, I just want to give each of you the chance to say any parting thoughts. Jamie, why don't' we start with you.
Jamie Fasteau:            So, again, thanks so much for having us here today and having this breadth of conversation. Thanks to Mr. Mendez for what you're doing every day. But I would underscore, actually, what Carlos said about it's time for everyone to go act.
This is there's too much uncertainty happening for these families now and congress needs to undo the manmade decision at the other end of Pennsylvania Avenue and create some certainty for these families. I think it will be impossible to even get to comprehensive immigration reform until this issue is dealt with and congress can't keep kicking this can down the road they need to solve this now.
Phillip Lovell:              Thank you. Why don't' we go to Mr. Mendez, any final thoughts from you, sir?
Eduardo Mendez:       Yes, just along those lines of advocacy what can we do to advocate for our kids and the key to us is learning which congressman are on the fence and who can we write letters to, who can we e-mail, who can we call, who can we tell our kid's stories to. And really encouraging our students to advocate for themselves along with our staff and along with our families in the broader committee. So I think the call to action is there and we need to follow up and take action.
Phillip Lovell:              Thank you. Carlos.
Carlos Guevara:         I think my co-panelists summed it up really nicely. I think what I would add to that is this is a real issue. We're talking, your audience knows this and we know this, but our fellow Americans in our communities need to know this, our members need to know this. This is a real population and this is not a theoretical what if this happens, how could we potentially do this to maybe open the aperture here or close the aperture there.
This is not theoretical. We have nearly 800,000 young people who beginning March 6 have the order of 1,400 each of business day will start losing their protection. The time is now there's no excuse we need to get this done. And I think teachers are in a unique position to tell some really important stories either themselves as educators or teachers who have DACA recipients in their classrooms as well. So the time is is now and this is a real issue.
Phillip Lovell:              Thank you very much. So let me thank our panelists, Carlos Guevara, Jamie Fasteau, and Eduardo Mendez for being with us today. If you'd like more information on DACA, the Dream Act or additional resources on how to promote and protect the rights of students we have links on our website to organizations and materials that might be of interest.
Remember that this webinar will be archived at www.allfored.org/webinars. Again, the time is now we have this manmade deadline by March 6 students will be losing their protections. You know congress tends not to do much without a sense of urgency and without a deadline, we've got both of them but we can enhance that sense of urgency by phone calls, by requests for meetings with members especially while they're at home. This is something that is just absolutely urgent and vital for us to do.
I'm Phillip Lovell for the Alliance for Excellent Education thanks very much for joining us and enjoy the rest of your day.
 [End of Audio]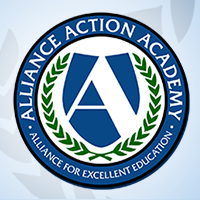 Welcome to the Alliance for Excellent Education's Action Academy, an online learning community of education advocates. We invite you to create an account, expand your knowledge on the most pressing issues in education, and communicate with others who share your interests in education reform.
Register Now
or register for Action Academy below: