Communications Planning for Innovation in Education: New Guide and District Profiles

June 29, 2017
6:00 pm – 6:30 pm EDT
Google Hangouts on Air
Future Ready Schools® Invites You to a Participate in a Webinar
Communications Planning for Innovation in Education: New Guide and District Profiles
Panelists
Katie Malovec, Instructional Educator Effectiveness Coach, Racine Unified School District (WI)
Janice Vargo, Associate Partner, Education Elements
Sharice Walker, Community and Public Relations Director, Fairbanks North Star Borough School District (AK)
Moderator
Tom Murray, Director of Innovation, Future Ready Schools®, Alliance for Excellent Education
On June 29, 2017, Future Ready Schools® (FRS) held a webinar that is part of its Leadership Hub, a one-stop-shop of professional learning opportunities for school leaders.
Effective communication is a cornerstone of successful innovation in education. School districts that develop thoughtful communications plans build a culture of engagement, transparency, and trust that is critical for innovation both to take hold in the classroom and to be scalable across many schools.
The Learning Accelerator and Education Elements recently released a new guide (bit.ly/PLComms) with a streamlined communications planning process for schools that are implementing blended and personalized learning. Communications Planning for Innovation in Education: How to Communicate About Your Blended and Personalized Learning Initiatives includes real-world examples from school districts across the country, as well as links to videos, templates, and other helpful tools.
Panelists discussed the following:
Four key phases of communications planning
Sample big picture and targeted messages
What has and has not worked in schools
Where to find worksheets and tools to build communications success
Panelists also addressed questions from the online audience.
---
Please direct questions concerning the webinar to alliance@all4ed.org. If you are unable to watch the webinar live, an archived version will be available in "Resources" of the FRS Dashboard after the event airs.
Future Ready Schools® is a project of the Alliance for Excellent Education, a Washington, DC–based national policy and advocacy organization dedicated to ensuring that all students, particularly those traditionally underserved, graduate from high school ready for success in college, work, and citizenship.
Follow Future Ready Schools on Twitter (twitter.com/FutureReady);
Facebook (facebook.com/futurereadyschools); and
the Future Ready Schools' Leadership Hub (futureready.org/hub).
---
If you are interested in renting the Alliance's facilities for your next meeting or webinar, please visit our facilities page to learn more.
Tom Murray:
Hey everybody. I'm Tom Murray, the director of innovation for Future Ready Schools, a project of the Alliance for Excellent Education, located in Washington, D.C. Future Ready Schools is a collaboration between the Alliance and a vast coalition of over sixty other national and regional organizations. The goal of Future Ready Schools is to maximize digital learning opportunities and to help schools districts move quickly towards personalized student-centered learning. The effort provides districts with resources and support to ensure that local technology and digital learning plans align with instructional best practices, are implemented by highly trained and empowered teachers, and maximize personalized learning experiences for all students, particularly those from traditionally underserved communities. The hashtag for today's webinar is FutureReady. Thank you for making an investment and joining us today. I'm going to be your host on this webinar. Today it's going to be on communications planning for innovation in education, and we're going to share a new guide and – with some district profiles. With me today is Katie Malovec, an instructional coach in Racine Unified School District in Wisconsin, Janice Vargo, the associate partner from Education Elements, as well as Sharice Walker, community and public relations director for Fairbanks North Star Borough school district in Alaska. So, what an honor it is to have you all join us today. Let's hear from you. Katie, can you take a few seconds to introduce yourself?
Katie Malovec:
Sure. My name's Katie. I'm an instructional coach in Racine Unified School District. Racine is in Wisconsin, which Racine is halfway between Chicago and Milwaukee.
Tom Murray:
Great. How about you, Janice?
Janice Vargo:
Hi, Tom. Good afternoon. My name is Janice Vargo from Education Elements. We are a company that works with over a hundred school districts from around the country providing consulting services mostly around personalized learning and in my role I am responsible for supporting our consultants and leading district implementations on the east coast and Midwest.
Tom Murray:
Great, and a lot of our viewers today probably are well aware of the great work of Ed Elements, so, thanks for joining us today. How about you, Sharice?
Sharice Walker:
Hi there. Sharice Walker. I'm long-time Fairbanks, Alaska resident. I even graduated from our school system here, so, it's great to be working in the communications area for our district and I've been here about two years and just really been excited working with Ed Elements through the process of implementing personalized learning for our students.
Tom Murray:
Well, great. Thank you for joining us today and to our viewers for investing the time. So, today we're going to dive in to a brand new communications resource for district leaders created by Education Elements, as well as one of our partners – The Learning Accelerator, who is another fabulous, fabulous organization and who helped us work together on this webinar. I encourage you to check out the guide which is available. It's a bit.ly. So, bit.ly/PLComms – now, when – capital P, capital L, capital C, O-M-M-S, and bit.lys are case sensitive. So, bit.ly slash capital P, capital L, capital C, O-M-M-S. This guide is intended for school system leaders, including superintendents, school board members, principals, and others whose commitment to communications as a district priority is crucial for success and we all know how important this is. It is also includes many tips and links to additional resources that – for others, including communications directors, tech officers, and teachers that they might find useful. As I personally looked through it, I loved the district highlights and the success stories from districts, and I think that's one of the greatest ways and it's certainly one of the main modes of Future Ready is to highlight the great things that are going on in schools around the country, and this guide absolutely does that. Viewers, you absolutely have to check it out. So, let's hear about it. So, we're going to start with Janice. Janice, I want to ask you a little bit – so, why did Education Elements together with our partner, The Learning Accelerator. Why did you guys decide to write this communications guide?
Janice Vargo:
Yep. Thanks, Tom. So, both Education Elements and The Learning Accelerator have been involved in the work of supporting districts with blended and personalized learning for some time – quite a few years – and in 2015, The Learning Accelerator released a communications planning guide, the first version, for schools that were implementing blended learning, and since then they have been working closely with those schools, collecting feedback, tracking what's useful, what's not, and getting some great input from the district leaders who are out there doing that work, and at the same time, we at the Education Elements side have also been helping schools implement personalized learning and capturing best practices, and one thing that we both found – both from Education Elements and The Learning Accelerator – is that what sets successful districts apart from those who may not get off the ground as quickly is that time and time again they had a really laser-like focus on communication and making sure that they got that piece of the puzzle right, and, so, through our conversations, our two organizations decided that the time was right to partner together to refresh the guide and write a new guide that streamlines the process, shares some additional real-world examples, and offers up to date resources and artifacts.
Tom Murray:
I realize I muted myself – apologies on that. Tell us a little bit about the guide itself. What are some of the major highlights? If I'm a school leader watching today, what are the kinds of things that I'm going to see in the guide?
Janice Vargo:
Yep. So, as you started off, the guide is really many to support anyone within the school system who has some responsibility for communication. So, really that is everyone – so, everyone from the superintendent down to a teacher who may have to respond to parents and their students about the work that they're doing, and I think the highlight of the guide is always the stories, the artifacts, and the resources from the districts. So, we're really indebted to them for being open and willing to share their stories and their resources with a larger community in the hopes of furthering this work and furthering the learning.
As you go through the guide, you'll notice that it's broken into four parts. So, the first part focuses on the plan and alignment stage, and really we want to make sure that people get that culture of communication right. So, how do you create that culture and what – how do you set goals for your communications plan? The second phase is foundations, where we share tips on how schools and districts might assess resources, identify gaps in their tools or their own expertise, and also identify partners that might assist them in doing this work, and the third phase is that – the design phase, which is really the meat of the guide, and this is where we encourage districts and schools to identify their audiences, their key messengers, their key messages, and in that part, we provide a lot of examples of what key – some key messages that you could __________ the gap with __________ context, and then the last phase is reflect and iterate, and in this phase we share what do success metrics look like and what are some examples of early wins, and one thing to emphasize is that communications is a cycle, so, it's something that you always have to keep coming back to, and just because you might be in one phase doesn't mean that you shouldn't go back and reconsider some of the previous decisions you made in an earlier phase.
Tom Murray:
Yeah, really well said, and I know through Future Ready, one of the things that we often talk about is when we talk about communications often in districts, so many times, at least traditionally, it's really been one way. It's been just kind of information sharing, and how do we do both the push and the pull when we talk about truly collaborating as well with the community. I do want to remind our viewers that the hashtag for today is FutureReady. Feel free to ask some questions on Twitter, and we will see if we can get to those by the end of the webinar, as we'll be monitoring those as well. Sharice, I want to go over to you if we could. So, let's talk a little about – give an overview if you could about your district, where you are, maybe some – the geography of the schools, students served, challenges, and those kinds of things, and then if you could, describe where you are in your personalized learning journey.
Sharice Walker:
Sure, great. So, the Fairbanks North Star Borough school district covers about 7,361 square miles. So, in our borough – as big as some states – we have about 14,000 students and thirty-five schools sharing supporting them, and in those students, we have a large Alaskan Native population. About eighteen percent of our students are Alaskan Native American Indian. We have a large military population. We've got a couple bases here that really are integral to our community, and then we also are dealing with students about thirty-seven percent free and reduced lunch. So, some families definitely with some economic challenges that we need to serve, and, so, as far as our personalized learning journey goes, we began with a strategic plan. The board went through a process of developing a strategic plan that began back in 2013 and identified some of the values in there of being student-centered, of having high achievement, and also set personalized learning as the number one goal as our organization, and then tasked the superintendent with increasing student achievement and improving teacher effectiveness. So, when we were able to partner with Education Elements, it was – it seemed like it was going to be a very productive partnership to help us achieve those things.
Now, because we are kind of doing this top down and it's a directive from the board, we're implementing it in all of our schools. There was no we were going to be able to do that in a year, so, we've put it into a three-year phase, starting with elementary and moving up through middle school and then high school. So, at this point, elementary has been working with Education Elements for the past year. They're ready to kind of launch when school starts this fall, and then middle school will be kind of just starting some foundational work, and having that phased approach has definitely been something we had to take into account for communication.
Tom Murray:
Great. Thanks for sharing that, and I have to say a shout out as well from our first Alaskan guest on the show.
Sharice Walker:
Woo-hoo. [Laughs]
Tom Murray:
So, we are really excited to have you and you just had your solstice up there as well, so, thank you for joining, but I want to follow up even more so, not just from great that you're here from Alaska, but truly the communication aspect to make all of this work. What are some ways – because it comes top down from the board and a lot of districts are in that light right now where the board's getting behind it, the superintendent district office are getting behind it, but sometimes the community is often the left out piece, and we see them show up at a board meeting saying like, "What's going on here? How do we know none of this stuff," or we often play this buzz word bingo in all the work that we're doing per say. So, what were some of the ways that your district communicated to your community with this work?
Sharice Walker:
Well, I think something key is using the concerns that parents shared through that strategic plan process – the feedback we got from our community that they do want students achieving – having higher achievement and better serving their needs, and, so, being able to take the feedback that we got and craft that into our messages, saying, "This is why we're doing this is because we do want all of our students to have opportunity to succeed, and we're recognizing that there are some gaps that we're not meeting doing things the way we've always done it, and, so, that is going to take a big shift," and there's always that – some folks who will kind of respond with, "Oh, this is just another initiative. You know, it's going to be gone in a year," and, so, being able to talk about why we want to change and how that's going to help our students and that this isn't just going to be a flash in a pan kind of a thing. This is a total shift of how we're approaching education has been important, and, so, we've done some focus on internal communication – trying to make sure we're all having a common definition of what does personalized learning mean because there's a lot of varieties of definitions out there, and then trying to work with those different groups that are in different phases of the process. So, elementary jumped in first and over the time that they've been working through this process have really developed that buy in, and, so, with our secondary teachers, they're still a little skeptical, and we don't want to short circuit that process because it's been great to see the teachers really dig in and be part of designing what personalized learning needs to be at their school and in their classrooms, and, so, trying to answer both ends of the spectrum. One person wants to know how exactly is this going to look and the other person is we don't want canned things pushed on to us, and, so, just really trying to be as transparent as we can with the process. We've had a lot of public meetings. Any time we've had Education Elements in town, we've had forums and public interaction for them for people to be able to come and ask questions and kind of work through their concerns and understand what the outcomes should be with this process.
Tom Murray:
Yeah, well said. One of the things that you said that I really – reverberated with me, especially related to Future Ready, is the internal communication as well, and sometimes we've seen often district office or district level may communicate real well, and then it gets down to building level leadership and we lose a little bit, and then we get down to the teacher level and then sometimes it's such a disconnect there and that common language is vital. One of the things – I remember working at one of our institutes related to this internal communication, and we started to just throw around all the buzz word bingo we always used, and they were throwing around digital learning, personalized learning, cyber learning, differentiated learning – all these things within a few minute period and just to make sure we're on the same page with what are we actually referring to is key to this work from the superintendent down to the very first year brand new teacher. So, very, very great job on that, and I think that internal communication is certainly key to success. Really well said there, Sharice. Katie, I want to jump over to you. Racine – give us a little bit of an overview of your district, where you're coming from, some of the demographics of your district, and then if you could tell us about your personalized learning journey there in your district as well, that'd be great.
Katie Malovec:
Sure. Racine, like I said, is halfway between Milwaukee and Chicago. We serve 20,000 students in thirty-one schools. Sixty-five percent of our students are below poverty level. We have a very diverse group of students. It's pretty well balanced – African American, Hispanic, and Caucasian. I think our challenges is our greatest reward to is diversity and what kids are bringing to the table – their backgrounds, their academic backgrounds, their schema – everything is just – is so different. The different academic abilities along with different socioeconomic status makes school in Racine somewhat challenging sometimes. We saw a decline in our middle school enrollment – fifteen percent decrease – so, the district decided that they need to do something different at the middle school because we were seeing students leave in fifth grade and then come back in high school, so, we really needed to revamp what we were doing at the middle schools to retain our students and our families. So, we started personalized journ– the personalized learning journey, excuse me, at the middle school level first and what we did was we identified champions in each of our building, and then at the district level we provided professional development that was tiered towards teacher's implementation. So, if a teacher was a little bit further along, they could attend a different session than a teacher who felt like they needed some more of the basics of personalized learning.
In my building as the instructional coach, I'm only a coach for one group of teachers in one middle school, but as a classroom teacher of ten years, I was always discouraged when I went to professional development sessions and I was talked to about the initiatives, so, my core philosophy with the teachers that I serve and work with is to ensure that when they attend a professional development session at our school that I am modeling what it should look like in their classrooms. So, sometimes – and with the help of Education Elements, I've been able to model either flex or flipped or blended so that the teachers are really immersed. So, they're getting the knowledge that they need and the resources that they need, but they're experiencing it in an actual personalized learning format. So, they're not just sitting and getting; they're actually experiencing what students should be experiencing, and we took that a step further then for our parent night, and it was a district decision that our parents needed to obviously be informed about what was happening in our middle schools. So, what we did in the building that I serve is that we took – we have three family nights – one for every grade level, six, seven, and eight – and instead of just the parents coming in and, again, them being talked to about what personalized learning is, they actually experienced a personalized learning structure for our parent night. So, they went to different classrooms and we kind of were able to blend all – reader's workshop in a personalized format, they went to – and did a STEM activity – so, a lot of our district initiatives, just in a personalized learning format. So, one hundred percent of our parents said that they were much more engaged and it was interesting to see the way that their students were expected to learn in the classrooms and how teachers are teaching for instruction.
Tom Murray:
That's great, and I think that [clears throat] – excuse me –modeling that you hit on there is absolutely key in bringing in – in bringing them in is great. Anything else related to the communications to the community? I mean, certainly bringing them in is one of the best ways to do that for sure. Anything else you did specific to the way you communicated with the community?
Katie Malovec:
We're really trying to use the partnering Ed Elements featured Racine Unified, so, that communication that Ed Elements created was shared with our parents, as well as our teachers are challenged to make sure that the things that they send out to their parents are also just encompassing what they're doing in their classrooms.
Tom Murray:
Great. So, we just got another question in and they asked me to repeat the bit.ly. I'm going to do that one more time. The bit.ly – what we're talking about today is the new guide from Ed Elements and The Learning Accelerator, which you can download for free and check out with lots of great highlights. The bit.ly – it's bit.ly slash it's P-L-C-O-M-M-S for PLComms, like P-L-Comms, if that makes sense, but the P, the L, and the C are caps because they are case sensitive. We're going to make sure to get that also on the webinar invite that you're all looking at from today where you all signed up for this as well.
I want to ask the both of you just a quick question because I'm guessing if somebody's watching – and I believe, Katie, you started to get to a little bit, but Sharice and Katie, one of the things as you've done this – the communications is our focus today, absolutely, but, Katie, you started to get into the PD side of it – the professional learning side – and that's something that we are focused on for sure here at Future Ready. Can either of you speak a little bit of what that looked like on the whole because we all know this isn't about just dumping laptops in classrooms, saying we're doing personalized learning, and then just kind of crossing our fingers. That's going to bomb; we all know that across the board. Can either of you speak a little to just at a district level, what has worked related to professional learning because I'm guessing people that are watching this that are also doing this are also wondering that question?
Katie Malovec:
Sure. Sharice, you want to go or do you want me to go first? [Laughs]
Sharice Walker:
Why don't you jump in first, then I'll follow you? How does that sound?
Katie Malovec:
So, what we did was I thought something that really helped our teachers was just allowing professional learning walks to happen and getting teachers to see blended learning in action – personalized learning in action – so, encouraging teachers to visit other teacher's classrooms and other teachers in different buildings as well, so, we've done crossover and making sure – ensuring that we are providing substitute teachers so that our teachers are able to see each other teaching in a personalized learning format so that they can just – that collaboration I think is key and seeing it in action again is key, so, sure you can attend a professional learning session and take away whatever the instructional coach is saying, but sometimes I think the best learning happens when they see their peers in action with students and not teachers because teachers typically are pretty well-behaved during professional learning sessions. So, it was, I think, really encouraging to see teachers open their doors to each other and really allow collaboration to happen.
Tom Murray:
Great, and the research on effective professional __________ will certainly back that up there as well. Couldn't agree – Sharice, anything you want to add?
Sharice Walker:
Well, as she said, that's great to hear that feedback because I know that that is – will be the next steps for our elementary teachers is they kind of launch in their buildings to be able to do some of those classroom visits. We found some success with kind of the peer to peer messaging. When you have the messaging coming from the administrative leadership, there may be some skepticism there, but when we can find those teachers that are willing to talk about what they've implemented in their class and share that and share how they feel about the process they're going through, that's been really helpful. We made a pitch and the board agreed and gave us some additional personali– some professional development time for our staff. So, they've added three early outs to the calendar next year, recognizing that that's something that our teachers said, "We need time to be able to do this effectively. We need more time to be able to work together and to understand how to do that," and some technology training that they felt like they needed some additional time with that, and then as we planned for our full day professional development day at the beginning of the school year, looking at those grade bands and designing the time to best serve where everybody's at in the process. So, elementary, they're getting ready to launch – they're doing a lot of teacher-led sessions. Middle school is just beginning with the foundation work, so, they're there, but with high school, they're not quite there until the Spring, and, so, we've focused on what can we do to help them prepare for this initiative, and, so, we've talked a lot about change process and organizational culture and then also bringing some folks in to talk about relevant skills for the workplace that students are needing and then looking at what are our students achieving in different content areas. So, kind of prepping the mindset to get ready to start that in the Spring so that that training is not just a one size fits all, but recognizing where everybody's at – a different spot – on that process.
Tom Murray:
Yeah, very well said, and I'll give a shout out to our partners at The Learning Accelerator. If you are not aware of their website, go to The Learning Accelerator, check out their website. They have incredible resources – free online courses and things that you all can take, and I know this communications guide will be found on there as well. Janice, I want to give you the opportunity to ask a similar question related to the work you're all doing at Ed Elements and how you're supporting districts related to professional learning and the growth in all these areas. I know we're focused on the communications aspect today, but anything you want to add to that from your end?
Janice Vargo:
Yeah, I would just echo what Sharice and Katie said. I think they, as well as all the other districts in our guide, have just done a wonderful job really incorporating the teacher voice, not only into their communications efforts, but also into their professional learning efforts. So, as they said, peer to peer – one of the things that we talk about in our communications guide is who are the right messengers to deliver your key messages and often time teachers are the ones who are best positioned to talk not only to their peers, but also to the community and to their students. So, I think through involving and through having a really thoughtful and well-planned professional learning plan, both districts have been able to really elevate their teachers to be the key messengers in this work, which I think really speaks to the success that they've had thus far.
Tom Murray:
Yeah, I agree, and there's certainly various facets of communication. I know Katie was talking earlier about the internal communication and we've got district-level __________ out to the community, but then we also have what you started to refer to there as what are the teachers communicating down at that ground level, and that's vital and imperative, and this is certainly a great guidebook and resource for that. Katie, I want to go back over to along the lines of teachers, and I know we may have touched on a little bit related to PD, but as we know teachers are the most vital aspect to this work here. School leadership is right alongside that, but how has your district or school communicated with teachers to bring them on board? The professional learning we started to hit a little bit, but what's that looked like in your district to bring them on board from the communications end?
Katie Malovec:
Well, the expectation was – the initial year – was identifying those champions and then the teachers who felt encouraged to almost be risk takers to try personalized learning. We had such success, so, when I first came into Racine, one hundred percent of our classrooms in the building that I serve were one hundred percent direct instruction. So, in the three years that we've been working with Education Elements, we have seen such a huge, huge, huge, huge – I almost have seventy-five percent of our classrooms are now, I would consider, fully personalized, and twenty-five percent are using some sort of the blended format. So, we're getting there. It's really exciting, but such a – we've – just sharing the hard data, we've seen a lot of a decrease in office referrals and out of school suspensions, a huge increase in student engagement through surveys that Education Elements, as well as administration, has sent out. So, sharing that hard data with teachers I think has encouraged them to try these innovative practices to do what's best for our students. Again, just allowing teachers the time to collaborate and see it in action – so, making sure that we're communicating. I think it's also important to highlight the positive things as a coach and administration that we see the changes that we're seeing. So, we try to send out weekly e-mails in my building just to say, you know, "I saw Sharice doing this in her classroom and I saw Janice doing this in her classroom," so, teachers almost want to be highlighted and making sure that we are visiting classrooms and making sure that we're sending out that positive communication just to make sure that teachers do feel encouraged because teaching is sometimes very – it's tiring. [Laughs] So, just that – I think positive encouragement is constantly needed in our profession, and I think we are doing a really good job of it in Racine. We have a lot of teachers moving towards personalized learning in all five of our middle schools. The one building that I am fortunate to be in has made huge, huge, huge changes in the three years that I've been there.
Tom Murray:
Great. Really well said, and from a Future Ready end, one of the things we are constantly talking about in all of our free institutes and all the work that we do is that leadership in school culture really set that tone and for school leaders to create that culture of risk-taking in their building, and in areas where – in school cultures that are toxic or environments that teachers just won't take risks, and it's probably understandable in those environments, but environments were leaders are really empowering teachers to take risks and try new things and take another step forward to try something different, like I hear going on in the work that you're talking about, great things will happen. So, let's wrap up with this – I'm going to ask each of you to just share. You've got incredible expertise. You're also in different types of roles doing different – similar types of work, though. What's one piece of advice you have for our viewers? I'm sure some of our viewers today are well down the personalized learning ideal or trail and they're doing great things in their schools. Some may be putting their foot in the water a little bit and just getting started. Regardless of where somebody is on a continuum, so to say, where would you put – what advice would you have? Janice, let's start with you.
Janice Vargo:
Yeah, sure. Thanks, Tom. So, I think one piece of advice I'd share is don't reinvent the wheel. While each district and school has to consider their own context, there are some really great plans, artifacts, ideas, stories that are in our guide, as well as some additional resources on both our website and The Learning Accelerator website, which you referenced before, Tom, who have been – done really excellent work collecting some artifacts over the past few years, so, don't reinvent the wheel. Take a look at what's out there, talk to neighboring districts, reach out to districts who have been doing this work for a while, and get your at least initial ideas from them because there's some great stuff out there, and I would mention that this is not only a guide – we've been focusing a lot on personalized learning, which is I think appropriate for where many of our districts are, but it's not only great resources and a great plan and suggestions for personalized learning, but also for any education innovation or initiative that your district might be encountering.
Tom Murray:
Great. Well said, and Sharice – how about you?
Sharice Walker:
I would just say that any district that's got highly skilled communications folks – to bring them in as early in the process as you can, rather than just treating communication as an afterthought, like, "Oh, we just need to let you know that we're doing this." I think bringing them in and helping them – being part of that conversation has really helped us be a little earlier – be a little more effective in trying to help folks understand and to get feedback, and, so, if you have folks that are good communications folk, they can really help you design that plan and help you along the way.
Tom Murray:
Great, and Katie?
Katie Malovec:
I guess I'm pretty strongly – [laughs] I have a pretty strong opinion about we have to practice what we preach. So often as leaders we say what we want classrooms to look like, and we say we want these positive relationships among students, but if we don't create that culture ourselves as leaders, I don't really think that that, you know – obviously teachers can't carry that over. I also think it's vitally important that teachers see the correlation between all district initiatives, so, all of the districts that I have served in, it seems like there's always a whole plateful of initiatives and teachers really needed to understand that personalized learning was the way we do business in Racine and all of these other things that are happening all fit into personalized learning, but it – sometimes it takes the extra step of making the connections for the teachers, that they can see this is an initiative, but it's a – it matches the global thing that we're trying to do in our classrooms, and that's to do what's best for our kids.
Tom Murray:
Awesome. So well said, and no better place to end on being best for kids; that's for sure. When we think about it, final comment on our end – from a Future Ready end – the best leaders we see are also great communicators in a variety of different ways. This communication guide is absolutely incredible. It shares the stories; it shares the highlights of districts that are actually doing the work, and, so, we do encourage you to check it out. Again, one last time, the bit.ly – it's bit.ly slash PLComms, and the P, the L, and the C are capitalized. Definitely to support your work and is a great, great free tool – free resource for you all. I do want to remind our viewers that information on Future Ready itself can be found at FutureReady.org. We encourage and challenge district superintendents to join over thirty-one hundred other superintendents and sign the Future Ready district pledge. We also encourage school leaders watching today to join us at one of this year's eight Future Ready Institutes, which, as always, are completely free. We'll be in Albany, New York, in just a few weeks in mid-July, and we will also be in Palm Springs, California, in early August to kick off the first two. I want to encourage our viewers to get involved with some of our new and growing strands as well, from district leaders to IT, principals, librarians, and instructional coaches. We vastly expanded the reach of Future Ready schools and now you can even check out our Facebook groups as well and ongoing activities for the variety of strands, all totally for free. I want to thank our wonderful and very dynamic guests today, as well as thank you, our viewers, for joining us for this Future Ready webinar. Don't forget to connect with us here at Future Ready on Twitter @FutureReady and on Facebook at facebook.com/futurereadyschools. If you missed any of today's conversation, it's going to be archived on our webinar page at all4ed.org/webinars soon after this webinar. On that page, you're also going to see a list of upcoming webinars. I hope you can also check out the alliances Google Hangouts on our YouTube channel as well, and for those of you finally taking part in our action academy badging platform, the password for today's webinar is communicate – very fitting. Thank you again for joining us here at Future Ready. Have a fabulous day, a wonderful summer, and we'll see you soon. Thanks –
 [End of Audio]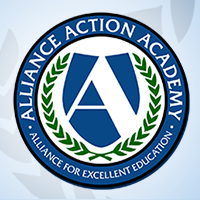 Welcome to the Alliance for Excellent Education's Action Academy, an online learning community of education advocates. We invite you to create an account, expand your knowledge on the most pressing issues in education, and communicate with others who share your interests in education reform.
Register Now
or register for Action Academy below: