Future Ready Librarians: Empowering Students as Creators

June 13, 2017
8:00 pm – 9:00 pm EDT
Future Ready Librarians:
Empowering Students as Creators
Part of the Future Ready Librarians Webinar Series
Presenters
Traci Chun, Teacher Librarian Lead, Skyview High School and Vancouver Public Schools (WA)
Diana Rendina, Media specialist, Tampa Preparatory School (FL)

Moderator
Shannon McClintock Miller, Spokesperson, Future Ready Librarians; Spokesperson, Project Connect
On June 13, 2017 Future Ready Schools® held a Webinar dealing with how school librarians can support Future Ready Schools® (FRS)? The Future Ready Librarians (FRL) program responds to this challenge by identifying specific ways librarians can lead, teach, and support personalized student learning. The FRL framework is based on research-based components used by FRS.
This webinar examined how librarians can empower students as creators. Library leaders shared how they encourage and facilitate students to become increasingly self-directed as they create digital products of their learning that engage them in critical thinking, collaboration, and authentic, real-world problem solving.
Librarians, district leaders, and all educators are invited to view this webinar to learn more about the FRL program and how Ms. Chun and Ms. Rendina are empowering students as creators.
This webinar is brought to you by FRS and Follett Project Connect.
---
Please direct questions concerning the webinar to alliance@all4ed.org. If you are unable to watch the webinar live, an archived version will be available here and at the FRS leadership hub one to two business days after the event airs.
Support for the FRL program is generously provided by Follett.
Future Ready Schools® (FRS) is a project of the Alliance for Excellent Education, a Washington, DC–based national policy, practice, and advocacy organization dedicated to ensuring that all students, particularly those traditionally underserved, graduate from high school ready for success in college, work, and citizenship.
www.all4ed.org / www.futureready.org
Follow FRS on Twitter (twitter.com/FutureReady); Facebook (facebook.com/futurereadyschools); and
on the FRS leadership hub (futureready.org/hub).
Follow Future Ready Libraries Facebook group and #FutureReadyLibs on Twitter.
---
Interested in renting the Alliance's studio or meeting space for your next meeting or webinar? Visit our facilities page to learn more.
Shannon:
Hi everybody. We are so excited to have you here for our third Future Ready Librarian Webinar. I know that a lot of you are already off for the summer and so to join us today is an honor to have you here. As always, but especially in the summer when you are so busy with other things. I'm going to go ahead and switch over to my slides quick so we can start kicking it off by introducing a few things just for Future Ready and Future Ready Librarians, and also to introduce our special guests today. Can you guys see my screen? Can you see my screen Diana?
Diana:
Yes.
Shannon:
Okay, good. Last time I did it I know that everybody couldn't see my screen so I always want to make sure. Okay, as we kick this off today everybody knows that we are going to talk about empowering students as creators. This webinar is sponsored by the Alliance for Excellent Education and by Follett and so we thank them for bringing us all together too today on this sunny afternoon.
My name is Shannon McClintock Miller. I am the Future Ready Librarian's Project Connect spokesperson and these are the ways that you can reach me. We'll all be on Twitter also watching what you are saying and participating too. You can find me on Twitter @ShannonMiller and if you need to reach out to me, my email is right there too.
I'm really excited to be able to interview two very special guests and friends, Diana, I'm going to let her choose herself in a minute, and Traci. I'm going to go back to Diana and why don't you just spend a couple seconds before we start introducing yourself.
Diane:
Okay. I'm actually going to put the slide up too just so people will see it. Give me one second and let me do that. There we go. I'm Diana Rendina and I am a media specialist, a writer and a speaker. I am currently the media specialist at Tampa Preparatory School, which is an independent 6 through 12. Before that, I spent the last seven years at Stewart Middle Magnet School where I started our maker space. I'm going to be talking about my experience at Stewart a lot.
My blog is RenovatedLearning.com. My Twitter and Instagram is @DiannaLRendina and I also just want to do a quick plug for the fact that I've written two books. Challenge-based Learning in the School Library Makerspace comes out in August. I co-wrote that with Colleen and Aaron Graves. And Reimagining Library Spaces, I wrote with ISTE and that one comes out in October.
Shannon:
Yeah, I'm so excited about those so that will be really great. Something to add to our reading list in the future so congrats on those also. Next, we have Traci.
Traci:
Hi, I'm Traci Chun and I am from Vancouver Public Schools in Vancouver, Washington which is right across the Columbia River from Portland, Oregon. Everyone always wants to put me in Canada but I am actually in Washington State. I am a teacher librarian at Skyview High School which is a comprehensive high school of ninth through twelfth graders. I'm super excited to be here with Shannon and with Diana.
Shannon:
Yeah, thank you so much for joining us today. I know that we are excited. I've heard Diana speak a few times but I'm really excited to hear your story today, Traci too.
If you have any questions today, the best thing to do is to post on our Twitter and use the hashtag #FutureReadyLives. This is where we will be watching what people are posting and if they have any questions. We also have questions that you've asked when you signed up for the webinar and so we'll be pulling from those as well. But I'll be watching the conversation as these two are sharing their stories today.
Just please remember to join the conversation that's happening not just today, but all the time using that FutureReadyLives hashtag and also check out the FutureReady hashtag as well. This is on Twitter and I'll talk a little bit more about our Facebook page. I love following it too on Instagram. It's really fun to see what people are sharing on there.
You can find out more information, if this is your very first webinar you can find more information on our website and that is located below. I'll share more too at the end of our webinar today about just how to get connected to that and learn more about the webinars that we've had already diving into Future Ready Librarians and the different pieces of the framework that we are going to talk about today.
When we look at the framework, there are 10 different gears. We've spent now, this is our third webinar that we've had and this day I'm excited because one of my favorite gears on the framework when we look at it is empower students as creators.
This is what our two special guests are going to talk about. I consider them to be experts because when we look at this and we think about students as creators, and we encourage and facilitate students to become increasingly self-directed as they create digital products of their learning that engage them in critical thinking, collaboration and authentic real-world problem solving. I know that we are going to hear a great story today about really empowering our students as creators. I'm going to let Diana take it from here.
Diana:
All right, thanks Shannon. I'm going to go ahead and share my screen. All right, like Shannon said we are going to be talking today about empowering students as creators. This is something that's been a huge passion of mine for a long time so I'm really excited about getting a chance to focus on this.
Shannon:
Diana, we can't see your screen. Can we see your screen on here?
Diane:
You can't? Oh dear.
Shannon:
Now we can.
Diana:
Okay, so when I click present, does it still show? Is it showing now?
Shannon:
Yeah. Now it's showing, yeah.
Diana:
Okay, good. Yay. Okay, so empowering students as creators. I'm going to go ahead and dive in. I want to start off by just introducing, talking about makerspaces and the concept of makerspaces. I know this is one of those things where everybody has their own definitions so I just want to get that out of the way at the beginning.
I don't think that you have to have a maker space to empower your students as creators, but I definitely think that they are amazing, incredible tools for doing that. Most of my talk is going to be framed around having a maker space in the library and using that as a way to empower you students.
The way I define makerspaces is that they are a place where students can gather to create, invent, tinker, explore and discover using a variety of tools and materials. I think this is important because, and it's a place and a mindset but I think this is important because we will need to remember that a maker space isn't necessarily about what kind of stuff you have, but it's about the experience that you are creating for students.
I really like this picture because it shows all different kinds of makerspaces. There is no one exact way a maker space is supposed to look or a specific list of things that makerspaces are supposed to have. It's just about giving your students a chance to create, make things and explore different kinds of topics.
I'm going to go ahead and start by sharing my story of the maker space I started at Stewart Little Magnet School and then I'm going to go into some more details of different things I learned along the way of creating that that really helped to empower my students to be creative.
Stewart Little Magnet School is a public STEM magnet school, which helped a lot because STEM was already a focus of the school. It's a part of the Hillsboro County Public School District, which is the eighth largest district in the country. It's grades six through eight in an urban location in downtown Tampa.
It's a title I school so about 75% of the students are on free or reduced lunch. Ethnically, the breakdown is pretty even. But as far as the breakdown of genders, it skews way more heavily male than female. Which became something that I was really passionate about, engaging my female students more in STEM.
With that kind of background information so you know little bit more about Stuart, when I first started in March of 2010 this was what the library looked like. It was pretty much kind of an ordinary middle school library. Not the most exciting in the world. But what really frustrated me when I first started is that my school was a STEM magnet school but there was hardly anything in the library to tell you that's where you were.
There was no chance to have any hands-on STEM learning. There were a couple of really cool displays, which this one is a plane engine. I'll go ahead and explain that now otherwise no one will know what it is. Other than that, there wasn't really anything else. I wanted to find a way to bring hands-on STEM learning and to bring creativity to my library too.
I didn't put a slide in here about this but the year after I started we cut our classes at my school. Another thing was that I really wanted to have someplace for my students to have a creative outlet.
Around late 2013-early 2014 I started hearing about this thing called the maker movement and how people were starting makerspaces in schools. I knew right away that this was going to be exactly what we needed for Stewart so I started reaching. At the time, there wasn't a whole lot of information out there but I read these books. I looked at Laura Fleming's awesome blog. I went to local makerspaces and I just looked at any information I could find to get ideas for what I wanted to do in this space in our library.
I started to share my vision of starting a maker space with pretty much anyone who would listen and eventually I found out from one of our science teachers that we had these Connects in one of our storage rooms. They donated them to the library. I dusted them off and with the encouragement of some of my friends on Twitter I went ahead and just put them out so that we could see what would happen.
This picture is literally the first hour of our maker space. I just took them and put them out on some library tables during lunch one day and my students immediately gravitated to them. They started making things and building things. There were smiles all over and I knew that we were on to something big.
I started working with a group of students to plan how we would start our maker space and how he would continue to grow what we had started with the Connects. One thing my students really emphasized to me is that they wanted to have a specific area of the library where we could always have all of our maker space stuff out. When it was out on the tables I would have to put it away whatever we had a program or whatever I was teaching. They said they wanted to be able to get that stuff no matter what was happening.
So with that group of students we decided to clear out this corner. We did a lot of weeding. The collection was really, really out of date and there was a couple of thousand books that literally had not checked out since I was born. After I weeded the collection really heavily we were able to move some of that wall shelving and clear out that corner.
Then we also got a grant, this was the summer of 2014. We got a grant for paint and we did some DonorsChoose projects and eventually we were able to transform that corner into our maker space. The space kind of grew out. It took maybe about 6 to 8 months from when we first started to kind of build it into the space where we would have things like a Lego wall and a whiteboard wall. We had more maker supplies in the back and it really became an integral part of our library program.
Now that we've got that background, I want to go into a little bit about how you can empower your students. I do want to emphasize here that you don't have to have a fully tricked out maker space to empower your students. There's lots of things you can do no matter where you are at. Remember, I just started with a couple bins of Connects on a library table. We didn't have all of this to start with. But there's a lot of things that you can do no matter where you are at two empower your students as creators.
One thing I think is really powerful is to give your students opportunities to manipulate their environment. A lot of library spaces and a lot of school spaces, when you enter it kind of feels like you are not allowed to touch anything and you are not allowed to move anything and we don't want our libraries to be spaces like that. We want our environments to be flexible. We want them to be student friendly and we also want to allow for student voice in that space.
The Lego wall is definitely one of my students' favorite spaces for that because they can immediately add stuff to it and change it. Another one of their favorites is the whiteboard wall. Which this one we just did using whiteboard paint that we got through DonorsChoose.
What I love about this space is that it's truly the students' space. You can see there that there's doodles, there's people writing little quotes, people commenting on other people's creations. Some days there's lots of hashtags. But the point is that it's their space and by letting it be their space, it gives them a creative outlet and creative freedom to do pretty much whatever they want in the space and really make it their own.
If we want our students to be creators we have to allow room for them to play. I think play is one of those things where people in elementary school get it for the most part. But then in middle and high school a lot of people see play as something that isn't really serious. Or isn't really academic and it's kind of looked down upon.
But what I found with my students is that when I give them opportunities to play and opportunities to just kind of goof off and have fun, they come up with some of their most amazing creative ideas. I really love this quote from Fred Rogers, who was the guy from Mr. Rogers Neighborhood. He explains that play is often talked about as if it were a relief from serious learning. But for children play is serious learning. Play is really the work of childhood.
This is one of my favorite quotes to bring up any time people you know, if they come into the library like, "Oh, the kids are just playing with Legos." Or, "Oh, they are just playing around with cardboard. They are not really learning anything." They are learning. It's very serious and it is serious. Especially for those students as they are working on those projects.
One of my favorite examples of this is whenever I talk to my seven-year-old nephew about Minecraft. You know that that Minecraft is serious learning for him and he will talk to you for hours about his Minecraft worlds. So giving students opportunities to play is a great way to empower those creators.
Another way that we can empower our students is to try to find ways to be more about creation and less about consumption. We live in a very consumer driven world. It's very easy for us to just go out and buy whatever we need. But when you can empower your students to make something and not have to go out and buy something that's a really powerful lesson for students that a lot of times they just don't even realize that there's things that they can easily make and not have to go and buy. So whenever possible I try to find opportunities to give my students chances to create things that are useful.
We also want to honor our students' creations. This one is one of my favorites and I think it's also one of the easiest ones for anyone to do. If we want our students to be creative we need to show that we respect the things that they make. We need to show that those are significant.
At Stewart, we had a whole section of the library where it was just the top of the bookshelf where we would post our different student projects. So students would add projects to it. We would have little signs about their projects. We also took one of the trophy cases outside of the library and we commandeered it and made it the Makerspace Hall of Fame. It was just all of my students' projects out on display so anyone walking by could see them.
This picture I really love too and this is something I haven't done yet but I want to try. This was at an art gallery in Winnipeg in Canada where they had actually taken students' creations from a local stool and the students wrote artist statements about their creations. They displayed these along with other world-class art exhibits in this gallery and I just thought that was really awesome to show those students that their work was important enough to be posted alongside all this other artwork.
I know slime is not a very popular thing right now. But if we want our students to be creative we need to let them get messy. This is something, whenever I talk about makerspaces with people I always kind of give this warning and disclaimer that if you're the type of librarian or the type of educator that likes your space to be perfectly clean, neat and orderly you probably shouldn't start a maker space.
Makerspaces are going to be messy. Creative learning is going to be messy. But students learn through that mess and when they know they have permission to get messy, when it's okay if something falls on the floor or if a little bit of cardboard dust gets around the library as they are cutting up cardboard for a project then they are going to be more creative.
If they are constantly worried about whether or not the space is tidy enough or if they are worried about getting fussed at for stuff being in a disarray and disorganized, they are not going to be as creative.
We want to give our students permission to make mistakes. I know failure is one of those weird things that's kind of little controversial in education right now. Some people for grit and some people for persistence. But whatever works for you. You want to give your students room to make mistakes. You want to make it okay for them to make a project that doesn't work perfectly the first time.
This is something that I've seen over and over again with my students at Stewart. This one in particular was really awesome because he made this amazing little dolly for a camera and like five seconds after I took this picture, if you look at that back leg of it, the whole thing fell apart. This student didn't get upset and he didn't get frustrated or just abandon the whole project. He just kept rebuilding it and kept remaking it and it was totally okay. There was no stress or no worry about the fact that it didn't work.
If we want our students to be creative and we want to empower them as creators, we need to give them opportunities to tell their stories. This is something I would see over and over again and it just always amazed me every time. How much creativity and storytelling really come together.
Every time my students built some project, whether it was a brand-new sixth-grader are one of my most jaded eighth-graders, they always had some kind of story behind their projects. I think it's really important if we want to empower our students to give them opportunities to tell those stories to us and to also tell those stories to other students and to peers through social media or through videoconferencing. In some way just to give them a chance to get their stories out there.
This project in particular, the students talked to me about it for a good 10 or 15 minutes and it was this rocket and launchpad system that they had been working on for days. They were explaining how the rocket had a satellite and how it would be fueled by this solar power station and all of these details of how it worked. To just a passerby it just looked like a really cool project. But to them it had an important story behind it that needed to be told.
If we want to empower students we also need to give them opportunities to be the teachers. This one, I see over and over again and it's so important. Our students, when they make things and when they learn how to do things, they want to share that knowledge with others. We need to empower them and give them opportunities to teach and to share.
One of my favorite things for doing this was having a maker fair every year and at that maker fair, my students ran the whole show. They were teaching teachers. They were teaching other students. Anyone who would pretty much listen to them. They would explain how things worked. They would explain the design process behind things and that was a very empowering moment for them.
In addition to letting our students teach, we also need to learn along with them. This is something that I think is really important. A lot of people when they see the stuff that I've done in my maker space and when they hear about this stuff, they assume that I've got some kind of like science background. Or that I've been like tinkering with circuits forever.
But I was a sociology major before I went to library school. I had no idea how a circuit was completed. Or what conductivity really was. I had done some crafting and some Legos and stuff like that but I really didn't know all the science-y stuff. So when we built this maker space, I was learning along with the kids.
Sometimes we would get something new and they would ask me how to use it and I would just say, "Well let's find out." So we would learn how to drive Sphero together. We would learn how to troubleshoot a 3-D printer together. That's a powerful experience for kids too because they need to see that their teachers are learning too and that we never stop learning.
To help our students be creative sometimes we have to spend time specifically focusing on the skills that they are going to need. This is one of those maker space things where a lot of times people think it's not as creative if you are doing a workshop where everyone learns the same skill.
But what I've found is that when you empower students by teaching them a specific skill, they can then take that skill and apply it to other projects and be more creative with it. It's just like when I learned how to knit and I had to start with the basic stitches of nits and pearls and following along with patterns. But then once I got that basic skill set, then I could just go and make my own projects and I didn't have to worry about specific direction.
If we want our students to be creative, we need to give them challenges to solve. This one is probably one of my favorite things. Giving students different kinds of design challenges. Which is why I wrote a book about it. But when you give students a challenge, when you give them a prompt, the projects that they come up with are just amazing.
This one here, I'm going to be posting about it on my blog in a few weeks. But it was a collaboration we did where the challenge was to design a piece of furniture that could help a library to start a maker space. The solutions that my students came up with were amazing. Which is another part of using design challenges. You allow for divergent solutions.
Students can come up with any kind of solution that works for them and it's not going to be something where we all design the same identical birdhouse. They came up with all kinds of crazy designs. One had a hot glue gun station. Another student built a charging cart. One student built this really cool modular cabinet that can open up and flip out and had all the storage. That all came from just that one design challenge prompt to make a piece of furniture for a library maker space.
I'm about to wrap up my part of it and then I'm going to pass this along. But what I want to challenge you with is to think about how you will empower creativity in your students. I'm going to stop screen sharing and pass it along.
Shannon:
Thank you so much. There's been some questions and I've been jotting some notes down. I think what we'll do is we'll let Traci speak and then we'll ask questions. But I always love hearing your story. I think Diana and I started out about the same time with our makerspaces and very similar, did a lot of things with not a lot of money and a space that we could do a few changes to creatively.
I love that message always that you have, Diana in really empowering your kids so thank you for sharing that. Let's now, we are going to switch things again and Traci, it is your turn to take over.
Traci:
Well thank you. It's so exciting to listen to Diana and it really makes me want to go back and be one of her students. Thank you for having me. Once again, I'm Traci Chun and I'm at Skyview High School in Vancouver, Washington. You can see my Twitter handle is there on my first slide there. It's pretty basic, just @TraciChun.
I am also fairly new to the making and the maker space game and so I really wanted to talk during my presentation about how you can use creation and those types of wonderful, amazing opportunities for students in libraries. But also how you can get out beyond those library walls.
Shannon:
Traci?
Traci:
Yeah.
Shannon:
Can you share your screens over.
Traci:
I am sharing. Oh, oh, present, sorry.
Shannon:
There you go.
Traci:
Yes. Okay, sorry.
Shannon:
There you go.
Traci:
Can you hear me? Okay. I think that enabling students to move from that consumption piece, like Diana said, to creation is really multilayered. I think it's providing them with opportunities in a maker space or any library or classroom. But also re-thinking about building culture and the culture in your school and in your library.
So asking yourself, your staff and your students the questions of how do we want to know that they've learned this material? How do we know that they have the skills? And then looking at new and different ways for those students to share those things.
I think, like Diana touched on it, in elementary school kids are always excited and they want to create. But as our kids get older we have to take the time to teach them how to create. By doing that we also have to also offer them opportunities.
When my district moved to one to one devices, I quickly realized… we are an iPad district. Right now, currently grades 5 through 12, and next year it will include third and fourth graders as well. So once we moved to having iPads I realized that students weren't coming to my library like they did in the past.
They didn't need me and they didn't need the space because they had the answers. They had resources at their fingertips. I think I was worried about becoming a book museum and so I had to really think about my program and revamp a lot of things.
I did some research and I learned from people, like Diana, Shannon, Laura Fleming and some other people that I reached out to over Twitter and I decided to also create a maker space in my library.
This used to be a computer lab you can see in the picture and now it is our maker space area. But like Diana said, I don't think you need a dedicated space in order to encourage creation and I'm going to talk about that a little bit. I'm only going to talk about my maker space for a few slides.
As students get older, as you know, and even some of our younger students, when things that they create don't look the same as others, they tend to get embarrassed. So you have a kindergartner or first grader and they draw or they create something and they are proud of it no matter what. As kids get older, they look around and if their item, their design or creation, isn't the same, they kind of get embarrassed or they don't want to do it.
So when I opened my maker space I was shocked at how many kids asked for directions. I thought, I was naïve and thought okay, I'm going to put out all those art supplies, I'm going to put out a sewing machine and kids are just going to jump right in. They wanted to and they were excited but they also, they wanted a little bit of guidance and so I quickly learned that I needed to provide them with some guidance.
But the cool thing about a library, and this is why I think it's so important that we be on the forefront of enabling students as creators, is that libraries, as you know, are for everyone. They are that bridge. They are the equalizer in that you can provide opportunities for students that they don't have anywhere else.
For example, a sewing machine. Maybe they don't have one at home and they've never been exposed to it. Maybe you are doing a coding opportunity and kids are learning some computer coding. They don't want to sign up for an AP computer science class because they don't even know if they like it. But by letting them try little things in your library, you are giving them the opportunity to have those opportunities and you are opening a ton of doors for those students.
I was also fortunate enough to apply for and receive a grant. This is the other side of my maker space, which is kind of the tech side. Digital Promise had a learning studio grant and it provided my maker space with a ton of technology. You can see I have a 3-D printer, an HP Sprout computer. It came with some laptops and it also came with a community of educators across the globe to kind of talk with, share and kind of work together on different projects and challenges.
This really helped me. Because I was like, "Man, I…" I had no idea how to work a 3-D printer and so I learned right alongside the students. What really impressed me with our students was they started working on designs that had a greater purpose and that really the projects were about making our community better.
For example, on the 3-D printer they designed and made little stops for the bottom of chairs so that I wouldn't have wiggly chairs anymore. They were so proud of it. Obviously, they wanted to make fidget spinners too but for the most part they were using the technology to create things that helped our community and helped other students.
I understand not everyone can have a 3-D printer, especially those of you in elementary school, it may not be reasonable to have a 3-D printer. Or have the latest gadget. But it doesn't mean that you can't have students as creators.
Here's an example of a take apart station where students can take apart things and they can see how they were made. But they can also make things out of the pieces. My kids have taken apart a video camera, a phone, a boombox. The really cool part is they get to use screwdrivers and tools.
I know in elementary school in my district another amazing librarian, Bobbie Lowe, she had a take apart station and she runs out of things for her kids to take apart every week because they are so excited to come in and use a screwdriver and just kind of mess with stuff. I even had a student who took random pieces of that video camera, hot glued them together and made a little robot mini-action figure which was pretty funny.
Basic art supplies. I know that that seems kind of silly and ridiculous but origami paper and scissors or regular paper are pretty exciting. Once again, having libraries be about equity. Some of our students don't have those things at home and we take that for granted sometimes. By having those available to them in the library I think you are really bridging the gap between the haves and the have-nots.
We also have a Makey Makey. On the picture on the left you'll see a student is, he's actually playing Pac-Man using the Makey Makey and Play-Doh. Makey Makey's are a little kind of Arduino invention kit that allow students to use the computer in different ways. I think a lot of people thought I was crazy for having them at the high school level. But if it gets kids excited about learning and seeing how things work and creating things, I'm all for it.
This was great. It was really exciting. I had this maker space and I had kids coming in on a regular basis. But that was about 3 to 400 of my students who truck in to the library on a daily or semi-regular basis. But what about the rest of my students? They definitely were seeing me sometimes when I would come to their classes or if they would come for textbooks, but they weren't getting that creativity piece. So I had to kind of think outside the box on how I was going to reach those students.
Also, you might be a school where you don't have the space in your library to have a maker space. Or you maybe don't have the support. Maybe your leadership or your staff thinks that you are crazy for wanting a maker space. There are a lot of other ways you can encourage students to become creators and really support those four C's of 21st century learning.
What we did then, we started looking at what are teachers doing in the classroom and what can I do to collaborate with them to help move them along to that creation. One thing we did is we offered staff PD opportunities with our teachers to try to build capacity with them.
We all know teachers are extremely busy and they never have enough time. PD is always offered at the worst times. It's in June when people are tired and they're ready to go home for the summer. Or it's August or September and they are worried about getting their curriculum planned for the year.
But we, myself, technology team and my building principal really thought that this was important work and so they were willing to give us staff development time during staff meetings. We were in a really unique situation where we were able to commandeer one or two staff meetings a month to really focus on technology, creation and just kind of thinking about the ways that we are helping our students.
What we really started was, we started by asking questions to our teachers. What are you doing? Have you tried something different? Are you using technology in new and creative ways? Are you doing project-based learning? This gave us an idea of what they were currently doing and it also gave us some built-in experts.
So the pictures you are seeing, we had a staff meeting where we had four different stations and the teachers were students. They got to walk around and see four different presentations. Four different teachers presenting a creation tool that they were using in their classroom so they could see how they could implement it too. It took a little bit of coordinating but we had teachers leading teachers and so credibility and engagement were incredible.
A few other ways. We offer a carousel model. Like I said, my building leadership is incredible and offered us the opportunity to take over some staff meetings and so we started doing a carousel model. We know how important it is for students to have choice. If we give teachers choice I think we are going to get that same amount of buy-in.
The carousel model gives teachers two or three options. Sometimes four, depending on what is being offered and they choose the session that they attend. Sometimes it's me that is leading it. Sometimes it's a teacher. Sometimes it's my instructional technology facilitator. Sometimes it's a combination.
But what we found was that teachers were really willing to try new things because they had a little bit of training. But they also had experts that they could seek out if they needed help to try these new projects or project-based learning activities or creation opportunities with their students because they had a little bit of confidence.
The other option that we used to do when we kind of started way back when was tech in five. It doesn't have to be tech. It can be creation in five or project-based learning in five. You can start by asking for five minutes of the staff meeting and just share a cool new tip. Or a way that you can help or collaborate.
You can even invite teachers to share if they have something that they want to share and they are excited about. Five minutes is a perked amount of time to get them excited about something and the ones that are really going to use it and want to learn more about it will seek you out.
Then a showcase. Like Diana talked about, it's so important that student creations are shared and on display. One idea we had that we are trying to implement school wide here is having students talk about their creations with their teachers. Student displays are great in our commons where students can see other student work but we really wanted teachers to see it.
They begin to see that passion and excitement that a student has for another class because of a cool project they are doing. Hopefully that teachers sees that and thinks wow, that student is so excited about history. I want them to be excited about math. Maybe I can do some of those cool projects in my class too.
Think about quality. If students know that one person is going to see their project the effort level is a certain level. But if they know that 1,000 people are going to see that project, that effort level goes up significantly and that is pretty powerful.
I'm a big fan of getting out beyond those library walls. I think that there is so much to see and do in each of your buildings that you've got to move out beyond those walls of your library. We all know that the library itself is just a place and what makes it special is the staff and the teacher librarian or the media specialist that is actually the one that makes that space so special and amazing. Don't be afraid to move that awesomeness outside those library walls.
I had a librarian who complained to me a couple weeks ago that her library was going to be closed for state testing. She was really frustrated because she felt like her program was going to be on hold. I just kind of had to remind her and be her true leader and say, "It doesn't have to be. Move into the classroom."
There's all kinds of benefits. Students see you as a teacher. A teacher of everything, not just library land. It's a great way to collaborate. You can see what's going on in your building. You can look for ways that you can help. You can look for things to build your program around and look for ways that you can help teachers enable their students as creators.
In VPS, our motto this year was based on a TED talk by the girls who code creator. She has an argument that we should be teaching girls to be brave, not perfect. That was our fight song this year, was to be brave, not perfect.
We encouraged each other to try something new as librarians and I think that everyone just kind of needs a reminder that it's okay to be brave. It's okay to try something new and it's okay to fail. Like Diana said, it's okay to fail at some things. But the library and you as teacher librarians is really the perfect place to model, encourage and inspire.
We talked a lot about creation being high-tech and low-tech and so just a couple of reminders. It can be simple. This is an origami wall that our students created. We had a knitting group that met after school. All with donated things. So PTA, your community. Being brave doesn't have to be you are shooting a feature film in your library. It can be very simple. It can be even you, like Diana said, learning along with your students. Maybe you are drawing a picture.
But creation can be techy. These are students working on a project. One is for English and one is for AP art history. They are using Adobe apps to create interactive presentations. Instead of doing an essay or instead of doing a PowerPoint, they are doing something that is a little bit more creative. They are adding their voice. They are adding video. They are adding music.
That's the beauty of creation. Is you can go low-tech, you can go high-tech. As long as you start with that mindset that creation is important and in no time you are going to have that culture.
I know Diana talked about student voice and how important it is. This is in iMotion. These are samples of iMotion where students had to build the set. They had to write a story. Or choose a story. They had to write a script. They had to put it all together. It did require some technology. But the bigger picture is that they had tremendous pride in their work and they were so excited. They actually put more time into these projects then was even required because they were so excited to be doing this work.
We also did a little work with Hummingbird Robotics. If you have not heard of or seen a Hummingbird Robotic kit, it's by BirdBrain Technologies. I highly recommend you check them out. They are a great tool to connect curriculum to technology and to creation.
This is a sample. Obviously, it's based on Charlotte's Web and it's a robot. If this was a video you would see Charlotte move and Templeton ate the rotten egg. But it's been really fun learning how to use these with students. In fact, our district saw how powerful these were and actually purchased enough so that we have rotating kits.
So try new things. I know that BirdBrain has, it's too late now but next year they have a loaner program for some of their robots, which is an amazing opportunity. So just kind of getting out there and seeing what you can see.
Creation does not have to be high-tech. I think my most popular creation project we did during lunch time this year was probably the duct tape project. They could make a duct tape rose or a duct tape wallet. Once again, donated supplies. It doesn't have to be super high tech. It could be as simple as sewing, Legos, Play-Doh, creating something with duct tape. We did Scrabble tiles. We got a bunch of Scrabble tiles donated and kids made Valentines. It's all pretty fun and amazing.
I'm not sure if you guys have seen this. I found this on Creative Commons. It's a new version of Bloom's Taxonomy. I got really excited when I saw what was at the very top because it's creating and looking at what it takes to get there. As Diana said in her part, play is important. It is learning. This just shows that creating and creation is important. It is important work.
I'm currently reading a book that is called Most Likely to Succeed: Preparing Our Kids for the Innovation Era. At the beginning, they talk about how companies are struggling to find employees who can be creative problem solvers. They are smart, they are well prepared but they don't have those creative skills. By enabling our students as creators, we have the opportunity and the chance to change that. I think that's super exciting and very powerful.
I do believe that we are on this exciting journey together. I would not have a maker space or be teaming with teachers the way that I have been if it wasn't for people like Diana, Shannon, Laura Fleming and several others who were brave enough to share their stories and inspire others. I think it's really easy for us to be isolated, I've been known to call myself an island, because we are the only person in our building doing our work.
It's easy to forget that there is a whole world out there of people who want to help. I really encourage people to build a professional or personal learning network. Join the Future Ready Librarians Facebook group. Follow people on Twitter. We really can work together to provide amazing opportunities for our students. And share. I learned something almost every day that I want to implement in my own library from somebody else from across the globe.
Feel free to reach out. I'm going to speak for Diana too. But share what works for you. But ask for help when it doesn't work out. Most importantly, be brave because all of our students deserve a chance to be creators.
Shannon:
Thank you so much.
Traci:
I'm going to flip back. I'm going to end my screen share. Am I back? No?
Shannon:
You keep working. I'm going to ask a question about that. There you are. Okay.
Traci:
Yay.
Shannon:
That was awesome and I love… now I've taken even more notes. I think that one of the things too that really stood out to me, you said a lot, just as us as Future Ready Librarians is be brave and we don't have to be perfect. I think that motto is something that, not just talking about our kids too being creators.
I think that that's something that I saw. Especially when I was working with my kids in my maker space. Just a place to let them be safe and fail and take chances and be brave. That all comes from it too. Working with K-12 kids in my school in maker space, the things that I saw just from that aspect was really inspiring to me too as a teacher and librarian so I appreciate your story.
I'm going to ask you guys a couple of questions. A lot of them have been coming in and we'll take time to, the ones that pop up on our Twitter chat, to go back and you guys can answer some of those and chime in too because I think people will appreciate that. But one that really stood out for me was, are you ever asked to collect data on your maker space? Do students reflect in any way? That's a question that I hear a lot. Any comments on that?
Traci: I know that I have collected some data. I don't really get asked for it but I kind of collect it for my own growth mindset to say like okay, we tried this project or it didn't really work out, maybe next year I need to do something different. I think the most important data you can have is to students. Like Diana talked about, asking students what they wanted to see.
I do know that there are a lot of librarians who use data in terms of how many students are coming, what kinds of projects they are doing and what class is it tying to. But my personal thing is, most of my data is more designed around what kind of project should I offer.
Diana: Right. I'll tackle this one too. For me, I come from a sociology background so data is kind of a thing we talk about a lot. But I like qualitative data more than quantitative so I don't really do much in terms of numbers. Like I'm not going to say that my maker space improves my students' test scores on this test by this percentage. Or say that it co-relates with my circulation.
But for me the data is more getting my students to reflect on it and asking them what did you think? What was your experience like? I try to build in reflection a lot. Sometimes we'll do, I created a worksheet based around the design process. I'm not normally a big fan of worksheets but in my maker space. I'll have the kids document their learning process. That's a good learning tool for them because they can kind of see how their designs are shaped and formed.
The other data that I really like to do is usually whatever we are doing a specific challenge or a project, a lot of times it will be with my afterschool club. Sometimes it will be with the class. I'll film the students explaining their projects and talking about it.
For me, that's some of the best data when I can hear the students talk about their learning process and what they discovered along the way. Then I can show that video to my administration and to me that's the best proof of the learning that's happening in the maker space.
Shannon:
That's so true. That's so interesting. I would love to hear them talk about their projects too. I had a student that made a YouTube channel of him and the 3-D printer. That was always a good reflection and something to share with the community and in our leaders within the school too which was pretty powerful.
Another one, and this is the last one I'll ask so I can go through a few things at the end, is, and this is one that comes up all the time and I think it's difficult for all of us. But how do you schedule the use of your space? Five hundred kids that want to use your space in one day.
Diana:
All right, I guess I'll go ahead and tackle this one first. For my library, and every library is going to have a different situation. But for my school we were on a flexible schedule so students were coming into the library throughout the day.
I would have a lot that would just come on passes from their teachers. I actually at my school made custom library passes with checkboxes for why they were coming because my teachers would never actually write down why they were coming to the library. One of the checkboxes was maker space.
That kind of became an incentive for a lot of my teachers where they would offer a maker space pass to students for good behavior or improved grades. Some students that they would have difficulties with in their class, the maker space was that great carrot on a stick that would get them to focus so that they could get to have that opportunity to come.
We also did during school clubs, which I would have groups come in. I ran an afterschool club, which was the Stewart Makers Club, once a week. That was the group where I really did a lot of in-depth projects. We also had a STEM girls club that would meet about once a month and that was just girls. We would meet during lunches. A lot of times I schedule stuff during lunch because that's when the students have time. I would also collaborate with teachers and we would kind of combine maker space projects into the collaborations that we were doing.
Shannon:
All great ideas. How about you, Traci?
Traci:
Mine is very similar. I am open before school and during lunch, and then a few days a week after school for a little while. But I have kind of a hybrid model too. There are some students who come in with a pass that is very specific. They are working on a project. They need to come to the maker space to use the tools or use the equipment. Or they need a creative place to work.
Then we have specific projects. For example, we did a cookie-cutter project where students were designing their cookie-cutter. That was mostly an afterschool activity. Kids would come in during lunch and work on it. But yeah, mostly lunch. Most of it is student choice time.
I do have some collaboration with some teachers that will schedule time to come in. I'm also on a flexible schedule. So a teacher will say hey, my students are working on this and I want to do some… can we plan a unit together? Can we come into the maker space?
But I think you have to have, in a perfect world, you have both. You have some time in your maker space where students are choosing to be there and time when maybe they are there with a class.
Shannon:
Yeah. Great ideas. It's always fun too, my kids, they have like a schedule that they organically made up and shared. It was great because we don't have to, I think one great thing about libraries, our makerspaces is let the kids help with those type of things too because that part can be pretty overwhelming managing all that. They came up with this great kind of method and way to use the schedule creatively. Which was fun and easier for me.
I appreciate your story so much and I know that everybody, I've been getting some nice comments on how they have loved listening to what you have to share and I know there's more questions on there too. Keep them coming and we'll keep these conversations going.
I'll share a couple places now, I'm going to share my screen again, to show you where we can keep these conversations going. Just a few important keys to really share to end our time together today. I wanted to share the Future Ready Librarian Facebook page. This is part of the Future Ready Schools page.
On here there is a lot of information and different articles that are being pulled. There are things that maybe people are presenting. One of the best things too, to be able to just share with your administrators and your schools and yourself, especially as you are setting goals this summer is that library impact sheet. You can find that right on the website too. If you are wondering where to find the framework and the picture of the gears then you'll be able to pull it off of there too.
We actually last week also, we had a request from someone and so I put it out there to Follett and to the alliance and we've created some really awesome posters that we are going to have available. Those are going to be awesome to be able to hang up in your library and show off all of your Future Ready skills too.
Also on our Twitter, just on that hashtag that I mentioned in the beginning, FutureReadyLives, we share on their just like we do with TL Chat and these two conversations are so wonderful for us just in the teacher library world. But also to share with administrators to see what is happening within libraries. Future Ready has their very own Twitter handle and I love following this too. This is kind of what my TweetDeck looks like when I'm following the Future Ready Librarians conversation.
Now the Future Ready Librarians Facebook page is a great place to connect. If you are not on it yet, please get on it because we have just hundreds and hundreds of people that have connected and the conversations are so inspiring. A lot of them focus around, I was taking a glance at them today, around making and empowering our kids as creators.
Whenever you have a question, and I'm going to post a couple of questions after our webinar today to just keep this conversation going, please reach out and ask us. If you have ideas that you want to share, it's a great place to be able to do that with a great group of people. We have a great tribe going on there.
Also on our Instagram. I know that Diana said she loves to use Instagram and I love to follow her on Instagram like a lot of other friends that are on here. But using the hashtag #FutureReadyLives is a great way to just tag some of these things that you are doing and things that you want to show off, show us and celebrate as well.
The stickers, just to be able to say that you are Future Ready, Bob has created these and there is a great place to go to be able to get these and add them to either, like your blog or your email to just show your support and show that you are a Future Ready Librarian.
We also have a Pinterest board. The Pinterest board isn't just me pinning, it's several people that are putting good things on here and so please feel free to either send them over to me or ask to be a collaborator because those are really great to be able to share too.
Today's webinar will all be on the alliance website. I'll also posted on my blog and Follett will post it in Follett Community. It's just like the webinars that we have had. These are going to be up for ever and if you missed it today or if you want to maybe share it with other people within your network or your school, please share that with them.
One thing new that we have now, once you sign up, you will get a certificate of participation for the webinar and so once you have signed up and participated you'll be able to download that too to say that you participated with us in the webinar today.
The fourth webinar, I'm excited, is coming up in August and it is going to be on August 15 at the same time, 4 PM Eastern. We are going to talk about designing collaborative spaces. That's going to be one with also awesome guests and stories to be able to share.
Just to go back too, if you have missed the first couple, the first one was in February on Valentine's Day. It was great because we kind of just talked about an overview of Future Ready Librarians and my friends, Mark Ray, Tom Murray and also Kristen Mattson in Illinois. We had a great conversation of what that looked like. Especially within Mark and Kristen's library. Traci works with Mark and so that's a great connection to have too. The second one, just to recap, was leading beyond the library. So another great one to try out.
We also have our Future Ready institutes that are coming up. They kick off in July and so please check those out. These are free two date institutes that Future Ready Schools are sponsoring. Future Ready Librarians, of course, are a big part of that and so Mark and I will be at these. We are kind of splitting them up. They run from July until November and so you can check those out at that website there.
Like I said, please take part in the conversation. I think that is the power of our network and just leading beyond the library, which is one of our gears but also I think encompasses everything that we do just to be future ready for ourselves, our kids, for our schools and education.
Thank you for joining us today and thank you so much Diana and Traci for sharing your stories. You are both so inspiring to all of us. We hope you join us in August and have a great summer everyone.
[End of Audio]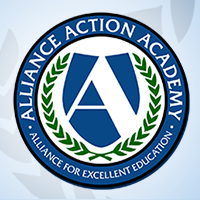 Welcome to the Alliance for Excellent Education's Action Academy, an online learning community of education advocates. We invite you to create an account, expand your knowledge on the most pressing issues in education, and communicate with others who share your interests in education reform.
Register Now
or register for Action Academy below: