I'm Charged: How to Become a Student-Centered Learning Ambassador

September 28, 2018
6:00 pm – 6:45 pm EDT
YouTube Live
Future Ready Schools® Invites You to Participate in a Webinar
I'm Charged: How to Become a Student-Centered Learning Ambassador
Panelists
Mark D. Benigni, Ed.D., Superintendent of Schools, Meriden Public Schools (CT) (@mpsbenigni)
Barbara A. Haeffner, Director of Curriculum and Instructional Technology, Meriden Public Schools (CT) (@bhaeffner)
Lianne Gerety, Grade 6 Writing Teacher, Meriden Public Schools (CT)
Moderator
Tom Murray, Director of Innovation for Future Ready Schools®, Alliance for Excellent Education (@thomascmurray )
On September 28, 2018 Future Ready Schools® (FRS) held a webinar that is part of its Leadership Hub, a one-stop-shop of professional learning opportunities for school leaders.
Meriden Public Schools is engaged in a digital transformation that supports student-centered learning by supporting personalized professional learning for their teachers. The district developed an "I'm Charged" initiative that recognizes teachers who meaningfully integrate technology into the classroom as evidenced by its eleven I'm Charged! Initiative Criteria.
In this webinar, representatives from Meriden School District shared how they are using the  initiative to support personalized professional learning for teachers while also leading a digital transition to meaningfully integrate technology into the classroom.
The panelists discussed why they adopted the "I'm Charged" initiative and describe how other interested school districts could do the same. They also discussed why teachers should want to take on this responsibility and how they can support their colleagues. They also described what it means to be in an "I'm Charged" classroom. Spoiler alert: It's awesome! Click here for examples.
---
Please direct questions concerning the webinar to ldossin@all4ed.org. If you are unable to watch the webinar live, please register to receive the video archive directly in your inbox.
---
Future Ready Schools® is a project of the Alliance for Excellent Education (All4Ed), a Washington, DC–based national policy, practice, and advocacy organization dedicated to ensuring that all students, particularly those underperforming and those traditionally underserved, graduate from high school ready for success in college, work, and citizenship.
 Follow FRS on Twitter (twitter.com/FutureReady); Facebook (facebook.com/futurereadyschools); and the FRS Leadership Hub (futureready.org/hub).
---
If you are interested in renting the Alliance's facilities for your next meeting or webinar, please visit our facilities page to learn more.
Tom Murray: Hello, I'm Tom Murray, the Director of Innovation for Future Ready Schools , a project of the Alliance for Excellent Education located in Washington, D.C.
Future Ready Schools is a collaboration between the alliance and a vast coalition of over 60 other national and regional organizations.
The goal of Future Ready Schools is to maximize digital learning opportunities and help school districts move quickly towards student-centered learning. The effort provides districts with resources and support to ensure that local technology and digital learning plans align with instructional best practices, are implemented by highly-trained teachers, and maximize personalized learning experiences for all students, particularly those from traditionally underserved communities.
The hashtag for today's webinar is Future Ready. Thank you for making an investment and joining us today. I'm going to be your host on the webinar called "I'm Charged: How to Become a Student-Centered Learning Ambassador".
With me today are four incredible folks that I'm excited to hear from. Mark Benigni is the Superintendent of Schools. Barbara Haeffner is the Director of Curriculum, Instruction, and Technology, Lianne Gerety is the grade six writing teacher, and our special guest today is Nylina Ortano, a seventh-grade student from Meriden Public Schools in Connecticut.
Thank you so much for joining us, the four of you. I'm so excited to hear about your story today. Truly it is an honor. Can you all take a moment to introduce yourself?
Mark, can I start with you? Can we just hear from each of you for just a moment?
Mark D. Benigni: Sure, thanks, Tom. Thanks for having us on the show. I'm Mark Benigni, a proud Superintendent of the Meriden Public Schools. This is year nine for me in Meriden and couldn't be more pleased with the work occurring in the district.
I speak as an educator, but also as a father of two young children in your school system. I know that they're getting a great education, which makes me know that all students are getting a terrific education here in the city of Meriden.
Tom Murray: Great. Barbara, how about you?
Barbara A. Haeffner: Thanks, Tom. I'm Barbara Haeffner. I'm the Director of Curriculum and Instructional Technology for the Meriden Public School.
I also joined the team about nine years ago. I'm fortunate that I get to work with teachers and students throughout the district, K-12, with the curriculum, which is part of my passion, and infusing the technology, so it's a great combination.
Tom Murray: How about you, Lianne?
Lianne Gerety: Hi, Tom. How are you? I'm Lianne Gerety, I have been teaching for Meriden Public Schools for the past 17 years. I started off in the elementary school teaching 4th and 5th grade, and I've most recently transferred over to the middle school teaching sixth-grade writing. Lincoln Middle School.
Tom Murray: Great. How about our special guest. Can you say hello, Nylina, and tell us something about you.
Nylina Ortano: Hello. I'm Nylina Ortano. I am 12 years old, and I was born and raised in Meriden, Connecticut. I'm also a seventh-grade student in Lincoln Middle School who's happy to be here.
Tom Murray: What an honor it is to have the four of you here today.
Nylina Ortano: Thank you.
Tom Murray: I know you all just also got recognized for the League of Innovative Schools through Digital Promise, one of our partners, and congratulations for that.
Let's dive in. Let's hear some of your story today. Share how it is, share some successes, or any roadblocks you may have had as well, so that we can support other districts that are out there, and they can hear from you.
Mark, I'm going to go to you first as the Superintendent. Tell us about the district itself and a bit about the transformation story regarding some of the work that you currently have going on.
Mark D. Benigni: Let me set the backdrop a little bit about the Meriden Public Schools and give you a district overview. We have 12 schools; 8 elementary, 2 middle and 2 high schools. We also have three associated programs. We have the Success Academy, which is for over-aged and under-credited students. The Venture Academy, as well as a College and Career Readiness Center.
We have approximately 8600 students, 70 percent minority, predominately from Hispanic backgrounds and from Puerto Rico. Seventy-four percent of our students received free and reduced-price meals, and right now we offer free breakfast and lunch to all of our students.
Our goal is really to create schools where students, families, and staff want to be. If we can get the climate right, all the other academic indicators will follow.
We believe regardless of socio-economic status, or prior learning experiences, all students must be able to access digital resources to expand their own world.
We created a roadmap to student-centered learning where we really looked at how are we going to increase learning opportunity for all students. We needed to collapse some levels to make sure that the coursework would challenge all of our students.
We also needed to look at our own mindsets; do we value student growth as well as achievement? We did all we could to help students succeed. That's what credit recover, weekend programs, after-school programming.
Also creating a concept that we're not going to just give students a zero and write them off. It's the work that matters and work completion needs to take center stage.
We opened up access to all classes. We won't block entry to any classes. We believe it's the student's choice and it should be their decision.
Another way we help students succeed is by going one-to-one. We started with BYOD K-12, and quickly realized that we should be providing the devices and the access.
We've embraced this concept of anytime, anywhere learning. We've given students greater voice and choice through the creation of personalized learning experiences. Students design their own learning pathway for credit and they work with a teacher facilitator.
We also knew if we really are going to make this stick and work we needed to have our Board of Education involved in the process. Our Board's been terrific.
We have a stable Board of Education that supported this transformation, and even revised Board policies to support this work.
Our latest work is around mastery-based learning and making sure that we're valuing mastery of core concepts rather than just a letter grade.
We've built these high schools of tomorrow that really have flexible learning spaces, are more student centered, and those facilities are really supporting this work as well.
We're fortunate here in Meriden to have really started and this is not a quick process, and I would say to other districts, create your own roadmap, but realize it's a process, and the journey is part of the fun, too.
When you make mistakes along the way, but it's okay to make a mistake, so long as we keep taking a risk and we own it and we try other things.
Barb has been with me from the start of this work and I'm fortunate to have such a great partner in the work, but we quickly saw that we had a Director of Curriculum and a Supervisor of Instructional Technology. If we were going to expedite our digital transformation we needed one voice, one person responsible, for that.
What we've done here in Meriden is we've created a Director of Curriculum and instructional technology; that's Barbara's position.
Now there's a disagreement on does this digital content fit into our core curriculum. There's one person that's having the argument, and Barbara's having that argument with herself at this point.
Now to turn it over to Barbara, who could share a little bit about our work supporting the digital transformation.
Barbara A. Haeffner: Thank you. We began this work about five years ago, because we knew that it was going to be imperative that we allow our students to bring tools to school that they were using outside of the classroom.
We started first by adopting BYOD guidelines, and we went K-12, so that all of our students could bring their personal devices to school. While students definitely embraced the use of technology at their fingertips we learned quickly that many students didn't have data plans that were large enough to support the work that they were doing. Some of our students didn't have devices at all.
The district needed to provide equitable access to all of our students, and that's really how our one-to-one programs developed. Today we're one-to-one at our four secondary schools. When students enter grade nine, or grade six, they receive a chrome book. They keep that throughout the summer, and then they return the chrome book when their career ends at that school.
We're also very close to being one-to-one in our eight elementary schools. We only have a few classrooms that are now sharing carts. This increased access to technology has really laid the foundation for us to maximize the use of high quality, engaging, digital content in all of our subject areas.
We embrace anytime, anywhere learning by offering online summer credit-earning courses since our students have devices at home with them.
In addition, we offer Wi-Fi hotspots that students can take if they don't have internet access at home, or if they're traveling on a bus to a game, or a school event.
While these changes have been great opportunities for our students it was also important that we support the professional learning of our teachers throughout this transformation. We've utilized TEAR professional development, which allowed our teachers to identify their comfort level and work alongside other teachers with similar skills.
We've provided embedded coaching through our technology integration specialists and our student-centered learning coaches, so this could happen wright within the classrooms.
In addition, our teachers and administrators participated in the McGraw Hill Redbird Professional Learning Platform, so as educators and administrators we could experience blended learning and we could see what technology integration truly looks like before we asked our teachers to implement.
Then today you're going to hear more about our I'm Charged teachers. They're our technology pioneers, providing support in all of our schools.
We have technology in the hands of our students and our teachers are being supported, so we were really well-poised to make curriculum changes and begin the adoption of digital resources.
We knew that this transition was not going to be about the hardware students were using, rather it was going to be what are our students doing with the technology? How are they using the tools? Could the technology increase student engagement, and could it extend their learning, or personalize the learning for them.
With our curriculum and technology teams now working together we were focused on our curricular needs first and foremost. We leveraged adaptive tools that would maximize student time on task, because task – time, rather, is always a challenge for all districts.
Then we really spent time aligning our digital resources right in our curriculum documents and we embedded them into classroom activity.
Working together, curriculum and instructional technology, one and the same, were able to expediate this change process.
You'll see on your screen, a sample of what an ELA block looks like in one of our elementary schools. You can see students have a must-do activity, and a can-do activity. There's time for small group instruction, as well as independent activities that use digital tools.
Some of the tools we use are Imagine Learning, Freckle, and various resources that teachers post in Google Classrooms. In the can-do activity section students have a choice of digital resources. In there we want our students to have some voice in their learning. Most importantly we know that students are receiving engaging content at their instructional level, and then the teacher is able to assist in order to meet their diverse needs.
We know that there are great things happening in our classrooms, and we really wanted to showcase our teachers, and the great work, and the strategies they were using.
This is how our I'm Charged Initiative began. As a district we wanted to recognize teachers who were leaving this digital transformation and they provide model classrooms for others to visit so teachers can see what technology use in the classroom looks like and see what a student-centered learning environment looks like.
One of our teachers who is always willing to support her colleagues and opens her classroom to visitors from outside the district, as well as those within the district, is here with us today.
I'm pleased to turn it over to Lianne Gerety to share her I'm Charged teacher experience.
Lianne Gerety: Thank you for that lovely introduction, Barb, and thank you guys for allowing me the opportunity to share my experience as a Charged teacher.
Why me? How did I get myself involved in this new initiative?
Well, in my personal life I always embraced technology. I'll admit I was a little hesitant to do so and integrate it into the classroom, but as an educator I'm always looking for new ways to captivate, challenge, and engage my students. I realized how much technology had enhanced my life outside of school and figured it could probably do the same in.
Once the technology was available I was always the first in line for the Chromebook. Have you ever seen a child turn down the opportunity to go on a Chromebook, and iPad, a computer, to play a videogame? I can't begin to tell you how it's transformed my teaching and my student's enthusiasm.
To become an I'm Charged Teacher there are three stages; Plugged In, Charging, and Fully Charged. Progressing through them was a lot easier than I thought it was going to be, because I was actually doing a lot of the things needed to qualify already.
The first stage, Plugged Into me, is really all about learning the tools needed to begin implementing technology into the learning process, and then starting to apply them.
In order to meet that first – the criteria for that first stage I attended some free webinars on core technologies like Google Apps and Chrome. I learned about virtual field trips.
I was fortunate enough to attend a Connecticut Educators Computer Association conference.
In the classroom I was already doing multiple grouping strategies, which include whole group, small group partners and individual instruction so I could reach all my learners.
What was new for me was I started communicating electronically with students and parents instead of just sending home paper newsletters and notes.
The second stage, Charging, is really all about using everything you learned in the Plugged In phase to – and then using that to benefit student learning and sharing those practices with others.
One of the major changes for me is optimizing my classroom space. Instead of just having individual desks, now I have incorporated standing desks. I have tables. I have several comfortable, informal meeting places to collaborate and discuss their ideas.
They love bungie chairs and the little couches that we've had. I also encourage students to move freely within the classroom, so that they can work where they feel they're going to be more successful on any given day.
To assess student progress I use digital tools, such as Google Classroom, which allows me to provide immediate feedback as students are working. We use real time quiz games, like Kahoot, that engage students and they really seem to enjoy it while it serves as an informal assessment for myself.
To integrate digital content into the classroom I include choice menus, hyper docs, so students get to choose how they're going to access the content for a lesson.
They watch video lessons, which allows them to learn at their own pace. I always make sure I give students access to my Google Slide presentations that are in my lesson, so that later on they can go back and review.
I try to provide as many personal learning experiences as possible where students can take the content that I've taught them to the topic that they want to learn more about and show what they know by researching questions that they come up with to drive their own instruction.
One key part of the Charging stage is sharing your experiences and successes with our colleagues. In order to do that I've led a couple of professional development on some of the new programs we're using, on student-centered learning.
I was fortunate enough to present the benefits of Charged classrooms to some school principals when the charge initiative was in it's infancy stage. I host learning _____1500, so that other people can come and see the benefits in action.
I also help teachers who are interested in applying to become Charged by helping them fill out their application. I'm also part of the committee that reviews application for those potential participants.
The last stage, Fully Charged, happens once the teacher and students have mastered the tools and begin leveraging them in a more advanced way to accelerate learning. I do that by providing opportunities for students to deepen their understanding outside the classroom through virtual field trips, web quests, blogging with other students.
We've traveled the world using Google World Wonders, and Google Maps and Google Earth.
I also allow students to demonstrate mastery in multiple ways. Once I teach a unit I try to give them a choice in how they choose to present their knowledge to me, so they can choose to make a Google Slideshow, they can write a document, or an essay, they can create their own video.
Some of my students have gone as far as to make their own – and create their own website to show me what they've earned. Lastly, to enhance student learning, I've created some flipped video lessons so that students can watch them at their own pace. They can pause, rewind, and, again, learn at their own pace, which the kids seem to enjoy.
What does it mean to be in an uncharged classroom? I told you a bit about the process, but to be honest, for me, being Charged has helped me to become a better teacher.
I can give my students instant feedback, multiple times within a single class period, and that helps me to truly know my students, because I have meaningful interactions with them each and every day.
For example, I teach sixth grade writing. In a traditional classroom, students would compose the first draft, they turn it in, you bring it home, you correct it, or give suggestions. They're waiting for the teacher to return it to them. Then you hope they edit and revise using your suggestions. Then, finally, they have to write a final copy. Which all that takes a lot of time.
When I use Google Docs for a writing assignment I can quickly check in with each student minutes after I finished the lesson to see if they're off to a good start.
It's a live document, so we're both on it at the same time. I can make suggestions and leave comments and do an informal assessment within minutes. My students can make changes immediately and continue to develop the writing.
To be honest with you, on a good day I can check in with each and every one of my students 2 to 3 times per class period, and that's 125 to 130 students a day, 2 to 3 times each.
I can't begin to tell you how valuable that is. My kids love it. If I don't get it to them fast enough they're bombarding me. "Mrs. Gerety! Could you please check in on me? I want to make sure I'm doing it right."
Also, no more losing sloppy copies and starting over again from scratch. Additionally, it eliminates the students least favorite part; writing a final copy. How many times have you heard them moan and groan, "I already wrote it. I don't want to have to write it all over again. Isn't this good enough?" Now students' first drafts can quickly be transformed into their final drafts.
Enough about how being Charged has affected me. The voice that matters the most to us is that of our students. Let's put the focus back on Nylina. Nylina, I know this slide shows one of the projects you've created. Can you tell us about it?
Nylina Ortano: Sure. This is one of the projects that I did in social studies, and it was an all about me and what my hopes and dreams are. One of them was becoming a student in an Ivy League school. It still is, and some of the Ivy League schools I've been looking at has been Columbia and Harvard, because I feel like those are schools that are the best of the Ivy League schools. I really just want to make myself, as well as my parents, proud of what I later become.
Lianne Gerety: Well, Nylina, you've been making me proud for quite some time, so I'm sure you'll have no problem doing that. How long have you been in a Charged classroom? How long have you had technology integrated into your classroom?
Nylina Ortano: I've had technology like this since fourth grade, and it has impacted my learning in such a positive way.
Lianne Gerety: Do you have a favorite project you can tell us about?
Nylina Ortano: I do. I did a project, slideshow, in social studies, and I did research on Egypt and the pyramids of Giza and then I got to go on a virtual field trip and really just kind of visualize and see it for myself on a Chromebook, which I thought was really cool.
Lianne Gerety: It sounds good. Speaking of projects, do you work on those projects alone, or do you work with your classmates?
Nylina Ortano: Both, really. I work – when doing presentations and stuff like this, I get to work by myself and I get to work with some of my classmates, which I think is also really fun and it's really interesting.
Lianne Gerety: Does the technology help make working in a group, or working with your classmates any easier?
Nylina Ortano: It does. Because when doing things like Google Docs or writing a story that you want to share with your partners and whatever all you have to do is click a share button and you get to share with all your partners, and you don't lose anything, and it's just easier to do.
Lianne Gerety: You both are able to go in on the same document?
Nylina Ortano: Right, we can multi-task as well.
Lianne Gerety: How do you and your classmates feel about using technology?
Nylina Ortano: We love it. I think it just helps us so much more, and it definitely helps us fluently learn at our own pace and it's just amazing.
Lianne Gerety: How would you feel if we took it away?
Nylina Ortano: I would not like it. I don't think it would have a good effect on our learning and the way we see things.
Lianne Gerety: With that said; what would you say to any other school thinking about providing Chromebooks to their students? What do you think they should do?
Nylina Ortano: I would say that it's an amazing idea, because of such good responses it's had from students that already have this technology, and I think it'd be a good thing to add onto other schools around the world?
Lianne Gerety: Thank you, Nylina.
Tom Murray: Okay, well one thing is clear here is you all don't need me for this webinar, because you all have it down and you are – it's – there's so many takeaways from what you all just shared for the past 20 minutes, and there's no better way than hearing from a student there.
Nylina, thank you for sharing your brilliance.
Nylina Ortano: Thank you.
Tom Murray: Truly, but some of the things as you were talking that are really core to Future Ready in the work that you were doing, one of the things Barbara had mentioned is this notion really that gets to digital equity; how you're using these devices in schools, but you recognize especially 73, or whatever, percent free and reduced lunch.
Not that there's always a direct overlap there, but one of the things that's core to Future Ready is this notion of equity and making sure that all means all.
If we're going to provide students with laptops or going to provide them for resources outside of school – well, if they can't access those things at home we've just really put them in a bad spot.
This notion of having devices, or hotspots, that they can utilize on the way out; research shows, from the Pew research that I'm referring to, about 5 million of our nation's students and – their families, I should say, about 5 million of our nation's families that have school aged children don't have devices at home.
Disproportionally it's our black and Hispanic families, and so as district it's vital that this notion; it's coined "the homework gap" out of D.C., but it really is the connectivity gap, and the access to things that we can't have if we don't have the connectivity.
Kudos to you all for jumping on that and hitting that and making that a priority there.
One of the things you also shared that really jumped out to me, and I'm sure that our listeners had a variety of things that they were processing and thinking through and just sharing some of your journey.
It's this notion that gets to one of our gears of the Future Ready framework; that's this notion of personalized professional learning.
How many times as we as districts, and when I say that I'm talking about myself even when I was a district leader. When we're talking about making learning personal for kids, or utilizing technology, yet I'm modeling it in professional learning by standing up front and delivering.
What I loved about hearing is you guys using, like the McGraw Hills Redbird platform. That's a personalized learning platform to model for teachers; "This is how you can learn as well."
As they're doing their learning in something like that, or a program like that to support it making it more personal, they can really start to understand, "Well, this is what it then can look like for kids."
Quite often there's such a divergence between the way we run professional learning, and what we're actually asking to do with it. _____ for that there, just another great example.
I was really also impressed just hearing your story about you got away from – sometimes I think teachers, especially as they start to go one-to-one, or they start to implement all these devices. Think there's this natural fear that the device is going to replace them.
Oh, no. It's going to become it's more about the Chromebook, or the iPad, or whatever it might be, than it is about me. It's obvious that you've taken the correct path in that, in our opinion, from Future Ready, that the device is an accelerant.
The devices is the tool. The device will take great instructional practices and make them that much better. As Michael Fullen talks about; it's the notion of pedagogy being the driver, yet tech is amazing accelerator.
Truly, kudos to the work that you're doing with that. Not focusing on the tech, but focusing on –
One more piece to that, that I would share, Lianne, when you were talking about – by the way, Mark, we apologize for any recruiting calls that Barbara or Lianne get in terms of trying to bring them to their district, but I would fully understand that –
Mark D. Benigni: We're going to delete those calls. [Inaudible comment] Those calls.
Tom Murray: Lianne, one of the things that you were talking about that really impressed me as well; you started talking about the learning space, and recognizing that if we're going to talk about making learning more personal for kids it's not just handing them a device and they sit in rows behind a computer all day. It is how do we leverage the space itself.
Another one of our gears of our Future Ready framework is the notion of learning space redesign; it's the use of space and time being the gear, because learning spaces is absolutely do impact that.
If we're going to talk about learning being more personal, or learning being more flexible, "How does this space become more flexible, or more personal?" Well, kudos to you there, as well.
I was, as a teacher, just sharing what you were doing. I couldn't be more proud as an educator just hearing your work. I know that I would put my own children in your classroom in a heartbeat based on the things that you were saying.
Lianne Gerety: Thank you.
Tom Murray: Let's dive in. A couple more questions. I appreciate you spending the time to share this story.
Now, Mark, I want to go back to you, because one of the things; you watch a webinar like this, you hear from an amazing district like you all, questions start to go over administrator's heads. They start to compare what they have versus what you all have.
What about the notion of budget? Because when you look at something like budget is this that – you've got more money, don't know what to do with, so you're just throwing it left and right? I know that's not the case and that's why I can say that.
Tell us how really on a flat budget, is my understanding, you can go through some sort of that transformation. Speak to that if you would a little bit.
Mark D. Benigni: Sure. I wish we had all the resources we needed, but I think we're never going to let money, or the lack of resources deter us from our mission. If it's to drive a digital transformation to make sure we're providing an equitable education for all we're going to refocus resources, we're going to re-design positions, we're going to look closely and scrutinize our current purchases.
We haven't received a local increase from the municipality in nine years, so we've been flat funded locally for nine years.
We've been progressive and aggressive, in looking at other resources; whether that's through private foundations, Noe May Education Foundation, Nadalio Rice Foundation, and those avenues have also supplemented our budget.
Really, it's closely looking at and scrutinizing all of your purchases. Yes, we're buying devices, yes, we're purchasing digital content. If you looked at the hard book copies we're purchasing today in comparison to what we purchased 10 years ago you'll see a drastic decrease.
I think really what I would tell any district leader is, "Take a look at how you're spending your money now. The digital transformation is affordable. It's something that you can do together, get key people in the room with you, like I have here with me today. They'll help us find the answers.
It's not about necessarily needing additional resources. It's more about looking at how you're going to use your scarce resources.
Tom Murray: Very well said, and you're really getting to another one of our gears of the framework and that's this notion of budget and resources. If we were to sum it up in one word it's truly the notion of sustainability.
How do you make some of those hard decisions? How do you get away from just the, "That's the way we've always done it." mindset that we all often have.
Kudos to you for leveraging the power of teacher voice and teacher agency and student voice and student agency to be able to make some of those decisions there as well.
Barbara, I want to go over to you for a moment, and leading some of this work with teachers, as you think about the teacher mindset; we all recognize, first of all, from a Future Ready end, we truly look at teachers as one of the greatest assets besides students that we have in our country on the whole.
We also know, and I think every teacher would agree, that teachers have their own Point A, Point B. They're all over the map in terms of their comfort level with things. They're all over the map in terms of their skillset for different things, not just technology, that's, that we are. As humans that's kind of where we are.
Talk to us a little bit about how teachers have embraced the digital transformation, and what supports have been essential for them in their development?
Barbara A. Haeffner: When we started this journey, Tom, we have a great relationship with our teacher's union, and they're always at the table with us and that's really key.
From the beginning they've had a voice in what we were doing in the district, so we were able to hear their suggestions, we were able to hear their concerns, and really, we started creating our student-centered learning environments, and the technology became a layer within that environment.
We also know that our teachers are a great resource and we really wanted to capitalize on people who were doing great things in their classroom, and teachers like to learn from other teachers, and from their colleagues.
Our technology integration specialist covers four of our secondary schools; she was a former teacher in the district who's supporting teachers in the classroom every day.
We also have student-centered learning coaches. Those coaches teach two periods a day and then coach three periods a day, so again, they're practitioners in the field, yet they're able to go in and work alongside a colleague.
Then we're able to have an I'm Charged teacher minimum of one in every school, so there's a go-to person in the school. If you have a quick question, or if you just want to say, "What does it look like in your room?"
Having those embedded supports has really been a way for us to support our teachers, but for teachers to be in a risk-taking environment, not be afraid to fail, and then to have someone either in their building, or right next door to say, "Wow, this was great today." or, "Oh my gosh, you're not going to believe what happened. How can I tweak this to make it better tomorrow?"
Tom Murray: Absolutely. The greatest professional learning assets that we have as districts are those that teach in our classrooms every, single day.
When you look at some of the things Lianne was sharing earlier, if I'm another writing teacher, or another sixth-grade teacher, or at that Middle School, hearing from her, teacher to teacher, I often value at the top of my list in terms of when it comes to what it can look like.
Kudos to the teachers in doing that, and also recognizing it does – this change and this transformation doesn't mean that everything that we've done in the past is poor, or bad. How do we leverage the great things we've always done, make them even better, yet continue to transform and modernize what our students really need and expect?
Kudos to you all of making teachers the vital part of that and not having them feeling like it's necessarily something that's done to them, but it's something they're a vital part of in that.
I do want to remind our viewers that the hashtag for today's event is Future Ready. We've seen some tweets out there. We encourage you to share out. We always use the hashtag Future Ready, if you want to share and connect as well there.
Lianne, let me go back over to you, if I could. Talking about this teacher side, and the teacher mindset. Just the notion of time is always this critical variable; it's always something that we all struggle with. Just time; where do we get the time?
Now that you're running an Uncharged classroom are you spending more time on things like lesson planning, or what's changed for you versus a number of years ago? Talk to us about that if you could.
Lianne Gerety: Oh, a lot has changed. I'm definitely not spending a whole lot of time in the copy room, waiting in line to make copies, lugging things back and forth.
When I do my lesson planning it's all digital. I usually create a slideshow for each one of the lessons that I'm doing, so I have a template, so it's very easy for me to change out learning targets and make changes to that.
What I will say, the thing seems the most time for me, or which I find to be most beneficial when I'm doing my lesson planning; when I create an assignment on a Google Doc I can make a copy of it, and it will save in the same folder, so that it keeps me organized.
I can differentiate for all my learners. I have such a wide variety and range of learners within one, single classroom that I can make a copy for that ELL student and add some pictures in.
I can change font, and colors, on that same assignment. I can add word banks, or sentence starters for kids that need that need that little extra boost.
Then in usualizing Google Classroom I can then send those assignments out to each student and no one else in the classroom knows who's got a different assignment or that the person sitting two desks down from them; their work looks a little bit different than theirs, and they achieve the same goal.
All students get the opportunity to have the tools they need to be successful.
Tom Murray: So well said. I think sometimes a natural fear of teachers, and understandably so, is – let's face it; their world's chaotic. They've got so much going on, they're asked to do a whole lot, they feel like they've got so much coming at them left and right.
Sometimes I think when we start to do, whether it's an Uncharged initiative, or now they have devices they can use; sometimes the mindset is almost, "Well, now I have to also do this on top of everything I've ever done." That's the mindset shift that needs to happen in that you fundamentally change the way you do things.
It's not, like your essay example earlier, that you had your 120 students, they all write their 5 paragraphs essay, then you all turn it in and now you've got 120 papers that you have to grade on top of everything you're doing.
As you shared earlier; you fundamentally change the process, which now gives you the opportunity to give that ongoing feedback, which from a learning end, we know from a memory end a brain science end, is a better process for learning.
Now you're going through and doing that feedback throughout the day as opposed to now I've got my 120 sheets on a Saturday and I'm going to spend the next 23 hours of my weekend grading them. It's a fundamental different process.
You've shifted the way you've used time, which is also going back to our gear related to the use of space and time. Like you all said; anytime, anywhere learning, time's such a vital part of that.
Again, just patting you on the back from a teacher end of having the humility to shift your way you've done some of those things. Continued to do, I'm sure, the great things in your classroom maybe you've always done, but also to shift some of that fundamentally, so thanks for giving us that teacher perspective.
I have to tell you, one of the things I'm most excited about in this webinar is going back to our favorite student here, that's Nylina.
If you would continue to share. One of the things I'm really curious about from you: One of the things related to Future Ready is we really see student agency, or student voice. What students feel and believe. It's so vital to the work districts should do.
I was so excited when your district said, "We'd love to have a student involved." and we said, "Absolutely!" Because you are why we do what we do. It is you ad your colleagues and your friends and your school are why the reason the districts moving forward.
Why: You're our why, truly, look at that.
Nylina Ortano: Thank you.
Tom Murray: When I think for you – you're welcome kiddo. When I think about you and your world; talk to us about one of your classes that maybe use technology more frequently, or just does things a little bit different in terms of the learning. How is stuff like that make learning more fun for you, more exciting, or really make you want to come to school every day?
Talk to us a little about what your experience is like in terms of that stuff.
Nylina Ortano: Okay, so I use Chromebooks, or technology, in all my classes. There's not really one class where I use it more than the other unless we're doing testing that day.
Even so, I don't want you to think we use technology 24/7, because teachers still teach us if we need the extra help. It makes learning so much more fun and easier for us students, because we feel that we can kind of support ourselves and learn at our own pace, not having to worry about the teachers having to repeat stuff, or having to go teach another student.
We can just learn at our own pace and I think that's really what we consider fun. Because students like myself; we want to go to school to learn, and we want a better future for ourselves. I think learning at our own pace and having all these new technology programs and stuff like that is really helping us.
Tom Murray: You know, Nylina, one of the things that sometimes we'll hear students say is – and I don't mean your school district, I just mean kind of in general, or when I put myself back in a district.
Sometimes I feel like when they go to school it's just very different, and when they leave the school walls in the outside world. The world they live every day, when they go to school it sounds like for you it feels similar to the things you're doing on the outside world that then you get to do on the inside world. Is that true for me to say that? Would you believe that?
Nylina Ortano: It is, because technology now, in the real world, when you walk out of school; it's – we consider it nothing. We use it every day, we use it most of our time that we're living, so really to us in school of course we're so thankful that we have it, because a lot of schools and a lot of children don't.
Yes, we're thankful and everything, but in the real world technology is just a day-to-day basis thing, and I think that's really what it comes down to as well.
Tom Murray: Here's a question I've been thinking about as you've been talking. I know your district does it really well, but one of the things that's important for schools to do is also to teach kids and help them understand how to be safe online, how to be safe using technology.
Nylina Ortano: Right.
Tom Murray: How to take responsibility for things in this era where things like bullying can happen using technology, or things like that.
Can you tell us from either your experience or thoughts for you; what are ways that you're learning in school to say, "Hey, I really need to be careful doing this, or doing that."
Maybe an example of a teacher that shared that safety side of it. What do you think about when I talk about that kind of stuff?
Nylina Ortano: I think that you guys are 100 percent correct, because in my perspective when looking at my phone or when looking at – just hanging out with my friends at lunch there's a lot of things that go on and there's a lot of things that don't. A lot of people stay away from it and they try to prevent it, which I think is amazing.
I think the fact that adults like you guys are taking part in that and helping us get through it; I think that's really thoughtful. That's amazing.
Tom Murray: Nylina, I would tell you what, if I was a teacher again I'd draft pick you into my classroom. That's what I could say.
[Laughter]
Mark D. Benigni: I think Lianne does.
[Laughter]
Tom Murray: Yeah, that's too funny. Nylina, thank you for your incredible wisdom there. As a seventh-grader on our panel your voice is so important and thank you for sharing that. Thank you for also sharing with your district, even your superintendent that you're sitting next to, saying, "This is what we need. This is what we believe in." Your voice and student agency is so important in our work and in Future Ready is really the core to what we do.
As time's winding down here, our last few minutes, let's step back and recognize there's many districts. We had hundreds and hundreds of registrations for this webinar, people watching online, that are all over the gambit, from many different states, many different positions.
Boiling it down to recognizing districts are all over the map in terms of where they are implementation or moving forward, or roadblocks that they might have, or the way the budget is, even down to the state's being different in the way they support things, or fund tings.
We recognize that in a webinar like this the people's lenses and perspectives and where they are, are really all over the map. We recognize that.
You've gone through as a district an amazing transformation, but I'm sure there's been roadblocks. I'm sure that there's been things that have been difficult.
Here's what I want to end up: what advice do you all have noticing and recognizing that people are all over the map where we are; they're doing great thing s in their schools, too, but they also want to continue to move forward. What's advice that you have for the people that are watching?
Mark, I want to start with you as a Superintendent. Maybe you could even talk to other Superintendents, other district leaders. If they're watching this; what advice do you have for them moving forward? What do you think?
Mark D. Benigni: I think my first bit of advice would be don't be afraid to jump in. Take a risk, support your staff, but also make sure that you're involving your board of education, your bosses, in the process. Make sure they're aware. Make sure you're transparent as to why you're doing what you're doing. It's about student engagement, it's about personalizing learning for students.
Share with the board, keep them involved. I would say bring the students, Nylina, to the board to present to them, because they need to hear directly from who they serve; our students.
The other thing I would say is the board is going to be interested in making sure the community is embracing this, so do community learning walks.
In our schools we want them to see what's occurring in our school, so we do community learning walks with the Chamber of Commerce, with outside not-for-profits.
The more adults and community members we can bring into our schools and really show them how we're encouraging student-centered learning across our district, K-12, the better results we'll have.
I would say to superintendents; jump in. You'll be able to reallocate the resources, involve your board, and don't hesitate to bring the community at large into your schools.
Tom Murray: I think you have a whole bunch of superintendents that are looking up your e-mail address online now, Mark, I'm just saying. Just throwing that out there.
One of the pieces, real quick, that you hit on is this notion of the community.
At Future Ready part of our framework is this notion of community partnerships; whether its' partnering with businesses, our board, obviously, in that work, what a great way, and what a great reminder, of we can't go at this alone.
As schools we are there to serve our community, first and foremost, so their involvement in this process is absolutely vital.
Barbara, how about over to you. Can you speak to – I know as the Director of Curriculum, Instructional Technology, maybe speak to those that might be in similar roles, or at district office, and helping to lead some of that. What advice do you have for them?
Barbara A. Haeffner: Sure. I would say look at your curricular needs first, and then really infuse that technology into your curriculum. Probably most importantly is to have the support within your buildings; whether that support's other staff members in the school, or utilize your students.
They've taken a role in supporting teachers and other learners. We have a great tech buddy program at our elementary schools where fifth-graders work with first-graders to teach them the technology, but they're also covering the curriculum content as well.
Utilize the resources and people you have.
Tom Murray: Awesome, so well said. Lianne, I want to jump over to you. Can you give us some advice? If I'm a teacher, maybe I'm a writing teacher in sixth-grade somewhere, and I'm watching this, and I'm a bit nervous, or I'm very confident in the way I've always done it.
What advice do you have for our teaching friends on really why to step forward, or how?
What advice do you have?
Lianne Gerety: The advice that I'd have for people is to just take advantage of whatever technologies that you can get your hands on, and take advantage of – there's so many free webinars out there and resources at your fingertips that can help you to help your students progress into the future.
Tom Murray: Awesome, thank you. Now Nylina, don't tell them that I said this, but I'm going to save the best here for last. Okay? Don't tell them that I said that.
Talk to me as a seventh-grade student in terms of maybe it's advice for other school leaders, or school principals, that you could give, or other teachers; what advice might you have for them, or maybe even for other students.
As a seventh-grader here on this national webinar we want to hear from you. What advice do you have for others?
Nylina Ortano: I would say really just shoot for the stars. You never know what's coming, or what's to go. I think that just like everyone said, trying something new and really seeing the perspective of what your students think and hearing what they say matters, because at the end of the day this is your top priority.
I think things like this and kind of letting other people know that, "Hey, this is what is really encouraging our students to keep going and shoot for your future." I think that's a good statement.
Tom Murray: Well if I was holding onto a mic I would just drop it and walk off the stage. I'm not sure we could sum it up better than that. Thank you, kiddo, for sharing that. Really appreciate that.
To wrap up I do want to remind our viewers that the information on Future Ready can be found at futureready.org. We encourage and challenge district superintendents to join the over 3300 others that have signed the Future Ready Pledge.
We also encourage our school leaders watching today to join us at one of this year's remaining free institutes. We have two that we've completed, completely jam-packed, completely full, and we have three more institutes to go. They are in Atlanta, in Portland, and in Loudoun County, Virginia. We hope to see you there.
I also want to encourage our viewers to get involved with our growing strands; from district leaders, to tech leaders, to principals, librarians, and to instructional coaches. We have vastly expanded the reach of Future Ready schools over the past two years.
You can check out our private Facebook groups for each one of those as well, for ongoing activities, and also to stay connected with ongoing support from those throughout the country that are also working alongside to serve kids.
I do want to thank today's incredible leaders from Meriden School District in Connecticut as we – I want to thank you guys also, our viewers, for joining us and investing in the time for this Future Ready webinar.
Don't forget to connect with us here at Future Ready schools on Twitter at Future Ready and on Facebook at facebook.com/futurereadyschools.
If you did miss any of today's conversation, it's going to be archived on our Alfred/webinars webpage soon after this webinar. On that page you can also see a list of upcoming webinars, as well as those we've done in the past.
You can also find all of the alliances Google Hangouts on air on YouTube at that channel as we make those all available for you.
For those taking part in our Action Academy badging platform the password for today's webinar, fittingly, is Charged. Thank you again for joining us all at Future Ready. Have a fabulous day. Thanks, incredible Meriden team, we appreciate you all and we will see you all next time.
[Crosstalk]
Thanks, everybody.
Barbara A. Haeffner: Thank you.
Lianne Gerety: Bye.
[End of Audio]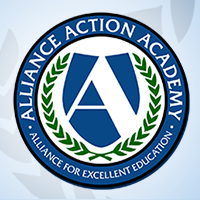 Welcome to the Alliance for Excellent Education's Action Academy, an online learning community of education advocates. We invite you to create an account, expand your knowledge on the most pressing issues in education, and communicate with others who share your interests in education reform.
Register Now
or register for Action Academy below: