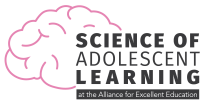 Registration Required
September 19, 2019
3:00 pm – 4:00 pm EDT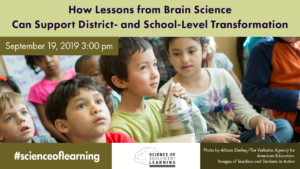 The Alliance for Excellent Education (All4Ed) Invites You to Attend a Webinar
How Lessons from Brain Science Can Support District- and School-Level Transformation
Moderator
Winsome Waite, PhD, Vice President of Practice, Alliance for Excellent Education
Participants
Mary Sieu, PhD, Superintendent, ABC Unified School District (Los Angeles, CA)
Robyn Harper, Policy and Research Associate, Alliance for Excellent Education
Wondering how you can make your middle and high schools a place students enjoy attending? How educators can create conditions so aligned with the developmental stages of adolescence that they enable greater learning? Eduators know that adolescence is a special time but do they know that it is a time of great opportunity for them too?
This webinar will describe profound changes in student engagement and engagement at ABC Unified School District resulting from the district's efforts to align its strategic vision with research on how students learn and develop—what we at All4Ed call the "Science of Adolescent Learning."
Dr. Mary Sieu, the superintendent of ABC Unified, will describe how research-based changes in the district's policies and practices have impacted schools and student learning. She will also share ideas for how the science of adolescent learning can be used to support systems-level change in every school and district, no matter its size, location, or composition.
Please follow the event on Twitter at #scienceoflearning.
Register and submit questions for the webinar below.
---
The Alliance for Excellent Education (All4Ed) is a Washington, DC–based national policy, practice, and advocacy organization dedicated to ensuring that all students, particularly those underperforming and those historically underserved, graduate from high school ready for success in college, work, and citizenship.
Follow All4Ed on Twitter (twitter.com/all4ed); Facebook (facebook.com/all4ed); and
"High School Soup" blog (all4ed.org/blog).
---
If you are interested in renting the Alliance's facilities for your next meeting or webinar, please visit our facilities page to learn more.