Hearts and Minds: Building Capacity Around Social and Emotional Learning

February 18, 2020
8:00 pm – 9:00 pm EDT
Online
Hearts and Minds:
Building Capacity Around Social and Emotional Learning
Panelists
Mary Ann Wolf, Ph.D., Sr. Director of the Professional Learning and Leading Collaborative, The Friday Institute at NC State University
Roxann Sykes, Principal, Dillard Drive Elementary (NC)
Karen Falato, Special Educator, Bristol Township (PA)
Moderator
Avril Smart Goggans, Ph.D., Research and Engagement Manager, Future Ready Schools
While some argue we have been educating the "whole child" for generations, recent research demonstrates that we have overlooked students' Social and Emotional Learning skills (SEL), a key aspect of the foundation for academic learning. In practice, this means that educators are not forced to "choose" between SEL and academic instruction — time spent building students' social and emotional skills is time spent building capacity for their academic and lifelong success. SEL also has demonstrated impact on several indicators of academic success. For example, research shows that students with SEL training "scored 13 points higher academically than their peers 3.5 years later, had 6 percent better high school graduation rates, and could even reap lifelong monetary benefits for their healthy adult lifestyle."
In this webinar, four leaders and practitioners who are actively working to support the growth and development of SEL skills in schools discussed experiencing and applying research-based ideas and strategies to support SEL in their respective educational contexts.  The panelists were excited to share their insights and experiences.
In this webinar, our guests discussed:
The connection between SEL and student achievement
Building classroom and school capacity for SEL
The connection between SEL and equity
Professional learning opportunities to support SEL in schools
---
Please direct questions concerning the webinar to ldossin@all4ed.org. If you are unable to watch the webinar live, please register to receive the video archive directly in your inbox.
---
Future Ready Schools® is a project of the Alliance for Excellent Education (All4Ed), a Washington, DC–based national policy, practice, and advocacy organization dedicated to ensuring that all students, particularly those underperforming and those traditionally underserved, graduate from high school ready for success in college, work, and citizenship.  www.FutureReady.orgFollow FRS on Twitter (twitter.com/FutureReady);
Facebook (facebook.com/futurereadyschools);
Future Ready Librarians Facebook group (facebook.com/groups/futurereadylibrarians); and
#FutureReadyLibs on Twitter.
---
If you are interested in renting the Alliance's facilities for your next meeting or webinar, please visit our facilities page to learn more.
Avril S. Goggans:       Hi, everyone. Welcome to today's Future Ready webinar. I'm Dr. Avril Smart Goggans, research and engagement manager for Future Ready Schools, a project of the Alliance for Excellent Education here in Washington, D.C. Future Ready Schools is the collaboration between All for Ed and a coalition of over 60 national organizations. The goal of Future Ready Schools is to maximize digital learning opportunities and help school and district leaders to increase their capacity to implement student-centered learning.
Our program provides school and district leaders with the resources and support to create a digital-learning plan that aligns with their strong instructional practice and maximized learner-centered experiences for all their students, in particular, those students who are furthest from opportunity.
To join in today's conversation, please use the #FutureReady. Thank you for making the investment and I'm ready to go, so let's get to it. I'm your host for today's webinar entitled Hearts and Minds: Building Capacity around Social and Emotional Learning. With me are three educators, Karen Falato, special educator in Bristol Township, in Pennsylvania; Dr. Roxann Sykes, principal at Dillard Elementary School in North Carolina; and Dr. Mary Ann Wolf, senior director of Professional Learning and Leading Collaborative at the Friday Institute at North Carolina State University. Thanks, ladies, for joining me today.
I'm really excited to get this started, so let's set the tone with describing what SEL is. Although it's not a new concept, before we start, I want to make sure that we have a great understanding of what social and emotional learning is. The most popular definition described SEL as the process through which children and adults understand and manage emotions, set and achieve positive goals, feel and show empathy for others, and other psychosocial skills. In other words, SEL can be described as a framework of competencies that describe our ability to learn and our ability to teach.
So as we think about SEL and add that skill to our practionary toolbox, I want to ask each of you to briefly describe how you became familiar with SEL and how long you've been building your own skills and capacity to implement it. And we can start with Karen.
Karen Falato:             Thank you. I think I've been doing it all of my teaching career as a special educator. I became really familiar with it two years ago when I started teaching autistic support, and part of the learning goals that the kids had had a lot of the social emotional and the social skills with how to interact with the rules and how to interact with regular ed students in the regular population. So for them, knowing how to navigate all of the nuances in that realm, I picked up a lot of that.
Avril S. Goggans:       Okay, great. And Roxann, what about you? How long have you been building your skills in SEL?
Roxann Sykes:             I think about three to four years now. I started in my graduate program in doing research on social emotional learning, and then as I got to the final stages of research, I stumbled across social emotional learning and the importance for educators, and so that became my focus point. But I'll just say that on a personal level, once I started to research social emotional learning, I started to recognize some weaknesses and some areas of growth within myself under the five competencies, that it started with me growing my own skillset and then when recognizing how it benefitted me as an educator and as an administrator, and then I started to make it part of my daily practice with students and with other teachers.
Avril S. Goggans:       Nice, thank you. And Mary Ann, how do you want to talk about your experience? I'm sure it's vast and longtime coming for you to share that.
Mary Ann Wolf:          Sure. When I look back at when I taught almost 20 years ago, I think I was trying to address SEL but I didn't know how to frame it or exactly what I was trying to do, but I recognized, at that point, in my fifth-grade students, I think that many of them really struggled in some of those areas. So I think I was trying, but I also recognize now looking back, I did a lot perhaps the first week of school, and then suddenly, there was too much to do and I don't know that I went back to it. So again, kind of lacked a name and a framework but also not really understanding how to integrate it into everything I did.
So for the past five or six years, our work at the Friday Institute has included work around learning differences, which involves executive function, and so we've done a great deal with working with teachers across the country, but also across the world on understanding how to support students who need help in those areas. And the more we dug into that and dug into addressing all learners, the more we realized that social emotional learning provides a foundation for schools when they're trying to really respect and honor all students, but also when you're trying to help students set goals and be able to have those important skills.
And so we were leading up to that, which actually led us then to creating and doing work around SEL specifically to support educators. And just like Roxann was saying, we really focused first on helping educators think about their own SEL, and then thinking about how do I build those skills in my students. Because we're always, we all need to, and when you look at the definitions of SEL, it's the adults and the students, and I think we know that the more we grow, the more we can support our students.
So we've been a longtime coming, but I'm pretty excited about the fact that we're addressing it now with really helpful frameworks and other ways to think about it and ideally to help all students grow in these areas.
Avril S. Goggans:       Nice. Thank you, and you actually led into my next question. I know that the Friday Institute has relaunched a massive, open online course designed to help educators build their understanding of SEL, called Social and Emotional Learning for Educators. In building that course and in building the second iteration of that course, can you tell us a little bit about why it was so important to focus again on SEL, and then also, what can educators expect to learn?
Mary Ann Wolf:          Sure. One of the things that we know is when you look at trying to support the students, a lot of times people think, "Oh, do I have time to address social emotional learning? Do I have time to address self-awareness, and self-management, and social awareness, and responsible decision-making, and relationship skills? And research shows us that the more that we address SEL, we actually see really important gains and achievement, as well. And so I think focusing on that, that this isn't something separate or on the side, but instead, really part of the work had been important for the mook. So we do in every single unit in this massive online course, we connect directly to how does this impact learning and how does it connect to learning.
We did a couple of things that I think were really important. We actually had educators like Roxann and Karen, who are in the field, make sure they provided input to us about the course so that we were meeting their needs and we were giving tangible examples of what does this look like. So we had them think about their own social emotional learnings and learn about, okay, now I want to address this in my classroom. What does that look like? And then how do I know if I'm making progress or not?
And the last I think really important area was connecting SEL and equity, and I think we're gonna talk about that later, but that really came out in working with educators as we were building the course, and so it is something that I hope people will dive into 'cause it's purposely flexible regardless of where you are, but the key is being able to say how do I actually do this in my classroom when there's so many other needs and other things to do, but really ensuring again and again that educators can see that connection to learning.
Avril S. Goggans:       Nice. And you hit on a couple of topics, like you said, the equity component, as well as student impact, which is what we're gonna talk about next. School and district leaders in our network face the same challenge year after year, so it's improving the learning environment and also increasing educational outcomes. We all know there are multiple approaches to reaching those goals, but the question is why add SEL to their bag of tricks? Why add that to their toolbox? And you mentioned research earlier, but I want to get this out of the way and talk about what the research says directly about what SEL can do for students.
So the research shows that applying this framework to teaching can set students on a clear path to academic success. So more specifically, that means the competencies that are included in SEL increase students' proficiencies in reading, in math, in writing. Other findings also show positive outcomes in emotional resilience, well-being, and reduced high-risk behavior. So that's wonderful to know that this work is grounded in research, but as we talk to these practitioners, Karen and Roxann, I really want to understand, and starting with Karen in the special education classroom, how do your students react to SEL and what are some of the positive impacts that you've seen on their learning so far?
Karen Falato:             So my students are included all day. We're fortunate to have every grade level has an inclusionary autistic support classroom, and only the students that need extra support get pulled out part of the day. So everything is done with the classroom either through a morning meeting or an afternoon meeting, and the SEL is done throughout the day. If a student is having a rough day and they're having a meltdown, all of the students get to figure out how to best soothe, or to best feel, or – apologize.
Avril S. Goggans:       That's okay.
Karen Falato:             Just greet that student where they are. We all have those bad days, so we get to learn how can we help them get through the day, and so we've had students come in just totally messed up and down in the dumps, and even my autistic support students have come up to a student that have been really upset and they've given them tools, they've given them hugs. So they're meeting every student where they're at.
Avril S. Goggans:       Okay, and thanks, Karen, 'cause I really wanted to get a feel of how you really practice SEL in a special needs classroom with students who have learning differences. From your perspective, Roxann, you were an assistant principal and now a principal, and so that involves applying SEL really at a different scale than at a classroom level. So I wanted you to talk about how you apply it at your level, and then also maybe some of the difficulties you've experienced in doing that, and how you're overcoming those challenges.
Roxann Sykes:             Well, first it takes a considerable amount of teaching and building understanding of what SEL is, and coming together to have the same vision for how to approach and implement SEL and connecting it to the work that we do daily. 'Cause it's not separate from learning about the curriculum and instructional practices. It's embedded within. And then creating the structures so that staff, they're supported during implementation phases, so creating a space in the schedule that's specifically designed to start our day with some type of SEL check-in support like through morning meeting. And then vetting different resources, as well as district-provided best practices on how to implement SEL.
So once we had staff buy in and we overcame the belief that it takes additional time to embed SEL. We were able to move forward with, okay, what do we need to support us with SEL implementation during math, during reading, during recess or non-instructional times, transitional times. And so we moved from that to having our master schedules to support that with morning schoolwide morning meeting. Having teachers, giving them the permission or the flexibility to have things in their classroom like mindfulness practice.
We have teachers who have done their research on their own and created sensory paths in their classrooms or in their hallways. We are doing schoolwide PD on the Krim model, which focuses on trauma-informed practices and building our own self-care and self-wellness practices so that we can support those of others. So overcoming challenges such as time barrier, mindsets, and a shift from the way things have always been done to what students need now so that they can be successful.
Avril S. Goggans:       Very nice. Thank you. And just similar to Karen's questions just about any positive impacts she's seen, at your level, you talk a lot about how teachers are involved and they kind of have to learn the basics of SEL before implementing it. Can you share any positive examples of how that's gone over with your teachers and what can a practitioner who's considering implementing SEL, what can they look forward to seeing with their teachers?
Roxann Sykes:             I think the examples that I have all stem from almost an act of surprise, because as teachers are taking the time to build strategies, and practicing, and teaching, and re-teaching with their students, sometimes the results are not immediate, so sometimes it takes a while for it to come out. So I'll give an example where a situation happened where a student, his actions harmed someone else, and the student simply was able to say, "What I did harmed my friend and I need to go repair that harm." So that was self-awareness and self-management all in one example.
And another came from a parent whereas the student is at home and a conversation was happening around a dinner table and the student was able to say, "You're getting out of your zone right now. You're in a blue zone right now." And so using that language in their home environment shows true application. So whereas it's not always immediate with our practices, and teaching, and examples in the classroom. It just takes time for students to have that become a part of their normal, everyday conversation, and when that happens, they're able to apply it more naturally because of something that's embedded in what they're doing.
Avril S. Goggans:       Absolutely. Thank you for those examples. Those are really vivid. I can actually see that happening, so that was really pleasant to think about a student taking that home and applying it at the dinner table. That's really impactful.
For you, Mary Ann, I know that in designing the SEL and the second iteration of the SEL course, you had practitioners involved in that, in building the content and in creating the course, essentially. Can you tell us about why that was so important and then also how did you ensure that those practical experiences were embedded throughout?
Mary Ann Wolf:          Sure. I think when we're thinking about professional learning and how we support teachers, we know how busy they are. The last thing they have, is what Karen and Roxann mentioned, is time, and so anything that we do, we want to make sure that it gives them opportunities to learn, that it is aligned with the standards of professional learning, and part of that is having time to reflect but also having time to go back in practice and try things. And so we try to help both set up questions that allow them to share what's working and what's not working, because sometimes a teacher will try something just a little bit before the next teacher's ready to and they can learn from that experience and what does that look like.
And so we actually had a lot of input from the beginning on what would support teachers, but then also giving those tangible examples of what you do in certain situations, what you do when teachers are curious but they don't think they have time or the resources. How do you build that? And I think we've seen, much like Karen and Roxann described, how important it is to have teachers like Karen, but also leaders like Roxann, in really supporting those efforts and having some, I think at the school level, when there are some things that the school agrees and the teachers all agree that they're going to do, can really be meaningful.
And so those examples have become important, as well, so both from a teacher-specific side, but then also, are there some structures like circle time in the morning or addressing a different construct of the Castle framework is what we align to each day of the week. So there are some great examples like that that I'm happy to share, as well, that I think really give teachers a picture of what to do and what it looks like.
And I think in some ways, it demystifies that you have to do all of it, all the time, every single minute. Some of it's really understanding and creating that language and then emphasizing and reinforcing that, and giving students a chance to practice or reflect on it. And the more teachers do it, I think the more they do, because they really start to see those benefits.
Avril S. Goggans:       Nice, and as a follow up to that, since this is the second iteration of your course, I wonder if you have any success stories of the past cohort and their participation in the online course, which is free, by the way, and how it's kind of impacted and changed their practice.
Mary Ann Wolf:          So I actually had a chance to visit a school in Chicago that implemented the course throughout while they were also implementing SEL, and the part that still just amazes me is they actually started last summer, so it's Visitation School in Chicago that implemented the SEL course. And one of the things they did is their principal said, "Okay, when we look at what's going on with our students, the environment they come from, we know they have a lot of different challenges when they come to us in this school. How are we going to build these skillsets that really help them both in school, but also, beyond the school day?"
And so they actually decided to have a time every morning dedicated to having a circle and a discussion, but each day of the week is dedicated to a different construct, so self-awareness, self-management, et cetera, and they actually have some kind of a prompt and they worked with a group called the Big Shoulders Fund there to help them build some mini lessons that they use each day, and then teachers are building even more of those lessons, so it's very iterative. So the teachers are taking our course, so learning a lot about SEL, but simultaneously, they have this structure in their school, and when I had a chance to visit, the fourth grade classroom stands out the most to me. They had a conversation about responsible decision making, and what did you notice in this video they watched, and what would you do.
And the things that stood out to me were both the patience of the students in letting people take their turns and talk and then respond in the circle situation, 'cause these are active fourth graders who are sitting on the floor and having this conversation, but the amazing thing to me were two things. One was after the circle time, they immediately transitioned into this next paired fluency activity and they were able to do this work together and collaborate in a way that I found just amazing on a pretty challenging bit of work. And then when we interviewed a few of the students afterwards, they made comments like I know the conversation was about responsible decision making, but I actually think we were talking about empathy, and so as Karen and Roxann described, having that language to talk about it is amazing.
And then one other student, and I promise this is the last thing but this was a really impactful visit for me to get to go on, one student talked about how in the park, after school, he and one of his friends from the class saw a student crying and they talked about how they were able to use their empathy, and they went over there, and checked in on the student, and were able to support the student and he was having a bad day. But it wasn't at school. It was at the neighborhood park.
I think the more we're building those skills and that goes into their home life and into their life with friends, the more we'll continue to really help students in a lot of ways, and that all helps them be more ready for learning. And so those are just some of the exciting examples that I've already been able to see.
Avril S. Goggans:       That's great. That's really great, and I promise hearing that, as someone who's interested in learning more about SEL, you can really visualize how that changes a student's trajectory, to have the language and the ability to communicate their thoughts and feelings in a way that's constructive, so that's really great to hear.
I want to remind the audience before we switch gears here and talk a little about equity, that you can follow the conversation using #FutureReady and please submit any questions or comments and follow our participants here so they can help answer your questions as we go along.
Shifting a little bit, the promise of social emotional learning is that it can be used as a lever to increase educational equity. According to the National Equity Project, implementing SEL in school presents an opportunity to build a space where students of color experience a sense of belonging. They have the agency in their learning process and they thrive. In order for that to take place, SEL needs to be understood and practiced first at the educator level and then with students.
So what are your thoughts, and this is to anyone on the panel, as to how SEL can promote more equitable learning opportunities for students of color and other students who are further from opportunity? So what are the ways that SEL can promote equity, essentially?
Mary Ann Wolf:          So I'm happy to go first. I wasn't sure. I thought I might have heard somebody else jumping in. I think one of the things that I have been doing a lot of thinking about is if you're building SEL and you're helping our teachers, but also our students, become more self-aware, but then also really thinking about becoming more socially aware. I think we're helping people appreciate things about themselves and that can be both their strengths, but also some of their challenges, but also being able to see that in others. And I think with the social awareness, we're also really starting to build, okay, what does that mean? What are the people around me going through? What is that empathy? How do we do that?
And I think when we're working both with teachers to really support equity, but also with students, I think all of that continues to carry through to really understand each person and understanding those needs. And so I think from an educator level, but also from a peer-to-peer level, being able to appreciate what each student brings, and what they are, and what they care about, and what might be their challenges and their strengths, I think all of that really supports a foundation that allows us to go further with equity. And to me, it's just a really important foundation. If we're going to try to understand all of the people in our classroom, or in our school, or in our environment,
I think having this depth of knowledge and being able to pause and really think through this is a really important aspect of the work. So that's kind of how it's a foundation angle, but I think it's one that the more I think about it, when we're trying to address equity in schools and address the opportunity gap, I think really saying SEL matters and our students come to us from lots of different places in terms of their skills around SEL, is really important.
One other aspect I'd love to just call out is just the fact that you're not just born good or bad in SEL, and I think a lot of educators have told us how exciting this is to them that you actually can learn these skills. And so when you're looking from an equity standpoint or an equity lens, I think sometimes students come to us further along in their SEL skills or not as far along, and then they might be seen as having some behavioral challenges or not doing what the teacher wants them to do for certain reasons. But if we all appreciate that we can all grow in those SEL skills, we're not just good or not at it. It's actually something you can develop. I think even having that perspective really changes equity in a classroom and how we approach each student from where they are, and then helping them grow.
Avril S. Goggans:       And Roxann, what are your thoughts on how to connect the SEL with equity or with challenges with equity, especially for students of color?
Roxann Sykes:             Well, I'll echo what Mary Ann was saying about how the competencies of SEL is on a continuum. You don't start at self-awareness and then build to the responsible decision making. It is a fluid process. So you may be working on social awareness and self-awareness at the same time, or you may one day need more self-awareness support than you do self-management, and so when you think about equity, it's helping an individual achieve what he or she needs to be successful in education. Then you can start to close those gaps for our black and brown students, because equity through social emotional learning helps them with academic and social success.
So teaching the competencies is the L part of social emotional learning, so that is a process, and it shifts from punishment and doling out consequences to recognizing, yes, you made a mistake, and this is how it impacted you, or your peer, or our classroom, or our community, and what are some things that we can do differently next time so that we can prevent a situation similar to this from happening. So you're teaching instead of punishing behaviors, because if you're not able to teach that process or take the time to capitalize on a teachable moment, you missed that opportunity to close some type of gap so that that student at the time has what they need in order to be a learner, and so that's the purpose of what we're doing as educators.
Avril S. Goggans:       And what about you, Karen? Do you have anything to add about how SEL can connect with equity? And in thinking about students with learning disabilities and learning differences, how do you approach connecting equity and SEL?
Karen Falato:             I have a great sign in my classroom hanging up all over and it says, "Fairness does not mean that everyone gets the same thing at the same time. Everyone gets what they need to be successful." And I think that goes along with SEL. We all are in a separate spot, but we're all learning at the same time and we're all needing different things. You may need more self-awareness. I may need more self-management today. I need to know to keep my mouth closed today and that helps.
Sorry. I apologize. Our bus announcements are going off.
Avril S. Goggans:       We get it. You are really in your work.
Karen Falato:             _____ _____. All right. Sorry. That way you don't hear it. You don't get to know who's going home where.
So yeah, it really does make a difference, and my kids hear it all the time. I'm, "You're not gonna get that. He needs that today. He needs to go sit in the closet today. That's where his spot is. You need to be in your seat."
Avril S. Goggans:       Thank you, and that's helpful to hear. I think what people hear when they hear the word equity is more work and more things that they need to do, and I think connecting SEL with equity really makes it clear that it's different for every student every day. You don't have to do everything at once, and Mary Ann, you made that point earlier in that equal doesn't mean equitable and that's a great point, Karen, as well.
For Roxann, I wanted you to help us answer a question here about planning for SEL at scale. So as schools and districts go forward and decide that they want to implement SEL and integrate that into their plans moving forward, what's something that you think they should prioritize, especially as it relates to equity?
Roxann Sykes:             As far as planning, I think there has to be an alignment between the district expectations and goals to individual school improvement plans' expectations and goals. So if it's an expectation from our district, then it is embedded in our school improvement plan, 'cause that's our roadmap for the work that we do. And then that aligns with resources, so if we are planning for an SEL implementation, what are the resources, whether it's time, or curriculum, or materials in which we're going to be providing some support staff, because support I think is one of the most important aspects of that planning piece.
To roll something out, any kind of initiative, you will need to have supports into place so that people can ask questions, rumble with vulnerability, and be able to just tackle things in a way that makes sense for them and in their space. Because when you think about equity, you can't assume that all schools are in the same place or have the same resources. So we may have a school in affluent part of the district or a school that may be higher needs social economically, so the resources provided to that school may look differently from those across your district.
And then providing spaces for people to come together and have those conversations about action steps and having a clear plan of what the rollout looks like so that you're not in essence flying the plane as we build it, as the saying goes.
Avril S. Goggans:       Yeah. That's really great advice. Mary Ann, did you have something to add?
Mary Ann Wolf:          Yeah. One other thing I think building on that is I've watched another school as they're rolling this out really take a focus on PLC, professional learning community, or times to focus on this and actually take the time to dig in and think through what does it look like, and if there is curriculum, how can we use this. What will we do with this? Other schools like a middle school using a more advisory period for thinking through what does that look like there. So actually ensuring that there is that time to pause and reflect on how do we do this? What's working? What does that look like?
And another scalable thing that I was just thinking about as you all were talking is this idea of things like codes of conduct and how we address discipline. So we see a lot of work around restorative practice or restorative justice going on and schools that I've visited really see a tight alignment with their SEL efforts with that, and some of the things Karen and Roxann already said reminded me of that. But also from a district level, if you have a code of conduct that doesn't really also align with some of the language and some of the things you're working towards with SEL, is that really supporting equity?
And so the district where I'm on the school board, we're actually moving from a code of conduct to a code of character, conduct, and support, and just that change, I mean it's a very in depth. There's a lot of input change, but I can hope and imagine how that will impact what SEL looks like in our district, but also, what does that mean for equity. And I think a lot of times, discipline and discipline disparities is where equity challenges really show, and so I can see making that connection and thinking about some of those district policies and district efforts can both support schools with principals like Roxann and teachers like Karen, but also making sure for students that there's a consistency there that's actually supporting their growth and not just a true discipline, I guess, code of conduct.
Avril S. Goggans:       All right. Thank you for that addition. I think that was a great note to tack on, and thanks for great advice from both of you, Roxann and Mary Ann, around planning. And as we think about planning for SEL and actually implementing it, like any initiative, it's a lot of work. It involves time. It involves energy. It involves a lot of resources. So I want to ask both Karen and Roxann, how do you maintain the momentum among your colleagues and your fellow administrators around SEL? What keeps them going and implementing _____ _____?
[Side conversation]
How do you keep momentum? It's a lot of work. How do you keep your colleagues and your fellow teachers motivated around SEL?
Karen Falato:             It's really hard, especially when you have students such as the lunch monitors and then they're trying to follow the language and things, that makes it really difficult because they're not in on all of the training and that makes it hard when they don't have all of the same specific keys that we've used with certain students, and that makes it really difficult, especially with some of the students that I work with in the autistic population, because we have specific language that we always use with them, and then when they get into the unstructured situations, it's very difficult.
Avril S. Goggans:       And so how do you bridge that gap for the school lunch monitors and other members of your staff and teacher community that don't necessarily understand the language that you use with those students? How do you bring them in and kind of help them along?
Karen Falato:             We try to have a conversation with our lunch monitor that we have on a daily basis and give them, "The student really needs this type of language." We use key words with that person and hopefully we get the same lunch monitor all the time, and they get to know them that way, and that hopefully helps make it more clear, and hopefully we have the same person all year.
Avril S. Goggans:       Nice. And what about you, Roxann? How do you keep your colleagues motivated, and similar question to what Karen just answered, implementing SEL with fidelity? So as a student leaves one context in the classroom or within the lunchroom, how do you make sure that the adults in the other parts of the school maintain the same consistency in SEL implementation?
Roxann Sykes:             So celebrations always energize people, so making sure that we share stories and we share examples about great things happening across the building and pointing out how it relates to SEL, and building competencies, and our common language, too, helps. That's embedded. We're a PBIS school, so developing common language so that when a student is in whatever area of the building with _____ things, whether or not it's in the cafeteria, in the hallway, or in the classroom, building that out with students involved so they know what the common language is and the expectation.
I think another way is to hold it in all of the settings that we, as educators come together, so it would be a staff meeting, or even today, we had a workshop, a training, and making sure that we bring the focus back to this portion of the school improvement plan, as well as starting with the educators and making sure that we are able to recognize where we are in the competency at any given day, in a given moment, and create an environment of trust so we can have those open and honest conversations.
Because it's difficult because you never know the challenge a student is having outside of school and how it translates in the classroom can be really tough. So as an educator, indicating that piece, and then trying to figure out, okay, how do I address the behavior and still maintain our focus on SEL is a challenge, so letting people know that it's okay for you to not be perfect in the implementation. The main part is let's continue to grow our practices, and our knowledge, and our skillset.
And then I think bringing people in who don't get the trainings as much as possible. So our instructional assistants, or teacher assistants, they're called in other places. They don't come on teacher work days so they miss a lot of their training, so what we're having to do is create an instructional assistant PLT so that they can also get the language, and also be able to ask questions, and seek opportunities to develop their skillsets, as well.
The parent community group is important, as well, so what we're doing in the classroom, communicating that to home so parents can see that common language and knowing what zones is when we're talking about zones of regulation and morning meeting questions are posted on our website so that parents know, "Okay, what did you share during morning meeting this morning 'cause I saw that your question was." And so that they have those tools at home to support what the students are doing in the classroom.
Avril S. Goggans:       That's great. I love the idea of making sure that parents know what's happening in the morning meetings. That's great, 'cause then they have a reference point to engage their child after school on the same concepts that were discussed earlier. That's great.
Roxann Sykes:             We want to make the dinner table conversation. We all know that you can ask, "How was your day?" And, "Fine." "What was your favorite part?" "Lunch or recess." But if parents are more specific, they'll get a better answer.
Avril S. Goggans:       And it also helps for recall with that child, as well, when they get home, so that they're really learning and processing what they got in school and having a new place to apply it, so that that's awesome. I love to hear that.
I was gonna reference a conversation that Karen and I had in preparation for this webinar. You mentioned engaging with a parent on something that you were working with a student on in your classroom. Can you share that with this audience what were some of the positive things about having that conversation with a parent about what the child was learning in your class?
Karen Falato:             With me?
Avril S. Goggans:       Yeah, that was you, Karen.
Karen Falato:             I'm trying to remember what we talked about. Honestly, my brain just died on me.
Avril S. Goggans:       That's okay.
Karen Falato:             We were working on – oh, there goes the announcements. All right, I think those were the end. My apologies. Can you ask me the question again?
Avril S. Goggans:       I was just asking you to share the story. You had a really beautiful story about working with the student and then having to talk to the parent about some of the skills that that student just learned and how to apply them at home, and you had a really great story when we spoke earlier and I wanted to –
Karen Falato:             Yeah. We had been working on trying to get a student to stop crying. I don't know if it was this one, but we had been working really hard and trying to use some key words, and telling him it's not appropriate to do that anymore and how would he do that at home. And we encouraged that parent to start using those key words at home, too. I don't know if that's the same story.
Avril S. Goggans:       I think it was that story. You were just talking about how important it was for you to share with the parent so that the _____ _____.
Karen Falato:             Right, so it was in both places.
Avril S. Goggans:       Yeah, that was it.
I want to shift gears a little bit. I wouldn't be myself if I left this conversation without talking about continuous improvement and measurement, and I know that with SEL, the impacts of the work are long term and that you see the greatest gain from SEL with consistency of implementation. So I wanted to ask in the interim and in the short term, what are some ways that you evaluate or measure the impact of SEL, whether it's at the classroom level, the school level, district, or other. How are you measuring? How do you know it's working? And Roxann, I'll ask you to answer that one first.
Roxann Sykes:             Well, it depends on where you're starting, and so for those of us who start with the adults first, prior to beginning our SEL journey, there's a self-assessment that educators can take that kind of rates their proficiency in each of the social emotional competencies. So that's one thing that I have done in my previous school is to give the self-assessment prior to PD and prior to building knowledge around social emotional learning, and then given it again as a post self-assessment after the learning so that you can measure your understanding or our understand as educators before we had any PD, or any resources, or any training, and then what was the change after going through the training and after taking strategies back to model in the classroom. And so that's on the adult end.
And then there are different surveys that educators can take for their students and specifically the BIMAS, which is a social emotional learning survey through the intervention process of MTSS, and so our district is in Cohort 2 of that and it starts with teachers just basically doing observations. So it's a screener really to see where a specific need may fall for individual students, and based on the results, identify strategies that help to build those competencies. So over the course of a year, you would see that the beginning of the year, midyear, end of the year survey, can show growth based on the first observation strategies tried and then whether or not those strategies were successful, and if they were not, what new strategies did you try, just like with academics.
So we're trying to do the same thing to show the alignment between this is how you can intervene or provide specific supports for social emotional learning because it's not different from math or reading. It is just as important, if not more important.
Avril S. Goggans:       And Mary Ann, do you have a series of measurements or tools that you'd recommend for educators to use in trying to understand if SEL is working, how it's working, and what to continue or stop doing in implementation?
Mary Ann Wolf:          Sure, and I actually was thinking of this in a couple of different ways. When I think about adult learning and our course as an example, we, like Roxann described, have a pre and a post survey where we can really see, okay, what's happening, but we also have opportunities for teachers to do make work credentials where they actually reflect and submit artifacts that demonstrate their learning, and so that's another way for us to really see, but also for educators to know that they have actually developed that competency and they're able to show and earn that make work credential or digital badge. And so that's a way, I think, when we're thinking about the learning of the adult side of that.
When I go back to that school I visited in Chicago, there were actually a couple of different things they were doing. They were tracking their discipline referrals, but with every student that had a referral, they were actually then having a conversation with them about the SEL competency that maybe they didn't use or needed to build, and so they were also tracking that in conjunction with their referrals, which I thought was a really interesting way, once again, to shift that conversation, so that's a very tangible approach.
And then some of the students, when I asked what difference have you noticed in your school, they actually were giving examples without names of specific students who used to have more challenges and now were able to do this, but they could also talk about themselves and how they could self-manage and actually pause or do something. So I think that's a little more anecdotal, but it's still really compelling for me that students could feel that difference in their classroom or in themselves.
And then the more formal measure that I just wanted to share is Panorama does offer some SEL surveys that you can use. Some are open source for both teachers and students. Some have other options related to it, but we certainly learned a lot looking at them. And then also, xSEL Labs. It's a small x and then S-E-L Labs. They've done some really in-depth work around this, as well, with students and from kind of that psychology side of that and how do we know that students are building the skills. We've worked with both of those, and they also provided, xSEL, in particular, provided some input into the course.
And so I think those are out there for people that are ready to have those more formal assessments, but I really appreciate all the other ways that we're learning as we go, too.
Avril S. Goggans:       Very nice. I want to go ahead and jump to our last question because I want each of you to have a chance to respond. Our hope is that after today's webinar, a viewer who is interested in SEL and maybe have plans to implement it in their teaching and learning practices wherever they are, they would really want to sort of walk away with what's the first step to improving their capacity, and beyond that, how do they consistently go back and make sure that they're learning as much as they can related to SEL, and how do they then share that with the folks that they work with? So it's what's the first step? How do they continue to improve and improve their capacity? And then what's the best way to share SEL with their colleagues?
And Karen, I'll let you go first with that, since you've applied SEL for several years in a special needs classroom. What is the first step to a special educator who's interested in SEL?
Karen Falato:             I think the first step is jump in. You've gotta do it. You're always doing it, anyway. You're always self-managing yourself and you're always checking on your friends. We always do it in our own life, anyway, and I think as educators, we do it with our students. We check on our students. We see where they're at. I think we're just giving it a name. I think we've always done it. Having the five different competencies, and knowing a little more in depth on each one, and having the students being able to manage themselves, and be able to relate with other students a little bit better, and be able to identify what they're doing, I think that's just key. And we just learn a little bit more each day, and each year, and keep leaning on our colleagues to help us get there.
Avril S. Goggans:       Thank you. So I heard you loud and clear. The first step is to really jump in, and I think you saying that it's part of our everyday practice and the components of SEL are in what educators do anyway, alleviates a lot of fear and hesitation. So that's great advice, to just jump in and get going.
With Roxann, I want to ask you the same question. So thinking from a principal perspective, if an educator watching this webinar is interested in learning more about SEL and increasing their capacity, how do they get started and how do they share it?
Roxann Sykes:             I think the first step is to build your understanding of SEL. There's history. This is not new. Like Karen was saying, it's been done for many, many years, and so I am a huge fan of CASO. So you can go online and there's a component for each of the phases you're in. So if you're a district leader, or a building leader, or a classroom leader, you can pick and choose which component that's of most interest to you, and also have links to different resources like articles, videos, surveys, and all of that can be shared with who your stakeholders are.
So is it your school building? Is it your school improvement chair? Is it your principal? Is it your superintendent? Who needs to know? Anyone can receive those resources, and the SEL course is free, and it's a lot of great information, and it's self-paced. So there are times in which I know depending on where you are and where you might be listening, you're approaching maybe some inclement weather, or if you're at home for a snow day, would be a great way to use your time and/or during the evening times or during planning periods with your team would be a great way to share and build your understanding.
And then I say to identify one small action step and implement with fidelity. So don't give up when you don't see the reaction or the result that you are wanting, but identify one small thing through your research and through your reading that sounds interesting to you, that fits your personality and your style in the classroom in your school, and implement it every single day with fidelity. And take your own anecdotal notes and see if you don't see a change, have some true reflection on maybe the barriers. Was it time? Was it a resource? Was it buy-in from your kids? And then that way you can tackle that piece and continue to implement and build upon what you're doing.
By doing that, you'll become the example, and that, to me, is the best way to share best practices. So for someone to come into your room, or your building, or to your district, and say, "I hear you're doing great things. Can we see it? Can you talk to me about it?"
Avril S. Goggans:       That's great. That's great advice. Mary Ann, what about you? What's your advice to educators seeking more understanding on SEL?
Interviewee:                Sure. I think a lot of times, it feels like, "Do I have time? Can I make the time?" And I think the more we can shift to we must make the time because we know that addressing SEL and really laying that foundation for students, building skills, not only does it lead to gains in achievement, but also, when you think about what all of us do every day in our lives, we use SEL constantly. So if we're really preparing our students, I think it's a must do, and actually allowing yourself as an educator, as a principal, as a district leader, this is absolutely critical to our work, not optional or not on the side, I think is really important.
The other thing I think, following what Karen and Roxann said, is this idea around building in some structures that actually allow you to be consistent, and I think whether it's morning meeting, whether it's advisory, whether it's working with certain teachers in your school, but just to have that consistency in that language I think is huge. And it takes time, but maybe it is picking the one structure we're all gonna implement this year.
And then just remembering, it might not be exactly right the first time. You might need to go back and talk to other teachers, and figure out how did you do that mini lesson, or how did you address it when this happened, or the conversation went here, and kind of being patient with yourself, I think, is really important, too.
And then the last thing is I think we're all gonna learn what happens in a school where year after year, SEL is implemented consistently. It's hard to imagine what a fifth-grader would be able to do if they started this in kindergarten, and then obviously how that would impact them long term. We have some great data to show what that could look like, and so let's just really if we dig in and commit to that in our schools, we might not know what the lessons need to be two or three years from now because I think our students and teachers are gonna figure that out together, but how do we do that and build from that.
So I love the jump in. I love the being intentional and being really focused, and I think at the end of the day, I don't think we can afford not to do this.
Avril S. Goggans:       That's great. Thank you, ladies. You all have really, really totally expressed the value of SEL I think in your commentary and your words are encouraging to myself, even though I'm not an in-the-classroom educator, to even read more about SEL and find ways to apply it in my daily life.
As I close today, I want to definitely remind everyone to visit FutureReady.org to learn more about our work and more about this conversation around SEL and student-centered learning. We encourage and challenge all superintendents to join the 3,500 others and declare a commitment to student-centered learning by signing the Future Ready pledge.
I also want to encourage our viewers to get involved through our leadership strands. So Future Ready has leadership strands directed at district leaders, tech leaders, principals, librarians, and instructional coaches. Most recently, we've added school board members to that, so there are resources allotted specifically to each of those roles. So go to our website and check that out.
And special, special thank you to you three ladies for joining the panel today, and sharing your wisdom, and your experience. I really appreciate your time and I'm sure that you'll continue to share your great thoughts on SEL and really impact a log of students. I look forward to seeing how many people join in to this online course, Mary Ann, and obviously it's very valuable, and this is the second iteration, so I'm sure it's gonna be much better than the last and continue to grow.
I want to thank the viewers, as well. Thank you for joining and I hope you all are following along on Twitter and Facebook with #FutureReady. We'll be looking at your questions and comments and commenting in response after this cast. Please continue to follow us on Twitter and our Future Ready Strand pages on Facebook, and you can find those at Facebook.com/FutureReadySchools. And if you missed today's conversation and you missed the live air, the recording will be archived, www.All4Ed.org/webinars soon after we air.
And that's all I have for you today. Thank you so much for joining us and I look forward to having other really thoughtful conversations about student-centered learning. Thanks. Bye-bye.
[End of Audio]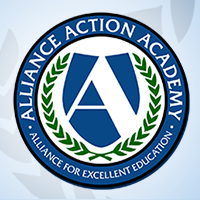 Welcome to the Alliance for Excellent Education's Action Academy, an online learning community of education advocates. We invite you to create an account, expand your knowledge on the most pressing issues in education, and communicate with others who share your interests in education reform.
Register Now
or register for Action Academy below: