Future Ready Librarians: Exploring Equitable Digital Access

November 27, 2018
10:00 pm – 11:00 pm EDT
YouTube Live
Future Ready Schools® Invites You to Participate in a Webinar
Future Ready Librarians: Exploring Equitable Digital Access
Panelists:
Ashley Cooksey, Instructional Technology Coach, Batesville School District (AL)
Len Bryan, Library Technical Systems Manager, Denver Public Schools (CO)
Kristin Mattson, Library Media Center Director, Waubonsie Valley High School (IL)
Moderator:
Shannon McClintock Miller, Future Ready Librarian Spokesperson, K-12 District Teacher Librarian, Van Meter Community School (IA)
On November 27, 2018 Future Ready Schools® (FRS) held a webinar that is part the ongoing professional learning opportunities for school leaders.
In this webinar, panelists discussed how school library programs help ensure that students have equitable digital access. School librarians are supporters and advocates for equitable access to collections tools using digital resources, programming, and services that support the school district's strategic vision.
Panelists shared their unique experiences on how they have approached the goal of ensuring equitable access. Webinar watchers will gain knowledge, ideas, and strategies to take back to their library and community to help support program efforts.
---
Please direct questions concerning the webinar to ldossin@all4ed.org. If you are unable to watch the webinar live, please register to receive the video archive directly in your inbox.
---
Future Ready Schools® (FRS) is a project of the Alliance for Excellent Education (All4Ed), a Washington, DC–based national policy, practice, and advocacy organization dedicated to ensuring that all students, particularly those underperforming and those traditionally underserved, graduate from high school ready for success in college, work, and citizenship. www.FutureReady.org

Follow FRS on Twitter (twitter.com/FutureReady); Facebook (facebook.com/futurereadyschools); and the FRS Leadership Hub (futureready.org/hub).
---
If you are interested in renting the Alliance's facilities for your next meeting or webinar, please visit our facilities page to learn more.
Shannon McClintock
Miller:                         Hi, everybody. We're so excited to have you here for our November Future Ready Librarian webinar, and I'm thrilled because I have three of my amazing friends and teacher librarians here too, and I know that you're all going to love to hear from us today. And so I'm gonna go ahead and start sharing our slides so we can get started 'cause I know you're going to love what we have to talk about today. And today we're going to explore equitable digital access, and as you know, this is a very important piece of our framework as future ready librarians. And so I'm excited to be able to have these three guests because, to me, their voices are so important when it comes to this topic, and we're also super thankful to have the Alliance for Excellent Education and Follett sponsor this webinar today. And at the end, I'll show you how you can get to the other webinars too.
My name is Shannon McClintock Miller. I am the Future Ready Librarian Project Connect spokesperson. I'm also the K-12 teacher librarian at Van Meter Community School in Van Meter, Iowa. You can find my information on this slide. I'm on Twitter @ShannonMMiller, and I blog at the library voice, and then there's my e-mail. And as the spokesperson and I work with Mark Gray on a regular basis. We just got back from our – the very last institute that I'm doing this year for Future Ready, but we're always there to answer questions and to help you and to help in any way, and so please feel free to reach out, not just about this webinar, but anything else that you might need or want to share. If you have an idea for a future webinar too, we would love to hear it. And I'm excited, like I said, to have three very special guests with me today, and I'm going to let them introduce themselves, but I'm going to start with my friend, Ashley.
Ashley Cooksey:         Hi, guys. I'm Ashley Cooksey. I am the instructional technology coach at Batesville High School and Junior High in Batesville, Arkansas. I am also a Code Spark coding and early literacy subject advisor. You can also find my Twitter and Instagram handles here on this slide, and I will be – I'm excited to be talking about equitable digital access today.
Shannon McClintock
Miller:                         And now we're on to my friend, Kristin.
Kristin Mattson:         Hi, guys. I am Dr. Kristin Mattson. I am the library media center director at Waubonsie Valley High School in Aurora, Illinois. I'm also the ISDI author of "Digital Citizenship in Action," and I serve as an adjunct professor at the University of Illinois. You can find me on Twitter and Instagram as well. My contact information is on the slide, and I'm looking forward to sharing some of the things we're doing here in Illinois with all of you.
Shannon McClintock
Miller:                         Thank you. And now we have my friend, Len.
Len Bryan:                  Hi there. My name is Len Bryan. I'm the library technical systems manager in the Denver Public Schools in beautiful snowy Denver, Colorado. This is an area – equity in access is an area that's close to my heart and it's one that I'm really excited to visit with you guys about today. My Twitter handle and information is also on the slide, so I look forward to hearing from you guys on the Twitter. Thanks.
Shannon McClintock
Miller:                         Thank you. And so today too, if you have any questions, and this is not just today during the webinar, but if you have things that you have questions about or you wanna share, please join us on the Future Ready Librarians conversation that's happening all the time on Twitter and also things being shared on Instagram. And so when you have questions, please put them on here and we would be happy to answer them for you. And also you can check out the web site is on the bottom, and this is where you can find more information about future ready librarians and about future ready schools. And so please feel free, again, to reach out anytime, but also check out the web site for more information.
Now, when we look at ensuring equitable digital access, this is a really important part of our framework as future ready librarians and future ready school when it falls into the robust infrastructure wedge of future ready schools. And I'm excited because I think that the three stories that you'll here today really show how we need to provide and advocate for equitable access to our collection tools when it comes to digital resources, programming and services to support our strategic visions of our school districts. And this is something that I know as the district teacher librarian in Van Meter, that we think about all the time. We've been one-to-one there for – this is our 12th year, and we're one-to-one K-12 within our building, and I had a meeting with our director of innovation this morning, and we're constantly thinking about different strategies and different tools and different ways that we're going to support this, and so I'm really thankful that all three of you are here to share your story. And we're gonna start out with Ashley's story today, so I'm gonna let you go ahead and take over, Ashley.
Ashley Cooksey:         So like I said earlier, I am the instructional technology coach at Batesville High School and Junior High. This year is our first year actually being a one-to-one district in 6-12 grade, and they are one-to-one 24-7. They take their Chromebooks home with them. We are a Google school district, and we have slowly been building our Chromebook arsenal over the last few years, adding carts to Chromebooks in grades 3-6. And our junior high campuses had just a few carts in classrooms of various types of devices. They weren't all consistent, so they weren't all Chromebooks. Some of them were laptops, some of them were Macbooks, and so this year we're completely one-to-one. Our students are using Chromebooks. They're Lenovo Chromebooks, so they're able to actually write on the screen with graphite lead pencils, which has helped integration in our grades K-5 elementary campuses. They all have Chromebook carts in classrooms but they don't get to take them home. So we are a one-to-one district across the board. Our district has roughly 3,600 students, so we're a small rural school in Arkansas.
When we first started our online – going one-to-one online, my first question was how. How are we going to ensure that all students can utilize their device equitably, not just equally? Each student would have a device that's equal, but because we are a rural area, not all students have access once they got home to the internet. So I wanted to make sure that we were, you know, taking care of all of our students and not just providing a device that was only useful during school hours. And we often think of digital equity in terms of socioeconomic status, and that may be true and it plays a huge role in the digital divide, but in rural districts in Arkansas and many other areas, and we don't have a whole lot of urban districts in our state, there are places where even our students are not even capable of having internet at their home. It's just not reachable. It's too far out of our area, so the Wi-Fi is not available.
I loved this quote that was Explained Writing. Equal is the same and equitable means fair. When we first rolled out our Chromebooks this year, we delivered 1,700 Chromebooks to students within three days, so it was a massive rollout. All students were receiving their Chromebooks, and we began a big social media push and sharing of ways that our students would be able to utilize those devices at home. We shared our images on social media channels to let parents and students know of local places that they could go to utilize free Wi-Fi. The entire strip of our main street, Batesville, which is a historical area that also houses our public library, several restaurants, two city parks, it actually has a Wi-Fi cloud over the entire main street area, so our students use that quite a lot. It covers multiple businesses as well as the outdoor areas.
We also have ten Wi-Fi spots at the high school and ten at the junior high, so we have 20 total for students to check out. Since this is our first year, we only started with ten. I'm hoping to increase that over the course of the year and into next year. And we did make sure that our Google suite, so Docs, Slides, Sheets and Drawings were all available offline. That allowed students to be able to work on an assignment at home in Google Docs and then it would upload to the cloud once they reconnected to our internet.
As a technology coach, I try to make sure that I share ways students can utilize the offline features. For example, we have an English class that is required to blog post, so we've instructed how to do your post in a Google Doc, and then when you get to school to copy and paste into your blog so that it gets uploaded. We're also working on a Google Map to be able to identify places in our area that has Wi-Fi so that we can pinpoint and share the Google Map with our district, adding businesses, locations and public areas as we identify them.
Over the course of the summer, I also began researching how students could also be able to find internet at a cheaper cost or at a discounted rate. I was able to find five grants that were available for school districts and for families. The Sprint 1 Million Project I've shared several times. It is a – sponsored by Sprint, and it is for school districts. So districts are able to apply for the grant that provides MiFi internet for their school district in low socioeconomic areas as well as the Verizon grant. So you may want to check on making sure that those grants cover your area so that you can apply and provide your families with MiFi spots if you do not have them at your school. The MiFi spots themselves are not expensive to purchase; it's just the recurring internet monthly that is an issue for school districts.
There are also three grants that are available that I found for families to apply, so it doesn't have to go through the school district. The family actually applies themselves or the individual student. Cox Communications has theirs that's Connect to Compete. AT&T Access and then Everyone On. I spoke with the AT&T rep that was at ISTI this summer, and he led me to this web site and he also talked a little bit about the qualifications for the web site and to be able to qualify for the discounted internet. They provide the Wi-Fi spot for your home and your internet is at a discounted price. And he also said that if your students were free or reduced lunch, that they're almost guaranteed to qualify, so that one is one that I really make sure that I share with our families in our area that they can apply themselves to be able to provide internet for their homes, not just for their students but also their families.
That's something that our district has shared a lot as far as equitable access, not just for the internet, but our Chromebooks are available to parents to be able to utilize as well. We've heard many great stories that have already developed just in the course of this school year from parents that have been able to apply for jobs using their student's Chromebook or be able to use it to keep up with grades and e-mail teachers, and they weren't – you know, they didn't have the device at home, and now with the schools providing that device and allowing that to go home, it's opened doors not just for our students, but also our families. And we're continuing to make improvements throughout our infrastructure and in our district. We want to ensure equity, and all students need to be taken into account, even if it's just one student. So as their teachers, we need to be their voice and their advocate for equity. We're always – I'm always sharing areas where I can see improvement, whether it's for one student or several students.
In our future, we have our longest-running bus routes will also have Wi-Fi available on those so that students that are on the bus early and later in the afternoon can work while they are being transported. Our Wi-Fi is available on athletic and travel buses. We are looking into purchasing some additional MiFi spot and partnering with our local businesses. Our technology department has also identified places where the internet is not reliable or is a little further out of town where they may not be able to have home Wi-Fi where we could place DNS servers in areas of need so that students could be able to utilize that. And of course we are looking into some partnerships with our community.
At the Future Ready Institute in Atlanta, Brianna Hodges, who is the future ready instructional coach leader that was there at our institute, shared that her district in Texas partnered with local businesses and offices that offered Wi-Fi, and they just provided a sticker to go in the window of the business so that families could easily identify places where they may have a longer wait time and they could take their Chromebook into the building to be able to work while they're waiting, places like the community center, banks, doctors and dentists offices. We talked about car dealerships. I always take my Chromebook with me when I go get an oil change because I'm there for a long time, and I've been able to get work done. I loved that idea, so I took that to our PR rep and we developed the logo that's on the screen, the Batesville logo with just Wi-Fi underneath it. We've been sharing it with businesses in town and as they request them as well so that not only are we sharing it, but the businesses are also talking with each other on ways that they can support our community and our schools.
And I think that we are ready for Kristin to talk about –
Kristin Mattson:         I absolutely love the sticker idea, and I've heard Brianna talk about that before. And one other idea I heard at the institute this week is they were talking about in Los Angeles they have Wi-Fi on the buses and then they park them and during certain hours of the evening, they park them in the neighborhoods so the kids use the Wi-Fi. I was, like, that is like the coolest thing too. Like, I just thought that was just so special and unique, so I love what you're doing, Ashley. They're lucky to have you.
Ashley Cooksey:         Thank you. We are really enjoying it, and we – it's not a bus, but our school does have the Wi-Fi on after hours, and we often see cars parked in the parking lot with students working on homework.
Shannon McClintock
Miller:                         Yeah, I've seen that in communities before here in Iowa even, and they know, like, the certain spots and they'll be, like, you know, teenagers in their car outside these businesses working at nighttime, which I think is really neat, but love the sticker idea. I'm glad that you did that too.
Kristin Mattson:         Awesome. Shannon, are you able to see my slides?
Shannon McClintock
Miller:                         I can see your slides.
Kristin Mattson:         Okay. So I wanna talk a little bit about what is happening at Waubonsie Valley High School, which is where I work in Aurora, Illinois. We are a school of about 2,600 students in just this one building, which is almost as big as Ashley's whole district. We also have about 200 adults that support students, and I am the only librarian supporting all of those folks. So for me, making sure that people have equitable digital access is huge because it is a way that I can sort of replicate my reach and make sure that all of my patrons have what they need 'cause it would be kinda physically impossible for me to serve everyone in any other way.
So interestingly enough, I feel like I could say just about all of the same things about my district that Ashley just talked about with her district. We've done a ton of work in the community to make sure that kids have internet access, to make sure that parents kind of know what resources are available for them. Our district office has done some fantastic work with our public libraries, training public librarians how to navigate Chromebooks, knowing that so many of our kids work at the public libraries after school hours. We wanted to make sure that the public librarians who are serving our students kind of knew some of the tips and tricks that could be helpful as our students were working. And so all of that work kind of has been happening, but it's not really work that I can claim because it's work that's being done by teams of people at our district office, both in our instructional departments and in our technology department.
And so as the librarian who maybe isn't as close to some of those big picture decisions, how do I ensure equitable digital access just at my building? Because I definitely still have a role to play. So I wanna talk to you a little bit about that role kind of at the building level. For me, digital access doesn't really mean a whole lot of anything if my patrons don't know how and where to access all of the various tools that are available to them. We are very blessed that our district has put quite a bit of money into resources like academic databases, digital textbooks, creation tools. But for quite a while, all of those things were just kind of floating out there.
So one of the first things that I did when starting at Waubonsie Valley four years ago was to create a web presence for our library that was clean, it was visually appealing, it was really super easy to navigate. And this site became sort of a one-stop shop. It was a place where kids could go to find all the digital tools that they had at their disposal from our e-books to our subscription services like our databases and our creation tools.
Another big piece for me when thinking about ensuring equity is how I can equip people with the knowledge and the skill sets that they need to use the digital access that they have. And this goes for students, but it also goes for our staff and for our parents as well. So like Ashley mentioned, equal access doesn't always mean equity. Every one of our kids has a device in their hand, but not every single one of our kids was as savvy with that device, and I can say the same thing about our staff. And in order for us to equip people with the skills they need to really use these devices well, we wanted to make sure that we weren't the only go-to, that we were giving people knowledge so that they could problem solve on their own, so that they could learn as they needed, but there weren't rally many systems in place for that.
So equipping people with skills looks very different. One really simple thing that we did was to create this basic sort of troubleshooting poster and hang this poster up in every single classroom in our school. We didn't want students missing instructional time because they were having issues with the Chromebook, and we saw again and again and again kids coming down to the library on a pass and simply just needing to be told, like, hey, have you tried to power it down and then power it back up again. But basic really troubleshooting things like this were getting in the way of kids having time in their classrooms in their seat. And so training the staff to have students try these five sort of basic troubleshooting tips before allowing them to leave the classroom was keeping students in class and it was also equipping our teachers with tools that they could use when things sort of went awry.
I also do a ton of direct instruction about how to use lots of different digital tools. I give lessons weekly on how to navigate some of our different research databases. I give lessons weekly on how to use WeVideo to create something really awesome for class. But again, there's one of me and there's 2,600 kids, so what good are some of these tools if the students don't know how to use them, and I definitely can't be giving that direct instruction all the time. So over the last two years, I've really started working on building up this library of instructional help videos using tools like Screencastify and WeVideo. I started making a series of just really short, like no more than two- or three-minute videos that replicate a lot of the direct instruction that I give when I meet with students in classrooms. But now I've given students access to my assistance from home so that when they leave me and they go to try to apply some of these things while they're doing homework, they've got a place where they can go and kind of get a refresher on how to navigate all of these digital tools that are at their disposal.
Interestingly enough, as I was working on this webinar this week, I had an equitable access issue sort of arise. I had some special education teachers reach out to me and ask me for access to some lower level books that their kids might enjoy reading for pleasure. And because we are at a high school, most of our e-books that we purchase are written for 9th through 12th graders, and we didn't really have a whole lot of e-books for our special education students that they might really enjoy digging into. So equitable access kind of came in when I was able to make a phone call to our district office and say, hey, I know we have these really great subscriptions at our elementary schools. What does our licensing look like for that? Lo and behold, the licensing was districtwide licensing. And so I was able to take advantage of some of the e-book collections from our elementary schools and make that work for our high school students. Now, it wasn't totally seamless. There would have been some cumbersome things with passwords and kids having to do several clicks in order to access this list of books, but working with both Follett and with Tumblebooks, who's the e-book provider that had all of these wonderful titles, I was able to merge some of the best of the best from that elementary collection into a destiny collection that was super easy for my high school kids to access. So sometimes being that building level liaison is just sort of listening for needs and then reaching out to the right people to make access as easy as possible and not so cumbersome.
I'm a super reflective librarian, and I always feel like I could be doing more, and when I think about this topic, I feel like I have some room where I can grow, and last year when our entire building went one-to-one for the first time, I had a lotta conversations with a senior who I was pretty close to. She was really, really frustrated by the amount of content that was suddenly appearing online since the whole school went one-to-one. This student happened to have a hearing impairment and she relied on hearing aids and in FM microphone system to hear her teachers give lectures in the classroom. And this system had worked really well for her for the last, you know, eleven years of her school career, but as more and more of her teachers started feeling comfortable with the Chromebooks, they began pushing out more multimedia content to students, things like video and audio files. This student's needs were not really being met through – or her needs were being met through the FM microphone when instruction was just traditional, but they really stopped being met when audio was being delivered through the Chromebook instead of just by a teacher speaking.
So there are simple fixes out there like turning closed captioning on to our videos or providing transcripts along with the audio files. Those things would have allowed this student to have access to the content that the teacher was providing, however, the teacher really was kind of ignorant in the best sense of the word to these different accommodations that he could provide for her and oftentimes was telling her don't worry about this assignment instead of thinking about ways that he could support her. So when I was at ISDI this summer, I fell in love with Luis Perez's work. He was a keynote, talked a lot about technology making things more accessible for kids, but I realized that assistive technology and even things like universal design for learning were areas that I only have a very peripheral understanding of. But I also see the way that more and more of my teachers are trying to design instruction that can be delivered online.
So my goal this year has been to really dive into assistive technology universal design for learning, learn as much as I can about it so that I can empower and support teachers through professional development and also so that I can empower students to better advocate for themselves. So the two books on the screen are two that I picked up from ISDI this summer. They've been fabulous and have really gotten me thinking about sort of my role as we move beyond just that getting everybody one-to-one. We're there, now we've gotta go a little bit deeper.
The other place that I'm kind of starting to expand my thinking and do a little bit of research into how I can expand my reach is with an artificial intelligent chat bot. I've really just started doing my research, but I'm super intrigued by this idea that I could have a chat bot on my library web site that would allow kids to ask a question that they might normally have to come in to ask me or that they might kind of fumble around looking for an answer for and that I might have this awesome chat bot who can provide them with support anywhere, anytime, whether I'm caught up with a class or they're at home working into the wee hours of the night, a chat bot might be a cool way to help kids be – I don't know, to help them have even more access to the things that we offer. So a couple of ways that I'm looking to grow and a couple ways that I'm already supporting kids, and now we're gonna turn it over to Len.
Shannon McClintock
Miller:                         I love that we were just talking today in our library about providing access to our kids anytime, and I _____ 'cause I have – I only have 800 kids in my entire district and in my building, and I have been really lucky 'cause I have a partner librarian, Jessica, now, and so she's brand new, she's coming from the high school, a high school English teacher, and we were talking about providing access, you know, 24-7 to our kids in ways, and I love what Michelle _____ does because she has an Ask-A-Librarian on her web site, and it's great because the way she has it set up, I think maybe through Google Chat or something, it's just so neat because, you know, she is available. But you know, even getting e-mails, there's some nights that my kids will see that I'm on Skype and they'll reach out or they reach out in an e-mail to ask questions, and it's not just our high school kids. It's our elementary kids who wanna know how to get on Bunsee or wanna know how to access that collection or Symbaloo that you shared and just being, you know, available in unique ways I think is so important.
Kristin Mattson:         And I think the more barriers that we can remove, you know, the more our kids are gonna benefit from all of the different technologies we offer.
Shannon McClintock
Miller:                         And the parents too, families _____. Thank you so much. I always love _____ you have to share. Thank you, Kristin. And now we'll hear from Len.
Len Bryan:                  Yeah. My to-do list is getting longer and longer, let me tell you. It's crazy. Okay, so let me share real quick. Try not to put you into the multiverse there.
Okay, so yeah, this is special because I have a different size district, I think, than everyone else. So I'm brand new to Denver Public Schools. We're, you know, Denver, Colorado. I hope everyone knows where that is. We're a large urban school district. We serve almost 100,000 kids in 128 buildings with 178 schools. Now, you may be wondering why in the world we have a different number of schools than we do buildings, and we have shared campuses. We have charter schools that are embedded in some of our campuses. We have campuses that serve, you know, K-6, 8-12, 6-12, every combination you can think of, and those are there on the screen.
So this is a, like I said, a large urban district. We serve a huge diverse population of students, huge diverse population of families, huge diverse levels of access to devices and connectivity. Connectivity isn't as much of an issue for our neighborhoods. Because we're urban, you know, most of our students are within walking distance of an internet connection. We also have a lot of advantages in that the families in Denver have approved a mill levy that funds library materials. We get $6.00 per student each year to fund books and electronic resources for each of our buildings and districtwide as well. We're lucky in that way, but we're also challenged in that because of – we have very strong local control in our district, so some of our buildings don't have a library, some of our buildings don't have a librarian, some of our buildings have a part-time person who is lunchroom monitor/library person/crossing guard/playground monitor, whatever. So our staffing is very uneven from building to building. Sometimes it changes and we don't find out about it until much later.
So I do want to just kinda give you a visual of what our district looks like. This is our elementary boundary map, and I just wanted to kinda confirm that, yep, we are serving a gigantic school district spread over a huge distance and huge variability in the income levels of our students and the languages that our families speak, and providing equitable access to technology and library services can be quite a challenge over such huge distances and with all the different variabilities we have from campus to campus.
The good news is we have an amazing library services team, and this was the main thing that got me to come here to Denver back in August. Our library services department here at the central office is made up of 15 people. We have our director, who actually I'm stealing her office right now, a collection development crew, a professional development crew and then my crew, which is technical services. We have a mission statement that is very clear about supported equitable development of libraries and library educators that facilitate 21st century inquiry and literacy, positively impacting students' achievement and encourage them to pursue personalized learning.
And the way we do that is through the staff that we have here centrally that supports our building libraries, no matter what they might look like. Our collection development folks, we have four people in collection development. They are professional licensed librarians. They each have about 30 campuses that they're responsible for. Let that sink in for a minute. And they go out and do consultations with the staff who's there, the principal sometimes. They conduct weeding, they do – identify gaps in the collection, they do ordering, they do shelving of new materials when they come in, and they also provide professional development for teachers and the library staff that are there.
So speaking of professional development, we have two people in this crew, and they are responsible for providing professional development to teachers, librarians, administrators, community members. One of our professional development colleagues, it does evening community events to promote the library's collection services.
And then my team takes care of everything else. We kinda do the help desk, Destiny databases, e-books, acquisitions, cataloging, central classroom library. We have Maker Space kits that we circulate throughout all of our buildings, and we also provide a textbook and curriculum materials and also provide PD if requested. So what in the world – why am I going through all this kinda stuff?
We've chosen e-books as kind of our way to provide an equitable library experience for all of our kids regardless of the school they attend. This is one thing that, because of local control, this is the one thing the central library department here can control. Some of our buildings don't have libraries. Some of our buildings' libraries are open a couple hours a week. We have better access and our kids have better access to devices and the internet than we think we do. I wanted to link out to this Pew research study that is bad news. I mean, it says, you know, one in five teens can't always finish their homework because of the digital divide. I look at it as kind of a glass half full type thing. This says, you know, 15 percent of kids can – you know, don't have high-speed internet access. I look at it on the flip side and go, hey, 85 percent do. And then you can see the breakdowns by income levels. And then further on down this report, you'll see that by ethnic groups as well. You know, yeah, these are bad numbers, but on the other side of that, you know, 65 percent of kids do have access. So a lotta times we fail to provide electronic resources because we feel like, oh, the kids don't have access. And a lotta times, you know, access is a little bit better than we think it is. And I know that's true here in our urban environment as well.
We also have some programs in our buildings called My Tech, which is a one-to-one program. We currently have about 8,500 Chromebooks and about 700 hotspots that are out with our kids. We have a student devices in buildings where kids can access our e-books where they are. Our collection development team is amazing. They're able to provide – they're able to add e-books to our district collection for teachers if they're teaching a book in class or if they need a book related to the curriculum or if it's something that the kids put in a lot of requests for, they're able to add those at very short notice, you know, within a day. And the good news is our e-book usage has been really good. We have about 25,000 titles and there are a little over 100,000 copies, and you'll notice that we have lots of multiple copy titles, the really popular stuff, and then those curriculum pieces. And we've seen that use increase.
We've had Overdrive as our e-book platform for a little over two years, and one of the things I noticed as I was pulling these stats out of Overdrive is the bright green bar on the left-hand chart is our audiobook collection, and we're seeing that become more and more used as our overall collection use grows. And you can also see that our users in the last 12 months on the right-hand side is way higher than the previous 12 months with just the green in that chart on the right-hand side. Our e-book usage in terms of circulation has been responsible for about 22.5 percent of our circulation so far this year. We've circulated almost 400,000 titles, and e-book has accounted for 71,000 of those 400,000 titles, give or take.
Our collection development crew has been awesome in terms of providing access to the special collections within Overdrive. These are featured at the top of the banner when you see the screen. We have things that – these collections that appeal – we hope appeal to readers of all different types, of all different ethnic backgrounds or family situations or personal circumstances, and we try to call these out both in Overdrive and in our newsletters that we send out to teachers, librarians, administrators and the like.
I have a great example of this. I was thinking about one of the high school librarians contacted me the other day and was really happy that one of her LGBTQ kiddos was super excited about our LGBTQ plus reads collection. She wasn't really comfortable checking out a book. She wasn't out yet, so she wasn't really comfortable checking out a book from the library and carrying it around, however, she was excited when she learned about the e-books 'cause she could just read those on her iPad, and it's kinda like when you're on the subway and you have that trashy romance novel on your iPad you don't want anybody to know about, you know, you want people to think you're reading Tolstoy. She was the same way. She wanted to read the book, however, she didn't wanna carry around the book and kinda out herself prematurely. So this gave her a place that was pretty safe for her to be able to read a book she wanted to read without having to worry about, you know, raised eyebrows, answering questions from her peers and that sort of thing. So hearing that from this high school librarian was very encouraging for me.
We've been working on training for our kids, for our librarians, for our staff. We have an Overdrive 101 presentation. This is just a shot from that. Janet, one of our professional development gurus, has gone through and created amazing resource that is very simple, easy to use, something that we use in our community outreach sessions where people can learn how to access our district's Overdrive collection, which is pretty extensive. Now, speaking of access, I wanna show you something that I thought was really cool. I learned this at a staff development the other day. In Google Slides, there is a Captions button when you're in presentation mode, and I was thinking about our students who had hearing difficulties that we were talking about earlier. If you notice, when I have captions turned on, it's now picking up what I'm saying. One of the downfalls of this piece of really cool app that Google has in there, it doesn't record the captions, but it does give you live closed captioning. So if you are doing a screen share or Screencastify or whatever from a slide deck, you can create captions that are pretty accurate kinda on the fly.
So that was really the biggest thing that I wanted to focus on today was when you're in a large, diverse urban school district like ours, sometimes you have to take bits and pieces of your collection and centralize it to kind of even the playing field for kiddos who don't always have access to great campus libraries. And that is it for my little section. I'm gonna turn it back over to Shannon.
Shannon McClintock
Miller:                         Yeah, that is amazing. And, you know, having a special interest too of course in Denver, I've worked with the Denver Public Schools a little bit, and it's – they're so lucky to have you because, you know, there's so many kids, but you guys have just amazing resources. And the public library too. Denver Public Library is amazing. So do you have a good relationship also with them with the school system?
Len Bryan:                  We do. You know what's funny? We stole our director. She used to work at the Denver Public Library. We stole our destiny manager. He used to work at the Denver Public Library. So they, because they used to work there, they have great relationships with their former coworkers. We were just over there the other day to visit their – the new maker space in the central library, and we're forming a partnership with them to roll neighborhood maker spaces into some of our underserved neighborhoods. So yeah, we're ramping that up. It's one of those things that I'm really passionate about to have our public libraries support our kids after school, on the weekends, during the summer. Yeah, they're a terrific resource.
Shannon McClintock
Miller:                         They are, and the maker spaces are amazing. I have visited the one, like, close to our house in Denver and then just like downtown, and they are so cool. And the programming that they have for families I think is something that is just amazing too. So, okay, and you have to tell us again what the extension was, how you turned the closed captioning.
Len Bryan:                  When you're in Google Slides and you press "Present," there's this _____ button at the bottom along with the pointer and all those other little things. I just learned about it a couple weeks ago when I was hearing about the student who was deaf. I was like, oh, I need to show that because it's such a cool little tool.
Shannon McClintock
Miller:                         Yeah, that is so cool. I love that, and I know people will have a question about that, so that _____. We'll make sure that that's in our, like, resources list for the webinar too. I'm just gonna go ahead and I'm gonna share my screen so I can share a few more slides with all of you, and your stories were just – the things that you're doing are just so awesome and inspiring, but also, like, I think one thing that I loved about what everybody had to say today is there are also things that are, like, you know, practical things that we all need to really be thinking about and, you know, just like your stickers, Ashley, that you made. Brianna will be so excited to hear that you did that because I think that's something, you know, that probably was a huge aha to you. I know that we have a very small community of probably 1,200 people in our town, but even then, you know, I think that it's important to think about those things and just to be able to share access with our kids and make them feel empowered and comfortable and that they have people that they can count on, and so I appreciate all of your ideas. You guys are amazing.
So just to end, I wanted to share a few important keys for future ready, and especially for future ready librarians, and I know that there's so many great resources and so much information and we all have questions, and the alliance does a great job at the future ready school site, keeping this just filled with great resources for us, and I love going here because there are new things being added all the time, and the resources here will really be helpful to you to be able to find things like the framework and these great posters that you can print off, flyers that you can print off too to be able to use, and also you can reach out to your Follett reps to be able to get these two, but these are something that we have available at conferences and they're online that you can print yourself, but even putting something up like we have this up in our library and I – working with my director of innovation today, it was great to walk in and see that front and center on our whiteboard, you know, up, but being able to have these conversations and they make a difference, you know, talking about things like ensuring equitable digital access or whatever we need to talk about within our framework, I think is so important to have these front and center.
It's also great to be able to find things that we can promote ourselves as future ready librarians, and on the site – and we'll share this presentation too afterwards so you can get to these links because the slides are linked to the information as well. You can put this on your blog, you can put it just in your signature of your e-mail, but to be able to celebrate and support us as future ready librarians is another great thing. I have that on my school – even my school e-mail, I have it, and so when I e-mail the teachers, they can see that all the time that I am, you know, celebrating and proud of being a future ready librarian.
This is a couple – these are a couple places too that you can find all these resources, and if there was one thing I was gonna bookmark, it would probably be the Symbaloo because everything that I am sharing you can find then on here. And so things like the framework and the future ready librarian web site, this great collection that it's not just me curating things in here. It is other people as well. And within this one, we even have a collection for every one of the wedges of the framework, and so you can go here and go to the collection, like for resources when you're thinking about equitable digital access, for example. And so you can go to that collection to be able to find things. And again, these are all public, and so anyone can get to these, but please feel free to reach out to me if you want to add things or help me curate things on these. I would love to have your help.
We also have a couple Padlets that are great, and this one is just for sharing future ready librarian resources. We also have one for just different ideas, for all of the different wedges too, and I should put a slide in here for that 'cause it's something that we've been using in the institutes this fall, and I'll add a slide before we share these slides with everybody because I really like that one. It's just giving just everyday practical things that we're all doing, things like Ashley's stickers, for example, she can share that with us in here, but it's great because I think sometimes we're looking for ideas and we're looking for support and we're looking for even things to be able to share with the other people within our school, and so this one is great. Anybody can share resources on here, but I will put a slide in here and share the other one as well.
Now we get to our awesome future ready librarian Facebook group. We have almost 20,000 people. It is an amazing place to get information and to get support and to get ideas. I learn something new every single day, and so it's an awesome place. Please join us if you haven't already because we would love to have you as part of that community. And like I said in the beginning, we always have a conversation going on using the future ready libs hashtag. It's a conversation that is happening on Twitter, of course, along with our #tlchat that we've had for a long time in other states, chats in other organizations that we have like ISDI Lib and International TL chat, and so it's great to be able to include the future ready libs conversation too on Twitter, but also on Instagram. And check out what people are doing on Instagram because I love being able to use a hashtag, and now on Instagram, you can also follow a hashtag, and so you can just have that as something that you follow on Instagram just like you would a person or a place or a library. And I learn things, again, there too, and I'm a very visual person so I love seeing things that people are doing. And so please share it on there too and share the things that you're doing.
And just I wanna thank everybody for joining us, and this is our November webinar and we actually have one coming up in December that we will announce soon and we have one actually also all ready to kick off the year in January. And the one in January I'm super excited about because it is Brianna Hodges, who you heard about today. She is the future ready coaches _____. She's the supporter and spokesperson for that and just doing amazing work within her district in Texas but also across the country as a tech leader. And we're going to have one about future ready librarians and our tech coaches in our school and the collaboration that we can do, and so we're kicking the year off with that one as well. So lots of learning coming up from us as future ready librarians and of course, you know, already looking forward to the summer when we have great things planned too. And so we'll be announcing a lotta things in the next couple months, but as always, feel free to reach out to us if you have ideas or questions and please take part in the conversations that are going on and spread the word not just to our fellow librarians but also to other people, our administrators and teachers and kids and our families too because together we're all gonna make a difference.
So thank you, Len, and thank you, Ashley, and Kristin already left us. Thank you so much for joining us today, and we look forward to seeing all of you again soon.
[End of Audio]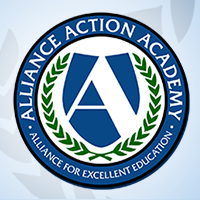 Welcome to the Alliance for Excellent Education's Action Academy, an online learning community of education advocates. We invite you to create an account, expand your knowledge on the most pressing issues in education, and communicate with others who share your interests in education reform.
Register Now
or register for Action Academy below: