Future Ready Librarians: Cultivating Community Partnerships

December 12, 2017
9:00 pm – 10:00 pm EDT
Future Ready Librarians: Cultivating Community Partnerships

Part of the Future Ready Librarians Webinar Series
Presenters
Sue Kowalski, Librarian, Pine Grove Middle School (East Syracuse Minoa School District, NY)
Gina Seymour, Library Media Specialist, Islip High School (Islip Union Free School District, NY)
Moderator
Shannon McClintock Miller, Spokesperson, Future Ready Librarians; Spokesperson, Project Connect
On December 12, 2017 Future Ready Librarians  held a webinar discussing how school librarians can support Future Ready Schools® (FRS). The Future Ready Librarians (FRL) program responded to this challenge by identifying ways librarians can lead, teach, and support personalized student learning. The FRL framework is based on research-based components used by FRS.
This webinar examined how teacher librarians can cultivate partnerships within the school and local community (families and caregivers, nonprofit organizations, government agencies, public and higher education libraries, businesses, etc.) to promote engagement and a lifelong learning process.
Sue Kowalski, librarian at Pine Grove Middle School in the East Syracuse Minoa School District (NY), shared her approach on maximizing awareness and impact of the school library program through empowering student leadership, aligning library outreach with school and district goals, and focusing consistently on everyday advocacy both through and in the library.
Gina Seymour, library media specialist at Islip High School on Long Island (NY) and member of the Library Journal's Movers & Shakers 2017 list as a "change agent," shared how she espouses a platform of empowering students to become compassionate leaders at school, within their community, and beyond through the implementation of makerspace activities and instructional collaborations. She also shared information about the annual multidistrict Compassion Without Borders Student Leadership Conference and how carefully cultivated partnerships promote youth service, empathy, and compassion.
Librarians, district leaders, and all educators are invited to watch this webinar to learn more about the FRL program and how these librarian leaders cultivate community partnerships to make a difference in their library, school community, and for the students with whom they work every day.
Presenters also answered questions submitted by online viewers.
Additional Materials
---
Please direct questions concerning the webinar to alliance@all4ed.org. If you are unable to watch the webinar live, an archived version will be available at the link above and in the FRS leadership hub one to two business days after the event airs.
---
Support for the FRL program is generously provided by Follett.
---
Future Ready Schools® (FRS) is a project of the Alliance for Excellent Education, a Washington, DC–based non-profit, bi-partisan national policy and advocacy organization dedicated to ensuring that all students, particularly those traditionally underserved, graduate from high school ready for success in college, work, and citizenship. www.all4ed.org and www.futureready.org
Follow FRS on Twitter (twitter.com/FutureReady); Facebook (facebook.com/futurereadyschools); and on the FRS leadership hub (futureready.org/hub).
Follow Future Ready Libraries Facebook group and #FutureReadyLibs on Twitter.
---
If you are interested in renting the Alliance's facilities for your next meeting or webinar, please visit our facilities page to learn more.
McClintock Miller: Hi, everybody. We are so excited to be here today for the last webinar of 2017 for Future Ready Librarians. And to start I'm going to go ahead and share my slides so you can see what I am talking about as well. Let me just get it up here. Maybe. Having a little computer problem. Our little computer's slow today. Okay. Can everybody see my slides now? Sue, can you see my slides?
Sue Kowalksi:             Yes, I can. Yep.
McClintock Miller: Cool, okay. And so today to end our year, to make it even more exciting, we're going to talk about one of my favorite wedges and gears of Future Ready Librarians, and that's cultivating community partnerships. And one thing how I like to start is just to give you a little bit of background about myself.

My name is Shannon McClintock Miller. I was the district teacher librarian working with kids in kindergarten through 12th grade and teachers and our community in Van Meter, Iowa. And now I am a speaker and a consultant and an author, and I serve as the future ready librarians and Project Connect spokesperson.
And so, I am really lucky because I get to not only meet people and hear their stories and hear what our kids are doing, but also the inspiration that I get from all of you is so inspiring, too. And two of my favorite people that I love to follow what they're doing in their library and just colleagues and friends and inspiration to me, and I'm sure a lot of you, are our guests today. And so, I would just like if Sue and Gina, if you would introduce yourselves quick. And then I'll go through just a couple more housekeeping things, and then I'll let you guys take the stage.
Sue Kowalksi:             Hi, my name is Sue Kowalski, and I'm a middle-school librarian in East Syracuse, New York. Hello, everybody.
McClintock Miller: Thank you. Go ahead.
Gina Seymour:            Hi, Gina Seymour, and I am a high-school librarian in Islip, New York.
McClintock Miller: Well, it's so great to have you both. And as I said, I couldn't think of two better people to invite onto talk about the community partnerships that you have cultivated in your communities. And I know that we're really excited to hear your stories.
And as we listen today to your stories and as you have questions, I know that a lot of you sent us questions already. You can also post them during the webinar using the hashtag futurereadylibs, as we're watching that as well. And at the end, hopefully we'll have time for a few questions. But as always, after the webinar we'll go back and we'll try to answer questions too that you put on here using that hashtag as well, and even using, like, our Facebook page today, because I keep track of that during the webinars, too.
So when we look at the Future Ready Librarian framework and we look at the community partnerships, what we do as librarians is we cultivate community partnerships. And this is with schools and local communities, giving families and caregivers and non-profit organizations, government agencies, public and higher-education libraries and businesses, and so much more, to promote engagement and a life-long learning process of our students.
And so we're really lucky to hear these stories of Gina and Sue today and what they're doing in their libraries. And we're going to start today – I'm gonna hand the screen over to Sue, as she shares her story first with us.
Sue Kowalksi:             Okay. Sorry, folks. I'm just making sure _____ _____.
McClintock Miller: Yeah, I'll tell you.
Sue Kowalksi:             And then I hit Share?
McClintock Miller: Yeah. Share your screen, yep.
Sue Kowalksi:             I'm seeing a prism effect. Should I not be? [Laughs].
McClintock Miller: When you click on Share, that will go away. And so just go to your presentation now and open it up full screen and you'll be okay. Yeah, there you go.
Sue Kowalksi:             All right. Are you seeing it?
McClintock Miller: We sure are.
Sue Kowalksi:             Do you have a slide that says "Cultivating Community Partnerships, The Cycle"?
McClintock Miller: Yes, we do.
Sue Kowalksi:             Okay. All right. So I'll carry on. And please stop me if you're seeing technical difficulties that I don't see.
First of all, excuse my nasally voice. I'm fighting a cold like the rest of the middle-school world at my school. I look at community partnerships as a cycle. And it's something that we're never done with. And I kind of chunked it into these categories.
So the first thing is recognizing opportunities or kind of seizing the moment, then maximizing where that collaboration could be beneficial, then sharing the benefits of that collaboration or sharing the news, celebrating it. And I don't necessarily mean a party or parade, but just some way where you can get the word out and say, "Hey, these are the things that we've done and this is how it's been successful." Reflect, assess, and repeat. And that each and every time there's a potential partnership, this is kind of the model that I find that we use in our school library.
And this is a picture of a field trip that we go on every year, too, as we read Long Walk to Water, where we have parent volunteers come to teach the kids how to fish. And that would be an example of capturing an opportunity there.
The areas that I was going to address today, or going to address, are generally in three chunks, I guess I would say. Student leadership, which is something I'm very passionate about; shared vision and goals; and everyday advocacy. And I realize those aren't three necessarily partnership groups, but those are the areas that I align myself with to make those valuable connections in our community.
And on the left you see a picture of a new student who just joined iStaff, and proudly wearing her shirt there. And I'll talk about the iStaff as a student leadership program.
So just to give you a little background of who we are, we're a middle school, grades six to eight. And that kind of background picture there is the library that runs across the front of the building. We have a nice prime location in a building that we just moved into two years ago, after being temporarily located for two years. So we have a new space. Very blessed with that.
It's East Syracuse, New York, central New York. And the name of the district is the East Syracuse-Minoa. And we have about 750 students that feed to us from four elementary schools and one high school and the two villages you see represented there, East Syracuse and Minoa.
So the first area I wanted to address was empowering student leaders. We all have customers coming in and out of our library. Sometimes they're coming on a fixed schedule, sometimes they're coming on a flexible schedule, but they're coming in. And our job as librarians, the library managers, the library leaders, is to make sure they don't just come for something they need, they start to come for something they want. So you would have to cater your business so that you have repeat customers, just like any sustainable business.
One of the programs that's really been a mainstay of our library program is iStaff. And that's just a student leadership group. Basically, students trade their study hall, which we call iLabs, for a work shift. And there's varying degrees of that. Some kids work two shifts a week; some kids work one. Very flexible program, ongoing hires. Currently on iStaff, for marketing period 2 that we're in, I think we have 31 kids right now on our staff.
Work always comes. Academics always comes first. Student behavior always comes first. But assuming all those things are lined up, they come into the library and we put them to work. And those students become our advocates because though students become invested members of our library program.
Another way we connect with our community is clubs after school. Three days a week we have a late bus, which I realize not every school has. So we're very lucky with that. And the clubs after school have the potential for students to find out for about what's going on in the community.
So for example, we have a coding club. And in that coding club, we make connections with other public libraries and what activities they're having, local technology organizations, contests, Hour of Code events, and anything related to gaming and coding. So it may be in our school that we start the connection, but then we expand our connection to our partners.
Anything extracurricular. We have students who are involved in band, in theater, in karate, in scouts. I'm always kind of almost stalking _____ _____ finding out what are some ways that we can connect or what can we do for each other to better promote your programs, to better promote our programs, to learn from each other, to have kids lead from each other in their extracurricular.
There in the left you'll see a picture of our welcome team. This is an issue that started with a community outreach to change the climate of the building, just to make it more friendly when kids came in. We were in a new building, and so we kind of started with a couple of volunteers. And every day since – I don't think we missed a day until yesterday when our welcome team got stuck in the elevator. But we haven't missed a day since March 6th. Every day there's a group of kids that gather in the lobby, gather in the walkway, depending on the weather, and just wave and smile and wish people a great day. So it's five minutes, ten minutes, but that's a connection, again, that kids – they're very vested in this, even though it's kind of a short commitment on a daily basis, but it has long-term impact in terms of how they _____ _____ _____.
We're always finding opportunities to take kids to. Teen Book Fest is a prime example, an amazing book festival in Rochester, New York. And we do a collaborative – a trip with our high school, and we take about 50 kids to the best festival and spend the day there and do a lot of before-and-after related to that. As well as events that, again, at different bookstores, the mall, anywhere where there are things going on. So sometimes a lot of what we do is just increasing awareness of what kids can do.
We take kids on legislative trips. Every year we take a group to Albany just, again, to have them tell their story. And this isn't something we're doing every day, but legislators and people in government remember the stories. And anytime you have a chance to do that virtually or face to face or have legislators come to you and let them hear what you're doing and let the kids tell their story, it's incredibly powerful. And by legislators, that could be any stakeholders. It could be local, state, any government officials you have nearby, guest authors, anybody that's in the area that you think might need to have a student perspective on what your library does.
There's always contests, and promotions, and opportunities for kids to publish and create for an authentic audience. So anytime I can bring that to the forefront – and a lot of times, students will tell us that, "Hey, my church is doing this," or, "My scouts are doing this. Can you help me promote it?" So again, that's a partnership across the board.
Community service comes in lots of ways. We all know what that is. We all know the value of it. Sometimes it's groups that seek us out and say, "Hey, we could use some help. We're short on socks," or, "We're short on crackers," or, "We need some people to wrap gifts," or, "We need some storytellers." Sometimes people seek us out; sometimes we seek out what the needs are. And the big picture is just to bridge that gap.
Special projects. Right now we're doing a lot with a group called Sweethearts & Heroes, which is an anti-bullying group. And we do what you think it would be – do – what it sounds like. We empower students to be sweethearts and heroes. We empower students to be the ones that are going to stand up to what's not being right in schools. And that aligns perfectly with all of our character ed. initiatives.
We're also [clears throat], excuse me, participating in a positivity project, which is another initiative, just to add a toolkit, create a toolkit for kids to think about what strengths they have as leaders and what – how each of them can personalize what they contribute. So again, it's not just a library thing. It just happens to be another place where we bridge those connections.
Our Bookapalooza is our community book read. A lot of people call it One School, One Book. And it's just another way for us to unite as not only a school, but we branch out to our elementary and our high school. We have events at our local bookstore. We get promotions and all the businesses in town. We have banners. We really try and make it a community event. So when the postmaster says to me, "What's our book this year?" I think that's a powerful testimony to how we're making connections beyond the library.
And again, a lot of the things we mentioned – or I mentioned, they're not just out-of-the-box activities. They're things that align with what our school goals are, our district goals are, our state goal, and certainly our Future Ready goals. We know the importance of aligning with those things to show that we're not only offering great things, but we're solving the problem. We're taking things off the plate of other people in the school. And we truly are partners and leaders. And the more we can involve kids in all those decisions, then it's really just a win-win all the way around to get them involved with character ed. and maker, and STEM, and literacy, and technology, and just any way that we can put kids at the forefront of what they're doing.
And those are four kids from my code and gaming club who volunteered to come to our Hour of Code community night. And I don't have a picture of them helping all the kindergarten and first grade little girls there, but they were quite the heroes with the technology they had to offer.
Again, there's positions and changes that come in libraries all the time. For example, we just recently added a position called the content literacy teacher. So some may say like, "Well, wait a minute. Isn't there an overlap of what you're doing?" Certainly, there an overlap, but that's another way to increase our value-added service with our partners. Obviously, we've always partnered with other teachers, content-area teachers, special-area teachers. So the instructional role is not new for us, but sometimes we need to do a better job of showing and just letting other people know how we're impacting the strategies and resources that are being used.
And I know that draws a fine line and people don't like to toot their own horn, and that expression always raises flags. "Well, I don't want to talk about me. I don't want to talk about me." You don't talk about you. You talk about how your leadership and how your expertise changed the experience for teaching and learning. And that's what our job is to do as we align.
And it needs to be every day. It can't just be a one-shot deal. If I have one showcase instruction project and that's all I have for the year, I think that's a problem. It doesn't mean it's not great. It doesn't mean that I didn't put a lot of time into it, but the advocacy needs to be every day, when I'm in the post office, or when I'm in the credit union, when I'm on my personal Facebook page, when I'm on social media or I'm at a conference, whether it's with middle-school colleagues or library colleagues, it's my obligation and our obligation to advocate for our kids, our program, and the value we as certified librarians add to the community.
But that needs to come up in all our circles. It can't just be a 7:00 to 3:00 or an 8:00 to 4:00 thing. It needs to happen all the time. And in New York State, we started kind of a hashtag of our own called leadoutloud. And that's not necessarily the volume but the impact. So if you think of a bullhorn can really add impact to a statement, that's become kind of our symbol there.
And getting – there's different kinds of leadership. So as a community member, I'm a formal leader, where I have official titles and I'm on committees, and I might be a chairperson or a president or a task force leader, but I'm also an informal leader all the time. So that capital L, small L. And that's what we want students to do. We want students who maybe, yes, they're the president of the student council or the captain of the football team, but we also want to empower students to be leaders all the time in lots of ways. And the more we work together, I think the more impact that we can have.
But you have to share. You can't assume that if you went to a conference, your principal, your administrator, your curriculum director is gonna say, "Hey, tell me about the conference. How did it impact our community? Was it worthwhile for you to go?" It's up to you to take that initiative and do a report or do a movie or a slideshow, a condensed, concise but high-impact report on what you did.
And share your gratitude. Anytime you've had an opportunity to attend a conference, go to a conference, go to a meeting, be a part of a committee, yes, it's more time for you, probably more money for you, probably more work for you, but you still need to let somebody know that you're grateful to have had that opportunity. And tell people, share people with your parents, with, we, the traditional partners, but then let other people know as well what you're doing.
And supporting others to do the same. That's another way to increase partnerships. I'm working with another teacher to nominate a social studies colleague for an award. That has nothing to do with specific to the library. I just am one of the many people who recognize what an incredible educator he is, and I think it's our role to connect him to the community that would recognize his talents and expertise and what he does for our kids.
These are just some things that when I talk to my dad or some people who are like, "What do you mean you're doing all that? What does that have to do with the library?" Just my to-do list over the last couple of weeks, there's really nothing on here that's kind of a specific library thing, but these are all things that I'm involved with that are related to my role as a leader. And when you're a leader as a librarian, then you make natural community connections.
And you'll see there some of the things I mentioned. Some of the things I didn't get to. But for example, I'm the advisor for the ski club. That's just making a lot of connections with a different group of kids and a different group of parents. And nothing related to the library, just an overlap there. That really can bridge a conversation gap in a lot of ways.
So my question to you would be like, "What are you doing so that others are able to advocate for the library?" because if you're the only one advocating based on your community connections, then you really need to start, or we really need to start thinking about, "I want somebody else talking about what the library is doing for the community."  And the more we follow those steps I mentioned at the beginning, I think the more successful we can be to really bridge those community connection gaps.
And just a couple of resources. There will be links on there when we share the slides at the end. And that's it.
McClintock Miller: Thank you so much. Your story is – it was awesome. Your ideas are – your teachers are so lucky to be able to work with you. So thank you, Sue, for preparing that.

Now it is time for [inaudible due to phone cutting out] take over and I'm gonna mute – I'm gonna go ahead and mute you, Sue, once you –
Sue Kowalksi:             Yep.
McClintock Miller: And Gina, I will unmute you. I think you have to actually unmute yourself, Gina.
Gina Seymour:            I believe I'm unmuted. Can you hear me?
McClintock Miller: Yep, there you go. And I'm gonna – yep.
Gina Seymour:            Okay, terrific. All right. Let me get to the slides. And I'll give it is a chance to load. I think you should be able to see the first slide on your screen.
McClintock Miller: Not yet.
Gina Seymour:            Not yet, okay. So I'm just going to wait until we're all caught up, hopefully. Oh, you know what, [laughs] you know what I forgot to do? Holds on a second. Oh. Exit. I did not – I don't believe I screen shared. Hold on a second. There we go. I'm just gonna go back and do that one more time. Forgive me.
McClintock Miller: It's okay. [Laughs].
Gina Seymour:            I was too busy unmuting my phone [laughs], I forgot to share the screen. So –
McClintock Miller: _____ _____.
Sue Kowalksi:             We can see the first slide?
McClintock Miller: We sure can.
Sue Kowalksi:             Okay, great. So I work at Islip High School. It's a public high school on Long Island in New York. And it's a large area of our library. We offer curriculum-based activities. We schedule classes. We offer small-group instruction. And then of course, we also have just open access. So when students have free periods or lunch periods or after school, they're able to just come in and do whatever they want.
And it's organized so that students can just grab and go. They can take care of their own learning. And it's very self-directed.
What we do a little bit different in our makerspace, is we offer a program called MakerCare. And it's a designated certain area of the makerspace that provides all of the supplies and the instructions for creating service projects to help out community members. So I do also offer a sign-in sheet for those who do need to keep track of their service hours, such as National Honor Society. Sometimes they need to keep track of their hours. Or Boy Scouts or that kind of thing.
So I do make it convenient for the students. And – but the interesting thing about MakerCare is that it's not just for individuals who want to come in. I do offer projects for whole classes. And I'll talk a little bit more about that as we go along with the slides.
We're not far off the mark. Our mission statement clearly states the importance of community partnerships. I mean, it's literally the first sentence of our mission statement, that we are going to partner with the community to empower students. So it really is something that our district believes very strongly in, and so do I.
So I start off with instructional partnerships. Last year in particular, I worked with a family and consumer science teacher. We created – in the upper right-hand corner, those are little catnip toys that her class sewed and we donated them to the town animal shelter. And then on the left there are little dresses for Africa. So the students learned basic sewing techniques. So it helped her out with her curriculum. But then it also helped out various organizations and agencies in their need for these type items. So it's a wonderful partnership. And it's good to start with your teachers, your staff.
Speaking of teachers and staff, there's also individual partnerships. This happens to be one of our staff members who approached me and asked me a bit about our MakerCare program. And she wasn't sure how it worked. And basically it's very simple. If someone sees a need in the community and our students can fill that need either by sewing or building or just making in general, we try to make it happen.
So the teacher approached me and said her nephew has cerebral palsy and he needed these bibs because students with excessive – with cerebral palsy have excessive saliva and the bibs come in handy. And she showed me one, and I looked at it and said, "Well, that's easy enough to do. We have sewing machines in our makerspace." And I mentioned it to the sewing teacher, our family and consumer science teacher, and she said, "Wouldn't that be a wonderful way to keep the students who are finished with other projects busy as well?"
So it became an individual request that turned into an instructional partnership that turned into a community service. We helped out the individual teacher, but we could also form a partnership with a local support group or our local United Cerebral Palsy facility as well. So sometimes these individual requests can turn into other types of community involvement as well.
We also at our school just recently last month held a multi-district Compassion Without Borders. That's where we had over 35, 40 districts send students to our school. And it was a student leadership program, but a highlight of that day was in creating and making. So we see some pictures of students in the library making items to be handed off. And I just thought that it was a wonderful partnership to bring that many students from all over and working together.
So we also – you can be a community partner with almost anyone, including other libraries. The _____, our school library system – we offered a day of making. Again, that's sort of another type of wheel, but serving your community in different ways and advocating for your profession is a way of getting yourself out there in your community as well.
So, community partnerships. One of our first projects was working with the Town of Islip Animal Shelter. And before I actually worked with the students, I went, drove over to the animal shelter, and I met with the director and a vet tech and I showed them samples of different dog toys that I thought our students could make and would be wonderful to donate for the animals there at the shelter. And they looked at the donations and they thought – they said, "Yes, these are nice. These are wonderful."
But the more I pressed them, I realized that you really – most community partnerships, they just expect you to donate something and they're stuck with whatever you give them, but if you really open up communication and listen to what they have to say, they will tell you exactly what they want. Once they realized I was receptive to criticism, they immediately said, "Yeah. Well, we really don't want these. These aren't good for our animals. And could you make more of this type versus that type?" They opened up a real dialogue.
They also ran into the back room and showed me different toys that were made by community groups that were donated that they didn't – that weren't as beneficial for the animals because they posed a hazard, that the animals could get their claws caught on them and such. So they were really willing to communicate once they realized that I was there to be a true partner and do whatever it was that they needed.
They also said that they needed cat toys. And that's when I partnered with our family and consumer science teacher and they sewed those catnip toys. We had just planned on doing dog toys, but they made it very clear they needed cat toys. So again, that communication piece is very, very important to find out what your community needs.
So we worked with various school clubs. Anyone who came into the library was welcome to participate. And then of course, there was our community connection with the animal shelter.
Another way to form a community partnership is to invite art therapy students into your library. So art therapy students need clinical hours. And why not? It's a win-win situation. They usually come with their own supplies, but once they saw my makerspace, they were quite excited and they really were happy to see the students being very, very creative. It really was a wonderful experience for us, and I highly recommend it. So if your community has a program, a master's program in art therapy, seek out a partnership with their advisor because they do need clinical hours.
Your primary partnership starts always with your principal. I am very fortunate to have a principal who is very supportive. Anything I approach him with, he supports wholeheartedly. He's always in the library. Can be found playing with our robots, hanging out with the kids. He is just the first stop in being able to go out into the community and work with others, just because of that support. The picture all the way to the left has him standing behind him, as well as our assistant superintendent for curriculum and instruction. Again, the more people you have that support your program and support your library, particularly in administration, the more successful your programs will be.
And if you're not sure what community agencies to work with, just look around your community. Just drive around. You will see hospitals, veterans groups, food service providers. Certainly, you can collaborate with other schools and other libraries. One of our programs, we made jump ropes for our local elementary school. So our high school students were taking a class in environmental science and learning about plastic. And they recycled the plastic and made them into jump ropes, and we donated them to our local elementary school for that you are recess, for their use. So there's ways to collaborate in school, out of school, all over your community.
The one thing that you have to be aware of [laughs] is not everyone is going to want to form a partnership with you. You may send out an email, you may place a phone call to a group or an organization, and you don't hear back from them. That's okay. It might not be the right time for that particular partnership. All you need to do is move on and try another group. And who knows? Maybe next semester or even next year, the group that you originally contacted may have – may be in a better place to collaborate with you. So keep trying of course, but it's okay. There's a lot of groups out there that need your help. So just keep looking for a good fit.
I have a few tips that I think are really important when it comes to trying to form a partnership with various groups. And the first is to respect others' time. So we don't get time back. Once five minutes passes, that five minutes is gone. I'm not going to get that back. Neither are you. So we need to be aware of that and not waste anyone's time.
And that includes not just your time or your partner's type, but also your students' time. So don't start a project and it's not successful because you didn't collaborate fully with your partner agency, only to waste the kids' time. I've had this happen to me where people have emailed me and said, "Oh, I made those dog toys that you made for your town shelter, but my town doesn't want them." Well, [laughs] you should have talked to your town shelter or your local rescue group before you started the project. It's always best to make sure that everyone's on the same page before you begin.
And again, effectively communicate. Sometimes we think we're communicating, but all we're doing is talking. So people really need to listen and also understand. When you're talking to someone at another agency that you would like to partner with, listen to what they have to say. So I listened to the people at the town animal shelter, and they told me they needed cat toys. So what did I do? I went back and I made sure we made cat toys. I listened to what they had to say and I was able to deliver what they needed. And that's very important for partnerships.
Every good conversation starts with good listening. You can see I stress listening very much because you need to be a good listener when it comes to partnerships.
And remember, it is about the partnerships, not just the projects. The projects are helpful. The community needs them. You're doing a good service. However, you'll be more productive and more helpful if you focus on those strong partnerships and then work on the various projects together.
Thank you, and not just thanking all of participants here today, but make sure – this is my last tip. I know I showed only three, but this is my fourth and last tip. Say thank you. People appreciate those two very important words. You thank your community partners. You thank your students for their time and for their participation. And a thank you goes a real long, long way. So – and I want to thank everyone for joining us today as well.
McClintock Miller: Yes, I love how you ended there because it sure does go a long ways. I think what I will have you do – I loved your story, Gina. You always have so many great things to share. I'm gonna have you stop sharing your screen –
Gina Seymour:            Okay.
McClintock Miller: – just _____ us and we're just gonna – we'll just – we have time, that we can answer some questions. And so _____ _____ because everybody will be able to actually see our faces as we talk about this. I think, Sue, that you're still sharing your screen. So maybe at the bottom of yours – there you go.

So we have a couple – we actually have a lot of questions, but a couple that really stuck out to me. And I will just read them. This one is really great and [indiscernible due to bad phone connection] I think what we're talking about [indiscernible due to bad phone connection] and it says, "What can I do to [indiscernible due to bad phone connection]?" I think you'll have to [indiscernible due to bad phone connection]. I'll just wait until you unmute it. There you go. "What can I do to build the trust of the teachers in my building so that they view me as a collaborate teaching partner and not the media specialist or teacher librarian that they drop their class off to once a week so they can have planning time?" Who would like to take that one?
Gina Seymour:            Hmm, I would say come through for them. And again, it goes back to respect for time. So if I'm able to deliver for a staff member, I've earned their trust. So I think that's very, very important. Sometimes things happen, but for the most part, don't promise anything you can't deliver. [Laughs]. That's probably helpful, too. But try your best to make it successful for whatever it is that they need. I've been very successful in that. Become a go-to person, I think.
McClintock Miller: Yeah, that's great advice. One thing that it reminds me of when I was starting to build those community partnerships within my library, and you guys touched on this too, just really find somebody that you can first – that you have a connection with already and really build on an awesome project where everybody – or connection that everybody really then wants to do something. And if it's in your community, outside of your school, or the _____ and make that kind of just a highlighted project. And then people will be like, "Oh, I want to do that, too?" or, "You can do that?" And they really see your value.

And another tip for me is that's when I started blogging and I started writing about the things that I was doing, just like they talked a lot about advocacy. And you can't tell your story enough when you are building community partnerships and everything else we do as librarians, too. And so I think those were a lot of things that really helped me. How about you, Sue? What advice do you have?
Sue Kowalksi:             I would just say sometimes it's about shifting perspectives. So rather than – we hear it all the time. It's usually a teacher that gets faulted for just dropping their kids off. I mean, maybe if we – a lot of times I look at it as a teacher – again, like Gina said, a teacher is empowering me to do wonderful things with their students. And we can't work with everybody all the time. We can't collaborate with everybody. And there are real distinct advantages between, yes, maybe class action is the ideal model, but it's not gonna happen all the time. So what a better gift than having the class come your way and you can work your magic – I don't know to say in a silo, but you work what you're gonna do.
And again, share that best practices, let people know what's working, and have students tell the story. My guess is if students are going back saying what a great experience it was or it continues to be, they're gonna advocate for you as an instructor. And I think we've got to stop worrying about that the teacher isn't there by my side. So I think we just have to embrace the different models that we have.
McClintock Miller: Yeah, very good advice. I love [indiscernible due to bad phone connection] there's nothing better than [indiscernible due to bad phone connection] share what they're doing to really _____ people too about what's going on.

We have a great question from Lori in Hawaii. And she asks, "How do you get administrators to become partners?" And I thought that when you showed the slide especially, Gina, it made me think of how my administrators were always in the library. And I can't agree more that that is such an important thing to get leaders in your school involved too in what's happening in the library. So, do you guys have any advice on how to get your administrators involved in becoming partners?
Gina Seymour:            Visit them in, let them know what you're doing, and recognize their support. We're very often very quick to say something negative, but focus on the positive. And I have to say, I have a lot to focus on [laughs] because there's a lot positive going on in my district and in my school.
And it really boils down to a very good relationship with my principal and with the administrative staff and stakeholders, board members. But that all started with communicating with them, letting them know what I was doing. Anytime I had various events going on, I made sure board members got an invitation, "Come visit." Our principal allows us to text him. So if something interesting is happening in the library, I would just text him real quick. If he wasn't in a meeting or busy, he could run up and check it out.
Again, it's an awareness piece. If they don't know what's going on, then how do they – you have to get them on board by knowing – by having them know what's going on. I think it's mostly that.
And say, "Thank you." [Laughs].
Sue Kowalksi:             Yeah. And I would just say, quite honestly, cut them some slack. I mean, principals – I can't imagine doing that job. I mean, of all the different areas they have to be aware of and involved with, if you're doing the martyr thing about, "Oh, you never come and see this. You never come and see that," it's gonna create more of a negative vibe than a positive one. And I think, like Gina said, if it's a frequent, a constant, a culture of open invite as opposed to the one special event that you want him or her in the back of the room watching, I think that's a different perspective.
So I would say keep them informed, make them look good with your legitimate good programming and good instruction, and keeping them connected with what's going on. And a lot of times, it's just letting them know what the other amazing teachers are doing in the building. So you might just be kind of a boots-on-the-ground partner for them as opposed to somebody that's just waiting for somebody to come in and see how awesome you are as the librarian, but more telling the story of the whole school from a different lens.
McClintock Miller: Yeah, great advice. I know it was always – it's always fun to, like you said, say, "Thank you," invite them, ask. I remember my administrators – they would say like, "Oh, I love knowing what's going on," because otherwise they have no idea. So if they're busy and they need your help with something, volunteer and help them too and get involved in your community, not just within the library as well, but as the school as a whole. It's so important.

Here's one about reading. I think that is really interesting. It says, "How do you cultivate and environment of reading in a high school setting, or it can be any middle, elementary, with community collaborations?" Today I saw that Andy Clemens was walking his kids to the local bookstore. And I thought that was great. And that totally ties in [laughs] with what we're talking about in building those community partnerships.

So, you guys have any stories to tell or advice on that one?
Gina Seymour:            We did a big read. Last year we all read I Am Malala and different versions of it. Very inclusive. We had Spanish-language versions as well to make sure that our English-language learners could participate as well. With that, we did invite – instead of going to Barnes & Nobles, we invited them to come in as well. So that was a partnership.
We also were able to – I wanted it to be very cultural because we don't always highlight that in school, other people's cuisine, other people's clothing. So I was able to borrow clothing from that region in Pakistan so that it was more authentic. I also had a community member make us some – I believe it was called kheer. It's some sort of rice pudding with cardamom and whatnot. So we had a very multicultural experience with that.
And we also Skyped with a book group in London to talk about – because Malala obviously moved to England after her experience in Pakistan. And that was wonderful for our students to experience asking questions of British students and what it's like to go to school in England.
So that was kind of an unusual – it was an interesting partnership all around. We just did some interesting things that – I enjoyed the food, but [laughs] that's me. [Laughs].
McClintock Miller: Sounds like so much fun.
Sue Kowalksi:             And I would say something that – I can't lie. I would say over the last couple of years, I felt like I, or as the leader in the library, had taken a step back of promoting literature and kind of just assuming that — I don't know — our time or my time shifted to technology and creation and projects and research, which is all good. We know that. But I found that there had been quite a long gap between the last time I had done book talks or the last time we had done just a fun event in the library with reading.
So if I have to be perfectly honest, it's just year that I said, "Oh my goodness, I've got to get back at it." So we're revisiting a different kind of – I mean, as simple as it is, whether somebody's _____ or displays or future displays, I'm working with more partners to – I realize that I can't deliver this message or book talks to every class they want to all at the same time. What else can I do? I'm working with more teens at the middle-school level. So we just recently – inviting people to come through book tastings. So we're doing book tasting events.
I'm gonna steal from a lot of our _____ _____ friends and do more reviews that way. I have more students come in the morning and getting their feedback. I have more collaborative shopping lists, more students who are actually going onto my online accounts and adding titles in there. So full disclosure, I would say that was something we had always done and then kind of took a step back with it and then now we're kind of a resurgence in trying lots of different things, contests and maybe more social media with authors and author visits and teen book fests and that kind of thing.
And again, that's where partners like local bookstores, indie bookstores, Barnes & Noble, other authors, other librarians, the public library can certainly play a key role in just kind of amping up the promotion of recreational reading.
McClintock Miller: Very good. It sounds like a lot of fun. There's always something to do in the library when it comes _____ _____ but it is, as you said, Sue, [indiscernible due to bad phone connection] like we have so many other things as librarians, so to step that up – and that's another way to really get your kids involved as well, having them be in charge of some of those fun events, too. So thanks for sharing those things.

Well, we have more questions. And hopefully, we'll have time as a collective group to go back and answer some of those that have popped up on Twitter or that maybe will show up in our Facebook group. But I want to just to end the webinar with just a little bit of information to get us through the end of the year and as we go onto a new year as well. So I'm gonna share my screen again. Okay. Can you guys see my screen? Yes? Okay.

So just a few important keys that I want to share, to leave you with. And so remember you'll have these slides. And so all of the links that Gina and Sue shared and that I'm sharing in these slides will be available for you to take and use.
And just to start, the Future Ready Facebook – or the Future Ready website and the Future Ready Librarian page especially has so much great information. And there's updates to it actually the last couple of months, which is really great because more resources, including the webinars and case studies and articles that people are writing and that we're pulling from. And so check out these resources because this will be helpful for you not just as you think more about cultivating community partnerships, but every one of the wedges as Future Ready librarians that we look at.
Another thing that I get just tons of great information and inspiration from is just by following the hashtag on Twitter. And we've had the TL hashtag, which is one of my favorites too to follow. But now by using that and I also use the futurereadylibs, following that conversation and using it in my own tweets. I think that it's really become great to see what people are sharing.
Also, follow the Future Ready Twitter. It's just @futureready. There's so many great things been shared. And I think, as anything, it's important for us not to just pay attention to us as librarians but what others are doing too in the school as well.
I can't say enough great things about our Facebook page. And I think now we have well over, like, 13,000 people on here, which sounds crazy [coughs], but the great thing is, is that there's always a great conversation, things being shared. You can ask questions. You can get information from it. It's easy also to search the group now, or it also has been, but I think paying to attention to that, on the left-hand side, you can search the group and then you're able to find information that you might be looking for as well.
Just one second. I'm gonna start coughing. I need to get a drink of water. [Coughs]. You can't see me carrying around my laptop to get this, but [laughs]. I'm like you, Sue, feeling kind of sick today.
Also on Instagram, but using also that hashtag for futurereadylibs, if you're one like me that loves visual things, I love following Instagram and seeing what people are sharing. And so when you have things going on in your library or if it's a personal account that you have and you're sharing things, use that hashtag too so that we can all follow what you're doing on here as well.
Another thing that I put together a couple of months ago is the Future Ready Librarian Symbaloo. And this is great to follow because everything is really in one spot, including all the webinars that we've had this year, case studies, the information, the framework. I'll show you the poster in a couple of slides, just lots of things on here that will really guide you to the end of the year and into 2018. And so I'm adding things to this. And if you ever think of anything, please let me know and I will add it to here, too. So I'll add the webinar after we end up today to the bottom. And those little light green squares are where you can find the webinars.
We also have a collection that there's several people who are just curating resources in here and adding them to the collection that we have of different resources, including that Symbaloo. And I love the Padlet because with Padlet, you don't have to log in, you don't have to worry about a user name and password on this. It's just open for people to share and get resources from. And great thing about this is there is a column for each one of the wedges.
And so if you're looking for examples like what the girls talked about today on cultivating community partnerships, or if you're looking for examples of empowering students as creators, whatever it might be, you can go here and specifically look for these things on the Symbaloo or even add your own things that you're doing as well, projects or articles or blog posts, even pictures or videos on this, too. So this is all of ours to just curate together.
We also have these great posters that _____ has created for us. And these are available online or you can even ask your _____ rep for posters. And they're really great because something that you can hang up in your library just to get that conversation going. And so we talked a lot today about having conversations and sharing our story and being an advocate. And this is a great tool to do that because you can put this up in your library, you could give one to your principal or your administrators in your building.
And one thing that a few of my friends did is they even ran them off and put them in the teachers' mailboxes and circled the things that they – maybe there's a specific project they're working on or something that you would like to do with maybe your National Honors Society group, whatever it might be. But use this to your advantage to really share what you have and the skills that you have as a librarian.
Also, _____ has created these great little stickers that we can put onto like our signature on our email, or our blogs or website. And in this page, there is a post where you can get those, too.
Now, this week on Thursday, my friend Sherry is going to join me for our Future Ready Libs Twitter chat. And this week we're going to just carry over the conversation of the day and talk more about cultivating community partnerships. So I'm really excited about that. And that will start at 8:00 P.M. Eastern Time on this Thursday, on December 14th.
As always, even though we get together every other month for these great webinars and we have a conversation on Facebook and it's being presented not just in districts but at state and national conferences, this conversation about Future Ready and Future Ready Libs, just keep that conversation going and being an advocate for yourself. And we're in this great tribe, and it's so exciting to see what's going to happen next year.
[Indiscernible due to bad phone connection] for joining us today. And if you have any questions for Gina or for Sue or myself, please let us know by using then futurereadylibs and futureready hashtag and just join the conversation and get involved and enjoy the rest of your year. We only have a couple of weeks left, and your kids, as you get ready for the end of the school year before the holiday.
So thank you so much. And we'll be sharing this archive as well that we hope you share with others, too. Bye, everybody.
Gina Seymour:            Bye.
[End of Audio]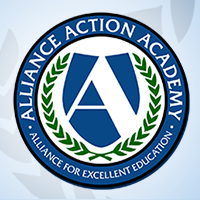 Welcome to the Alliance for Excellent Education's Action Academy, an online learning community of education advocates. We invite you to create an account, expand your knowledge on the most pressing issues in education, and communicate with others who share your interests in education reform.
Register Now
or register for Action Academy below: