Future Ready Coaches: Student-Centered Initiatives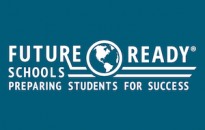 May 22, 2018
8:30 pm – 9:00 pm EDT
Future Ready Coaches: Student-Centered Initiatives
Panelists
Chris Aviles, Coordinator of Innovation, Technology, and Twenty-First-Century Skills; Fair Haven Public Schools (NJ) (@techedupteacher)
Brianna Hodges, FRS Advisor; Director of Digital Learning, Stephenville Independent School District (TX) (@eduTECHtastic)
Sarah Thomas, FRS Advisor; Regional Technology Coordinator, Prince George's County Public Schools (MD) (@sarahdateechur)
On May 22, 2018, Future Ready Schools® (FRS) held the first Future Ready Coaches webinar.  Instructional coaches are essential to the continued growth and development of customized professional learning for their schools and districts. The FRS Instructional Coaches framework helps educators play a vital role in their schools as change agents, helping teachers fulfill the vision for modernizing student learning.
Chris Aviles is coordinator of innovation, technology, and twenty-first-century skills for Fair Haven Public Schools in New Jersey where he runs the renowned Fair Haven Innovates program he created in 2015. Fair Haven Innovates is the district's twenty-first-century life, innovation, and technology program for students in grades four through eight. Ms. Aviles uses social entrepreneurship to help students learn skills needed to be successful in life. Students sell products and solve problems as they run businesses that turn a real profit. Students use a percentage of these profits to give back to their community through their student-run charity FH Gives.
This webinar explored ways that Mr. Aviles is challenging the status quo as it relates to what a technology class should be and what technology integration looks like in the classroom. Topics covered included entrepreneurship, makerspaces, and using video games in the classroom.
Whether you are an instructional coach, principal, librarian, innovative teacher, or district leader, please watch to learn more about student-centered initiatives.
Support for this webinar is provided by FRS and Bulb.
---
Please direct questions concerning the webinar to Lia Dossin at lia@futureready.org. If you are unable to watch the webinar live, an archived version will be available at the link above and in the FRS leadership hub one to two business days after the event airs.
Support for the FRS Instructional Coaches program is generously provided by Blub.
---
Future Ready Schools® (FRS) is a project of the Alliance for Excellent Education (All4Ed), a Washington, DC–based national policy, practice, and advocacy organization dedicated to ensuring that all students, particularly those underperforming and those historically underserved, graduate from high school ready for success in college, work, and citizenship. futureready.org and all4ed.org
Follow FRS on Twitter (twitter.com/FutureReady); Facebook (facebook.com/FutureReadySchools); and on FRS's leadership hub (futureready.org/hub).
Join the FRS Instructional Coaches group on Facebook and follow on Twitter (#FutureReadyCoach).
---
If you are interested in renting the Alliance's facilities for your next meeting or webinar, please visit our facilities page to learn more.
Sarah Thomas:           Hi, everyone. Thank you so much for joining us. Welcome to the Future Ready Coaches Student-Centered Initiatives webinar. My name is Sarah Thomas, and I am a Future Ready National Advisor as well as a regional technology coordinator. And in addition affiliate faculty.
I am joined today with my fellow FRS advisor, Brianna Hodges. So, Brianna, I'm going to kick it over to you.
Brianna Hodges:        Hey, guys. I am Brianna Hodges and I am the director of digital learning for Stephenville ISD. And I am super-excited to help kick off the inaugural webinar for Future Ready Coach.
So Future Ready Schools is a project of the Alliance for Excellent Education in Washington DC. Future Ready Schools is a collaboration between the alliance and a vast coalition of over 60 other national and regional organizations. The goal of Future Ready Schools is to maximize digital learning opportunities and help school districts move quickly towards personalized student-centered learning. The effort provides districts with resources and support to ensure that local technology and digital learning plans align with instructional best practices and are implemented by highly-trained teachers and maximize personal learning experiences for all students, particularly those from traditionally underserved communities.
Today's hashtag for our webinar is #FutureReadyCoach, as well as #FutureReady.
Thank you for making an investment in joining us today. We are your host on this webinar, and with us today is Chris Aviles, Coordinator for Innovation and Technology and 21st Century Skills for Fairhaven Public Schools. What an honor it is to have us with you today. Can you join us and take a minute to introduce yourself?
Chris Aviles:               Yeah, absolutely. My name is Chris Aviles. I work in the Fairhaven School District down at the Jersey shore in Fairhaven, New Jersey. There I am the 21st Century Life Innovation and Technology Coordinator, which is really just a fancy way of saying that I teach and then I have summer responsibilities. So I am a 12-month guy over doing some stuff for my district. Yeah, and so I'm super-excited to be here and excited to share my program and the things that my kids and my district are doing. Thank you for having me.
Sarah Thomas:           Chris, we are super-excited to have you here with us. So we're just going to go ahead and dive into the very first question. So one of our main premises of Future Ready is that it's not about the technology, but what you do with it that truly matters for our students. So you were very instrumental in developing Fairhaven Innovates to help students learn the skills needed to succeed in tomorrow's world. So can you talk a little bit about the ideas that sparked this program?
Chris Aviles:               Yes. So when I first got to Fairhaven three years ago, I ran a makerspace in the afternoons and I did tech coaching in the morning. And through that makerspace I started to explore what does a technology program or what should a technology program look like, just because I wasn't thrilled with technology being taught in a silo. And so what was really important to me when I got to Fairhaven when I first started the first piece of the Fairhaven Innovates program, a big piece that is missing from teaching technology – well, maybe it's a couple different pieces. Number one, it's understanding the fact that this idea of growing up in the digital age and all of these kids know how to use technology, it's really not true. Kids can use technology to communicate and entertain themselves. But learning to use technology as a tool, learning to use technology as a way to improve what you're working on. And specifically I think learning the time and place to use technology is something that we really need to focus on. Things like delaying gratification and impulse control when it comes to some of the things that are going on in the classroom. I think it's an important, mindful skill to be teaching.
So the way that I have found to do that is by creating a context. But what I mean by that is using project and problem-based learning to teach how to use technology. Or even better, to teach the right technology for the right job.
And so through my program, I don't necessarily teach, hey, here's how you use Google Slides, here's how you use Word. My kids find the right tools for the job based on what they're tasked with doing. And so for me, teaching technology in a silo sitting down and saying okay, everybody is going to make a presentation, everybody is going to make a YouTube video, everybody is going to do a podcast. To me, that isn't the best way to teach technology. Because it goes to a bigger problem that I have with teaching subjects in a silo. I taught high school English for ten years. And when my kids came to me from history class, they thought there was no connection between history and English. Or when they left my English class and went to math, they thought that the English skills they learned from me couldn't be applied to math. And so I think by teaching technology in context, my kids are starting to learn how to use time and place, how to use it for problem solving, how to use it for productivity and that kind of stuff.
Brianna Hodges:        It sounds a lot like you celebrate student voice and agency as well as entrepreneurship in your program. Can you tell us why that is? You've talked a little bit about it being in context and really kind of going through that. But can you also tell us what it means to you for student voice and student agency as well as for your students as learners?
Chris Aviles:               Yes. So it was kind of interesting. I started the maker space, it was very well-received by the community. At the end of the year the superintendent came to me and he said, you know, what does this program look like rolled out on a full-school level? We have fourth through eighth graders in Knollwood Middle School where I'm at for most of my day. And so kind of turning that question to the kids was really interesting. I believe one of the biggest pieces missing from the maker space is entrepreneurship. Because kids are making stuff and then generally it either goes home or goes in the garbage. And it was by listening to students, you know, they started to say – it was funny.
One of the most popular things to do in our innovation lab was to take stuff apart, catalog what the different pieces did, try to put it back together. The community was really good to me in donating older, unwanted electronics. And so we would take the stuff apart. Being in fifth and sixth grade, which was the group I was working with at that time three years ago, things didn't always go back together. So we took it apart, we learned what the different pieces is. Didn't always get it back together. No big deal.
But one day some students go to me, well, we have all of this stuff; what if we made artwork out of it? And so I launched in the makerspace the Parts to Arts initiative, a project-based learning thing that they could do where they take junk and they upcycle it into something nice.
So we went from taking things apart, they started to make this really cool jewelry out of motherboards, and I got the Dremels and they used that to cut circuit board hearts and stuff like that. And it was really something very popular among my students. And from there we had now jewelry. And the next thing the kids came to me and they said, well, can we sell it? And I said all right, let's give it a go. And the students named that business FH Gizmos in the innovation lab. I built them an online store to sell their stuff. And I think the end of that year we made maybe 30 bucks, probably from parents who just felt like they wanted to help us out. But it was exciting to see how passionate my kids became about entrepreneurship.
From there it kind of exploded into the next year. So tis is the first full year. My sixth grade business is called FH Gizmos. And what's funny is the kids came up with the Your Problem is Our Project slogan. And there kids formed products teams to find, create, and sell the solutions to people's everyday problems. Then we started a seventh grade business called FH Grows, where kids learned to stewards of the environment while they grow and sell produce online and in their farmer's markets to the communities. And then my eighth grade class is a consulting firm. This year we worked with 20 local businesses to help them grow their business. And students were able to use some of those skills that they learned.
So student voice started from turning parts to arts, to jewelry. And I now have an entire entrepreneurship technology 21st century life and careers program just because I listened to my students. You know? And technology is infused without, kids are exposed to the digital arts, computer science, engineering. The backbone of the whole program is designed thinking and making sure my students know how to tackle problems and system thinking. You know, break it into parts and making sure everything works the way they want it to.
Brianna Hodges:        That is awesome. So quickly I wanted to remind our viewers that the hashtag for today's webinar is #FutureReady and #FutureReadyCoach. So please keep asking your questions there. But I want to throw a follow-up question from what you were just talking about, Chris, on that. And this is from Jay Siebert from Mount _____ New Jersey. There you go. I _____ it up for you. So I knew I would throw it out there for you. But he wants to know how he could incorporate an FH Innovates-style program in like a second grade, self-contained classroom. So recommendations for him?
Chris Aviles:               Yes. So obviously it's going to depend on your schedule, when you see kids and stuff like that. But when I talk to teachers about getting into maker spaces, innovation labs, whatever the case may be, find time in your units, find time in your lessons, and ask the kids; how do you want to show me what you learned? And then let them build something, create something – video, podcast, model, whatever it may be – that shows what they've learned.
Your other option is stations, is always fantastic. Kids cycle through stations, exploring. Again, I've always found the backbone to be digital arts, engineering, computer science, with a focus on designed thinking. So I think it has a lot to do with what he has access to, how often he sees his kids. But for me, my English class when I was a high school English teacher for about the last five years I was teaching English, looked like a maker space because at the end of every unit after we knocked out the essays, after we knocked out all the things that we had to do, the last thing that my kids did, the culminating activity was basically how would you like to show me what you learned? And that's how video started to come into my classroom. I'm really big into game-based learning and gamification. I'm starting an e-sports team soon. And so all of that was just from student voice.
And so my advice to him would be you can do it deliberately with stations, you can infuse it at the end of a lesson by asking kids. And that's a great way to get student voice; how would you like to show me what you learned? And another thing you could do is you could kind of piggyback this into some time of 20 percent time project or some type of genius hour type of thing where kids get to explore and create.
And so at that age, when I was down with K through three for a couple of years, that's kind of how we did it.
Sarah Thomas:           That is super-cool, Chris. So you were talking about so many things that just align with what we try to do as Future Reach Coaches. So just wanted to give a huge shout out to Erica Campbell from New Brunswick, New Jersey, who was asking about the role and expectations of a Future Ready Coach. So you hit on several of them, and she can find out more on our website.
But we're going to bounce to our next question, which kind of talks to what you were just describing. So you've been a huge proponent of building community in your classroom as well as empowering students to pursue grants and projects based on their needs. So I remember when we first met, your class had just won a very specific furniture grant. So could you tell us a little bit about that as well as any other tips you can share with educators?
Chris Aviles:               So I wrote a blog post on my blog, Teched Up Teacher, not too long ago. And it was about being the COO, right? The person whose responsibility it is to create opportunities for students. And so for me, my mission is to create as many dare-to-be-great moments for my students as possible. Personally, whole class direct obstruction, I try to do as little of it as humanly possible. And so bringing people in, sending my kids out. One of the things I'm really proud of is my kids have arranged something like 12 out of school experiences all by themselves. By emailing people, asking if they could come in to learn more about what they're doing. On top of the 20 businesses that my eighth graders went out and visited. So you're talking about my kids would write their own permission slips, get them approved by the secretaries and the principals and stuff like that at our school. They would bring them home and get them signed. And they got an excused – you know, my class _____ to lunch in certain intervals. So they could be gone for two, two-and-a-half hours out in their community exploring local businesses, exploring startups, exploring nonprofits. We had kids to go soup kitchens and stuff like that.
And so for me, going back to – we got a classroom redesign. That just came from – when I was in high school teaching high school English. That just came from a student who said, you know what, we're always having to collaborate in class, you're always making us group up and move and pair and unsplit, split. But I had carpeted floors and desks with no wheels. And so they said why can't we just make a – can we get a cooler classroom? I said yeah, go ahead. How are you going to do it?
And so their first idea was to have a bake sale. And then when they priced out the stuff that they wanted and realized it was tens of thousands of dollars, they realized that wasn't going to cut it. So now all of the sudden they started looking at crowdfunding. We were on a Kickstarter that didn't do too well. So then we went to another crowdfunding site. And that failed too. Right? Six months went by. But eventually through sharing, through social media, amplifying our voice, learning that digital citizen piece as we were doing that, they caught the attention of a fantastic company called KI Furniture, who very graciously came and totally redesigned my classroom.
We did a huge project with Slack in September. When a lot of people were trying to fight the fidget spinner craze, I had my kids design fidget spinners. And we were posting, again, amplifying our voice on social media. Slack reached out to us and said, you know, we would love to have you design us a custom fidget spinner. So the kids prototyped, we came up with these fidget spinners. And it wasn't something we could manufacture ourselves, so then I had to get on the phone with the New Jersey Manufacturing Association in New Jersey. They found me a manufacturer. They wound up doing it for free just because they were so excited and they wanted to teach the kids about manufacturing. So they came in.
And then I'll give you guys a little preview. In about a week or so I'm going to – now it's  a partnership with Skype which was from the same thing. Skype and my program are going to team up to infuse student voice into Skype in the Classroom. And one thing we realized is if you listen to the student's voice and you follow their passions, it generally leads you somewhere cool. And even though you may not always know how it's going to end – which I can see 75 percent down the road. I can't see all the way. But a lot of times you wind up being successful, and success breeds success.
And so the long answer to your question, Sarah, is creating opportunities, being comfortable, being uncomfortable. I don't have to be the expert in the room. I run an agriculture business with the students, and I'm learning alongside of them. Because I've never had a garden in my live. And for me there's something beautiful when I – hopefully they're not watching. I'll sometimes tell my kids, "I just don't know."
"Mr. Aviles, how – "
"Oh, I don't know. Let's go find an expert." Or I'll tell them, you know, I've taken you as far as I can, and we're going to have to team up the rest of the way and learn together. And so creating those opportunities and giving students the abilities, I guess maybe the resources they need to e successful. My district is wonderful. My board of ed is fantastic. We've powered students by opening up email to the outside. So my kids can email anybody out there. We have most social media open. We have YouTube open. So my kids start YouTube channels as young as third grade. And it's usually sharing Minecraft stuff or sharing something they're passionate about. And as time goes on, they learn to take those tools, combine them with the opportunities that I found or they've created for themselves, and achieve whatever success is to them for that particular problem or project that they're working on.
Sarah Thomas:           That is super-cool. I just wanted to remind everyone who's watching right now that our hashtags are #FutureReady and #FutureReadyCoach.
But there is a follow-up question asked by Regina in Newton, North Carolina. She was saying with so many exciting opportunities in education, how do we encourage teachers, like our colleagues who might be resistant, to try new approaches or change outdated methods? Because you're definitely a thinker outside the box. So how do you encourage your colleagues to also be more out-of-the-box thinkers?
Chris Aviles:               You know, it's funny. I wrote this little half a book, and I have it hidden. I don't know if it will ever see the light of day. But it was basically tackling that question. And so for me, if you are a tech coach, the idea I give to tech coaches when it comes to resistance is you have to, number one, understand resistance is based on fear. And that fear generally comes from two places; parents and administration. Or let's say three. Parents, administration, and in my experience a lot of teachers are afraid to not know everything in the classroom. So if they're going to deploy a new technology or even a new technique, if they don't feel comfortable using it, they may be resistant. Unfortunately, most of our PD in the world of education is sit and get one time, and forget.
And so from a tech coach standpoint, number one, do what you can to influence the culture. My administration is fantastic. They support teachers. And should things go wrong, should things not work out, nothing like that is ever held against them. We learn more from failure than we probably do our successes. And so that kind of stuff is never held against them.
When it comes to resistance, you always kind of start at the top. Take your rock star teachers who are super excited, who want to try everything, and that's where you focus that energy as a tech coach. And I think that kind of bleeds its way down. And then in my experience it's one thing to sit with a teacher or a group of teachers and show how to use a technology. It's something else to be there when they use that technology. And so one thing I try to do is I try to be in the room when that technology is being used. So if everything goes well, I'm just sitting in the corner, no big deal. If things aren't going well, I can kind of slide in and be part of the show. And so just having that safety net of a tech coach in the room really has seemed to go a long way.
One of the initiatives I'm thinking about spit baling with kids is what does a student tech coach team look like and would people be receptive to that. One of the things that we're going to be working on with Skype is having students teach students how to help teachers post to Skype in the classroom. So that way kids could be in the classroom there to help. I'd like to believe, I'd like to hope that teachers are excited to learn from students as much as students love to learn from teachers. But for me when it comes to resistance, those are kind of the things that I had identified, I had worked on I guess in that area.
Brianna Hodges:        So kind of following up with that, one of the questions that often comes up when we talk about fear and things like that is you spoke into how you have social media presences for many of your – your students do, not that you have them, but that they actually are – one of the questions that we've also had asked out in social media – and I'm just going to go ahead and tell you, I'm not going to be able to pronounce your name – Adella, we are looking into this as your question that's coming in there, is how are you kind of preparing that concept of digital readiness, that digital citizenship as you tiptoe through these skills? You've spoken to how important it is to have this social media presence. But that's also – I know I spend a lot of time with high school in my role and with middle school. And on of the pushbacks that I often get or the fear-based opportunities that I get from our teachers is oh my gosh, we don't want them to get hurt. There's a lot of opportunity out there on social media for students, of really learners of any age to kind of be hurt. How do we combat that? How do we empower them?
Chris Aviles:               It's a great question and it's am important question. But there are so many different layers to this that it becomes so nuanced to unpack. And I'll give you some examples.
I'm from the school of thought that when somebody Googles me, I want them to see all of the great things I've done in my life. I want them to see all of my social media that showcases al of my talents and all of my heard work and everything that I've put together as a portfolio in my life. And so I'm of the opinion that most of our students use social media [Break in audio]
Brianna Hodges:        Uh-oh. Okay, well, I think Chris might be kind of bouncing back to us a little bit. I think he might have had a little bit of some delay there. But in the meantime, we're going to look at a couple other questions that have come though.
Anna Beardsley from Lamesa Texas – that's how you do say that, is Lamesa, out there in Texas – has asked, "How can I get clear guidelines and information about being future ready?"
Well, first off, you can go to FutureReady.org and learn about the framework and all the different opportunities that are out there for understanding and unpacking that framework, look at the Future Ready pledge that your superintendent can look at. And that's a great way that you can kind of help get your campus or your district involved.
Since you are here in Texas, I will are here in Texas, I will also tell you that we are having a conference where we're going to be going through a lot of the FutureReady opportunities. So shout at me on Twitter and we'll send you all of those details. We have several of our Future Ready Advisors who are going to be coming to Texas, to sweet, little, old Stephenville, to go through some of those things.
So that said, I guess a couple other things that you can do about becoming – Sarah, do you have anything that you want to add on that?
Sarah Thomas:           Yeah, definitely. Check out the website, the Future Ready website. And from there you can find different events that will be going on. This year we're going to be doing something a little different. Last year we had our institutes that were going on. This year we have more regional type workshops. So definitely look at the Future Ready website and find an institute or an event that's coming near you, as well as more great chats, webinars, blog posts. All kinds of content will be coming your way.
Brianna Hodges:        Absolutely. And we can definitely attest to – Sarah and I are big believers in professional learning network and how you can really just – you know, the collaboration. Sarah is actually teaching a class, Dr. Sarah is teaching a class on this very topic. And do you want to share some of the things that you're doing there?
Sarah Thomas:           Oh sure, yes. I just wanted to say hello to my students, who I'll be seeing in just a couple minutes. But I see that Chris is back. So Chris has rejoined us. Hey, welcome back, Chris. So we definitely want to –
Chris Aviles:               [Crosstalk] over here. But I'm not sure how far we got before I cut out. But to kind of jump back into that question. I think teaching digital footprint is as important as teaching digital citizenship. I think students, when it comes to social media, they know right and wrong. Where I think we might want to focus more on is the peer pressure that results in the poor decision making that we see with social media. And then I'm not sure if it came through before I got cut off, but the way I do that is through modeling. A lot of my kids follow me on social media. They see how I post. I posted an article about how to use Fortnight in the classroom. And some folks tried to drag me on Twitter. And they were saying some not nice things to me. and I responded in a way that I would hope my students would respond. Basically saying hey, you know, I understand that you disagree with me. I would love to have a conversation so we can learn from each other. Otherwise, thanks for reaching out.
And so with the businesses that we run, they all have a social media presence. I own the accounts, but the kids do the hashtags, they do the posting, the pictures, and stuff like that. So before they get to me, our elementary school, Sickles, does a fantastic job introducing formal digital citizenship and why it's important to kind of keep your _____ and all that good stuff. And then so by the time they get to me in fourth grade, it's starting to say okay, how can we use social media to take advantage of opportunities, to amplify our voice, to make a difference. And I do that through modeling, so they can see how I act on social media. I let them control our social media accounts for the businesses. And then by the time they get to eighth grade hopefully with our new initiative next year, they'd be able to start their own social media for their own _____ creating.
And so it's a complex problem. I think it's not as simple as digital citizenship. Maybe it should just be citizenship and really talk about how we treat each other. For me, I assume all my kids are going to do the right thing, and I manage the exceptions. I'm not going to shut things down. I'm not going to limit things, I'm not going to block things because ten percent of _____. You know? So for me, somewhere in there is kind of my evolving view on how we need to be working digital citizenship into [Break in audio]. When a college googles you, they should see all the great things you do.
I was talking in a Twitter conversation the other day. When I have a kid, the first thing I'm going to do is I'm going to buy his name as a domain, as a website. And that's where he's going to have or she's going to have everything that they have _____. But I just think when somebody – I'll tell you a real quick funny story. When you used to google Chris Aviles, it was a murderer from Jersey City in New Jersey. That was the first Chris Aviles that came up. And so god forbid somebody googled me if I applied for a job, that's what they saw. You know?
Brianna Hodges:        You definitely have to own your brand, right? We talk about that a lot. So that's great advice.
Man, time has flown in this inaugural webinar session. So we're just going to go ahead and remind you guys that the information on Future Ready can be found at FutureReady.org. We encourage and challenge district superintendents to join the over 3,100 others and sign the Future Ready Pledge. We also encourage our school leaders watching today to join us at one of this year's Future Ready Institutes, as Sarah shared, which are always free for attendees.
I also want to encourage our viewers to get involved with our new and growing strands, whether it's district leaders, IT, principals, librarians, or instructional coaches. We have vastly expanded the reach of Future Ready schools. Check out our Facebook groups and ongoing activities for these strands.
I want to thank Chris as well as all of you, our viewers, for joining us for this Future Ready webinar. Don't forget to connect with us here at Future Ready on Twitter, which is @FutureReady, or on Facebook at Facebook.com/FutureReadySchools.
If you missed any of today's conversation, it will all be archived at www.All4Ed.org/webinars soon after this webinar. On that page you can also see a list of upcoming webinars and you can find all of the alliances, Google Hangouts, or on your channel as well.
For those of you taking part in the Action Academy Badging, the password for this webinar is COACH.
Thank you again for joining us here at Future Ready, and have a fabulous day, and we'll see you next time. Bye, you guys.
[End of Audio]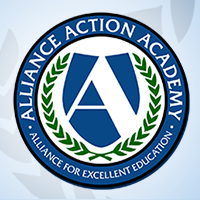 Welcome to the Alliance for Excellent Education's Action Academy, an online learning community of education advocates. We invite you to create an account, expand your knowledge on the most pressing issues in education, and communicate with others who share your interests in education reform.
Register Now
or register for Action Academy below: