Equity IS Education

June 12, 2019
6:00 pm – 6:30 pm EDT
Equity IS Education

Panelists:
Dr. Rosa Perez-Isiah, Director of Elementary, Norwalk-La Mirada Unified School District, CA (@RosaIsiah)
Thomas C. Murray, Director of Innovation for Future Ready Schools®, Alliance for Excellent Education (@thomascmurray)

On June 12, 2019, Future Ready Schools® held a webinar on equity in our educational system and closing opportunity gaps in education.  These are epic topics throughout the nation. We recognize the issues and feel a sense of urgency.
Many school communities are attempting to address these issues, but are addressing them in isolation. What we often fail to realize is that equity is education. If we want to close opportunity gaps for students, especially for marginalized groups, we must understand that these two issues are inseparable.
This webinar highlighted the need to change our mindset and practices on these two issues. Dr. Perez-Isiah highlighted effective approaches that can help merge the topics of equity and gaps in teaching and learning. Let's move from achievement "gap-gazing" to achievement gap-closing in our school communities.
---
Please direct questions concerning the webinar to ldossin@all4ed.org. If you are unable to watch the webinar live, please register to receive the video archive directly in your inbox.
---
Future Ready Schools® is a project of the Alliance for Excellent Education (All4Ed), a Washington, DC–based national policy, practice, and advocacy organization dedicated to ensuring that all students, particularly those underperforming and those traditionally underserved, graduate from high school ready for success in college, work, and citizenship.  www.FutureReady.org
Follow FRS on Twitter (twitter.com/FutureReady); Facebook (facebook.com/futurereadyschools); and the FRS Leadership Hub (futureready.org/hub).
---
If you are interested in renting the Alliance's facilities for your next meeting or webinar, please visit our facilities page to learn more.
Thomas C. Murray:    Welcome to today's Future Ready webinar. I'm Tom Murray, the director of innovation for Future Ready schools, a project of the Alliance for Excellent Education, located in Washington D.C. Future Ready Schools is a collaboration between the Alliance and a vast coalition of over 60 other national and regional organizations.
The goal of Future Ready Schools is to maximize digital learning opportunities, and to help school districts move quickly towards student-centered learning. The effort provides districts with resources and support to ensure that local technology and digital learning plans align with instructional best practices, are implemented by highly trained teachers, and maximize learner center experiences for all students, particularly those from traditionally underserved communities.
The hashtag for today's webinar is, as always, #FutureReady. Thank you so much for making an investment in joining us today. I'm gonna be your host on this webinar that I am super excited about, titled Equity is Education. And with me today is my great friend, Dr. Rosa Perez-Isiah. Rosa, what an honor it is to have you today.
For those of you that may not know who you are, ________ to introduce yourself?
Dr. Rosa Perez-Isiah: Yes. First of all, thank you for having me, Tom, it's an honor and such a pleasure to be able to talk to you about this wonderful and very important topic. You introduced me. This is my 25th year, I'm wrapping up my 25th year in education, and I've had a number of experiences.
I just wrapped up a seven year principalship. We were able to do some amazing things that I'm really proud of around culture, and relationships, and closing gaps for kids. And I felt like I was ready for the next move, and so, I'm currently director of elementary programs.
I'm working with 17 elementary schools in my district, loving the work, absolutely. I miss the kids, the day to day with kids, but really loving the work. On a personal note, I am an English learner, came to this country as a four-year-old, and grew up in poverty with a lot of opportunities for growth.
And just it has been amazing. Education, honestly, changed my life's trajectory, and I'm here because I want to do that for other people. I'm really proud of last week, I was awarded the 2019 Loyola Marymount University Leader for Social Justice award. And I received my doctorate from LMU for leadership for social justice, so this means a great deal. And I am not shy at all about sharing that with the world. It's something I'm very, very proud of.
Thomas C. Murray:    That is awesome, Rosa, and we are so incredibly proud to have you on today. I actually want to give you a big congratulations, and I will do that now, on behalf of Future Ready Schools. What an incredible award, and I will also say you are so deserving of that. It's actually exactly why we asked you to be our guest today on this webinar.
Your past in the work of social justice and equity, which is so core to work at Future Ready, just radiates in all that you do, whether it's being a principal, the things you put out on social media, the chats you run, it's just core to all that you do, and so, we are so honored to have you as a guest today. Congratulations on that very well-deserved award.
We couldn't think of anybody better to have that, so a huge congratulations on behalf of Future Ready Schools. Let's go ahead and dive into the questions. I'm so excited to have you here, because of your passion, and because of the excitement that you bring to a topic that is so core to the work that we do at Future Ready Schools.
It's so center to your work, it's the lens and everything around equity. Tell us why equity is a topic that really should be understood by those who educate children and lead teachers every day.
Dr. Rosa Perez-Isiah: Equity, in my mind, is giving every person what they need. So, when we look at the school setting, we're looking at our teaching and learning, of course, not just of children, but of staff, everybody involved. And it's really impossible to be able to educate and give people what they need if you don't know who they are.
And the topic of equity is something that I've heard often recently. Really, it is the work that many have been doing for years, and it is that work of addressing personal needs so that every child with whatever they come in with, that we're able to meet them where they are, and that we're able to address those not only educational needs but social-emotional whole child needs.
So, it's really important that if we're working with kids, that we're aware of that, that every child has a different story, and that we are charged with understanding, exploring, and enriching that story.
Thomas C. Murray:    Very well said. And at Future Ready, when we talk about whether it's our institutes or through our webinars, it is valuing that whole child, and that's why we talk about being learner-centered in our environments. One of the things that I love that you always – there you are talking about it already, is the stories within, and recognizing individuals as just that, individuals. And recognizing kids aren't standard, per se, and so, how do we value the SEL work, as you referred to, and something you're also very well known for, with helping to meet every child where they are.
One of the things that I love that you say, and we titled the webinar after your words here, is that share how equity is education. What do you mean by that?
Dr. Rosa Perez-Isiah: We can no longer afford to just focus and educate some kids, and what I mean by that is if I look at my personal experience, and if we look at some of the experiences that marginalize or underserved kids have had is that they don't fit this norm. They don't fit the current educational narrative, or the school's narrative, or the teacher's narrative, about what type of learner they should be, and how they can be successful in the classroom.
We must educate all children, and so, when we look at what that takes, it takes that equity lens to be able to reach every single child. And I don't see those two working alone. I see those as one unique piece, and that in order to address those Es, the education and the equity piece, that you have to really understand that you can't have one without the other. Is it really educating children, all children, when we're missing so many pieces? It's not.
Thomas C. Murray:    Yeah, it's so well said. And I think so many times we talk about, well, for all kids. And when you really dive into some of the data, on a recent webinar, we were talking around digital equity, and one of the examples we also talked about is take for instance the notion of equity and opportunities, and who are taking courses, or what courses are offered.
And one of the examples that I'll often give, being a white male is you walk into the average classroom in the United States for something like a computer science, and some kids that looked like me when I was a teenager in that regard. And so, how do we make sure when we talk about all, we are talking about all, and making sure that it's absolutely at the core of what we do, not just a nice little add-on or an afterthought.
And that's what I love about your work; it's just core to everything you do in that lens, and how you see the world, and how you share it, but it needs to be more for all educators thinking that way, and not just let's just add that on. One of the things we talk about, as I started to say there is equity and opportunity and equity in access.
And I know the access and the digital side, we often talk about for Future Ready, but also around equity and opportunity, and it sounds like that's where we're getting to when we talk about all really meaning all, and no longer having a zip code really determine one's educational experience or _______ opportunities or outcomes.
Another thing you talk a lot about, Rosa, that I really respect is around mindset. Why is it that we need to change our mindset and practices about addressing these inequities and educational needs of our students and families concurrently?
Dr. Rosa Perez-Isiah: You mentioned data, and the data that the story that the data is telling us, is that there aren't enough students of different backgrounds in computer science that maybe perhaps most of them look like you, Tom. You're not a bad looker, you look okay, but we want to see a little diversity there, right? Or a lot.
If you look at other big pieces of data, we want to get kids to college, yes we do. If you look at students of color in particular, who are completing college, not just getting in – getting in is the first challenge, but completing college, there's a huge gap there. There's a huge need.
When we look at the school to prison pipeline, and how we essentially in some cases are preparing kids for that type of system with the things that we're doing in our schools or not doing in our schools, all of those pieces really do create a sense of urgency for me.
Look at the current political rhetoric. I talk about this often, how that is impacting what's happening in schools. The number of hate crimes, crimes against people of color, have increased tremendously. Kids are coming to us worried, nervous, anxious, with trauma, and if we don't address those pieces as part of equity, if we don't change our thinking and our mindset about that level of impact that all of those things have on kids, then we're not creating an equitable learning experience for students.
I often talk about the whole child whole community approach. I was asked about my previous schools. The success that we had in closing opportunity gaps, specifically for students of color, African-American students and Latino students. We were 1 of 13 schools in California who were able to close those opportunity gaps for students, 1 of 13 title I school, 85 percent low SES, why isn't this happening more often?
Well, we took a whole child, whole community approach, and our approach to equity was, yes, addressing the teaching and learning, giving teachers what they needed to build their capacity, but also addressing with counselors, addressing our parents as partners and providing learning opportunities for them. Taking a look at our culture and climate and how that fit into student engagement and family engagement.
So, all of those pieces are pieces that contribute to the mindset and the practices that we execute. It's not enough to talk about it, but to actually implement it and put it in place, we know that's harder. When you do, it's just magic; it's amazing what our kids can do.
Thomas C. Murray:    Yeah, and it's no surprise you saw those results with the priorities that you had around those results, and putting that focus on your end in that. So, I actually want to dive into that a little further. I'll put my principal hat back on. At the _______ for Excellent Education, we do a lot of work around SF, federal policy, and one of the things that we often do is we'll partner with civil rights groups to make sure that our traditionally marginalized populations are represented.
And whether it's looking at things like the N number on state testing, 'cause you'll look at the traditional metric, and hey, as a district, we have an 86 percent graduation rate, look it up, great. And then we look at the black subgroup and it's 34 percent or the Hispanic subgroup and it's 60 percent. And when you pare some of those out, it'll often tell a different story.
One thing I have for you here to dive into what you were just talking about, sometimes, I've heard educators say, and I shake in my boots with anger in the sense of, "What am I supposed to do differently for my black and Hispanic students than I would do for my white students?"
When you look at some of those subgroups that haven't performed well, and first of all, congratulations, as well, for prioritizing that and the gaps that were closed. And I loved, by the way, when you called it an opportunity gap, and not achievement gap, 'cause that's a mindset piece right there.
What advice would you give for a district that we all just took our standardized tests around the country, those things will become ______, we'll start to analyze their subgroups, but when they see the disparities in those subgroups, what would you say to those folks how to reach? How did you close some of those gaps? Where did you put those focus?
You mentioned school counselors being part of it, but what else would you recommend that they do to really dive into that?
Dr. Rosa Perez-Isiah: Thank you, first of all. I'm super proud of that work that we did. I didn't do it; we did it together. It was definitely a team effort. What can be done? There's a number of things that can be done on a larger scale. I think for people who may be watching this webinar, and if you are the teacher, the principal, the counselor, it's really understanding who your students are.
The test, yes, it's stressful, and if I could make changes around that, I would, because I have a child – I have two – but I have one who's still testing today, and it is overwhelming and scary, and there's a lot of pressure on kids. But when people say, if you handle all of those other pieces, if you put Maslow before Bloom as I saw in fully charged, that will all fall into place.
Beginning in the classroom, who are your students? What are their stories? What are the barriers or perceived barriers? How can you support the students and recognize what kids are bringing to the table? So, not seeing children as from a deficit perspective, but really embracing the knowledge that kids are bringing, especially kids who have been marginalized or underserved, they are resilient as can be.
The things that we've had to overcome growing up with trauma or growing up with bias or racism or whatever it may be, it just makes you more resilient, and our kids don't need us to teach them grit. They have grit. They have all of those pieces. What can we do to recognize that and connect with students, connect with families, and use those strengths in the classroom?
Another very simple thing is what I call a mirror check. How do you really feel about the kids that you're working with? Do you have questions? Are you someone who is ready to engage in a more difficult conversation about your personal beliefs? Do you really believe that every single child can learn?
Those sound simple, but they're really scary questions. We all have biases, so what are we willing to do to work through those biases, and use our position, our privilege to create more opportunities for kids? So, doing that in the classroom and doing that as a school creates this culture of yes, we're gonna do this. It creates the mindsets that are contagious and that spill into what kids are thinking, and how they value school and value what they bring to the table.
I was gonna say the two biggest pieces that have nothing to do directly with – that are harder, more quantitative are the culture and climate piece and the relationships piece. If you don't know what you're working with, you're not going to be able to create change. So, connecting with your kids in your community and knowing what their story is is the very first step.
Thomas C. Murray:    One of the things you've mentioned now twice is around social-emotional learning, SEL, as well as trauma especially for these groups of students in different ways. As we work around the country, we'll often hear districts, "We're doing all this SEL work," or "Well, we now have this one thing that they can go do." Why should SEL and trauma really be core to the work that they're doing, and not just an add-on? It's something you're so passionate about, but also rightfully so.
Why is that equally important to the academic side, the social-emotional side?
Dr. Rosa Perez-Isiah: Kids can't learn if they're worried about if they're hungry. Kids can't learn if they are concerned about whether their parents are gonna be home when they get home, or are they gonna be picked up by ICE? Trauma and childhood experiences impact all students, and it doesn't matter what color you are, what language you speak, that exists for all of our students.
And so, if you don't help meet those needs, those basic core needs, you can't move on to the next level, which is learning. How do we learn if you look into how the brain develops, and really what the brain needs to be able to soak up that learning is you need to be in a place where you are comfortable, and you feel safe, and you are fed, and you feel protected, and you feel valued.
And so, one of the things I talk about is don't starve Maslow to feed Bloom. And if you think that you're gonna have a student who's ready to go 100 percent, and learn, and take a test, and do well on a test, that's not gonna happen if we're not providing them or providing their families with the supports that they need to address those basic, basic needs.
The social-emotional learning piece, that comes into play. Learning how to handle conflict, learning how to not try to solve Mom and Dad's problems. Some things kids can't help, that's why we're there to advocate and to be a voice and provide what they need. But I wholeheartedly believe this: You can't do one without the other.
So, if my students didn't feel safe and comfortable and supported and fed, I knew that learning would not happen in the classroom, so we do the best we can to support those basic needs first.
Thomas C. Murray:    And putting it into the forefront of every teacher's mindset. I think back to teaching elementary school or when I taught middle school, and in my lens, in my mindset, I wasn't worried about the next meal. I came clean in the morning with clean clothes, and I can honestly say, especially in my first few years, it wasn't on the forefront that not all of my children didn't necessarily have what I had.
Just being consciously keeping that on the forefront is so vital in that work. I do want to remind our viewers that the hashtag for today's webinar is #FutureReady. Rosa, I do want to follow up on one other thing that you mentioned, and that was the importance of the community. You referenced the community as a whole.
And so, let me ask you this question, especially with your background as being an English learner, coming at four-years-old, what advice would you give to principals or to district leaders that are serving a community that is different than they are in terms of demographic makeup? Again, as a white male principal, if I'm serving a heavily Latino population or black population, somebody that may culture have a different lens, what advice do you have for the community, 'cause you're saying and we totally agree, we have a full gear on community partnerships, and engaging, what advice do you have for leaders in that regard to reach out and really connect with those that might have differences with them?
Dr. Rosa Perez-Isiah: I think being very clear about your idea of what engagement is. So, there's a difference between involvement and engagement. I think we have to think out of the box in how to do that with our families, especially working families. I'm a working parent; I cannot be as involved, and so I look for ways to be involved.
So, first of all, going back to the relationship piece, understanding your community, even if you don't speak the language, parents love the fact that you are making an attempt to connect with them. They will support you, they will do anything for you if they know that you have their best interests, and you genuinely care for their children.
I would recommend creating opportunities for parents to come in and learn, and build their capacity around what is expected of their children. Basics like parenting and mental health to more complicated pieces like the math common core standards, and how you can support your kids at home, to how do you fill out a college application, what's the FAFSA all about? To bringing in not only mental health support, but medical support and referrals for families.
So, reaching out to parents, meeting them where they are, and creating a community of support and services, the school should be the heart of the community, in my opinion. That is a place where families should come, even if you can't provide that immediate need, that you can give them a referral or a reference, and help build their social capital so they can navigate a system that often is not equipped or willing to do that for them.
That's a huge piece. Understanding, and let me share a story with you – I remember being in, might have been the second or third grade, and I was a great student. I loved school. Not necessarily my brothers and sisters, there's eight of us, and that's a whole 'nother story, another podcast. Only one who went to college, but I remember loving school and having some teachers that really impacted what I did.
And I heard them talking one day, and they said, "She's really smart, but her parents really don't care. They never come to any events." And I remember being absolutely devastated. Not having the voice to say, "Wait a minute. My parents love me, they can't come, they work. There's a lot of kids at home, and if my dad doesn't go to work, he'll be fired. He's undocumented, it's hard for him to get a job."
All of those things that I wish I could have said, I couldn't. But I wished that they understood how difficult it was for my parents to come to a parent conference or a family night. I wish that they had an opportunity to engage in a different way, whether it was from home or helping the teacher in some way from home.
They were willing; they were not able to do that, because they had to take care of their kids' basic needs. So, that to me, was just a reminder that sometimes our assumptions can really hurt families, and hurt that partnership. And so, back again to the relationships. Make an effort to understand the needs of your community and the needs of your students and their parents.
The assumption there was that I was doing it all myself, and I wasn't. My parents were supportive at home in ways that they could be supportive, but this perception that there was a lack of interest or they just didn't want to be bothered with what I was doing was incorrect, and I didn't know how to help my teachers understand that.
Thomas C. Murray:    And thank you for sharing that personal side there, as well. It means so much, and we appreciate your words there, and to take it into a classroom level there, as well, from building on your personal experiences, how many times do we have kids that are working a couple jobs themselves, often leaving school to go help feed their family. And then, with their teacher getting in their face the next day, wondering why homework's not done or something along those lines. Not even thinking to ourselves, maybe this kid is helping to feed their family, and that's why math homework wasn't done that evening.
And to do this work well, the professional learning side is so vital to it. Not everybody that comes out, and teachers are some of the greatest people on the planet, but let's face it, they don't have what they often need. They're not equipped quite often to see beyond their lens, and they need to be in the classroom, so talk to us about teacher prep programs. Are they giving teachers the tools that they need or professional learning you're seeing throughout the country? Talk to us about that side of it. What is effective about their – that's helping educators having the lens that they need to support all children?
Dr. Rosa Perez-Isiah: I didn't learn any of this in my program, not even in my master's programs. I really acquired more learning through my doctoral program at the university level, and that's because the focus was social justice and leadership. I think programs are getting better about this piece. UCLA Center X has a wonderful program, LMU, of course, here in California, USC, and there is a plan to address this with our incoming teachers or teachers who are preparing to do the work.
But there's a lot of work to be done. I think maybe on this side, the West Coast, maybe, those are my experiences and I see that work. I don't know that that's necessarily the case across the states, as we have more, for example, English learners in states where we haven't had English learners. Now, that has created a sense of urgency to be able to address the needs.
In other cases like the gaps that we see for boys of color, throughout the states, that's something we've talked about for years, and we're still not closing those gaps. So, you connect that to the fact that most of our teachers don't look like our students across the nation. There is a disconnect there. Well-intentioned people, people who care about kids, just don't have the experience, that capital to be able to address those unique needs.
And if our teacher prep programs aren't preparing teachers for the reality of that, of dealing with ACEs, Adverse Childhood Experiences, and what that looks like in a classroom, we have some people who get burnt out, and decide this is not for me. We have a teacher shortage.
We don't have, I think, the resources and the respect on a national level for teachers. It doesn't look very attractive to go into teaching in many cases, and that breaks my heart. But I think our teacher prep programs are really working to try to develop that piece, and it's critical, it's vital. We're preparing kids for opportunities that we can't even fathom what they might look like. That's important, but we also have to make sure that we create kids who are engaged, confident, successful, and we can't overcome all of society's issues, poverty, but we can address the effects of those issues in our classrooms.
Thomas C. Murray:    I want to ask you a question specific to leadership and educational leaders, especially you started to also touch on some of the other disparities we see, and it's no secret every year disparities in discipline data, being another piece to that. You started to touch on even hiring practices, at a time when we do have shortages, how do we encourage and recruit more to the field where we can look at study after study that show if students can relate to their teacher, and in cultural ways and those things, they do better in that regard.
And so, talk to ed leaders and what can they do. They're the ones offering creating certain policies, or at least informing their board on policies, or the hiring practices, or they're the ones that are suspending or expelling kids. Talk to them for a few minutes about this notion about equity is education.
Dr. Rosa Perez-Isiah: That's a huge task for principals, and honestly, that's what we're charged with doing. As a principal, I felt the sense of urgency, and if my team didn't quite feel that, then I felt I knew it was my responsibility to help them understand why that was a sense of urgency.
So, the data piece is an easy piece that can open doors. You present the information, you create some commitments around that information. Not buy-in, I don't care for the word, buy-in, really committed, when people understand the urgency, then they commit to the process.
But I think as an administrator, put your money where your mouth is, and create – bring in the resources that you may need, not just fiscal, but human resources. And as an administrator, if you're beginning this work with the relationship and connection piece, then it's about the people that are on board.
And you may not have a lot of control in the beginning, but as you're hiring people to come on board, then you're looking for people that have those skills, and that do understand the importance of it. It's vital that you create learning opportunities for teachers, and that you have the courage to have those kinds of conversations, where we're saying, "You know what? These are the trends we're seeing. Why is this happening? Why are we only suspending black boys? Why are we only suspending brown boys? What is the disconnect here?"
Having individual conversations with people. Dr. Mohammed talks a lot about when you're looking to change culture or climate, you have to support, you have to give people opportunities to grow. You have to be clear and honest and supportive. That doesn't work, then sometimes, maybe you look for a new opportunity.
But as the leader in this group, you set the tone for your school. You do that with the things that you say and the things you don't say. You do that with the projects that you're taking on, what you give your time and attention to. Everybody's watching, kids are watching, teachers are watching, parents are watching, and what you value if you're valuing those pieces that support all kids, people will follow, people will come along.
And when you have people who are unwilling to do that, then it's your responsibility to support them into understanding why this is how we do things are, and this is why this is important for kids.
At the end of the day, teachers want to feel supported, and not only with your words, but also with actions. So, if you're giving them the materials they need, the PD they need to better understand and learn together, creating a culture of lifelong learning, not just for kids, but all of us, and you're part of that process, wow. You can really create some change.
Thomas C. Murray:    Some incredible words –
Dr. Rosa Perez-Isiah: I hope I answered your question.
Thomas C. Murray:    Absolutely. And some incredible words of wisdom you offered. I do want to remind our viewers one more time that today's hashtag, as always is #FutureReady. So, Rosa, as we start to wrap this up here, what can educators do in their classrooms today to begin to close some of these gaps to foster equity and to truly educate all children?
You've given incredible advice throughout, to no surprise, of course you have. But if I'm a third grade teacher there, I'm a middle school teacher, what can I do in my classroom to make sure that I'm doing it right and I'm valuing every child? Give us some advice to me being that teacher.
Dr. Rosa Perez-Isiah: First of all, understanding that it's a process and that you're not going to do it all right every time, but that you're learning from those mistakes, and growing. If you were my teacher, I would have a conversation with you, "Let's look at who your kids are. Bring in all your data. Let's talk about it. Not just the qualitative data in front of me, but who are your kids and what are their stories? And if you don't know that, then the first thing I would say to you is go learn your kids. Learn your students, and then we can have another conversation and set some goals around that."
When you look at the data and you realize these are the gaps we're looking at, it's like peeling an onion. If you have – I often had the situation where there was this one student, this child is difficult, this child refuses to engage, what are we gonna do? There is no engagement.
Well, how about we look at how we're teaching, and how about we look at why the student is disengaging? So, having those more personal, one-on-one conversations with students and families, and if teachers are uncomfortable with doing that, then coaching, and invite them in, have a conversation with parents together, have a conversation with students.
The goal is to build the teacher's capacity to be able to do this independently, and that there is a process. This is where we begin; we begin with relationships and data. And whatever that tells us, that will lead us into whatever path we may need.
Oh, wow, this child can't hear. This child needs glasses and has needed glasses for three years. Wow, this child just lost a parent. Those are all of the pieces that you will not get unless you have connections and relationships with people. And parents, when they realize that you are genuine and coming from a place of support, they will share. They will just give you all of the information that you need.
If parents feel that you are disingenuous, and you're coming from a place of what are you doing for your kid? You're not doing enough. Parents will shut down, they won't want to participate in the process of engaging and supporting you in a classroom to better support their child.
I think it's almost like an analysis in a way, but not only looking at data, but just looking overall at who the person is, who your students are.
Thomas C. Murray:    Rosa, one of the things as you're talking, I'm doing my reflecting, just listening to you, as well. One of the things that I love about every time that you've addressed a question that I've asked or told a story is you're getting to the root cause. You're not slapping the Band-Aid on, looking for the quick fix. It's getting to that root cause of the why, why is that child behaving the way they are, and really getting to that.
And so many times we do have to look deeper in that quick, and we've both been principals, that quick conversation, that quick discipline conversation, but really to help look to the root cause of it all, and it's why I think you've seen so much success in your work, but also one area we all need to focus continuing to move forward.
Let me wrap up with this piece. One of the things that I've heard you say often is this notion of gap-gazing, and I've always admired you for saying that, and thought, "How many times was that me as a principal looking at a gap, and saying, we have a gap there, we're gonna keep going and doing what we're doing?"
So, for districts that want to move from that gap-gazing, to really commit to creating equitable learning school communities, and close true opportunity gaps, what advice do you have? Where do they even begin?
Dr. Rosa Perez-Isiah: Prepare yourself, because it's a lot of work. It's a lot of work with a lot of rewards. It's easy to gap-gaze. I'm guilty of it. I got to a point in my career where I realized that I had the power to change and move beyond the gap-gazing. It begins honestly with leadership, it really does. I have left schools because of the principal. I have stayed in super challenging situations because I knew the principal was supportive and we were gonna do this work together.
And so, as a leader, just getting beyond the gap-gazing is deciding to take that very first step to do something about it, and to move beyond that discomfort of "Oh, yeah, our kids, our English learners are bombing again this year." But getting to the root, figuring out the layers, and surrounding yourself with people and leaders and professionals and community partnerships that can help you as you unfold the issues that we're trying to address.
And so, that part is scary, and it requires some vulnerability. It requires leadership that says, "I don't have all the answers, but we're gonna figure out how to do this together." And it requires sometimes to verbally say that out loud to your entire team. I've been in a position where I have just been I'm not sure what the next step is. I need your help. This is our school. How will we create change for our students?
And that's when you get the best ideas, people realize that she's being completely transparent, and we have this issue, and we have to make it happen. But leaders need support, and that requires district office, central office support. As a principal, I felt most successful when I knew that I had a person to call, resources to tap into, and that was a support from ed services from a superintendent.
When I look at school, at education and creating equity, it requires strong leadership, people who are willing to bring resources, and to address the areas of need, and that requires vulnerability, strong communication, and a little bit of risk-taking. And when you do that, then you begin to see those results, because that trickles all the way down.
You're giving your principals, your teachers, the permission to explore to try different things, to partner with communities, to bring in counseling services, to partner with a university, all of those out of the box – it's weird, because they should be what we go to, but they're considered out of the box, innovative strategies. That requires the support and leadership across the board.
Thomas C. Murray:    Rosa, first, thank you for your time today. The wisdom you're sharing is I'm reflecting here personally, but I'm sure our viewers are doing some deep reflection, as well. And here at Future Ready Schools, we hit an incredible number of areas, whether it's technology and the effective use, whether it's leadership in school culture, whether it's privacy, learning spaces, envisioning teaching and learning, writing so many facets to it.
But I will go on record as saying none of it is as important as to what we talked about today. If we don't have this core to our work, we have nothing, and if we're not there to value every single child, why do we do what we do? So, Rosa, I want to thank you for your time, and we also want to remind our viewers that information on Future Ready can be found at FutureReady.org.
We encourage and challenge district superintendents to join the over 3,300 others and sign the Future Ready pledge. We also encourage our school leaders watching today to join us at one of this year's free Future Ready institutes. For more on one of those great events, check out FutureReady.org/institutes.
I also want to encourage our viewers to get involved with our growing strands from district leaders to tech leaders to principals, librarians, and instructional coaches. We have vastly expanded the reach of Future Ready Schools over the past few years. Check out our private Facebook groups there, as well.
I do want to thank my good friend, Rosa. Thank you so much, Rosa, for your time today, as well as thank all of you, our viewers, for joining us for this Future Ready webinar. Don't forget to connect with us here at Future Ready on Twitter, @FutureReady and on Facebook at Facebook.com/FutureReadySchools.
If you missed any of today's conversation, it'll be archived at All4Ed.org/webinars, soon after this webinar. And on that page, you're also gonna see a list of upcoming webinars. You can find all of the Alliance's Google Hangouts on our YouTube channel there, as well.
For those of you taking part in our Action Academy badging platform, the password for today's webinar is very fitting. It's equity. Thank you.
Dr. Rosa Perez-Isiah: I love it.
Thomas C. Murray:    Thank you again for joining us here at Future Ready Schools. Have a fabulous day; we will see you all.
[End of Audio]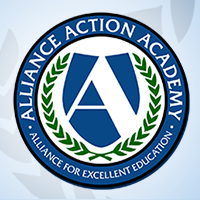 Welcome to the Alliance for Excellent Education's Action Academy, an online learning community of education advocates. We invite you to create an account, expand your knowledge on the most pressing issues in education, and communicate with others who share your interests in education reform.
Register Now
or register for Action Academy below: