Equity and Student-Centered Learning: Emphasizing Inclusion of Our Most Vulnerable Students

August 14, 2019
6:00 pm – 6:45 pm EDT
The Mike Sussman Studio
Equity and Student-Centered Learning:
Emphasizing Inclusion of Our Most Vulnerable Students
Panelists:
Avril Smart Goggans, Ph.D., Research and Engagement Manager for Future Ready Schools, Alliance for Excellent Education
Ace Parsi, Director of Innovation, National Center for Learning Disabilities
Winsome Waite, Ph.D., Vice President Practice, Alliance for Excellent Education
On August 14, 2019, Future Ready Schools® held a webinar on the issues surrounding the implementing of digital learning initiatives with equity in mind.  It covered questions like: how do educators ensure that policies and procedures from their plans—specifically around developing empowered learners–translate to practice?
Panelists described the characteristics of student-centered learning, and the importance of applying an equity lens when planning and implementing digital learning. The National Center for Learning Disabilities' Ace Parsi explained the importance of including the needs of students with disabilities in plans for personalized student-centered learning environments.  he also shared common barriers that impede their full engagement. Winsome Waite related research from the Alliance for Excellent Education's work on the Science of Adolescent Learning (SAL) describing environmental factors like community values, poverty, prejudice, and inequity that can influence classrooms, schools, and student learning, especially among historically underserved and marginalized students. The session concluded with recommendations for school and district leaders about important considerations when designing their student-centered learning efforts.
The panelists also answered questions on:
What skills should education leaders ensure that they are imparting on students that will empower them to take charge of their learning?
What should educators focus on to create a healthy and positive school culture?
What strategies can support the inclusion of students in the decision-making process surrounding digital learning planning and implementation?
---
Please direct questions concerning the webinar to ldossin@all4ed.org. If you are unable to watch the webinar live, please register to receive the video archive directly in your inbox.
---
Future Ready Schools® is a project of the Alliance for Excellent Education (All4Ed), a Washington, DC–based national policy, practice, and advocacy organization dedicated to ensuring that all students, particularly those underperforming and those traditionally underserved, graduate from high school ready for success in college, work, and citizenship.  www.FutureReady.org
Follow FRS on Twitter (twitter.com/FutureReady); Facebook (facebook.com/futurereadyschools); and the FRS Leadership Hub (futureready.org/hub).
---
If you are interested in renting the Alliance's facilities for your next meeting or webinar, please visit our facilities page to learn more.
[Music]
Smart Goggans: Hi everyone. Thank you so much for joining us for another Future Ready School's webinar. I'm Avril Smart Goggans, Research and Engagement Manager for Future Ready Schools here at the Alliance for Excellent Education.
It's a great pleasure for me to facilitate today's discussion on equity in student-centered learning emphasizing inclusion among our most vulnerable students. Our goal today is not only to discuss the nature of student-centered learning in a technology-driven learning environment, but to emphasize the importance of including the learning needs of students of color and those with learning disabilities in our planning and implementation efforts.
As we dive into this very important topic I'm fortunate to be joined today by Ace Parsi, Director of Innovation at the National Center for Learning Disabilities and Winsome Waite, Vice President of Practice here at the Alliance for Excellent Education. Both Winsome and Ace have done extensive research investigating the importance of student agency and designing and implementing innovative approaches to instruction.
Later both panelists will share their research on personalized learning among students with disabilities and the science of adolescent learning to help us learn more about how to ensure that both students with disabilities and students of color do not get left behind in the implementation of student-centered learning.
Future Ready Schools believes that every child deserves equitable opportunities to learn. This means a personalized student-centered learning environment with robust learning experiences that prepared students for an increasingly technology-driven world. This also means that educators have access to a professional learning network that supports their growth and builds their capacity to design, plan, and implement effective school and district improvement efforts.
At the heart of the services and resources provided by Future Ready Schools is the Future Ready Framework, a research-based structure for creating digital learning environments that meet each students unique learning needs. In addition to the seven gears and collaborative leadership the framework argues that personalized student learning is at the center of planning and implementing an effective digital learning change effort.
In order to empower independent, capable, and responsible learners district leaders, principals, teachers, and school staff should apply a student-centered approach that emphasizes the importance of developing caring and trusting relationships with students, student voice, choice, and agency in curriculum design;  targeted practice in support aligned with students diverse learning needs; challenging academic content that's relevant and reflects real-world issues; flexible learning environments that incorporate multiple approaches to instruction; and the effective use of technology to support learning beyond the classroom.
While it is important to emphasize these tenets when creating interventions for any learner, if we are truly seeking to increase learning opportunities for the students who are most in need then student-centered learning approaches that emphasize digital learning must have an equity focus. Year-after-year national research on education outcomes analyzed by race, economic status, language status, and other factors shows us that African American, Latinx, students in poverty, and English-language learners are among the list of vulnerable subgroups who are underperforming in reading and mathematics assessments. And this is true at the elementary, middle, and high school levels.
So given these trends and the potential for digital learning to enhance learning outcomes education leaders must be intentional about not exacerbating existing inequities and focus on creating more and better language opportunities for the students that need it the most.
To help us learn more about strategies for inclusion of students with disabilities and personalized learning initiatives and the challenges that currently impede these students from fully reaping the advantage of innovation Ace Parsi will share some of his research from an NCLD.
Ace?
Ace Parsi:                   Thanks Avril. It's a real pleasure to join you all today. I'm just going to start by talking a little bit about why we're here and I'm really grateful to have partners like the Alliance that have been very explicit and specific about that this should be an equity imperative that we want to close opportunity gaps rather than extend them.
But I wanted to just start by framing it in this way, disability rights are fundamentally civil rights. I sometimes go to conferences and sessions where we're like, "Is this a civil rights conversation or a diabetes rights?" The two are one and the same. So we have to think about what that means and how we make that real and to do that we have to think about the historical context in this.
We know a lot about the Civil Rights Movement, but within the disability rights aspects of that movement it hasn't been that long ago since there was really an open question of whether individuals with disabilities had a right to exist within our society. You take that and if you're on your computer right now and you want to Google Teddy Roosevelt and eugenics you will find things that will horrify you.
Then we move from that period in our history to an era after World War II where people were coming back from the war and we took more of a rehabilitation lens; that we were trying to have people succeed despite their disabilities. And now in the mid-'70s we start with the IDEA, the main educational law that safeguards individuals with disabilities civil rights in education and we're talking more about an inclusion lens.
I raise this not because I'm saying at all that we were back in that full exclusion lens, but that it's part of our history and we can no more talk about what's happening in the Black Lives Matter Movement without talking about Jim Crow and slavery, than we can talk about what's happening with how we interact with students with disabilities without facing our past.
So I put this slide on here because as you'll notice in 1970, this was before IDEA was passed when Fortune 500 companies were asked what were the skills that they were looking for, the top skills were writing, computational skills, reading skills. Then when they were asked that again in 1999 that flipped, that didn't just flip for individuals without disabilities, that didn't just flip for white students, it flipped for everybody. So to think about what a free and appropriate public education means today. If we're really trying to prepare our students with disabilities for the future we have to be also explicit and make sure that our individuals with disabilities are provided with that same high-quality education that delivers on these same skills and dispositions because that is what the world is going to be demanding of them.
So that gets us at an issue that's primal in any work that we do around high-quality digital learning, personalized learning, student-centered learning and that's the issue of agency. We want students to have more voice and choice.
I want to just tie that and think about that in terms of what that might mean for an individual with disability. So for an individual with a disability that's coming to a high school that emphasizes that student voice and choice and that student agency we know that you can't just say, "Great here's voice and choice go do it," because that individual has faced implicit bias in their past. They may have internalized that bias. They have faced some sort of discrimination and so simply saying, "Voice and choice" without giving those opportunities for them to develop the skills to succeed in that environment is simply not enough.
It is an important conversation to have because students with disabilities among groups really need that to succeed in that next level. So you think about the decisions that a student with a disability has to make when they go into higher education they have to go and ask their faculty member for an accommodation. If they're never had the opportunity to advocate for themselves in the past, same thing in workforce, they are going to struggle there regardless of their academic capacity. That's something we need to be able to be explicit about that.
So how does that relate to our conversations around digital learning? We have to be intentional and forthright in some of the questions that we have to ask. So when we have a digital learning initiative, we have a student-centered initiative, we have whatever initiative we have to be explicit in those conversations about who is this initiative successful for and under what conditions?
Are we ensuring that we are melding accessibility, rigor, and capacity? And what I mean by that is that we shouldn't have a digital learning effort or a personalized learning effort that has the lowest common denominator of learning without getting at those higher-order skills for our kids with disabilities. And in order to do that we need to prepare our educators to effectively do that.
We know that innovation both in our society and in our education systems is often outpacing our policy safeguards. But that's for now, they continue to evolve and so we have to think in those next steps how do we make sure that our kids with disabilities are fully incorporated to that? So some of these new innovations, including virtual schools how are individuals with disabilities being supported in these programs? How are we making sure that they're fully included in that accountability system, that we have high expectations when a virtual school might have very low graduation rates for example? How do we make sure that they are being prepared for those higher order thinking skills that they're going to need to succeed just every other students at the next level?
And then to note that often the challenges and opportunities in the story are two sides of the same coin. So what I mean by that is that this could be very much engaging for students that voice and choice could be great, but we need to make sure that our educators are effectively prepared to do that. Multiple ways to engage with instruction really help our nontraditional learners, but the systems have to be built excessively.
Parents are often hungering for these changes, but we have to make sure that we're effectively communicating about what the implications are for their kids.
The most important message to take with this is that we need to do this as we are engaging in these conversations. We cannot create plans, laminate the strategic plan and then go back and say, "Oh my goodness like this is not working for English learners," "This is not working for our kids with disabilities." Let's appoint a taskforce or subcommittee to figure out why. We need to be not retrofit these students into initiatives that aren't designed for them, we need to start with thinking about these students at first and then from that the initiatives that we'll design will fundamentally serve all students more effectively.
And the way we do that we have to begin with that visioning process, we have to make sure that the vision behind personalized learning, student-centered learning, digital learning, all that includes these students at the frontend. We have to make sure that that vision is tagged with resources effectively implemented. We have to know that some of these initiatives whether it's a high school internship, whether it's digital learning, whether it's project-based learning that it will have different implications for our kids with disabilities and our general and special educators both need preparation to be able to implement that.
We have to ensure that when we are moving forward with these initiatives that we don't use innovation as an excuse to water down our expectations of accountability and support systems. It's okay in that process to say that we don't know everything right at the beginning. But we should have processes to be able to learn, to test things and be honest enough to say like, "What are we going to do different the next time?" And in that process we need to make sure that we are explicitly engaging our families and students with disabilities at the very outset and that we're communicating why we're doing this and how it's going to benefit their children.
So thank you so much for this opportunity. I'm really looking forward to the conversation so I'll hand it over to Winsome.
Smart Goggans: Thank you Ace, thank you so much for your time and for sharing so much great information about considering students with disabilities and them continuously sometimes being marginalized and often forgotten when schools and districts plan these initiatives upfront.
Next Winsome Waite will share her research on the science of adolescent learning and specifically how what we know about adolescent development can form equitable approaches to planning and implementing student-centered learning.
Winsome?
Winsome Waite:          Thank you Avril and thank you so much Ace for that great information.
One of the things we know about best practices or promising practices or effective approaches is that what's good for groups of students are always also good for all students. So so many of the things you just said about students with disabilities really highlight the importance of looking at this developmental stage of adolescence and many of those strategies are also applicable at this stage, so thank you for that.
Before I get started I just want to talk about the word "adolescence" itself or adolescent what do we mean by that? An adolescent or adolescent learner in the body of research that we are translating here at the Alliance for Excellent Education is really about that age that starts around puberty and ending in you know when the person becomes an adult. So we say that adolescence really start biologically but it ends socially.
So we don't necessarily put an age on it even though many times you read papers that reflect age as between 10 and 24. So we're really generally talking about all ages, all stages in the K-12 system, starting with elementary through middle, through high school, and beyond.
So just a bit of context for this presentation. So just a few points to highlight about the science of adolescent learning itself. What we know is that this is a critical stage of development. It's actually the most opportune time over early childhood for learning. It is a time when the brain and body is developing, it's developing at a very rapid pace. What we know is that these years are time of great opportunity, but we also know they are time of increased risk. One of the most important things we want to think about here is how do we view the adolescent learner, that middle school student, that high school student?
We often think of them as a time of risk and negative risks. So a couple of things to contextualize this period of time. We think of it as more an asset-based period where they are taking risks and with support of the adult we really can make those risks very positive that leads to their preparation to be an adult and that's what adolescence is all about preparing to be the adult.
There are a few things about just high points about the adolescent brain. They are certainly many other points that I could raise, but just a few key points that I'd like to raise about the adolescent brain. It's in a period of plasticity. That word "plasticity" comes up all the time in the brain research. The brain is plastic at all ages really, so it's not just within the adolescent period. But within this period it's very plastic and it's increasingly specialized and increasingly efficient.
So if we think about students in the early years like say pre-K, kindergarten, the early elementary years where students are just learning a host of new things and experimenting and experiencing so many different things in their life. By the time a student becomes the adolescent learner they're beginning to hone in on key interests, areas that are really personal to them, hence personalized learning becomes very important at this stage. You know they're really beginning to key into more areas of specialty of you will and the brain is also much more efficient and it's able to make those connections in learning at a more rapid pace.
The brain is also hypersensitive to certain environmental factors and I think Ace you already mentioned a few of those. But in general environmental factors, but within adolescence some key ones are hypersensitive to their peers. They really want to engage in peer conversations, peer learning.
Social evaluation, "Who am I," "Where do I belong in this school or in this community," you know, "How do people perceive me," "Do I contribute," "Do others see me as contributing positively?" And they're also very hypersensitive to stress. So peer relationships, social evaluation, and stress are really at the height of the adolescent learner in that period.
I did fail to mention earlier that we also have to think of this period in the early adolescence and the later adolescence. Won't talk much about that today, but the way we think of adolescence is not all adolescents performing or reacting to stress for example at the same time. They really do – it really does matter that we look at the adolescent learner in the early stage and the later stage.
In any case the third point that I want to make about the adolescent brain is that it's very capable now of advance cognitive skills or cognition skills. This doesn't mean that the adolescent learner is suddenly ready to make you know great decisions about his or her choices, that they can do the adult-level reasoning that we might expect from them in adulthood, but there's certainly the brain is beginning to really deal with advance cognition skills at a much higher level than in earlier years.
So on this slide this is a really common phrase that we use the "Lose it or," "Use it or lose it" principle, we say that quite a bit in our, as jargon in our life. But it really does come from the brain signs. The fact that throughout adolescence the brain prunes the unused synaptic connections and costs the ones that are being used. Really what this means is if you're – if the adolescent brain is being used in certain areas like say within picking up a foreign language or playing an instrument then the brain recognizes that and it coats, protects, strengthens those connections.
Of course if the brain isn't getting opportunities to do those kinds of activities, higher-order thinking, again taking a foreign language just as example, then it begins to prune away what's not being used.
As I mentioned before the adolescent brain is becoming more efficient and more specialized and that's because the prefrontal cortex, that area of the brain that really deals with more higher-order thinking, executive functioning is really being developed. Again it's a great time for our children to be you know engaged in decision making practices, problem solving, critical thinking, areas in their lives that as adults they will need to have strong skills and be able to maneuver. This is really a great time to really engage them in those kinds of opportunities.
So this is really not the time to have students just whether they are perceived to be higher early functioning in terms of their academic life or not they should be engaged in higher-order thinking skills, not just in rote memorization of facts, so on and so forth. So the prefrontal cortex is one of the areas that within the spirit of life and again we do need to think about from the time their early adolescence, maybe in upper elementary to middle, you know they might need a whole lot more support with applying, learning those skills. So they do need quite a bit of scaffolding, a whole lot of support in really developing these kinds of skills, but they do need the opportunities to do that and along with the support of adults.
When you think about adolescent period I think the key point here is that adolescents are more hypersensitive to stress than any other age group, any other time in life. Why is that? Because they're going through this increased sensitivity again to peer connections, to social cognition, but at the same time they're bodies are changing physically, they might be dealing with higher academic stress than they did when they were younger students, stereotype threats. They might be living in poor – living and learning may be in poor conditions. There's a whole identity development piece that they're going through. There's a whole lot converging during the adolescent period.
So this is where I think the idea, the whole concept of equity, access, opportunity, support structures such as wrap-around services really is important, really identifying the many facets and variables of strength and of needs that adolescents have. As I mentioned before we really have to think of this period from a more asset-based lens, rather than a deficit. Just in terms of the developmental process that the adolescent is going through.
So how do we see where their strengths are? How do we notice where you know their interests are? But how do we identify where they need the access, the opportunity, and the support structures around them to function? Just recognizing that they're really dealing with so many things at this point that can have adverse effects on them and lead to those negative risks that we often associate with the adolescent period.
So this might really just demonstrate the differences. That there's no one adolescent that looks exactly the same, adolescent I'm sorry. That they're really dealing with different levels of stress, different strengths, different interests. So when we think of the physical development, social development, you know the sociopolitical world that they live in within society, but also within their community their all really at different stages of development and growth even though they might be the exact same age. We really have to pay attention to them in a more personalized way and really think about the needs that they have to provide equitable opportunities for them.
Smart Goggans: Thank you so much Winsome. Thank you so much for that really great research that connects seemingly disparate fields into a cohesive set of principles that can help our educators guide their decision making around student learning.
Your work also does a great job of describing the important role of environmental factors and their influence on students learning in the classroom especially among historically underserved students, so thank you very much.
I want to move now into a couple of follow-up questions for each of you on today's topic.
Thinking about when a district goes through the Future Ready process and creates a plan if they have included important perspectives on equity how do they ensure that their ideals in terms of policies and procedures translates to what happens in the classroom? And I'll start with you Ace.
Ace Parsi:                   Yeah I'm actually really grateful for the Alliance's partnership on a project that we just did around procurements and technology, because it's one of those things that really highlights that issue.
One thing is just making sure that at the very outset that your vision I earlier mentioned is really like we're being explicit. Because we can't ignore the historical inequities that exists in this, so we have to make sure that our vision is very explicit that these populations that we have traditionally not served well are part of this higher-level learning.
The other aspect of it is there's two things that might happen when an administrator makes a decision. One is that, actually three, so the administrator, one, we need to make sure that these individuals, of individual's color, English learner, students with disabilities are effectively represented as stakeholders in that process. Their perspectives matter and they can speak for themselves in the communities.
Smart Goggans: Absolutely.
Ace Parsi:                   The second thing is then we need to connect that to if we are working with vendors that this is a value of our district, the school. Like we would make a judgment based on whether we will work with you based on your values that you prioritize equity.
Then often once we communicate that through our contracts then the decision maker should have some sort of expertise in terms of ensuring that the vendors are meeting those kinds of requirements, that that vision is authentically being implemented. That seems intuitive, but that may not always be the case. So if a superintendent is making the decision around English learner curriculum or students with disability and whether it's universally designed and accessible, they may not be in the best place to make that determination. So make sure that you have a decision-making team that effectively does that.
Smart Goggans: That's great. That's good to hear. It really affirms a lot of what we have in place with Future Ready in terms of the dashboard planning and creating a team that's comprehensive.
Ace Parsi:                   Absolutely.
Smart Goggans: I wonder too just thinking about the agency piece and I'll pitch to Winsome here. You mentioned a lot of really great work about including adolescents in the decision-making process because of all of the physiological and psychological changes that they're going through at that time. So what skills should educators ensure that they are imparting on students that will empower them to be able to fully take agency and advocate for themselves in those settings?
Winsome Waite:          So that's a great question Avril, thank you for that. What skills I would almost begin by saying all of the above. Because what we know is that there are various skills that just as a human being we need to navigate spaces, we need to be emotionally – understand the emotions that we deal with, so socioemotional learning, there are skills that relates to that. You know cognitive skills, just day-to-day working with peers, collaboration. So there are a variety of skills that I think are just what people need in general.
I do want to say before I get to the skills specific to agency thought that I think what we really have to do more than ever is make equity kind of second nature in our work. It has to become kind of center to all the decisions we make. We really have to in order to do that we kind of have to understand the various backgrounds of all of our students, what they bring to the table, what their families bring to the table and really push resources and support structures that will enable them to move in the direction of their aspirations so that they can meet their goals.
Smart Goggans: Absolutely.
Winsome Waite:          In terms of agency though within the adolescent period at least, in order for students to take ownership and have some autonomy they actually need to know what it is they're trying to achieve. So I think goal setting is really an important skill. I might say it's more than a skill, it's probably a strategy.
Smart Goggans: Mm-hmm.
Winsome Waite:          That we have to work students through. How do you set goals for yourself and they might be personal goals that allow you to perform better academically or they might be goals as it relates to your personalized pathway through graduation, so either one. So goal setting I think is a very tangible skill that educators can really use to prepare students to take on more agency.
As I mentioned before within this period the brain is more specialized and the prefrontal cortex is really developing in a way that students can handle more of the high-order thinking skills; sometimes we think of them as deeper learning or they're related to executive functioning.
But not all of our students really get the opportunity to practice those skills. Well first to learn what they are and then to practice those skills.
Ace Parsi:                   Absolutely.
Winsome Waite:          I think back some of what Ace was saying about students with learning differences and learning disabilities really getting more opportunity to practice content, practice for the test, practice to do well on assessment, so rote memory and a focus on academics too sometimes we with good intentions give some of our students more of that kind of learning at the expense of the higher-order thinking.
But in order for our students to have agency they really need to understand how to unpack a problem, how to identify resources to help them get to a solution, the kind of decision making process or the kind of decision making that needs to go into that to be able to take, have autonomy and agency over you know a task or an assignment. So I do think opportunities for students to just be in – to have experiences and just be in a space where they can activate again that prefrontal cortex on a regular basis. And be in discussions with support – that's why I think scaffolding is so important because again a 10-year-old or a 15-year-old one is not exactly like the other. So really understanding where students are and scaffolding those higher-order thinking skills and processes and giving them opportunities to practice those skills I think is really important in agency.
Ace Parsi:                   Just to add to that yeah I think Winsome that is completely right-on. I would say that some of these skills like you mentioned goal setting is so fundamentally important for our kids with disabilities to be part of that. Like if you have IEP process often conversations are had about kids without them in the room and then when you send them off into the world and say, "Go do this." We need to use these as opportunities to build these skills. So self-advocacy is one of those I mentioned as fundamentals to a lot of this work.
But as we think about it I think that there's oftentimes that we have interventions around reading deficiencies or math, but we don't think about some of these skills and dispositions. So what if a student is struggling with executive functioning do we preclude them from all of their opportunities to engage in deeper learning or do we have accommodations that can effectively help them get at that issue? Because a lot of our students with disabilities do have executive functioning issues so how do we make sure that we're being explicit about that?
Winsome Waite:          Right. And I do think it goes back to a mindset.
Ace Parsi:                   Mm-hmm, absolutely.
Winsome Waite:          That if we support each student, provide them with the access to opportunity and those necessary supports that they can. So I do think it goes back to that and really that's the mindset that is going to open up doors for us to provide more equitative opportunities in the first place.
Ace Parsi:                   Absolutely.
Winsome Waite:          But I'm really glad you brought up the word "accommodations" because in a sense that's a word very regularly used within the students with disabilities there if you will. But really we should be trying to accommodate if you will all of our students based on their strengths first and where absolutely needs are. So thank you Ace.
Smart Goggans: That's absolutely true. I think in the sense of thinking about student-centered learning we really should be thinking about accommodating all learners right? So it's not just about one student, every student is not the same. You all kind of led me to thinking a little bit about culture and creating a culture where it's okay to do that.
Ace Parsi:                   Yeah.
Smart Goggans: So to both of you what contextual factors should educators be focused on to create a healthy and positive school culture that really advocates for students to having a voice and a choice in their learning process?
Ace Parsi:                   Yeah. Well I mean I can start with that. Just as we think about through history in terms of like sidewalks, right, like declines in sidewalks what an incredible like equity and social justice impair that was; widening doors.
So I think we've done so much, but when we think about like sometimes we say this is going to be so hard, so difficult, when we think about like how much pushback there was to some of these accommodations that we have and now we have them. Nobody would say, "Oh we shouldn't have declines in sidewalks" or "We shouldn't have buildings that wheelchairs can't get through," but that was a reality for individuals with disabilities at some point.
And so now I think that the next stage of our civil rights movement is to think about that same level for cognitive and thinking about how do make our curriculum and our lessons and engaging opportunities accessible for all so it's sort of like a wider door for our curriculum and learning experiences.
And if we do that it's not just going to benefit those kids with disabilities, but really like all of our students, there's no mythical average learner as well know. Like all of our students will need some of these accommodations at some point. So I think that to what Winsome was saying absolutely right we need to think about this as a mindset issue and that the doors for our learning opportunities need to be as wide as possible so that as many students can access it. Right now they may be a little bit too narrow.
Winsome Waite:          Yeah that's fabulous.
Smart Goggans: That's a great analogy.
Winsome Waite:          It is a great analogy. You know I'm actually glad you started out with the physical environment. You focused quite a bit on students with disabilities and some of the you know policies that have been enacted in recourses. But when you think about it the physical environment is actually very important to all students, certainly the adolescent learner who again is really at that stage of really trying to figure out, "Who am I," "Where do I belong," "Am I valued?" So if I have a space around me that looks like it values me I'm likely to be more in tune with that space. So I'm very happy about you bringing up the physical environment as one of the contextual factors.
I do think though the one that I want to focus on probably mostly is the importance of these relationships.
Smart Goggans: Mm-hmm.
Ace Parsi:                   Yes.
Winsome Waite:          More than any I think that comes up over and over not just at all in the science of learning research, but just in other bodies of work as it relates to education as it relates to you know the developmental stages of students. That relationships is at the heart of students' ability to learn, to function, to feel a part of that learning environment within the space of the adolescent learning to be precise. Those relationships really matter and it matters that we're paying attention to the peer relationships and the adult relationships, whether it be parent, a mentor, the teacher those relationships are pivotal to the kinds of risks that students will take, to the kinds of aspirations and goals they set for themselves, because they really rely heavily on how, "My peers see me and my value proposition" if you will within the context.
So I do believe that one of the things your education leaders developing these plans need to think about within this digital learning environment, "How am I going to provide opportunities for students to have positive relationships with the adults" and plan specifically for that. Don't just expect that it's going to happen naturally.
Ace Parsi:                   Yes.
Smart Goggans: Reinforce that connection.
Winsome Waite:          Right and we are those opportunities for those of positive interactions with their peers, because they will have those interactions no matter what.
Ace Parsi:                   Yeah.
Winsome Waite:          So I think very deliberate and careful planning about those relationships are extremely important. There's many more we could talk about, but I want to emphasize relationships first.
Ace Parsi:                   Yeah. Can I add a little bit for that? I think that is so absolutely right on. When we think about learning, learnings happen for thousands of years as a human interaction. So as we have innovation that's not going to replace that biological factor of like how people, individuals learn. Individuals learn through that interaction with human beings and technology to the extent that it can amplify and reinforce some of those areas will succeed for students to the extent that it will try to replace that human interaction will fail.
Winsome Waite:          It's a great point.
Smart Goggans: Good point, really great point.
Winsome Waite:          Really great point yeah.
Smart Goggans: I love that you all ended on relationships because that's essential to emphasize especially when technology is the primary tool driving innovation in the school setting. It's oftentimes viewed as a tool to replace that interaction when in fact we want to use it to enhance it in a lot of way.
Ace Parsi:                   That's right.
Winsome Waite:          Yes.
Smart Goggans: So thank you very much for that.
I had one more question just about strategies around inclusion of students in decision making, right?
Winsome Waite:          Mm-hmm.
Smart Goggans: So Future Ready Schools primarily works with district and school leaders and one of the things that we advocate for is that students are a part of the conversation upfront.
Winsome Waite:          Yes, yes, yes.
Ace Parsi:                   Yeah.
Smart Goggans: Students are engaged in the planning process to the extent that they can offer a perspective on what works well for them. So I wanted to get just some thoughts from you, some closing thoughts about what are the best ways to ensure that students with disabilities have a voice at the table upfront in planning? That students of color and adolescence, especially adolescence because of where they are physiologically and psychologically that they are a part of that development process for a plan.
That's the final thoughts I wanted to end on, but I'm so glad we touched on the relationship piece in this conversation as well.
Winsome Waite:          Yes.
Smart Goggans: So Ace what do you think what are the best ways to engage?
Ace Parsi:                   So I think that I mean to the previous point we can't basically help make every decisions for students in their _____ of education and then send them out to the world and say, "Like now make decisions." Like that decision-making, goal-setting process is a learned behavior just like the Pythagorean Theorem is learned. You know it's something that we learn through our education. So I would say in transition meetings that you have for students with disabilities and IEP meetings start to engage them in that process of learning.
The other thing that I've actually been doing a little bit of research on recently is thinking about the civic purpose of education and how the role of education plays in preparing young people to be successful in a democracy.
We know actually in many schools whether it's an extra-curriculum activity, student council, service learning opportunities, whatever it might be students with disabilities access those kinds of opportunities are less likely to access those than their peers. And that has ramifications because it sends a message to those students of what spaces do they belong in. And when we send that message that is going to have profound implications not only for their learning decisions that they make but throughout their lives, whether they feel comfortable speaking out in public, whether they feel comfortable being the decision maker, running for political office, voting, all these things that we want our young people to be doing effectively.
So I guess I would say there's things that you have to do bureaucratically, transition meetings and IEP meetings and those things may as well have a learning function to those and help prepare students to lead those. And then there are things that you are doing in your school to help to make sure that students belong. Make sure you're explicit and training your educators and staff and others in a culture that they belong in that space.
Smart Goggans: Absolutely.
Winsome Waite:          So this is not a specific strategy Avril but I do think before any strategy we have to be authentic in how we engage our students.
Ace Parsi:                   Mm-hmm, absolutely.
Smart Goggans: Absolutely.
Winsome Waite:          So especially the adolescent learner is at that point where they begin to evaluate around them what attitudes, what strategies really are meant to engage them where they are and who they are as learners. It's really important that we think of not just having students provide feedback in a survey for example, without really taking them through the process of why those questions are being asked, how the results are used and how the results are actually used to make changes or not. Why were decisions made not for example use the feedback that we're getting. Students really need to feel that as they're providing input and feedback that it's in a very authentic way and that their voices really do matter.
So I would say bring them authentically to the table. So where's the table? I think the table is any opportunity that you can provide. You know we know students have, schools have advisory councils and advisory committees. We know that they have advisory periods where every student you know work with one teacher in an advisory throughout the year. These are the kinds of places in terms of strategies, tangible places where you can hear from students.
But I do think that in terms of decision making and students feel authentic in terms of their voice it really needs to be integrated more throughout the day, throughout the year, extra-curriculum activities, within classrooms, you know within sports. Just how can we really hear from students on a regular basis so it doesn't seem very make-shift, that we're going to do this survey and you'll give input at the beginning of year, but then it doesn't happen.
So how do leaders really think about the school year and the school day in school and out of school to find authentic opportunities where students really feel like, "This matters, they really want to hear from me and my voice is really being solicited in an authentic way." I think it cannot be a you know add-on kind of activity, it should be woven throughout the decision-making process.
Ace Parsi:                   Absolutely.
Smart Goggans: Really great point, really great point. This was fantastic. Thank you again to Winsome and Ace for your time today and for sharing the information and research that you've done. Super helpful in helping to understand what we can do to support students better in our decision-making process around student-centered learning. As we continue our collective work to enhance learning outcomes for all students we must be inclusive and intentional, that our efforts do not continue to marginalize our most vulnerable student populations.
On behalf of Future Ready Schools I want to thank each of you for being a part of today's discussions and encourage you to keep the conversation going using our social media #futureready. To learn about NCLD's research on students with disabilities or Offer Ed's work on the science of adolescent learning please visit the links below.
As always stay connected with Future Ready Schools by visiting futureready.org. Thanks again and have a great day. Appreciate it.
[Music]
[End of Audio]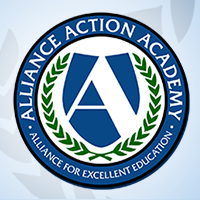 Welcome to the Alliance for Excellent Education's Action Academy, an online learning community of education advocates. We invite you to create an account, expand your knowledge on the most pressing issues in education, and communicate with others who share your interests in education reform.
Register Now
or register for Action Academy below: