Digital Learning Day 2018: How Innovative Districts Blend Teaching and Technology to Improve Student Outcomes

February 22, 2018
5:00 pm – 6:00 pm EDT
Digital Learning Day 2018: How Innovative Districts Blend Teaching and Technology to Improve Student Outcomes
Panelists
Tom Arnett, Senior Research Fellow in Education, Clayton Christensen Institute (@ArnettTom)
Nikolaus Namba, Director of Twenty-First-Century Learning and Technology, Lindsay Unified School District (California) (@NikNamba‏)
Beth Rabbitt, Chief Executive Officer, The Learning Accelerator (@BethRabbitt)
Joe Vagt, Blended Learning Specialist, Lindsay Unified School District (California)
Moderator
Tom Murray, Director of Innovation, Future Ready Schools® (@thomascmurray)
On February 22, ALL4ED and  Future Ready Schools® held the the seventh annual Digital Learning Day (DLDay), a nationwide celebration created by the Alliance for Excellent Education (All4Ed) that highlights great teaching and demonstrates how technology can improve student outcomes.
During this webinar, All4Ed spotlighted DLDay events happening live around the country and released a new report, Blending Teaching and Technology: Simple Strategies for Improved Student Learning. The report offers a collection of strategies aligned to the Future Ready Schools® framework that school district leaders can use to implement an instructional approach supported by blended learning.
The webinar and the report also highlighted how Lindsay Unified School District in California uses blended learning to support its performance-based system of progression, in which students move through instructional content at their own pace, advancing only once they have mastered all the standards from the previous content level.
To learn more about DLDay 2018 and check out celebrations happening in schools and classrooms across the country, visit digitallearningday.org. Follow the conversation on Twitter using #DLDay or @OfficialDLDay.
---
Please direct questions concerning the webinar to alliance@all4ed.org. If you are unable to watch the webinar live, an archived version will be available after the event at www.all4ed.org/webinars.
---
The Alliance for Excellent Education (All4Ed) is a Washington, DC–based national policy, practice, and advocacy organization dedicated to ensuring that all students, particularly those who are historically underserved, graduate from high school ready for success in college, work, and citizenship. Future Ready Schools® is a project of All4Ed. www.all4ed.org / www.futureready.org
Follow All4Ed on Twitter (www.twitter.com/all4ed); Facebook (www.facebook.com/all4ed); and the Alliance's "High School Soup" blog (www.all4ed.org/blog).
Follow FRS on Twitter (twitter.com/FutureReady); Facebook (facebook.com/futurereadyschools); and the FRS leadership hub (futureready.org/hub).
---
If you are interested in renting the Alliance's facilities for your next meeting or webinar, please visit our facilities page to learn more.
[Music]
Tom Murray:              Hello, everybody, and happy digital learning day. I'm Tom Murray, the director of innovation for Future Ready Schools, an initiative of the Alliance for Excellent Education. Thanks for joining us today. You know, if you'd like to follow the conversation on Twitter or ask questions of me, of our wonderful panelists, use the hashtag, dldaywebinear, or use the form below this video.
When the Alliance for Excellent Education created Digital Learning Day back in 2012, the idea of technology in the classroom was relatively new, even controversial for some. On the first digital learning day, we strive to create a safe place for educators to try something new with technology to give up a bit of that control, and to see what happened. In the years since, many schools and school districts around the country have turned every day into Digital Learning Day.
Still, we appreciate the opportunity to celebrate and to reflect on this seventh annual Digital Learning Day. Today, classrooms are buzzing with excitement, as students and teachers are demonstrating how technology can enhance student learning. Here's a few images that were seen coming across Twitter using the dlday hashtag. A shout out to Elizabeth in North Carolina for some incredible work in engaging students.
We see Betsy, also in North Carolina using some small groups, and using Google Classroom, a great tool. Shout out to Nicole, a coach in Pennsylvania, some of the incredible work that they are doing in the Downingtown School District. Shout out to Shante in Florida, some of the work they're doing with fourth graders. The excitement in those kids' faces are priceless. And down to Biz, down in Maryland, and some of the work they are doing there.
You know, in addition, there are more than 1,500 events to Digital Learning Day map that have been added by educators across our great country. We can't highlight them all, but there are some of our favorites. Students at Port Allen Elementary in Louisiana are strapping on their sneakers and demonstrating that digital learning is a marathon, and not a sprint. They'll be exercising using QR codes to log their miles. Run Port Allen, run.
In Charlottesville, Virginia, students are taking Digital Learning Day to an atmosphere using drones to survey the school's landscape, for the environmental, and urban planning issues. Middle schoolers in Red Bluff, California are connecting with other classrooms through blogging challenges and scavenger hunts. It looks like they've got their buddy system down pat. That's for sure. If you'd like to see what's going on yourself in many classrooms around the country, search for the #DL on Twitter. Many incredible things going on around our country today, and every day. You'll see events like these and more, but most importantly, you're gonna see students are excited and engaged about their learning.
Also in today's webinar, we're going to discuss a new report: Blended Teaching and Technology: Simple Strategies for improved student learning that the Alliance for Excellent Education and Future Ready Schools has released today. This report offers a collection of strategies, aligned to the seven years of the Future Ready framework that school district leaders can use to implement an instructional approach supported by blended learning.
With blended learning, students spend part of their time learning online, and some elements or control over the time, the place, path, or pace of their learning, and part of their time learning in a brick and mortar location away from home. When implemented effectively, blended learning can expand instructional approaches that accelerate and personalize student learning, give students greater control over their learning, and enhance the interactions between students and their teachers.
To provide a real-world example of blended learning and practice, the report showcases Lindsay Unified School District, a highly mobile rural district in California's Central Valley, where 93 percent of the students come from low-income families, and approximately half are English language learners. To tell their story in person, I'm happy to welcome Nik Namba and Joe Vagt from Lindsay Unified School District here today live in Washington D.C.
Nik is director of 21st Century Learning and Technology, and Joe is Lindsay's blended learning specialist. And you all are in for a treat today. Lindsay uses blended learning to support its performance-based system of progression, and approach that allows students to move through instructional content, and at their own pace. Advancing only once, they have mastered the context standards at a given level.
By phone, we also have Beth Rabbitt, the chief executive officer at the Learning Accelerator, and Tom Arnett, Senior Research Fellow in Education at the Clayton Christiansen Institute. Welcome, Beth, and welcome, Tom, as well. So thank you all for joining us today. Nick and Joe, we're gonna start with you. Tell us about the performance-based system in Lindsay, and how are you using blended learning strategies to support it? Nik?
Nikolaus Namba:        Sure. So it starts off with why we needed to change. Right. One of our Superintendent Tom Rooney's stories is just about the day after graduation. There's a father that comes in with a son to the newly-hired principal's office at the high school. And when that happens, he says, you know, "Nice to meet you. It's great. Welcome. Welcome to our district."
He says, "Can I talk to you for a minute?" So they sit down, and they have a conversation. And he says, "I want to show you something. Can you grab me that newspaper?" So he grabs the newspaper, and he sets down in front of his son. And he says, "Son, can you read this first section to your father, please? You're a brand-new graduate from Lindsay High School. Can you please read this to him?" And his son breaks down in tears in front of his father, and says, "Dad, you know I can't read."
So it was in that moment, and that was about eight years ago, that we said, okay, clearly, this needs to change. Something is not right. And that's one instant that spurred a change knowing that our graduates were going out unprepared, and it was just unacceptable. And so the shift started, and now we have components of – we call it the ideal learning experience, a focus for the performance-based system that's providing every single learning – the ideal learning experience.
Which has a number of components, one of which is transformation of technology. And that's where blended learning and all of the strategies and impact that they can make really fit into that fold.
Tom Murray:              Joe, anything?
Joe Vagt:                     Yeah, and we chose blended learning specifically because it is in direct alignment for our strategic design, and it works very well with our performance-based system in that, as you said earlier, that learners have more control over the pace and process in which they learn. It also has an engagement factor in it because you can weave in a variety of learning modalities, and also include a lot of independent and collaborative activities throughout any blended learning model.
And as well as providing endless opportunities for learning, and not only in control of the teacher controlling the learning, but also giving the learners the ability to really pursue their own learning and empowering them that way.
Tom Murray:              Yeah, and the stories we're hearing coming out of Lindsay are really incredible; the stories of success. And I think about the story that you just shared, that kind of wakeup moment of we've gotta shift this. We've gotta change. And I'm guessing a lot of the districts that are here today, listening today, can relate to that. That moment in time, that aha moment of we've gotta shift the system. We've gotta shift teaching and learning for kids.
But we know it's not something that, as district leaders yourselves, you just come in, snap your fingers, and this magically happens. The notion of supporting teachers really is at the forefront. So how does the leadership in your district really help teachers incorporate blended learning strategies into their instructional practices?
So can you talk about what it looks like, you know, teacher support? We can't just ask teachers to do this on their own. We can't just ask teachers to magically snap their fingers, and this all happens. What does that teacher support look like in your district?
Joe Vagt:                     Well, there has to be a real commitment to ongoing support to the teachers. And not just the training on a certain app, training on a certain program, and then kind of go along your way, and good luck in the learning environment. In Lindsay, we have different folks at the sites. They're called blending learning assistants, and they're actual there, and they're poised to actually support our teachers and our learners in the actual learning environment.
And then my role, I love my role in Lindsay because I get to work individually with each and every learning facilitator or teacher in our district. And we use – this is our blended learning support coaching process, and we want our learning facilitators to really experience what the ideal learning experience would be for the learners. So the coaching experience that we design here is that we work together very collaboratively, first, just like in the design thinking process, we gather some data, and then we meet, and we come up with goals together.
And we look at the instructional format in the learning environment, and then I work with them ongoing, either sometimes it's 1:1; sometimes, we actually take a blended learning approach to the coaching process. But it's an ongoing process. And we work together to set the goal so it's not – so there's equal ownership in the learning outcomes.
Tom Murray:              And what I love that I'm hearing, and we talk Future Ready and professional learning, and personalized and professional learning, this is not a one-time per year. This is not a sit and get. This is not you need four hours to get this done. This is coaching side-by-side. This is what it looks like to modeling blended best practices. And so seeing those shifts takes time.
And one of the things that I'm also hearing is the time that it does take, sometimes, I think, you know, as educators, we want it perfect tomorrow. It's just kind of how we're wired. But to hear the systemic process and whatnot. Can I ask you what it look for school leaders as well, just kind of a follow-up question? You know, we often focus the attention on teachers, rightfully so. They're working in the classroom. But what does that look like for proteasomal growth for school leaders, and how do you support your principals in those kinds of people as well?
Nikolaus Namba:        So I want to jump in Tom, and just say a perfect example is about one month ago. Our high school said I know, as a district, our focus is on station rotation this year. But the flip model really emulates more of what we're trying to work with our staff to provide for learners. Now, there are two directions you can go with that. Direction one is, no, the district says station rotation is the way you go. Let's keep going that route.
But the direction two is the essential way, which is I totally understand what you're saying. I see holistically how this better revolves around what the high school is trying to provide their learners. And then you shift. Now, that's hard to do, right? Because you're shifting district goals and strategies, but I think that's a key point to bring up is leadership has to know that it's okay to come and ask you that question, number one.
Shift the strategy because it's not about us, as leaders, it's about the learners. So whatever needs to be done so they're getting the ideal learning experience is what we need to do. And then off of that, we get to go and build in. So we plan meetings. Joe and I plan meetings, and we go in with the leadership, and we say, okay, this is a huge shift. We need to build this out now.
What is this gonna look like? What skills, what strategies, what scaffolds do we need to build in, and what types of opportunities do we need to ensure that we have a high-quality implementation, whatever that may be.
Tom Murray:              You know what I love that I'm hearing is you're modeling what you're asking teachers to do. You're asking teachers to adapt on the fly, to meet kids where they are. And when you're hearing the need as district leaders, you're trying to model the same for them. And kudus to that. But I want to dive in and also be real because I know that a celebration day like today, we get to highlight a wonderful district like you all, but we also realize that there are real challenges when it comes to this stuff.
So what are some of the challenges that you've encountered during the transition? Be real with our audience and share what are some of the issues you faced, and, you know, what are you doing to work on them?
Joe Vagt:                     So the first one that you brought up earlier in your discussion is just the stagnant feeling that you can have when you want to do something new. And I know that a number of school districts that we get to speak with are just saying what is step one? I don't know step one. And they feel paralyzed, and then they don't know what to do. And my first point to them would be don't feel paralyzed. Talk to somebody that has done some of that work.
But, three, start. If you don't start the process, it will never actually begin. And your learners will suffer because they'll be the only ones sitting back not gaining any of the benefits. So, for me, it's how do you break the paralysis? That's kind of the first key. One of the other big problems that we've encountered is just the misconceptions about what blended learning is. There are a number of texts. There is a wealth of information as to people's different definitions of blended learning.
And so we really had to create the identity for Lindsay Unified. What does Lindsay Unified believe blended learning to be? What will our key strategies be? And then help correcting some of the misconceptions, one of the biggest misconceptions that we fight is just the concept that what we're doing with performance-based learning, even inside of a station rotation is just virtual online learning.
We know that that holds a place in what we're doing, but people were literally thinking synonymous with station rotation and blended learning is just virtual learning. As long as we have devices, as long as those owners are right in front of those and experiencing that without teacher or educator involvement or engagement, that that was okay. And so we had to break these mold and beliefs that were out there. And the only other one is just the tools, itself, the technology, itself, is not the solution. So many of us thought that setting a device in front of a learner was going to be the solution.
There is so much work that has to go into the process of how they are gonna be used, what tools on the technology will be used, how will we use it to accelerate instead of being the main piece of information. All of those things, I think, are troubles that people face.
Tom Murray:              What I love that I'm hearing from ya is really our core to our notion here at the Alliance and Future Ready. This is about high-quality teaching and learning first and foremost. One of the things that I see that we get caught up with around our nation is, quite often, the notion that it's gotta be the latest bells and whistles, the app development, the app design, and all those things.
And we're trying to use the coolest tools, the coolest app, and the pedagogue is often not shifting. We're just trying to layer it on there. And your systemic approach to focusing on mastery and teaching and learning is truly vital. One of the things, and you will not top earlier what you said, in my opinion, that you said it is not about us. This is about the kids.
Joe Vagt:                     Yes.
Tom Murray:              Let's talk about the kids. How has this work affected your learners?
Joe Vagt:                     So we have seen gradual and continual academic growth in our learners since adopting the blended learning model. Also, what, for me, is some of the most rewarding things that we see is that the learners have this heightened ability on how they use technology in a really authentic way. And then, in addition to that, there is – they have this new – they have a different mindset regarding their learning, where they're focused more on pursuing the learning, themselves. They start to have this autonomy, this independence. And they begin to – and that begins to translate into them, themselves, becoming lifelong learners as well.
Nikolaus Namba:        And to build on what Joe is talking about, I think an essential component of whether it's personalized learning or blended learning, whichever aspect you're talking about is academic urgency. So we talk so much about our educators having the ability to not waste a minute of time, and always use every minute. But isn't the key really the learners not wasting a moment of their time?
The ability to understand, as a learner, what that feels like, the tools that are around you that you can use, so that you make sure that you aren't wasting any minute of time. Imagine, if you will, a learning facilitator, a teacher, providing an instruction to a whole group of learners, and instantaneously, you see a learner pop up and go over to a device, and start working on the device. Again, similar to before, there's two directions you can go.
One, get back in your seat. What are you doing? Two, and understanding that that learner is doing that because they need something else. And so they have the ability to go over there, dig deeper into something else that's going to support them, and the come back and be a part of that. That is a different set of skills and strategies that runs in alignment with academic urgency that comes out of this. And we're starting to see some of those independent traits exhibited in our learners.
Tom Murray:              I love that notion of academic urgency. And what a different model than teacher-centric stand and deliver control versus what is it that I need, what are the resources I need at this point in time? What a great, great example there. You know, I want to thank you both for sharing your story. Tom and Beth, I'd like to turn to each of you for the next hour for a broader perspective.
You know, I imagine many of the educators, principals, and district leaders watching today may be thinking about how they can incorporate blended learning strategies in their schools and classrooms as well. So what do they need to consider before moving forward? Tom, I'm gonna start with you. Welcome, Tom. Thanks for joining us. And what do they need to consider before moving forward here with blended learning?
Tom Arnett:                 Well, thanks, Tom. I would say, foremost, a big mistake we see a lot of districts make is that they dive into digital learning for digital's learning sake. They think that the place to start is to set up a 1:1 initiative and give all the students Chromebooks or iPads. But what we see is extremely important is that you start with a why. You know, why are you doing blended learning?
                                    Just to draw an analogy that I think helps illustrate this. Recently, my wife and I were considering putting our kids into soccer. And as we sat and thought about it, literally, we stopped and asked ourselves, are we doing this because we think that this is how we want to spend our family time on Saturdays?
Is this is the activity that is gonna help our kids to develop in the way that we want them to develop, or are we doing this just because this is what all the other families in our kids' classes are doing, and we're just jumping on the bandwagon with everyone else? So I think there's very similar considerations at schools when they ask themselves, are they doing – are they purchasing devices just for the sake of this is the new thing that – the new trend, the new wave, or have they thought carefully about how are they going to improve student learning?
So, first off, schools need to spend some time answering that why. You know, maybe for some schools, it's they really want to be able to differentiate instruction. Maybe they want to help their elementary school teachers by giving – number one, getting software that can help students get targeted, adaptive online learning experiences that meet them right at their cusp of learning development.
Maybe they want to create more time for small group instruction. Maybe they want to be able to give the teachers better real-time data to show them how their students are doing, so they can better differentiate and prepare their lessons. You know, for other schools, it's often something that's around ownership.
High schools, we see often recognize that students have come up through school, and they're just developed this mindset of I just took the class, and I do what they tell me. And then I get by, and I pass my courses, and I get my diploma. And schools realize that those type of mindsets and habits don't really serve students well once they get out of school, and they're more on their own.
So we see some schools adopting, going to the learning, and using digital learning tools as a way to shift the focus so that they can help students by mentoring them and coaching them on how to take more ownership, and set their own goals, and help them codesign their learning experiences in a way that really tailors to their interest and their goals. But I think that's the important thing is for schools to nail down what are those things you're trying to accomplish for the benefit of your students?
And then once you identify the goals, make sure that you can identify metrics for tracking your progress. Too often, we see schools, they start off with good intentions, and maybe they have strong goals, but then they – it's so easy to flip into the mode of, hey, we've got the devices, and, you know, they're really a great engagement tool. They keep [laughter] – those screens just become hypnotizing to students.
And so in classroom challenging, just put the students on the screens, and let the screens take care of things. And that's the absolutely wrong way to approach it. So you need to have goals, and then metrics, such as maybe it's your benchmark assessment. Maybe it's student surveys on student engagements, on student mindsets. But some kind of metrics for you to see are we actually accomplishing what we set out to accomplish with these tools, or are we just spiking the ball and calling it done because the tools are in the classrooms, and not paying attention to are we making the progress we need to make.
And I'd say the one last thing is also schools, before they roll out devices, they need to be thoughtful about mitigating the potential distractions and dangers that can come from devices. So being really thoughtful about the norms and the culture you create, so that students use devices in beneficial intentional ways, and they don't just suck students' attention away from learning.
Tom Murray:              Thanks, Tom. Lots of great points there, and a shout out to our friends at the Christiansen Institute for their incredible work that they're doing. Nik, do you want to add to that, a vision from a district leadership end?
Nikolaus Namba:        Yeah, I want to jump in specifically on one part that Tom was talking about, and that is the angle where the research and the quantifiable data that comes about, whether the tool is working in the way that you want it to. Again, just like Tom said, so many folks, and I know we were even privy to this at the start, we had the device; we put the devices out there, and that's part of the solution, right. But that's not really holistically closing the gap as to whether it's impacting the learners in the most effective way possible.
And so I think the angle of always having a cyclical process to analyze whether or not the programs, tools, pieces that you're putting on that technology are actually making the academic impact that you want them to have with the learners, or sometimes having the encounter. And then being strong – feeling strongly enough to actually step away from that, being confident enough to say, look, this isn't making the impact that we thought it was going to. This is something we need to tweak. What do we find that needs a better impact?
I've seen, and we've talked with, and we've experienced a number of situations where we have forgotten to dig deeply to establish the why before we do something. We fall victim just like everybody else. And so, if anything, if I can stress anything to people are going to start this journey, I don't think that there can be enough time, and it's not something that every site needs to do alone in your district. It's something that you need to bring everybody in to have this discussion so that the vision that you go forward with is understood, and not misunderstood by everybody.
Tom Murray:              So well said. One of the things that I really respect that both you and Tom really referred to there is this notion of what is the research show? What does the evidence show, and why are we doing what we're doing? The bottom line when we think about digital learning, you know, we could be 1:1 in our schools. And if pedagogue doesn't shift, we're really just wasting money.
So how do we focus on the instructional practice, focus on high quality teaching and learning, focus on the evidence. And I love the way that you're using data to truly drive those aspects of instruction. But what does the evidence show that's actually working, and then how do we lead that there moving forward as well?
You know, to your points there, Tom, as well, about establishing a vision, and teaching and learning, you know, I'd like to make a plug here for our own Future Ready schools. Specifically for our framework, our evidence-based framework, as well as our five-step planning process. We've had over 1,300 school district teams diving into that for visioning and for planning.
You see, these two tools, both available at Future Ready dot-org, support school districts in leveraging digital learning strategies, such as blended learning, to prepare all students for their future success. You know, also at Future Ready schools, as we have five strands available to support you as district and school leaders. So we have a strand for district leaders, one for principals, instructional coaches, one for librarians, as well as our IT, or our tech leaders as well.
All coming together, they're led by some of the nation's top practitioners. That's you all in the field leading that work. And I encourage you to check out these free tools and resources to support your school and your district's transformation, and, today, you can take a look at it. So, Beth, I want to jump over to you.
Can you talk about some of the problems that a district might hope to solve by implemented blending learning? And, welcome, again, Beth Rabbitt from the Learning Accelerator, another incredible outfit and incredible partners of ours here at the alliance. So, welcome, Beth. What are some of the issues out there that a district might help solve?
Beth Rabbitt:               Thanks, Tom. Yeah, I think that we heard powerfully from Nik, and also Tom Arnett. Every district has to identify the powerful why for shifting to a blended model. It's really insufficient just to say that technology, on its own, is a value to schools, unless we're really trying to tackle really and apparent problems of practice that teachers are experiencing on the ground. We see districts across the country really pushing with blended on a number of fronts.
I think talking about blended learning is a mechanism for increasing personalization, is a hot topic and an important topic right now. But it's really only one of many kinds of starting points or entryways we see the district having. In many rural settings, the call to blended learning really is about making sure that kids within schools are actually being served and have access to the expertise and these sources. They might meet outside of traditional boundaries given the local setting.
We worked with another school district, _____, shout out to them, where leaders actually recognize that even though the students in their system were performing very well and were proficient on state exams, they realized that they were having a hard time pushing students to higher and higher levels in advancements. Because they'd been utilizing blended learning as a model to really push on deeper learning and advanced outcomes within classes that have been performing well.
I think, in the same way, there's no one right approach or why. It's also really important to note different pathways that districts take in. We always tell district leaders, and also classroom teachers, to identify the biggest problems of practice that that they want to solve, where they're sort of starting to hit a wall, and saying, you know, our teachers are planning together. We're working as hard as possible. We think our curriculum is in place.
Like what more can we do? And bringing in technology really is that sort of extra gas in the engine, if you will, for going for further than they have. Because of this, we actually see of the most effective blending learning implementations coming from the bottom with teachers who are focused on tackling specific problems with each other, and really prototyping to allow other folks across the district to learn and adapt at greater scale as they go.
Tom Murray:              Great. Thanks, Beth, for that. You know, Nik and Joe, turning back to you, the work of our educators is difficult. The work that they're – they're working hard every single day, and our school leaders are working hard every single day. So what other advice do you have? What's the advice you have for them as they look to move towards a blended approach, or as they look to shift practice. As district leaders, yourselves, what advice do you have for them?
Joe Vagt:                     My biggest piece of advice, as stated earlier, is that commitment to that continual support as they go through this process. Not just stopping at even the first year but looking at next year and the following year. And, also, being able to personalize that support to the individual teacher because each teacher has their own style, their own kind of instructional format. And their learners have their own needs.
To being able to – if we do kind of a one size fits all, then sometimes, that's not having the impact that we want. So having that personalized differentiated approach for our teachers, as well as our learners is really key in the commitment to that.
Tom Murray:              Yeah, when we work with school district leaders through Future Ready schools, one of our biggest pushes, as well, is how are they modeling their own practice? You know, we can't stand and deliver at every faculty meeting, stand and deliver at every in-service day. Push the teachers, at the same time, to make learning personal, and to do things personal if we're not modeling it ourselves as school leaders there as well. Nik, anything to add to that?
Nikolaus Namba:        Well, I think I can build off of Joe's, too, because I think my first one, you heard me emulate earlier, too, which is just stop waiting. You can wait. We can all wait in education forever, but I want you to picture looking at every single one of the learners that you interact with on a daily basis and try and explain to them why you think it's okay to wait. I think that that creates a different fire in my belly every time I think about that. And I don't think there's any reason to wait because what are you waiting for?
I think, often times, the challenges, we wait for everybody to be at same baseline of knowledge. I can promise you, with technology, if you wait to for that, it's never gonna happen. And so to Joe's point, and to what you were talking about, building the right personalization process to make sure they're getting the support they need is key.
The second piece is we've talked a lot about the kind of pre-implementation buildup, and we haven't talked about the continuous improvement aspect on the backend. So that's the only other piece I would say. It's gonna feel amazing when you do the pre-implementation, when you do the pre-implementation, when you do you first implementation, and you see learners start using it the right way and learning facilitators or educators start using it the right way.
And then there's gonna be this moment of celebration. And I urge you to say that celebration is brief. Celebrate and make it brief. And then what is your step two? So often, people build that great system, and then they forget, well, what happens after that? After that is this cyclical process that we've talked about. After that is this program implementation analysis process to make sure we're getting everything we need.
After that are the discussions you can have with publishers, and platforms, and applications saying what you need in your data coming across so that it's actually working in the most efficient way for your teachers and educators. There's a number of steps you can go to, but I would just push you to say so after you get that step one, what is your step two? What are you going to do next?
Tom Murray:              Yeah, and that gets back to the vision from the why, to the vision, that continuous improvement, that continuous vision moving forward. So we had a load of questions coming in. Let's actually start with one from John in Pennsylvania, who wants to know what are the different ways schools are blending successfully with students spending part of their time out of the school building.
So Tom or Beth, you have a real national view when it comes to this work. Do either one of you want to address, what does that look like with sometimes kids at home, sometimes kids in school, or a combination, or mixture thereof.
Beth Rabbitt:               Yeah, I'd love to address that. I mean, I think this is one of their special parts of what teachers and students are learning from blended learning is that the time we have available, and the resources we can turn to don't have to necessarily live just within the class – the walls of the classroom. We are seeing a lot of districts where because students have devices at home, they're getting more flexibility about when and how and where they do their work.
In many cases, districts have gotten rid of the notion of homework, and really focused on extending the work that needed to be done in the classroom, that maybe wasn't finished for the day, or students getting a little bit more time to go deep in something they're really passionate about, but maybe not during school. I'd also give – you know, point to the work underway of organizations like Big Picture Learning. We're actually developing tools that other schools can use to manage of out-of-classroom learning experiences, such as internships.
Big Picture Learning has a tool called ImBlaze, which is basically a student internship and mentoring platform that creates that sort of vital technological connection between what a student is doing outside in the real world by internships and other opportunities, with what teachers are tracking and helping to support with from within the classroom. And we think that's really powerful.
Another organization I would point to is PowerMyLearning, who is doing really interesting work looking at how students can be working in blended modalities with their parents at night to actually teach their parents or their guardians the lessons that they're learning in school, to reinforce the learning that's already happening, as well as bringing families meaningfully back into the work that happening in the school.
Tom Murray:              Tom, anything to add there?
Tom Arnett:                 Yeah, just a couple of comments. I think the things that Beth has shared are fantastic. Just to give two, I think, certainly different angles on that as well. One of – we often think of learning outside of the classroom setting as something that the teacher does. The teacher of a particular class is giving student learning experience that go beyond the class goals.
Another angle to think of with relationships out of class learning is how can you use out of class learning experiences to give students greater flexibility, to better meet their individual learning needs. So maybe this means that there's a class that your student wants to take that isn't available at your campus. Can you set up an online course for them, arrange an online course for them to take that course outside of the regular learning day so that they can better manage their schedule around their learning goals and their learning just overall.
Another piece I'd share, too, and this builds off of the comment that Beth just made is that out of school learning can be a really powerful way to help create an integration and a connection between what's happening at home, and what's happening in school. You know, connecting with parents, connecting with families. That's one of the most powerful ways to reinforce our learning, but also schools struggle with that.
You know, I think of my own kids in school, and, you know, we come home after school, and come home after work, and I ask them at the dinner table, how was school today, and I get vague answers. Often, you know, I think parents struggle to really be in touch with and know what their students are doing, and how they can support that learning, especially busy parents.
But, you know, I think there's powerful opportunities not only through our learning tools, but through communication tools that allow parents and teachers to connect so that they can tag team on supporting a student's learning.
Tom Murray:              You know one of the areas that Beth started to touch on, the notion of connectivity is an area that we care a heck of a lot about here at the alliance. Future Ready is one of our focuses. And what I'm speaking specifically to is not just in-school, but out school as well. You know, the peer research has indicated that five million of our nation's families, disproportionately; it's our Black and Hispanic families, five million of our families go home to no connectivity at home.
And so as we're talking about blended, we're talking about using devices. We're talking about using all these digital tools, talking about redesigning learning. If I'm a child sitting in your school district that goes home to no connectivity, what about me? You know, and so we have huge issues of equity. Sometimes, it's a rural struggle. Sometimes, it's an urban struggle. Sometimes, it's a financial struggle.
But one of the things that I know you at Lindsay have all done is really started to partner in your community to recognize the need – you're in a very high need area, to recognize the need and to do something about it. You know, at Future Ready, we often – we point to whether it's Spartanburg Seven in South Carolina, who are working with community to create Wi-Fi maps.
You know, some people are using hotspots and things, but we know scalable, that can be really difficult and become really expensive very quickly. It's a great option, but scalably, it can become pretty expensive. What have you done when it comes to access at home, this notion of equity and access, so when students are coming home, they have ways that they can connect if their family isn't affording the Internet at home.
Joe Vagt:                     Yeah, I think this is near and dear in our hearts in Lindsay because step two for us, we didn't even know was gonna be step two, right. We got all the devices in the hands of our learners. We thought we had done a pretty good job thinking about the why and the how. And there was this assumption, and that assumption was even when you give learners devices that they can actually access learning 24/7.
When, in fact, many of our learners, as you said, couldn't. They were going home to not actually having connectivity. One of the experiences that – and at the time, I was a site principal at one of our gates. And so I would come really early every morning to see a group of learners always huddle right around the office door. And it took a while to connect with the fact that they were there for the Wi-Fi from the school.
And so what is our responsibility to make sure that that's not the scenario was a question that we tackled. And so from that, again, this is one of those situations you have to handle it in a totally personalized format, right. If you're in the middle of a city, you might have more partners that you could work with to make things happen. We are very rural, which means we're in the middle of not a lot going on. There weren't many options.
And so what actually Lindsay had to do was become our own Internet service provider. So we now are in charge of everything in our system. But essentially, we have antenna all of our community, which provides free access to all of our learners. We cover almost the entire school district so that nobody is left without it. And we had to come up with three different solution, on-home solutions, to be able to make this work.
And all of this has happened through iterations, and actually Beth and The Learning Accelerator did an amazing six-page spread on the whole process. Basically, and that is to say don't go through this process the way we did. Learn from what we did and accelerate that process. But the key is you cannot assume that our learners are going home to be able to access all this amazing technology that you've provided them if they can't actually do the connectivity in the first place.
Tom Murray:              Yeah, you know, and if I'm a family that's in need, and you, as a district, are saying, hey, we recognize your need, here's different ways we can help you with that, it also shows you care. It also shows that heart side of we really care about you, and this is why we do what we do. You know, going back over, the next question comes from Wisconsin. And Erica in Wisconsin asks: "How do we know if our district is ready to be Future Ready?"
So I guess as the director of innovation for Future Ready, I'll kind of kick that one off, and then turn it to everybody on the phone. You know, when we talk about Future Ready across our nation, it's as much about a mindset as it is about anything. When we take a look at leadership, and school culture, and how do we transition, and how do we move that forward.
My counter question to Erica would be – would actually be more of a – I guess more of a statement in that we don't have time to not do this, in the sense that time is of the essence. And this is really what it's getting to you of, you know, we can say, well, we'll come up with a 15-year plan on how to do this. Well, if I'm a high school freshman, that doesn't sound too appealing to me. So what is it that we need to do to move forward?
What we can tell you is leadership in schools of culture lay the foundation to all of this work. You know, I'm sitting here today with two incredible leaders. You can see the mindset. You can see the kids that are in motion to it in the work that they're doing here. Leadership and school culture lay the foundation. You know, we have been through Future Ready to some of the poorest areas in our entire country.
And because of dynamic school leadership, creating cultures of innovations for their kids, they're running through walls doing some great things. I can also tell you I've been to some of the wealthiest areas in our country, and, quite often, are teaching the way they did 30 years ago. And so how do we make sure, how can we do this – leadership and culture are full there.
What I would say to Erica, I'm not sure what Erica's position, is, see, it's not about leader by title. It's about leader by action. Some of the greatest school leaders, when we reference school leaders through Future Ready, could the fifth-year teacher that are running through wall, doing amazing things. The support staff members that is the backbone to that school in the work that they're doing there.
So I would ask those of you, and for our panelists here, you know, Future Ready being kind of our term, the way we've coined it moving forward there as well, what would you say, or how would you ask the question of, or respond to the question of, well, as a district, how do you know you're ready in some capacity? Beth, do you want to take that, or, Tom, first, on the line?
Beth Rabbitt:               Yeah, I think, you know, so – and this has come out of the strong theme across [laughter] all of the conversations, as far as you know you're ready when you have a powerful why for the work, and a problem you're trying to solve that you can solve yet. And building buy-in for working collaboratively to find that solution across your district, and understanding with clarity, but also commitment, what it might take you to get there.
If you can do that, then you're ready to start doing this work. There are obviously pieces of infrastructure you need to put in place, planning that has to happen. But as Nik sort of told us earlier, it's just identifying that first starting point, and getting going around an issue that your community really feels is important, and where you can draw a line for needing new tools and resources to bring to bear.
Tom Murray:              Great. Anything to add, guys?
Tom Arnett:                 This is Tom Arnett. I'd chime in and say I think another piece of being ready harkens to that same, necessity is the mother of innovation. You know you're ready when you can candidly look at the way you've been doing things in the past, and this may have been good for the past, but it's not good enough for preparing our students for the future.
I think the example there, in Lindsay, and their story of how they came to their personalized learning system and approaches is really powerful when they recognize, hey, our students, we're not getting them ready for the world that they're entering. And I think having those conversations and coming to that realization is a really powerful and important piece of being ready.
Tom Murray:              Great. Thanks for asking that. We just got another question in from Rachel, and I love this question. I'll say that ahead of time. Rachel asks, "What have been the most powerful ways to collect evidence of the transformation in student learning? What has given you the greatest insights as you constantly learn and redesign your work?" So how do you know it's working? What are you seeing? What are you hearing? So when we step back, show us the proof. Show us the evidence. Joe, can I ask you to start with that?
Joe Vagt:                     Well, the first piece of evidence we always have to focus on is the academic achievement part. But going beyond just that state test, looking at what learners are actually like – how they're demonstrating that learning, and to what level of rigor they're actually demonstrating that learning. But then, also, there is anecdotal pieces, too, where you're looking at what your teachers are saying about how they noticed the shifts in the mindset of our learners.
And then you're also looking at the data on how – well, in Lindsay, we have different career – we have different pathways at our high school. And looking at how those learners are choosing those pathways, and then how those learners are actually taking that learning and applying in like real authentic learning opportunities.
Tom Murray:              Yeah, one of the things I would add is simply, do we ask kids? Do we have conversations with kids? I think sometimes as adults, we are guilty of planning everything we think they need, structuring it the way they think they need, but at the end of the day, sometimes just step back, and just ask them what they need. And so I think the notion of student voice, student agency, student choice, here as well, and you're seeing some of those pieces, too.
Beth, can I ask you to respond from a national level in the sense of when you're working with districts, what are you hearing from districts in terms of what are the evidence they are compiling to go with the same question? What are the ways they're saying we're 100 percent sure this is working, and what are they pointing to? So, Beth, what would you share there?
Beth Rabbitt:               Yeah, I think one of the tricky parts to this work in blending learning is that your big bold outcomes, the changes you want to see are off a ways. You know, there might be small wins in the process, and you should focus on those, but really developing almost like a logical model that allows you to recognize, you know, what am I trying – what's the problem I'm trying to solve for?
What is the hypothesis that I think will help us solve for that? What's the thing that I'm gonna do to make the change? And then actually looking at implementation for kind of the smaller stepping stone metrics that can tell you that you're on your way. One of the things that we ask folks to look a lot at as they first start measuring success isn't necessarily change in student achievement. So that is incredibly important in the longer run, but it's actual implementation of the promises we made as part of our process.
So, for example, if I think that blended learning is really important, and I'm putting devices in the classroom, am I actually training all my teachers and all my students on the utilization of those devices? Are they participating? Are they not? Because if you're paying attention to some of those metrics, you're not only collecting early wins, but you can make much of a larger case in the end for if what you were training on would have this impact you want.
So we really think about having linked together implementation metrics or those logging metrics, or – excuse me, those leaning metrics with lagging metrics later that can help you kind of chart your path and your progress. And I'll go and tweet out, we actually have that – the model that we use with a lot of our districts as the CC Buy tool. So I'll share that on Twitter.
Tom Murray:              So you're building on – best comment related to adding devices. The notion of going 1:1 in the past five, six, seven years continues to gain steam. You know, as district budgets have remained relatively stagnant in the last ten, 12 years, Ed tech spending continues to go through the roof. And going 1:1. You know, if the district across the highway is going 1:1, we need to go 1:1, too.
So two of the questions just to reference that we've seen, for instance, Heather in Washington asks: "What advice, strategies, tools, or tips do you have for a middle school going 1:1 implementation for Chromebooks for next year?" Or Rob from California asks the question related to 1:1 programs, guidelines that they would suggest for different platforms or tools.
And I don't want to lead this conversation into a particular platform or tool, per se, but so if a district called you tomorrow and said, "Hey, our board approved this bond. We're doing this thing. We're getting all these devices." What kind of conversation would you walk them through to think through that they have a systematic plan in place? Obviously, Lindsay, you're years into the process. You've learned a lot of lessons along the way. But if you got that call tomorrow, "Hey, we're gonna go 1:1 next year, what would the conversation look like on the phone?"
Nikolaus Namba:        Yeah, so the interesting part is believing that you can take a process that somebody else has made, and just use that same exact process, and it's gonna work totally for your community. So I'm here to emulate that that is not true. Those are guidelines, right. The tools that are out there are great in terms of being a starting point for you to get to, but you can't use them the exact same way.
And some of the steps that I think we would emulate is we've talked about, and I won't harness it again, but the why. You have to have the deeper meaning of the visions as to why you really want to do this. To me, I always relate it to just because you buy more books and put them in the schools, doesn't mean anybody is reading them.
And so you have to have the same strategy. Just because you put a device in front of a learner, it doesn't mean it's actually gonna do anything you want it to. What is the meat that you put around the skeleton? And so the first angle is thinking about the devices, themselves. Because once you get to the bigger, broader vision of how you want to use devices, it's what devices are gonna work best for what you need them to do?
We use different devices for our K-2 learners than we do for our 3-8 learners, then we do for our 9-12 learners. And then if you're in a certain pathway, you need a different device. That's where we're at in our learning process that we've had to go through. But my emulation would be like start with that from the get-go so you don't have to learn that.
Tom Murray:              So taking – anything else to jump in there, Joe or Beth, in that regard?
Joe Vagt:                     Really, also, like focusing on, like, that's been commented before on the pedagogical shifts. So if you put devices in every learner's hands, and you just digitized worksheets, and that's what you're doing, then you just wasted thousands of dollars. So also having a plan in place on how you're gonna actually support your staff, your teachers, your leaders on site on those pedagogical shifts that need to take place in the learning environment.
Tom Murray:              Absolutely. You know, todays devices really are incredible devices. They have come a long way. Their price points have come down. But any sort of those devices can simply be a digital worksheet storage hub. And if that's how we're using it, it's not changing any sort of practice. But they can also, the exact device, can truly be that pathway to unleash student genius or student agency that you're seeing there as well.
And it's not the device's fault how it's used. It comes to high quality teaching and learning, first and foremost. You know, so several viewers are also asking about the notion of blended learning strategies for elementary-aged kids. Meg in Florida asked specifically, "What is effective developmentally-appropriate blended learning look like in K-2?" So, Beth, I'm actually gonna go over to you again on this question so start. Can you jump in there from a K-2 end, elementary example, blended learning, what that looks like?
Beth Rabbitt:               Happily. And I should note, we have worked very closely with a lot of schools across the country to deeply document not just the overall model they're using in blended learning, but the specific strategies they put in place. And we have about five electuary schools we've worked with deeply and have also been issuing what we call problem of practice guides, that get folks starting in station rotation, and in differentiation. That's all available at our website Practices dot-Learning Accelerator dot-org.
I think as we're looking at blended learning for elementary-age students, there a couple of things that come to mind. The first is many elementary teachers are already utilizing some sort of form of station model in their classroom. It's just called centers. And so, often times, we see starting points for teachers in bringing in technology to one or two centers that they already have rotating in their classroom.
They can free up time for that individual literacy/numeracy work they might need to do one-on-one or in small groups, but also create very differentiated high-quality learning experiences in the other stations, whether that be through a reading application on an iPad, or a coding scenario that they're using. I think that with younger students, we see a couple of things as being incredibly important at this age. One of those things is just the stability of relationships they have with the teachers and the adults in the building.
Often times in a lot of elementary settings, we're seeing staff that have traditionally operated on, say, a pullout model, such as a special educator, or an aide, actually being pushed fully into the planning team and the everyday executing team of teachers on the ground. It gives students access to as many one-to-one relationship experiences they can have, along with the technology that's brought in.
And then, finally, particularly for younger students, we do want to make sure that when we are having students spend time on a screen, that that time is interactive and engaging, and not passive. And so a lot of the successful elementary models we see, you know, have students working with touch base devices to really be able to interact with the content they're getting, rather than saying maybe more passive, and watching videos.
Tom Murray:              Great. Tom, anything you want to add to that?
Tom Arnett:                 I think it's important for schools to, like others have said, just be really thoughtful about how are you thinking about the use of the devices? You know, I'd recommend for schools to before they rollout an initiative across the whole system, to really fine-tune the coalition of the willing, who are the teachers who are most excited, and then have them think through what are their plans for using devices?
And give them feedback and some iteration on are those plans working, or are they well thought through? And then try them out, and we'll learn from those examples. And then share those more broadly as you roll things out. I think being really deliberate in that way helps you to anticipate challenges, address challenges before they become larger challenges across your school system, and then really help you implement digital learning as one of the learning and _____ in an effective way.
Tom Murray:              So in Lindsay, taking a look at K-2, early elementary, blended learning, what kind of success – what have you found for that early elementary level?
Joe Vagt:                     Actually, some of most successful blended learning models are taking place at the kinder level in Lindsay. And it's really piggybacking on what Beth and Tom both said, it's about the relationships, about the structure, the environment, the learning culture in there. But, also, our learning facilitators have a true belief in the learners. The young ones, just like the older kids, they'll surprise you. They can do more with technology than you can even fathom. So also empowering them to be able to do that.
For example, we just – I just met last week with a learning facilitator, and we were working on putting a station in place. And what we came up with is that she's going to have her learners, on their iPads, build a digital audio-narrated storybook, where they're designing. The learning target is they have to identify the flag – understand the flags, and the symbolism regarding our national symbols.
They're creating their own country, and then they're actually putting that together in a digital storybook. So they're actually having that authentic use of technology to demonstrate their learning, to demonstrate their thinking. And I don't want to dwell on this too much, Tom, but this is a topic, this question is closer to my heart. So I come from early childhood. I started my career as a kindergarten teacher.
I am fully in the belief that any five and six-year-old learner can do anything that are our high school learners can do. And I've been there, and I've used it with them. I think that one of the pieces that this gets to for me is just with early childhood, with young learners, it is so essentially for our educators, our teachers, to understand the processes that learners are using as they think through problems that they encounter.
And in a normal situation where it's a 1-24 ratio, and you're trying to get that on a daily basis, it's nearly impossible to do stuff like that. And that's where I see the power of technology really taking hold. The pieces like Joe is talking about can actually show us the mental processes that the learners are using as they come up with their solutions, therefore, allowing us to see everything up to the product, not just the product.
It gives me, as the educator, especially our younger development levels, it gives me an ability to understand so much more about their thinking. And, to me, there is nothing more powerful to understand the thinking rather than the product.
Tom Murray:              So well said. You know what's fascinating is, I'm building off something Beth said as well, and pulling through there, on what actually works. A couple of years ago, at the alliance here, we did a report with Dr. Linda Darling-Hammond and her team at Stanford, and scope we're looking at what actually works. Like, when we're using a tech, what is the research and evidence show what actually works? And building off of something Beth said, she referred to the notion of active use.
You know, the National Ed. Tech Plan about a year and a half ago, when it was overhauled and released, they coined to the term, the digital use divide. You know, we talked about the digital divide in our country for probably 15-20 years at this point, and not to minimize it at all. There's still significant issues out there. But when we look at the effect of that tech, the digital use divide may be more of an issue, in my opinion, in terms of how is it actually being used?
And I love the notion about Beth talking about active use. And the way the National Ed. Tech Plan looks at it, digital use divide, is active use versus consumption use. Active use being very engaging and collaborative. You see some of our STEM stuff, higher level learning aspects to that. You take Web depth of knowledge, Bloom's taxonomy, you're still learning at the higher levels, versus a traditional-consumption base.
We both have you children. My son will consume as much as I allow him to at four years old. But we have to recognize what it is. It's low level. And so if we're just watching videos, just looking at a static Webpage, it's going to be low-level learning. And so how do we shift the focus, as Beth was referencing earlier, and not just about being on device. Like the notion of screen times, an issue people were talking about, to me, it's not just about minutes. It's about the what they're actually doing.
Because we could be on a device for 15 minutes, highly-engaged, highly interactive, creating/designing, or we can watch something for an hour and learn almost nothing. So the what there is really, really important. Let's get to one final question here, and I think let's get real practical when it comes down to whether teachers in the classroom or admin. So John in Texas asks, "We often see superstars schools highlight for a broad implementation of strategies."
I'll say that I'm sitting next to a district that I would put in that category, doing incredible things. But what he hears most from people on his campus is that the first step – what is the first step that that they can take to implement technology into lessons in the classrooms. And I'll broaden the question to simply say maybe it's district leaders that are calling you up saying where do I even start?
And I'd love for every one of our panelists, as our last question here, just to kind of give some insight, whether I'm a classroom teacher teaching second grade tomorrow, that I was to try something new, what advice do you have, or maybe they'll have one of superintendents watch, and say how do I start to lead change in the district.
So I'll actually start over with our folks on the phone. Tom, can I point to you first? What's a piece of advice you have regardless of where somebody is on the continuum here, where they may fall, what advice do you have?
Tom Arnett:                 Well, I'd say some times of visual learning and blending learning are really complicated, and you need to coordinate across your school, across your building, change schedules, things like that. But some of them can be really simple. Two starting points. One would be if you have devices and you have some kind of software subscription, consider doing a basic station rotation model, where you divide your students up, and you have some of the work online, while others work in small groups. And that lets you be more targeted in the way that you organize, and then give instructions with the small groups.
The other one would be to – if your students have decent access at Internet to consider doing a flip model, where you create – organize lists, play list of materials for them to go access online, and then shift the focus to their class, so having to cover material in class to really expanding on and deepening material that students learn online when they're together, and you can have really powerful high-quality discussions.
Tom Murray:              Beth, what about you, all the work you're doing nationally, incredible work through TLA, and, Tom, with the Christiansen Institute, what's a piece of advice you would have for somebody?
Beth Rabbitt:               I'm a really large fan of instructional rounds, or, you know, walk-throughs of classrooms to identify very specific problems of practice that are dogging you or a group of educators. I think you had struck the structures Tom has referred to are incredibly helpful at figuring out how to basically operationalize technology more generally in the classroom.
But one thing we like to do is just have educators work on teams, go in, observe and identify problems, and then start brainstorming, how might we bring in a new tool to help to X or Y. And then move into kind of a test and measure. You know, try it out in one class and see what's happened, and report back to each other to problem solve.
I think peer-to-peer engagement as teachers are one of the most powerful tools we have for getting better together. And I think that's where I would start is idea problem of practice. You want to wrap your arms around identify some tools that could help. I think Ed Surge had some tremendous resources within their product index in certain areas. And then just try it together so you can help each other out on kind of those implementation labels that invariably come up even when you've chosen the right tools. I think that's a good start.
Tom Murray:              So, Joe, you're working side-by-side teachers every day in Lindsay out there in California, what advice do you have?
Joe Vagt:                     One of the elements that I often see kind of skipped over in the rush to implement a blending learning model is the establishment of the solid learning culture in the learning environment. What I mean by that is learners need to be able to independently learn. They need to know how to collaborate. It's not necessarily an inherent quality that people have, I mean, adults and kids both. So that needs to be established.
You also need to establish standard operating procedures, where if technology goes for the learner, what is their next steps? So they finish early with an activity. What are their next steps? They need to be able to know their data, and know how to analyze it, like so they can identify their immediate learning needs. One thing about blended learning is that it'll take a positive culture, and it'll make it incredible. But if you have a negative culture, it's gonna make it a nightmare for you in the classroom. So you really need to have that solid culture established first.
Tom Murray:              So well said. Nik?
Nikolaus Namba:        So I'm gonna try and oversimply this answer for you. To me, it is the most essential thing to consider, though. How are you going to ensure that you do not sacrifice the expected and necessary rigor levels of instruction that learners are supposed to be receiving while you're using this tool. So we put our learning factors, our district administrators, our site level administrators, spend years trying to create capacity at their site of an expected ability to support learners, reaching a certain destination of their skillsets and their knowledge.
I often find that the integration of technology into that feels like something that I have to go grab and find something to put in here now, rather than asking the question, is there anything, technology-based, that will not just meet the rigor expectation, but exceed the rigor expectation, and allow learners to do it in an interactive way. To me, it's no different than your strong curriculum designers.
When you're planning your lessons, when you're planning for staff, you're thinking about what needs to go into this to make sure that they are getting multi-modality experiences, to really engage with this content. And to me, technology is that piece that is on the side that can allow you to do that as well, but it doesn't have to be used all the time from that lens.
Tom Murray:              Thanks, Nik. So, unfortunately, we are officially out of time. I do want to thank all of our guests for such a lively discussion, and thank you, our viewers, for joining us to celebrate Digital Learning Day. To download a copy of the report we discussed today, visit Future Ready dot-org/blended learning. There, you will also find additional strategies and resources for implementing an instructional approach, supported by blended learning.
And to learn more about Digital Learning Day, and see some of the events taking place around the country, visit Digital Learning Day dot-org. Finally, if you're a member of the Alliance for Excellent Education's Action Academy, enter the code word "blended" in the box below to learn Action Academy points. An archived version of this webinar is also available at All4Ed. dot-org/webinars. Thanks again for waiting; thanks for serving kids and have a tremendous day.
[End of audio]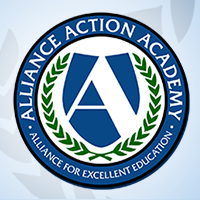 Welcome to the Alliance for Excellent Education's Action Academy, an online learning community of education advocates. We invite you to create an account, expand your knowledge on the most pressing issues in education, and communicate with others who share your interests in education reform.
Register Now
or register for Action Academy below: