Collaboration + Calibration = Transformation

May 21, 2019
6:00 pm – 7:00 pm EDT
YouTube Live
Collaboration + Calibration = Transformation
Panelists
Jimmy Casas, Future Ready Schools Advisor and former principal, Bettendorf High School (IA) (@casas_jimmy)
Brianna Hodges, Future Ready Advisor and Director of Digital Learning, Eanes School District (TX)
On May 21, 2019, Future Ready Schools® held a webinar in which Future Ready Advisors Jimmy Casas and Brianna Hodges shared the importance of collaboration between principals and instructional coaches. With collaborative leadership as the driving force of the Future Ready Framework, Jimmy and Brianna offered tales from the trenches from the purview of shared instructional leadership.
Jimmy Casas served twenty-two years as an education leader, including fourteen years as principal at Bettendorf High School in Iowa. He was named the 2012 Iowa Secondary School Principal of the Year. He is the author of Culturize: Every Student. Every Day. Whatever It Takes.
An energetic and enthusiastic learner, teacher, coach and change agent, Brianna serves as the Coordinator for Innovative and Digital Learning at Eanes *Innovative* School District in Austin, Texas. Brianna believes that every learning experience is amplified by innovation, connection and creativity
Using their combined expertise with instructional leadership, Jimmy and Briana discussed the importance of setting the stage for success through purposeful and enduring communication, conversations, and calibrations. With a common goal of meaningful learning, they highlighted ways to foster capacity and shared agency to increase the efficacy of implementation.
Don't miss out the opportunity be inspired to make meaningful change at your school through shared leadership.  Watch now.
---
Please direct questions concerning the webinar to ldossin@all4ed.org. If you are unable to watch the webinar live, please register to receive the video archive directly in your inbox.
---
Future Ready Schools® is a project of the Alliance for Excellent Education (All4Ed), a Washington, DC–based national policy, practice, and advocacy organization dedicated to ensuring that all students, particularly those underperforming and those traditionally underserved, graduate from high school ready for success in college, work, and citizenship.  www.FutureReady.org
Follow FRS on Twitter (twitter.com/FutureReady); Facebook (facebook.com/futurereadyschools); and the FRS Leadership Hub (futureready.org/hub).
---
If you are interested in renting the Alliance's facilities for your next meeting or webinar, please visit our facilities page to learn more.
Jimmy Casas:             Hello, I'm Jimmy Casas, Future Ready School Advisor for the Principals at Future Ready Schools.  I also currently work as an advisor for the Naitonal Association of Secondary School Principals, serve as an adjunct professor for Drake University, and currently am the CEO of J. Casas and Associates.
I served 26 years as an educator and 22 of those years as a building leader.  Today, I am joined with my fellow Future Ready Advisor, Brianna Hodges.
Brianna Hodges:        Hey, guys.  I am Brianna Hodges and I am currently the Director of Digital Learning for Eanes ISD, which is in Austin, Texas.  And I was a – I'm a recovering middle school English teacher as well as a District Administration and I get to have the wonderful privilege of spending many of my days working with instructional coaches and education technology coaches all across the nation and here in the great State of Texas.
So, we are super excited for today's webinar.  Future Ready Schools is a project of the Alliance for Excellent Education in Washington, D.C.  Future Ready Schools is a collaboration between the Alliance and a vast coalition of over 60 other national and regional organizations.
The goal of Future Ready Schools is to maximize digital learning opportunities and help school districts move quickly towards personalized student-centered learning.  The effort provides districts with resources and supports to ensure that local technology and digital learning plans align with instructional best practices, are implemented by highly-trained teachers, and maximize personalized learning experiences for all students.  Particularly those from traditional underserved communities.
Today we're going to be focusing on the years of collaborative leadership as well as bringing in curriculum, instruction and assessment as well as some personalized professional learning.
We've got three hashtags for today's webinar.  Those are #futureready, #futurereadyprincipals, and #futurereadycoaches.  So, thanks for making the investment in joining us today.
Jimmy Casas:             So, we're going to get going right away today.  Talk about kind of setting the stage for success with purposeful conversations.  So, we want to break that down to the three parts.  And we'd like to share those with you today, when it comes in terms of the partnership and the relationship between the principal and the instructional coaches.
First of all, it's important that we begin by identifying the role of the instructional coach.  So, when doing that, obviously, we want to bring the principal or the administration in together with the instructional coaches to begin to have that discussion in terms of what will that role look like?  How will we serve the staff?  How will each of us within, for example, if you have more than one instructional coach, what will that look like?
So, it's really important that we start off by identifying those roles and involving instructional coaches in identifying that role.
Also, we'll want to make sure that once we've identified that, how is that information then going to be communicated to the staff?  And how we do that is really, really important when it comes to how we want to build this community because the idea is to make sure that our staff is inviting our instructional coaches.  Not that the instructional coaches are just coming.  But how do we get the staff to want the instructional coaches to be a part of that support network in our buildings?  And so, then how do we begin to do that?
So, it's really important that the principal then be very clear with the staff in terms of introducing the instructional coach or coaches, identifying their role in how they're going to be serving the staff in the school.  And then how do we begin to set the stage?
So, here's what I mean by that.  I think one of the dangers that we face as building principals is turning over the instructional to a coach or coaches.  So, number one, it's important that the principals, we have to remember that we are still the lead learners in our buildings.
We are still the primary instructional leaders of that building and that our coaches are there to support us in working collaboration with us in terms of support as a partnership.  Not turning that over to the instructional coaches, but actually working alongside them and being a part of that instructional.
So, it's really important that principals still see themselves as instructional leaders with more support to impact more people.
Second of all.  We also want to make sure that the staff understands that the role of instruction and supporting instruction isn't just about these three individuals.  So, we want you to think a little bit differently about the mindset.
And the mindset is this.  Is that every individual, every teacher in your building, should really see themselves as an instructional coach?  And the reason is, is because, number one, every one of our staff members has talents and strengths that we should be tapping into.  We should be doing all we can to build community, a community of learners and a community of learners who believe and understand that instruction is primary when it comes to reaching our children academically, socially and emotionally.
And so, how we bring that community together is going to be primary and critical in the work that we do because we not only want to make an impact when it comes to instruction, we want to make the greatest impact possible.
So, idea is, how do we get everybody in the organization to see themselves as an instructional coach?  And how do we then build that community?  And in my opinion, it's then how we article that message.
So, Bri, so those are some thoughts when I think about how we set the stage initially to begin those purposeful conversations.  And then the last component is this.  As the principal, we have to make sure that we are regularly touching base, meeting with our instructional coaches.
We often suggest at least on a weekly basis because it's really important that we have a pulse of what's happening, how we can continue as principals to support our instructional coaches.  We never want them feeling as they're on an island all by themselves.
But we'll learn is that instructional coaches will quickly begin to have questions and want to make sure that they are working with the staff in the way that aligns with the vision that the building principal and the instructional coaches, along with the staff, have agreed to.
So, it's really important that we have a process to make sure that ongoing communication exists, and that it's critical that we make sure that we maintain that time as sacred time.  In other words, we don't start giving that time away because we get too busy or we have other things to do.  Because I think that sends the wrong message again in terms of how important the role of instructional coaches are in serving our school communities.  And more importantly, serving the staff so they, in turn, can serve our students.
Brianna Hodges:        I love that.  I think that one of the things that's interesting for me is this – there really is this idea of the instructional leadership team, right?  And it's not just the principal by themselves or the coach by themselves or the district, curriculum instructor or the superintendent.  But really, it's this leadership team and how everyone comes together.
And I think that that communication piece, it all starts with that.  In my situation, I have, at the district level, the coaches actually report to me.  But at the same time, they're housed on a campus.  And so, with that, everybody takes their own flavor.  Just like when you're in a building, each one of your teachers are going to take their own flavor and have their own experience within their classroom.  And we see that with the campuses as well.  But there's also going to be some continuity.
So, that communication about what that instructional role is for both the principal and for the coach may start at the district but then is also going to become interpreted onto that campus.  And so, we can't just leave those conversations to happen at the district level.  Right?
So, I often encourage our coaches here locally, as well as across the nation, that sit down and have that conversation with the principal.  And have a one-on-one at the very beginning of the year for sure, to discuss what instructional philosophies are, where are our focus points for this year?  How can we come together?
And one of the first things that comes to mind for me, as an analogy, is parents coming together to discuss plans for situations with the family.  And what happens when there's not that clear communication?  And so then, that's where we start to see different interpretations.
And you have kids, Jimmy.  I have kids.  While both of us happen to have the most amazing children in the whole wide world, and we know that they would never manipulate situations or there would be areas for any kind of miscommunication, we know those things still happen.  And it can become really confusing if our teachers are hearing one thing from a principal and hearing another thing from an instructional coach or not sure where they want to go with that.
And so, I think that that time, that's such a great investment to sit down, like you said, regularly, at the beginning of the year to really kind of cast that vision as well as continually having touchpoints.
One of the other things that I think is really important and I loved that you said, principals going out there and modeling that coaching as well.  And mixing that up, right, because we know that we often see coaching kind of put in that label of only the teachers who really are struggling or who are challenged in certain things are the ones who need coaches.
And instead of, if you look at this like celebration of best practices, and I want to catch you being good.  Right?  I want to see these things happening and be able to celebrate that.  And if we're able to not categorize who's working with who, but instead it really just kind of builds that capacity of celebration and really kind of offers in that culture of instructional learning.
And we're not after trying to tell you how to be better because you weren't good already.  We're after being better, because that's what our kids deserve and there's always a way to be better.  So, I just – I think all of that centers on those communication pieces.
The last thing that I'll leave it with – that I try to remind ourselves, is that it doesn't matter how long you and your principal – maybe you've been the instructional coach and the principal, you as a team, have been together for years.  That doesn't mean you don't still sit down and have these conversations.  And because just like in the classroom, you're going to get a new set of kids every time.  You're going to get a new set of opportunities and of challenges every school year.  Every month, every semester, to really kind of circle through and look at ways to grow.
And I just I think that that transparency and those communications between those two people allows for that solidified and unified front to really bring our schools where we want them to be.
Jimmy Casas:             Bri, that's a really good point.  And it's funny, as you're talking, I'm sitting here reflecting.  And I think often one of the fundamental things that we do as school leaders, and I include everyone in that conversation, right, because I see everyone as a leader, is how all this then begins to impact culture.  Right?  Because these are different types of processes that we're putting in place.
And even though instructional coaches have been around for years, there seems to be more of a focus, as we go across the country.  And we're noticing more of an influx of schools understanding the need for instructional coaches, tech coaches, leadership coaches, right, etc., because we recognize that we have to continue to model that we're all learners, that we're continuously learning.
So, when we begin to look at the process of then how do we then begin to introduce the instructional coaches into the, let's just say, into the mainstream of the school building, right?  That also comes with some challenges.
So, one of the things that I often recommend to people is rather than just begin with well, here, I'm the instructional coach.  I'm here to help you, right, that kind of thing?  Is to begin to look at it differently.  So, again, when we think of culture, especially when we have these discussions at Future Ready, is to begin to understand and identify that it is still based on the fundamental foundation of relationships.
So, one of the things I often encourage districts, is when you begin to introduce the instructional coach, tech coach, rather than going there with an agenda of I'm here to help, I'm here to support, I'm here whatever, it's really just focused on relationships.
In other words, many of our instructional coaches that are going to the role, if they come from within the building, we have to recognize that they have never been in most of these teachers' classrooms, right?  Maybe in their department.  Maybe they've been in a couple classrooms.  Or maybe they've heard about how some teachers are.  And because it's always interesting.  Most teachers believe that all their colleagues are really great teachers.  Yet, they've never seen them teach, right?
So, the idea is, number one, is make sure we're getting our instructional coaches focused first of all, on relationships.  Let's get them comfortable walking in the classrooms.  Let's get all of our staff comfortable with instructional coaches walking into classrooms.  Not looking to help, not looking to support, but just to begin to understand and make connections with everybody in the organization.
Especially some of these large school districts, where some of these teachers may not even know their own colleagues, right, because they're isolated in wings.  They're isolated in grade levels.  They're isolated in houses or departments, whatever.
So, I often recommend, spend at least weeks.  That's like a quarter of your beginning of your school year, doing nothing but visiting classrooms.  Making connections.  Saying, "Hey, I really love what I saw today.  Hi, help me understand, when you do that, what did that – why did you do that?  How long have you been teaching?"  Just all those really personal connections, before we get into what our role is there.
The second thing.  It's eventually, again, with the support of the building principal and working with the entire staff, is ongoing communication, what our role is again as the instructional coaches.  So, it isn't just hey, we announced this at the beginning of the school year that we're going to have instructional coaches, and then never re-visit it again.
So, there should be ongoing communication.  "Hey, just wanted to let you know, our instructional coaches are out in the building this week.  Thank you so much.  They're learning a lot about what's happening in the school.  They're seeing it through a different lens, etc., etc."  In other words, the principal has to communicate, ongoing.  If this is of primary importance, then let's give its credence, right?
So, then eventually, I think when, as a team, right, they're meeting on a regular basis, begin to understand they kind of have a good feeling about it, then maybe we can start working slowly into a schedule.  Maybe that schedule is working with a grade level or a department or a certain content area.  But begin to create a school, nonetheless because, again, at some point, we want to establish that ongoing routine so people understand when the instructional coaches are going to be there specifically to support them or just be out and about.
And then the last thing, the reason that's important is because I think we have to begin to see ourselves as partners.  And so, I think language plays an important part, even though it's a small part.  But even the language we use.
So, for example, here's one thing I learned as a building principal that I made a mistake on, is often using the word help.  And sometimes teachers hear that and think, well, what do you mean?  I don't need help.  What do you mean I need help?  Do I need help?  I think I'm a – I've been teaching for 12 years.  Why do I need help?
So, even words like that, rather than say hey, I'm here to help you, as though somehow, they need help or they're doing something wrong, is begin to see themselves as true partners, there to offer support, to be together in terms of teaching and learning and what that looks like.  So, I think sometimes even language plays a role in that and how we communicate the role of those instructional coaches when they're working with staff.
Brianna Hodges:        So, I love that you said that.  One of the things that I share a lot, and it's actually from Steve Barklay, and he had this amazing post on his blog a few months ago.  But it was basically talking about, again, vocabulary and language.  Language matters, right?  Because one of the challenges, as a coach is, people don't want to open their doors to us sometimes.  And they're there – like you said, nobody wants to have help.  I don't need help.  I'm doing good, I'm solid.
And so, then as coaches, we often will then look for whatever opportunity, right?  There's this idea of it's all about relationships.  Go in there and help them however you can, just so you can get a foot in the door.  And what sometimes happens with that is that then you come in and you're like hey, I'm here to support you teacher, whatever you need.  Well, sometimes that teacher needs you to go make copies or needs you to cover a class or wants you to teach this part so that they can go and work through some paperwork with another teacher, or whatever the case is.
And we know that those things are important, but is that actually the mission of the instructional coach?  And Steve Barkley kind of, in this post, he really focuses in our true purpose as instructional coaches as well as instructional leaders, like you said.  As well as principals, all of us, are true goal is to support learning.
And so, while covering the class in that way helps that teacher, it might not support the learning that happens in there.  And so, how can we come in and support that learning model as opposed to believing and getting in that way?  And I think that that is one of those things that – and I know there's lots of people out there that are going yeah, yeah, yeah, but I'm new to this campus and I really need for people to value me and I need to form those relationships.  And absolutely.  Relationships are super important and we are all about saying yes.  And we're also about modeling how that interaction can look, right?
And so, maybe it's when that teacher says, "Hey, can you cover my class for me so that I can go and do this?" then you can say, "Yes, I would be happy to.  I've been trying to find some time when I could get in front of students to work on the skill that I want to circle back with you on," right?  And so, again, planting that seed of how that pedagogical partnership can then happen and it not just – it just kind of redefines or reinforces what that role really is there to do.  And I think that that can be so, so, so important for these situations.
Jimmy Casas:             Yeah, and the example you shared, Bri, kind of goes back to exactly what you said, right?  We've seen that too that the instructional coach kind of becomes like a glorified aide.  Like, "Hey can you go run some copies?  Can you –?"  In other words, it's kind of like the same thing with co-teaching, right, or having a para educator in your classroom.  Sitting down and being very intentional, what is the purpose, what is the role, how can we be here to support instructionally?  How can we support learning – go in your classroom?
So, that's why it's really important that the principal support the instructional coaches and communicating that effectively to the staff so it isn't just the instructional coach there to be left to have that conversation.  Right?
Brianna Hodges:        And I think that that goes back too, to that very beginning of the year when you have that conversation over what's our focus point going to be for this year?  Because you can't just say, "Hey, you're an instructional coach.  Go do the instructional coach things."  Right?
Jimmy Casas:             That's right.
Brianna Hodges:        Like you have to be able to say, "Here's our pain point.  We really want to focus in on whole-brain learning" or "Our scores are not quite showing where we need them to be in this area, so we're really going to beef up academic vocabulary opportunity."  Or something from that campus-based situation that you can kind of level-set so that there can be a focus in there.
Now, there's going to be teachers that don't fit into that piece.  And you're going to help them however you can, as you go through it. But you've got to be able to create some kind of clarity of focus so that it's not just go do the things.  Right?  Like there's so many things and it's so broad and that then creates that situation for the principal to not clearly understand where they can leverage instructional coaching as well as for the instructional coach to not understand where they can get backup from, right?  Like is this in line with what you're wanting me to go do?  You create that team; that team perspective.
You have to have that game plan going into it, knowing that there's going to be some fluidity, knowing that we're always going to handle whatever situation is presented with us right at that moment.  But we have to have purpose before we can begin that.
And that kind of goes back to at the very beginning, where we were talking.  That's why, even if you've been with a principal on the same campus for 10 years, you still want to have those conversations so that can have some anchor points.  Maybe it's going to be purposeful integration of technology this year.  And maybe next year it's going to be disciplinary literacy, or whatever it looks like so that way we can kind of bring in some clarity.
Jimmy Casas:             Yeah, I think you hit it right on the spot.  Clarity of direction.  Clarity of purpose.  Clarity of expectations, right?  Because honestly, everything that we should be doing in the classroom with instructional coaches and our staff, should align with our building goals.  Right?  Should align with our district goals, right?  All that should be aligned.  And so, let's understand how we're going to support the over-arching goals that we have that we communicated or hopefully, to our staff this year so people don't see this as a separate piece, but aligned with what they're currently working on.
So, let's transition to the next piece.  Bri, you and I had a little chance to talk this morning about some of the challenges.  Right?  So, we begin to look at different models that are in districts today.  There's a lot of different pieces that go into that, right?  Am I a small school district?  Am I one campus?  Am I rural?  Am I urban?  Am I intercity?  Am I in a school of 4,000 kids?  Am I in a school of 400 kids?  All that plays a role.
So, we see these different models, because some of the challenges then, that come with that is well, what if I'm the only instructional coach for the whole district?  Right?  Let's say we have a K-12 district, right, 300 kids, right?  And we're one campus and I have to now be the one instructional coach.  Do you want to talk a little bit about that, Bri, and then we'll come back and talk a little bit about building and district and all that?  Talk a little bit about it from your perspective on that.
Brianna Hodges:        So, I think yeah, I think it is definitely one of those – there's so many scenarios that go into it.  And so yes, I have been that single instructional coach for the district and pre-K through 12.  What does that look like?  How can I be all the things to all the people?  Right?  When you have – in my situation I had 3,500 kids and 200 teachers and everybody looking at you in a situation where we've not really ever had instructional coaching before.
And hey, go, fight win.  Go do this, right?  Everybody, when you hear coaches, they immediately thought academic.  I mean excuse me, athletic.  And so, trying to introduce all the ________ at time, how overwhelming.  And immediately you sit there and you look at all of these pieces, and it's like being in the classroom with all of the curriculum standards.  Right?  And you're like how on earth am I going to create a pacing guide that's going to give everything to every student all of the way, all of the way through it?
And one of the challenges that comes with that is understanding that you're not going to be able to get to every single person all the time and give them undivided, wholehearted attention at each piece.  And so, for me, lots of things that went into play were identifying – your first and foremost, obviously, having conversations with principals of where were there needs?
Again, just like we discussed, taking that district vision, bringing it into a campus, and then being purposeful with like now that we have this role, how can we help support this?  Your main needs for that campus.  And once we had that, then we kind of created a little bit of a schedule.
And especially for me, knowing that I was going to be going to multiple campuses, that became an even more abbreviated schedule because I'm going to – our pre-K campus, I might not be able to spend as much time with those 300 students, or 150 students that I would at our high school where we have 1,500 students.  But the differences are in there.
So, we started doing lots of things like screen casting and creating some online communication points for our teachers.  So, whether it's here, let me demonstrate something as a quick little video and then posting it where they could see it, and watch through it, asynchrony as well as combined with some lunch and learn opportunities to where we could all come together.  Or model that in with our faculty meetings or things like that.
So, it was a lot of time really creating some planning opportunities with that principal in order to get her and him where they wanted to be, in order to feel comfortable with it.
So, scheduling becomes super, super important.  Communication becomes insanely important.  In my current district, right now, I was visiting with one of our middle school coaches and she's new to our district.  And she was talking about how when she first came here, she saw her name on a board with a question mark next to it.  And how that was a bit unsettling.  She was like oh my gosh, do they think that I'm not even the right person for this role?  And that wasn't it exactly, in any form or fashion.  They just weren't sure what that role looked like on that campus.
And so, she internalized that and decided to completely and totally over communicate where she was at all times, just like we do in the classroom of having a little chalkboard outside that says, "I'm here on this day.  I'm here on this day.  This is where you can find me."  Things like that kind of jumping in there in order to be able to let people know and start building those things.
One of the other things that I have found super successful and it reminds me of where you started and the last conversation was about celebrating these great things that are happening.  And so, especially when you're in a small district, you may know these people really, really well but they're still not 100 percent sure that they want somebody in their classroom.
And so, coming in with a celebratory focus.  So, coming in just to snap pictures and say, "Hey, this is what I saw.  I saw you doing small purposeful talk and this was amazing and I just wanted to share these things with you.  Do you think it would be okay if I shared this out for social media?"  And asking the teacher for that.
We see it all the time with instructional rounds, right, where we leave little notes of encouragement of you did an amazing job in this way or whatever.  But taking that and applying it through visualizations with pictures and creating.  So, what I like to do, honestly, and I still do this in my role whenever I'm out on campuses now is I take pictures of great things happening of like collaborative opportunities.  What the learning objective was that was on the board.  Things that I can then create as like a little evidence document.
And I truly just put together in a little collage app and I email it to the teacher and I just say, "Thank you so much for letting me share in some celebrations of your day.  And all the great things that you do for our students.  I would love it if I could share this out publicly.  If not, and you want to share this with your – through your classroom's social media or through your classroom LMS or however that is, please do."  And the responses are overwhelming because teachers never get to take pictures.  They don't ever get pictures of themselves interacting with their students.  And so, it affirms that.  Right?
And alongside with that, it's a really great way for me to be able to highlight or for a coach to be able to highlight the great things that they're doing because that's where we have to start, right?  No one is in education because they don't know what they're doing.  We're in education because we're passionate about it and because we believe in doing great things.
And so, taking that and building it forward then gives us some room to talk about how we can then introduce some other pieces that would maybe change an experience for an individual kid or for an individual program.
So, long response to basically say grab a calendar, get a note-taking device and know that you can't be all things to everyone.  One of the recommendations that I give is try to think of three teachers.  If you're at a campus, if you're at a specific campus, try to think of three teachers that you can touch in the first nine weeks.  Six weeks to nine weeks, for a true "focused coaching connection."
And when I say that, I typically believe in finding one person that is just going to be a really nice person to work with.  Like they're just willing to try it.  They're that person that you could go to and say, "Hey, I forgot my lunch today" and they're going to be like "Oh my gosh, here, have half of my sandwich or whatever."  Like find that person that's going to be able to let you try to experience some things.
The second person is find the person who is pretty solid that everybody kind of looks to as an example.  As an exemplar for them.  Now don't pick the smartest person in the room because if you pick the smartest person, then everyone's going to label that as okay, well, that's Jimmy.  And Jimmy can do anything.  And so, find the person who is pretty solid instructionally but is also approachable and personal so that whenever you try these things they get to be that real example for them.
And then the third person is that person that's kind of out of the box that people are like, hum, they're not going to be able to do that.  I wouldn't talk to that person.  And go ahead and reach out to them and try that because oftentimes, those people are actually more receptive than most of the campus gives them credit for.  And they want to have that opportunity to be connected in with somebody and try some things.
And so, find some of those people.  Try it out.  Don't give up.  Don't try to build Rome in one day and just keep going.
Jimmy Casas:             Yeah, Bri.  And the example you just shared there at end, I think of often about how then do we build that capacity?  How do we get more people to invest?  How do we get more people to want to invite their coaches in as opposed to the coaches having to always take the initiative, right?  Because now people are asking for that support.
So, the example you just gave, it is a good – maybe an opportunity then to use an example of that.  So, for example, let's say a coach comes in, works with Brianna Hodges and Brianna Hodges is really enjoying the relationship and the support and they're working really well together.
Then the principal can be pretty strategic and talk to both individuals and share, "Talk to me a little bit, Brianna, how this supported you.  Talked to me a little bit of how it helped you."
Because we then we can begin to use that information share with the rest of the staff in weekly memos and discussions and conversations when we're working with our department chairs or our grade-level meetings.  Whatever happens to be the case, but constantly sharing, and not from my perspective, but actually really from your perspective.
And then we could actually even take to another level which says, "Hey, Bri, how would you as an instructional coach feel at the next faculty meeting if I give you 15 minutes, just the two of you to talk about how this supported, really either transformed your teaching, supported you in this role, made you think a little different about pedagogy, whatever."  So, now, it's not communicated from the principal's voice but really coming from the voice of the other people that are being impacted by that.
So, that's a great example of that, so thanks for bringing that up.  So, let's switch kind of gears in terms of let's talk a little bit about the challenges.  What about in a large district and why [Audio Skip] several instructional coaches on my campus.
So, again, you and I discussed this today, so I'll share a quick thought on that.  And this is an area that we can also fall a little bit into a trap because by human nature, when we have more than one instructional coach – again, when we look at our talents of our coaches, well, they're coming with certain backgrounds, right?
This person's background might be a math person.  This coach might have been a literacy person.  This coach might have been a social studies teacher, or whatever.  But the thing to note is that it's often very easy for instructional coaches to fall in the trap, especially when they come from within the building, right, that I want to go back and work in my department.  Right?
So, if I was a science teacher, I want to go support the science teachers.  Or math teachers will say, "Well, I want a math person coming into my classroom.  I don't want a language arts' person.  I want somebody who has a background and understands my world and my language."  And I think we have to be careful with that again, right, because again, I think it begins to pigeonhole and label people is that they only can work with math teachers.
Jimmy Casas was a bilingual teacher, so apparently, Jimmy can only work with world language teachers, right?  I can't work with anybody else.  But the idea is that we're still talking about elevating instruction, elevating pedagogy.  And it's funny, one of the as a high school principal I always said, "If you want to learn about classroom management, go into the band room.  Go into the PE department.  Go into a kindergarten classroom."
Right?
So, it eliminates that idea, well, I guess only someone who understands my world can help me with classroom management.  No, there's a lot to learn from different people.  So, it's really looking at the talents and strengths.
So, one way to do that is, there's nothing wrong with a language arts' teacher reaching out to an instructional coach with a language arts' background.  But again, if principals are meeting with instructional coaches, and we're having these conversations on a regular basis and we're hearing from them some of the challenges they're facing when they're out in the classroom in the building, some of the things they're dealing with, then we begin to process some of that information and begin to problem-solve some of that.
And remember, the idea was to see everybody as an instructional coach.  So, strategically what we could do is Brianna says to Jimmy, "Hey, Jimmy, hey, I'm going to be working with so-and-so in the math department but I'd like you to come with me because you're really good at understanding this component.  And, honestly, I think you do a really good job of that.  Would you mind coming into the classroom and both of us coaching this teacher?"
So, in other words, how are more intentional of building that relationship so teachers begin to see every instructional coach as having something that they can offer.  Right?  Because let's be honest, one instructional coach could get tied up with a teacher and another teacher says, "Well, I want to wait for that teacher to help because I'm comfortable with that coach."  Right?
So, how are we more intentional in using our instructional coaches to invite other coaches in to build those relationships, to foster those relationships, so everybody is being used in the building and seen as having something to offer in terms of instruction in support in our staff.
Brianna Hodges:        So, what that reminds me of is, in the classroom, when you ask a student to complete an assignment.  Right?  So, I'll just use – I mean I was an English teacher but I'll just use math as an example.  And my son's in the fourth grade and we are getting ready for his State Math Test.
And one of the challenges for my son is that he reads pretty quickly and he understands math pretty well.  And so, guess what?  He just likes to write down the answer and he does not like to show his work.  And that is exactly what we often ask in the classroom.  Right?  Like show – what's the answer?  Okay.  Show me your work.
Why do we ask for the work?  Because we want to be able to see your process.  We want to be able to understand it.  And where I'm going with this is oftentimes we, as adults, especially in that instructional coaching model, either as the teacher or as the coach, want to just provide an answer.
And so, we walk in and we're like, "Here's what you should do."  Instead of putting on our teacher hat and asking for, "Help me understand."  Right?  So, we talk about the type of questions to be able to really guide your conversations when you're having that instructional conversation instead of like saying, "Well, what would you do in this instance?"  How about if you then turn those questions and almost kind of do an autopsy of the process of what happened.  Right?
Just like with your – again, with my own, I was a secondary teacher so elementary is not really thing, but I have elementary-aged kids.  And so, with my youngest, when she tells me something, I start to ask a lot of questions of like "Well why do you think that?  And how did it sound?  And what happened when you did that?"
And what you're doing in that situation is you're honoring the teacher to be able to showcase and think through all of those pieces that they bring to that table.  Because, as a coach, you're not there to tell them what they did wrong.  You're there to really kind of come in and bring it better.  And come in.
As a former basketball coach, I talked about form a lot but I didn't go in there and completely knock them out.  Like it was there's only one way to do it.  Right?  Like there were lots of ways to come about it.  There's always going to be a different situation.  And so, you have to be able to know your own body style and body type in order to know how to fake the ball and how to swoop around.  How to do all these different pieces.
And it's the same for me with teachers.  If we don't – if we as coaches are not so quick to provide a specific answer, but instead are patient enough to help the teacher walk through that purposefully, we're going to get so much more bang for the buck, if you will.  Your people are going to just be like, "Oh, this is what you're here for.  It's not because you're the smartest person in the room.  It's not because you're the one who knows how to do this."
But instead, it's because you actually are looking at it through a pedagogical lens.  And we talked about that earlier of how I didn't teach calculus, but from a pedagogical standpoint, I can talk to you about the neuro science of homework and when we should be cycling through assignments and revisiting and spinalization and all of these different pieces that still apply to your classroom.  Whether or not your content was my content, right?
Jimmy Casas:             Right.
Brianna Hodges:        And I think you probably hear that often.  I think that's something that – I was sharing that story with somebody else as far as principals go.  I remember my very first principal.  She was a great principal.  She was a drama teacher.  And how core content, those core teachers would always be like, "Well, really, what's a drama teacher going to know about how do to do this or how to do that?"  And it's that same thing of you don't have to have had that content in order to be able to do these other pieces of it.
Jimmy Casas:             Right.  So, one final model.  Let's just talk about models because I still a lot of different kinds of models when it comes to instructional coaches and how that looks in buildings and districts and so forth.  So, let's talk about that a little bit because this might be something that our listeners are facing right now.  And here's the example.
So, it's kind of the same thing that happens with building principals.  There's a perception that sometimes, when people are out of the classroom for a certain period of time, that they no longer have street cred, right, that they really don't understand what teachers are dealing with in the classroom.  Right?
And I've always thought that's kind of an interesting perspective is as though somehow after we were done teaching, we just forgot everything, right?  And the other side of it is also, is the ideas but what if we looked at it from a different perspective?  That people who are no longer in the classroom now have access to several classrooms and access to be able to observe people doing really good things and learning from other people, and use that information to help others and provide that information.
So, when it comes to the instructional coach model, there is still then the question of, let's take, for example, we hire an instructional coach.  Is that instructional coach now always going to be an instructional coach because after a period of time they will lose their street cred, right, because they haven't been in the classroom for a while.
So, to combat that, some districts now are requiring instructional coaches to serve as instructional coaches and yet also teach courses, teach classes.  Right?  So, they kind of have a split schedule.  And I kind of go back and forth on that, to be honest with you, as a building principal.
And so, where I eventually where I ended up with is where I made the decision personally on how I feel about this is that I think that instructional coaches, if they're an instructional coach, should only serve in that capacity.  Now others may disagree with me and that's okay, but my reason for that, and I want people to understand, is my experience has always been this.
When we divide people's work up and ask them to do two different roles, people who have strong work ethics, people who are invested, people who want to do a great job, will give everything they have to both of those positions.
And at some point, I feel like psychologically, it begins to impact this because I think we feel torn in different directions and now we feel we're not good at either one of them because we can't be great at two different roles.  Something somewhere along the line will suffer.  It's no different than teachers when they want to coach.  It is really hard to be a great teacher and a great coach at the same time, right?  Something suffers and we see this all the time.
You can also use the parallel bet when we take teachers and we split them between buildings.  You have a teacher at a middle school part-time in the morning and then in the afternoon at the high school, it almost comes across as two fulltime positions.
So, having said that, it's just really important to remember that, at the end of the day, how are we supporting our instructional coaches?  Because some people really don't have a choice in that.  the system is set up for them the way it's set up and so they have to play without those boundaries.
But again, I always say to people, it shouldn't keep you from trying to influence the thinking of why do we do it this way, right?  And so, how do we continue to advocate for that?  And I want to set up a system where someone's a coach for a while and then eventually goes back to the classroom, that's fine.
But I, so I don't know what your opinion is on that or how you feel about that, but I do know that that is something I'm asked about.  what is the best model?  Split them or have them invested fulltime in one or the other?  My comment would be, fulltime one or the other.
And again, knowing that districts may not have the capacity nor the funding to be able to do that.  But I you have the option, I would say in my opinion, that's the route we should go.  But, anyways, thoughts on that?
Brianna Hodges:        I will start off with saying there's no one ring to rule them all, right?  Like JR Tolkien was onto something there in that whole Lord of the Rings things that there's not a one best-practice that is going to work across the board for every size, for every situation all the way across.
So, oftentimes, especially because of budgets or this is like a pilot, we're going to pilot coaching, so we're going to try this.  And you see that a lot, like you said, of that shared opportunity.  I've worked with districts where they teach four classes and then in the afternoon they're coaching, and definitely see that in lots of places.
I agree with you, it becomes that where does my focus lie?  It becomes two full jobs.  And with that, I really kind of want to go back to one of the first things that you said when we started this webinar is that everyone should be an instructional coach.
And so, how do we merge that then?  So, for me, while I may not have a grade book that I am writing my students' names down every day, I am in the classroom five days out of five days.  And that's everywhere I go.  I'm like if I can't be around kids, then I don't want to be here, right?  Like that's – I want to see this.  I want to be a part of it.  I want to know how it's going to be and that, to me, how you quote/unquote maintain your street credential as an instructional coach, is you are still in the classroom.  You might not be the teacher of record that's on there, but you are continually coteaching or modeling or doing all that stuff.
And we asked earlier, what are some ways to get in the classroom?  I love that, of going in and being like, hey, I want to try something.  I have no idea.  And I'll tell the teacher.  And most of the time it's kind of a little bit fib, right, of like I have no idea if this is going to work but I heard about this and I want to try it.  Right?  And then they let you in there and you get to do stuff.  And they're seeing it and they see their kids get excited about it and you can now, you've walked the walk.  You've been able to try it out.  And then it kind of builds and grows and all of that.  And that seems, to me, to be a better way to build capacity without drowning your people.
And you want to see the same thing as a principal.  I mean I love it whenever I see a principal in there teaching a class; like actually teaching a class.  Getting in there and reading that book, having conversations.  I used to do it to my former superintendent all the time when I was still in a classroom.  He would walk in and I would like, "Oh, hey, Mr. So-and-so, let's look at this question that's on the board."  And I would put him on explaining it and he would, all of a sudden, go into giving the details to the students.  Because the students want to see that as well.  We're going to model – that's how we model life-long learning is really kind of getting in there.
The district that I'm at right now, we are really, really fortunate.  We've had amazing opportunity to have a dedicate coach.  And in many cases, two and sometimes three per campus, based on the sizes of them.  And that still doesn't mean that they're going to get to do a full – full-on coach cycle with every single one of the teachers that's in there.  But it allows them to develop trust and relationships and identity within that piece.
And I think you seem to have written a book about culture.  I've heard that.  And I think that that community and culture are the things that we want most in life.  When my kids came to a new school, that was what I told – that was what I asked for their teachers was, I said, "I want them to see this as a community, not as a school, but as a community where they're going to have peers that are looking out for them, that they want to celebrate with them."
Same thing with their teachers.  Same thing with every person that's on there.  I want this to be their little corner of the world.  And if you can provide that coaching model where you can have a coach on a campus, dedicated there to be that partner, then that's where you're going to get that piece built in.
Jimmy Casas:             Well, Bri, we're almost coming to the end of our time so I'm going to share a couple final reflections and thoughts and then I'll let you close it out, okay?
Brianna Hodges:        Fine.
Jimmy Casas:             So, as we opened it up and you just mentioned it again is, always remember that you are surrounded by a community of people who are talented and have strengths.  And how do we begin to set our people up for success?  And we know that still starts always, always has been, always will be, and focused on relationships and recognizing the talents and strengths and putting people in a position to be successful.
So, used said the word model, and I'm glad you said that because that's what I was thinking in my mind.  And so, the final thought I want to leave principals out there, when it comes to working with the instructional coaches is this.
One thing that I often recommend to principals is how often are we asking staff to do something that we ourselves are not doing?  So, if we're going to ask teachers to allow instructional coaches to be in their classrooms and work with teachers, then I think we as principals should model that first.
So, who are we allowing to help us get better?  Who are we allowing to help us come into our buildings and observe us and coach us and work with us and support us in the work that we do each and every day.
Educators have a lonely profession, but it's 2018 – 2019 – I don't we need to be lonely or isolated anymore.  It's too easy to network.  It's too easy to connect.  And I think we just need to take the initiative and we shouldn't be asking our teachers to do what we're not willing to do ourselves.
So, thank you to all those instructional coaches that are out there carrying the banner every day.  Thank you to the principals for being a part of this webinar today.  And at least, begin to think differently maybe how we can begin to utilize the talents in our classrooms and the role that we play as principals in supporting that and making that happen.  We're all responsible for the culture and climate of our schools.
So, thank you for that opportunity today.  Bri, it's been a pleasure working and spending time with you.  I'm going to let you close it, my friend.  Bring it home.
Brianna Hodges:        Thank you, thank you.  Well, I want to remind our viewers that the information from today's – the information the Future Ready Effort can be found at futureready.org.  and we encourage and challenge district superintendents to join the over 3,100 others who have already signed the Future Ready Pledge.
We also encourage our school leaders watching today, to join us at one of this year's Future Ready Institutes which are, as always, for attendees.  Shout out to Texas.  We're bringing one here this year, just by the way.
And I also want to encourage our viewers to get involved with our new and growing strands from district leaders to IT, principals with ________, librarians and instructional coaches.  We have vastly expanded the reach of Future Ready Schools.
Check out our Facebook groups and our ongoing activities for these strands today.  A great big huge thanks to Mr. Jimmy Casas for today and all of you for joining us on this Future Ready Webinar.  And don't forget to connect with us at futuready on Twitter which is @futureready and on Facebook at Facebook.com/futureready schools.
If you missed any of today's conversation, it will be archived at www.allfor4ed.org/webinars soon after this webinar.  On that post you can also see a list of upcoming webinars and you can find the alliance's Google hangouts on the YouTube channel as well.  For those of you taking part in the Action Academy Badging Platform, the password for this webinar is conversation.  Thank you again for joining us here at Future Ready and have a fabulous day.  We'll see you next time.
Thanks guys.
Jimmy Casas:             Thank you.
[End of Audio]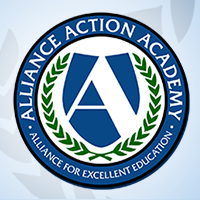 Welcome to the Alliance for Excellent Education's Action Academy, an online learning community of education advocates. We invite you to create an account, expand your knowledge on the most pressing issues in education, and communicate with others who share your interests in education reform.
Register Now
or register for Action Academy below: