Back to School with Future Ready Librarians®! Tips and Tricks from Experts

August 28, 2019
9:00 pm – 10:00 pm EDT
YouTube Live
Back to School with Future Ready Librarians
®
! 
Tips and Tricks from
Experts
Panelists  
Bill Bass, Innovation Coordinator for Instructional Technology, Information and Library Media, Parkway School District (MO), and Board President, International Society for Technology in Education (ISTE) (@billbass) 
Elissa Malespina, Verona High School Teacher Librarian, Verona School District (NJ), Future Ready Librarians® Instructor, ISTE U, and Chairperson, New Jersey Future Ready Librarians  (@elissamalespina)
Nikki D Robertson, Project Coordinator of Digital Learning, Education Service Center Region 13 (TX), and Social Media Manager, Future Ready Librarians® (@NikkiDRobertson) 
 Moderator
Shannon McClintock Miller, Future Ready Librarian Spokesperson, K–12 District Teacher Librarian, Van Meter Community School (IA) (@shannonmmiller) 
Please join Future Ready Schools® (FRS) for a webinar that is part of the ongoing professional learning opportunities created for district and school leaders. 
As we prepare for a brand new school year, let's get together for a fun, informative, and engaging hour with a few experts to talk about going back to school as Future Ready Librarians®!  
In this webinar, panelists shared some amazing tips and tricks that will help Future Ready Librarians®, district leaders, and other educators prepare for the best school year yet. Panelists examined how librarians can engage their communities, expand their collections, and take advantage of marketing, partnerships, and collaboration opportunities. They also shared advice on how to sustain these programs and practices throughout the school year.  
Additional Material:
---
Please direct questions concerning the webinar to ldossin@all4ed.org. If you are unable to watch the webinar live, please register to receive the video archive directly in your inbox.
---
Future Ready Schools® is a project of the Alliance for Excellent Education (All4Ed), a Washington, DC–based national policy, practice, and advocacy organization dedicated to ensuring that all students, particularly those underperforming and those traditionally underserved, graduate from high school ready for success in college, work, and citizenship.  www.FutureReady.org
Follow FRS on Twitter (twitter.com/FutureReady); Facebook (facebook.com/futurereadyschools); and the FRS Leadership Hub (futureready.org/hub).
---
If you are interested in renting the Alliance's facilities for your next meeting or webinar, please visit our facilities page to learn more.
Shannon Miller:          Hi there! We are so excited for our very first Future Ready Librarian webinar to kick off the new school year. And tonight, we are going to talk about back to school with featuring librarians' tips and tricks from a few _____. I'm really excited to be here with a few friends. But I want to introduce myself first.
My name is Shannon McClintock Miller. I am teacher librarian at Van Meter Community School, and I work with innovation with our district. And I also serve as one of the Future Ready Librarians spokespersons, and I do this with my good friend and colleague Mark Ray. You can find me on Twitter and you can find my blog here and also just my e-mail. I'm always happy to help if you have any questions.
Also my friend and writing partner Bill Bass is going to join us in a few minutes. And Bill is going to join us. He is the innovation coordinator at Parkway Schools in Missouri. And Bill also serves right now as the ISTE Board President. And so I'm super proud of all the work that he's doing. So he's going to jump on in a few minutes too.
Next we have my good friend Elissa. So Elissa, why don't you introduce yourself.
Elissa Malespina:       Sure. Hi everybody. I'm Elissa Malespina. I'm the teacher librarian at Verona High School in Verona, New Jersey. I'm also the ISTE U, University, Future Ready Librarians course instructor, and I am the New Jersey Future Ready Librarians Task Force Chairperson. And you can find me at, on Twitter, @elissamalespina, and I am always happy to answer any questions via my e-mail that is right there for you.
Shannon Miller:          Thanks, Elissa. And now, we have Nikki. Another amazing friend of mine. So go ahead and introduce yourself, Nikki.
Nikki D. Robertson:    Hi everyone, I'm Nikki Robertson. Currently I am the project coordinator for digital learning at Region 13 in Texas. I'm the Past President of the ISTE Librarians' Network, and retired librarian but still very much involved in libraries every day. So, I'm excited to be here with you.
Shannon Miller:          Yeah, thank you guys so much for joining us. And I'm really excited, because this is just a great way to kick off the year. I know that I've been just searching and saving and tagging all kinds of tweets and posts on social media and just listening to what everybody's doing. And so I hope that we share a lot of great things that will be helpful for all of you too. If you have questions today, please post them on either Twitter or you can even post them on Instagram.
If you have something that you want to share we're always happy to help. And we'll try to also keep track of it even during this hour. But we'll look back for sure after this, to make sure that we get the information that you need or answer your question too. If you want to share something awesome, we're always happy to just share that with our community.
I also wanted to just share our website. Our website, and I'll show you at the end of our time together today, has changed a little bit. But you can still find it at this URL. And again, you know, use the #futurereadylibs hashtag, but also tag things with the #futureready hashtag. So it's not only us as librarians seeing all the great things we're doing, but so our administrators and our teachers and our families can see all of the great work that we're doing too, as librarians.
Now, when we look at our framework, this is something that we've had now, this is actually the fifth year for Future Ready, and this framework has been available for several years too. We've had some great changes over the last year, having literacy added to it. But I love looking at it all through the year.
But especially this time of year, when we're kicking off this time of year and we're thinking about all the ways that we're supporting our teachers and our kids when it comes to curriculum and instruction. And just getting back into advocating for what's happening in our library. If it's to literacy, to technology, how we're pushing technology and devices out to our kids. So you'll hear a lot of just _____ today and really great ideas on what we're doing in our library, and hopefully some others too. I'm going to let Nikki take it from here.
Nikki D. Robertson:    Awesome. Thank you, Shannon. This is so exciting. So, I have always been one who's super big on social media and being connected with social media. Because you need to reach your audience. I mean, how many of us as parents go out to our school library website where our child goes to school? Not many. I do because I stalk libraries with my grandchildren, and I went to see what's happening there.
But the general public, your parents, aren't going to go there? Where are they always? Where can you reach them? On their devices and through the social media that they use. So definitely utilize Facebook, Twitter, Instagram. And even with our students, using Instagram and Snapchat. So the way I lay it out, and your population may be different.
I usually find my parents the most on Facebook. I know I've gotten lots of responses from parents on Facebook. I set up a Facebook account for my school library. Not me personally. And post pictures on there. And announcements about what's happening. And by doing that, I have actually been able to get donations from parents for the library, volunteers, and they feel more connected to the library and actually realize what an integral part the library plays in the overall school environment.
Twitter again is another place you can reach your parents. For some of your younger parents, especially if you're in like a K-5 school or an elementary school, you're going to get the younger parents. Also, your Instagrammers and using Instagram, so don't forget about that.
And if you're in secondary ed grades, using Instagram and Snapchat with your students is meeting them where they are. So not only can you share out the exciting things happening in your library, you can also build those relationships by helping kids pick out books. Letting them know about future activities coming up. How you can help them with their research or other things like that. And so being that person that's there and connected with those kids in that way.
And then I had the opportunity to attend a great ed camp type event in Austin, Texas where Naomi Bates was the keynote speaker. And she was saying, you know, one of the most important things you can do as a Future Ready Librarian is building those relationships. Because if they don't like you, it doesn't matter how many wonderful books you have in the library or what your technology is. What programs you have going. If they don't like you, nothing you do is going to work.
So building those relationships is important. And one suggestion she had is, you know how teachers have to stand outside the classroom and greet their students in the morning? Take that opportunity if you can, if your schedule allows, and walk around and talk to the teachers while they're there at their doors.
Don't start out by you know, saying oh, let me tell you how we can collaborate. But just start out with asking how their kids are, their new pet, what's happening in their lives. And build that relationship. And then you can work up to talking about collaborations.
Elissa Malespina:       So, Nikki, you are so right. It is incredibly important to build those relationships and have that social media, that presence on social media. All of those things are incredibly important. I'm talking a little about something that's really simple and easy to do, and I got this idea from our Future Ready Librarians Facebook group. I'm new this year to my school, so my biggest thing this year is trying to build those relationships with those teachers. And students.
So I thought, let me give them candy. Everybody loves candy. So what did I do today? In every teacher's mailbox and every person that works in this school, is this little card here. And some wintergreen Lifesavers. It's a great and easy way to just let them know you are, you know, you want to collaborate with them and also give them a little bit of a treat.
Also, another thing that's really great to do is make an introductory video. Especially if you are new to the school. So I made mine via Spark. Adobe Spark. And it's just a, you know, some pictures of me and my family and there's just you know, a little information about what I, who I am, where I came from, and what I like to do.
So that the parents and teachers and everybody can get to meet me, and I'm taking that and I'm putting it into a Smore that I'm making to send to all my staff. And that, and I've put the video right there on my website so the students can see it too. Because yes, parents are going to Google you. They want to know about you. So make a little introductory video. It takes two minutes.
Nikki D. Robertson:    So Elissa, real quick before I talk about this. When you talked about that it brought this to mind. But if you're a Flipgridder, if you know about Flipgrid, they now have the QR codes. And what I'm seeing happening is that you can make that intro video, put it on a QR code and stick it up outside your library. And then when parents are coming for like Meet the Teacher night, they can scan that and learn more about you and the library too. So really cool, I love to do that.
Elissa Malespina:       Now you gave me an idea!
Nikki D. Robertson:    I know. Okay, so let's get back on track. So Future Ready Librarians meet people where they are. So developing personalized learning has been really one of my focuses when I was in the library. Because if we think about, with our kids when we're teaching them, we need to meet those kids where they are, at the level that they are at.
And so we need to get that same type of personalized learning to our teachers. So consider you know, for whatever it is that you're presenting, do I need to present this or would it work best in a large group, small group, departmental, one-on-one, a co-teaching situation, or rewindable PD. Or you make videos, where teachers can learn on their own time and place.
One thing I did at the last high school library I was in, if you see this picture on the left hand side, it shows where teachers could check out on the calendar, like at EDU or they could sign up to come check out books or come use the computer. So you can use a green screen room, et cetera. And if you notice, my name is there, N. Robertson.
They can actually come in on the calendar and check me out to come to their classrooms, or for them to come to the library and for me to help either lead a lesson or to co-teach a lesson for them. And so I love the fact that they could actually check me out as a resource to use with their classes. And I think that's one way to really make yourself available.
Also know too that some of your teachers are really, they're tech phobic and they're tech shy in the fact that if they don't feel that they understand the technology, they don't want to look stupid in front of everyone. And so you get a lot of resistance with trying to teach to a large group. So a lot of times, what I will do is work one-on-one with those teachers.
And they really appreciate that. And that helps with the relationship building. We can really talk, and I can dig in to not only do they want to know how to use this particular tech tool, but why they want to use that. How does that support their curriculum. And then, we might come to a whole different conclusion of what tech would work best for what unit they happen to be teaching at that time.
One thing that I did do is I also make myself available any time they need me. So I give out my cell phone number to all my teachers. And one time I had a PD set up about using Google hangouts, so that you could record your classes and have that information available in your learning management system, kind of like a tutorial video, tutorial for your students.
Well, I got a call on a Sunday night from one of our teachers who was expecting, and she goes, I'm not going to be able to make it to your PD and I really want to be able to make videos using Google hangouts with my kids. Do you mind walking me through the PD now? And I was like, no problem at all. Let me do that for you. Because I believe if they need that help, I need to be there to meet them when they need that assistance. So just some thoughts.
Elissa Malespina:       I totally agree with you. I give out my cell phone too. They have it. They have access to it. While we're talking about that, another fun way to do PD, because you know, we can't always do PD at, they're busy. You know, they have lunch duty. They have stuff before school, they have stuff after school, and we have other places to be.
So, I saw this idea somewhere. And I am going to be doing this with my class, my teachers this year. In the faculty bathrooms will be little signs that look like this, and it's called PD while you Pee. And it talks, there's going to be different topics. And I'm going to switch them up every so often. But this one's on the Flipgrid. QR code one. And I have different ones that I'll be putting up. And just while you're sitting there, you can scan it to learn more information and do a little bit of PD. Hey, you have to go anyway.
Shannon Miller:          I love that. Very creative. _____ _____ your teachers _____. Last year, I was really lucky and I started teaching in the library with my partner Jessica. And we're so lucky too, because we have taught with Diana Hockenberry, who has been in our library now for over 20 years at the Van Meter. And so, the three of us, we serve all of our kids. We're all in one building at Van Meter K-12. In our library and throughout the building.
And so we're super, super lucky, and think that we have quite the dream team. And when we kicked off just working as a group and making sure that all the teachers knew what we were doing, we did this idea where we saw a lot of ideas on the Future Ready Librarian Facebook page. And we made it into a movie theme where we put candy and we tied it up and we put little tickets on it, and we made sure that everyone knew what the teacher librarians could do for them. Because so many times when teachers, maybe they say like, they don't collaborate or they don't know that you're there to help them, or they don't know that you can help with even like books or reading advocacy, and there's so many things that you can do with your teachers when it comes to collaboration.
But also with your students and your families too. So you want to make sure, just like Elissa and Nikki said, you want to make sure that you are saying that and you're telling your story. And so this was a great way just to kick off the year. And we even left a little tab on the end that they could put a note to see how we could help them, what they needed. And so this was just a great way, by giving them these flyers and these tickets. We even saw the flyers hanging up just in their classrooms, because they wanted to make sure that they knew all the ways that we could help.
This year, I love what our Related Arts team did, and there is, there's library and music and art and also guidance or social emotional learning this year. And so the four related arts teachers, they got together and they made this great film. And then they went around to every classroom on the first day, so every classroom K-5, and they showed this fun little video. And they used emojis and they used real video and they even had our principal in there doing like this stunt, which was awesome and got their attention too.
But it was just a good way to establish not only what they were going to be doing in these classes, but just to establish as a team kind of the rules and guidelines of when they would be coming for related arts. So I absolutely love this. When we share these slides afterwards, the link will be in here and I shared it on my blog too this week. And I know that they would love it if NB honored, if you even borrowed this idea. And so I really, really like what Jessica and the related arts team did. That was so great. Another thing is I can't, just like Nikki was saying in the beginning about Naomi, when she heard her speak.
I can't emphasize enough the importance of using social media to share what is happening. And at the beginning of the year just sharing things on our Facebook page or sharing it on our Instagram or our Twitter. It's not only like for the community that we have, as librarians. It's for the community that we have built and are building within our library and our school. And so sharing these things and just keeping parents in the loop from the very beginning, even before school starts, makes a huge difference. Not only for what happens within the library, but share the stories too of what is happening within your school.
One thing that we have done, and I wanted to mention this because Follett is one of our great sponsors for Future Ready Librarians and for the webinar today. Is one thing that's been really exciting is kicking off the new e-fairs, and Follett now has a way, new way to do book orders and we had so much fun kicking this off before school started last week with our teachers. We had a little party and we had giveaways and everybody signed up for e-fairs. But that was something that I as the librarian and just working with them, within our school, was able to help them and continue to help them.
But a great way to get more books into the hands of our kids, but also with these e-fairs, everything that kids order, teachers get 50% back. And right now, when you sign up, you get $25 as a teacher. And so it's a huge incentive for teachers and for families just to get more books in multiple ways into the hands of our kids. And so, that's something that I have even been sharing, you know, on social media, just so I make sure that they're paying attention for those things to come across _____ too at their houses.
Nikki D. Robertson:    Wow. This is one thing I love about getting to present and having a PLNS, because I get to learn all kinds of great new stuff as well. So, thank you for sharing that, Shannon. I'm going to definitely share that out with the districts that I work with. So let's talk about that, connections. Because with that e-service, with that e-book fair service, that's making connections in a whole different way, with book fairs.
And so you can also as a Future Ready Librarian, help your teachers make those real world connections. So this picture and the next picture is just one example of a real world connection that was made that I think just really transcends what I see as the future of education can be. So what's taking place in this picture is you see there's three students there, and they are standing in front of the screens and they're obviously doing a presentation.
So going back in time just a little bit, this is an engineering, engineer teacher's class. And they had just purchased a new 3-D imaging software, where you could go in and build 3-D images. Well, instead of sitting down and teaching his class how to use that software, what he did is he connected with another engineering teacher in Michigan who also had the same software. And they decided, you know what, we're going to let the kids teach themselves and teach each other and go through and learn how to do this. And build a project in the process, but together.
So what that means is, the three kids that are in this picture are kids in the class in Alabama. Also, and I know it's difficult to see, but up on the screen, this is using Google Hangouts. There are some thumbnails there. And the thumbnail shows the two kids from Michigan that are part of this whole five-member team. So together as five kids they are on one team together working on one project together.
So they are having to figure out, how can we communicate virtually. Which is a big job skill that they're going to have to have. If you think about the way that work is now, we operate by satellite. We even have telecommuting where I work. So we don't necessarily have to come in to the office. We telecommute and take care of all of our business and work and communicate with our co-workers through video conferencing type tools. And so this is what the kids were learning how to do.
One of the big takeaways, and if you go ahead and let's go to the next slide, one thing that they had to do within their project is use that 3-D software to create a putt putter mini golf course. And so they had to come up with everything from what the theme was going to be to learning how to use that software. And they had to communicate with each other and work on this project together virtually.
At the end they had to reflect on their work together as a group and how it was different than before and what they'd learned. And what they came away with was they need to be a lot better with time management and they also need to learn how to communicate better and more clearly. And so I think this is great. And any time you can get outside of the mold of your kids only working in groups with kids they happen to be sitting physically in class with, the better they're going to be prepared for college and future careers.
Shannon Miller:          And one thing just talking about collaboration and, I just love seeing like Nikki was showing, the kids collaborating. And having it just be something natural that they do. And just an extension, I always say it's an extension of what's happening in your classroom, and being able to start this at a young age and having kids be comfortable with not only talking with their classmates, but talking with others too that are around the world.
And one of my favorite things and I love that this is at the beginning of the year, is Dot Day. And it's always around September 15th, and this year it falls on a Sunday. And so a lot of schools are celebrating in the week of September 16th. But if you're new to collaborating with others like either on Skype in the classroom or other ways that we can connect, this is a good place to start. Because it can be as simple as sharing a book together, to doing a group project.
I know that Elissa and I have done projects in the past and it's been so fun. Because really the sky is the limit on how you are making these connections and just celebrating with these kids, making their mark in the world. And so, I put a little Bitly in here, because there is a Google Doc that my friends Andy and Matthew started every year, so people have a place that they can connect. And already dozens and dozens of people, classroom teachers and librarians, are connecting on here.
So check it out so you can make some connections too. But celebrating from the very beginning of school year, and getting our kids you know, that it's something that we just do. That's how I always, you know, think about it in my head, that extension and that global connection and just them having also a global voice.
This is also really helpful. This is just a Google Doc that we have, a Google Sheets, and it's something that we've had for years and people just keep adding to it and at the bottom, you can see there is a tab for every month. But it's really helpful, because you can see what is happening in those months. And then you don't have to wonder, like oh, what could I do, you know, this month to connect? Are there any special events and what are the resources? Again, this is an awesome thing to share when you're collaborating with your teachers, because there is something for everyone there.
And the same with Skype in the classroom. Skype in the classroom, there's some great upgrades coming up in the next few days or week. And I love this, because now there are even more ways, and it's even easier to make all kinds of global connections with other classrooms, with experts, with authors, and everything on here is free for us to use. And so, get signed up. Share this with your teachers too, because it is an awesome way to connect your kids globally.
Elissa Malespina:       So this one is a fun one. I'm getting a lot of new books into the library. And I wanted to figure out a way to highlight the new books that I had. And you know, we always do a book display and all that. But my new library has screens in it. And I thought, why don't I make a, Adobe Spark with all the book covers. And they're done by genre, and it just shows pictures of all the books available.
And you know that if it just is playing over and over again because you can do that. You can, in YouTube, have it play over and over again. It's more likelihood that the kids will check out the books. And so I decided to spend some time. And it did take a little bit of time. But I put all of our new books into a nice little Adobe Spark for everybody to be available. And it's on my website, so they can watch it too. And sort of see what's coming for the library.
Shannon Miller:          I love that idea. And Adobe Spark, just a little FYI everybody, is free for everyone. Free for educators _____. So it's my new favorite thing.
Elissa Malespina:       I know.
Shannon Miller:          Because I love the app. Another thing that we're doing at Van Meter is our library, we wanted to get our library outside of the walls of our library, into our hallways and into our collaborative spaces, even more at Van Meter. And because we're a K-12 school, we wanted to think about this creatively, so we could do it not only for our elementary kids, but our secondary too.
So we decided to start four Little Library branches. And it was so fun to see them at the end of last year kind of popping up and getting kids' input on what to name them and rules we might have and guidelines, and so the ones with the _____ that have been now filled with books, these will now be something that these books will tie especially into what is happening in our classrooms. So kind of an extension from the library, but also supplementing their classroom libraries.
But having them out in the hallway, so kids can also see them and check them out. And teachers know even more of these great resources, and they don't just sit in the library. We make sure that they're there. So that was really fun to kick off.
And then in our high school, in our big collaboration space upstairs, we started a library lounge. And this is a place that kids can come and they can check out books by themselves and they can write down for now, we have iPads coming in these spaces that they'll be able to use Destiny. But they can write down what they want to check out.
And we have signage around the school and it has been so fun in the last few days, just to hear how excited the kids are. And I think just to see them take ownership of you know, part of our library has been just really fun o see. And I think we're going to see a lot more reading. And it's been just great when it comes to not only seeing what the kids think, but the teachers as well.
Another thing that we're making sure that we're doing is, I have been visiting classrooms all throughout the week. And I want to get into the classrooms, because I want to just kick off the year. This is only our third full day of school. But I want to kick it off by them knowing about the resources in the library.
And I visit the classrooms for about 15, 20 minutes. I make sure that they're all set up in their Destiny accounts and they know the resources that we have through our state and through our school. And it's been so fun, because they love this and they, you know, a whole summer, they kind of forget the things we have. And so making sure that I'm helping them sign up for things like Epic and I'm making sure that they're on PebbleGo and all these great things that we have.
But then on the other side, it just shows our bookmarks. And we make sure that the kids take the bookmarks home, and put them in a safe place so they can get to the resources that they need at home too. And so this is something that every year, I make sure that I do just so we make sure that we're advocating for the resources, and making sure that the kids have these things to be successful, and to help their reading too.
Elissa Malespina:       So I decided to start something new this year. And I've sort of taken it from the word of the day, that other people have done, or they've had a dictionary out and done something like this. I'm moving to a high school. Our kids need to know vocabulary words and ACT and SAT words and all of that. So I decided to sort of change it up a little and do the ACT/SAT word of the day.
Now you can, like there is, I'll tweet it out. Because I'm not remembering off the top of the head the website. But they will send you a word of the day to your phone, with the definition. So I'm just taking this and making a word and a definition, and then having a contest. So the kids will have the word. They'll have the definition.
But then they need to use the word in a sentence. And every month at the end of the month, I'm going to draw one of the people who have, you know, done it correctly. And they will be entered into a prize. And I've gotten some donations of books and other things, and I'm just going to make it so that we have a little prize. But they're also gaining some knowledge. And we're making vocabulary, SAT, ACT vocab fun. Which is not always the most fun thing.
Shannon Miller:          I love that idea.
Nikki D. Robertson:    All right, so we've talked a lot about collaboration. And again, I can't say enough about collaboration. But making sure, this is a picture of me working with one of our assistant principals. And making sure that you bring them into the collaboration as well. So they know that it's not just something that you do in the library, that you're collaborating with teachers. That you also can play an integral part with collaborating with your administrators and helping to develop professional development and other things that need to be done to help support the vision, mission and goals of the school.
And then make sure that you advocate. Advocate, advocate, advocate. So putting stuff out on social media. Connecting with people. Providing that just in time PD for your teachers. Connecting with your administrators. All of those are ways to advocate. Not just speaking up when something doesn't go right, but making sure that throughout all your daily actions, you're advocating and demonstrating and modeling why a library is so important to the overall school.
Shannon Miller:          I can't say that enough, that collaboration piece. And I think that's when we can truly make a giant impact in our schools as Future Ready Librarians. And I know when I first started, this is my 13th year now that I have been in the library or been in education. And it's been, at first you know, I just thought they're going to collaborate with me, and it's going to be super simple and I know everybody. And that isn't always the case. You have to work at collaboration.
And one thing that's been super helpful to me is just having this calendar, and I started this and I have a lot of support from my administrators and other teachers, because we want to make sure that people use this. And the teachers can fill out what they're doing. We don't have to do that, we want the teachers to empower them to fill this out, so we have a chance to know what's happening in their classroom, so we can collaborate with them. This year, I even added to the top of ours that special events calendar.
And so these different things that I showed you a couple of slides ago in this calendar, I added them to the top so then we can glance at this and we can see what is happening then throughout the year. Things like Dot Day or Global Read Aloud starts. And it's just really helpful when everything's there. There are links in these slides that you can make a copy for yourself, if you're working with elementary or secondary students. And so please feel free to share those.
Another thing that we do is just constantly push out how we can collaborate. If it is you know, a time that we have, maybe we have a couple weeks' time. Like right now, this time of year is a great time to collaborate for me, because I'm not super busy with a lot of projects right now. And so I want to make sure that I'm getting into the classrooms. And so simply sharing something in a Google Doc and giving them a space to sign up.
Another thing one of the best things that I did last year, and I love it because it's following us now again this year, is our Google Classroom that we created for our library and just resources for technology use. And this is something that I shared with all of the teachers, and I try to share something on here several times a week. And I know that you guys all understand that we share things like e-mails and sometimes they're not read or people say that we share too much. And it's even confusing for us sometimes on what we've shared and when we shared it.
So in this Google Classroom, it's great because you can share anything and you can also keep the topics nice and organized. So now I can go back, and I've used this for a whole year, and say it's Dot Day coming up. I can reshare that, and I don't have to number one, reinvent the wheel. And I can point then teachers to those resources too. Another thing that –
Elissa Malespina:       I've done that, oh sorry, Shannon. I wanted just to say I've also done that. I always have a Google Classroom for my kids. Anything that I share when I am teaching with them goes in the Google Classroom. And I also put announcements too. Because remember, and this is something you didn't talk about but is so important, is that the Google Classroom, parents will get a note sent home if the kids are in the classroom, telling what's going on. So it's an easy way for you to communicate with parents.
Shannon Miller:          Yeah, it's awesome. And I love it because everybody is in one spot. So just a great, great way. And another thing that we do is just having little pop up PDs. And a great way to kind of kick off collaboration with different things. When we rolled out Collections by Destiny last year, we had a little pop up PD and we made sure that all the teachers understood these.
And this is another great thing, you know, to continually share. But we have a collection made of resources for every event. For every main topic of technology we're sharing. For our literacy resources. And we make sure that we're sharing these, not only at things like pop up PD, but even in the Good Classroom.
Another thing that we did this week is, this is the presentation that I've been using when I've been going to the classrooms and just showing the kids the resources. And we did share this with the kids in their Google Classroom. And like Elissa said, we also shared it with our parents in their Seesaw. So, all of the parents, all of the kids, know the websites and resources that they'll need to be successful.
And I even made QR codes for them. Because our kids can bring their own devices to school. So they were able to download these things that they needed onto their own devices and our school devices. But again, also sharing them with the families, so they have success for their kids at home too. And again, just back to that Google Classroom, one of the best ways to be able to share resources.
Elissa Malespina:       Totally agree with you. So another way we have to do it, and it's not on the little wedges, but it is something that I think is so important. And it goes back to having those connections. A Future Ready Librarian has to have fun. They need to make things fun for the kids, so that they want to come in. When the kids come back to visit you, because I have had many kids come back, they don't come back and are like Ms. Malespina, I am so thankful because you, you know, taught me this lesson.
No, they come back to tell me about like, I miss you because you were so much fun and you're much more fun than the, than my other librarian is sometimes what I hear. Or that you know, we just had a lot of fun in the library and you made us feel comfortable. You have to learn how to have fun with these kids, because the library is their sanctuary.
So something that I'm doing this year is I'm having fun with signage. When I was the supervisor, I never wanted to see a library that had no signs. You should have no signs in your library that have, that start with "No" in them. Everything needs to be positive and fun for the kids. And how do we do that? Because you don't want to walk into a space where everything is no food, no drink, no, you know, clean up after yourself.
All of those things. No, you want them to have fun. So what I've done is an easy way to do that is to have fun with signage. So Bitmojis, which I'll talk about in another minute, are my friend. So like those are my passes that are going out with the kids. So Miss Malespina misses me, I'm on my way back to the library. That can now be your nurse pass, your pass to every place.
I'm allowing food and drink in my library. We have a little café. But I want to remind them to clean up after themselves. So how do I do that in a fun way? I saw this when I was at somebody else's library. And I just have sort of made it my own. So Dobby the House Elf is not here, so please clean up after yourself. Quick fun reminder to just do that, but it's in a fun way. And then you know, I'm missing out on a library opportunities. Another fun way.
We all need to do library orientation. Library orientation, I'm going to be honest with you, is my least favorite lesson of the year. Because it's boring. And there's no easy way to make it not boring. It usually is, it really is. Like, here are the rules. Here's where the books are. So I was looking for something fun. Go on to the Future Ready Librarians Facebook Page. What do I find? Oh, Tiffany like saved me. She had written this blog about Back to School with GooseChase, and I was like, the light bulb went off.
Oh my god. I can do a GooseChase with these kids. And have it so that library orientation is fun. Put lots of fun things in there. They get to understand the rules. They get to figure out where different things are. They're in groups, so they're working with new kids. And we have fun in the orientation. Only thing I'm trying to figure out right now is how to do it with, because the free version only has three teams.
So, you know, I'm looking for ways to make that work. But on the whole, I think that this is going to be so much fun, and a much different way to do orientation. You can either do it with GooseChase. I've heard people are doing it with Flipgrid. But just have fun with your orientation.
Nikki D. Robertson:    Right, I love this, I did too, Elissa, with the GooseChase. I've done scavenger hunts. And I also break out EDU. So, there's lots of ways that you can really liven up that orientation. And that also you know, that's kind of the first impression kids have of the library, is that orientation. And what a way to kick that off and have the kids think wow, this is really an awesome library, and I want to spend more time here.
So I agree, having fun in the library and with your kids is really important. So, there's some little things here. Basically, I don't think you need to hear anything. But I love checking out and playing with new apps that I come across with the kids. And so in the middle of the little video here, is where I'm testing out an app, a Star Wars app. And I don't know if Shannon can click on that and have it play. It's just a tiny little video.
Shannon Miller:          I'm a little nervous to, I haven't tested it in here? Should I try?
Nikki D. Robertson:    Try and see if it breaks the whole thing down. I'm going to –
Nikki D. Robertson:    Fingers crossed. Breathe. Is it going to work?
[Video noises, laughter]
Nikki D. Robertson:    And then a fortunate _____, and then you plug that thing in and show it on your, project it up where all the kids can see it. And then they're all like coming up with scenarios and stories to what they can do to go along with that. Green screen fun. And again, you see the little boy on the right hand side. This is during Christmastime, and we were taking turns, taking pictures of everybody with different types of gear on, Christmas gear on, they got to pick out what they wanted.
And then down in the bottom left hand corner having fun with virtual reality. So any way that you can tie that technology in and have it be something fun. Then once the kids know how to use it, you can start to discuss okay, well, that was fun to play with. How can we use this to support what you're learning in the classroom? And so that's a great tie-in.
Shannon Miller:          Well, and one thing that I always try to encourage. The teachers at our school and others when I work with teacher librarians and educators around the country, is to sometimes I think we get so hung up on like oh, we have all these things to do at the beginning of the year, and we don't have time yet to integrate technology or use our resources. But I say like, just jump right in.
Because I think that makes a huge difference when you can have something that is like a kickoff project, and you show the other teachers it's going to be okay and we can do this together. And today, on our third full day of school, my friend Tracy Ferguson who teaches second grade and I, we did a great collaborative project with Bunsey and Capstone.
And the kids created their own little PebbleGo research journals. And this is something that we kind of thought of yesterday, and now what has happened is all the other third grade sections, or second grade sections, they want to do it too. And so when you have something at the beginning of the year that can be just a great highlight and something that can be kind of a model for other teachers, it's just a really great way to kick off the year. Because you're going to get that buy-in from others, and not just with technology but with collaboration too.
And this picture really says it all. Tracy sent me this after school, and I think that it says it all, because we know that that's what our kids love to do. And so they were so excited to be using their Chromebooks and just jumping right into a cool project. And they're going to keep these little journals all year long on all the research that they're doing in PebbleGo. And so I just love that we decided to do that.
Nikki D. Robertson:    Okay, so again, we're getting together and having fun with people. And one thing that I love to do with my kids at a high school level, if you look on the right hand side you see the book Baghead. And what I would do is, the special ed self-contained classes at the high school would come in once a week for a story time and an activity. And so I have my library aids get together and we came up and we made different bagheads.
And you can see there's me with my sunglasses on. And we just put on a whole production to go along with the story we were reading. So we always tried to look for ways that we could have fun along with that story time. And then the other pictures are just different ways that we were having fun together in the library. You never know what's going to happen in the library. So again, taking those pictures and sharing out that it's about connections, fun and learning in the library.
Elissa Malespina:       I mean, you have to continually document what you're doing in your library. You should be taking pictures almost every day of what's going on in your library. I have had so many administrators say to me, I don't need to come see you because I know what's going on in your library. You're tweeting it out.
So, Bitmojis are your friend. If you do not have a Bitmoji, get one. It is simple to do. There is a nice little extension in Google and you can put them like in your Chrome and you can put them on everything. I like it. I put them in presentations I'm giving, and I put them on signage. They're just a lot of fun, and it's a way to personalize your, what you're doing with your kids.
Shannon Miller:          And then another thing that we do was to make sure that we use our little Bitmoji and made these fun reading posters of what I am reading. But one thing we're doing is taking them one step further and adding little book talks to our books with the new Flipgrid AR, so now with every Flipgrid video just like the girl said in the beginning, there are some _____ updates this summer. And I love now how you can add a little AR video really quickly and easily just to your posters as well.
So now I'm really excited. I get to introduce my friend Bill officially. And Bill Bass is now joining us. And he's going to take over from here.
Bill Bass:                    Well, hello everyone. Thanks so much for your patience as I arrive late. One of the things that I think about, so in my role, I'm a district administrator. And I work with all of our librarians, and I work with all of our teachers. But the library program, I lead our library program but I certainly don't run our library program. Our library program is run by our librarians.
And essentially they tell me what to do. And that works out really well, because they're in it. But one of the things that I always encourage my librarians, and I would encourage everybody today to think about, is just the fact that we are, the things, things continue to change. And everything that you've heard so far is really about engaging kids, engaging teachers, and tips around that.
The tip that I have for you is to recognize that shift does happen, right? I mean, we are in this time of change, and we're always going to be in this time of change. So I would encourage you to think about your work as always being in beta, and always being this, a work in progress and recognizing that one of the things that in the library, you have such a broad reach.
And so, Shannon, if you could go ahead to the next slide. Your reach in your schools is broader than everybody else's in your building, including your principals and including any administrator that might come in or a coach or anything like that. Because you touch all kids in different ways. You have such a broad reach. And what that means is if you go to the next slide, that you have to think about, and this is a great time to think about this, what is your influence on your building?
Like how are you going about influencing your building in the long term? And that can happen in many ways. And as an administrator, I look for my librarians to be that person who is going to influence all of our buildings. I, and I think that broad reach gives you the ability to do that. But only if, now I've heard folks talking, everybody on _____ was talking about, you know, like how you collaborate and how you bring your teachers together and how you find opportunities.
And ultimately how you tell your story. Because if you don't tell your story, somebody else is going to. Well, that's the influence you have on your building. And you have to embrace that, and recognize that you are always in beta. So there's lots of ways to do that.
So if we move to the next slide, one of the biggest things that I look to all of our librarians for, and it takes a mindset around this, is just leading innovation. And taking the opportunities that are there. Don't wait for somebody to come to you. But as a Future Ready Librarian, really look for opportunities to lead. And lead through where you are in your library.
Because that's, that leadership is so needed right now in education. And if we move on to the next slide, one of the things that a lot of librarians are being asked to do is this, the technology piece. And I am a huge proponent for technology. I mean, it is what I have built most of my career on. But just because technology is involved doesn't mean we're being innovative. What it means is that we're using technology.
And so that innovation piece, leading innovation and modeling innovation both for teachers or students or parents, for your community, for your administrators. Everyone who's involved in that, that innovated piece becomes the real story behind the library. Because it's a unique space, libraries are. And as we think about the changing you know, always being in beta and the changing way that we are using the information and the world now. It's such an important piece, that innovative piece. So my next slide really has, it has three components to it.
The first component is really, you know, I encourage you to be a force for change. To really take that and look for opportunities to be a force for change. The second piece is to really be a champion, and be a champion for kids. Be a champion for your program. Be a champion for your school and for your community. You have a voice that is different from every other person's in your school. And that's one of the things that you can bring to your school, and that's part of your influence on the building.
The third piece that is there is something that we talk about a lot in schools, and that has to do with equity. And you are again in a unique position to lead through equity. To find and seek out intentionally opportunities for, to provide kids with experiences that are going to shape them as people in years to come. So those are three challenges that I would issue to you as you start this school year. It's just, force for change, be a champion, and then lead through equity.
So if we move on, one of the traps that we often run into as librarians is you know, there's never enough time, right? But what that, what I continue to think about with that is, you know, like just because you're busy does not mean you're being impactful. Just because your library is full does not mean you're being impactful.
So, what are the things that you, you know, it's important to say yes to things. And I want you all to say yes to as many things as you can. But it also means that you have to make choices, and you have to say no to really good things. Because you want to make that impact, and you want to be the one who is supporting teachers in whatever they're doing.
But sometimes what that means, if we go to the next slide, is that you have to essentially come up and be thoughtfully abrasive. And what that means is you have to say the things that are going to push people. You have to say the things that are going to challenge thinking sometimes. And you have to say the things that are going to make change in your school for the best, for kids. And that's one of the roles, in my mind, one of the most important things that a Future Ready Librarian can do, is to be that thoughtfully abrasive person.
That doesn't mean you're going around irritating people all the time. What it means is that you question the things that need questioning. And you know when to question them and when not to. Okay? So it's a balance. And you have to be strategic about it. But being thoughtfully abrasive, don't just be abrasive. It's the thoughtful part that's really important. but if you are thoughtfully abrasive, what you can do is you can change the lives of kids.
And that is in your role as a librarian, and especially as a Future Ready Librarian. Everything that you've heard on this webinar, and recognize that those are the steps in order to get to changing kids' lives and giving them a leg up for whatever is next for them.
So as I look at it as an administrator, I think that there's such an important piece with that. So I thank you for that time, and listening to an administrator. So thanks.
Shannon Miller:          Yeah, thanks for that input too. Because it always helps us, I think, to listen to the voice of administrators and to remember that there are super supportive administrators out there. And again, we need to make sure that we're sharing with them the things that we're doing ,the things that we need, and the things that we want to do. Because that's truly going to make a difference. So thanks, Bill, for sharing all these things.
And I just wanted to share just a few important keys at the very end of this, just so we're ready this year to really be Future Ready and to embrace, and have the resources that we need too. One thing that I wanted to share right in the beginning are the institutes that we have coming up. And these are two-day free institutes. We have six of them this fall. They start actually in just a couple of weeks in Nashville.
And Mark and I are the ones that represent Future Ready Librarians, and so we hope to see you. And one of these that you can go to the Future Ready page and you can sign up for these. And we really encourage you to bring a team and this is a great place too. To bring your leaders and the teachers and the people that you're collaborating with as well. also, ISTE U has a great course that actually, Mark and I worked on it. And Elissa is the one who teaches it.
And it's called Exploring Future Ready Librarianship. And this is a self-paced course that is about 15 hours and it's great, because it's for K-12 librarians who are really ready to take that next step as Future Ready Librarians. And so you can go to this link. There's a link and a slide. And you can find out more information. But also you can visit the ISTE U FRL course page for more information and to enroll.
Just a reminder too, the enrollment for the fall session is open until October 21st. And so, please check that out, because it's just a really great course, and I think that the people that I've been hearing the feedback is just wonderful. And they're learning a lot and really embracing their journey as Future Ready Librarians. Also –
Elissa Malespina:       Yes, the feedback I've been getting is great on it. It's a great course.
Shannon Miller:          Yeah, I love it. And the Future Ready Schools page has had an update. And so of course ours is Future Ready Librarians, has had a little update too. And so you can go there and check it out. And on there, there's lots of great information that you can go, if you're looking maybe for research or articles or links.
Maybe you're focusing on designing collaborative spaces this year. You can either go to the Symbaloo or the collections that we've created, and even a Padlet to be able to find lots of resources that we're sharing and that others are sharing as well. And so it's really, I think so helpful to be able to go here and find articles or ideas, just like what we get from the Future Ready Librarian page and by following the hashtag.
Also please sign up for the Feeling Future Ready Librarians Smore. This is a great way just to stay connected and informed. And once you go here for the first time on a Smore, as in any Smore, you can sign up. And then when there are updates made, you get that update really easy. If you don't follow the Future Ready Librarians Facebook page, I highly recommend that you do. It is a wealth of information every day.
And I love it because I can go and I can search in the group. Maybe if I've seen an idea in the past or I want to know what people are doing for a certain activity or for certain focus in their library, I can search the group. And also, I can even save things. And so I have lots of things saved that I go back to. But it's just a really great place and a really great community to be in. And I love how everyone is so supportive, and it's a good time of the year to be supportive, because I think we all need that as well.
And also on Instagram and Twitter. Now on Instagram, you can follow hashtags. And so if you search for #futurereadylibs, you can follow that. One of my favorite things to do is to follow what everybody's doing just in pictures. It's a good quick way to get ideas, and get so many inspirations from others as well. And again, on Twitter, follow that.
And like we've always done as librarians, follow TL Chat too. They're also on the page in Future Ready on the website, on our page as librarians you can download these posters. And I highly recommend that you pin this up and not only for yourself to look at every day, but make sure that you advocate for yourself, as a Future Ready Librarian. Make sure you're sharing your story and all the great things that you do. Because that truly does make a difference.
So we thank you for joining us. This was a fun hour, guys. And I know that I have so many ideas now. And I took a lot of notes. And please continue to share and continue this conversation and we want to know what you're doing too, in your library this year. We want to know the questions and how we can support each other.
And so there will be another webinar next month, and we'll have one again towards the end of the year. All of our webinars are available that you can watch them. And this is actually the third year of our webinar series. And so please check those out. And we are really thankful to the Alliance and to Follett for sponsoring these.
So I thank you guys for coming, and I hope to see you all soon, friends. And keep sharing your ideas, because we really value the things that you're sharing too. So we'll see everybody soon, and take care and have a great school year.
[End of Audio]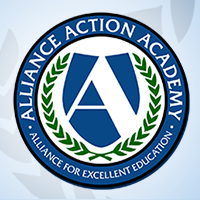 Welcome to the Alliance for Excellent Education's Action Academy, an online learning community of education advocates. We invite you to create an account, expand your knowledge on the most pressing issues in education, and communicate with others who share your interests in education reform.
Register Now
or register for Action Academy below: