Adolescent Risk Taking, Rewards, and Relationships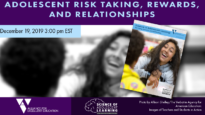 December 19, 2019
8:00 pm – 8:45 pm EDT
The Mike Sussman Studio
 Adolescent Risk Taking, Rewards, and Relationships
Panelists
Shannon Anderson, Family & School Partnership Specialist, Fairfax County Public Schools, Virginia
Adriana Galván, Professor of Psychology, University of California, Los Angeles
Anthony Terrell, Principal, Mount Vernon High School, Alexandria, Virginia
Winsome Waite, Vice President, Alliance for Excellent Education (Moderator)
On December 19, 2019 the Alliance for Excellent Education (All4Ed) held a webinar as part of its Science of Adolescent Learning initiative.  Ever wonder why teenagers are so quick to adopt Instagram, Snapchat, and other forms of social media? Or take up X Games sports such as skateboarding and snowboarding?
According to the All4Ed report, Science of Adolescent Learning: Risk Taking, Rewards, and Relationships, adolescents' mindsets about learning evolve as awareness of their social environments increases. During this developmental period, adolescents increasingly seek novel and thrilling experiences while their capacity for self-regulation is also maturing. The roles of peers and adults also shift, taking on new significance for the adolescent learner.
In this webinar, our expert panel discussed how educators can ensure that school environments promote positive mindsets in adolescent students and motivate them to take risks associated with positive outcomes. Panelists also discussed how educators can:
influence how adolescents engage in academic and social activities through the mindsets they encourage and the types of motivation they provide; and
shape school environments to provide adolescents and their peers with opportunities to take risks together and to support them as they take greater responsibility for their learning.
---
Please direct questions concerning the webinar to jamos@all4ed.org.
---
The Alliance for Excellent Education (All4Ed) is a Washington, DC-based national policy, practice, and advocacy organization committed to improving educational outcomes—and lives—of students, with a focus on those in middle and high school. We embrace diversity, equity, and inclusion and specifically advocate on behalf of all students who are historically underserved or marginalized. all4ed.org
Follow All4Ed on Twitter (twitter.com/all4ed); Facebook (facebook.com/all4ed); and
"High School Soup" blog (all4ed.org/blog).
---
If you are interested in renting the Alliance's facilities for your next meeting or webinar, please visit our facilities page to learn more.
[Music playing]
Winsome Waite:          Hello. My name is Winsome Waite, vice president of practice here at the Alliance for Excellent Education. Thank you for joining us today as we talk with our expert panel about All4Ed's report, adolescent risk taking, rewards, and relationships. The report is part of our Science of Adolescent Learning, or SAL, program. It equips educators and leaders with a deeper understanding of adolescent learning and development. The goal of the program is to improve the educational experiences of every student. Let me introduce our three quests. Dr. Adriana Galván is joining us via Skype from her office at the University of California Los Angeles. Dr. Galván is a developmental neuroscientist with deep expertise in the adolescent brain. She's also the director of the developmental neuroscience lab. The focus of her research is on characterizing the neural mechanisms underlying adolescent behavior. A major goal of her work is to inform policy and practice.
Her current research addresses the following questions; how do neuro developmental changes further promote characteristic adolescent behaviors such as decision making, reward sensitivity, and risk taking? What is the role of context, such as family environment, in adolescents? And how do neural changes differ between typically and atypically developing adolescents? In 2019, Dr. Galván received the Presidential Early Career Award for Scientists and Engineers and the National Academy of Sciences Troland Award. She also explored music as a window into the adolescent brain in a 2018 U.S. Fulbright Scholar. Glad to have you with us, Dr. Galván.
Adriana Galván:       Thank you.
Winsome Waite:          Also in the studio with us today is Dr. Anthony Terrell, principal of Mount Vernon High School in Alexandria, Virginia. He has over 19 years of experience in Fairfax County Public Schools. Prior to Mount Vernon, he served as principal of Rocky Run Middle School. He also previously served as assessment principal at Fairfax High School and at Cooper Middle School. Prior to becoming a school administrator, he spent eight years teaching English for speakers of other languages, first at Stuart High School and later at Pimmit Hills Alternative High School. Between teaching assignments, he worked as a test administrator in the Department of Educational Accountability of Fairfax County Public Schools. He left Fairfax schools for a brief time to become the first director of high school placement for KIPP Academy in Washington, D.C.
A former naval officer, Dr. Terrell is a Desert Storm and Iraq war veteran. After his active service, he joined the Naval Reserve. He holds a Bachelor of Science in Business Administration from The Citadel, a Master of Education in Secondary Education from George Washington University, and a PhD in Education Leadership from George Mason University. Dr. Terrell is an adjunct professor of education leadership at George Mason University and is a proud native of Baltimore, Maryland. Glad to have you with us, Dr. Terrell.
We're also joined in the studio by Ms. Shannon Anderson, a Family and School Partnership Specialist at Fairfax County Public Schools. Ms. Anderson has been in the education field for over 22 years, serving in several teaching and leadership capacities such as teacher, assistant principal, principal, and director of family engagement. In these capacities, she has been the founding principal of a secondary alternative school, and founding principal of a charter school focused on early learning in Title One environments. She has been an expert presenter at numerous national family engagement conferences. Ms. Anderson received her Bachelor of Science degree from Virginia State University, her Master's in Education from George Mason University, and is currently earing her Doctorate degree from the University of Illinois in Education Policy and Organizational Leadership with a focus on Diversity and Equity. Her passion and commitment lie in working with underserved and diverse families, students, and in cultivating educational environments that promote equitable outcomes for all. Nice to have you with us, Ms. Anderson.
And now for a few details before we dive into the topic. Please join the conversation if you're Twitter using the hashtag #scienceoflearning. You can also ask questions using the box below this video window, and today's event will be archived at www.all4ed.org/webinars. Now let's get started. At All4Ed, our mission is to insure that every student graduates from high school prepared for success in postsecondary learning and life. We know that in order to make this happen, we need to effectively capitalize on the expertise and actions of researchers, policymakers, and practitioners thought aligned efforts. Through its Science of Adolescent Learning Program, All4Ed is working to connect research, policy, and practice. We support the effective implementation of research, grounded efforts that advance the educational outcomes and close opportunity gaps.
In this report, "Risk Taking, Rewards, and Relationships", we focused on a few key principles. First, the most effective methods for motivating students change as they reach adolescence. These changes occur as a result of the development of the brain's reward processing systems and the students' experiences in new social contexts. Educators can influence how adolescents engage in both academic and social activities through the mindsets they encourage and the types of motivation they provide. Secondly, adolescents' increased inclination to engage in risk taking behaviors is not a deficit. Educators can provider adolescents with school-based opportunities to take risks associated with positive academic and social outcomes. This includes working towards college acceptance, rigorous career preparation, and ways to form new friendships. These opportunities allow students to benefit from their attendance to pursue novel, varied, and intense experiences.
Thirdly, the role of peer and adult relationships shifts during adolescence. Peers become increasingly important as they influence the adolescents' brains' reward systems. Meanwhile, adult roles must shift to meet these needs of the adolescent learner. Educators can shape school environments to provide adolescents and their peers with varied opportunities to take risks together and to support them as they take greater responsibility for their own learning. Adriana, could you elaborate more on these findings and the research that you have done related to these topics, and can you also tell us why the brain is developed in this way?
Adriana Galván:       Sure. I'm happy to. I'm gonna start my remarks today by defining what adolescence is. Adolescence spans the end of childhood and into early adulthood, and it's broken up into different developmental periods, between early adolescents, middle, late, and young adulthood. Now, each of these stages doesn't quite map onto particular ages but rather age ranges. For example, early adolescence is generally considered between being about 10 to 12 and late adolescence between 16 to 19. But it's important to remember that adolescence is not simply defined by age, by grade in school, or by pubertal stage. And rather, it's important to think about it as a transition period.
Now, to think about psychologically what adolescence means, it's a time when individuals begin to engage in activities and relationships that take on new meaning. That's not to say that previously they didn't have meaningful relationships or meaningful activities; it's just to say that they start to reorient away from activities that their parents provide for them and decide for them, and really start to think about what really interests them. And these activities and relationships help them nurture a sense of identity, a sense of agency and ability to make things happen for themselves and for others, a sense of self-reliance, and importantly, a time of social engagement. And so the relationships that matter most to them are really important, and these relationships are those with peers, those with parents, those with other caregivers or educators or other adults who invest in the adolescents themselves.
In the brain, there are vast changes all over the brain. It used to be the case that there was a great focus in neuroscience on the delayed development of what's called the prefrontal cortex. So on the left-hand panel, you can see something that says "MPFC" and that stands for medial prefrontal cortex, and that brain region continues to develop through the mid-20s. However, more recent research has shown that motivation regions in the brain are also more engaged during adolescence than in any other time in life. In this image, the motivation regions are depicted in that red-ish pink circle there in the middle, and that region is called the striatum. This brain region is related to the increased motivation that adolescents exhibit in terms of translating their passions into actions, and learning the changing social landscape, and exploring new behaviors and new friendships, and establishing new relationships. And so this brain region, even though a lot of research focuses on how it's related to processing reward and processing risk taking behavior, it's important to remember that at its core this brain region is helping adolescents motivate to engage in behaviors that they find meaningful.
And finally, there is a dramatic change in what's called the social brain in adolescents. Now, the social brain comprises different brain regions that are each responsible for doing different things. For example, one component of the social brain helps us process faces, and identify faces, and emotional expressions, for example. Another part of the social brain helps us take the perspective of other people. How is someone feeling even if I've never felt that way before? What might they be feeling? And these changes occur during adolescence, which helps adolescents become better social partners, and have greater social intuition as they transition into adulthood. This helps them have a greater social awareness of their own social status and of other people, and this is maybe what contributes to them comparing themselves to others. The social brain helps them further identify their own identity and try on different identities.
The social brain is what's really monitoring supportive relationships with adults, so with teachers, parents, and their mentors. The social brain helps adolescents really understand whose intention it is to help them, who respects them, and those take on a lot of importance during this period of life. Along with that, there's a greater interest of being valued, of recognizing being respected, and being treated with respect, and identifying individuals who really care about the adolescent's perspective. And finally, the social brain is probably what monitors the increased need to belong. People of all ages, from children, adolescents, and adult really wanna feel like they belong to a social group, really want to bond with other people, but this sharply increases during adolescence in part because of the changes in the social brain and in the motivation regions as well.
Winsome Waite:          Thank you, Adriana, for helping us to unpack these research implications, and so now I'm going to turn it over to our practitioners here in the studio with us. Gonna start out with you, Shannon. You work with families and students in Fairfax County Public Schools. How does this information resonate with you, and how does Fairfax County Public Schools actually support adolescents through this period?
Shannon Anderson:    That's a great question because one thing that families, caregivers really wanna know is how to build those relationships with the schools so they can support their child. And so in Fairfax County Public Schools, we make sure that everything's student centered, that all our energy goes to supporting the families and the children to make sure that they're successful. A lot of times when children reach the adolescent stage, families feel a disconnect, caregivers feel a disconnect between what's going on in the school. So we like to promote that connectivity between the caregivers, the students, and the staff members at the school. And some of those ways we do that are through programs that we offer in the schools, such as our Families Reunite program, which is a program that was developed actually in Fairfax County Public Schools because there was a need for children who had been separated from their families. For example, if a family came to the United States and had to leave a child in their country, there's some time of separation. And so Families Reunite was created because oftentimes those children and those caregivers have difficulty reconnecting with those children.
And so the Families Reunite program is a three week program where we talk to our families about what is going on with their children. Oftentimes there's trauma, there's the high stressors with the children, and there can be challenges navigating that relationship again. So the Families Reunite program helps those caregivers really understand what the children are going through. Our Families Reunite program is one part of our Immigrant Family Reunification program, and this offers us three sessions in three hours, and we like to do it in consecutive weeks. It gives the families opportunities to really talk about what's going on with their child. And then the last session we bring the children in to discuss and have that conversation and that discourse with their caregiver as to how they felt about that absence. It really is a great platform for discussion and unpacking those feelings that our adolescents are having and our families are having, and maybe some challenges that they're having together navigating that relationship. Another program that we have in our Immigrant Family Reunification program is the Parent Project program.
Now, that program is a national program, and it actually was started by a police officer and a psychologist who saw the need of really working with families on understanding some challenging behaviors that their families were having difficulty navigating with their child. So this is a ten-week program, and in that program we like to have our families go from the Families Reunite program for three weeks and then go right into the Parent Project, which is a ten week program. The Parent Project has been around for about 30 years. Many of our schools use the Parent Project program to help our families really – giving them some strategies to work with their children and really developing that connectivity again with their children, that they feel like they may have missed or don't know how to navigate themselves. So we have several ways that we support our families and our staff members at the schools, but those are two that we have in the Immigrant Family Reunification program that spans about 13 weeks if they take part in the Families Reunite and then go into the Parent Project.
Winsome Waite:          Great. Thank you, Shannon. That's quite a job you were doing there in Fairfax County with your families and your students. Thank you. So Anthony, as a high school principal, how does this information resonate with you, and what are some of the strategies or practices that you have aligned both to what Adriana has presented  and the programs that Shannon have discussed?
Anthony Terrell:         Sure. Thank you Winsome and thank you Shannon. Certainly the programs out of Shannon's office have been mightily impactful at Mount Vernon. We are 2000 students, 47 percent of whom are Hispanic or Latino or Latinx. So essential to our success that we partner with families to help students be successful in school. One of the things that we have really dug deeply into is what Joyce Epstein talks about in her six ways of parental involvement, or six types of parental involvement is parenting. The school being a place where parents can come and get support with just parenting, how to talk to kids at home, how to help kids with homework, how to really encourage kids to do hard things or take risks. One project that comes to mind from the parent project is a project in which parents came to the school and we used students to facilitate the learning of parents. So students served as ambassadors, they served as translators, and so there was a real partnership there between parents and students in facilitating the learning of adults. So this empowered students as well as help break down some of the barriers or the anxiety that the parents brought to the school.
Out of that came what we call our Hispanic Leadership Alliance, which was a cohort or cadre of highly driven Spanish speakers who had once experienced difficult navigating school, but now felt empowered to help their own parents and other parents navigate our school, and those students became leaders, and they were the catalyst of more students from a Hispanic background being involved in higher level courses, also being involved in what I call the life of the school. By that, I mean extracurricular activities like student government and sports and theater and music, areas where this type of student is not well represented. Out of that we've seen a fourfold increase in the number of Hispanic students who are accessing these areas of our school community. We're just proud of that, and we've also seen with that increased student achievement of this particular segment of our school population.
Winsome Waite:          That's fabulous. Thank you so much, Anthony. So at this stage of our conversation, I have a few questions that I'm gonna put out to the panelists, and as you're answering, please feel free to have a discussion with each other. I do wanna start this section out with you, Adriana, and just ask you what are some general aspects of life as you know adolescents are encountering that you think could be modified to help them thrive more during this stage of development?
Adriana Galván:       One area of research that's only now getting increasing interest in adolescent neuroscience is the role of sleep. We know that sleep is vital to learning, to emotional development, to social interactions, and health in general, and there's a lot of emphasis on how sleep or poor sleep affects younger children and older adults, but certainly during adolescence it's an area that is equally important. Adolescents perform better in school. They display better self-regulation and emotional regulation when they've gotten a good night's sleep. And importantly, there are also health implications. So there are data to suggest that adolescents who get good quality sleep are less likely to engage in health compromising, risk taking behaviors. Adolescents who get good sleep are also less likely to be involved in a car accident. From our own research, we've found that adolescents who get less sleep or who get poor quality sleep show less engagement of the prefrontal cortex, which is a region, as many people know, that is vital to self-regulation and to thinking about how actions today have consequences tomorrow.
So helping adolescents optimize the sleep that they're getting is really important, and one little tidbit that we've found in our research is that adolescents who report having a good quality pillow is actually really important for their brain development and for the connections between their different brain regions.
Winsome Waite:          That's great. Thank you. I am gonna follow-up to that another question for you, Adriana.
Adriana Galván:       Okay.
Winsome Waite:          A common misconception about adolescence is that they're less fearful and they take risks for the thrill of it. What does the science say about that and how do the learning environments, or just the environments, that adolescents live in day-to-day really factor into that piece of knowledge?
Adriana Galván:       Yeah, that's a really important question. I think it is a misconception that adolescents are less fearful. In fact, they're just as good as adults at weighing the cost/benefit analysis of a lot of different behaviors that they may wanna engage in, and quite frankly they recognize the risks and they recognize when someone may not be a good idea. The difference is that because of the delayed development of the prefrontal cortex, they're not as good as adults at thinking about the future outcomes of a particular behavior. So even if they acknowledge that a behavior may lead to bad outcomes or that maybe it is something that they fear, they are more focused on the immediacy of the potential rewards, and if those rewards involve social rewards or social respect and admiration from peers, then for them the choice is clear, that the potential benefits of the social rewards outweigh the potential risks.
Winsome Waite:          That's great. Thank you. Gonna turn to the practitioners here in the room, and I've always wondered about this and what schools are actually doing about this. One risky behavior that's sometimes associated with students from diverse backgrounds, such as your students of color or those from low income backgrounds, is taking more advanced level courses or taking on leadership opportunities in schools, because it's sometimes associated with kind of peer bullying. "You don't belong in that class. Why are you taking that on?" and I wonder today what are schools doing to mitigate that so we can have a more positive school climate that influences and supports all students, no matter what their background, to show their worth, and to take on these opportunities? Dr. Terrell, do you wanna start?
Anthony Terrell:         Sure. Well, I spoke earlier about our Hispanic Leadership Alliance, and that group, as I said, was a catalyst for increased student participation in areas of our school. One thing that we notice was that our level one and level two English language learners, those are students who came to us who are not necessarily literate on their first language and were there for shutout or at least felt shutout of part of our school experience. But this Leadership Alliance really served as bridge between students who had exited our ESO program or our program for speakers of other languages, and we're seeing the benefits of total school participation. They were able to talk to our level one and level two ESO students and say "Hey, it's okay. This school is for you. Every program is for you. No matter what your level of language proficiency, this school's for you, and I'm gonna walk with you. I'm going to introduce you to people. I'm going to come to meetings with you and show you that this is something that you can do." So we've found great success with that.
As I said, we have grown the alliance to four times what it was four years ago, and we're just thrilled at the number of new students who are coming into these programs where they have been traditionally underrepresented.
Winsome Waite:          Yes. That's wonderful. Congratulations and thank you.
Anthony Terrell:         Thanks.
Winsome Waite:          And so Shannon, in terms of the overall Fairfax County or just your experiences, what are you seeing in terms of getting more for students taking on these?
Shannon Anderson:    Well, you know, a lot of times children and students need someone in the school to make that connection with, to help them navigate in making those positive decisions. And so one of the things that – positions that we have in each of our high schools, and we're putting more in our middle schools, is a position called the Systems of Support Advisor, SOSA. So we call them the SOSA. So Systems of Support Advisor, and they're there to help with children and navigating, working with teachers, administrators, social workers, counselors. Our parent liaisons are in every school as well. What happens is the SOSA can really work with the children and find out what their needs are, what their family needs are, and connect them to people in the building. So they're a non-punitive person in the school that really is there to support their needs.
We also have our parent liaisons in the majority of our schools to help support the families with communicating and helping provide their child with those supports between the school and at home. We find that those positions are imperative to really supporting our students and our families to making sure that our students are making positive decisions and positive risk taking. Those are some strategies that I know Fairfax does. We also have Check and Connect where they're finding another adult in the building that's responsible for checking on those children every day and making sure they're making those positive decisions; coming to school every day, looking and see who their peers are, and trying to make sure that they're making those positive decisions.
We try to support our families and our students every step of the way, from even before they get to high school and adolescent stage, from elementary to middle school to high school. So using that student centered approach, we've found that those are really supporting the families. Like Dr. Terrell said, we are always trying to find ways, and figure out what our students needs are, and how we can support them. Some of the schools do something called Kids that Hope, which is another program that helps support children, and the community is a part of it, our nonprofits, such as United Ministries, Cornerstone, nonprofit and community agencies, and they all have a Kids that Hope kinda belief, and it's a belief system, and we want all students to have the Aces. There's four Aces, and those four Aces are Ace of Hearts, where they have someone in their family, a caregiver, that's that anchor. Then there's the Ace of Clubs, another caregiver. And then our Ace of Spades is having those high expectations for those children, and then the last one's Ace of Diamonds, making sure the students have the opportunities to succeed in life.
So they really focus on trying to make sure that all their students have those four Aces, and they can be supported thought the schools, the community, and the families. And so with all those strategies that we have in the schools, we believe that it supports our children with those positive risk taking that was spoken about earlier.
Winsome Waite:          So that's fabulous, and I love to hear some of the things, like I remember in my role in my district, you were saying Check and Connect, for example, so that really brings me back. I was wondering as you were taking about all these different programs maybe or initiatives that support, you know, your adolescent learner, either you or Dr. Terrell, what's the relationship or the role of the teacher and the principal in all of this? In Aces for example, is there a role specific for a teacher?
Anthony Terrell:         Sure. What we see at Mount Vernon quite often is really out of the work of Lisa Delpit and Linda Darlingham and in terms of our students traditionally don't work for grades or for college acceptance necessarily, but they work for teachers. And if there's a solid connection between a teacher and a student, that student is more likely to want to access higher level courses and to take risks academically. So what we've really doubled down on at Mount Vernon is giving teachers the training that they need to feel comfortable making connections with kids on a daily basis.
One thing we've built into our master schedule is an advisory period that meets every Monday or Tuesday, and in that advisory period we have assigned 10 to 15 students to one teacher, and they keep that teacher for all four years that they're at Mount Vernon, and we do that to make a large school seem small for those students, and in these groups what we find is that students build community, they get to know their teacher story, and the teachers get to know their stories, and it's really fascinating how the students support each other. This becomes the safe space where they can talk about anxiety and things that are bothering them in the community, and it really supports students in, as I said, taking risk, but also it becomes a place where they can come when they fail. And we think that engenders more risk taking along the way, and so we're really thrilled with that as well.
Winsome Waite:          Yeah. Wow, that's absolutely fabulous. Thank you. And again, I can see myself in that space. It really does take a village, right? [Laughs]
[Crosstalk]
Winsome Waite:          To first have the will and the knowledge and then to apply strategies and practices that are aligned to what we know adolescents really need. Thank you. Dr. Galván, do you have anything you wanna say to this? My next question is actually coming to you, but just want to see if you wanted to –
Adriana Galván:       Yeah. I just wanted to chime in and piggyback on something Dr. Terrell just ended with, about how important these spaces are for when teenagers fail, right? And we all fail, not just when teenagers fail, but having a supportive space that already has the history of support is so crucial for them to come through periods of failure.
Winsome Waite:          Yeah, thank you. So my question to you; the brain's reward processing system is rarely such that the adolescent learner might take risks for short-term rewards or benefits rather than long-term. Can you speak to that in terms of the research but also what you believe are some supports adults can provide to ensure that these predispositions or adolescents are taken into account in our supportive structure that we put in place for them.
Adriana Galván:       Yeah. I'm not sure this is what you're getting at, but your question made me think of why perhaps academic risk taking may not be the risk taking that comes to the forefront, even though adolescents like to take risks, and academic risks certainly fall under the category of engaging in a behavior where you don't know the outcome. That's the definition of a risk. One reason might be is because although academic risks can be thrilling and exciting when things work out and when they learn something new, the outcomes come at a delay. The immediacy of the rewards is not evident. This is one thing that educators maybe can help better approximate for adolescents, make the future rewards more tangible and make them more immediate, and I'm not an educator, so I turn to the experts to give us some how-to's on how do that, but I do think that is an opportunity to leverage the tendency to take risks and to enjoy risks in a way that they can see the delayed effects sooner.
Winsome Waite:          That's great. Adriana, you definitely have that right. Yes. You know, many times for us as educators, we are really looking to the academic outcomes, and so we do talk quite a bit about risk taking for high academic achievement and what does that look in terms of course of studies, so on and so forth, but within the overall setting of school it's social/emotional. It's academic and we know that students are likely to take some of those social risks, and they want the reward right away. So absolutely right, and I think some of the things you've spoken about, Dr. Terrell, helps your students to feel – there's a safety net, if you will, for some of those students at Mount Vernon, and you Shannon, that can help them to take those risks, look at what the short-term implications might be, but also work towards long-term goals. To me, it's a balancing act, I think, for practitioners to be able to do that. So thank you.
So I do have one final question for all three, and so I'm gonna probably ask anyone to jump in here. Due to this adolescent risk taking period of time, there are times when educators really need to respond with disciplinary action, right, behavior management, behavior control, terms like those. So considering what we know about these natural tendencies for students, adolescents, middle, high school, or thereabouts, what are some appropriate or what are the most appropriate responses you think adults, especially educators in schools and districts, can provide so that we're again respectful of the developmental stage of adolescents, and doing it in such a way that there is disciplinary action, but it's aligned to what we know about the stage. I don't know who wants to start out, but would love for a response on that.
Anthony Terrell:         Sure, I can jump in. I kinda live it every day in terms of discipline, and one thing that we try to instill in our administrators is this notion of progressive discipline. Quite possibly in the best case, taking into account neuroscience and how the brain is developing, and really being empathetic to where students are, and meeting them there, and then guiding them to where we want them to be. One thing I stress with my administrators is to treat children the way we want them to be and not the way they are. And we've found some success in that, I'll be modest, in terms of not escalating situations, giving students choices in terms of consequences, rewarding students when they do well and there's a positive behavior, and those sorts of things have helped to shape a culture at Mount Vernon where students don't necessarily expect negative consequences for negative actions. But what they can expect is a conversation, and then the expectation that they do better next time.
Winsome Waite:          That's wonderful. A conversation with our students. How wonderful. Shannon, what do you know about this?
Shannon Anderson:    Well you know, we often use restorative justice practices in Fairfax, and as a trained restorative justice facilitator, oftentimes it gives that place, that safe space when something has been done for the person or group of people who – to give a chance to talk to the person who is harmed, and really stepping into their place, to understand and hear how they felt when it was occurring. And so it gives a safe place to have discourse amongst the offender and the offended or the one who is harmed. A lot of times it allows the children to understand what it was like feeling that way. In our office, we have a restorative justice person. People are trained on a regular basis to facilitate restorative justice, and a lot of times that is used when we do find that something has occurred, and it could occur in the community, it could occur in the school, but giving those students a chance to speak and be sincere about how they felt and maybe why they did whatever they did has been really powerful for students and really lessoned the _____ of the students coming back or doing that harm again.
Winsome Waite:          Yes. That's wonderful. Thank you. Adriana, would you like to contribute to that?
Adriana Galván:       Yeah, both comments really resonate with me in terms of a neuroscience perspective. One, Dr. Terrell said reward them when they're doing something right, right, not just draw attention to negative behavior; so important from very early life. But also giving them the restorative justice program is so important for allowing adolescents to acknowledge wrongdoing, to practice empathy, and to grow the social brain in that really important way, and also it gives them an opportunity for them to advocate for themselves too, to give them the respect to say "Here's what was observed or here's what was reported. We want you to practice your empathy skill but also to tell us your perspective too" and that's so important for them to feel a sense of agency and respect. Negotiating or working with them on what the outcomes should be gives them that sense of trust also.
Winsome Waite:          That's fabulous. We're just about out of time, so I just wanted to thank you first, but just before I close out and thank you, I wonder if there's a final thought, any final thoughts.
Shannon Anderson:    I would say that I think it's imperative that all children have a person that they trust and someone that is there to build those relationships, and each person in the building should try to build rapport and those relationships with the children. I think that helps with children making positive decisions, but having that one person that they can go to regardless and having open conversation is extremely important in each of the schools.
Winsome Waite:          Thank you. We hear that over and over again. It must be true. [Laughs]
Shannon Anderson:    Relationships, relationships, relationships.
Winsome Waite:          Yes, yes. Any final thoughts Dr. Terrell?
Anthony Terrell:         Thank you Winsome, but I think we have enough evidence that the way we have traditionally done school has not really worked for the students we're talking about, this sort of deductive approach to getting students where we think they ought to be. So I think this whole neuroscience approach, this inductive way of looking at how to encourage students to do better, and to prepare actively or specifically for a brighter future is the way to go.
Winsome Waite:          Mm-hmm. Yeah. Adriana, final thoughts?
Adriana Galván:       Yeah, I just wanna echo that we know that the brain changes a lot in its dynamic, and so too should our systems in place be dynamic and flexible, to respond to the needs to the current students in our current society.
Winsome Waite:          That's fabulous. Well, that's all the time we have for today. I want to thank you, Ms. Shannon Anderson, Dr. Adriana Galván, and Dr. Anthony Terrell for joining me today. We had a great conversation about adolescent risk taking, rewards, and relationships, and how responding appropriately to these needs can positively affect student learning. Don't forget to subscribe to our podcast, "Critical Window", for more discussions on how educators and leaders can apply principles of how adolescent learning and development to their work. Please keep in mind that today's event will be archived at www.all4ed.org/webinars. I'm Winsome Waite for the Alliance for Excellent Education. Thanks so much for joining us today.
[Music playing]
[End of Audio]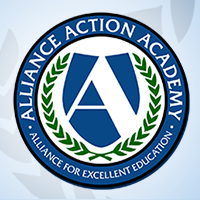 Welcome to the Alliance for Excellent Education's Action Academy, an online learning community of education advocates. We invite you to create an account, expand your knowledge on the most pressing issues in education, and communicate with others who share your interests in education reform.
Register Now
or register for Action Academy below: