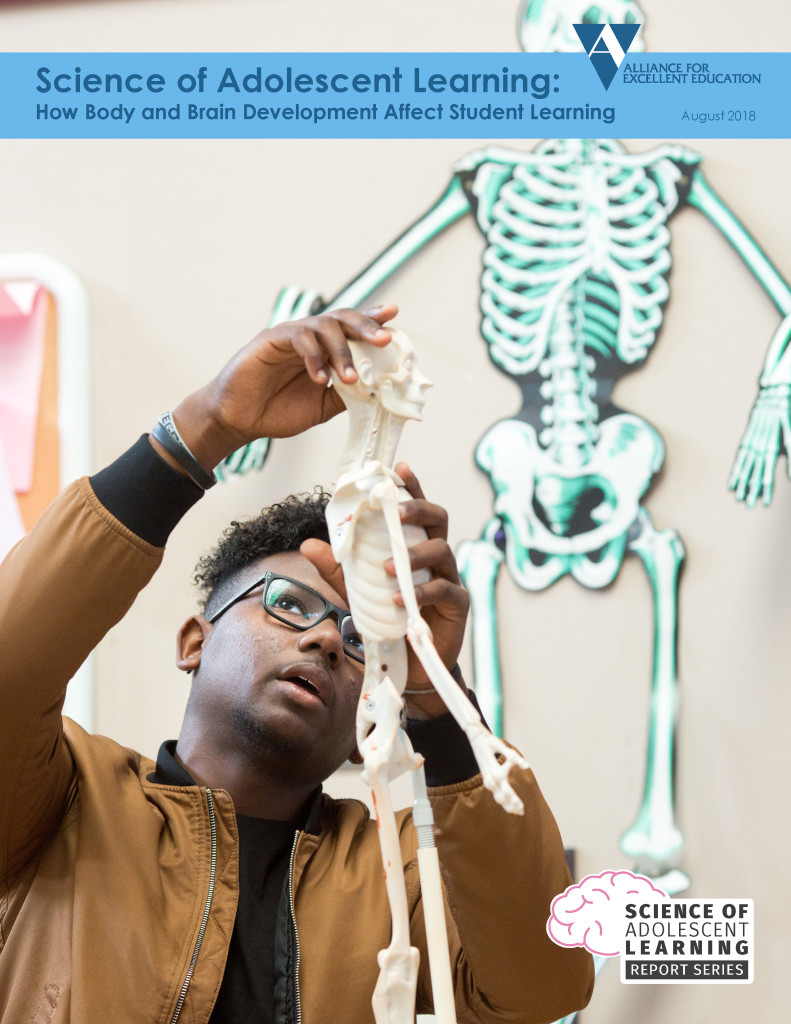 During adolescence, students experience a variety of biological changes in their bodies and brains. This All4Ed report argues that by understanding these changes—as well as the science behind student learning and development—education leaders can take advantage of this second critical window of development to support adolescent learning and development, close achievement and opportunity gaps, and ensure that students develop the higher-order thinking skills they will need in college and as adults.
The report offers recommendations for how education practitioners and policymakers can support adolescent learning for all students, including historically underserved populations.
Executive Summary
During adolescence, the body and brain experience a variety of biological changes that make this period of human development a time of learning opportunity and risk for students. As the human brain prepares for adulthood, its development depends strongly on the learning environment provided during adolescence. Events and activities experienced during this developmental period prepare the brain for situations and circumstances it presumes the adolescent will experience as an adult. Consequently, students in middle and high school need opportunities to develop deeper learning competencies, such as problem solving and critical thinking, and other higher-order thinking skills to support application of those skills later in life. Therefore, education leaders must ensure that learning opportunities support the development of adolescents' increasing cognitive capabilities and provide additional resources and services necessary to support learning and development of students during this period.
This report examines learning and development research that supports the Alliance for Excellent Education's (All4Ed's) Science of Adolescent Learning (SAL) Research Consensus Statements 1–5. The report highlights the following essential findings about adolescent learning and development:
While researchers once thought that early childhood was the only major period of brain plasticity, or adaptability, research now shows that adolescence is a second period of increased brain plasticity, making adolescence a critical period for students and educators. (View infographic)
The learning environment plays a significant role in brain development. As adolescents perform complex mental tasks, the neural networks that support those abilities strengthen, increasing their cognitive, emotion-regulation, and memory skills. Without opportunities to use these skills, those networks remain underdeveloped, making it challenging for individuals to engage in higher-order thinking as adults.
During adolescence, individuals face an increased risk for certain health issues that can affect their behavior and ability to learn.
This report also includes recommendations for how educators, policymakers, and advocates can apply adolescent learning and development research to policy and practice. By understanding the science behind student learning and development, education leaders can support adolescent learning and development throughout the entirety of the education system, closing achievement and opportunity gaps. Additionally, policymakers and educators can ensure that continuous improvement efforts at the secondary school level are comprehensive, developmentally appropriate, and support adolescents' academic, social, emotional, physical, and health needs.