Join Shannon McClintock Miller and author Joe Sanfelippo for the third annual Future Ready Summer Book Club to read "Lead from Where You Are: Building Intention, Connection and Direction in Our Schools". The six-week book club is a chance for all of us to reflect, grow, and celebrate our role as Future Ready Educators.
The book focuses on:
Leading from where you are starts with finding the joy and value in what you do.

Finding joy in the mess is the first step in finding value in the day-to-day operation of our job. When we do that, we come to school with the ability to lead anyone in the organization.

Every interaction matters because every interaction could be the one they talk about for the rest of their lives.

Acknowledging that it is real helps us walk into every conversation with a different mindset. The strategies we talk about will help with both.

It's hard to take care of kids when we are not taking care of the adults who are taking care of the kids.

Building the capacity to lead helps with the isolation leaders often feel in their work. Being able to RECOGNIZE the greatest of our colleagues, ACKNOWLEDGE the greatness of our colleagues, and EXTEND the greatness of our colleagues creates momentum for everyone in the building.

Turning moments into movements helps everyone see the greatness of the work you all do and creates value for those who don't see you do it on a daily basis.

When people don't know what you do as a leader, they make up what you do as a leader. If they fill in the gap based on what they think you do, they are only seeing a piece of the work and maybe an isolated piece of the work.
Let's get started!
First things first – join the Book Club discussion! We are hosting the club on K12 Leaders, an exclusive professional learning community for educators, to host our weekly discussions and final live session.
You can create your account now. We encourage you to complete your account profile so you can connect with colleagues both inside and outside our group. Additionally, we highly recommend downloading the K12 Leaders mobile app, ensuring that our weekly discussions are always at your fingertips throughout the summer!
Now, let's walk you through how the Book Club will flow.
Each week, from Tuesday to Monday, we will focus on a specific chapter and we are asking you to accomplish three key tasks:
Share your thoughts and expertise on the weekly discussion board.
Record your personal reflections within your customized study guide. You can use ours or create your own.
Challenge yourself by putting your learning into action through the weekly "Do it" activity. Share your successes and reflections in the dedicated weekly "Do it" discussion.
Here's the schedule for our weekly chapters and discussions:
June 6-12: Chapter 1 – The Need for Leadership Everywhere
June 13-19: Chapter 2 – Intention
June 20-26: Chapter 3 – Connection
June 27-July 4: Chapter 4 – Direction
July 5-10: Chapter 5 – Creating Capacity to Lead
July 11-18: Chapter 6 – Breaking the Versus Mentality
July 11-18: Chapter 7 – Moving Forward Together
July 19, 12:00 pm ET: Live Discussion. You can access this session from our group or here.
If you happen to miss a week or fall behind, don't worry! The discussion threads will remain available throughout our time together, allowing you to catch up or simply read the book at your own pace and join us for the final discussions. We want to ensure this experience is tailored to your professional growth.
Are you excited to get started? The group is now open, and we are eager to get to know each other. Drop by the Welcome discussion and introduce yourself. We invite you to record a quick video as part of the introduction. Don't worry if videos aren't your thing; if you feel comfortable, a written post with a picture works just as well.
Remember, the Welcome discussion allows us to connect and create a warm, welcoming atmosphere. Feel free to let your creativity shine, be yourself, and, above all, have fun!
Lead from Where You Are: Building Intention, Connection and Direction in Our Schools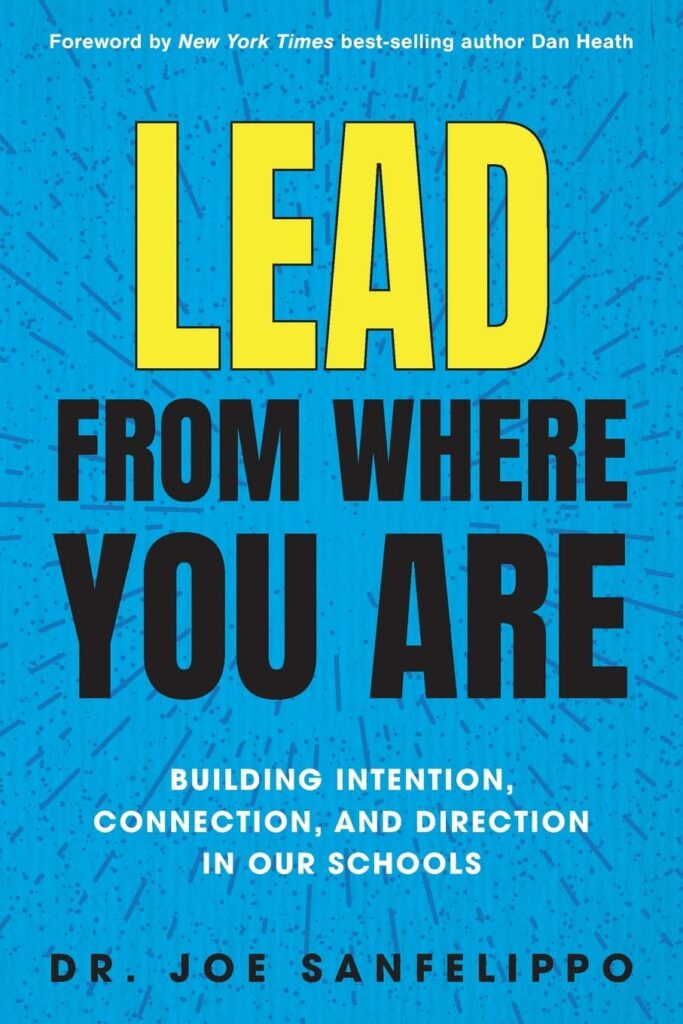 School communities are full of people who have both the ability and desire to lead. Some lead without knowing it. Most lead without the recognition they deserve. Whether you lead in a classroom, department, building, or district, chances are you know how challenging it can be to identify and develop other strong leaders, and to grow the leadership capacity of your organization as a whole. But ensuring that the leaders around you know their worth, helping them cultivate connections, and growing their confidence can help your whole team move forward together, helping the organization and the people within it to thrive.
Lead from Where You Are offers a down-to-earth, implementable approach to rethinking how we build leadership and community in schools. Dr. Joe Sanfelippo, a veteran principal and superintendent, argues that our focus must be on growing leadership potential all across the community, from students to teachers to staff. We can do this by reflecting on how we build a sense of intention together, how we connect with each other, and how we direct those we lead with compassion and affirmation. Sanfelippo's frank discussion of the highs and lows of leadership will help new principals and superintendents feel prepared while also providing useful methods and sound counsel.
Register today – It's FREE!