Whether they are teaching multiplication facts with the video game Minecraft or exploring engineering concepts in a Lego-themed makerspace, educators in Pennsylvania's Montour School District always ask themselves, "Is this best for children?"—not just for today, but for the future students will face as adults.
"Our entire school community, led by our superintendent and school board, really believes that they want what's best for children and that comes with understanding what is best for children now and in the future," explains Justin Aglio, Montour's director of K–4 academic achievement and K–12 innovation. "We know what we want our future to look like. We want a school where students are kind, where students are thinkers, where they have the advanced skills and strategies they need to achieve academically. [But] what are we doing today in the classroom to accomplish that? You can't wish students will be kind five years from now, you have to design it." With that in mind, Montour has leveraged many of the tools and resources provided by Future Ready Schools® (FRS).
Designing a positive future for Montour's three schools and 2,870 students means aligning every action and decision with the district's three core values: (1) putting children first, (2) supporting a growth mindset, and (3) creating a culture of learning. If a prospective curriculum choice doesn't target all three values, the district doesn't implement it. If the goals of a potential community partner don't align with the district's plans, then the district doesn't partner with it. That tireless commitment to its core values keeps the district "student centered, future focused," Aglio explains, and models the importance of collaborative leadership—the overarching gear within the Future Ready Framework. Montour's leaders turn to the framework, created by the Alliance for Excellent Education, to ensure that all of the district's efforts reinforce its central vision.
"The Future Ready Framework helped our administrative team develop a common vision and language … that we could use together and that helped us make decisions more effectively as a team," Aglio says. "We realize that even within the framework some parts will get messy, but as long as we stick to our core values and we trust and believe and listen and support each other, good things will happen."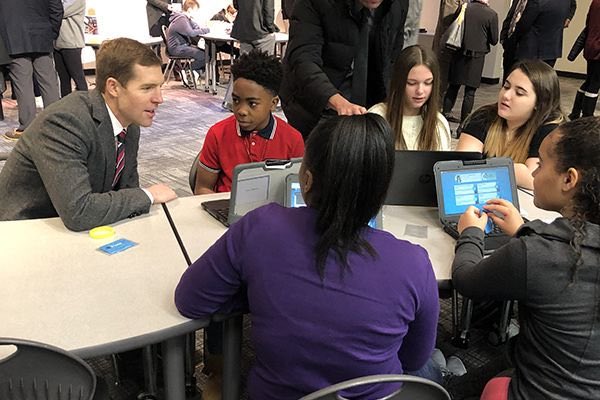 Montour School District, located about eight miles from downtown Pittsburgh, is one of twenty-four districts that belong to the FRS West Virginia and Pennsylvania collaborative. The district first joined the FRS network four years ago after attending an FRS Leadership Institute in Pittsburgh. Like most districts at the time, Montour schools were using technology in their classrooms, but most of the implementation focused on how to use technology rather than why to use it, Aglio says. Embarking on the FRS free five-step planning process allowed district and school leaders to step back, outline the district's goals, and identify "more effective ways to use technology," Aglio says.
That desire to use technology more strategically led the district to implement a new curriculum focused on artificial intelligence (AI) last school year. School and district leaders in Montour wanted to boost students' inquiry into science, technology, engineering, and mathematics (STEM) fields and also build students' data literacy, Aglio explains. Through the district's partnership with Carnegie Mellon University, which unveiled the first undergraduate AI degree program in 2018, district leaders learned how AI could reinforce students' STEM and data literacy skills.
Armed with that partnership, and emerging research about growing AI job opportunities, Montour launched the AI curriculum at David E. Williams Middle School. School leaders partnered with the MIT Media Lab to create course content on AI ethics that all middle school students explore through their library classes. Additionally, within existing elective classes, students complete "mini courses" dedicated to AI autonomous robotics, AI music, AI computer science, and AI experiences that allow students to pursue independent projects. This school year, Montour partnered with AI4All, a nonprofit organization dedicated to increasing diversity and inclusion in AI education, to provide the district's high schoolers with access to a free open-learning project-based education program that lets students solve community-based problems using AI. Additionally, educators at Montour Elementary School are using Google Experiments to teach students in kindergarten through fourth grade about curiosity and discovery through AI. Montour's collaborative efforts to implement the new AI curriculum demonstrate how the district focused on the Future Ready gears of curriculum, assessment, and instruction and community partnerships.
"A lot of research is saying that [working with AI] is a skill that future workers will need, and those reports are saying that students will need those skills as early as 2022," Aglio explains. "If we aren't planning and teaching students about artificial intelligence, we aren't preparing students for the future."
Montour's forward-thinking approach to technology-enhanced instruction has established the district as a leader in the ed-tech field. In fact, Aglio is using the Future Ready Framework and other FRS resources to guide leaders from other districts as they develop their own AI programs, he says.
"Being part of a larger network that is likeminded, that shares the same vision, … [i]t's an opportunity for us to have a platform to share best resources so we can help our vision and what we do in the classroom to benefit students," Aglio says of the district's FRS involvement. "To be a Future Ready school you cannot focus just on one piece of the framework. … We have to focus on the other gears within the framework, so they all work together … to create change from the system [level] rather than creating little pockets of change."
Photos provided by Montour School District.
Kristen Loschert is editorial director at All4Ed.