Prior to the COVID-19 pandemic, rates of anxiety were rising among today's students. But after months of school closures and social distancing, indicators of students' overall health and well-being have suffered even further. In fact, findings from a survey of students by America's Promise Alliance "suggest that students are experiencing a collective trauma [during the pandemic] and that they and their families would benefit from immediate and ongoing support."
Districts in All4Ed's Future Ready Schools® (FRS) network recognize the importance of prioritizing the health and well-being of both students and staff. Providing that type of ongoing social-emotional support has long been part of the strategic plan in Ohio's Lakota Local Schools, says Superintendent Matt Miller, an FRS lead advisor. During the past ten months, the district has added four new staff members dedicated exclusively to giving real-time emotional support: Zooey, Bendi, Quizz, and Biggs—the district's therapy dogs.
"It's one of the highlights of the 2020–2021 school year," Miller says of the program. "Aside from easing anxiety and stress, the kids are just happier when they see the dogs in action."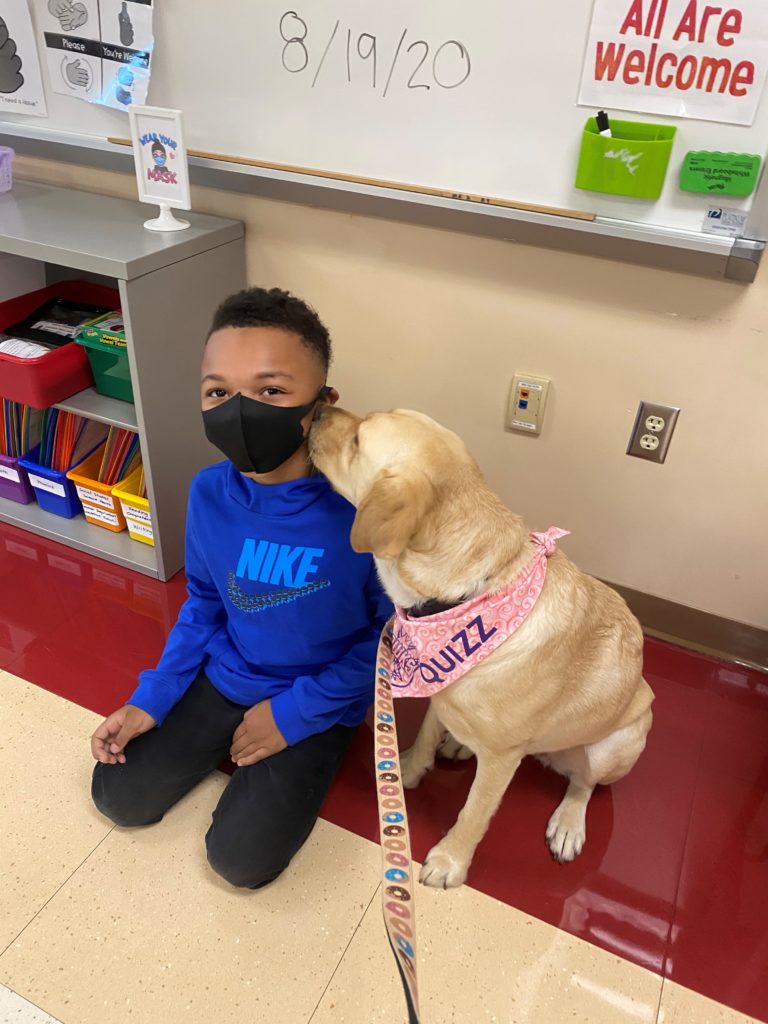 The idea for incorporating therapy dogs into the school environment originated with Andrea Longworth, Lakota's executive director for special services—one example of how Lakota fosters an atmosphere of collaborative leadership in the district. "We had some social-emotional needs of our students that we were struggling to meet, not just among students with disabilities, but globally with all students," she explains.
The district had prior success using therapy animals to support individual students so Longworth wanted to extend those benefits districtwide through a new community partnership. After a bit of research, Lakota partnered with Circle Tail, a local nonprofit that trains service dogs. Longworth requested her first dog from Circle Tail the day before winter break in 2019, and the district received Zooey in early January 2020. Bendi joined the district a few weeks later while Quizz and Biggs began their placements this school year. The district paid a one-time fee of $1,500 per dog. All four dogs live with Miller and members of Longworth's team but Circle Tail handles the dogs' training, covers all veterinary costs, and provides caretakers with the food and supplies they need to care for the animals. The district assigned Zooey, Bendi, and Quizz to work in specific schools with demonstrated social-emotional needs among their students. Meanwhile, Biggs works in multiple schools each week and also travels between buildings with Miller. The district hopes to add other dogs to its roster as they become available and the district budget allows.
"We have twenty-three buildings and I wish we had twenty-three dogs," Miller says. "We can't do everything on our own. We rely on the sponsors of Circle Tail to provide not just these four dogs but hopefully additional dogs through the program."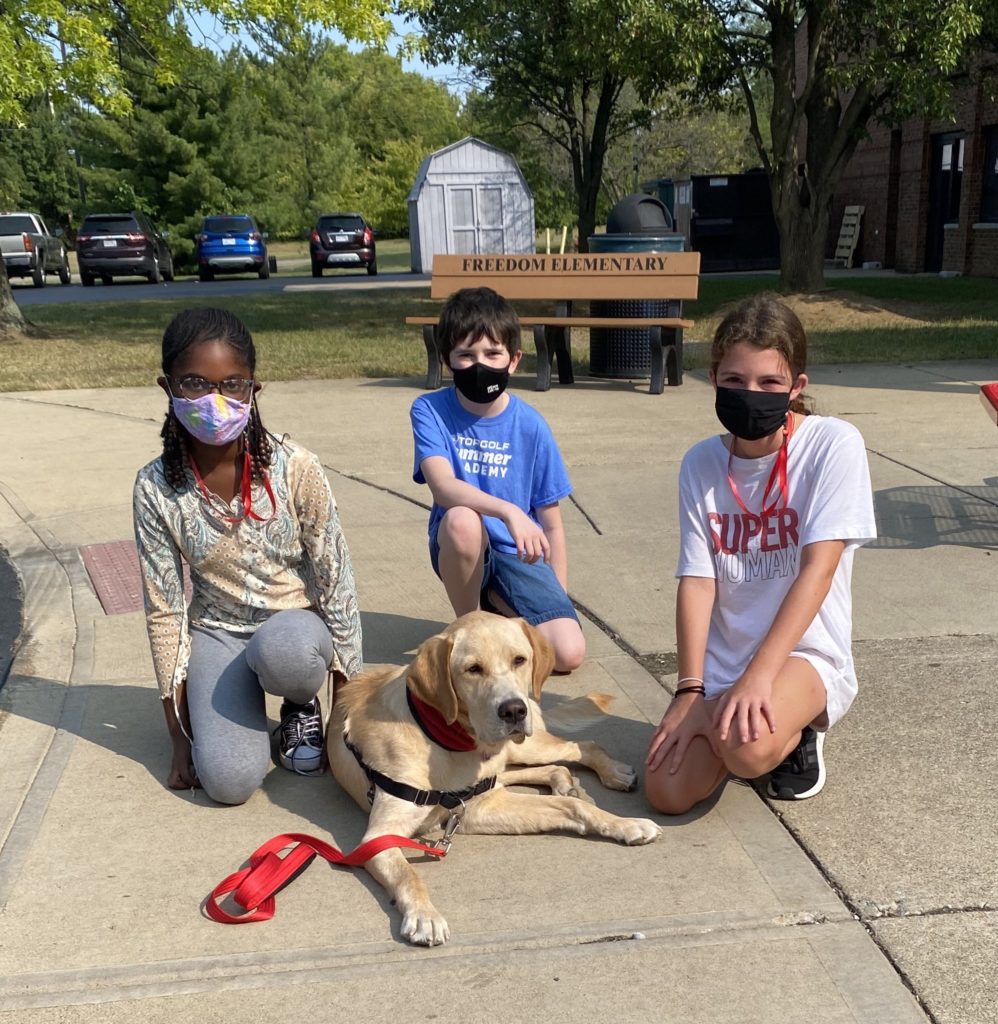 Although Lakota initiated the therapy dog program before the pandemic, the dogs have played an essential role helping students navigate the stresses brought on by the virus and their reconfigured learning environments. "We know our kids now, more than ever, are disconnected. They need a sense of reassurance," says Longworth. "The impact the dogs have had brings all that together." For instance, during the spring school closure the dogs participated in Zoom counseling sessions and other remote learning activities, she explains. Then, over the summer, they worked one-on-one with individual students, Longworth adds.
Similarly, the dogs provided a source of stability and calmness as students returned to full-time in-person instruction this fall. "People were anxious when we first announced we were coming back in person," Miller says. "The therapy dogs take the level of anxiety down with the pandemic and what people are dealing with at home." The dogs greet students as they arrive at their schools each morning, make classroom visits during the day, and check in with high-needs students. Students also can earn one-on-one time with their school's dog by meeting personal goals or request time if they need additional social-emotional support.
The dogs likewise provide emotional support for school and district staff members. "Self-care is something that we are constantly asking our staff to intentionally schedule into their daily routines," explains Kara Yates, assistant principal at Union Elementary School where Quizz works. "For some, Quizz is the one that forces them to take a deep breath, press pause, and just be for a few minutes. … Some staff even actively seek out Quizz just to have a moment of relaxation and puppy kisses."
Moreover, the therapy dogs offer one more way Lakota's educators can implement instructional strategies aligned with research about how humans learn and develop, a body of work known as the learning sciences.
"When you look at multitiered systems of support, you're looking for ways to meet kids where they are," Longworth explains. "This is just another tool in our toolbelt like any other strategy. … [Plus] the adults are learning from the dogs. Our students react to us and the dogs are trained to be calm no matter what. The teachers are seeing the impact of that calmness … and how much it de-escalates a situation. That's the part that we as humans don't always do so well but these dogs are trained to interact that way."
For additional strategies for implementing teaching and learning practices grounded in human development research, read the FRS learning sciences implementation guides.
For more information about how to support students' social-emotional needs, check out the FRS guide, The Impact of Health and Well-Being on Student Learning, coming later this year. Join our mailing list to receive a notice when the guide is available.
Photos provided by Lakota Local Schools.
Kristen Loschert is editorial director at All4Ed. Follow her on Twitter @KLoschert.