Since the onset of the COVID-19 pandemic, equipping each student with a personal laptop or other computing device is no longer revolutionary—it's a necessity. As virus cases continue to climb, students rely on their district-issued devices to learn remotely and in hybrid classrooms.
But a decade ago, Van Meter Community School District in Iowa was one of only a handful of districts implementing one-to-one learning—an approach that provides each student in the district with access to an electronic device to support digital learning. At the time, few resources existed outside of Van Meter to support the district's educators, like Shannon McClintock Miller, with incorporating digital strategies into their instructional practices. Fortunately, Miller discovered the Alliance for Excellent Education (All4Ed) and participated in All4Ed's first ever Digital Learning Day (DLDay) in 2012.
"I was looking for ways to get our kids not only using technology but having them think innovatively and having us [the educators] collaborate and be creative using technology too," says Miller, district teacher librarian and innovation director at Van Meter Community School. "At the time, one-to-one was very new, so [DLDay] was a good way to tell our families how we were using technology and collaborating. That is one of my favorite things about Digital Learning Day."
That first year, thirty-nine states, 19,000 teachers, and 1.7 million students joined Miller to participate in DLDay. Since then, DLDay has become an annual event where thousands of educators worldwide share great ideas, amazing stories, and promising practices online. Many also mark the day, planned for February 25 this year, with local events and interactive activities that showcase how technology and innovation can elevate learning and provide all students with the experiences necessary to graduate from high school ready for college and careers.
Today, Miller is an accomplished author, award-winning blogger and technology educator, and spokesperson for All4Ed's Future Ready Librarians® program. Despite her national status, Miller remains devoted to supporting the teachers, students, and families in her school and helping them find innovative and engaging ways to leverage technology and digital strategies to personalize student learning.
"It takes a lot of work to integrate technology in a way that will make a difference and let our kids shine in their own way in their learning," Miller explains. "Our kids aren't just consumers of information online. They are curating and creating their own content and being creative with how they use technology to show what they have learned to their classmates, teachers, and a global audience."
In her role at Van Meter, Miller spends most of her days working directly with teachers, showing them how to use and integrate new programs, tools, and apps into their instruction or teaching alongside them to support and engage students. She also creates opportunities for students to experiment with new digital tools and programs during their class visits to the library—especially in the weeks leading up to DLDay, she says. For instance, for DLDay 2020 Miller organized ten stations around her library to create a technology playground where students could create stop-motion animated movies, compose digital music and art, program robots, and demonstrate their digital citizenship. Additionally, she posted all the programs and activities online so students could continue to explore the resources at home, which proved particularly useful when Van Meter, like districts nationwide, closed school buildings and shifted to remote learning in March and April 2020 as a result of the pandemic.
"There are so many things that have happened because of the pandemic," Miller says. "Seeing how people are more creative and open-minded, how they're thinking outside of the box about what education looks like—that is something we will learn from the pandemic. We all are trying to make sure our kids have the best education experience they can have."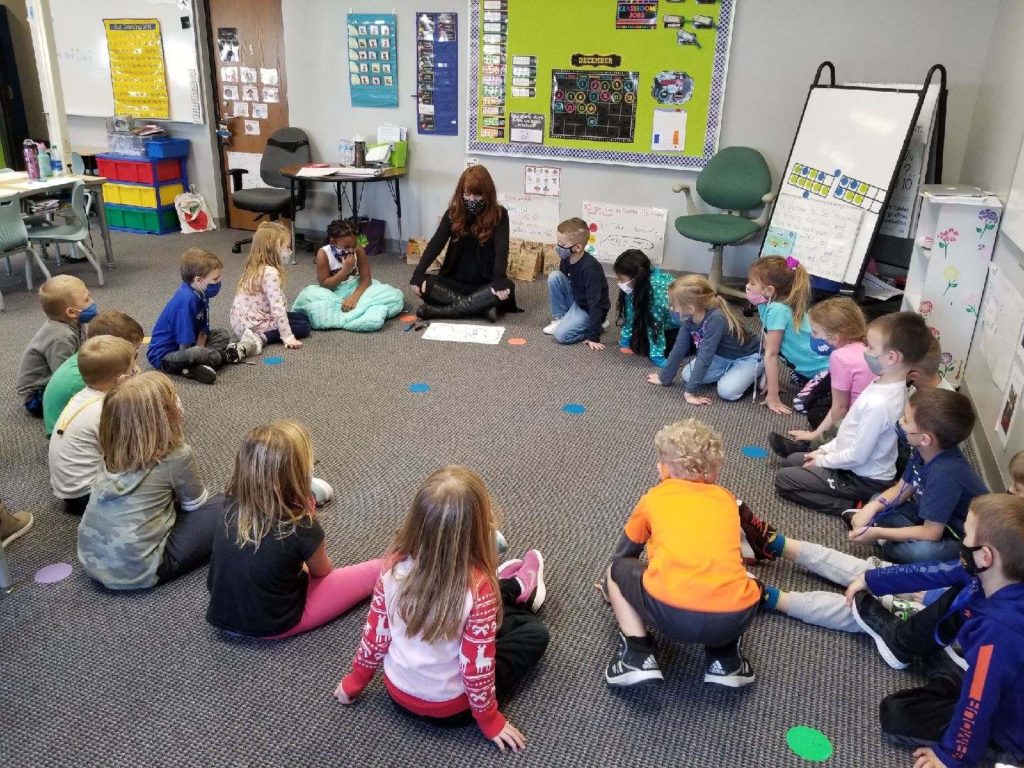 Not surprisingly, DLDay will look a bit different for Miller and educators nationwide this year. In Miller's case, that means bringing technology resources to students in their classrooms to keep individual class cohorts contained instead of having students work through stations in the library. She also plans to post more activities online and create technology kits students can use at home for remote learning.
Meanwhile, educators can celebrate DLDay's tenth anniversary on February 25 by joining All4Ed's Future Ready Schools® DLDay network. Members of the network gain access to exclusive resources designed to help educators leverage digital strategies to support student learning. They also receive ongoing opportunities to connect with like-minded colleagues, share practical tips and instructional practices, and learn from fellow educators. 
"The great thing about Digital Learning Day is the connections you can make with others around the country to inspire us to become the best teacher or librarian you can be when it comes to using technology and the mindset of using it in innovative, meaningful, and creative ways with all students," Miller says. "When we talk about making sure our kids have equal access to the high-quality learning that technology can bring, that is something we all need to celebrate. Hopefully, Digital Learning Day can shed light on what leaders can do to bring those types of opportunities to their schools and districts."
To learn more about All4Ed's DLDay and to join the network, visit digitallearningday.org/join/.
Kristen Loschert is editorial director at All4Ed. Follow her on Twitter @KLoschert.