Oakland, California. The name by itself is so rich in history it exudes feelings of nostalgia or grief—or both. The city housed the late Maya Angelou and the infamous Black Power movement and helped fuel a generation of critical dissenters to the racial and social injustices that plagued America. Like many other American cities, Oakland segregated its populace by placing African Americans into overcrowded public housing units on the city's west side and whites into government-sponsored suburban developments on the east side. But Oakland is a city that has been raising its voice for generations.
Oakland now is known as one of the most diverse cities in America, yet it rapidly is gentrifying. Unapologetically progressive, the city thrives off the community action and political unrest that affect every facet of society including the public school system. The Alliance for Excellent Education (All4Ed) experienced the power and promise of Oakland Unified School District (OUSD) in January when it led a team of staff members and several state and local policymakers from across the country on a day-long visit to Oakland High School (O-High) to learn more about how the school prepares students for life through the Linked Learning approach.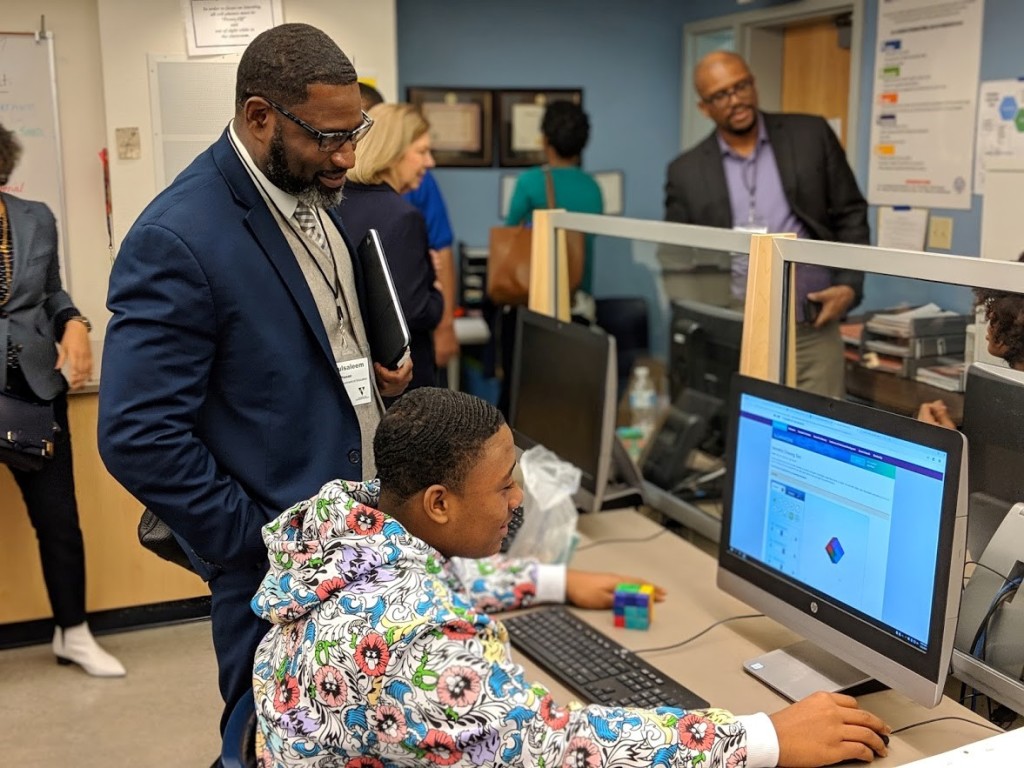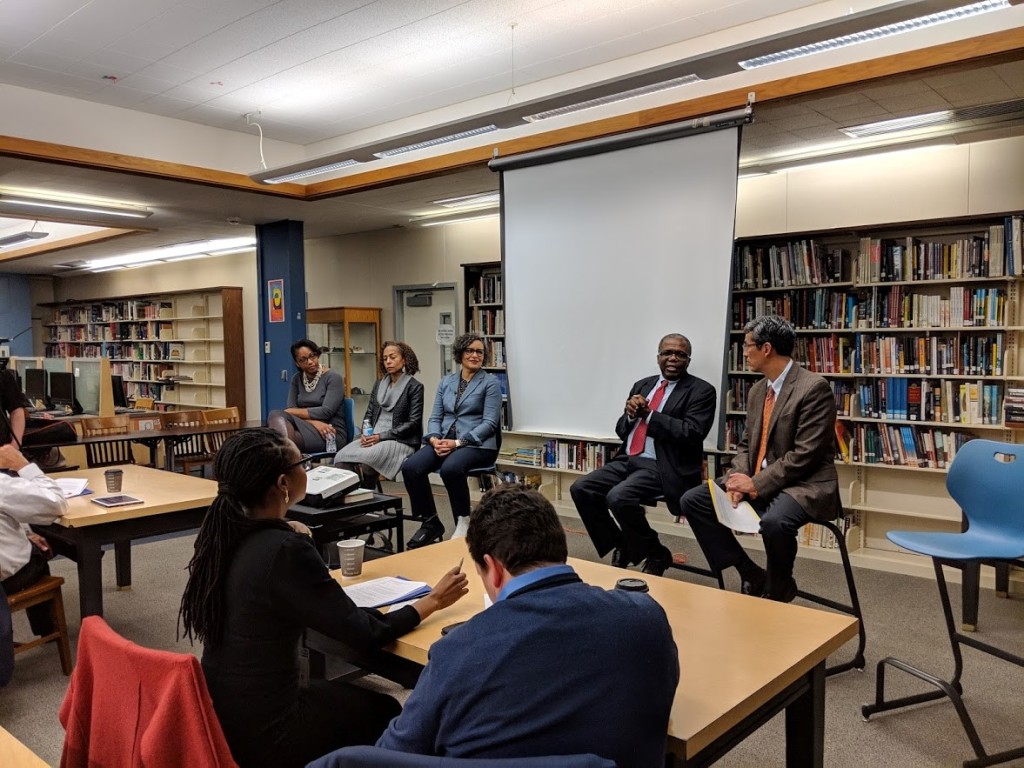 For many years, leaders in OUSD looked for the right strategies to address the complex challenges associated with serving youth who come from marginalized communities. Linked Learning offered the promise of providing young people with real-world learning experiences and rigorous academic instruction coupled with social and emotional support to overcome many of the challenges they face in their communities. It was a tall order to expect that one high school reform strategy would be the answer Oakland needed. As it turns out, though, it was.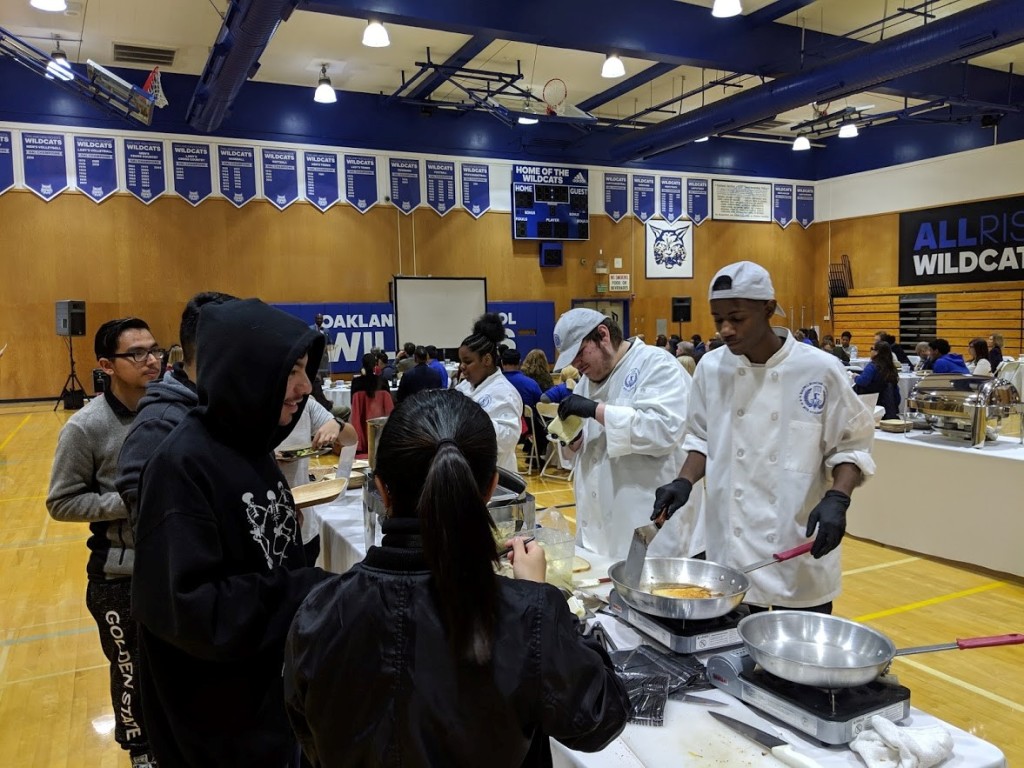 Linked Learning is an approach to transforming high schools that integrates rigorous academics with high-quality career and technical education (CTE), work-based learning, and student supports. The approach, which OUSD first implemented in 2010, became so popular and successful that city residents overwhelmingly passed a city parcel tax in 2014 that reaffirmed its commitment to ensure that every student, regardless of background, receives access to a high-quality college- and career-preparatory experience.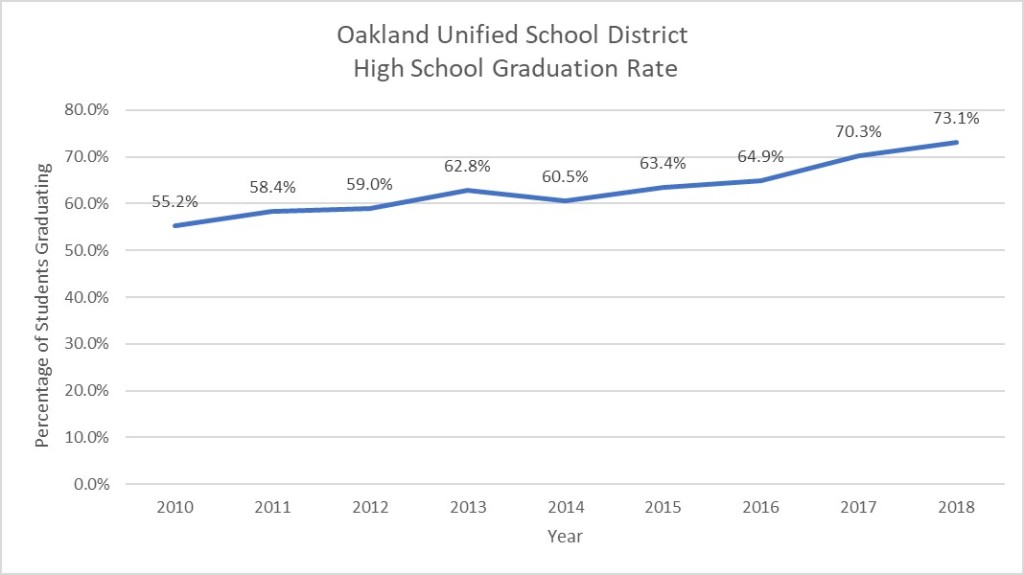 What is happening in Oakland is atypical of many CTE programs. Leaders in OUSD thought it was critical to address the pervasive low performance of its African American male student population, so the district created the African American Male Achievement (AAMA) program in 2010—the first program of its kind in the nation—dedicated solely to improving the academic and life outcomes for African American male students. Led by a visionary and tireless leader, Principal Matin Abdel-Qawi, O-High integrates the AAMA program throughout the Linked Learning experience to provide students with community, culturally relevant curriculum, and social and emotional support. High school graduation rates for African American males have increased as the AAMA program has grown, as the graph shows below. OUSD later established the Office of Equity in 2016 to focus on improving the conditions and competencies of all youth from marginalized communities.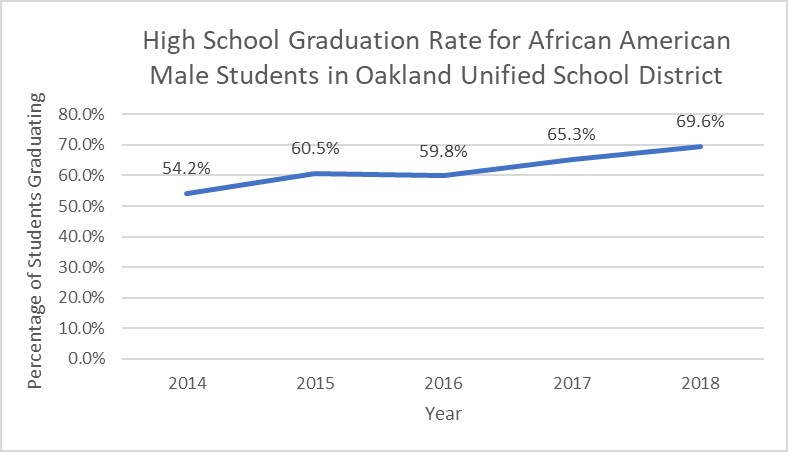 "Linked Learning is more than an initiative in Oakland Unified," says Superintendent Kyla Johnson-Trammell. "It is a comprehensive approach to personalizing learning for all students."
This sentiment is shared by the entire OUSD community—which includes teachers, city residents, employers, elected officials, college partners, parents, and community-based organizations—all working to ensure that an equity-driven and student-centered approach dominates.
That approach includes supporting the social and emotional well-being of students. Unlike many traditional high schools, O-High houses an on-site wellness center that addresses students' physical and mental health needs. Meanwhile, O-High's Future Center supports students with college and career planning and applications. Additionally, there are unique programs targeted to historically undeserved student populations, such as the previously mentioned AAMA program, newcomer programs for immigrant students, the Asian Pacific Islander Student Achievement program, and the Latino Men and Boys program.
Equity and youth voice are paramount when school and district leaders consider the design and selection of curriculum, decisions on staff hiring and training, and placement of students into Linked Learning pathways. Students are placed in pathways with two goals in mind: (1) student choice and (2) ensuring diverse representation within each pathway. The pathway curricula explore the history and contributions of different underrepresented groups. All this is done intentionally to create a learning environment where students see themselves, their community, and their concerns represented in their learning and adults with whom they interact daily.
O-High's school design and inclusion of varied integrated student support systems shows students that their social-emotional well-being matters as much as their academic success, which is critical during adolescence. During adolescence, students experience intense changes in their brains, bodies, and relationships that make this time crucial for social and emotional development. The neurological changes adolescents experience make them increasingly aware of and influenced by their social environment. Experiencing social injustices such as discrimination, bias, inequality, and inequitable access to resources constitutes a serious hazard to the positive development of all adolescents and especially is prevalent in the lives of historically underserved students, like many of those in OUSD. Research demonstrates the negative impact on brain development and student performance that various adverse childhood experiences can have. OUSD combats these experiences with the support its schools offer and the unique and inclusive culture the district creates.
OUSD's approach recognizes that students' lives do not begin and end during the school day and their preparation is not limited to the classroom. A meaningful, powerful, and effective education, like that offered in OUSD, does not rely solely on rigorous academics, relevant CTE, and work-based learning opportunities. It also unabashedly confronts the inequities historically underserved people face by providing students with the necessary support to reach their highest potential and shows them that their communities value them equally.
Where Fruitvale Station and Wakanda collide, Oakland's story of struggle and success is not uncommon; the approach the city's schools are taking to college and career readiness is.
Monica Almond, PhD, is a senior associate for policy development and government relations and Hans Hermann is a policy and research assistant at All4Ed.