Oakland High School Graduate Brings His Linked Learning Success Story to Capitol Hill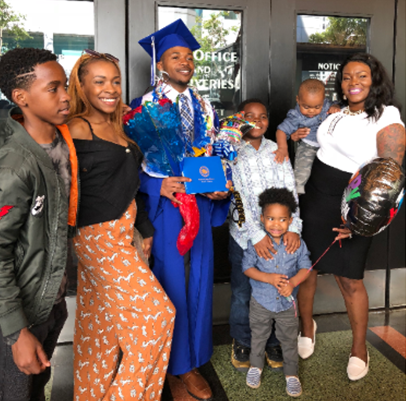 As a child, Amin Robinson dreamed of becoming a firefighter, but his ambitions changed as he grew older. Today, this member of the Class of 2018 (pictured here in his high school graduation cap and gown) is an aspiring artist with an interest in increasing diversity and representation for people of color. His experiences as a student in the Visual Arts Academy Magnet Program (VAAMP) at Oakland High School in California offered Amin a unique opportunity to engage his passion for art both inside and outside the classroom, boosting his confidence in himself and his future.
Oakland High School is part of an innovative college and career strategy known as Linked Learning, an instructional approach that combines rigorous academics with high-quality career and technical education, work-based learning, and student supports. High schools implementing Linked Learning focus on specific industry themes, such as engineering, health care, performing arts, and others, that teachers integrate across subject areas. More than 100 districts in California offer the approach.
At Oakland High School, students participate in one of five Linked Learning pathways, known as academies: VAAMP, social justice and reform, environmental sciences, public health, and Project Lead the Way (engineering). Linked Learning helps reverse the trend of too many students, particularly African American, Latino, and students from low-income families, who do not graduate from high school with the skills necessary to succeed.
Linked Learning academies, liked those at Oakland High School, prepare students with twenty-first-century skills and knowledge informed by private sector partnerships so that students graduate from high school prepared to succeed in college and a career. Last month, All4Ed led a delegation of Californian Linked Learning practitioners and advocates, including Amin, to Washington, DC, to share their stories with federal policymakers about the success of the Linked Learning approach.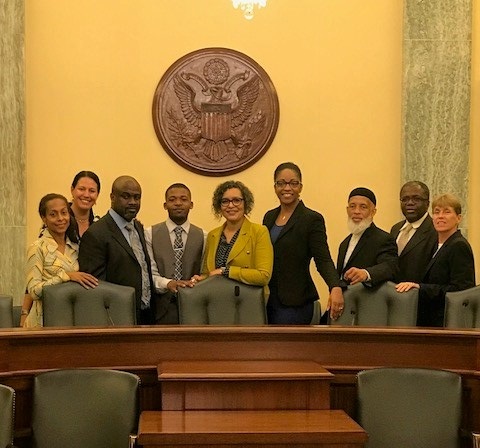 A core part of the Linked Learning experience is work-based learning, which exposes students to real-world environments that align with their chosen pathways. Throughout Amin's high school career, he participated in several internships that gave him a sense of the world of work, including one combined with dual-enrollment courses at the local community college that led to his certification as an emergency medical technician (EMT). Taking dual-enrollment courses in EMT and kinesiology helped Amin explore new dimensions of his passion. "I am interested in learning more about the body to inform my art," he says.
For Amin, graduating from Oakland High School led to a change not only in his career perspective but in how he thinks about himself. Amin also participated as a student leader in Oakland Unified School District's African American Male Achievement (AAMA) program. The first of its kind in the nation, AAMA exists to improve the academic and life outcomes of African American male students in Oakland by providing them with skills to become community leaders through classes that focus on manhood development, start-up entrepreneurship, social innovation, and civic engagement.
For Amin, the AAMA program helped him change his perspective of himself and his abilities. "During my first encounter with my teacher he addressed me as 'king.' Just experiencing that helped change my perspective on myself," Amin says. "[My teachers] gave me more than I can put into words."
Now that he is a Linked Learning program graduate, Amin can reflect on the value and challenges of the VAAMP academy. "After being in VAAMP, I can honestly say I'm a better artist," he says. "VAAMP is a difficult academy but if [students] love art they will deal with it. At the end of their journey, they will be a better artist than they were." His experiences at Oakland High School gave Amin the ability not only to learn new mediums in art, but also the opportunity to experience working as a commissioned artist.
Additionally, combining this professional experience with his classroom knowledge and the leadership skills he developed through the AAMA program helped Amin "feel better equipped to advocate for myself in the future and eventually work as an artist," he says.
The confidence and skills Amin gained through his Linked Learning experience prepared him to continue his education and he plans to enroll at Berkeley City College to study civil engineering. After two years, he hopes to transfer to the University of California–Davis and continue studying engineering.
Ntombikayise Gladwin Gilman is a policy and advocacy intern at All4Ed.