Look no further! We have three fantastic ways to jump-start your school year with engaging digital lessons using The Achievery platform. By leveraging its interactive content calendar, attending an exciting webinar, and becoming an Achievery Ambassador, you can foster a love for learning and create more equitable, exciting student experiences.
---
#1. Leverage The Achievery interactive content calendar to integrate digital clips into your upcoming lessons.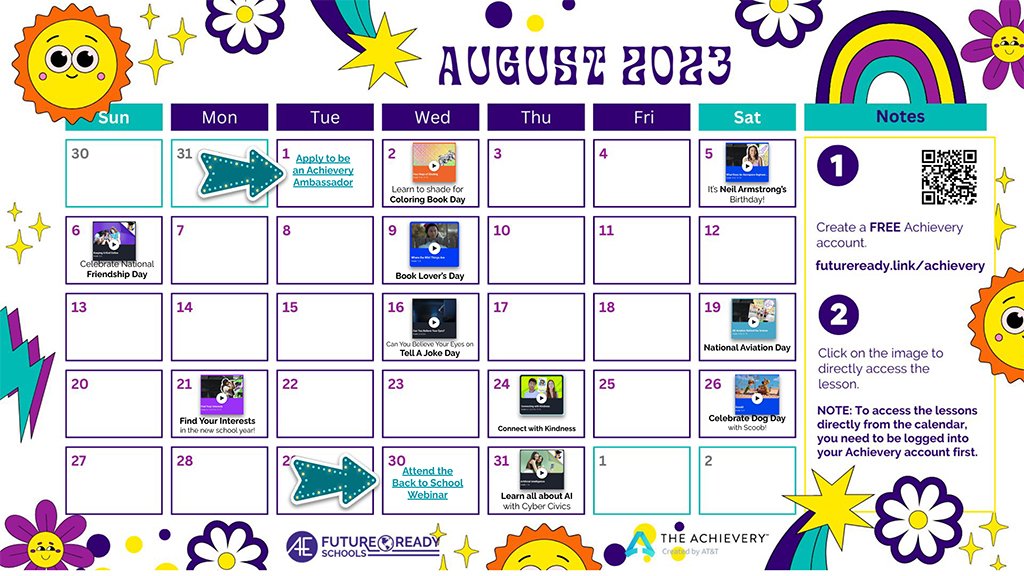 The Achievery platform offers a treasure trove of engaging lessons and videos that align with special events throughout each month. From kindergarten to 12th grade, there is something for every student. The best part? Accessing these valuable resources is a breeze! Simply follow these steps:
Step 1: Create a FREE Achievery account by visiting futureready.link/achievery. This account will be your gateway to a wealth of knowledge and creativity.
Step 2: Log in to your Achievery account and click on the image in the August 2023 Achievery Calendar to directly access the lesson. It's that simple!
Step 3: Share your experiences with these lessons on social media using the hashtag #FRS_Achievery. Connect with fellow educators and showcase the exciting ways you're incorporating The Achievery into your curriculum.
#2. Elevate your teaching with idea from our back to school webinar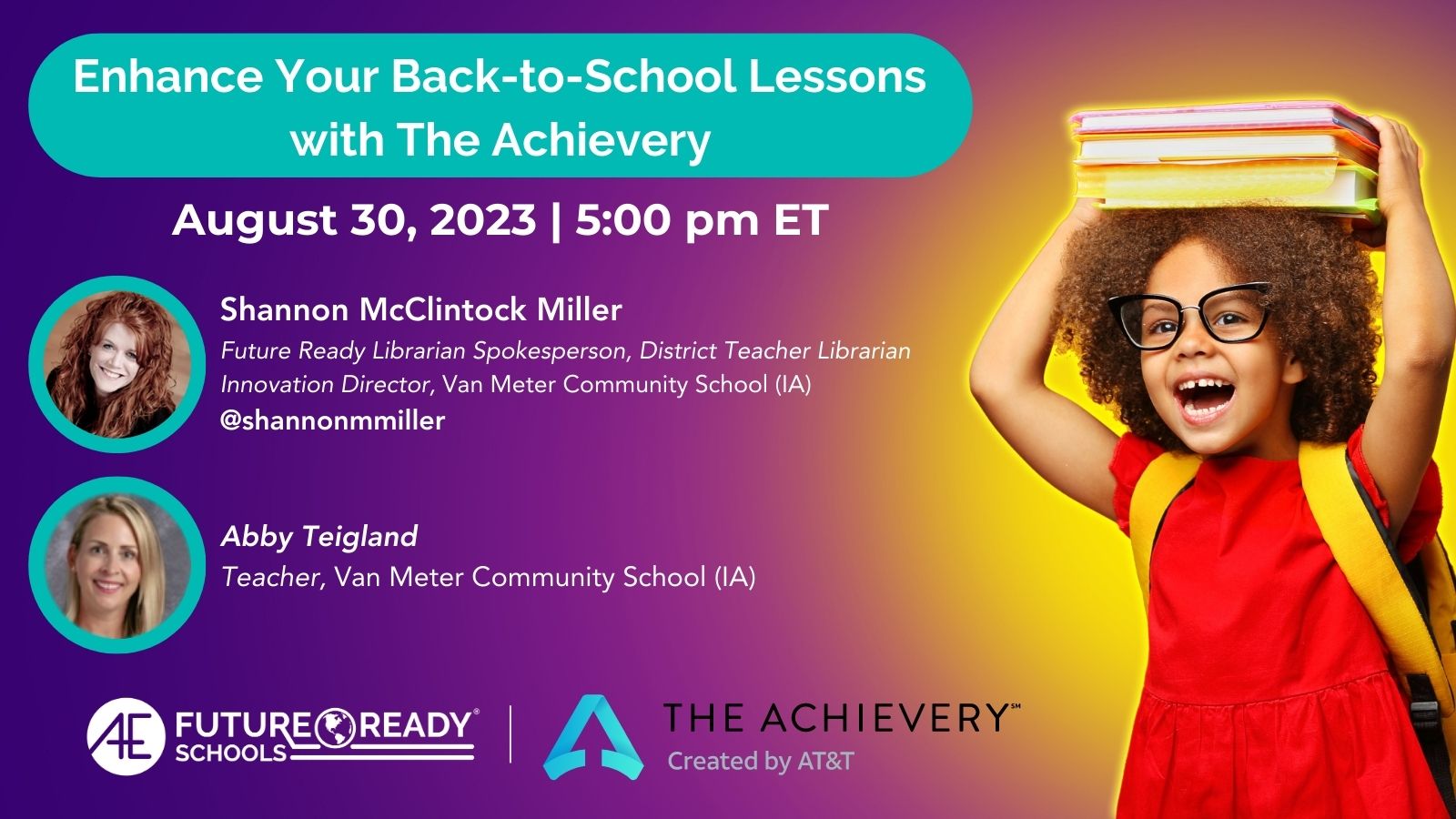 Register for the August 30, 2023 webinar, hosted by Future Ready Librarians Lead Advisor, Shannon McClintock Miller, and joined by special guest teacher Abby Teigland. In this webinar, we will delve into creative strategies to captivate your students' attention and foster a genuine love for learning.
You'll witness how The Achievery platform can seamlessly integrate into your lesson plans, activities, and assessments. Gain valuable insights into its features and functionalities, unlocking its true potential to supercharge your teaching and inspire your students.
#3. Become an Achievery Ambassador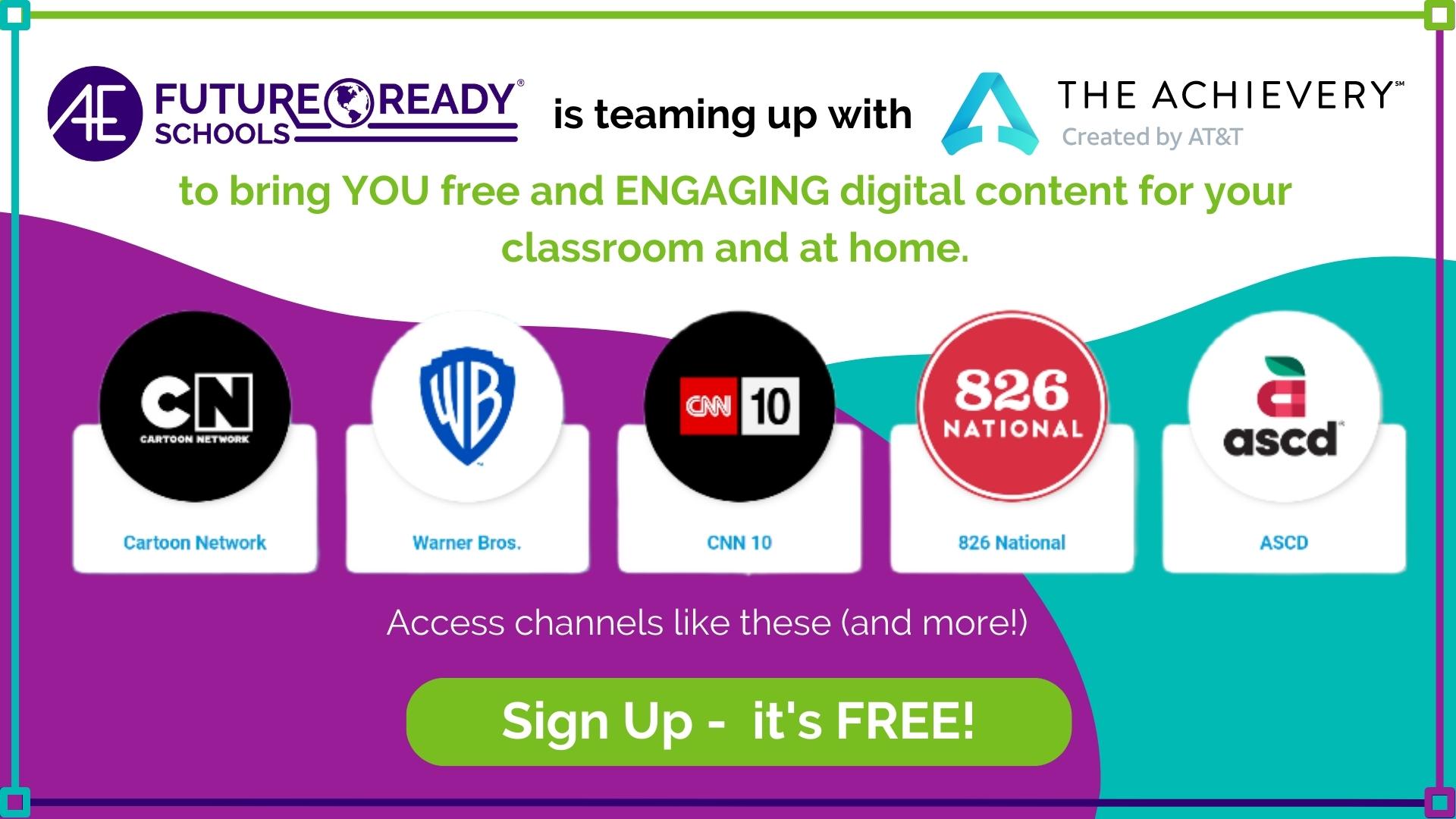 Are you passionate about driving innovation in education and providing your students with the best possible learning experiences? Look no further than the Achievery Ambassadors program! As an Achievery Ambassador, you will join a community of like-minded educators committed to using high-quality digital learning tools to create equitable, engaging, and inspiring learning environments.
By becoming an Achievery Ambassador, you'll enjoy a host of exclusive benefits:
Professional development and training on using The Achievery platform effectively in the classroom.
Networking opportunities with fellow educators to share best practices and innovative teaching approaches.
Access to exclusive resources and content designed to help you inspire and engage your students effectively.
Whether you're a teacher, media specialist, or instructional coach, the Achievery Ambassadors program provides a fantastic opportunity to enhance your teaching and empower your students to explore their passions fully.
Don't wait any longer! Apply today to join the ranks of educators committed to transforming education through the power of The Achievery platform.
As you gear up for the new school year, equip yourself with the tools and resources that will elevate your teaching and captivate your students' hearts and minds. The Achievery platform offers interactive content calendars filled with exciting lessons, webinars with creative strategies, and a thriving community of Achievery Ambassadors dedicated to inspiring and engaging students. Take the plunge and embark on a journey to make your classroom a hub of learning, exploration, and enthusiasm. Let's make the 2023-2024 school year one to remember!
About the AuthorS
Lia Dossin is the Director of Program and Outreach at Future Ready Schools. Connect with her at ldossin@all4ed.org.
Shannon McClintock Miller is the Future Ready Librarian Spokesperson and District Teacher Librarian, Van Meter Community School (IA). Connect with her at @shannonmmiller and thelibraryvoice.com.