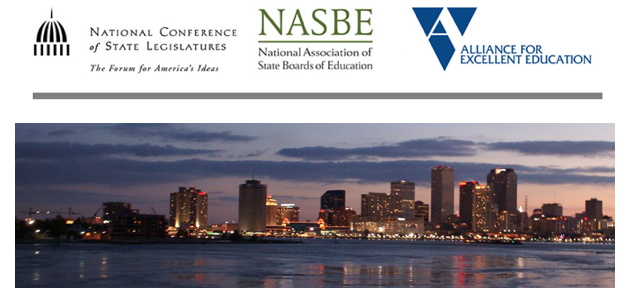 Deeper Learning in ESSA Implementation and School Intervention
July 19-21, 2017
New Orleans, Louisiana
Watch live at Facebook.com/All4ed beginning at 3:00 p.m. on July 19.
Update on ESSA State Plans:
What is in state plans and feedback thus far? The highs, lows, and confusing.
School Intervention:
We know how states will identify schools for support; now what?
The Alliance for Excellent Education, National Conference of State Legislators, and National Association of State Boards of Education will convene state legislators, state education board chairs, state education agency leaders, and governors' education advisors to discuss the status of the implementation of the Every Student Succeeds Act (ESSA) in states.
The first session begins on July 19 at 3:00 p.m. (EDT) with remarks from former U.S. Secretary of Education John King. You can watch King's remarks and the rest of the panels via the Alliance's Facebook page at www.Facebook.com/All4ed. While you're there, "like" or "follow" the Alliance's Facebook page to receive alerts when the next live video begins. You can follow the sessions on Twitter at Twitter.com/All4ed or using the hastag #ESSAinNOLA. Please direct any questions to Alliance@all4ed.org.
Topics will include the status of ESSA implementation in states, including themes in submitted plans and feedback from the U.S. Department of Education (ED), and school intervention strategies that will ensure all students have access to an excellent education and deeper learning opportunities. States that have already submitted ESSA plans will see how their plan compares to other states and how ED is responding to the plans. States still working on their plans will learn from those that have already submitted their plans and how they set long-term goals, selected accountability indicators, engaged with stakeholders, addressed the 95 percent assessment participation requirement, and more.
WATCH LIVE BEGINNING AT 3:00 P.M. (EDT) ON JULY 19 AT FACEBOOK.COM/ALL4ED . 
Supplemental Materials