Tear Down the Walls to Create Anytime, Anywhere Learning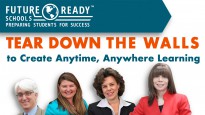 November 9, 2017
7:00 pm – 7:30 pm EDT
YouTube Live
Tear Down the Walls to Create Anytime, Anywhere Learning
Panelists
Bernadette Ortiz-Brewster, Ph.D., Executive Director, College Park Academy (MD)
Michael Comiskey, Principal, Kettle Moraine Schools (WI)
Sheila Evans, Principal, Edenton-Chowan Public Schools (NC)
Moderator
Mary Ann Wolf, PhD, Director of Digital Learning Programs, Friday Institute for Educational Innovation at NC State University's College of Education
On November 9, 2017, Future Ready Schools® (FRS) held a webinar that is part of its Leadership Hub, a one-stop-shop of professional learning opportunities for school leaders.
The Alliance for Excellent Education defines personalized learning as "a student-centered approach designed to help all students develop a set of skills collectively known as the deeper learning competencies. These skills include thinking critically, using knowledge and information to solve complex problems, working collaboratively, communicating effectively, learning how to learn, and developing academic mindsets."
The implementation of personalized learning requires changes in the way districts and schools utilize instructional time and design learning spaces. In this webinar, panelists shared experiences on how their districts shifted to digital as well as unique approaches to transforming learning into a personalized experience that engages students and improves their outcomes. Panelists explained how they responded to student needs by rethinking, redesigning, and transitioning learning spaces. They also addressed questions submitted by online viewers.
Support for this webinar is provided in part by Pearson.
Supplemental Material:
---
Please direct questions concerning the webinar to alliance@all4ed.org. If you are unable to watch the webinar live, an archived version will be available in FRS Hub shortly after the event airs.
---
Future Ready Schools® (FRS) is a project of the Alliance for Excellent Education, a Washington, DC–based national policy, practice, and advocacy organization dedicated to ensuring that all students, particularly those traditionally underserved, graduate from high school ready for success in college, work, and citizenship. www.all4ed.org / www.futureready.org
Follow FRS on Twitter (twitter.com/FutureReady); Facebook (facebook.com/futurereadyschools); and
the FRS Leadership Hub (futureready.org/hub).
---
If you are interested in renting the Alliance's facilities for your next meeting or webinar, please visit our facilities page to learn more.
M.A. Wolf, PhD.:        Good afternoon everyone, I am Mary Ann Wolf and I am the director of Digital Learning Programs at the Friday Institute for Educational Innovation at NC State University. I have had the privilege of being involved in Future Ready efforts since the very beginning and the Friday Institute is proud to be a long-term partner in this important work. Future Ready schools is a collaboration between the alliance and a vast coalition of over 60 other national and regional organizations. The goal of Future Ready is to maximize digital learning opportunities and help school districts move quickly toward personalized student centered learning. The efforts provide districts with research and support to ensure that local technology and digital learning plans align with the best instructional practices.
We're so excited that you are here with us today and we appreciate you making the investment of your time. I'm the host of your webinar on Tear Down the Walls to Create Anytime Anywhere Learning. The hashtag for today is #futureready, we encourage you to submit questions and we've already gotten many questions from you, feel free to ask your questions on there and also that will be a way for you to continue to connect with us after the webinar. You know that the two most important school related factors with _____ are teacher effectiveness and school leadership. Today we are thrilled to have three excellent school leaders who I have had the privilege of knowing and working with and who will share their experiences, strategies and challenges with us.
I'm very pleased to introduce to you Michael Comiskey from Kettle Moraine Wales in Wisconsin, Sheila Evans from Eagleton _____ Public Schools in North Carolina and Bernadette Ortiz-Brewster the executive director of College Park Academy in Maryland. Michael I would love to start with you and have you share a little bit about your journey so far.
Michael Comiskey:      Hi everyone, this is Mike Comiskey, I'm going to pop in a quick presentation to show you a little bit about my district and some of the things that we've done to [Break in audio] our personalized learning path. So first a little bit about the district itself, we're located about 30 minutes just west of [Break in audio] in Waukesha County. About 12 years ago our district school board and our administrative team were asked to work on this charge to transform the educational delivery system to better and more efficiently meet the needs of all students. [Break in audio] our superintendent and our leadership team has really worked hard on creating a vision that involves a lot of empowerment of different people at various levels: teachers, [Break in audio] people in between who have really made a big difference in moving our district a long way from where we were 11, 12 years ago. I want to talk a little bit about the slide I put up, let me just go back to that one.
Some of the things that we've done in our school, those things is the creation of a multi-grade interdisciplinary house that – called the Create House, that's been our biggest step forward and that group is now in their fourth year. The other elements though that I think are just as important and are taking us forward beyond that group of about a 160 of our 860 students in our school is a continued emphasis on teacher collaboration [Break in audio] of content in many places, particularly literacy math and even things like grammar. [Break in audio] we've been looking at our schedule and our use of time and space and I have some pictures that I'm gonna show you in a second for some of the ways we're using space. And most recently in our sixth grade we've implemented the summit-learning platform which some people are aware of and that's actually going very well, we're just about eight weeks into it so it's early but we like what we see. We really look at personalized learning as a very much of a how over the what, so we're looking at pedagogy.
Our district has developed a personalized learning look for, which will be provided to you in a PDF of this presentation, a link to that. But it really looks at the learner over the adult, you can see a lot of different elements of that look for that will help inform how we do our PD but also how we [Break in audio] at what's going on with our students. Given that the overall topic here was about knocking down those walls, we actually have knocked down a bunch of walls in our building, I'm gonna go back. Some of that is around what's happened in our commons and our library media center [Break in audio], our commons area which gets used as classroom settings and our library media center has a lot of great collaborative spaces for students. [Break in audio] we're a six to eight middle school and we have different environments, this is from a classroom [Break in audio] space but this is from another classroom where we've put up windows to kind of use some of the space outside of a traditional classroom. [Break in audio] get back to what we're looking for from all of our teachers and our students. There's my quick overview I guess I will pass it back to Mary Ann.
M.A. Wolf, PhD.:        Sheila would you like to share a little bit about your journey so far?
Sheila Evans:              I've had the opportunity to work with school leadership teams in three different schools to infuse technology into the building and all three cases, the teachers and students were used to a very traditional setting with traditional resources, and even in all three schools we had limited resources. So we had to seek out grants in order to get the hardware into the schools and at the same time I had a tech department who was working very hard to make sure the school was wired and then later on, WI-FI was available so that the devices would actually work. That part instructionally though was to work on our logistical plan that centered around professional development. Last year in my current school, we work with payer in for hand-me-down iPads from our high school and so I asked for volunteers to spend the last few weeks of school in a one to one environment in their classroom. And I had nine teachers volunteer for this and that entailed a lot of extra professional development for them during that time, a lot of collaboration and then that team of folks helped to set the vision for our teachers for this year when we actually did go to one to one across the school.
Those nine teachers now are serving as what we call one to one advisors, and each of them have a group of one, two or three teachers that they are advising as we are moving into this personalized blended learning atmosphere. Our focus right now is to infuse that technology in literacy and math blocks and not try to bite off the whole day so to speak. We use Seesaw as our learning management system and then some of the apps that we are using across the school are BookFlix, Epic, Nearpod, MobyMax, those kinds of things that where all the children are exposed to one and then each teacher has the latitude to choose the other apps that she would like to use. For our K2 students, we are just one to one during the school time, but even our three five students in our district are just during school hours but our 6-12 students are one to one 24/7. Our plan is not perfect and we don't have all the answers but we are determined to provide personalized blended learning for our students, even on the limited resources that we have and we're willing to seek funding when we find new hardware or other opportunities where we would like to push that into our school, so we find the money.
M.A. Wolf, PhD.:        Excellent Sheila, thank you so much and Bernadette I would love to hear a little bit from you. Each of you has such nice different backgrounds that bring us to this conversation.
Ortiz-Brewster PhD.: Hi, my name is Bernadette, I'm the executive director of College Park Academy, I'd like to actually share a quick PowerPoint with you to explain how we came about. I actually came from Hawaii where I helped open two private schools and I was fortunate enough to come from Punahou School where I learned a lot about technology and infusing technology in the classroom. I was lured over to Maryland when I heard about this incredible project, with the University of Maryland and the city of College Park and the Prince George's County Public School System. So CPA, College Park Academy, is actually a charter school that was founded with various stakeholders who want it to offer a different type of learning for students in the Prince George's County area. So as a lottery school our students apply from anywhere around the county, and we offer a rigorous college preparatory school, we are creating a program with the University of Maryland, so our students can receive credit dual-enrollment in the high school.
We opened with sixth and seventh graders in 2013, so this is only our fifth year and we rented a facility, an old catholic school for four years which was very challenging, but one of the blessings about that is we learned what we actually need. And we literally just moved into a brand new facility, just this August and as you can see from our lottery, our waitlist numbers are pretty extensive. This school year we actually have 1400 students on the wait list, kids are very excited to learn this way. Our demographics mirror the demographics of Prince George's County so we're not any different than any traditional public school. Our school model is blended and what that means is our students take face-to-face courses with face-to-face teachers at the school. So they come to school every day and we are middle and high school now and then they also have virtual classes.
So for their electives they actually have virtual teachers that can be anywhere in the world. We have a strong and we're still building a strong partnership with the University of Maryland, we have Terrapin teachers and we have about 40 interns that come and mentor students, it's logistically difficult but it's definitely worth it. We also have a before and after school care program that we actually offer courses through different proposals from college student to professors and try to lower the cost there. Our brand new facility, one of the things that we do differently is all those students are face to face with math, science, social studies and language arts teachers. We talk a lot about what does a blended learning classroom look like? So all of their curriculum is online through a platform PCX Pearson platform.
So we do a lot of station teaching, a lot of movement and a lot of flexibility in the classrooms. The new facility allowed us to design a beautiful new independent learning center and this is really what makes us unique because this is a space that kind of looks more like what a job looks like. Where students are coming in and they're meeting in the middle and maybe they're logging in with their virtual teachers, but then you see rooms on the side of each side of the independent learning center so they can go in and work virtually with a teacher or they can work in groups in the bigger rooms on the sides. But it gives them that flexibility to how they're feeling and what their needs are at the time. While they're in that independent learning center by the way, they have success coaches and that's a unique position to the county that we created and what that is is those are mentors and people that are constantly monitoring data for them and motivating them and making sure that they're logging into their virtual courses and they are also a liaison between home and school.
We have a traditional kind of high school model where they can have a traditional high school diploma or they can join a signature program to where they concentrate in a major and the UMD dual enrollment program. This is just a quick glimpse of what our platform looks like everything is anytime anywhere. Parents have logins as well, so the students know that they're held accountable by parents, my administrators, by teachers, by success coaches, counselors, anyone can access this data, which we feel holds them accountable and it also helps because we have a team approach. This is just what one lesson might look like and so we did this in 2013 and then we said okay, let's see how we perform here and our students were – they still are performing very high above average when we compare to the state of Maryland, Prince George's county public school system, Montgomery county, which is another district and College Park Academy there is red as you can see for the Maryland School Assessment scores.
Our scholastic reading inventory is exceptional, then our students the second year took the Maryland school assessment for Science ad we were a little nervous because we didn't even have labs, but we had virtual labs. And what we have proven that two years in a row, the students have scored exceptional on this exam as well. Then the part came out, which is the new test for many of us and our students again were scoring above average. So we feel that there is consistency, we feel we have a rigorous program, but we believe that the personalized learning and the ability to be able to go with their own pace and also have the support of teachers virtually and in the classroom really makes significant difference for these students. And this is our brand new facility that we're extremely proud of where we have our two independent learning centers and 23 classrooms.
M.A. Wolf, PhD.:        Congratulations and thank you Bernadette and I really love hearing across all three of your examples, different approaches to personalized future ready learning, but in every single case we're really seeing how you are able to meet the needs of your students and so I think it's so helpful. But also even hearing how you each use different platforms to meet your needs. A couple people have sent in questions about blended learning, you've addressed a couple of those pieces. Bernadette, you actually just really addressed Gary Tapin's question from Boston, he wanted to know to what extent do you allow students to decide their path and how have you increased the flexibility or agility of your system to respond positively to engage student choice? You were able to share that as part of your presentation and Michael I also wanted to go back to you because I know you also had some thoughts on that question and thank you Gary from Boston for that. So Michael do you have any thoughts on that? I think you're on mute.
Michael Comiskey:      It varies in different places in our create environment, they've established different seminar windows, so the entire year is broken up into quarters just like a traditional, but within those quarters they might have six weeks of a seminar which is fairly intensive. [Break in audio] they have a lot of choices about what seminars they take and the teachers help them align those [Break in audio], to common core standards and other standards so they make sure they're getting the Science learning and the social studies learning. In other settings, we have some of our teams like in our seventh grade is doing some interdisciplinary work where the math and the science and the literacy teachers are working together on a project [Break in audio] of what they're doing and how deep they want to go or how narrow or wide their question is – like one of them was about statistical research. So it varies from place to place [Break in audio] platform and there are some choices there for some of our high learners where they're moving down through the content learning, we're having to create some spaces within there to give them some time for dream projects or choice projects that they might return to throughout the year [Break in audio] with their [Break in audio] work.
M.A. Wolf, PhD.:        Yeah Michael and I'm really struck by the language that you're using like seminar in my mind I think of college, dream projects is just a really interesting way to think about how do we help kids continue to pursue their passions and I really appreciate those opportunities. One of the things I'm sure people are out there listening probably many school leaders like yourselves are thinking about, how have you been able to build capacity with your teachers in your schools to do all of this and so I would love us to jump to that idea of what does professional learning look like for your educators? And Sheila I'm wondering if we could start with you on that and then we'll follow up with Michael and Bernadette, I think this question I want to hear from all three of you.
Sheila Evans:              One of the biggest things that I think we need to think about as leaders is that we first of all see ourselves as the lead leader, lead learner, lead person who is out there trying to make all of this come together. And that means we have to be at the table with our teachers and be present and fully present and even leading at times, but we also need to be aware of who might know something better than we do. And that we actually be the learner while someone else like a teacher leader, or the assistant principal or the instructional coach takes the lead in the particular topic. For us at our school, we do have a designated time during the school day for professional learning communities to meet and during the day those are horizontal teams meaning that everybody from the grade level is present and we have a year long schedule, but we're also flexible enough to change that schedule when we need to.
I believe that our teachers need to have ownership in that learning and that teaching for the other adults in the building and so part of my role is to be in the classrooms and know what's going on and when I see something cool that's happening, I make sure that they have the floor to share that with others. We also have an after school meeting on Monday's that's unique to this school that I'm leading. It does last for one hour, but the first 30 minutes is focused on blended learning. The second 30 minutes is focused on lesson planning for the next week and it works well, that's when our one to one advisors take the lead in those first 30 minutes meetings and then the second half is in their horizontal teams as a grade level.
M.A. Wolf, PhD.:        Thank you so much Sheila and Michael I know you've been doing some different kinds of things to make sure your teachers have capacity, do you want to talk briefly maybe about your micro-credentials in specific, but if there's anything else you'd like to mention as well?
Michael Comiskey:      Sure within our school itself, we have developed a lot of culture where we're expected to learn from each other so when we gather as a staff we sometimes share teacher hacks and a lot of our professional development is very much [Break in audio] each other about the things that we've learned. And at this point that's just sort of an expectation that if you're doing something cool, you're gonna be asked to share it. [Break in audio] district I would say is probably in it's third year developing a system where their professional learning [Break in audio] and the concept of micro-credentials is not particularly new perhaps, but in our district it's become an important part of the [Break in audio] development and even in their compensation. So as they learn more and can demonstrate the effectiveness of that in their classrooms of that learning, [Break in audio] move up on the salary scale, similar to earning a graduate credit or something and that's made a big difference for us to be able to tailor the learning to our needs, AB goals, but also being responsive to the individual who can make a case for a micro-credential.
[Break in audio] write their own course and their own learning plan and as long as they can demonstrate that they have evidence that they have learned it and worked with the kids to show that, then that works also. And so we have developed some teachers that have [Break in audio] learned and applied some really great things that hit the ground.
M.A. Wolf, PhD.:        Yeah I really appreciate that because you're having teachers participate in professional learning, I think you're also modeling for them right? So they get to experience those opportunities that voice and choice as well, so I really do appreciate that. And Bernadette you probably had like a slightly different twist on this as you built your school, how did you help build capacity of educators?
Ortiz-Brewster PhD.: Well the exciting thing about us is that we built this together so there was a founding staff in 2013, and we were all pretty much in the same boat where we were building a school and really didn't have a model out there to actually go to and say how did you do this? Especially with sixth and seventh grade, so one of the things that we did, we had a saying basically if it's not working we're gonna change it. We're not gonna wait till the end of the year we're gonna continuously tweak the program, so there was a lot of collaboration and the University professors were learning with us, interns were learning with us, they were teaching us. So I think it's just an exciting place to be because we're constantly collaborating and then when you have a platform where everything is online the students are teaching us as well. So I think that we kind of call ourselves a lab school though we're not officially one, when I hire faculty I always say to them if you're not willing to live in a fishbowl this is not a good school for you because we're constantly having people come into take a peek, to give advice, constructive criticism, feedback whatever you want to call it but we take it we learn from it, we tweak.
So we're constantly assessing what we're doing and we're constantly assessing students and gaging their interest and what it is that they need and the independent learning center design came from the students, because the original independent learning center was a very large old-fashioned type of auditorium that was not conducive for this type of learning. And so when we went to the students and they said you know Dr. Ortiz, I really wish I had a small room that I can just go into and maybe do a video recording for my Spanish teacher, or I wish I had a little group room where I could meet with four of my classmates because we live an hour away. So that's where that design came from and it's really just –
M.A. Wolf, PhD.:        I love that asking the students, I think that's so important and you all also mentioned different things that opportunity of when do you sometimes say we're actually gonna stop doing something right? And I think that's something school leaders we often say, okay yes you wanna do more of this you wanna explore this, but what are you going to stop? Because teachers can't just do more and more and also it's very frustrating right for them. So I really do appreciate that. Christy Wiley from Lincolnshire, Illinois asked us a question that's kind of a follow-up, when only a few staff members let's see – when only a few members of the staff are ready for this learning what could you be used to get more teachers on board or even if most people are ready, how do you get those last few on board? And I know you kind of were able to lead with that Bernadette as you built your team, but I wonder Sheila or Michael, do you have any examples of how you've done that?
Sheila Evans:              I can jump in, I think one of the things as leaders is that we need to hold the hands of our resisters and let them know our expectation and gently nudge them along the way. And to do that, they have to hear it from us, but we also have to make sure that it's someone they're comfortable with to help them along in that journey. So the expectation has to be set, but then we need a scaffold for the teacher just as we would scaffold for a student who is struggling.
M.A. Wolf, PhD.:        Great.
Michael Comiskey:      I would add, look for those people who are on the precipice and nudge them into the new thing, maybe swap a team member in and out of an environment. Or we had someone go on a maternity leave and the next person that got moved in there [Break in audio] be just a new hire but it really made a lot more sense to move an existing teacher into that to create an environment. And that person now, she went in as I wouldn't say a skeptic but she might have gone in with her eyes wide open and with a lot of [Break in audio] more traditional setting. But now she's able to be a bridge to others for colleagues that are still more in the traditional setting [Break in audio] difference I think those kinds of looking for placing the right person to create those bridges for the rest of the staff.
M.A. Wolf, PhD.:        That's a great point to bring people to see what works in other places I often find that same thing right? Like you wanna bring people who are ready to come back and implement right away, but you also want to bring some of those that might be a little more cautiously skeptical because then as they start to embrace something I think that does create that wonderful bridge. I did want to mention here too Ann Buelle, from Orfordville asked about whether or not we would mention future ready librarians? There's a tremendous amount of resources on the future ready schools website around that, but I did want to mention that part of what I've seen in building capacity of educators is how many schools are able to use their librarians or library media specialists. Many principals have told me if I don't – like you need to have your librarian be part of the leadership team but also remember that they are content experts, it was teachers are trying to figure out how to utilize all the content available, all the resources, so how do those librarians fit into that professional learning?
Yes, they help personalize for kids, but also they can be part of that building up capacity with teachers and I do hope you'll check out some of those resources they're very very helpful, but also just the importance of that role in schools I think is only – it's changing but it's also I think becoming even more important. One of the questions we'd love to talk a little bit about is how do learning environments actually support this shift? For some places I see that being almost a lost leader, Bernadette I know you've talked quite a bit about kind of the ILC, but you also had some other things I think you've done that kind of help or learning environments have allowed you to really make this transition.
Ortiz-Brewster PhD.: I think this year in particular we've been working with the College of Education and really trying to develop expectations of what an ideal blended learning classroom looks like and one of the things that we have learned is that we need to allow for flexibility. Sometimes when students start getting into middle school and high school age we put them back in rows and so we have an expectation that the furniture is more moveable, we try to get furniture on castors when possible. I know teachers get worried when you talk about rolling chairs, but they really are extremely helpful when it comes to really manipulating the classroom. So we do more of a station teaching type of environment where you have a small group working with a teacher, maybe reviewing a concept, then you have another group that's working online maybe doing an online activity, we have hands on portfolio projects. So really just encouraging teachers to try different patterns in the classroom.
We actually coined one, we are our mascot is the phoenix, so we have phoenix flight plans and we have trying to figure out what are the different configurations and then they take that back to their teams and then they discuss what was beneficial to them, when you have some kids on a computer and some kids working face to face. So it kind of gives you more of that small school feel but it gives the kids different opportunities because we had to learn how to balance how much time they're on a screen and how much time they're actually with their face to face teacher.
M.A. Wolf, PhD.:        Great thank you, Sheila did you want to add to that? I think you're on mute Sheila.
Sheila Evans:              Here we go, one of the things I would say that's important to our environment over the course of really the three schools I've worked in is to provide opportunities throughout the year to do learning walks and that way – you know teachers still to some extent are in isolation and they're teaching in isolation and so they need to go see what their colleagues are doing. And we haven't formalized a particular learning walk for this year we've done it at this school in the past where we are very intentional about which classes we're going into, what we're looking for, come out and debrief that kind of thing. But I did have one story from this first nine weeks in our school where I had a teacher, I was doing a walk through and she was trying a new pedagogical approach and it was partner reading, based on Lucy Calkins work. And she said, "Sheila, I'm just not so sure I'm doing it right." And I said well step over here with me and let's look at your colleague's classroom she's working on it right now and see what we can discern from that experience.
And we actually for the C block have two teachers or two adults in the classroom, so it's very easy to have her step away right during instruction, take a look at it and as we were walking back to her room could debrief about it. So I think those very intentional planned learning walks are important for our staff, but also the spontaneous things that you might see as a leader that you wanna go take somebody to look at right then, or even using video which I do that as well.
M.A. Wolf, PhD.:        And Sheila I love that you know the culture is such that that's comfortable for your teachers right and I know that doesn't just happen overnight so really thinking about how you build that culture and all three of you have spoken to that. Michael, I actually got a specific question for you related to this from Dante Prior Sr. in Portage, Indiana. He is wondering, he wanted you to go into a little bit more detail about what led you literally tear down the walls in your school and the impact it's had on student learning and I think that speaks very much to one version of learning environments, so I didn't know if you had a few details to add about that?
Michael Comiskey:      Sure, in the creation of this multi-grade house that we set up. We did take traditional classrooms 30 by 30s and tore down the walls and created adjacent to those classrooms was a huge open area that we would sometimes use for our staff meetings. So those classrooms all got torn down, leaving a big open footprint but then what our designer and we worked on was actually creating a huddle kind of a floating huddle room kind of in the middle of that. There's one room on one side of it, has room for about fifteen kids at the most, it's pretty snug and on the other side of it has got room for a couple different groups where you could get maybe six in these little rooms and they're all glassed in. So you'd think those would be really [Break in audio] but I personally have gotten used to being in those rooms and there might be chaos beyond the glass with the small group of math learners for example, and the kids and I have just learned to work through that.
So I think the point about the learning environments that [Break in audio] addressed my advice would be is look for some variability in those learning environments. So the 30 by 30 footprint classroom is great, but it has it's limitations and look for things that might go quite a bit smaller where as big as you want that room to be but maybe another interim sized, how can we get a dozen kids together and have them have a reasonable space. And then blowing it out either further, how can we get 70 kids [Break in audio] that makes the most sense. You know our building we have been able to through our community [Break in audio] was clearly part of it where we can get 70 kids into a space that with some of our operational funding we knocked down walls and put up new carpeting and we ended up with some decent learning spaces. You know we had to make adjustments along the way, the ceiling was a little too [Break in audio] some baffles and you know we made some adjustments.
But overall those spaces made a [Break in audio]. I would also emphasize though that the furniture and the space is not as important as the pedagogy, [Break in audio] the furniture think about how you want to teach and how you want kids to learn first and the spaces should be a function of that.
M.A. Wolf, PhD.:        Great and you may be noticing that we are going a little bit over our panelists have decided they are willing to stick it out and the alliance is letting us. So I have one specific question for each of you and then we'll wrap up with some advice. We have gotten a couple more questions from participants and we will try to address some of those on twitter after this, but also some of these I'm noticing that our wonderful principals and school leaders are mentioning already. So Sheila what I'd love to ask you about is you mentioned resources are obviously tight, not just in your school but in many. But also you're in a school district that often has to really be creative, so how do you make change with what you already have so that you're not always waiting until you have more resources or that just right funding source?
Sheila Evans:              Well we've moved towards flexible seating, we've had the opportunity to go one to one, over the years we've added presentation boards, we've added robotics, all of these things and never did we have a large allotment from our local state or federal monies into our school. And so for me the whole – gosh 15 almost 20 years that I have been a school leader I have sought grants and kept watching for those things to come through your email and you're so busy and you just delete, delete, delete. Well sometimes we need to slow down enough to see what's out there and then do the hard work that it takes to secure that grant. And some of them have been a million dollars or more for our little small district and some have been just few thousand dollars. Some have been in the hundreds of dollars, just to get the flexible seating.
So it's really an effort to seek the funding, we sell donuts and wrapping paper and all of those kinds of things and pool our money together and provide for our teachers. We don't have money to send our teachers to professional development necessarily, but we still send them because we find the funding sources to go, or we go and present so the registration will be free. We do whatever it takes.
M.A. Wolf, PhD.:        Bernadette, two different people have actually asked questions that I think would be great for you. Michael Reichart from Wilmington, Delaware wanted to know about how you encourage teachers to take risks but also invest the planning time needed for this shift. And then Alexander Wyatt from Irwin, Massachusetts was also wondering how do you help people take risks when they're worried about state tests to provide more innovative opportunities for kids? And I just wondered if you had any advice on that, knowing that you have a lot, you know you really moved to a very aggressively personalized place right and so how have you done that?
Ortiz-Brewster PhD.: Yeah and if you know a little bit about the sate of Maryland, I would say it's a pretty locked down state when it comes to charter schools and so we have some flexibility of moving within – a little bit outside of the box but we still have to conform to a lot of district standards and state standards. We have, I have become a strong advocate for our blended model and just really me going out and our board, I have the assistance of some wonderful board members and really just inviting people into the school that are not believers or don't understand the model. You hear comments in the public and so you bring them in, you let them talk to the kids, the kids are wonderful advocates, they're the best individuals to be able to talk to these people. They always leave saying, "Oh My goodness I get it now, but you have to see it you have to be in it. In the beginning we didn't allot for enough planning time for the teachers.
We do follow union rules but we needed more time, so what we learned was we gave them a little bit extra time the following year in the summer, we came back a week earlier to do the platform training and the blended learning training. We had to do the same thing for children, we had to take time the first week of school, we call it boot camp training to make sure that they understand the platform and the model before they really can get into the content. So they're not so distracted with all the bells and whistles of the platform. I think one of the things that our curriculum does well when it comes to testing is that it is fully aligned to common core standards, it also mimics, it looks like the part test if you take it online. So I think that that's half the battle is getting the kids practice on taking online tests.
So anyway possible that you can get them online to be able to feel comfortable with taking tests online because there is a certain way to do things especially for math. It can be very difficult and they can get distracted and there is research out there that shows that if they're not comfortable with the platform they're not gonna concentrate on the content. But I think the other thing the curriculum does well is that we infuse portfolio items. Portfolios give children options so they can present what they learned in many different ways, so it's differentiating. So it's basically yes they learned a concept but now they have to prove that they can apply it, which goes hand and hand with state assessments, giving them lots of opportunities to do that.
M.A. Wolf, PhD.:        That's great thank you and I'm afraid we probably need to move on to you all giving your final advice, although Michael I was going to ask about a time you changed your mind, so I'll let you decide if you want to weave that into your final advice. And so I'm wondering Michael if you wanna go first on any two pieces of advice that you have for participants.
Michael Comiskey:      Sure and I guess the concept that we talked about about changing your mind, it is one of the pieces of advice I'd give and that is one especially once you've developed a culture of you have to be prepared to listen really large to where they wanna go and be willing to [Break in audio] advice is to really listen large. And the second is [Break in audio] things but you might actually need to shift what you're saying yes to. So you think you wanna go sort of in this direction and they might take you in a slightly different direction that fits more with what they're passionate about and ultimately those differences aren't that big of a deal and you're gonna have a much more committed adult, and adult group that wants to move forward together. So listening and shifting are big ones for me.
M.A. Wolf, PhD.:        Right which goes right to that stakeholder input, right Michael? How you're always keeping that, I love it on the engagement there thank you so much. Bernadette do you want to give your two pieces of advice?
Ortiz-Brewster PhD.: I think that when you come across people that are saying, you know criticizing or don't think the model is gonna work, I mean I graduated with an online degree and PHD and during my graduation the president was talking about how years ago we were being made fun of, how can you get a PHD online, that's ridiculous. I have to tell you it really has made me become a very dedicated and independent learner and I think that teaching kids about grit and making sure that they just have to keep trying it's a mindset, it really what it is and it's okay to make mistakes, what did we learn from it, we have to look at that data we have to teach kids how to be self regulated and self motivated.
M.A. Wolf, PhD.:        Awesome I love it, you all have literally hit on all the questions I didn't get to ask you, so I really appreciate that. Sheila the final piece of advice here, what would you like to share?
Sheila Evans:              Sure I would say you cannot do it by yourself, you need to build your team and get those people who are just as passionate about personalized learning as you are and keep them close and help them spread out the word across your school, your region, your state. The next thing I would say is you've gotta have a vision and you've got to be the lead learner in that vision and you've got to be willing to let folks go ahead of you a little bit, you've got to be able to hold the hand of those who might be a little bit reluctant. But to stay right in there with your team and to work towards what your end goal is and once you've hit that you know there's gonna be another goal so you just keep working.
M.A. Wolf, PhD.:        Wonderful, and I want to come and visit all of your schools and I'm sure the people who are listening today will also want to. Thank you so much Bernadette, Sheila and Michael, I do want to remind our viewers the information on the future ready effort can be found at futureready.org. We continue to encourage superintendents to sign the pledge, there are many different opportunities and now there are strands, which the Friday Institute has been involved with as well that includes strands for IT, principals, librarians and instructional coaches. So you'll wanna go ahead and take a peak the institutes are really high energy but also I think just pack in so many opportunities for teams and individuals. We also have been on #futureready so please continue to communicate on there, I've made sure to tag all of these wonderful school leaders that we've had here.
We do hope you'll join us for the next webinar, which is leading personalized and digital learning a framework for implementing school change. Nancy Mangum and I both from the Friday Institute will be joining Governor Wise on December 14th at 2:00PM Eastern Time, and if any of you missed a part of today's conversation or if you have other colleagues that would like to view this. They are all archived at allfored.org/webinars. And so we really do hope you'll continue to follow the future ready work, follow these amazing school leaders, if we could clone them we would in a second but I'm so appreciative of each of you taking the time and sharing today. And so I hope you have a wonderful afternoon and thanks to all of our participants out there who have been sending in excellent questions and sharing with us, we look forward to connecting with you online. Have a great day everybody.
[End of Audio]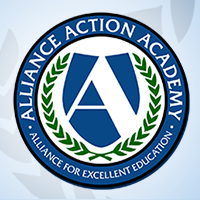 Welcome to the Alliance for Excellent Education's Action Academy, an online learning community of education advocates. We invite you to create an account, expand your knowledge on the most pressing issues in education, and communicate with others who share your interests in education reform.
Register Now
or register for Action Academy below: