Supporting Exceptional Students Through Student-Centered Learning Strategies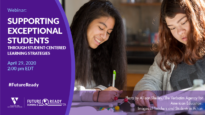 April 29, 2020
6:00 pm – 7:00 pm EDT
Online
Guests
Leslie DiChiara, Assistive Technology Specialist, Instructional Technology Specialist, North Bellmore School District (NY) (@lrdichiara)
Sharon Plante, Chief Technology Integrator, The Southport School (CT) (@iplante)
Ace Parsi, Director of Innovation, National Center for Learning Disabilities (@ncldorg)
Avril Smart Goggans, PhD, Research and Engagement Manager for Future Ready Schools®, Alliance for Excellent Education (@DrAvrilSmart)
Future Ready Schools® (FRS) stands firm in the belief that all students deserve access to learning environments that support personalized learner-centered strategies that meet the diverse needs of various learning styles and learning differences. Students with learning differences often have unique challenges to learning and need the support of personalized learning solutions; however, some educators do not have the capacity to meet those needs.
In this webinar, our guests Sharon Plante and Leslie DiChiara shared how they work with teachers and students across curriculum areas and classrooms to prioritize the learning needs of  students with disabilities. From coaching, mentoring, and coteaching to using adaptive technology hardware and software, educators can personalize learning for their students. Also, joining us was Ace Parsi, a spokesperson for the National Center for Learning Disabilities,who shared how advocacy and research can improve outcomes for people with learning and attention issues and other disabilities. Mr. Parsi offered his perspective about how to shape local and national policy to reduce barriers and ensure opportunity and access for all students.
Our guests explored the following questions:
How can educators enhance what they already do to support students with learning disabilities? What new adaptive technology can they incorporate into their current work?
What challenges can students with disabilities experience in these environments and how can schools proactively address these challenges?
What are some strategies to coach and mentor content-area teachers for supporting students with disabilities?
How do content teachers and special education teachers work together to create and implement lessons that support the universal design learning principles?
What federal policies should educators keep in mind when they want to increase their knowledge on the rights of students with disabilities?
During this time of national crisis, what should educators do to ensure they apply the latest and greatest strategies to support students?
This  webinar was a great opportunity to have one of the most important conversations about remote learning for students with learning disabilities.
---
This webinar is made possible with the support from Konica Minolta | All Covered. Learn more about the unique opportunities they offer for district partnerships.
---
Please direct questions concerning the webinar to ldossin@all4ed.org. If you are unable to watch the webinar live, please register to receive the video archive directly in your inbox.
Future Ready Schools® is a project of the Alliance for Excellent Education (All4Ed), a Washington, DC–based national policy, practice, and advocacy organization dedicated to ensuring that all students, particularly those underperforming and those historically underserved, graduate from high school ready for success in college, work, and citizenship. all4ed.org
Follow FRS on Twitter (twitter.com/FutureReady) and Facebook (facebook.com/futurereadyschools) or visit our website at futureready.org.
Avil Smart Goggans:  Hi, everyone, and welcome to today's Future Ready Webinar. I'm Dr. Avril Smart Goggans; I'm the research and engagement manager at Future Ready Schools. And many of you know that Future Ready is a project at the Alliance for Excellent Education, in Washington, D.D., where, along with a coalition of over 60 different organizations, we focus on maximizing digital learning opportunities that help school districts move quickly toward student-centered learning. Since 2014, believe it or not, Future Ready Schools has been providing districts with the tools and resources that they need to ensure local technology and digital learning plans, aligned with instructional best practices, that they're implemented by highly-trained teachers, and they maximize learner-centered experiences for all students, particularly, those students who are furthest from opportunity.
Before we start today, I would like to thank Konica Minolta and All Covered for sponsoring today's webinar. Thank you so much. And thank each of you for dedicating your time to this really important topic. We know that there are plenty of other places that you could be right now, and appreciate you spending the time talking with us about special education students. Please use the hashtag for today, on your favorite social media platforms, #futureready, to follow along. And let's get going and talk about supporting exceptional students through student-centered learning. Leslie, if you could introduce yourself and give us some background on your role in your district, we can get started.
Leslie DiChiara:         Okay, sure. So, I'm Leslie DiChiara, and I am an assistive technology and instructional technology specialist in a K-6 public elementary school district. I am in North Bellmore, New York. And basically, my role is to support the students throughout the district, using assistive technology, and also to incorporate instructional technology lessons and push into classrooms. And working with teachers, supporting them, providing professional development, so, all of those things
Avil Smart Goggans:  Thanks, Leslie. Sharon?
Sharon Plante:            Yes, my name is Sharon Plante. I'm the chief technology integrator at the Southport School, which is an independent K-8 school in Connecticut just for students with language-based learning disabilities. I am a special education teacher, Orton-Gillingham-certified, so I directly teach classes. But at my technology role, I work with students individually for assistive technology support, and then work with all students and staff on implementing educational technology across the curriculum.
Avil Smart Goggans:  Awesome. And, Ace, if you can give us some background on NCLD and your role there?
Ace Parsi:                   Sure. As I'm hearing about all these intros, I feel like I'm the Ringo Starr to this four-person [laughter] [crosstalk]. My name is Ace Parsi; I'm the director of innovation at the National Center for Learning Disabilities. We focus on learning and attention issues, which is the largest category of disabilities within IDEA. As director of innovation, which is the coolest title I've ever had in my career, I look at reform strategies, education technology, student-centered and otherwise, and figure out how they do or don't work for kids with disabilities.
Avil Smart Goggans:  Awesome. So, we can see clearly that all of you are great champions for students with learning difference and disability, so today is gonna be an awesome discussion. Thank you so much.
All right, so before we start, I always like to bring some data in to set the stage on the students that we're talking about today. According to the National Center for Education statistics, in the 2017-2018 academic year, over 7 million students received special education support, and that's 14 percent of public education students. We dig deeper and find out that 34 percent of those 7 million students are students with specific learning disabilities. So, in this time when we know that everyone is social distancing and remote learning is happening, for the most part, in all of our schools, I want Leslie and Sharon to talk about what does that look like for a student with learning disabilities, and what are some of the challenges that they face in remote learning.
Leslie DiChiara:         Okay, so if you want, I'll start.
Avil Smart Goggans:  Go ahead.
Leslie DiChiara:         The students in my district are, at this time, currently working from home. We are not a one-to-one district, but many of our students, especially students with assistive technology, are provided their own devices. We are using Seesaw as a platform right now, currently, as a distance learning program, which has been going very, very well for them. Our teachers are doing remote learning, but basically, we're looking at this that it's, you know, any type of technology that you're using is not a one-size-fits-all. So, our teachers are working and doing Zoom sessions with students, they're able to interact with them and modify, and the teachers are also working together to plan and provide home instruction and support the students while they're _____ distance learning.
Avil Smart Goggans:  Nice. And Sharon, in describing your context, can you tell us a little bit about some of the challenges that this brings for a student with learning disabilities?
Sharon Plante:            Yeah, it's definitely, I think, challenging for any learner, but when we think about, when we are talking about providing what a student with learning differences needs, we know so much of it is related to technology. And being able to provide that content in an accessible way, and also providing them the ability to show what they know, which often is with, also, some sort of technology, and getting that in a format in this remote learning environment is really having to think thoughtfully about the tools that are being chosen to use, that are, one, simple for the students to do independently. We ran into some of the challenges, students that were comfortable in school using a tool went home, and that home situation kind of, you know, they fell back to, well, not feeling so secure, 'cause they didn't have that teacher support there.
Just creating lessons in this environment that we know can be accessible with some of the distance learning tools that we are engaging with is really just having to be thoughtful about presenting things through a tool that makes it accessible with relative ease. And how to create a lesson that might be a little different for a teacher right now, but it's with the thought that it needs to be more successful for these learners.
Ace Parsi:                   Avril, can I add a little to that, too?
Avil Smart Goggans:  Yeah, I was just gonna [crosstalk], yeah, please, Ace.
Ace Parsi:                   Yeah, I totally agree with Sharon's point. And I think that one of the issues that comes up is, the accommodations that students with disabilities get in their traditional classrooms may be different accommodations than what they need in virtual settings. So, for example, say a student has ADHD, in a traditional classroom, they may get preferential seating. But in a virtual context, they may have a whole different sort of substimuli. And you may have to create an accommodation in terms of how you organize information on their screen and check in with them. Just, same thing in terms of a variety of issues, whether it's students having visual problems, executive functioning issues in terms of organizing information, all those things, I think, need some level of thoughtful consideration, to make sure that your kids with disabilities can deeply engage with that content.
Avil Smart Goggans:  Nice. And, so, given all of those potential challenges that remote learning can bring, what are some ways that teachers and principals, and even district leaders, can be more proactive about supporting students with learning difference, now that everyone's learning remotely but it's a little different for that population? So what are some ways that they can be proactive about supporting that group of students?
Ace Parsi:                   The one thing I would say to that – and I'd really be interested in how Leslie and Sharon are experiencing this on the ground, but – what we always advocate for is that, don't retrofit those kids into the system not designed for them. So, what we often do in education reform is we kind of start with a general framework and general strategy, go back and say, "Oh, why isn't this working for this English learner, or why isn't it working for our kids with disabilities?" The reason is because it was never intended for them. So, rather than starting with the "average learner," which, frankly, does not exist – [laughs] I don't know who – like, if you have an average learner, please put _____ _____ _____ I don't know, like, what that even looks like.
Avil Smart Goggans:  [Laughs] Yeah.
Ace Parsi:                   But rather than starting with that, I think what we need to really do right now is start with the margin, start with the kids that would have the most challenges, figure out how to make that system work for them. And in the process of doing that, you're gonna make content much more engaging and accessible for all your other learners, as well.
Avil Smart Goggans:  I love that, starting at the margins and working from there. Leslie and Sharon, tell me a little bit about what you're doing to help other instructors be proactive to support students with learning difference.
Sharon Plante:            _____ I just wanna _____ to your point of, you know, always reaching to the margins, if we did that every day, I think every learner would benefit. So, it's great, it's a conversation, maybe, that will come out of all of this, in the long run. I think one of the things that has made our program, currently, where we feel we are doing for our students is being thoughtful about the tool choices that we're using to – trying to find one or two tools that we know will provide that accessibility, that there is ability for – we really focus on text-to-speech and speech-to-text, from the get-go. And trying to find one or two tools where we know teachers can create lessons with that tool, rather simple for our non-tech savvy teachers to kind of get up to speed on. We definitely took about two weeks to do that, before we went to online classes.
So we want to make teachers comfortable, which I think is a key thing before we throw a technology out there for them to use, make sure there's the training there, and trial and error, and something that you know the students can figure out pretty quickly. Luckily, we've been focusing – Google Classroom was something we were already mostly using, and we made sure everyone was onboard before we knew we might end up remote-learning. And we focus on tools like Classkick and Nearpod, which provide opportunity to have kids use the different tools in there, and the teachers to create lessons in there, that are multisensory. And that's really some of the key point; I know Leslie will talk about Seesaw, it's another great tool out there.
But just trying to find kind of one or two tools that will really enable the bang for the buck for the teacher to create in any academic area, but also provide all that accessibility and ways for students to express themselves in their responses to that lesson creation.
Leslie DiChiara:         Absolutely, if I can add to that, as well?
Avil Smart Goggans:  Yeah.
Leslie DiChiara:         I think that Sharon hit on a couple of things, but it's that teacher support and making sure that the faculty, you know, and the people who are implementing this technology – because we're somewhat behind the scenes. You know, we're the ones who are doing the supporting, but the teachers are the ones who are really on the frontline, and putting that information out there to their students, they need to feel comfortable. And to realize, a lot of the teachers, as I'm working with them, are going, "Ah, I didn't realize that was something." Where, you know, maybe they – you know, I've worked with the teachers for assistive technology students, but now this is universally designed for everybody.
So, even something as simple as, in the platform that we're using, there's an option for them to audio-record directions. And I've suggested and we've made the recommendations in our trainings so that teachers do this for all activities, not just for the students that need it but for the students – it's going to reach everybody. And it provides an opportunity for every student, because we don't know what's going on at home. You know, some students, like my own children, have a tremendous amount of support at home, you know, with parents working, and other students are working in different opportunities. So we wanna provide a platform and set our students up for success while they're not in school and while we're not able to be with them in-person, and I think that that's the first place to go is the ongoing support and training.
So I know myself and my team that I work with, that we are constantly reaching out to the staff, providing professional development opportunities, touching in with teachers, you know, being available for them, so that they feel supported. And that we're sharing, slowly, you know, new tools, as we're realizing them, instead of dumping everything on to everybody so that they feel overwhelmed. Instead, doing this in a slow rollout and saying, "These are the pieces that are the most important, first, and then, let's share this next component with it." And I've found that that has seemed to have the most positive response, because people are feeling supported and they are understood that it's being taken slowly.
You know, that we're working and we're meeting the students where they are, but we're also meeting the teachers where they are, too. And I think that that's a really critical component to seeing success and to kind of close the gap in terms of where these challenges with remote learning pose themselves.
Avil Smart Goggans:  I love everything that both of you, all three of you, have said, honestly. There's a lot of conversation about slow-walking the process, right, for teachers and for students, and accommodating for the idea that this is new for everyone, in a lot of senses, right? Even though you've practiced distance learning to an extent, before, this context is a whole new animal. And so, it's important that you make those accommodations not only for the students but for the teachers, as well, 'cause they're gonna need some time to catch up, too. You hit on something, at the end of your response there, Leslie, about universal design, and I wanna jump right into that.
Sharon, when we spoke before, you mentioned that UDL is a huge part of what you advocate for with general education teachers as well as special education teachers. Can you tell us a little bit about why that's so important? And then also, we'll jump to Leslie and find out how do you implement those principles into what you work with teachers. Because every day, you work with general ed and special ed teachers; you're the only person in your district. So, Sharon, let's start with you about why UDL, and then, Leslie, just some practical advice about how you integrate that into what you support with teachers.
Sharon Plante:            Yes, it's such a huge conversation, luckily, that has come – it's _____ come back into the conversation. I mean, universal design for learning has been around for so long, and I know Leslie and I communicate often about this, when we're talking about the different tools and sharing things. And it's so crucial, because I think to what the point Ace made earlier, if you can design a lesson where you're making the students across the board, again, not going to, you know, the myth of average, so to speak, you know, but going to a student at either end of the spectrum, and everywhere kind of in-between, if you can get keep them in mind throughout the design of a lesson, then the multiple means of engagement and the multiple means of accessibility and of expression as given, "Okay, how can they access it? Do I have it in multiple ways?"
How can they produce something, throughout the lesson, that, one, maybe highlights a talent, really, for any learner is so key. But for, when we think about our learners, is just a way that we know accounts for their learning challenges and highlights their strengths, that they're able to really shine through that lesson. And just making it just so there's some choice, I think, is what's so great, _____ out there, I'm seeing so many teachers, right now, creating choice boards, which is so cool. Because they're creating these digital tools that they never would've done before, but they're really realizing that, throughout universal design for learning, it's kind of controlled choice, so to speak, but giving some choice when _____ available, and designing a lesson that is ideally going to allow every student to find success where it meets them at their learning.
Avil Smart Goggans:  I love that. And, Leslie, so, I mentioned this briefly, but you are the only assistive technology specialist in the district, K-6, so, can you tell us a little bit about how you juggle, or, how do you integrate UDL into working with general education and special education teachers, so that they realize the value of implementing that practice?
Leslie DiChiara:         Absolutely, and I think you brought up a very important piece in that question is that, it's about the teacher seeing the value. When they see that it works and they see the impact that it has on students, and how it improves learning achievements, and how it allows for students to feel successful. Because I think that's the biggest piece, especially being in an elementary school district, you know, it's all about supporting our students not just academically but emotionally. And a lot of the times, you know, I'll begin to work with the student, and after incorporating some of the technologies that are now available, you know, what I hear from the teachers, and I hear from the parents, and even the students themselves, is how they're now able to do things that they weren't able to do before. That those barriers that were placed in front of them have now been removed.
And I think that that's the most critical piece, it's not so much about the tool but it's about the outcome. And it's about the teachers being able to see, and the students, and the parents, and everybody – you know, everybody involved, being able to see that there's a positive outcome from this. And it promotes independence, it promotes self-confidence, and it allows our students to have choice in terms of how we're learning. So much about education is about the pathways and how we get there, you know, tiered instruction, all of the different, you know, modalities in being able to learn, and UDL provides that. So, even if the student doesn't necessarily "need" the tools, it doesn't mean that that isn't going to help to enhance their learning.
And, so, by providing it to everybody, it really opens up the pathways for student learning, and it provides options and choice. So I think, to answer that question, it has to do with that value, and teachers being able to see the value in the tools that are there. I have to say that I work in an incredible district, and, you know, it's come to a point, now, where I'm not necessarily needing to present tools to teachers. They're coming to me, they're asking me for that support, and that, to me, speaks volumes of the programs that we have and about the service that we provide in the district is when the teachers are coming and saying, "Hey, you know, I've got another kid who I feel like, you know, reminds me of so-and-so."
Or, "You know, I know we've used these tools with other kids, and I feel like this could really be helpful for them." So it's not even me generating those requests, any longer; it's really coming from my staff. And that, to me, is everything. So, it's about that buy-in, about them seeing the value, and again, it goes back to what we talked about earlier, the support. You know, the teachers need to be supported, they need to feel – and so do the students, and so do the parents. So, it's about training, it's about ongoing training, and not just dumping the tools in the classrooms and walking away and saying, "Good luck." You know, it's a matter of making sure that everybody feels like, "Okay – " some teachers, we'll be able to give them the tools and they're going to say, "I got this and I can run with it."
And other teachers are really going to need those touch-ins and, you know, coming back in. And without judgement, you know, that they don't feel like, "I don't wanna feel like I'm not, you know, good at my job, or that I'm, you know, inadequate." You know, they wanna feel that it's okay and it's a safe place to come and ask for help, just like we try to facilitate that in our classrooms for our students, it's the same way.
Sharon Plante:            I think the key point that, Leslie, you made in there, too, is if this is done in such an authentic manner where the teacher's supported, they see, also, the success with a student, that independence that comes with the student, and self-confidence, makes them a more engaged learner. It also, to Leslie's point, makes a teacher more eager to try to use some of these tools, because they see that the student is engaged. They do want to learn, they want to be an active participant in their learning; they just need something that can support them. And I think one of the great things about today's educational technology is that is so much simpler to do with tools that can work in, as Leslie pointed out, in any regular classroom or in any classroom.
And making it less work for the teacher, which is always a concern, to her point on support, you know, we know some of this can be laborious, at times. But seeing the reward from an engaged student, particularly those students who may before have been facing more difficulty or more needed kind of our special education supports, where they can provide that support and feel they are providing that opportunity just keeps everybody, I think, actively engaged. Parents are eager to see their children wanting to join, you know, a lesson or an activity, particularly right now where they're seeing it, from home, we've definitely seen some parents who are pleasantly surprised with what their kids are able to do independently, you know, despite hearing it from us. But I think, for general educators, you know, all the time, just to be able to see, "If I create a lesson, you know, with just some of these principles in mind, I am making all my students engaged and active and finding success," which is what any educator wants.
Avil Smart Goggans:  Awesome. And, so, I wanna get Ace to jump in on this topic, a little bit. So, thinking about how UDL, universal design for learning, works with student-centered learning, what are some ways that we can try to elevate those concepts up into the policies and practices that schools and districts, and even state education agencies, advocate for in their states?
Ace Parsi:                   Yeah, I mean, I think from one angle to think about UDL is very context-dependent. So, we would love to just say that we're gonna take education right now and just apply it, but just do it in a virtual setting, but that's not the context _____ _____. I know I have a four-year-old, and she is – it's just been a strange thing to see how she is processing the current context. We have to just kind of like take a step back and say, like, this is an enormous change that's being foisted on kids and on adults. So, like, for a lot of our teachers, you know, there's probably kids running around in the back; they have to worry about that, as well.
For kids, they're having to process a lot; it's, in some cases, the trauma of losing family and members and loved ones, like, just the context of that. And to be open, I think, to that process and saying, like, you know, what are kids going through. The most important thing, at this moment, for every kid, may not be that they learn their Pythagorean theorem; it may be how they're processing what's happening. And we won't know the full context of that, for a long, long time. I think that what's special, I think, for kids with disabilities and other traditionally marginalized groups, is that they might experience this trauma in a deeper way.
And so, to be open about that. The other aspect of it, I think, that's really important, to your question, from a policy standpoint, is that kids with disabilities have been experiencing the pushback, in light of Covid closures, in a different way. I think that there's some educators that, in a best-case scenario, just don't know how to do this for all their kids. And then, in a worst-case scenario, there's people in the community and the education policy community that have almost scapegoated kids with disabilities, for why these things are not working well. And that is, like, unfair. And if you are listening to this, at 22 minutes into this webinar, you're probably one of those people that is super equity- and inclusion- and social justice-minded. Great, thank you so much for joining.
But it's so important that we be explicit about that, we advocate for our kids, that they don't lose their rights to a free and appropriate public education, in the least restrictive environment. The context might change, the timeline for some of the services might change, but that we hold strong on civil rights. And you may need to, like, have those individual conversations, with your kids with disabilities, with your English learners and some of those populations, and just check in with them to see how they're processing that. So, yeah, I think that it's – think about what the topics are and how you're delivering them, and just how kids are socially and emotionally processing all this.
Avil Smart Goggans:  Yeah. So, just touching on the social-emotional piece right now, thinking about your students that you work with every day, and your teachers that you work with every day, what are you seeing in terms of how teachers are handling this distance learning process? And are they at a place where they can sort of embrace the challenge? Or are they slowly sort of just trying to readjust to the new normal or the temporary normal? Sharon, you can go first.
Sharon Plante:            You know, it was interesting going to this kind of plan where we did, 'cause we did about two weeks with just independent work online, while we trained teachers for two weeks. And I will say, the teachers, that last Friday before we went to direct remote teaching, were very reticent, for many reasons. Not feeling very technology-savvy, how is this going to work, how is it going to look like. And for the teachers, it was really neat, that first staff meeting we had that next week where we were live, you know, people were actually breathing a sigh of relief. Because they wanted to see their kids, there was that engagement, you know, there was the sillies, there was the laughter, there was conversation.
Not to say that there weren't hiccups, but, let's face it, we have hiccups in our regular classrooms on a regular basis. [Laughs] So, you know, and there's gonna definitely be bumps and hiccups along the road, but I think, for our teachers, it was just being able to have, you know, the regular check-ins we are having as a regular kind of class was so much more trying to create some normal. And I think made everybody feel a little bit more empowered, in some ways, particularly people who didn't think, you know, that they could do this. And I think, for the kids, it was the big – I mean, I know the first day I met with my students, it was just wonderful, I mean, we just had conversation.
I have kids who asked for separate check-ins, just at a separate time, but I have actually created, like, a study hall for some of my students, where, okay, they can ask for help if they need it. But that sometimes is just being able to have what was that typical in-school conversation. And I think that's – for all teachers and all students, it's those regular check-ins that I think we all need. I mean, we have, now, our weekly upper-school meeting, lower-school meeting, for those staff check-ins, we have all-staff meetings. But for our students [glitch interferes with audio] classes, but we've also layered in, to the key point that I think Ace made, our social-emotional. They are meeting once a week, as small groups, by age, just to have those social-emotional check-ins with our school counselors, to just, you know, check in, how's it going, go through some different curriculum.
Which we normally did in the building anyway, but, you know, it had to shift to how this would work, because we know that is very key. Every student and every adult, right now, to Ace's point, different ways, and we're just trying to make sure we support every adult and child _____ _____. And so far, knock on wood, you know, there are the hiccups and there are those kids who need some more touchpoints, as well as staff. But just being thoughtful, and I think everybody knowing that that needs to be there and taking action is something I'm very impressed that my school has done. And I know other people I have talked to, their school is doing, as well. But it is so key, I think, for everybody, whether it be your family members or your teachers and students, we all need to stick together. [Laughs]
Avil Smart Goggans:  Yeah, absolutely, and I've seen – I think we've all seen these great stories about teachers setting up drive-by sessions where they can drive and wave to their kids, or their checking in one-on-one with Zoom calls with their classes. And it's great to see teachers sort of in a different light now than they were in the classrooms. Before, you know, we knew that they did these things, but we couldn't see it every day in the news and on the press everywhere. And so, Leslie, tell me a little bit about – we're, what, four weeks in, now, to distance learning – how are your teachers adjusting?
Leslie DiChiara:         You know, I think that, in the beginning, like Sharon said, you know, for some, this was an easy transition. Some of our teachers were already using many of the tools that were there, were very comfortable with the technology, and, you know, I mean, listen, just, again, as children are, adults are, too. You know, we have to be adaptable and flexible, and I think that now that we've kind of gotten into a rhythm, things are going very, very well, you know? And like I said, it's going into and touching base with people, knowing – you know, we know our staff. I work in, you know, a smaller school district, you know, and we're able to reach out, there's multiple people. And it's also watching other teachers rising to the occasion.
So, it's not just myself as a technology expert, you know, but it's also watching – and I brought this back to, you know, the administration team, and I said to them, "You know, what I'm most impressed about, in this whole circumstances of all that's going on, is watching other teachers really step up and rise and be leaders. And, you know, taking the helm and saying, "You know what, I'm gonna go and support the teachers in my building," and being a point person for them. And, you know, not only just their students, but being able to support one another, and I think that that's critical. Like you said, you know, the teachers are being seen in a different light, and it's about that human connection, now, you know, I have my own children, and I see the connection that they have with their teachers.
You know, and some of it's just those touch-ins, you know, just to talk, just to exist. And then other times it's, you know, small-group instruction – you know, that face-to-face time, though, is extremely important. Even for us using Seesaw, there's an option within that, that when you give feedback, you can give it, you know, in an audio format. And that's been something that, you know, a lot of our teachers are doing, and the kids love hearing their teachers' voices. They wanna feel connected, they wanna know that, you know, the work that we're doing is not just, you know, to do work, but that it's connected, it's seen, it's recognized, and that there is that information that's provided back, as well.
So, overall, I feel like everybody's doing very well. You know, I mean, these are not, you know, normal circumstances; we're crisis-teaching, at this point, and, you know, it's not homeschooling, it's very different. And I think that that's an understanding that all of us have to get to is that, you know, we're teaching from a very different place, and so we have to be patient with ourselves, as well as being patient with our students. And understanding that, you know, everybody is dealing with this differently, and so we have to accept that an do the best that we can. And that's really it.
Sharon Plante:            I think a key point that comes across anywhere I've seen, and I think kind of others point to it, as well, you know, schools are a community, and there's a sense of community that you get when you're in a building or in a district. And I think anything any leader can do and administrator, principal, down to really anybody in the school, that can do to make those students still build a sense of community, I think for any learner _____ _____ _____ _____, you know, _____ _____ _____ any student who can still feel part of what is going on in their school. I know our crazy principal makes a video, usually – now, I think he's on TikTok doing it [laughter] – sends it out, every day, to the school community, just to engage the kids. And we had a virtual scavenger hunt, we've had various different things that, you know, make any student find that they can be still part of their community.
And again, we often think about our learners who learn, you know, our _____ _____ _____ sometimes they feel less the community due to the challenges that they face _____. And here's a great time that they could shine in their community. There are different skillsets or different things that we know they are talented at that would be a great thing they can do. I had a student send in a picture of this amazing Lego build, that I probably would not have seen before. And another student who completed this crazy reading challenge we put out during spring break, that, again, is something we may not have seen out of them before. So, if we can provide opportunities for those students to shine in different lights right now, and share that out to our community, social media, e-mails, newsletters, I think, would be also very key. 'Cause those students get kind of those gold stars in a bigger form.
Avil Smart Goggans:  I love that, I love that. So, thinking about the situation now and what we've learned, right, a lot of what we're doing now we didn't even know we could do, right? So as educators, there's a lot that you're doing you didn't know you can do, and teachers, I'm sure their skillset is reaching far beyond what they could've even imagine before this crisis. So, thinking about the fall and the following academic year, which seem very far away but are actually just around the corner, how can we take what we're learning now, and apply it to our schools and districts more systemically, right? So, how can we take that sense of community concept that you just described, which is essential regardless if you're distance learning or if you're face-to-face, how do we take that and how do we take this motivation that teachers are experiencing in rising to the occasion, how do we take all of that into systems and policies that we can implement moving forward, to make sure it's a core part of what we do every day? And I'll start with Ace, just your ideas and thoughts, there, about how we can really sort of turn this into systemic change for our schools and districts.
Ace Parsi:                   Yeah, I think the first thing what I'm hearing, also, Leslie and Sharon mentioned with their experience, is that education at a fundamental level is a very human experience. It's the most human thing that, you know, we have going, and this is, like, millennia of just, like, hardwired how we learn. So, I think that the, recognize that technology can't replace the human being. It can make their work easier, it can make, like, be used as a tool to deepen the connections, but it shouldn't ever be used as a means to replace that human interaction between the adult and the child. And I think that the social-emotional aspect of this, especially in light of the current crisis, that's why it's particularly important to focus in on that.
The other aspect of it, I would say, is, in furthering that human experience, we talk a lot about the specific content and learning needs. Which is very true, we need to think about curricula and lessons, to be able to facilitate that. But I think that you can't – I hear a lot, like, you can't get to Bloom's Taxonomy without starting at Maslow [crosstalk].
Avil Smart Goggans:  Right, Maslow over Bloom's, yeah, yeah.
Ace Parsi:                   So, like, start with those very human relationships in terms of safety, whether kids are fed, whether they have, you know, like, relationships, all those things are really fundamentally important. And for teachers, one, just a huge salute to everybody working in schools right now.
Ace Parsi:                   They're just doing a herculean task, I think cut, like, our teachers slack. And we know that, at the same time, families with kids with disabilities are having to bear so much. They are often becoming the teacher's aide, the teacher themselves, the case manager, all these different roles which they were not prepared to do. And in many cases, like, maintain their own jobs. So to have, like, more communication _____ would be great, like, in terms of having systems to set up that you can communicate with your students and their families, on a more ongoing basis. And then, the other aspect of it is to, for resources, I just wanna do a plug, because the Alliance and Future Ready are also a part of this coalition.
We have launched an initiative called Educating all Learners Alliance, and you go educatingalllearners.org, and we can follow up with that. But we have a whole set of other partners organizations and experts that are curating resources, to help kids with disabilities in light of this. So, please use that resource, join that community, help us to do this work better. I think to think about this as a whole partnership, communal effort right now, it's gonna take a village to do this well, now immediately and then into the future.
Avil Smart Goggans:  Exactly, and you're right, and starting with the human experience, and definitely Maslow over Bloom's is essential, if educators are going to change the way we learn, moving forward. And I also think that part of what you mentioned about technology being a tool is important to emphasize. Because a lot of the communication strategies that we're using now with Zoom, or with some kind of online learning, there are ways that we can do that offline, right? So considering that not all families have Internet access at home, or reliable access at home, we can definitely transfer some of what we're doing online into more accessible forms for those families. So, if we're gonna think about systematizing or creating systemic change around supporting students with disabilities, we should definitely think about those families and those students who go home and they don't have the same level of resource that they have at schools.
And Sharon makes a great point, schools are a core component of the community, you know, schools are where a lot of students get their solid meals, each day, and where they get support and encouragement. And so, finding ways that we can leverage technology and focus on, you know, lack of technology, as well, to create that community and maintain that community is essential, and I think that's what we need to do moving forward. I wanna pause here before we close out, just to encourage everyone to continue to follow the #futureready on this conversation, and continue asking questions and responding to each other, and creating that community online. I also wanna say that it's been a real pleasure talking specifically about students with disabilities, as oftentimes, and many of you have said this in different ways, those students tend to get left behind when we talk about student-centered learning and the ways that we can leverage technology.
And putting them at the table to have the conversation, as opposed to at the tail end of receiving that support. So, I really appreciate your time, today. As we close out, in _____ with what Ace mentioned about cheering for our teachers and our educators, I want each of you to take a moment just to give some encouraging words to those teachers and those coaches and educators who are working with students with disabilities right now, and leave them with something positive as we close out today. And I'll start with Leslie, there, and then move to Sharon, and then Ace.
Leslie DiChiara:         Okay, so, I mean, I think, and I was listening to what Ace was just saying, and I think the biggest thing is not about change, but it's about, for teachers to realize that you're already doing all of the things. You know, and to continue doing them. You know, the most important piece of education is that human connection, and for students to feel loved and supported, not only academically but emotionally and socially, as well. And so, for our teachers, I know the ones that I work with, they're doing an amazing job. They need to continue doing what they're doing. So I don't think necessarily, come September, that there's going to necessarily going to be a lot of change; it's just gonna be a continuum of what we're doing [crosstalk] roll right into the new schoolyear.
So, yeah, keep up the good work, that's really it, [laughs] you know, keep doing what you're doing. And keep the child at the center of all of this, you know, the purpose behind, you know, why are we doing this. They are our why, you know, they are the reason why we're working so hard and we're, you know, working and burning the midnight oil, at this point. You know, they are the reason why we're doing this is because we really care about our students, at the core of it. And if we keep the child always at the core and the main reason why we're doing what we're doing, you know, then you know we're doing the right thing. And we're always, you know, working off of best practice.
Avil Smart Goggans:  I love that. Thank you so much. And, Sharon, what about you, some encouraging words for educators in the thick of it right now.
Sharon Plante:            I think, be patient with yourself. Anybody who is an educator right now, whatever you're doing, you are doing the best for your learners. And I think to Leslie's point, you know, all of us who are in education don't go into it for any reason but we want to work with the kids. And however we can do that, whether that's, right now, if it's creating a packet that is going home because that's all that is available, you know you're doing it with the integrity because you know what the student needs. If we're teachers who are jumping into this remote learning, which is, you know, a lot – you are doing it the best you can, and to be kind and patient with yourselves.
We do it with our learners, so often, particularly those of us that work with, you know, our students with learning differences, you know, we know to be patient with them. They have their hiccups and challenges, well, right now, we do, too. And I try to channel that myself in remembering, you know, I'm going through the same learning challenges as they are. And in some ways, that kind of makes me laugh along the way, with them. So, to be patient and – and I think a big thing that I learned from our experience is start small. Take on a short thing, whether it's one lesson that you get creative or start with a tool, pick one tool, or two tools, and don't jump in – I mean, it's so hard, we're being bombarded, on a regular basis, with, "This is free." "That is free." "This is amazing." "That's amazing."
And if you're not comfortable with it, you know, then there's no reason to jump onto it. And I know, for Leslie and I, we're both in supporting regular teachers or teachers who work with students with learning disabilities, as I think Leslie referenced earlier, you know, there are people who are gonna go do leaps and bounds right now, because they are comfortable. But if you're not, that is perfectly okay, and in some ways it's probably better. Because if you can translate what you did in a classroom best with just one tool, that's all you need to stick with to make it work. And that's just gonna be ideal.
And my hope is, for those teachers, they'll carry that maybe into the fall, 'cause maybe they figured out that tool helps them create some lessons in different ways. _____ 'cause it provides accessibility or multisensory learning or considers UDL, and that's gonna translate down the road. But I think any educator, right now, needs to give themselves a great pat on the back or, you know, clap for themselves, because you're doing an amazing job in a very, very challenging time, for a job that was not meant to be like this.
Ace Parsi:                   Yeah.
Leslie DiChiara:         Absolutely.
Avil Smart Goggans:  Absolutely. And, Ace, I'll leave it to you to give us our last words of advice and support, and then I'll close us out for the day.
Ace Parsi:                   Sure, and I wanna just _____ _____ I am humbled to be on a call with two other educators who are doing exactly those things. So, I wanna just start clapping for you guys and the work that you all are doing. I think that grace is always, [laughs] I think, a really good starting point, regardless of crisis or not, so let's start with that, and assume _____ best intentions of our families, our educators, everybody in the process that's trying to make do with a very unusual circumstance. I would say that noting that it's particularly important, right now, to be mission-oriented, focusing on why we're doing this work. And we're doing this work to, specifically, promote equity and inclusion that we think that this is, every child, regardless of their background or their needs has this God-given potential that we need to honor. And in this process, that might look a little different than when you had it in the traditional context, that our kids need that sort of social-emotional check-in, that human connection, and finding ways to check in with them.
And part of that process, I think, for our most marginalized learners is, when you're designing a lesson or a strategy, to start with those learners. Start thinking about, like, "How is this lesson going to reach those learners?" 'cause guaranteed, if you do that, you're going to engage the rest of your class more effectively, as well. So, start with them, show yourself grace, and thank you. I think, most of all, thank you, thank you, thank you for what you're doing.
Avil Smart Goggans:  Absolutely. So, as we close out today, I obviously wanna remind you all to go to futureready.org, to catch up on information on this and other webinars that discuss students who are most in need, and how to embrace their differences and integrate them into any plans that you have for innovating learning. I also want to encourage superintendents to sign our pledge and commit yourself to student-centered learning, and engage in the process with 3,400 other districts across the country who are focusing specifically on student-centered approaches. I also want to plug our new podcast series called "Leading in Unprecedented Times," where we have similar conversations with education leaders about overcoming their challenges, and elaborating, a little bit, about their successes and how they got through it.
We always like to keep our community encouraged, and it's a great way to kind of check in with yourself about what self-talk you need to apply every morning before you put on your superman suit. So, please check in that series whenever you can. Thank you so much, to Leslie DiChiara, to Sharon Plante, and Ace Parsi. I've learned so much talking with you all before this and in this conversation today, so thanks for sharing your wisdom and experience. Don't forget to follow us on Twitter at @futureready, and if you missed today's webinar, check our archives at futureready.org/webinars.
So, thanks so much, everyone, this has been awesome. And keep doing what you're doing. We appreciate you, and we look forward to talking with you again soon. Have a great day.
[End of Audio]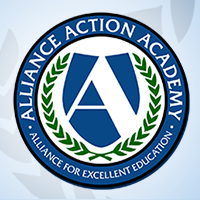 Welcome to the Alliance for Excellent Education's Action Academy, an online learning community of education advocates. We invite you to create an account, expand your knowledge on the most pressing issues in education, and communicate with others who share your interests in education reform.
Register Now
or register for Action Academy below: