Inseparable Imperatives: Equity in Education and the Future of the American Economy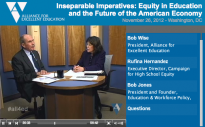 November 26, 2012
2:30 pm – 3:30 pm EDT
Washington, DC
Panelists
Rufina Hernandez, Executive Director, Campaign for High School Equity
Bob Jones, President and Founder, Education & Workforce Policy, LLC
Bob Wise, President, Alliance for Excellent Education
For most of the last sixty years, the United States has labored to provide a quality education to all children, regardless of their skin color or socioeconomic status. This struggle for equity in education has seldom been linked to America's position as the world's economic powerhouse and leading producer of college-educated individuals. Historically, the country's moral failure to provide all children with an adequate and equal education did not incur a noticeable economic cost. This is no longer the case. Today, this moral imperative—to equitably provide all students with a quality education—is now a critical factor in maintaining the United States's national economic strength.
The Alliance for Excellent Education held  webinar discussing the Alliance's latest brief, Inseparable Imperatives: Equity in Education and the Future of the American Economy, which examines the critical juncture between civil rights and the economy. The webinar addressed the nation's shifting demographics as well as the economic benefits of providing all students with a quality education.
Support for this webinar is provided in part by State Farm®.
The Alliance for Excellent Education is a Washington, DC-based national policy and advocacy organization that works to improve national and federal policy so that all students can achieve at high academic levels and graduate from high school ready for success in college, work, and citizenship in the twenty-first century. For more information about the Alliance, visit https://all4ed.org.
Categories:
Uncategorized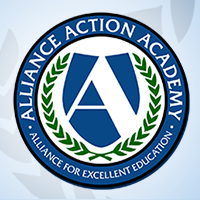 Welcome to the Alliance for Excellent Education's Action Academy, an online learning community of education advocates. We invite you to create an account, expand your knowledge on the most pressing issues in education, and communicate with others who share your interests in education reform.
Register Now
or register for Action Academy below: