Innovation Includes Sustainability

January 23, 2020
8:00 pm – 9:00 pm EDT
Online
Innovation Includes Sustainability
Panelists
Julie Mitchell, Superintendent, Rowland Unified School District (CA), @_JulieMitchell_
Marlon Styles, Superintendent, Middletown City School District (OH), @MCSDSuper
Thomas C. Murray, Director of Innovation for Future Ready Schools®, Alliance for Excellent Education, @thomascmurray (moderator)
On January 23, 2020, Future Ready Schools® held a webinar exploring the idea that innovation must include sustainability.  Each year, districts across the country embark on new initiatives, or look to broaden existing ones, often purchasing curricular materials, technologies, or equipment in the process. As school and district leadership teams work diligently to seek innovative new practices, some initiatives thrive long-term, while others flame out almost as quickly as they began. 
Future Ready Superintendents Julie Mitchell and Marlon Styles both understand that sustaining innovative practices means districts must put a vision in place, incorporate professional learning, involve the local community, and ensure that the financial components add up. It's not simply about dollars and cents. 
 In this webinar, our panelists discussed

evaluating the total costs of new initiatives;

 

looking past

costs

and including aspects such as professional learning and staffing needs;

 

i

ncluding

the

community

's

voice as a core component of the vision of sustainability;

 

evaluat

ing

the performance and effectiveness of the initiative; and

 

replicat

ing

lessons learned.

 
Future Ready Schools® would like to thank Allovue, one of our Future Ready partners, for sponsoring this webinar. 
---
Please direct questions concerning the webinar to ldossin@all4ed.org. If you are unable to watch the webinar live, please register to receive the video archive directly in your inbox. 
---
Future Ready Schools® is a project of the Alliance for Excellent Education (All4Ed), a Washington, DC–based national policy, practice, and advocacy organization dedicated to ensuring that all students, particularly those underperforming and those traditionally underserved, graduate from high school ready for success in college, work, and citizenship.  www.FutureReady.org
Follow FRS on Twitter (twitter.com/FutureReady); Facebook (facebook.com/futurereadyschools); and the FRS Leadership Hub (futureready.org/hub).
---
If you are interested in renting the Alliance's facilities for your next meeting or webinar, please visit our facilities page to learn more.
Thomas C. Murray:    Hello, and welcome to today's Future Ready webinar. I'm Tom Murray, the Director of Innovation for Future Ready Schools, a project of the Alliance for Excellent Education located in Washington, D.C. Future Ready Schools is a collaboration between the Alliance and a vast coalition of over 60 other national and regional organizations.
The goal of Future Ready Schools is to maximize digital learning opportunities and to help school districts move quickly toward student-centered learning. The effort provides districts with resources and support to ensure that local technology and digital learning plans align with instructional best practices, are implemented by highly trained teachers, and maximize learner-centered experiences for all students, particularly those from traditionally underserved communities.
Future Ready Schools would like to thank Allovue, one of Future Ready's partners, for sponsoring today's webinar. The hashtag for today's even is #futureready. Thank you for making an investment in joining us today. I'm gonna be host on this webinar on "Innovation Includes Sustainability." So with me today are two amazing superintendents, Julie Mitchell and Marlon Styles. So what an honor it is to have two friends to Future Ready, personal friends here as well, but most importantly amazing superintendents. Julie, can you take a moment to introduce yourself?
Julie Mitchell:            Sure. Hi, everybody. My name's Julie Mitchell and I'm the Superintendent in the Rowland Unified School District. Rowland Unified is located in Southern California in the southeast portion of L.A. County, and we proudly serve 13,198 students from a very ethnically diverse community. This is my sixth year in the district, my 31st year in education, and I'm really glad to be a part of the webinar and sharing with colleagues across the nation.
Thomas C. Murray:    How about you Marlon?
Marlon Styles:            Marlon Styles, proud superintendent here in Middletown City School District where it's always a great day to be a Middie. We are an urban district located in southwest Ohio, dead smack in the middle between Dayton and Cincinnati. Really fired up about our hashtag #middierising culture that we are building and branding across the entire community. I'm excited to serve students in an urban environment. More importantly, just proud to be doing this webinar with some of my better friends and one of the top educators – leaders in the entire country in Tom Murray, and very excited to be partnered with Julie Mitchell to hopefully inspire some folks across the country. [crosstalk]
Thomas C. Murray:    Thank you so much for your kind words. I do appreciate that. And I do want to say – I want to return that. First, when I think about putting webinars together, we think about topics and then we kind of scour our brains and think across the country. I really want to say how much I appreciate and value both of your leadership and how much I respect it, having been in both of your districts, having seen first hand the incredible things you have going on. It's tremendous to be able to see the things that you're working through. No district has it easy. Every district has its own challenges, but continuing to persevere, continuing to move forward, and the things that you have going on in your districts and the works that your teams are leading are astounding. So kudos for all of that.
I want to actually share just kind of an open-ended question. Julie, we'll start with you, but share some of the things happening throughout your districts, some of the things you're most proud of. You both have so many things going on, and we could spend 45 minutes on just some of the things you have going on. But what are some of the things you're most proud of right now that are going on in your districts?
Julie Mitchell:            I think in Rowland Unified, the things I'm most proud of is the work that we are doing as a district supporting our students and our employees and the community as a whole as people first and then as learners. As it is, our work is all about the people. We're known now for innovative learning for all, and when we say innovative learning for all, we mean all. It's our students, our staff, our parents, and our community as a whole. We have done tremendous work in scaling instructional technology, providing access and equity for our students. We've launch Music For All, so all of our elementary students in grades one through six have music once a week taught by a credentialed music teacher, which doubled then as allowing our elementary teachers to have more planning and collaborative time with each other. And we've done a tremendous amount with community outreach, so there's a lot of be proud of in Rowland Unified.
Thomas C. Murray:    That's awesome. Marlon, how about in Ohio?
Marlon Styles:            I actually want to just write some notes down. Got real excited about some of the things you shared, Julie. In Middletown City School District, we are really celebrating the culture of our district. This is my third year in the district, and as a staff collectively – doesn't matter about position or title – we are all believing in #middierising. It's become a cultural piece that has spread out into our community. It is actually bringing people together, which is what we are all about, inspiring, uniting, and transforming here in Middletown City Schools.
We have four pillars inside of our strategic plan that are really our guiding force in everything that we do around student learning. That's instructional excellence, valuing diversity,
family wellness and well as communication and community engagement. We are very heavy on equity. We are very heavy on high expectations and helping students meet their dreams. Very excited to be building capacity inside of our staff, to really reimagine what the educational experience should be like for students inside the classroom in an urban environment. Can't say it enough, proud of our people. Proud of our people. Proud of our people. More importantly, we continue to celebrate the great things our students are accomplishing every day.
Thomas C. Murray:    So I can imagine the people who are watching here are yelling, "Preach it," on the other end. Because here's two superintendents that have the weight of the world in their communities on their shoulders – not to remind you guys of that. But have the weight of the communities on their shoulders, and not once did you all mention test scores, did you all mention those types of metrics that are traditional in nature, that we're often measured against whether we like it or not.
You talked about people first, and you talked about the importance of things like equity, which is so core to the work at Future Ready. You talked about valuing people and culture. And Julie, knowing your district for a number of years, you've been on that culture train and understood that that's first and foremost. And to hear those words out of superintendents is really part of the reason we asked you to be here today, because you don't always get that working with superintendent groups because of some of the struggles that we have and some of the realities that are out there. So kudos for you all for seeing people first, before programs, before those other types of things with that.
But it's no secret that as we make these changes, the innovative practices that we take on, they don't come for free. And so I know you guys are doing a lot of different things and lots of the people side of things may not have a cost, but when we look at things like sustainability, it has to be key in that area. Julie, you mentioned doing some of the instructional technology pieces. How do we make sure that we balance toady's innovative practices and some of the things that you're talking about with ensuring the work is sustainable really well into the future? So Marlon, I want to start with you first. How do we balance this idea, the innovative stuff you're doing with making sure four or five years from now we're not putting our hands up saying, "Now, what do we do? 'Cause we've got no money left for it"? So Marlon, talk to us about that.
Marlon Styles:            First step, absolutely, just become methodical. Right? So early in that process, really thinking your way through about where you want to be at the end of the process. Often folks, sometimes we may think – I know I'm guilty of this sometimes – I jump to, "This is what we want to do. Let's just
and make it happen." But we really take our time in the beginning of the process to really lay out our strategic priorities and desired outcomes in the very, very beginning as we dream up ideas.
Along with that, we become very conscious about, what's our plan to really bring an idea to life? And once we discover that, then we really start really digging down into the really important work, and that's how do you execute it? We start shifting some of our focus in regards to specific behaviors that we as a culture need to really start to display so that we can execute the plan we created around this innovative idea. Once we end that particular part there, then we really start focusing on what are our fiscal priorities as it relates to this innovative practice that we're talking about.
From there, then it gets really, really exciting. Then we start digging into, how do we build the capacity of our team now that the supports and resources and the plans to execute are in place? And that becomes a very fun piece in education, the leadership actually sitting alongside folks and just partnering with them side-by-side every step of the way to bring the idea to life. But from a fiscal standpoint, it's when you get the dollars where you want them to be once you think about what it is you want to do. And from there, it's just executing
.
Thomas C. Murray:    Yeah, and what I respect there so much is, one of the things that so interesting working nationally is how different different states are. There you are in Ohio. Julie is out in California. She has something called LCAP, and if you're a superintendent in of the other states, the other 49, you're like, "What in the world is LCAP? I've never heard of that." And so even though there's these vast differences between states, I don't think I've ever met a superintendent that says, "Gee, we have so much money, we're not sure how to spend it. Can you help us spend it here?" It's about vision. It's about planning. It's about executing. It's about, Marlon, what you said, making sure every dollar is allocated in a way that makes sense. But Julie, talk to us about your thoughts on that, and how do you balance all of these kinds of things at a time where we're almost asked to do more and more with less and less, and yet you continue to do innovative practices. What's that look like?
Julie Mitchell:            Well, and I concur. We're absolutely asked to do more and more with less and less. And you mentioned California's funding formula, which is very different from our other states. So we have Local Control Funding Formula and the LCAP that you mentioned. And it allows us to really work collaboratively around putting our money where our priorities are. And so the LCAP in California puts into words what our budget says in numbers, and it is intended to be a very collaborative process. So when we look at the work and the success of our students and our schools, and really our districts as a whole, they're all based on the success of the people working in and around the organization. So you have to invest in the people.
You need to have your vision. As Marlon talked about, you need to know your vision. You need to know where you're headed, kind of what's your plan, and having as many conversations about that as possible, so people understand what road we're on. It's about that culture piece that Marlon and I both have been talking about, that organizational culture. Looking at the Future Ready Schools Gears, as a district, we've spent a lot of time looking at the Gears, working around those Gears, which budget and finances of course is one of those really important Gears. But as we know our students and our staff as people first and then as learners, we look to see what's the direction that we're going in.
We use our funding formula or our budget conversation. It doesn't have to be in California. It can happen in any state. It's about having a conversation and aligning your district goals, your district expectations, what you want to see across the district in your classrooms and directly with your students and staff, and having your budget mirror that. Making sure that you have plans that are in words that match the numbers that are in budgets and that you have a collaborative process where the community has been involved, your staff's been involved, and your students are involved. We do a lot with student voice.
This past year, we actually launched an online opportunity for students to give us feedback in a survey, and then we followed up with face-to-face meetings. In the four previous years, we've done all face-to-face conversations with our students in grades 5 through 12. And students are brutally honest with what they would like to see and how we as adults can improve their learning environment. And so yes, there are fiscal priorities, but what is it that we need to do and then aligning our dollars to match our purpose.
Thomas C. Murray:    Yeah, it's so well said. It's interesting, I'm not able to watch a whole lot of TV, but I've seen some snapshots out there recently on – here's Ellen DeGeneres giving away all these things to school around the holidays. And really kudos to them, by any means. And I don't mean any sort of negative piece here, but one of the giveaways was seeing this school that didn't have a whole lot of technology, and so purchased, I believe it was iPads, for like the whole building or grade levels or whatever it was. And kudos for investing the money there, but we all know, and some of the difficulty becomes it's not just about those devices. It's not that, "Hey, they're out there. Let's check it off the list."
Then it really caused me to reflect, as being a district leader myself and signing off on some million dollar plus purchase orders on things like devices, there was many times that I looked at those kinds of devices as, "Okay, the dollar amount that I have allocated for the actual hardware, okay check that off the list, it's in the budget." But there were pieces that I realized in retrospect that I was missing.
You know, our Future Ready partner Allovue, they really help districts strategically plan these kinds of initiatives that we're talking about. And one of the ways they look down to it, is down to this per-pupil expenditure. But they really help districts consider other costs that might not be in line items when purchasing things, such as thing that you have been talking about, such as teacher professional learning, such as time, and we all know time is money, and professional learning in that time is money. But they're not always seen in direct relation to maybe things that we're purchasing per se.
So how are your teams considering things like professional learning, time things take, and those kinds of things when we implement these new initiatives? 'Cause let's face it, if we don't allocate the time, we don't provide the professional learning, there is no sustainability when it comes to this. Yet we often don't even look at that as necessarily a cost, but there's a cost in a lot of different ways here. Julie, let's start with you on this one if we could. How do you handle those kinds of things?
Julie Mitchell:            I think part of it starts – we, in our organization in Rowland Unified, started really with like a grassroots effort with the people. So coming from the bottom up rather than the top down has proven to be very successful organizationally, and so creating the structure, providing the support, then scaling, then sustaining. So when you talk about the people, that's where it comes from in terms of the ideas. Somebody plants the seeds and have conversation and then allow people to try things. So in Rowland Unified, we look a lot at personalized professional learning, meeting people where they are, and moving individuals forward.
It's been a substantial investment, both in time and in monetary resources. We've added time for elementary teachers to collaborate through adding the music program I mentioned a little bit in the very beginning. Our elementary teachers have two 50-minute blocks in the course of the week for collaborative time to be able to talk with colleagues. Then we also have paid professional learning days for our teachers TK-12, three of those within the year. We also have professional learning conferences where we bring people in, and we have last year launched our first RUSD shares, which is our teachers teaching our teachers, or our staff, who's classified as included as well, teaching our staff. All have been very successful, but it's very much a conversation about how do we work together? What are those end goals that we want to achieve?
We have developed out own district framework for teaching and learning. We have our own instructional – we have instructional focus areas, so our schools know the path they're on and are very excited about the work that they're doing. And they're seeing the excitement in the classroom. They're seeing students engaged. And Tom, as you always say, what are we doing to have students running back to us the next day? And it's that energy. It's that excitement. You talked a little bit about devices. It's not about the device. It's about the learning that takes place and how are students engaged in that learning.
And there is a financial investment. We have instructional coaches in all of our schools, and we believe, or I believe, that professional athletes, they need a coach. Why not professional educators? And so we have taken our monetary resources and invested back in
, as well as product. I mean, we have a lot of devices across the district, but it also has been teachers and staff learning how to use those, sharing how their going to utilize it, so it doesn't become
shiny device, but it's about the learning that's gonna take place in the classroom.
Thomas C. Murray:    Yeah, Julie, one of the thing that you said – there was so much meat to what you just shared there, and so many different facets that I could dig into. One of the pieces that I honed in on as you were saying it is this idea of building teacher capacity and teachers leading teachers. As somebody that spends a lot of time in districts helping to grow capacity, one of the conversations I'm always having with superintendents of, "Listen, this can't just be from bringing the outside in." And there's certainly good to that with fresh ideas and a push, but at the end of the day, sustainability is about your people and training your people to lead your people. And so really well said there, and that really resonated with me. Marlon, how about for you? What does this look like? New initiatives, thinking long term, professional learning, time, 'cause again, when we talk sustainability, they're such key facets to this.
Marlon Styles:            The key piece, something you mentioned there is, people equals – investing in people equals sustainability of an innovative idea. For me, what really brings to light is something I heard an elementary teacher recently tell me. And she said, and I'll paraphrase this. She basically said, "We see the big picture. We hear the big picture. We're able to understand the vision. We're able to comprehend and understand and really grab a hold of an innovative idea that we have in our district." But the teacher then followed up and said, "You know, what we really need is we need to know how to make that idea come to life. We need to know how to execute that idea so that it really gets the desired impact on students." So when you listen to the teach really reflect, it reminds you that as an educational leader, you've got to remind yourself what it's like to be in the classroom. Never forget the experience you had teaching a student.
With that being said, we pay really close attention to that particular piece here in Middletown City School District. We really like to think about how we're investing in people to sustain some of the cultural movements and instruction movements that we're having around innovation. So we've adopted the mentality that we want to front load all of our professional learning every single year. When we arrived to the district, we were taking our in-service days and spreading those across the entire academic calendar. So you were looking in the second half of the school year, and you were learning new thing professionally, when the school year is about to come to a conclusion. So we're a firm believer that we're gonna take – for the past two years now, and Tom, you got to experience this – take 90 percent of our professional learning days, our district in-services, we put them in the first three months of the school year.
The idea there is that we over _____ ourselves with brand new professional learning. We get out hands on it. We struggle with it. We stretch ourselves and grow with how to bring some of those ideas to life. We tackle the, "How do we do this?" But then we start slowing the pace down. The thing about those first three months is, let's learn it. Let's take time to apply ourselves and our new learning, so that the remainder of the year, those last six months, that knew learning is actually being implemented at the classroom level and it's having an impact on student learning. So front loading is a very key piece.
We, too, are talking a lot about personalized professional learning for our staff. This past school year, for the very first time, we reimagined the professional learning experience during an in-service. It was no longer, "You have to go to this. You have to go to that. You're gonna cover this. You're gonna cover that." We, too, look at our key instructional priorities for our district. We started offering our staff choice. Right? So wherever your passions may lie in these particular areas, go do short-wind sprints around earning mini badges. If you have a desire to go deep and build your expertise around an innovative topic, really take your time over a six-month period and chase an ISTE certification or participate in one of our specialized early literacy cohorts.
But the idea here is that we're really paying attention to reimagining this notion of, "We don't have much time," and accepting the fact that we've got nine months of time to allow people to chose what it is they want to engage in professionally, as long as it aligns with what we're doing as an organization. Let's frontload our learning and let's allow ourselves more time to implement it at the classroom level, so we get a bigger return on investment as far as student impact.
Thomas C. Murray:    You know, the types of things that we've been talking about in leading this innovative change, we do these things and talking about these types of things for our community and for our communities children. As such, when we're implementing this type of sustainable change, how do we keep the community involved in the process? At the end of the day, the community has to be core to what we do. When we talk about sustainability, if the community is not involved there is no sustainability there. And so, Marlon, let's start with you. What does that look like? How do you engage the community in these type of processes to help ensure sustainability?
Marlon Styles:            The key piece there Tom, and Julie as you know, is just clarity. Right? So everyone has strong command of their vision. It's just bringing about clarity internally and externally. For us here at Middletown City School District, a slogan that we often celebrate, it's pretty simple, but really exciting for us, and that's transparency and positive engagement. Right? Transparency and positive engagement. In our district, we believe that if we don't tell our story, if we don't write our own narratives, somebody else will, and we don't know what that narrative may be. So we try to control that as much as possible.
We are very active as a district on all social media platforms. We have an absolute blast highlighting what's happening inside of our schools, our classrooms, and showing that off for our community and showing that off for others across the entire district. We also leverage a professional videography crew to highlight the positive impact that our strategic plan is having on the educational experience of our students. We've plugged about 18 different areas of our strategic plan. We are on a production schedule where we're releasing 60- to 90- to 120-second mini video clips, professionally shot, capturing the strategic plan in action, inside classrooms and schools where students are putting their hands on key portions of our strategic plan and having a positive experience with that.
We also take a great deal of pride of inviting folks inside the walls of our schools, so that they can put their hands on the innovative practices that we have. We believe a key part of sustainability is folks not only have to understand what the innovative practice is, but they need to experience it themselves, so that energy and excitement and that contagious spirit starts to get built.
So on February 6th, for our second time now here in the past two years, we're gonna host an event we call Middie XL. It's the district-wide showcase of all showcases. Last year we had 2300-plus Middies from across the entire community experience live in person what we call the Middie Modernization Movement. It's a showcase of all the innovative things happening in our district. We kick that off with a district-wide movie. This year we are having a film festival where all 10 schools have taken 90 seconds to capture the essence of their culture. We're gonna showcase that in the film festival.
Following that 2000-plus folks will venture out into our high school and middle school and physically put their hands on what students are doing innovatively inside of our classrooms. So we have about 35 different areas we're gonna showcase. Our teachers and our students will actually be the ones hosting and interacting with key folks across the community. But for us, we want to let our community see, feel, and experience live in person the innovative pieces that we're doing so we can sustain them over time. It's all about clarity, transparency, positive engagement and just building that excitement about the work that you're doing for kids.
Thomas C. Murray:    So I wanted to double check. Did you say only 35 showcases that you'll be doing that day? Only 35? I just wanted to make sure. It's only 35, Marlon. [Laughs] Wow, that's incredible. And just what an opportunity. I know you guys know Joe Sanfelippo, one of our Future Ready advisors, and one of the things he always says is, "In the absence of knowledge, people make up their own." And as our community funds certain things or gets behind certain things or as a board votes on certain things, if they don't know the story of what happens, they make up in their mind what happens. And four or five year later, we come back and say, "Hey, we need it again," and they haven't heard that story.
But to hear, here you're leveraging professional crews to just blast out to the community in what you do. I mean, kudos for that and just having that vision, and being able to showcase the board of, "Hey, you've got goals? We'll show you what we're doing with these goals," which is just awesome. And I love the idea of transparency. So much, whether it's culture, whether it's sustainability, whether it's community, it really comes down to trust, and trust and transparency certainly go hand in hand.
But Julie, over to you as well. One of the things, Julie, I've reference your work and your teams work related to the community and some things that you're doing related to that as well. So talk to us about how you involve the community when it comes to these sustainable innovative practices.
Julie Mitchell:            Sure, but before that, I think I need to get out to Ohio on February 6th and check out the work that Marlon's doing in the district. In Rowland Unified, one of the things that we'd started was around that narrative and the same similar thing that Marlon was talking about. We started a State of the Schools Breakfast, and it's not your typical – what I've seen as a typical State of the Schools. We really intentionally and purposefully invite 250 people who are not otherwise engaged in the district.
So we are not looking at our parents and our PTA and our staff and those folks that already are invested in the work that we're doing. But we have purposefully and intentionally gone to an audience that doesn't know the work that we're doing, but they're in places or positions in our community that they're telling our story. So we want them to have the correct information. So the first year we did it, we branched out and reached out to all of our faith-based organizations in our community. We then have also reached out to apartment owners, apartment manager, laundromat owners, small business owners. We've done realtors, brokers, et cetera. They're selling our homes in our community. So there's a different focus each year.
The message is, "What is the work that's happening in the district?" And it's done in a presentation style, really talking about why is education changing? How has education changed? What's the purpose? What's business looking for? Who are the – what do we need to be preparing our students for? So it's a conversation, presentation, a lot of information, and the folks are very surprised that folks like Marlon, myself, and many of our colleagues across the nation are really thinking very deeply about this work that we do. And the most important is that school looks very, very different now than it did when they were in school and really sharing that school looks different now. The work that we're doing in school is different now.
And then we also followed up with a video. So we have a district video that we shoot from the beginning of the year, so they're able to hear me say it and talk about it. But then they can see it. And many of those students that are featured in the video are available afterwards to talk with those folks in the audience to say, "None, of this is staged. This is really the work that we do." We do that in October with our community. And then in January, the end of January, we do have a showcase as well. And so we feature all of our schools, all of the programs in the district under one roof, so they're able to see the work. And our staff is there. Our students are there interacting with the community in a showcase fair kind of a format.
And we follow that up in the spring with opening the doors for school tours. We invite folks to come through and see the learning in person. So it strategically happens throughout the year. It purposefully and intentionally happens throughout the year, so that we are sharing our story, and we are sharing the great work that's happening in the district with the community.
When I do the State of the Schools, there's no ask. It's a free breakfast. It's a nicely catered breakfast. It's an opportunity to engage with folks from all across the community. I just need their attendance. I just need their attention. There is not an ask. There's the opportunity – one year there was the opportunity – we were really pushing around equity and access, and if they had – we shared with them how many of our students have access to Wi-Fi and so forth, and if they had the ability to open up their business, we really wanted our apartment managers and apartment complex owners as well as laundromat owners, and so forth, to add Wi-Fi to the services that they could offer to our students in the district. We'll handle the teaching. We'll handle the devices. We'll handle those pieces. But if they could have Wi-Fi access. That's the closest to an ask that we've had in the five years that we've been doing this work. Really it's about sharing the story and building partners.
These same folks then have come out and they have volunteered. They come out and read in classrooms. We have a Connections to the Future event, which is an opportunity for our business community to interact with our students. And our students to share the work that they're doing on our career pathways and to work with business folks from our community. So there's been a large increase in participation, because they realize and know what it is that we're doing, and they want to partner. They're really excited about what's happening in the district, and really supporting the youths in our community.
Thomas C. Murray:    Yeah, so well said, Julie, and I constantly point to that example. Running so many leadership retreats and working with so many district leaders, literally thousands of them in a given year, I often ask that questions, not from a standpoint of a thing that I did well. It doesn't come from that at all. Because when I think about my own, how do you reach those folks in our community that pay for what we do, vote for our school board, are a part of our community, yet don't send children or don't have natural connections?
And just take one example where you mentioned realtors. Think of the power in educating our realtors in our community on how awesome our school districts are as opposed to somebody who's looking to move in and they ask, "Well, tell me about the school," and the one connection they have is their friend whose child – somebody stole their peanut and jelly sandwich yesterday at lunch. So they heard negative things, and it's, "Oh, I heard the principal at that school is not so good." And it's kind of that whisper down the lane. What an opportunity, taking places like realtors or our faith-based organizations, because sometimes I think we forget that it's our community's children, not just ours. And so what an opportunity there, and kudos for the leadership.
'Cause I will tell you, when I ask district leaders and we ask that question, quite often the room becomes crickets. And we look and say, "Well, that is a good question. How do we reach those folks?" Yet it's also a majority of our community. And so what an awesome opportunity to build some of those pieces, especially around some of the organization that we might not normally partner with. What a great thought for that. So thank you so much for sharing that. So our school district – go ahead, Julie. Go ahead.
Julie Mitchell:            Part of it also is engaging your senior community, folks that have already raised their children but still live in the community, to know that they need to continue to know what's happening in our schools and in our district and continue to invest, because it's the future that's happen. And again, not when it's an ask, not when you're getting ready to go out for a bond. It's a continuous – like Marlon had talked about, transparency and engagement. And it's letting them know the work that you're doing.
Thomas C. Murray:    Yeah, I agree. And if it only comes in tandem with a tax bill, it's a much deeper fight than trying to show every day – or however many times a year that we're doing these kinds of things to put it out there. And great point there, Julie. Thank you for sharing that.
You know, for our school and district leaders that are watching today, I'm sure they're processing what this conversation looks like in their district. We may have stressed some of them out. I almost think about, man, you've got so many different things happening in your districts, and I know it's because of the collaborative leadership styles that you all operate under in that regard. But talk to us about some specific strategies or techniques that you've used to really support sustainability that really could be replicated by other districts or organizations.
Some Future Ready districts that we work with, their entire district is 500 students. Others, we're talking 100,000 students. So large or small, urban or rural, Julie let's start back with you, what are some strategies that they can use around sustainability regardless of size and demographics?
Julie Mitchell:            Sure. I think starting with the end in mind, having that clear vision, and knowing that learning is a process and that getting to where you need to go is not gonna be a straight line. It's gonna be messy. And it's okay for it to be messy and embracing some of that. When you start with that end in mind, looking at your instructional focus, the relationships that you want with your students, your staff, your community as a whole, et cetera, but really supporting adults. For me it's supporting adults to try new things, encouraging them. Embracing that change is a process. Modeling taking risks, knowing that not everything goes perfectly. Communicate. Communicate. Communicate. Reinforce.
And then I think the most important, too, is that presence. Be in the classrooms. That is where the game is played. In our offices where we're sitting today, that's not where the game is played. It's in the classroom. It's with our students. And that has to be a priority, making sure that you as the district leader, and your team at the district office goes out and is present in the school sites and present in the classrooms. Not just on the evening events and so on and so forth, but that you're there when learning is happening. And you sit side-by-side in a professional learning environment with a teacher learning something new, or you're sitting working with classified staff where you're in the classroom with students trying to solve problems with them as well in that learning environment.
It's mutable when I walk in a classroom and a teacher – I'm in classrooms all the time, and so teachers look up and they're like, "I haven't done this before," and I say, "That's okay, 'cause I haven't either, so let's figure it out together." And they're like, "Okay." Just embrace it. I was in a classroom the other day, and they were working through a Socratic seminar situation in a math lesson. I was just all in it with the students, and the teacher was watching. It was messy. It wasn't pretty. We got to where we needed to be, but it was – it's being where the game is played, and that's with students.
So in Rowland, it starts with a structure. Then providing the support, followed by scaling it up, and then sustaining it. So making sure you have strong roots in that structure, that support, knowing that everybody is behind the work that's taking place and behind the people. And when you stumble and you fall, there's gonna be a team that's gonna pick you up and keep moving you forward. These are initiatives in the district that are taking place that we couldn't undo them now even if we wanted to, because they've been grassroots and people are invested in the work that's happening, and that they know that collectively and collaborative, we're there to support one another.
Thomas C. Murray:    Really well said, Julie. One of the takeaways that I have as you were _____ that I'll say I haven't thought about in that regard around this idea of sustainability is, being present as leaders supports sustainability. It's not that we sit at our ivory tower on the other side of town and just hope things continue to go well, because as you're being present, you're seeing in action where it's played, as you were sharing, you're able to see, "Is this going well? What questions do I need to ask? Maybe this isn't going as well as I thought?" And if we're not present in that regard, sustainability becomes difficult if not impossible. So really well said, and I hadn't really used that lens _____, so thank you for sharing that. Marlon, what about you? What thoughts do you have on that?
Marlon Styles:            Well, I'm struggling right now, because my brain is racing and doing some self-reflection off of Julie's comments, so it's hard to kind of shift to my own thoughts right now. But I love the model piece that you mentioned as well. For me, as I think about innovative initiatives, I really think about what I said before as I described our community, really it takes a village.
So as we've tackled innovative initiatives, we try to make sure that we're bringing key stakeholders to the table with us very early in the process. So I would encourage folks to really think about how can you formulate a cluster of key stakeholders as part of your design process about bringing innovation. The reason I like that idea of a cluster being convened, is it strives to really generate commitment from those key partners throughout the entire process, not just from the birth of the idea but also as you get into discussion around sustainability.
I would encourage folks to really think about – we really try to practice this, how do we inspire the cluster stakeholders to find value in the innovation that we're discussing and what it will do for the student experience? So as you think about partnering with a local organization, do they understand the real-world impact that their partnership, as part of the innovative idea, what it will do for students once they graduate high school? I would encourage you, as you think about the design process, we often ask key questions, such as, how will we phase this innovative idea in over time? A very key question. As you ask that over time type phasing question, it automatically asks for ongoing buy-in and partnership from those key stakeholders as part of that cluster.
We also really ask folks, "What is your skin in the game?" So if you're gonna huddle up and put your hand in the middle, before we break, we want to make sure before we break that we all have a very clear understanding of our level of commitment to this innovative initiative at each stage of implementation, scaling, and sustainability. So we want to identify our ownership in the birth and the execution and the sustainability of the idea. And throughout the design process, we reengage through – go through another iteration of the idea moving forward. Our most successful strategy is just true flat out commitment to design thinking and the design process. So if we're building that skill base in our students, then we as leaders should be engaging in that process at every step of the way.
One example in which we've done this entire process that I just shared, actually in about three weeks, we're onboarding an interactive media pathway at our high school. We partnered with a local organization, Miami Oxford University as well. So we're really taking a stab here locally in our K-12 realm, but also our higher ed institutes and a local organization in this field also, to bring about an exploration and a specialization pathway for kids. Dreaming that experience up was the fun part. The real work _____ to _____ a sustainable idea over time for kids is all about that process of some of those key questions that I shared before. Just excited to open up that gaming rig and see kids just step in there and just absolutely get after it.
Thomas C. Murray:    Well, said. You know, as we think about all these things, and I'm truly blown away, as well as I know your districts, I feel like you continue to throw these new things out there and try new things. And it really comes down to as well, our sustainability efforts are really only as effective for innovative initiatives when we evaluate the performance or the outcomes. There's so many thing that we can do, but we answer to school boards. We answer to communities and tax payers. There has to be some sort of performance or metrics to show it's not just somebody's pet project over here. That it really does make a difference.
And so I'm gonna ask you to be vulnerable here. You've shared so many incredible things that you're doing. But if you would, reflect out loud for a second on a time when maybe you had to determine to invest deeper or to pull back and even say, "You know what? That's not going the way we want it to. We need to shift gears here and continue going." Because I think poor leadership can just say, "Hey, we started out that way three years ago, and that's the end goal, so we're just gonna keep going down that path." And we go down that path blindly. So reflect on that if you could. You had to pivot or pull back or just say, "You know what? This isn't working. We need to regroup." What are some key areas that you consider when evaluating the performance of these types of innovative initiatives?
Marlon Styles:            Julie, I'll say something you mentioned before. You mentioned that risk taking piece in our staff. That if they do stumble or trip and fall, that we'll be there to stand alongside of them and catch them and pick them back up and keep the sprint going. I think that's just as important for us to think about as leaders as well, and be vulnerable in our risk taking, knowing that it's not gonna be peaches and cream all the time. It's not gonna be wrapped in a pretty bow.
I'll be vulnerable myself. There was a time where I though diversity training – you grab this package. You dream up this experience. You gather people. You deliver the content, the training. You check the box. Amazing content, amazing experience, then we walk away and we expect the behavior practices of others to shift. I have failed at that many times, even as a minority leader, thinking that I have, in my own biased mind, the experience that I believe folks needed. So I've had to check my thinking on frequent occasions.
Just recently, I've had to reimagine that experience around this valuing diversity pillar here in Middletown City School District. So instead of approaching that as a training piece – we _____ sustain the deep implementation and really have a better presence with students at the classroom level, we shied away the first several years and even presently, away from diversity training. We've committed _____ some of our learnings to just pause for a little bit. Let's just build awareness and understanding ourselves first before we start to deal with brand new behaviors and practices as it relates to being better at interacting and relating to students.
So some failures, some very – I mean real bad failures early on that have really allowed us to have more clarity in our thinking moving forward with the same topic but in a different way. You've got to trip and fall in order to stand back up and keep on running.
Thomas C. Murray:    You know, Marolon, though, I think when your teachers see that or when your principals see that and they see you openly reflect and say, "You know what, gang? I made the wrong call here and we're gonna regroup and we're gonna go" – and you own it and you're vulnerable and you fail forward, it gives them the permission to do so in their buildings when things don't go their way as a principal or if I'm a teacher and things don't go our way in the classroom and a lesson fails.
I think sometimes if they look up to that superintendent as this perfect person that knows it all, that makes every perfect call every single time, which we know by the way – if you call snow days – Julie, you're Southern California. That's this white stuff that falls to the ground. Yeah, Marlon and I worry about that occasionally around this time of year. But when we fail forward and we model that for our staff, it also give them permission to own it as well and show your kids that life's about failing forward and life's about taking those lemons and making lemonade when we need to. Marlon, thanks for sharing that. Julie, for you, can you reflect on a time for us there as well? Think through that for us.
Julie Mitchell:            I think to say we don't have any of those would be not being  honest. And it's how vulnerable do you want to be and what type of an audience with folks. But for me, it's about embracing the challenge of change and knowing and acknowledging and verbally expressing that not all days or events or initiatives go as smoothly as you'd like for them to. I encourage folks to listen, to watch, participate in what's happening, dig in, join in, but then have that evaluation piece and that reflection piece and know when you need to say, "Oops. We need to change – do a course correction here on some of it."
For us – I have a list. We can start with one as it relates – I had a team working – actually it was on a technology plan. And it put together some really great work, had invested a lot of time in the technology plan. And as we were getting ready to finalize some of this work, we looked at it together, and it just lacked really the human element in it. And it hadn't been something yet that had been widescale, but that was the plan was we were gonna then launch this very widescale.
And I said I valued all of the work that the team had put in and so and so forth and asked if they could look at something in a different way. That maybe we just put the brakes on this for a minute. There was a lot of value in that work, but it had left out a lot of the human element and the learning that our organization was going to have to go through in order to be able to implement. And I asked if they were willing to take a risk with me, and they said, "Sure." What else were they gonna say? But they said, "Sure," and I said, "Let's find five people who are runners and are willing to take a risk and that we will support them to try this initiative."
So we found five and we said, "Here. Here's carte blanche, you have our permission. We're gonna support you every step of the way in this particular work that we're doing." And they went off, and then we asked five more and five more and five more, kind of like that Breck of commercial for those of you that remember that one. And it expanded exponentially, again, far greater.
But had we implemented what we had thought we were going to do in the beginning, which was a neatly established and created binder, it would never have yielded the same results. And now we've taken pieces of that work and slowly began to implement. But it was that grassroots effort. It was the human element that was missing in the work initially that was – it was about the relationships, and that was a piece that we knew that we needed to embrace in there.
Thomas C. Murray:    So well said, and thank you for saying that. And to give our  partner, Allovue, another shout, one of the things that I'm hearing you say – and we've talked about professional learning. We've talked about time. We've talked about now even scale. And one of the things that I know they work with districts on and really recommend is that pilot idea. And you've both recommended start small with certain things. Work out some of those kinks, and then scale that heck out of it. As opposed to, sometimes we have the tendency of, we're gonna cast out this huge net and do it for everybody, and then we're saying, "Oh, shoot, we didn't think of this, this, and this." And then it costs twice as much, because now we're fixing our mess to then turn around and try and do it right. And so I'm hearing that from you, and just another shout out to them in that regard.
Let me ask you both one final questions, and I love just this interaction and the dynamic things. It's just so encouraging to continue to hear the awesome things that you continue to do, and also not become satisfied where you're at. So kudos to that as well. The last piece here is this, is that every Future Ready webinar has people from all different demographics, from all different starting points who watch. So some districts are well on their way to doing a lot of the things that you're describing with sustainable innovative change. Others are just getting started. Some are massive districts. Some are tiny districts. So I want to wrap up with a simple, but not easy, but a simple question. What advice do you have for school and district leaders that are watching today, no matter where they are in a continuum, what would you say? And Julie, I'll start with you on that one.
Julie Mitchell:            Let's see. You know what? Enjoy the ride. There's so much that we're doing as we lead organizations and we're part of teams that are really here for the sole purpose of supporting children and making sure that our communities are better and strong. There's so much at stake that we can really become – I can then – become really weighted down, and you have to enjoy the ride. You have to embrace the challenge, recognize, as I said earlier, that not all days are gonna go smoothly. Spend a lot of time listening, a lot of time watching, but participate. Dig in. Join the fun. Be a part of the process. Build the culture in the organization. It is all about the people. Without the people you don't have anything. You can have the best shiniest textbooks and the beautiful technology, and you can have the strongest network and so on and so forth, but if the people aren't behind the work that's happening, it's going nowhere.
We need to get to know our kids as people and then as learners, personalizing that work that happens in our schools and across our districts and in our communities. And so, yes, the responsibility we have is massive. It's large. It's important. The work we do is really important. But have fun. You gotta have fun. And if you can't laugh at yourself, well, you might need to reevaluate that, because you gotta laugh, and you have to laugh at yourself.
Thomas C. Murray:    So well said, Julie. Thanks for sharing that. Marlon, let's go from California back over to Ohio. What do you have?
Marlon Styles:            Well, first of all we were supposed to have two snow days. The past two days, we just did not get enough to call school off. So kids are not happy right now. Julie said a couple things that really got me fired up. Something she said early that I think really walks us right into this questions is, find those early adopters, those trail blazers, whatever slogan you want to identify them as, and greenlight them right off the bat. No if, ands, or butts, just greenlight them. "Whatever it takes whatever you need. We've got you. Go, go, go, go, go." And make it contagious every step of the way.
Tom, specific to this question that you're asking. I think this whole entire webinar has turned out to be about what we need to do with people and alongside people. Not necessarily the easiest piece, which is to work with your treasurer and align your finances to your priorities. Right? That's a box you just check that's a easy execute. But just understand that it's about where you're at at a particular point in the process. Whether you're just getting started or you've been at it for three years or eight years, it doesn't matter, it's just where you're at in the process. And if you can own the fact and accept the fact that this is just where you're at in that process, then the work you do alongside people really becomes the exciting focal point of the work, not trying to be something that you're not or changing what you are now to become something that you shouldn't be or want to be. It's just working alongside people to really make them feel valued, to make them feel empowered, so they can't help but to wait to run back to school the next day to continue investing in the work, so they can grow and scale and be sustained _____ the time.
We're all human and we love to see impact on others. We all love to see what we're doing and feel valued about what we're doing, and more importantly to see the investment we're providing for the education of kids, to see that really starting to make a difference in kids' lives. So as a leader early in this process, in the middle or the tail end of the process, just understand where you're at. Enjoy the ride, like Julie said. The last thing that I would say is really two small nuggets that I married together is, go for it, don't hesitate, and celebrate every step of the way.
Thomas C. Murray:    Wow, I am in awe, and I really appreciate it. You know, having followed much of both of your work in your both incredible districts over the past number of years, I will simply say, and my ultimate compliment in working with school and district, number one, thank you for keeping us grounded at Future Ready Schools, just truly being grounded in the work with the struggles, but also being able to celebrate alongside of you. But my ultimate compliment that I can give school and district leaders, and I don't just say it on a whim, is for the two of you. I would take my children and put them under your leadership in a heartbeat.
Thank you so much for recognizing the value in people first, understanding things like sustainability and making sure we're that we're not just buying things on a whim to put it out there, to throw the next news article out. But we're seeing people first, looking long term, and really ensuring that sustainability. So I appreciate that, and thank you to both for being on there.
I do want to remind our viewers that information on Future Ready can be found at futureready.org. We encourage and challenge district superintendents to join the over 3,400 other superintendents, just like Julie and Marlon, to sign the Future Ready district pledge. We also are busy planning our 2020 events, so keep a close eye on those as well. I want to encourage our views to get involved with our going strands, from district leadership to tech leaders, principals, librarians, and instructional coaches. We have vastly expanded the reach of Future Ready Schools over the past few years. So check out our private Facebook groups and ongoing activities to stay connected in there alongside all of you as well.
I do want to once again thank both Marlon and Julie, as well as thank you our viewers, for joining this Future Ready webinar. And a special thanks to our Future Ready partner Allovue for making it possible.
Don't forget to connect with us here at Future Ready on Twitter, @futureready, and on Facebook at facebook.com/futurereadyschools. If you missed any of today's conversation, it's gonna be archived at all4ed.org/webinars soon after this webinar. On that page you can also see a list of upcoming webinars. You'll also find the Alliance's Google Hangouts on the YouTube channel as well. And for those of you taking part in our Action Academy Badging Platform, the password for today's webinar is sustainable. Thank you again for joining us here at Future Ready. Have a fabulous day, and we'll catch you next time.
[End of Audio]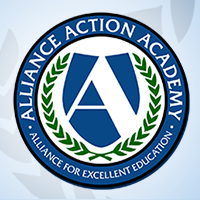 Welcome to the Alliance for Excellent Education's Action Academy, an online learning community of education advocates. We invite you to create an account, expand your knowledge on the most pressing issues in education, and communicate with others who share your interests in education reform.
Register Now
or register for Action Academy below: