Building Strong School-to-Community Partnerships to Support Student-Centered Learning
June 10, 2020
6:00 pm – 6:00 pm EDT
Online
Guests
Anthony Jackson, EdD, Superintendent, Vance County Schools (NC) (@VanceCoSchools)
Michael Abensour, Executive Director, Kramden Institute (@Kramden)
Avril Smart Goggans, PhD, Research and Engagement Manager for Future Ready Schools®, Alliance for Excellent Education (moderator) (@DrAvrilSmart)
Strong family-school-community partnerships are critical when transitioning to student-centered learning. The relationship between the school and the community can strengthen, support, and transform the learning process for students. Through the Future Ready Schools® (FRS) framework, specifically the community partnerships gear, schools and districts are encouraged to create formal and informal connections with families, local businesses, and organizations to advance the development of their student-centered learning initiative. It is important for schools to embrace their role as a pivotal component of the community and develop a shared vision with all stakeholders, including partners that operate outside of the school walls. During this time when student learning is remote, these relationships are even more important as students often do not have the same resources at home as they do when in school. Now is the time to revive community partnerships to play a more active role in the education of students.
In this webinar, our guests Dr. Anthony Jackson and Michael Abensour shared two perspectives on creating and participating in school-to-community partnerships for student-centered learning, specifically as they relate to providing greater access to learning resources. From developing interest to sustaining relationships, these leaders described what it takes to generate buy-in from educators and the community to work toward a mutual goal.
Our guests discussed the following topics:
the importance of school-to-community partnerships;
the role of community organizations in addressing digital equity;
integrated student services and learning environments outside of school;
generating buy-in among local nonprofit organizations and businesses; and
creating sustainable relationships with families and communities.
This webinar was a great opportunity to learn from the expertise of leaders who successfully navigate their roles to support partnerships with schools and families.
---
Please direct questions concerning the webinar to ldossin@all4ed.org. If you are unable to watch the webinar live, please register to receive the video archive directly in your inbox.
Future Ready Schools® is a project of the Alliance for Excellent Education (All4Ed), a Washington, DC–based national policy, practice, and advocacy organization dedicated to ensuring that all students, particularly those underperforming and those historically underserved, graduate from high school ready for success in college, work, and citizenship. all4ed.org
Follow FRS on Twitter (twitter.com/FutureReady) and Facebook (facebook.com/futurereadyschools) or visit our website at futureready.org.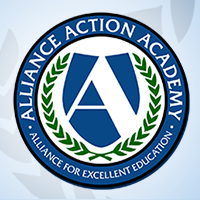 Welcome to the Alliance for Excellent Education's Action Academy, an online learning community of education advocates. We invite you to create an account, expand your knowledge on the most pressing issues in education, and communicate with others who share your interests in education reform.
Register Now
or register for Action Academy below: