Legislation was introduced in the Senate to give students a Fast Track to and Through College. The House Education Committee passed a rewrite of the Higher Education Act. And both the Nation's Report Card and ACT's annual report on college and career readiness show declines.
Legislation to Give Students a Fast Track to and Through College
Senators Maggie Hassan and Todd Young introduced the bipartisan Fast Track to and Through College Act. The bill would fund competitive grants to states to rethink the 12th grade by giving college-ready students the chance to either graduate from high school early with a scholarship, or enroll in a full-time load of dual enrollment or AP and IB courses that constitute the freshman year of college.
To get a grant, states must also have policies to ensure the credits would be fully transferable to a state's public 2- and 4-year colleges and universities. Also, it would allow federal Pell Grants to pay the cost of dual enrollment for students in these Fast Track pathways so more historically underserved students can benefit. The bill is supported by us here at All4Ed, Education Reform Now and several other organizations.
More information on the legislation.
House Education Committee Passes College Affordability Act
After three days of debate on nearly 50 amendments, the House education committee passed the College Affordability Act on a party line vote. As we discussed on the last edition of federal flash, the bill would increase funding for federal Pell Grants, offer free community college through a new federal-state partnership, strengthen accountability in higher education, and much more.
Democrats and Republicans see the bill very differently. Upon passing the legislation, Committee Chairman Bobby Scott said, "A quality, college degree remains the surest path to financial security and a rewarding career. Accordingly, we must fulfill the promise of making higher education affordable for all students."
On the other hand, Virginia Foxx, the committee's leading Republican, said that the bill advances "the same tired idea of throwing more money into the existing system and hoping that this time things will be different is the very definition of insanity. Government overreach and unnecessary intervention has contributed to a bloated postsecondary education sector at the expense of students."
The legislation now heads to the House floor, where it is expected to pass by the end of the year.
The Good and Bad News on NAEP Scores
Last week, results were released for the National Assessment of Educational Progress, also known as the Nation's Report Card. Results are in for reading and math for 4th and 8th grade students. The good news is that most racial/ethnic groups scored higher in both subjects and at both grades in 2019 compared to the early 1990s. The bad news is that, compared to 2017 – the most recent year for which we have test results – scores are either down or haven't changed for nearly all groups of students. 31 states showed a decline in 8th grade reading between 2017 and 2019.
The most concerning finding may be that gaps are getting larger between high- and low-performing students. Broadly speaking, performance increased or stayed the same between 2003 and 2009 for students of color and low-income students, whether they were high performers or low performers. But between 2009 and 2019, performance has consistently declined amongst the lowest-performing students and gone up for higher-performing students. The chart below from the Nation's Report Card summarizes this trend for 8th grade reading.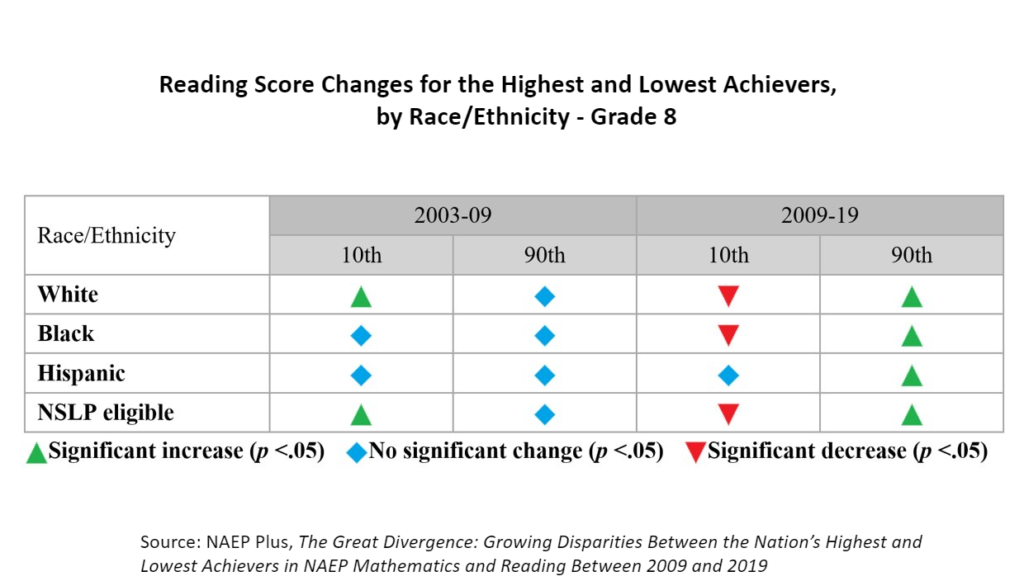 Troubling News from Latest ACT Scores
Also last week, ACT released its annual report on the Condition of College and Career Readiness. Among ACT test-takers, who made up over half of the graduating class of 2019, 37 percent met at least three of the four ACT College Readiness Benchmarks. One-third of tested graduates who took what ACT calls a minimum core academic curriculum met all four of ACT's college-ready benchmarks, compared to only 16 percent of tested graduates who took a less rigorous course load.
The ACT report highlights serious gaps in college readiness, as demonstrated in the chart below. 47 percent of White students met three or more college-ready benchmarks in 2019 compared to 23 percent of Hispanic students and 11 percent of Black students. Each of those percentages represents a decline from 2015.
This blog post represents a slightly edited transcript of the November 6 episode of Federal Flash, All4Ed's video series on important developments in education policy in Washington, DC. For an alert when the next episode of Federal Flash is available, email at alliance@all4ed.org.