Searching for Intention (#FutureReady)

November 03, 2014 01:45 pm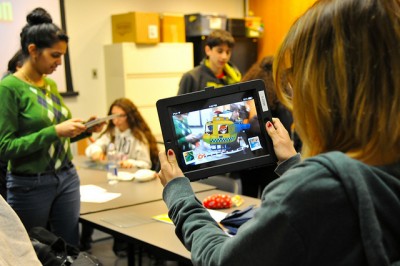 The following blog post is part of the Alliance's Future Ready blog post series. The Future Ready initiative working to support school district superintendents and their leadership teams on district-wide transformation. This blog was written by Jeremy Macdonald, Director of Technology and Innovation for Redmond School District in Central Oregon.
---
Do you ever sit and think about your perfect classroom or your ideal school? What comes to mind? What does it look like? What are teachers doing? What are students doing? My guess is that a number of you would have mentioned some sort of device; something mobile, connected to the internet, that students and teachers were using in and out of the classroom to augment and amplify their learning potential.
I'd be lying if I said I don't have similar thoughts or aspirations. The shift to digital tools and resources is inevitable at this point. Modern technologies are providing our classrooms with amazing opportunities to connect and share with others around the world. Digital resources abound and learners have access at their fingertips. Many districts across the country are investing in student devices, digital content, and increased connectivity. But where is the push coming from? Are we meeting new standards? Are we preparing students for state tests? Are we feeling the pressure from the community? Are we playing catch up? I imagine that many of our districts could answer "Yes" to each one of those. Are those the best reasons? Or are they the reasons we feel the most accountable for?
My heart tells me that most districts strive to provide their students with the highest quality education possible. They seek to provide students with the knowledge and experience needed to be successful after graduation. Easier said than done. State and Federal mandates and evaluations drive much of what districts do, where they focus their time, and where they spend their money. And now this push for increased access to technology and digital resources becomes one more thing on their plate.
All that said, I really think there is an easier approach, but it requires us to look at the technology as something instead of as opposed to in addition to. It also requires districts to do a lot more thinking around the purposeful integration of these tools before they start to spend spend spend. Let's look at this in three parts (two of which will be in my next post):
1 – Prepare, Develop, Support
The biggest thing lacking, even more than the number of devices in classrooms, is quality professional development. For me, this is three fold:
Prepare teachers for change by starting with the why. Before, during, and after, the why should be the focus of the change. Why are we making these changes? Why is the district going in this direction? The why should connect to district and building goals. The reason for the change should fit clearly into the path that they are heading. Let teachers know ahead of time that the changes are coming. Give them a voice. Let them share their concerns and help plan how to best implement these changes. Giving them ownership is much better than convincing them to solely buy-in. The key to all this is to help teachers see that this change, these new tools, should be used in place of/instead of some of the things they are already doing or using. Give teachers permission to take something(s) off their plate in order to make room for these changes. Encourage them to try something new instead of something else.
Develop teacher capacity from the start. Offer professional development opportunities in the buildings and around the district that offer the time and place to learn, make mistakes, and ask questions. Change is scary for a lot of us — usually because we're afraid of making a mistake. Professional development should also start with the why and connect to their classroom. In a recent survey given to 350 teachers in my district, the number one request was for training that could be immediately used in the classroom. Teachers don't mind professional development, but it needs to be relevant, useful, and timely. Make sure PD is offered regularly and provides the time to try and plan.
Support teachers throughout the process. We often pump teachers up for change, provide a couple of in-services to make sure that all teachers at least get the gist of it…and then…that's it. That's all they get. Staff may get an occasional email or reminder during a staff meeting, but that's about all the support that is provided after the initial push. Time and other resources should be devoted to supporting teachers throughout the change. This can come through additional PD, support documents, school or team meetings, and most importantly through time. Another request that came through our survey was a request for time to work and plan with their peers. Like many things, change takes practice. Teachers appreciate time to practice as they become comfortable with the new tools and devices.
Start here. Make a plan to prepare, develop, and support your staff throughout the shift, not just at the beginning. In my next post I'll take a look at how we begin to look at technology in the classroom a bit more critically: Are we buying the technology for technology's sake, or do we have a bigger picture in mind? Are we asking teachers to use these tools because we feel pressured to, or because they truly provide the best opportunities for learning?
Jeremy Macdonald is the Director of Technology and Innovation for Redmond School District in Central Oregon and has helped multiple districts implement 1:1 device initiatives in Oregon and continues to push for change in his new role. MacDonald also works for the State of Oregon as a member of the Oregon Virtual School District (ORVSD), providing professional development to public K-12 institutions around the state.