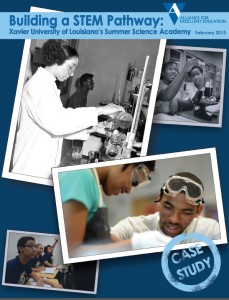 This report examines how Xavier University of Louisiana's summer bridge program for middle and high school students prepares students of color to succeed in science, technology, engineering, and mathematics (STEM) fields. This extensive report—interspersed with video highlights of the program—provides a lens into the kind of academic and social learning that build students' competencies in STEM course work.
The report offers several recommendations to states and districts for improving the participation of underrepresented student groups in STEM careers.
February 19, 2015, release event.
To access short videos of the program in action, visit https://all4ed.org/stem/.