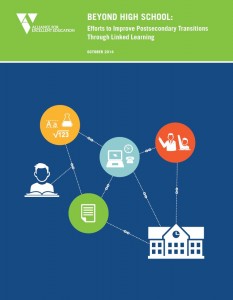 More than 20,000 students in California participate in Linked Learning, an approach to high school redesign that transforms the traditional high school experience by integrating rigorous academics with real-world technical skills, workplace experiences, and wraparound support services for students. Evidence suggests that the Linked Learning approach is increasing the percentage of students who graduate from high school and enroll in postsecondary education with the knowledge and skills that will prepare them for the twenty-first century.
This paper highlights how Linked Learning supports students' transition from high school to postsecondary education. The paper does so by describing the efforts and outcomes of one school district, two high schools in different school districts, and a regional program that are all implementing Linked Learning. In addition, the paper summarizes the postsecondary findings of two studies on Linked Learning. The paper concludes with recommendations for state and federal policy.
Watch the October 9, 2014 webinar.