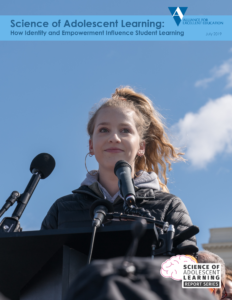 Changes in their brains, combined with a greater awareness of peers and events around them, make adolescence a key time for students to figure out who they are, what they aspire to be, and what they want to do in the world.
This All4Ed report explores how human identity and self-regulation develop during adolescence and how that development supports adolescents' sense of agency and ability to influence their surrounding environment.
This report also recommends ways educators, policymakers, and advocates can support the learning and development of adolescent students, including historically underserved students, during this critical time.
Executive Summary
As the U.S. education system prepares middle and high school students for college, careers, and life, educators must ensure that schools facilitate one of the key drivers of adolescent learning: identity development. Findings from neuroscience and the cognitive sciences have deepened researchers' understanding of the identity development process, the role brain development plays in identity formation, and the effects of healthy identity development on middle and high school students' learning. As adolescents negotiate differing aspects of their identities, they shape their behaviors and perceptions to accommodate a cohesive vision of who they are and who they aspire to be. At the same time, they come to understand how their identities shape behaviors and perceptions of others and orient them in their classrooms and the world. The process of identity development coincides with an increased desire for adolescents to exert greater agency over their own lives and the environments surrounding them. Adolescents seek opportunities to change the world around them and flex newly equipped cognitive and social tools to be agents who positively impact the communities in which they live and the institutions that govern their lives.
This report examines learning and development research that supports the Alliance for Excellent Education's (All4Ed's) Science of Adolescent Learning (SAL) Research Consensus Statements 17–20 (see page 4 for statements). The report highlights the following essential findings about adolescent learning and development:
Identity development is a key undertaking of adolescence influenced by the changing brain and increasingly complex social structures of adolescents' lives. Identity development is a complicated, constant process of negotiating different aspects of oneself, informed by the communities and peoples to whom adolescents relate in their lives. Exploring meaning and searching for purpose during adolescence are core aspects of identity development that occur within a cultural context that assigns value to the identities, meanings, and purposes adolescents adopt. Healthy identity development is an important and challenging process for all students, including historically underserved students who may not share identities with the majority of individuals in a society.
During adolescence, improved functioning of cognitive skills and sensitivity to social interactions and environments leads to higher levels of agency. Adolescents can exercise greater control over themselves and their surrounding environment through conscious, voluntary individual and collective actions. Adolescents seek to expand their agency and use that agency to impact the institutions and systems that govern their lives.
Underlying adolescents' agency is their improved ability to self-regulate. Self-regulatory skills further develop during adolescence and are informed by adolescents' perceptions of their identities. This heightened aptitude for self-regulation offers new opportunities and responsibilities for middle and high school students. Adults must provide the support, experiences, and opportunities adolescents need to develop self-regulation properly.
This report also recommends ways educators, policymakers, and advocates can support the learning and development of adolescent students, including historically underserved students, by applying SAL to policies and practices. By understanding the range of neurological developments and environmental factors that affect adolescent learning, educators and leaders can support adolescents as they navigate increasingly complex social and political systems, leading to their academic and postsecondary success.