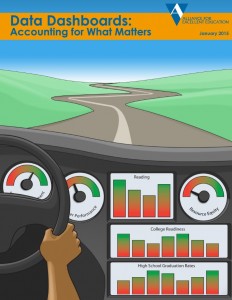 As Congress works to rewrite the No Child Left Behind (NCLB) Act and improve accountability systems for public schools across the country, this report highlights how going beyond a test score when assessing achievement in schools and districts provides more transparent and precise ways to continuously track performance, monitor accountability, and ensure the most at-risk students are not lost in the numbers.
Data dashboards are based on the idea that numerous individual performance indicators, such as academic achievement and leadership, correct the shortcomings of accountability systems that rely on a single test score or combine indicators into a difficult-to-interpret index.
The report offers policy recommendations to help states and districts to develop data dashboards that provide the right indicators for their students and teachers and set realistic goals once indicators are in place.