Podcast: The Impact of Trauma on Student Learning

January 10, 2019 02:03 pm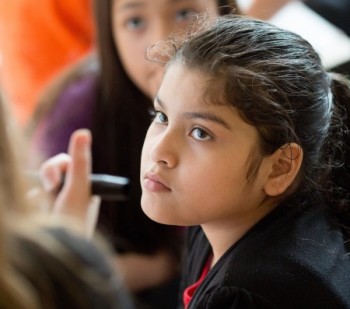 Feeling frustrated that your lesson plan isn't resonating with your students? Before you throw it out, you should know that there may be more going on with your students than meets the eye.
For students to learn, they must feel safe, engaged, connected, and supported in their classrooms and schools. But experiences like chronic stress or trauma from exposure to violence can have a tremendous impact on students' ability to learn.
Students that have been through at least four adverse childhood experiences, such as emotional abuse or neglect, sexual abuse, living with a drug-addicted family member, losing a parent to divorce or death, were 32 times more likely to have learning and behavior issues in school.
Michael Lamb, executive director of the Washington, DC office of Turnaround for Children, shared this and other staggering data points on this episode of Critical Window, the Alliance for Excellent Education's podcast exploring the rapid changes happening in the body and the brain during adolescence.
The episode dives into how students experience trauma, the impact it has on mental health and learning, and what educators can do to create an environment that effectively supports students affected by trauma.
Breaking Down the Science of Trauma
What happens inside a child's brain when they encounter a traumatic experience? The amygdala, the area of the brain that acts as a "smoke signal" when individuals experience a stressful situation, takes over to activate a fight or flight response throughout the body. When this area is in charge, the other parts of the brain that manage learning and memory, including attention, self-regulation, executive function, etc., are inhibited.
Lamb explains the importance of this natural human response to threats: it helps individuals react to potentially dangerous situations, and not spend time determining whether a threat is real or not. "It's wonderful if you're in the forest and you see a bear and you need to act," says Lamb. "It's terrible in a classroom or a hallway."
"You could have a wonderful lesson plan as a teacher, you could have really great, engaging content, but if that child is feeling stress…then that long-term memory won't actually take root," says Lamb.
It's not just about making the classroom a safe space with caring adult that students trust. The whole school must be involved to create a positive learning environment.
"If a classroom felt like a safe, predictable place, but then the hallways were very chaotic, the cafeteria or the playground became a place where students were re-triggered…the rest of the day would be really difficult for learning to take root," says Lamb.
So, how can educators and school leaders create classroom communities that are calm, safe, and predictable, while also building positive school climate? Listen to this episode of Critical Window to find out.
Critical Window is a podcast from the Alliance for Excellent Education that explores the rapid changes happening in the body and the brain during adolescence and what these changes mean for educators, policymakers, and parents. 
Subscribe to Critical Window on Apple Music, Stitcher or wherever you find podcasts.
Featured Image by Allison Shelley/The Verbatim Agency for American Education: Images of Teachers and Students in Action.