Future Ready Means Focusing on a Connection to People, Planet and Place (#FutureReady)

October 29, 2014 03:00 pm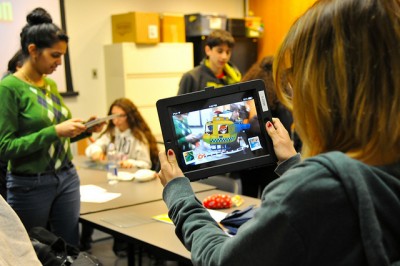 The following blog post is part of the Alliance's Future Ready blog post series. The Future Ready initiative working to support school district superintendents and their leadership teams on district-wide transformation. This blog was written by Robert Dillon, the director of Technology and Innovation for Affton School District in St. Louis, MO. It originally appeared on Dillon's blog, PRINCIPALLY SPEAKING.
---
Connected Learning may some day devolve into a buzz word, but the need for connection in learning will never diminish. It has been with us since the earliest learning, and it will remain a part of the learning in whatever form it takes in the future. Connection takes on different forms in our learning ecosystem including connection to people, planet, and place. Connection allows us to find our tribe and grow our tribe in diverse ways. This connection to people, both near and far, tempers the loneliness that can come from the vastness of our global society. This personal connection is also a key to the sustainability of the learning that is taking place inside the classroom and beyond.
Another piece of connection is adhering our souls to the planet. As a global citizens, it is impossible not to have your life impacted by the events around the planet on a daily basis. This is happening to us whether we know it or not, but realizing it and embracing this connection to our global brethren creates order and comfort as we notice the world that surrounds us. In classrooms that are providing opportunities to connect beyond borders, there is heightened engagement and a fresh energy for learning as well as a sense of deep soulful learning. Connection to place is the final piece of the triad. Connected learning, at its core, is both incredibly expansive while also being incredibly intimate.
Connection means knowing your neighbor, serving your community, and feeling the power of the place that surrounds the air that you breath. This connection to place allows kids in both rural communities and urban centers to think, dream, sell, market, and solve globally while living locally in a place where connection to family, land, faith, and lifestyle are deep. Kids in community, connected to their sense of place, have an even greater chance to solve the biggest problems of the day because they are grounded as they dream the impossible.
Schools and places of learning with true physical connectivity and strong digital infrastructures have a chance to make this connection triad possible in meaningful ways. Schools designing learning with this mindset to think not only about connected learning, but also, connection to people, planet, and place, are the schools that will truly be #futureready for the students, families, and communities that need it the most.
For more on #futureready schools, check out this LINK
Dr. Robert Dillon is the director of Technology and Innovation for Affton School District in Saint Louis, MO.