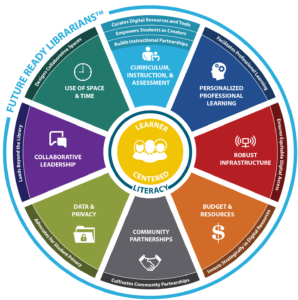 In this final Future Ready Librarians® webinar of 2021, Shannon McClintock Miller invited a few special guests to join her to share the top things that have happened within libraries and education this year.
During this fun and fast paced hour, Shannon and guests talked about the hot topics around libraries and within education from 2021 including books and books banning, technology, diversity, SEL ,and more.
They looked at the Future Ready Librarians®, framework and tied their essential work into the wedges including Leading from the Library, Advocates for Student Privacy, Leading Literacy, Empowering Students as Creator, and others.
Guests
For questions about the webinar, contact Lia Dossin.

The Future Ready Librarian strand is generously supported by Follett.