Historically, middle school has been underrepresented, undervalued, and underfunded by policymakers when compared to other years of a student's educational career. On the funding question, a new analysis by the Alliance for Excellent Education (All4Ed) finds that grades 6–8 received the least amount of federal funding of any grade span in Fiscal Year 2019, followed closely by grades 9–12. This lack of equitable funding can lead to poor instructional quality and a lack of challenging curriculum, but there are ways to address it.
The federal government rightly invests in early and postsecondary education and more is needed, but it has largely ignored middle and high schools. Students needs support throughout their educational careers, not just in the beginning and the end. As shown in the graph below, grades 6­­­–8 received $5.82 billion in federal funding during fiscal year 2019, compared to $35.53 billion for birth through grade five and $32.93 billion for postsecondary education. (Click to see a larger image of the graph.)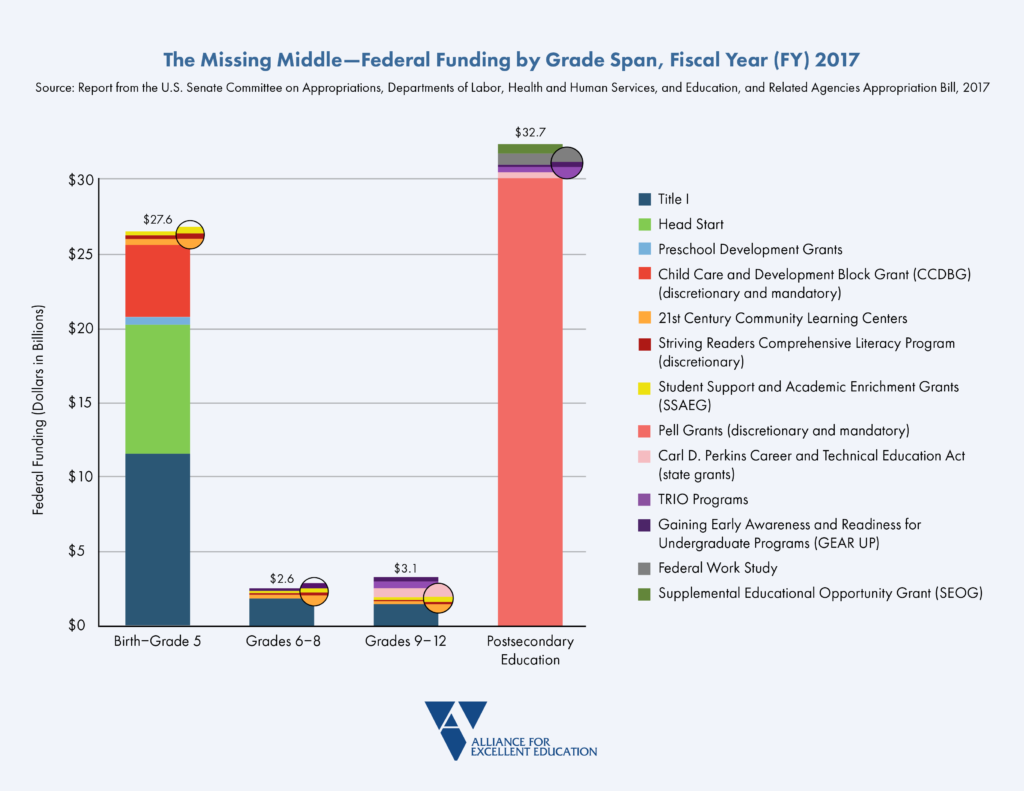 School and district leaders and other educators must overcome barriers, such as funding inequities, to improve learning experiences and outcomes for middle school students, particularly those historically underserved. Since local taxes contribute greatly to school funding, middle schools located in low-income communities face additional challenges because they do not have access to the large and wealthy tax bases like their counterparts in higher-income areas. Consequently, middle school students attending schools in low-income communities face inequities in their learning environments that their peers in higher-income schools do not experience, such as fewer high-quality teachers, fewer experienced teachers, higher teacher turnover, less rigorous curriculum, and more dilapidated school buildings. These issues impact students directly by undervaluing their education and can lead to poor student outcomes.
Moreover, because of a lack of sufficient funding, many middle schools cannot provide students with adequate support such as counselors, school psychologists, social workers, school nurses and other wrap around services. For example, the average student-to-counselor ratio is 482 to 1 when the recommended ratio is 250 to 1 and most school psychologists work across two or more schools. School nurses also are recommended to serve 750 students or fewer if there are students with complex issues. However, most school nurses oversee 920 to 1000 students, well over the recommended caseload.
Additionally, a disconnect often exists between middle school students and the curriculum and pedagogy they experience as well as teachers' perceptions of student behavior and what that behavior truly represents. Research from the science of adolescent learning could address this disconnect by helping educators align instructional practices with scientific research about how middle school students learn and develop.
Adolescence is a critical window for brain development. During this period, students need to be challenged by rigorous curricula that supports deeper learning or they can face restricted brain development. The actions educators take within the classroom, such as providing rich learning experiences, engaging students actively in their learning, nurturing students' emotion-regulation strategies, and supporting the "whole child" can positively impact a student's development. Unfortunately, middle school students typically experience traditional "common sense" educational approaches that conflict with research about brain development. For this reason, investing in middle level education is essential because it is a crucial time period for adolescent development. A greater investment in middle schools could lead to proper support and developmentally appropriate instructional practices.
Additionally, it is important to fund grades 6–8 equitably so that middle school students have access to the same resources as students in other grades. In previous years, U.S. Representative Raul M. Grijalva (D-AZ) has introduced legislation,referred to as the "Success in the Middle Act," that would provide grants to states to help school districts improve instruction in middle schools, provide additional support to struggling students, and implement middle school improvement plans. Grijalva is working on a new version of the legislation that he will introduce in the coming weeks.
Achieving equity in school funding, though, is challenging. Many of the issues facing middle schools and middle school students are systemic and will take significant time and resources to overcome. But change cannot happen until middle schools are on a level playing field with other grade spans. Policymakers must address the basic issue of inequitable funding and then continue building with other solutions, such as developmentally appropriate teaching. The current inequitable funding distribution is a significant barrier to improving middle school education, but legislation like the Success in the Middle Act could help create a more equitable distribution of resources across grades.
Shelbe Klebs is a policy and advocacy intern at All4Ed.
Featured photo by Allison Shelley/The Verbatim Agency for American Education: Images of Teachers and Students in Action